Get connected with our daily update
ACL goers and performers alike may have found their weekend trip extended on Sunday as they arrived at Austin-Bergstrom International Airport to find that dozens of Southwest Airline flights had been canceled due to "disruptive weather."

The national airline cancelled 72 flights in Austin on Sunday and Monday morning and delayed 65 more, leaving weekend travelers stranded and forced to find alternate ways home during one of the airport's busiest weekends.
Hundreds of travelers in Austin, including ACL performer Maggie Rose, found themselves working through the issues for hours with backlogged customer service employees.
Many—including Austinites Jillianne, Laura and Heather, who told KVUE they drove 20 hours to Washington, D.C. to attend a wedding amid the chaos—spent hundreds or even thousands working to fix their traveling woes.
Nationwide, Southwest canceled or delayed well over 2,000 flights on Sunday—over 60% of its planned flights—and attributed the widespread chaos with air traffic control and bad weather conditions in a Twitter apology.
But some frustrated customers, many of whom saw near-sunny skies, thought the airlines' vaccine mandate for pilots may have been the culprit. Austin saw clear skies through Sunday afternoon but was hit with storms late Sunday night.
Travelers claimed that airline employees talked of a "sick-out" among pilots who refused to comply with the mandate.
The "sick-out" theory, which has been unsubstantiated by the company, got the attention of conservative politicians including Senator Ted Cruz.
The airline denied the allegations in a press release on Saturday.
"We can say with confidence that our pilots are not participating in any official or unofficial job actions," the company said. "Our pilots will continue to overcome SWA management's poor planning, as well as any external operational challenges."
Regardless of the culprit, travelers going through the Austin airport are hoping to see some clearer communication and financial compensation as the nationwide travel turbulence begins to subside.
But many, including Orange County resident Lisa Szal, are resigned to reschedule flights with other carriers as they await a hopeful refund.
Szal, who couldn't get access to a live agent for a refund on her flight early Monday morning, told Austonia she's jumping ship to American Airlines for weeks to come, including a conference trip to Colorado on Sunday.
"It's funny because I just thought, 'I don't have any faith that I'm even going to get there,'" Szal said. "So I booked another flight on American."
Austinites will once again be able to take a nonstop flight to London as Austin-Bergstrom International Airport resumes transatlantic travel this fall.
Starting Oct. 13, British Airways will offer its direct flight from ABIA to London-Heathrow Airport three times a week on Wednesday, Friday and Sunday. The airline, which has been operating in Austin since 2013, had halted service at the start of the pandemic over a year ago.
"We can't wait to welcome our customers back on board our Austin flights and we are honored to be playing our part in reuniting families and friends with their loved ones after such a long time apart," said Marie Hilditch, British Airways' head of North America sales.
Safety protocols the airline is taking include:
social distancing measures
wearing of facemasks
providing hand sanitizer stations
cleaning all surfaces after every flight
fully recycling the air once every two to three minutes through HEPA filters, which remove microscopic bacteria and virus clusters with over 99.9% efficiency
The announcement comes as COVID-19 testing requirements to enter the UK are scheduled to stop on Oct. 4. for vaccinated Americans.
Additionally, a Monday White House announcement allows fully vaccinated international travelers to enter the U.S. starting in early November with proof of a negative COVID-19 test. The ban, which was implemented in 2020, restricted travelers from a number of European countries, Iran and China throughout the pandemic.
Southwest Airlines will soon be offering more at Austin-Bergstrom International Airport with the addition of nine nonstop flights and increased service.
In March 2022, the airline will increase service by more than 20 flights per day, offering nonstop service between Austin and 46 destinations on up to 105 departures a day, according to a release from the airline.
Starting March 10, the following new and returning nonstop flights will be available:
Amarillo
Charleston
Columbus
Midland
Ontario
Puerto Vallarta—subject to requisite government approvals
Seasonal weekly service will also begin March 10 to:
Panama City
Sarasota/Bradenton
Destin/Fort Walton Beach
The announcement comes on the 44th anniversary of Southwest Airlines serving Austin.
"As Austin and its airport continue to grow, we are excited to welcome these new and expanded services to central Texas," said Jacqueline Yaft, chief executive officer at ABIA. "Celebrating 44 years of Southwest operations in Austin, we are grateful for their continued investment and confidence in the future of AUS."
Austin-Bergstrom International Airport saw a steady stream of travelers over Labor Day weekend as leisure travel to and from the city continued at a strong rate despite the now months-long rise in COVID-19 cases, hospitalizations and deaths.
Bryce Dubee, a public information officer at the airport, said that while travel has not reached the record level set in 2019, it has stabilized at 2018 levels—fueled by leisure travelers' desire to see family and friends and vacation. Across the country, airlines have rehired staff while travelers have dealt with airport security and flight delays and steep increases in ticket prices.
"The trend this summer has been a very strong recovery," he said.
That was apparent over Labor Day weekend. From Thursday through Monday, the airport hosted some 110,000 outbound travelers. On Friday, traditionally the busiest day of Labor Day weekend-related travel, more travelers flew out of Austin than did on the same day in 2019.
Though airport officials do not yet have access to complete traveler summer numbers, Dubee said that there is no evidence to indicate an appreciable drop in traveler numbers since the onset of the Delta variant-fueled resurgence of COVID-19 cases that began at the beginning of the summer.
Part of that, Dubee said, is that barriers to international travel are seeing more people travel domestically—with cities like Austin seeing a relative uptick in traffic.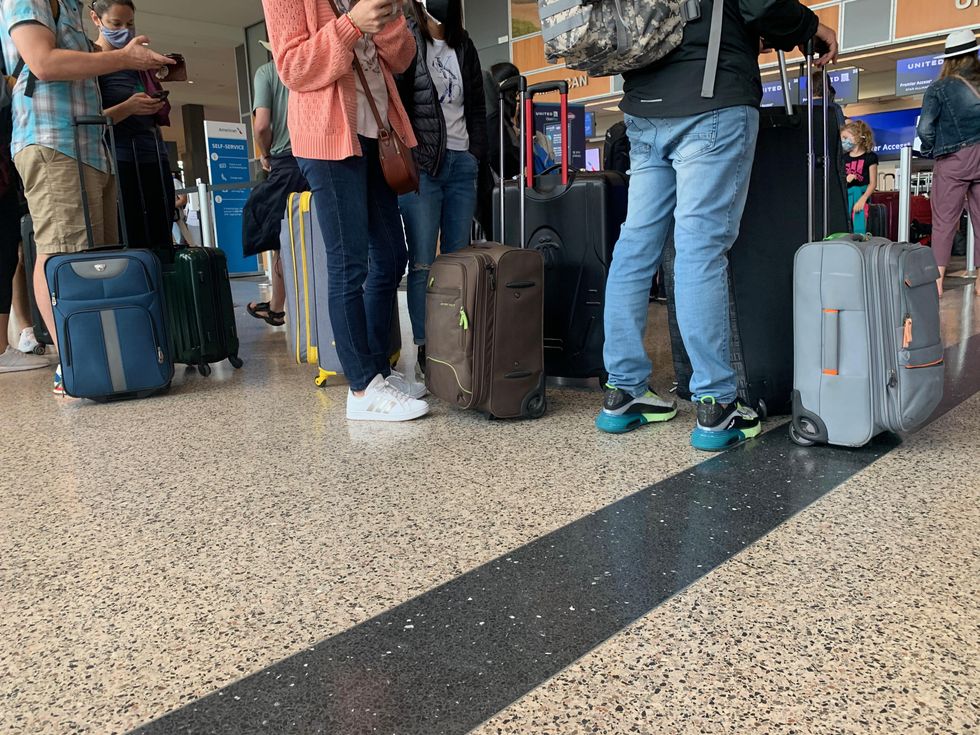 (Claire Partain/Austonia)
But fall could be a harder season for the air travel industry than the summer was.
The rate of leisure travel in the U.S. has recovered at a much faster rate than that of business travel, with many office workers still working from home and business conferences and related events taking place online.
"We're anticipating that there will be a slowdown that happens every calendar year—summer is over, kids go back to school—and with that continued slower recovery on the business traveler front, we do anticipate that the September slowdown might be a bit more significant than it would be if it was a non-COVID year," he said.
The federal mask mandate for U.S. airports will be in place at least through the conclusion of this calendar year, with President Biden set to announce a new multi-pronged plan to combat the spread of COVID-19 as much of the country braces for the potential danger of the winter months.
Dubee said that while airlines do not yet know what the winter holiday season will hold, travelers should do their best to plan ahead as the travel industry continues to grapple with the fallouts of the pandemic.