Austonia AM
100% Austin news, info, and entertainment, straight to your inbox at 6 a.m. every morning.
In five minutes, you're fully informed and ready to start another great day in our city.
Get connected with our daily update
Austin's culture is attracting more than just big tech. Airlines are taking advantage of the Austin craze and building their brands at Austin-Bergstrom International Airport.
A year after the aviation industry saw record-low traffic, ABIA reports a leisure travel rebound. The result? More direct flights to vacation destinations rather than business-travel markets.
Adding more flights is American with 10 new flights including to New Orleans and Aspen; Alaska with 60% more seats than in 2019; Southwest now offers four flights more than in 2019; Hawaiian just added nonstop flights to Honolulu; Allegiant is building a new base at the south terminal; and Delta looking to establish itself as a key player at the medium-sized airport by dropping other cities to focus on the Texas capital, according to the Wall Street Journal.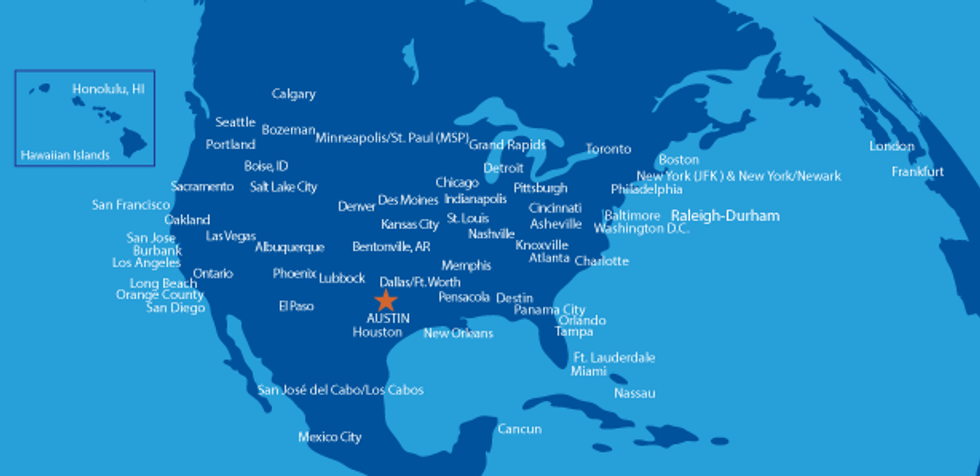 All direct flights from ABIA. (ABIA)
An airport official told the Journal that airlines started really taking action at the Austin airport as a result of the Texodus, in which tech companies are relocating and expanding to the Hill Country.
Airport traffic was still down 72% for February, the latest recorded month, but the city's continued population growth, strong job market and continuing vaccine rollout ensures a bright future for the airport.
Pre-pandemic, the Austin-Bergstrom International Airport was in the midst of a meteoric rise.
Since opening in 1999, the airport had tripled its passenger numbers. Between 2011 and 2019, it was the third-fastest-growing airport in the country. The Federal Aviation Administration ranked it second among medium-sized hubs in 2019 based on passenger boarding numbers (more than 8.5 million) and year-over-year growth (more than 10%), second only to Nashville International. That same year, ABIA finalized its 2040 Master Plan, a 20-year roadmap that included a project to double the size of its terminal and was intended to meet ballooning demand.
"We've seen unprecedented growth," Chief Operating Officer Ghizlane Badawi told Austonia.
Then the pandemic struck.

Last April, traffic plummeted 95%. According to the airport's latest activity report, passenger numbers were down by more than two-thirds year-over-year. "This crisis is basically the biggest disruption that we've seen in the aviation industry in this modern period of history," Badawi said.
ABIA had to respond immediately. In addition to reevaluating safety protocols, updating its HVAC system and implementing touch-less technology, the airport also had a financial crisis to confront. Although it is owned and operated by the city of Austin, ABIA does not receive any tax revenue and most of its costs are fixed. It received nearly $60 million as part of the federal CARES Act allocation, but officials still anticipate a 20% loss in revenue for 2020 due to the pandemic, according to a spokesperson.
Despite these challenges, ABIA is poised to bounce back. As the vaccine rollout continues and recipients grow more comfortable flying, the airport and airline companies report a leisure travel rebound.
On the up and up
In the months immediately following the start of the vaccine rollout, ABIA's future was still cloudy. But starting last month the airport has seen a direct positive impact of vaccine availability on travel. Leisure travel is returning to pre-pandemic levels at a rate faster than the national average, and Badawi anticipates business travel will resume next year and international travel by 2024, as foreign governments adjust their travel restrictions and quarantine requirements. "The outlook for the industry was uncertain last year, but this year we see the light at the end of the tunnel," she said.
ABIA has also benefited from the introduction of new routes, including 11 from American Airlines starting next month, including a nonstop flight from Austin to Nassau in the Bahamas that was announced Wednesday, and the recent announcement that Allegiant will establish a $75 million base at its South Terminal, creating 89 jobs and allowing for expanded flight options.

Jason Reisinger, managing director of global network planning for American Airlines, said this kind of investment is atypical. "I've been doing this for … closing in on 30 years, and I don't remember having an announcement where I announced 10 new routes (at the same time)," he said. "Especially in a city that's not a hub."
Austin's exceptionalism is due to what Reisinger called "quality growth," fueled by job creation and increasing affluence. American expects to be at 80% of its pre-pandemic capacity by next month, he said, but Austin could beat this projection due to the introduction of new routes.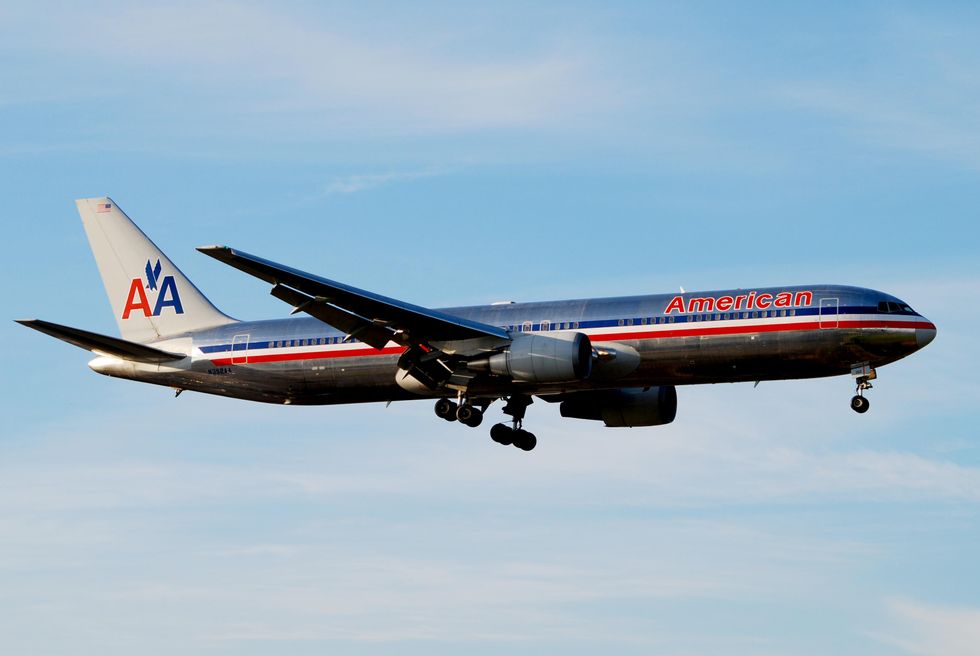 In addition to attracting airline investment, the city's population growth also fuels the airport—and appears unhindered by the pandemic. Badawi cited the recent local expansions of companies such as Tesla and Samsung. "Personally, I think right now it's just like a pause with the pandemic," she said. "I think we're still going to grow."
Pandemic turbulence isn't entirely fleeting, however. The 2040 Master Plan remains in place but "may not be the same scope" due to COVID costs, Badawi said. Details of what the changes might entail are forthcoming, as the airport works out its next steps.
Air travel is also likely to be changed forever. Pre-COVID, passengers were focused on security and safety, Badawi said. Now she thinks they have a third concern: health. As a result, pandemic protocols, such as masking, sanitization, social distancing and improved ventilation are "here to stay," she said. "I don't see them changing at the end of the pandemic."
(Austin-Bergstrom International Airport)
Economy airline Allegiant announced Tuesday that it will establish a new $75 million base at the Austin-Bergstrom International Airport's South Terminal, creating 89 jobs and housing three airplanes. It is scheduled to open in mid-November.
"It makes perfect sense to establish a permanent base in Austin, further establishing Allegiant as a hometown airline in a city we love and where we plan to grow," Senior Vice President of Revenue Drew Wells said in a statement. He added that the new base will allow for expanded hours and more flight options.
Unlike other airlines, Las Vegas-based Allegiant offers exclusively non-stop flights, meaning each day's schedule starts and ends at a base rather than connecting through hub airports. The forthcoming Austin base will bring added flexibility for flight times as well as allow locally-based crew members to return home each night.
Austin City Council Member Vanessa Fuentes, who represents District 2, where the airport is located, welcomed the news as a needed boost at this stage of the pandemic, which has devastated the tourism industry. "The airport is an economic driver in our local economy, and I'm excited to see growth and activity in the district and beyond during such a critical time," she said in a statement.
Mookie Patel, chief of business and finance for the airport, echoed this sentiment. "Allegiant establishing Austin as a base provides strong economic support to Central Texas and even more convenient and affordable ways to travel," he said in a statement.
Allegiant began operating at the Austin-Bergstrom International Airport in 2013 with service from Austin to Las Vegas. Since then, the airline has expanded its offering to 14 nonstop routes, including to Orlando-Sanford, Florida; Memphis, Tennessee; Asheville, North Carolina; and Bozeman, Montana.
Allegiant is not the only airline expanding its local presence. American Airlines announced last month that it is adding 10 new flights to Austin. This growth is welcome news amid the economic impacts of the pandemic. Overall passenger activity at the Austin-Bergstrom International Airport was down nearly two-thirds year-over-year, according to the latest activity report.
A tender brisket plate at The Salt Lick. A perfectly crafted latte at Jo's Coffee. A sudsy pint at the Saxon Pub.
Certain things are just part of the quintessential Austin experience—even if you're just passing through the airport.
Austin-Bergstrom International Airport in recent years has become well known as a microcosm of what people love about Austin, from the live music that streams through the terminal to the local art that adorns the walls to the outposts of popular Austin shops and restaurants, including those named above.
A year after the pandemic brought the world to a halt—and in turn resulted in the lowest passenger numbers the airport had seen since it opened in 1999—and on the eve of spring break, the terminal on Thursday showed signs that the mini-Austin experience so many once treasured is beginning to reemerge.
At Tyler's, clips from former "Austin City Limits" tapings streamed on a TV inside the locally-focused apparel shop, while a socially distanced line queued for breakfast tacos at Tacodeli. In front of the Asleep at the Wheel stage—the largest of the airport's seven stages—plastic shields sat ready to safely welcome, and protect, performers.
"Such a large portion of what we offer is local and is brands that'll be familiar to you as a local to Austin," said Mandy McClendon, spokeswoman for ABIA. "While you may not have all the options, you certainly still will have many of them. For the most part, it does feel like the airport you know and love."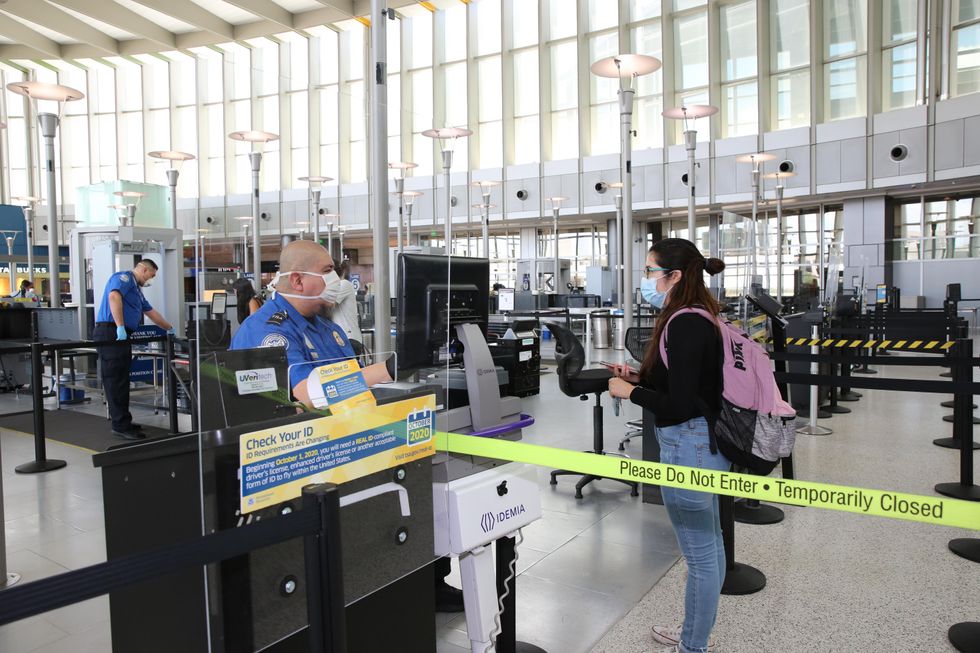 Masks are still required to be worn at the airport. (ABIA)
For those who haven't traveled during the pandemic, the first thing to know is that masks remain required throughout the airport and on flights. Despite Gov. Greg Abbott's decision to end Texas' statewide mask mandate on Wednesday, ABIA is included in an executive order issued by President Joe Biden and implemented by the Transportation Security Administration that requires face masks in airports.
"If you're in an airport you must be wearing a mask. We want to make sure we're communicating that to our passengers because we understand the conflicting advice can be a little bit confusing," McClendon said. "We don't want anyone to end up in a situation where they come to the airport without a mask and then they can't board their flight."
McClendon said that passenger traffic in April 2020 was down 96% from April 2019 and that overall passenger traffic in 2020 was down 63% from 2019, which was the airport's highest-ever passenger travel year. As a result, the airport gave its retail and restaurant vendors the flexibility to "open and close and provide staffing as they're able to and as makes sense for them while also ensuring we have a variety of options open throughout the terminal."
Live music has also continued in the form of small shows featuring only one or two musicians, aside from when the city was in Stage 5, when performances were suspended.
"Music is something that's very important to our terminal," McClendon said. "We have and continue to try to come up with creative ways to still make that a part of the experience."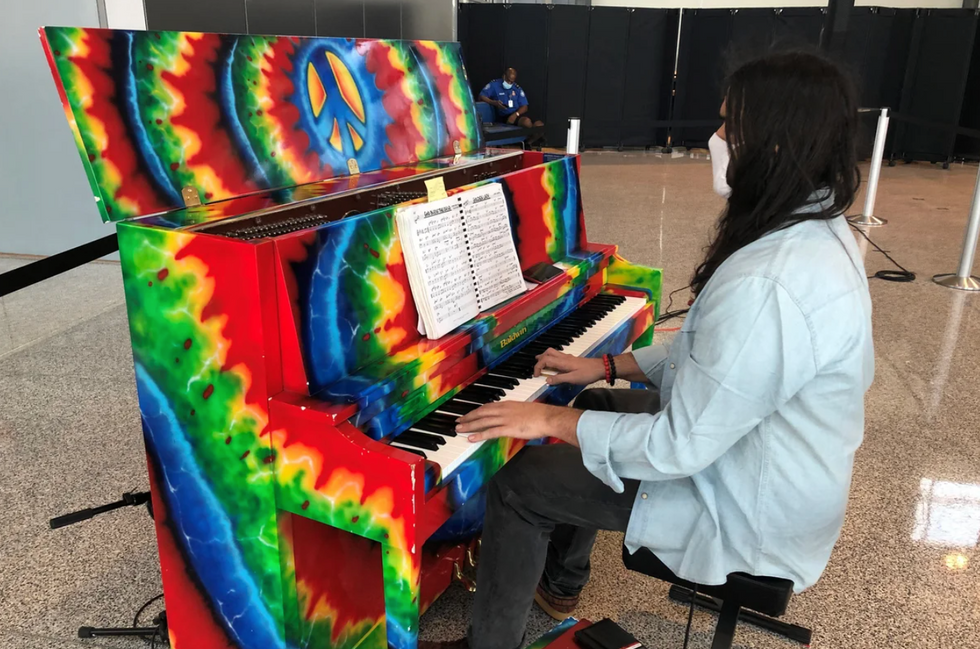 Zack Morgan playing the piano during his set at the airport in 2020. (ABIA)
As passenger travel continues to increase and more people are vaccinated, McClendon said, expect even more of the things that people love about the airport to return—safely.
"We are an essential operation to Austin," McClendon said. "The more people that we have come through our doors, the more vigilant we want to be about things like social distancing and mask wearing and just making everyone feel comfortable in the terminal."