Austonia AM
100% Austin news, info, and entertainment, straight to your inbox at 6 a.m. every morning.
In five minutes, you're fully informed and ready to start another great day in our city.
Get connected with our daily update
Austin is quickly becoming the land of influencers—including those of the feathered variety.
Esperanza, a 12-year-old chicken from Austin's Highland neighborhood, has a reputation that precedes her. According to her owner, Edward Gottschalk, there's a solid chance she's the oldest chicken in Austin.
While it may seem a bold claim to make, Gottschalk has done his research. He said he found an old clip of a late-night television show (he's thinking David Letterman) that featured an ancient chicken from Austin that was 13 or 14 years old, and Esperanza isn't far off. He's asked around Reddit to see if any other geriatric chickens are still around, and no one fought for the esteemed title.
While "Austin's oldest chicken" may have an endearing ring to it, she's fought hard for her fame. Esperanza's backstory includes old-lady crankiness, family feuds and even chicken-on-chicken murder.
"She's not that nice, you really shouldn't like her that much," Gottschalk told Austonia. "She's an old lady, she's stubborn."
Gottschalk and his wife, Liath Appleton, got Esperanza from a friend in 2009, about a year after they moved to Austin.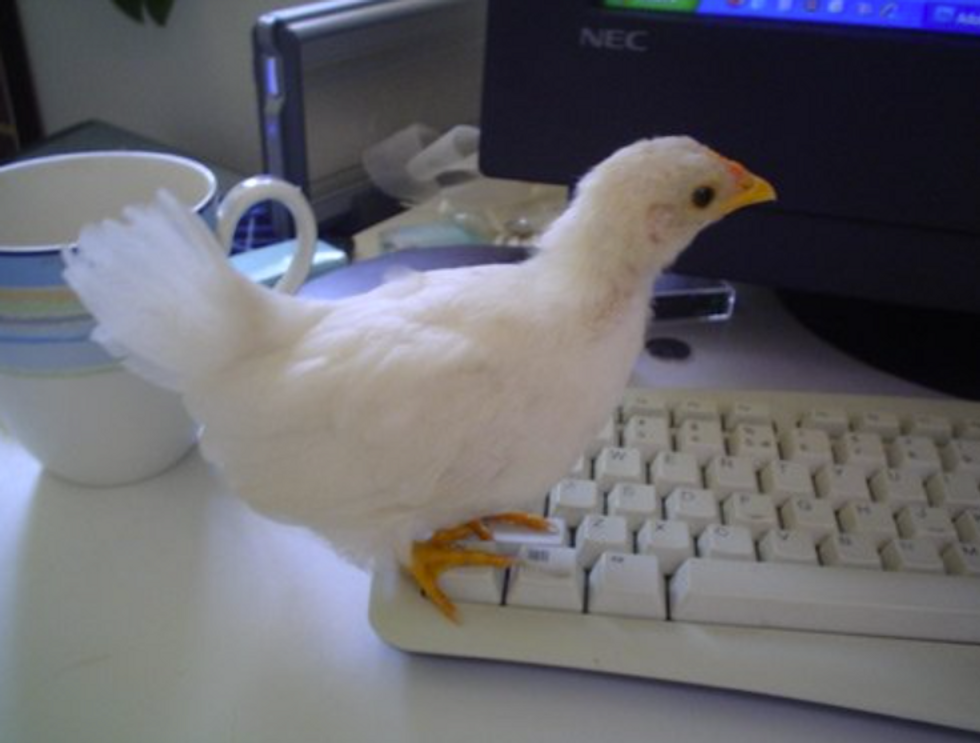 Esperanza as a young hen in 2009. (Edward Gottschalk)
She's had companion chickens, some of which have flown away or died of natural causes. In the chicken world, however, weakness is never tolerated. The couple had to separate any sick chickens for fear of the other hens killing their weakest link, but some, unfortunately, fell through the cracks.
"Those chickens usually don't even last a week because they would kill that chicken," Gottschalk said. "Esperanza personally has probably killed a chicken or two."
Esperanza isn't the only family member who has fought for her spot at the top. Gottschalk's brother, Mark, is a champion pumpkin grower who has produced competition winners that are several hundred pounds. In true brotherly competition, Gottschalk decided he would make sure Esperanza was well-known as the oldest chicken in the Texas capital.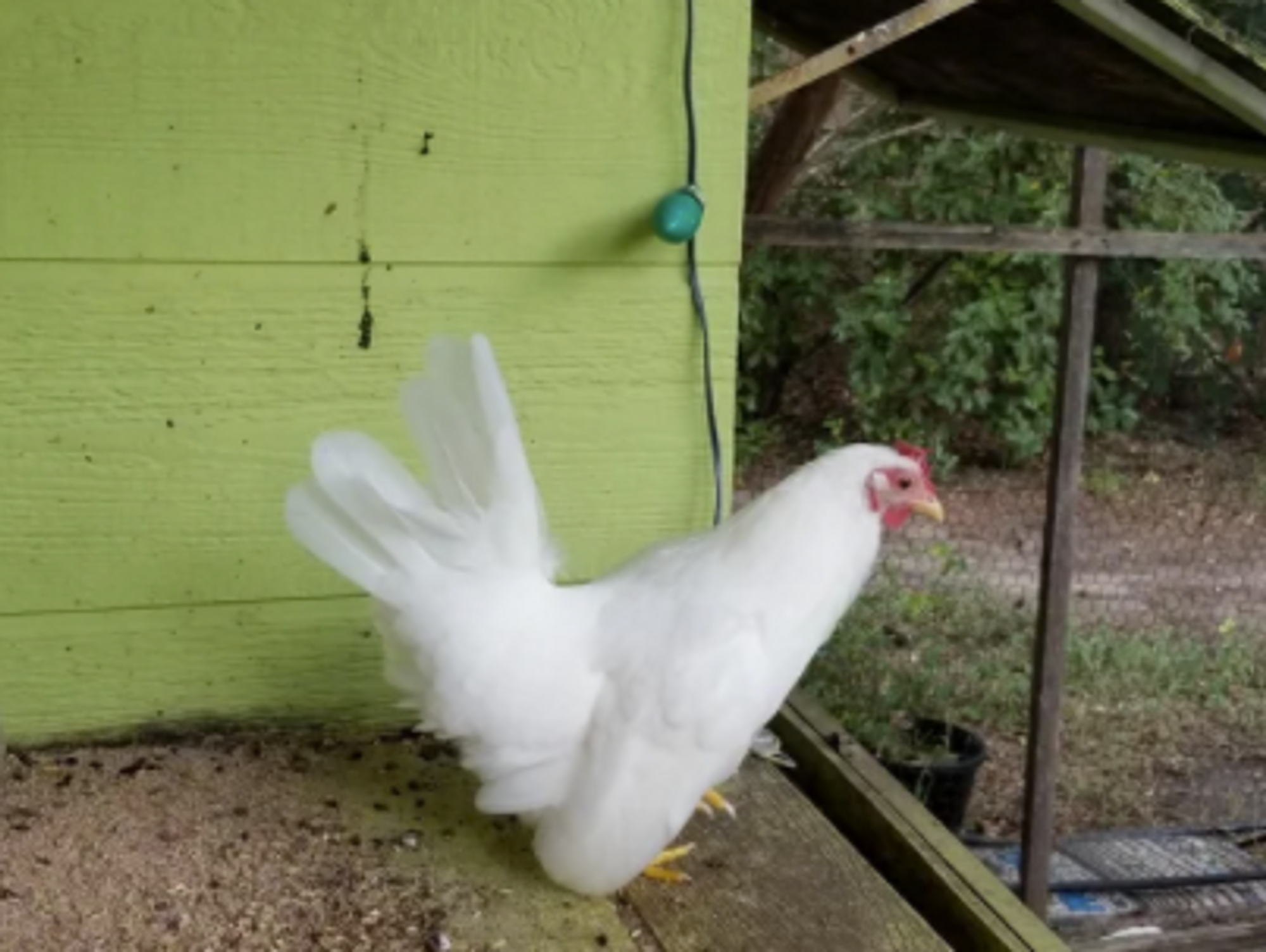 Esperanza has been with the couple since 2009. (Edward Gottschalk)
Gottschalk essentially boiled it down to an in-family Hatfield vs. McCoys dispute.
"I was like, 'let's not talk about my brother,'" Gottschalk said. "'Why are we talking about pumpkins? (Esperanza's) a celebrity.'"
Despite all of his talk, Gottschalk and Appleton have lots of love for their eldest (and now only) feathered friend. In bad weather, Appleton brings Esperanza inside the house for a few days, watches TV with her and even puts her on her lap. The coop, which is fully enclosed to prevent any attacks from predators, sits just outside a bedroom window so the two can give her treats and feed when needed.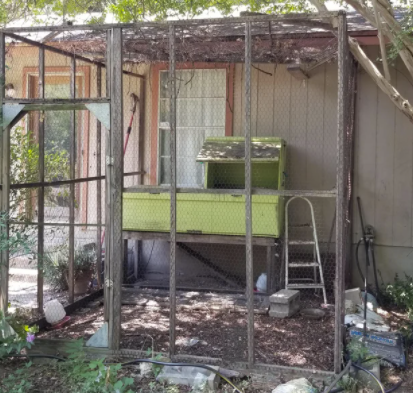 Esperanza's coop is attached to a nearby bedroom window for easier access. (Edward Gottschalk)
Aside from bouts of ringworm and scuffles with former companions, Austin's oldest chicken could get even older. Some of her feathers have bent or fallen out, but she's otherwise perfectly healthy.
All jokes aside, Gottschalk said he's grown to love his grouchiest family member.
"She's pretty sweet with age," Gottschalk said. "It's been nice to have her. I will definitely miss her when she's gone."
Retirees. Dog walkers. Preschoolers. Joggers. They all stop at the corner of 41st Street and Avenue G in Hyde Park to marvel at the side-yard mini farm, home to 12 nameless chickens and three goats: Clementine, Rosebud and Billy Budd.
The neighborhood attraction has only grown more popular since the start of the pandemic when daily walks became one of the few acceptable social activities—and a cherished part of many people's routines.
"I do think it has been significant to people's lives," said Don York, 63, owner of the historic home with his wife Diane. "They weren't going to church anymore. They weren't going out to eat with their friends... So it really did become a place of community."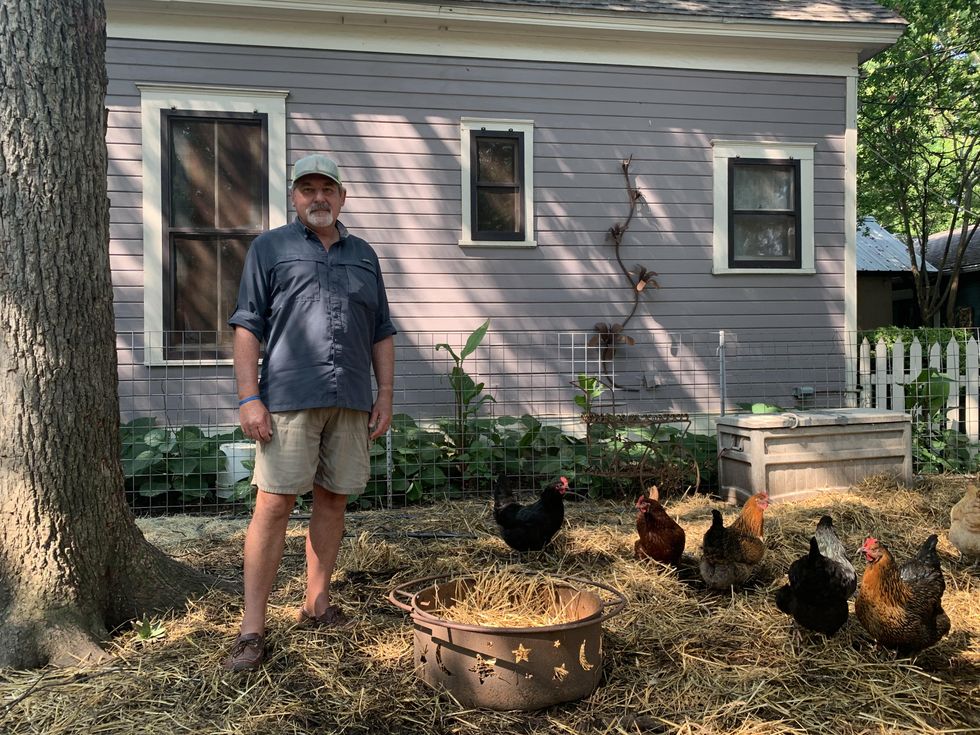 Don York and his wife, Diane, used to walk by their current home and hope to live there one day. (Emma Freer)
Dream home

The Yorks landed in Hyde Park after considering other options, including Tarrytown, Travis Heights and Dripping Springs. "Before Diane and I married, I was just driving around through neighborhoods trying to decide where we wanted to spend the rest of our lives," Don said. "Hyde Park just had the best feel."
While renting a honeymoon cottage at the corner of 40th Street and Avenue H, the couple would scope out the property. "We would walk by this house in the evening and say, 'Man, we would love to live there,'" Don said. "When they put up the for sale sign, we had a contract on it in 24 hours."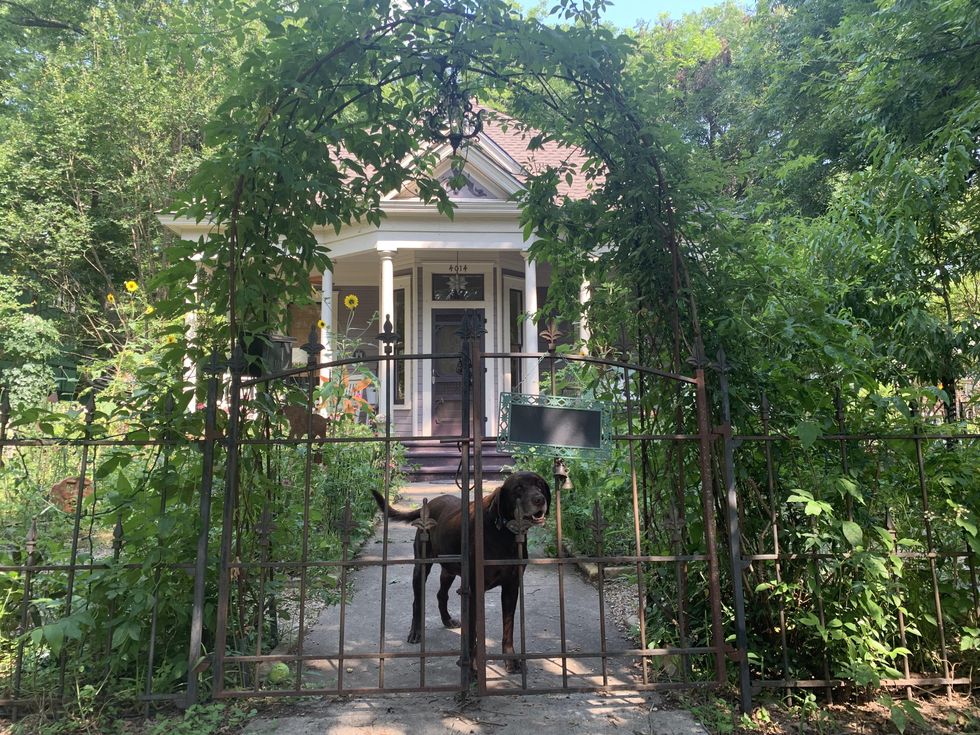 Jack the brown lab stands at the gate of the corner property. (Emma Freer)
They purchased the purple house for $150,000 in 1991 and soon welcomed their older son, whose middle name—Gray—pays homage to the former owner.

There's something of a naming tradition. The Zimmerli-Rosenquist house was built in 1903 and has changed owners approximately 17 times, according to the Hyde Park Neighborhood Association. The first owner, Ida Zimmerli, was a Swiss immigrant and dressmaker who sold it to Helena Rosenquist, a Swedish immigrant who lived there with her husband and their five children.

The home's history is part of its appeal. "One of the things I really like about the house is the tall ceilings, with the ceiling fans and the transoms," Don said. "Because, you know, back in 1903 people didn't have air conditioning."
In addition to good airflow, the house is surrounded by yard space on all sides and features an octagonal porch, which is currently home to at least three nests: robins, sparrows and wasps.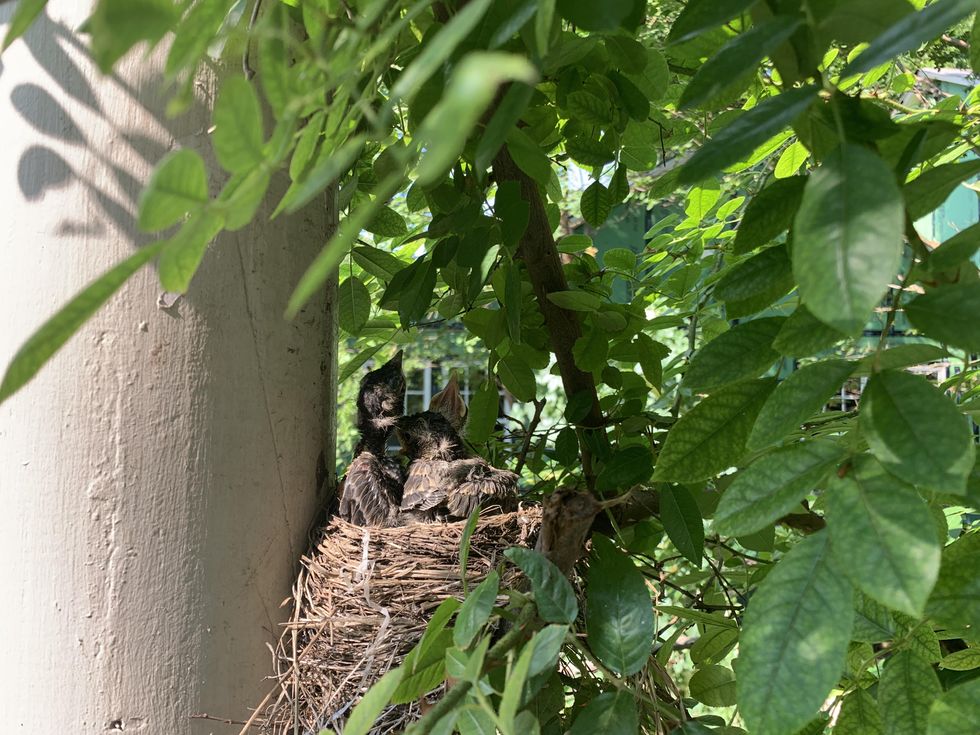 Robin chicks await their next meal. Their nest is hidden in one of the many corners of the Yorks' octagonal porch. (Emma Freer)
'A labor of love'

The mini-farm, which Don calls "a labor of love," began around 13 years ago, when the Yorks' older son was a student at McCallum High School. Don can't quite remember whether it was an environmental science or urban farming class that did it, but he knows his son came home one day wanting to get some chickens. With Diane's approval, Don transformed the kids' abandoned A-frame swing set into a coop and brought home the first eight birds.
Students from the nearby Hyde Park Montessori and Children's Discovery Center schools started visiting each day, around mid-morning. "After we had the chickens for a few years, I was sitting there thinking, 'Aren't you little kids tired of counting chickens?'" Don said. "So I just thought, 'Let's throw some miniature goats in the mix.' And that changed the course of history."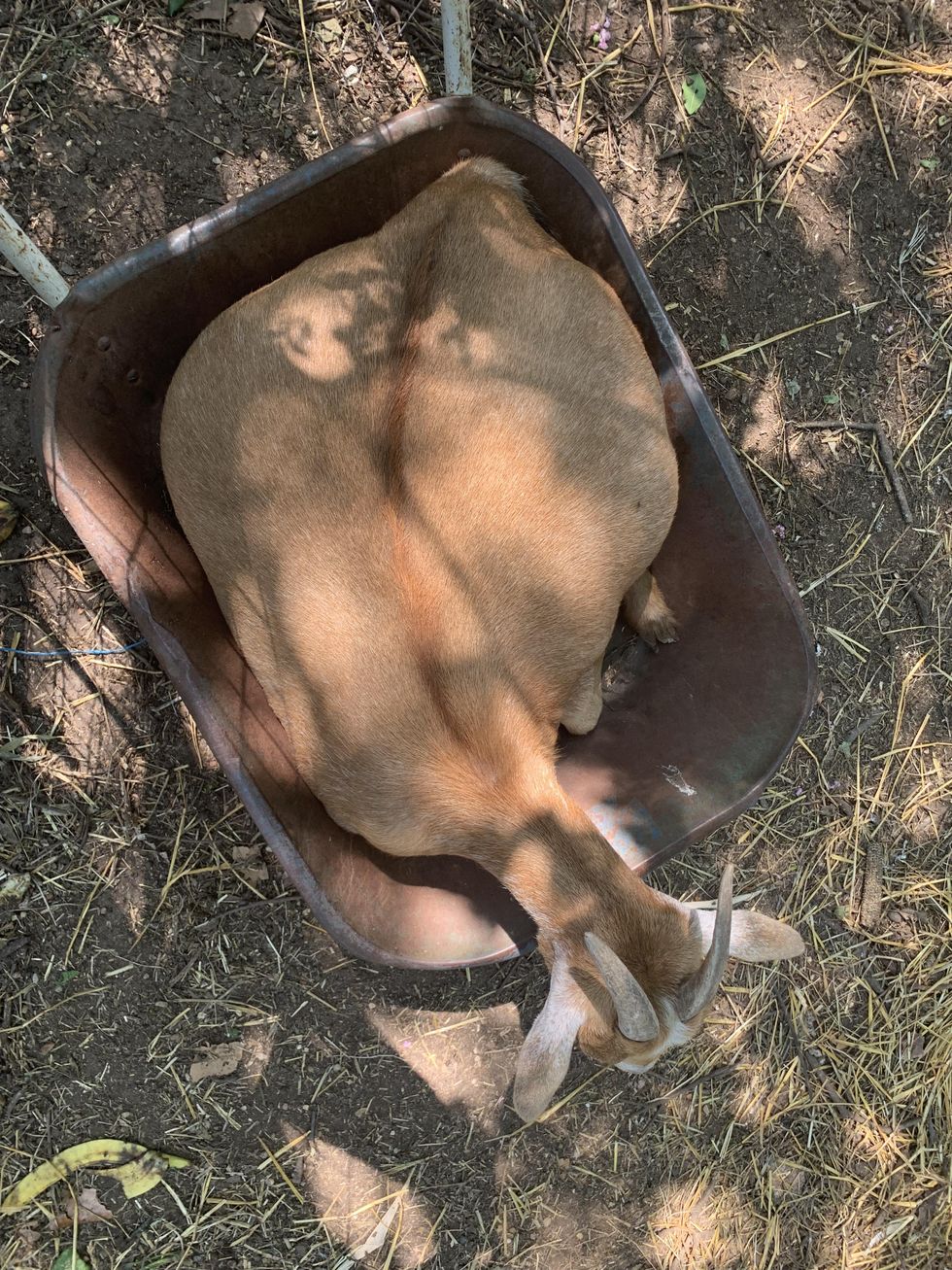 Rosebud moved to the mini farm around Christmastime and is named for the movie Citizen Kane. (Emma Freer)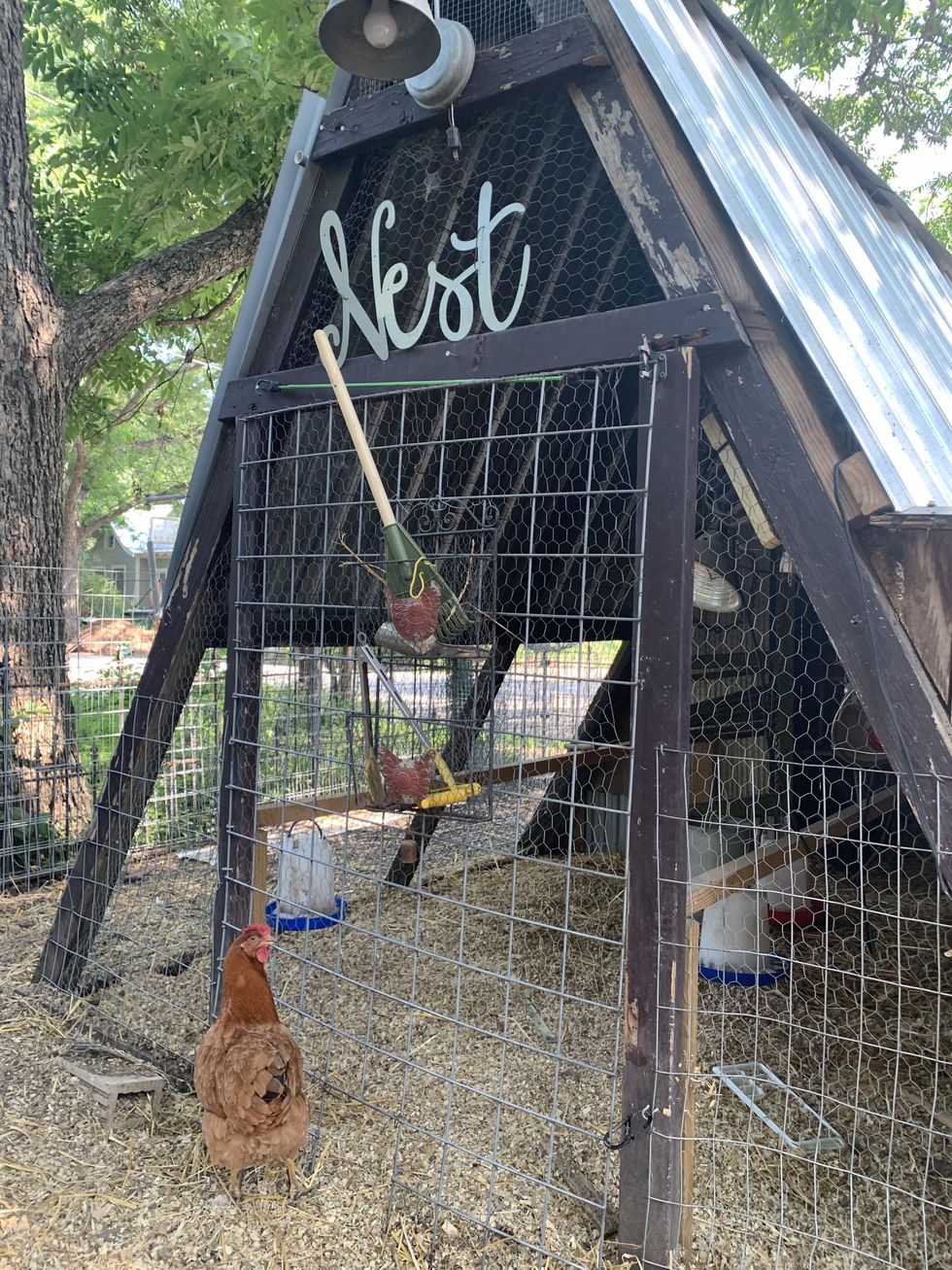 The chicken coop was repurposed from an old A-frame swing set. (Emma Freer)
The Yorks brought home Clementine and her twin sister, who died shortly after. Because goats are social animals, they soon welcomed Rosebud, who, unbeknownst to them, was pregnant. She gave birth to Billy Budd, named for a Herman Melville novella, in front of an audience of Montessori students.
Although Hyde Park has changed since the Yorks moved in—there are more BMWs than beat-up old Volvos, Don said—their routine has remained largely the same. Diane feeds the animals and mucks their enclosure. Don handles media inquiries and maintenance, such as adding a higher fence when the goats started escaping. He also collects eggs each day. There's a small basket hanging on the fence, where passersby can swap $5 for a carton.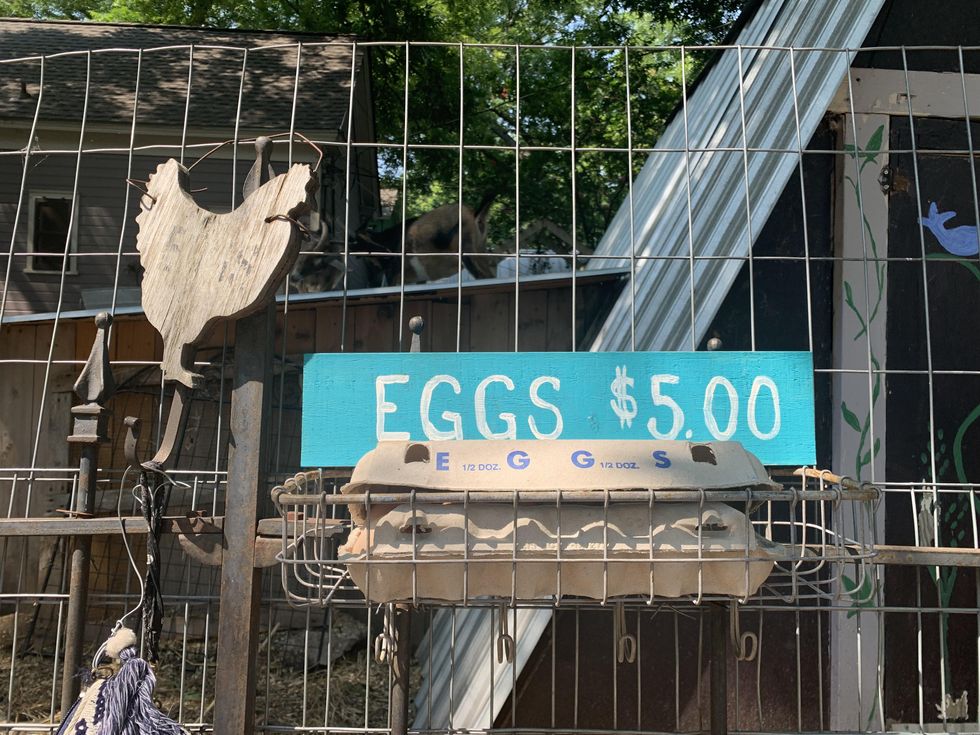 Lucky passersby will find fresh eggs, which Don typically sets out in the early evenings. There is a small coin purse for payment. (Emma Freer)
During the pandemic, the mini-farm was a natural gathering place, where neighbors could chat at a safe distance, with an obvious icebreaker. Don, an attorney, would sometimes have to change rooms while attending virtual hearings to get some quiet. But he welcomes the visitors, who continue to flock to the yard. "COVID really did ratchet it up," he said. "Hordes of people, every day."

Everything felt grim in the summer of 2020 as the pandemic raged on and kept many away from family and friends, but there was one glimmer of hope: dogs and cats were being adopted in record numbers.
But now as people begin to go back to work in person and resume their former lives, thousands of "pandemic pups" are being returned to shelters, where they are reaching full capacity.
Last week, the Austin Animal Center opened its doors in person for the first time since the onset of the pandemic. The reason for reopening was less than hopeful, however: the center was out of kennel space and in desperate need of adoptions.
Along with less time to be spent with a pet, reasons for surrendering pets can lie in financial and housing hardships. According to BestFriends.org, two of the top three reasons that pets are returned to shelters are due to financial or housing reasons.
Austin Pets Alive! reports it is seeing steady surrender rates, but there are fewer people willing to foster pets.

APA told KVUE that their plea to get more foster pet parents reached their nearly 150,000 followers, but only 55 people responded. Even fewer followed through.
For those who can no longer take care of their pet, the Animal Humane Society recommends trying to rehome the animal yourself before surrendering to a shelter. Making sure the animal is well-groomed, spayed or neutered can help increase adoptability, and the AHS also has a re-homing tool to help find a forever home for your pet.
If surrendering is the only option, the organization recommends looking for breed-specific nonprofit organizations to re-home your pet as well.
Small amounts of dihydroanatoxin, potentially dog-killing algae, has been found in an algae sample taken from Lake Austin near Mansfield Dam as well as two samples from Lady Bird Lake.
The toxin has already been found in other Highland Lakes by the Lower Colorado River Authority this year and was also found in Lady Bird Lake the past two years. At least one dog has died in Lake Travis this year and many have been reported sick.
Cyanotoxins are forms of harmful blue-green algae that can flourish in blooms in standing bodies of water, and they've been harmful to dogs in both lakes in the past as well as Lake Travis. While trace amounts were found in Lake Austin and Lady Bird Lake, there is still an increased risk of sickness if dogs swim in either lake.
Blooms of the harmful algae can cause the deaths of livestock and dogs, and people may also suffer health issues after being exposed, though it's rarer. Symptoms in dogs may include fatigue, excessive salivation, difficulty breathing, vomiting, diarrhea and seizures.
Experts have found that harmful algae blooms can occur in warmer times of the year, but the Watershed Protection Department is working to reevaluate its algae monitoring system after the algae was found in four lakes and was detected in cooler times of the year.
If a dog reports any telltale symptoms, dog owners should consult a vet immediately and report the illness to 3-1-1.
While swimming dogs should be met with caution, humans can still boat and fish without risk, but handling algae is not recommended.