Get connected with our daily update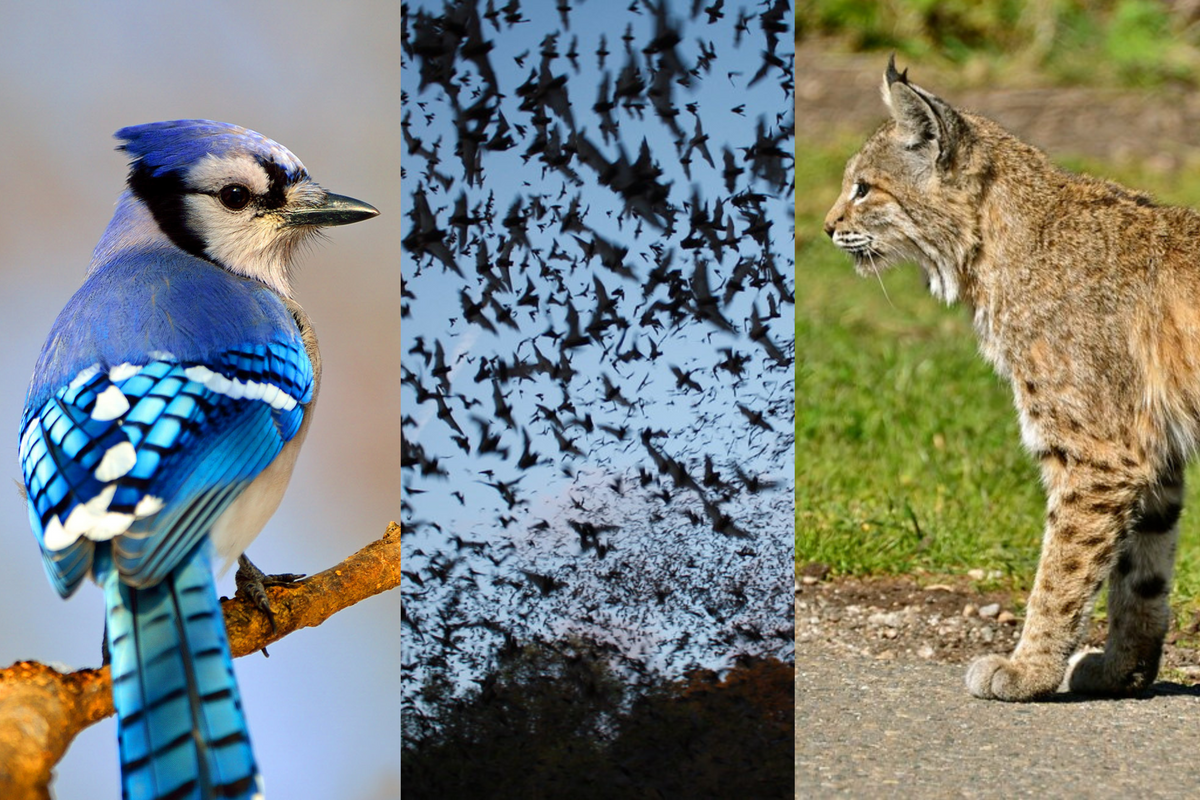 The rolling Hill Country isn't just home to your friends and neighbors—it is well known for its diverse ecosystem and impressive wildlife.
From turtles sunbathing on Lady Bird Lake to bats feeding on the Congress Bridge to animals that make bumps in the night, you can find it all in the Central Texas habitat. Very few of our animals are harmful but almost all of them are a sight to see.
These are just a few of the critters you're likely to spot while you're in Austin, but you can click here for more information.
Mammals
We didn't include coyotes on this list, as you're likely to see them all over North America.
Bats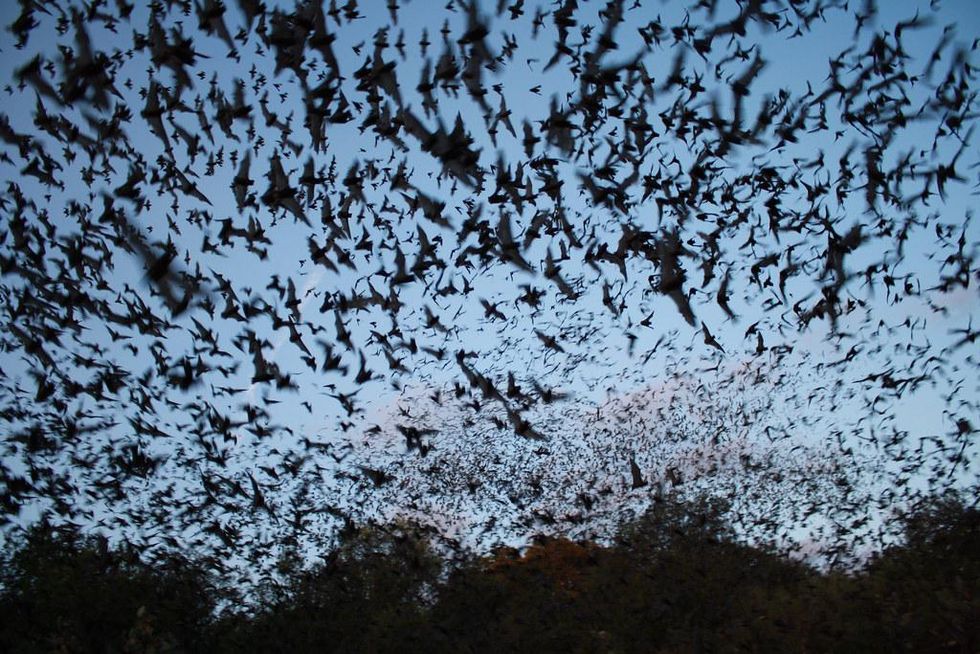 (USFWS Headquarters)
Danger level: ✅ Low, just don't touch
The symbol of the city, Austin is home to more than a million Mexican free-tailed bats depending on the time of year, with the most visible around July and August. Both the Congress Avenue bridge and Round Rock's McNeil bridge are maternity colonies, where females give birth to pups in the summer. Austin is famous for bat-watching when the creatures feed, which tends to fall around sunset between March and August.
Fun fact: Bats tend to live up to 11 years in the wild.
Bobcats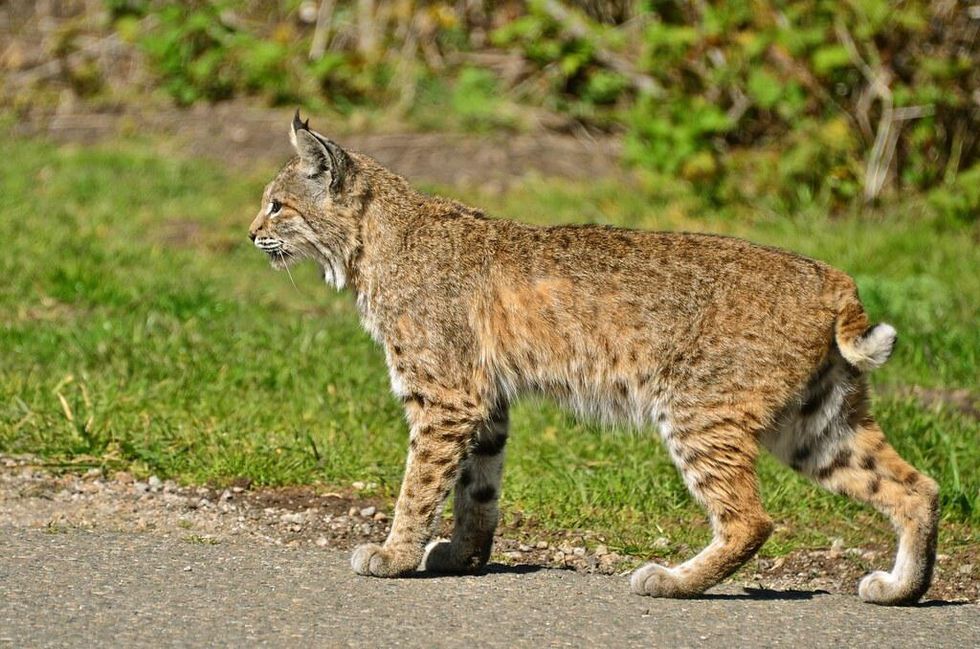 (Linda Tanner)
Danger level: ⚠️ Medium, admire from a safe distance
Texas is home to a number of wild cats—bobcats tend to prefer habitats in the Hill Country but you're unlikely to spot one in the wild in Austin. An adult bobcat measures about 3 and a half feet in length, weighing 12-36 pounds, and eats small mammals, birds, domestic sheep and occasionally deer. Bobcats typically don't cause great damage or attack humans, but it's best not to disturb one if you spot it. Mountain Lions are also native to the southern parts of the Hill Country.
Fun fact: Bobcats are the only native Texas cat important to fur production.
Nine-banded armadillo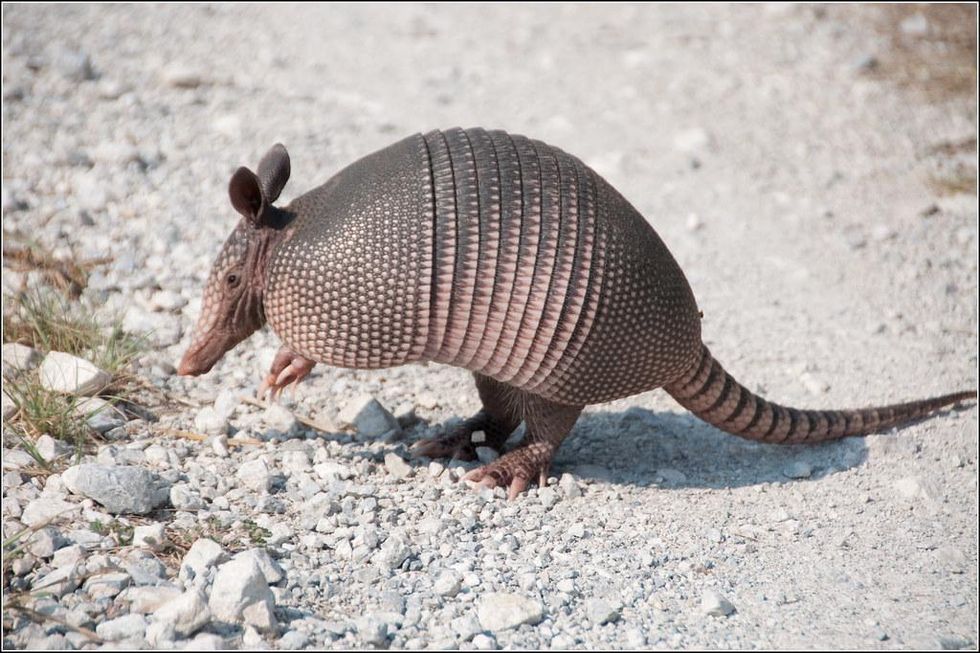 (Rich Anderson)
Danger level: ✅ Low, just don't touch
As the official small mammal of Texas, you can find armadillos wandering all around the state except the Trans-Pecos. You're most likely to see an armadillo using its sharp claws to dig for some tasty grubs, which can be harmful to crops, or build a den. They can be quite noisy when foraging and if you startle an armadillo, it might jump straight up into the air before quickly scuttering out of sight. If you see one of these armored little guys, do not touch it, as armadillos are the only animal known to carry leprosy and are illegal to sell in Texas.
Fun fact: Armadillo mothers give birth in springtime to four fully-formed identical quadruplets.
Raccoons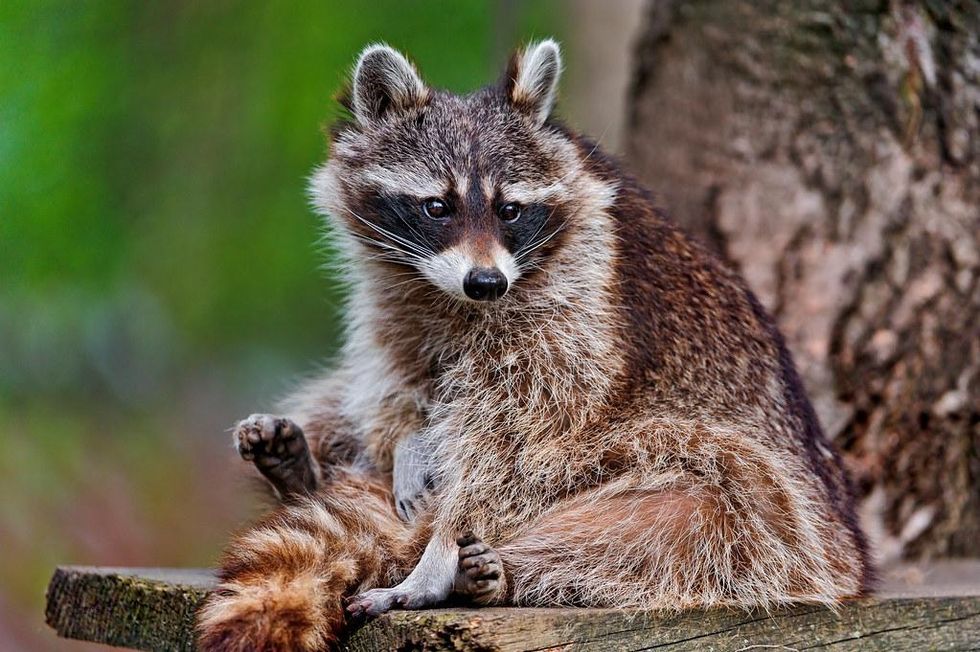 (Tambako the Jaguar)
Danger level: 🆘 High, do not approach
With their unique coats, raccoons can be easily spotted in Austin, likely digging through trash or going through your plants. They're known for looking cute but raccoons have a high risk for rabies and often act aggressively, so don't feed or socialize with them. Covering trash cans can be a good way to keep them out of your garbage.
Fun fact: Raccoons will often make dens in logs or tight, enclosed spaces.
Reptiles and amphibians
These little guys are often spotted at Lady Bird Lake.
Frogs, toads and salamanders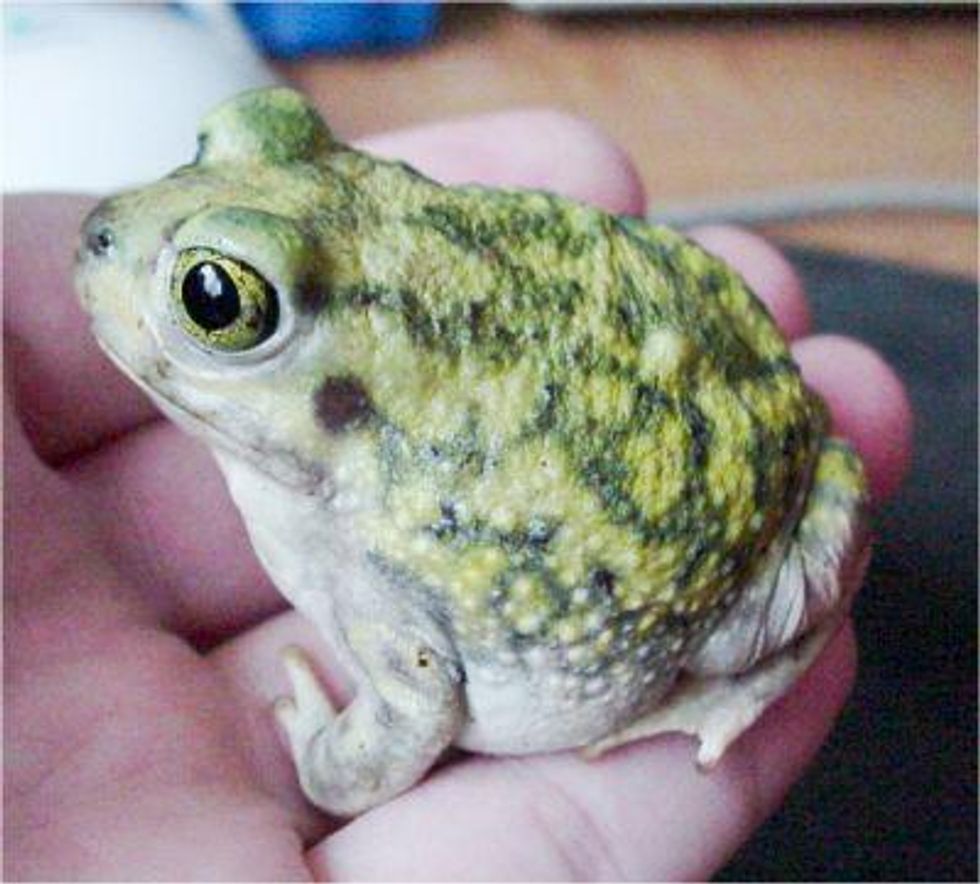 Danger level: ✅ Low, just don't touch
There are a plethora of all three residing in Central Texas, if you're quiet enough to spot one. The American bullfrog, green tree frog and spotted chorus frog mark the most well-known in town and tend to be harmless. Coach's Spadefoot and Woodhouse's toads are common as well, and you might see a Barton Springs Salamander while paddleboarding, but they'll stay away.
Fun fact: The brighter the colors, the more likely these critters are to be poisonous.
Turtles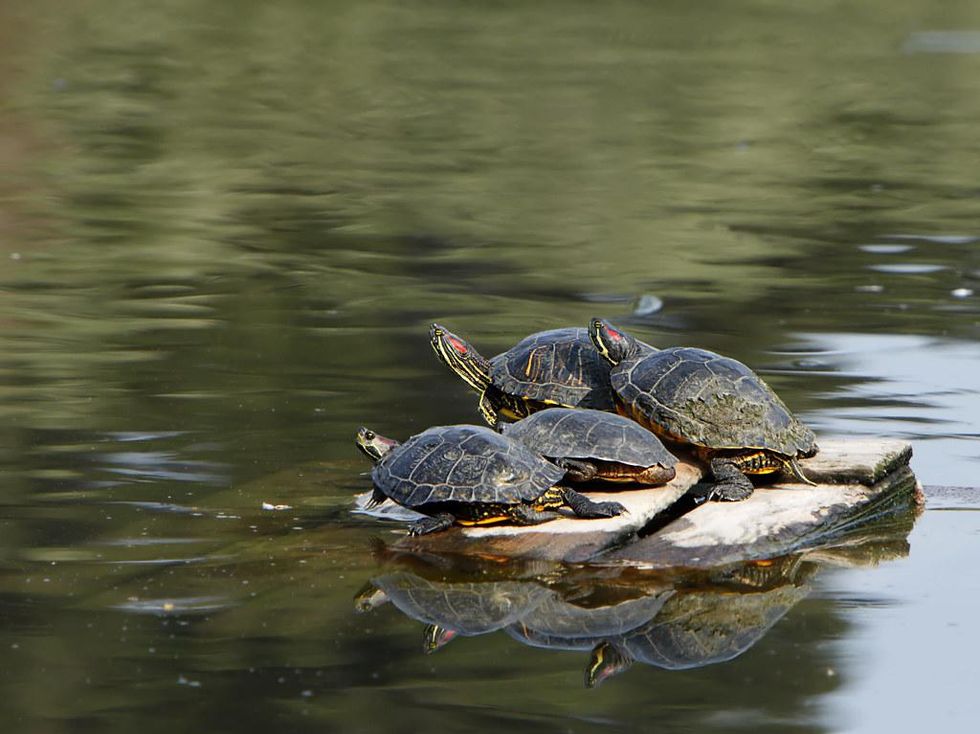 (Alan Vernon)
Danger level: ✅ Low, just don't touch
You've probably seen a mix of red-eared sliders, softshell and snapping turtles sunning on a log while on Lady Bird Lake. Turtles can live upwards of 30 years on a diet mostly consisting of small fish, plants and decaying matter. Turtles ribs are infused with its shell, so it never outgrows its home. It's possible that these little reptiles will bite, but unlikely, and could carry salmonella but they are nothing to be afraid of.
Fun fact: If there isn't enough space for everyone to sun, turtles will stack themselves on top of each other.
Snakes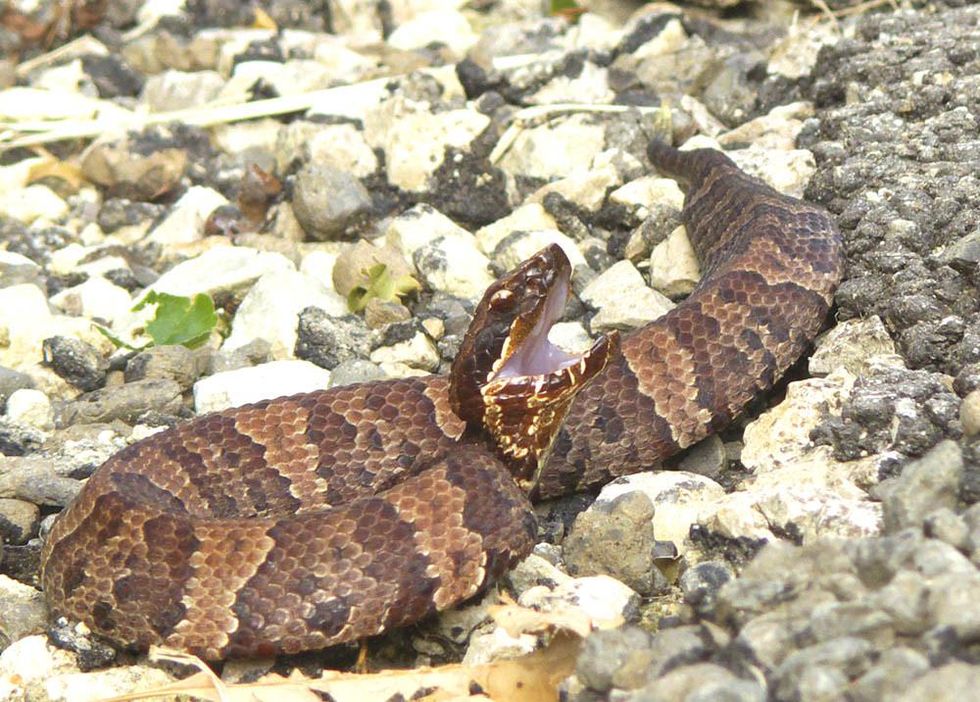 (Tom Spinker)
Danger level: Medium, admire from a safe distance.
There are over 105 different types of snakes living across Texas but there are only four you need to be concerned about in Austin: the western diamondback rattlesnake, the broad bandit copperhead, the western cottonmouth and the Texas coral snake are all venomous. The rat snake is often confused with the rattlesnake, since they have similar snaking tails, though it is not venomous. The best way to avoid a bite is to give the snake space and do not handle it.
Fun fact: The shape of a snake's head is an easy indicator of whether or not the snake is venomous—snakes with triangular heads tend to be venomous but a rounded head is a good sign.
Birds
There are over 660 species of birds living across Texas.
Blue Jays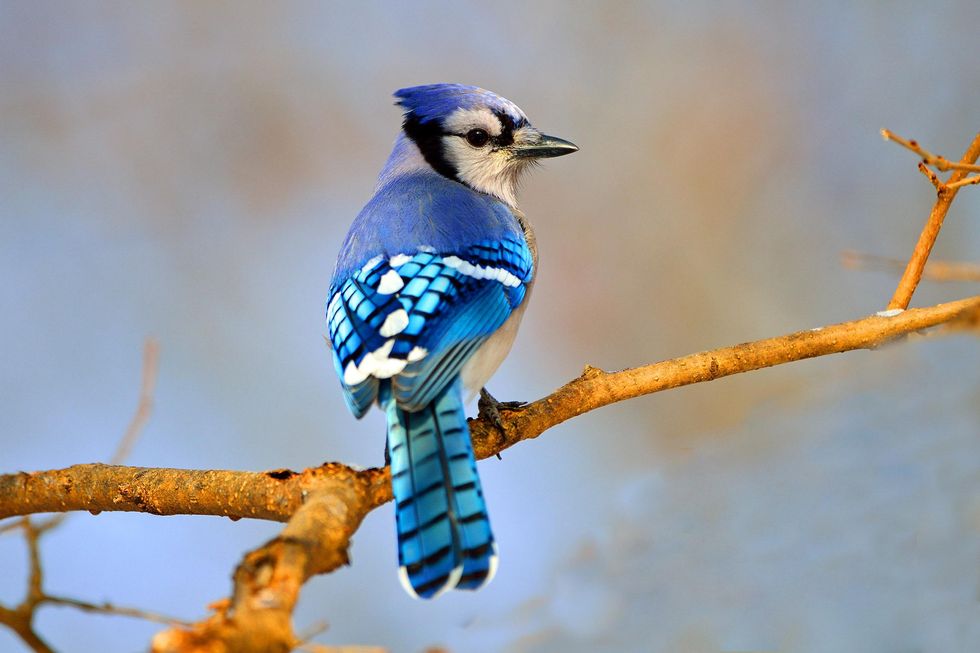 (Brian Kushner)
Danger level: ☺️ Harmless
These blue beauties look pretty, but don't be fooled, they're loud and aggressive toward other birds. Blue jays are known for attacking owls and imitating a hawk call to scare away any threats. However, blue jays are normally tame around humans.
Fun fact: These birds are known for eating the eggs of other birds to frighten them away.
Grackles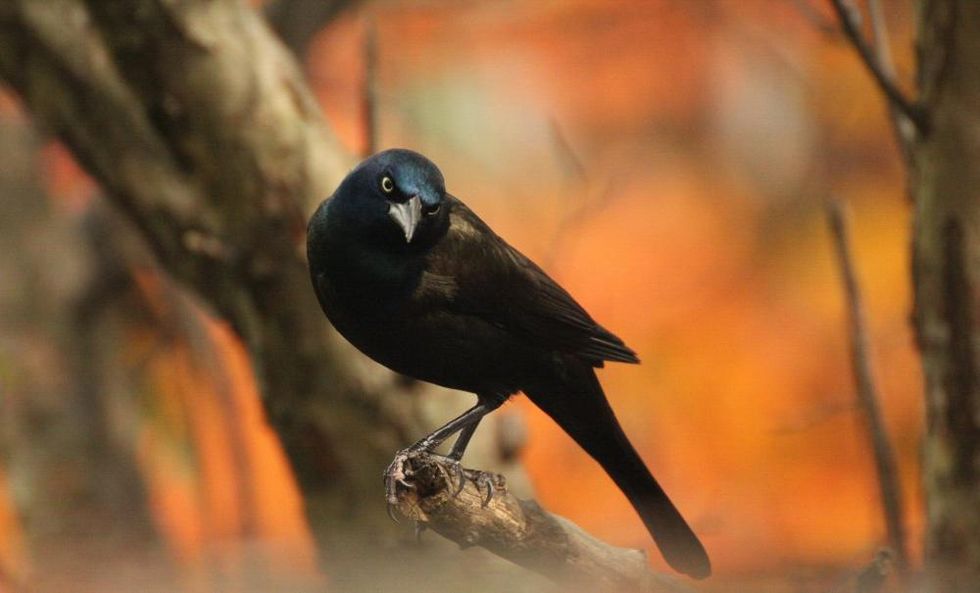 (Madeline Poster)
Danger level: ☺️ Harmless
More likely than not, Grackles are the source of the bird noises that annoy you most. With a look similar to that of a blackbird, a bit taller and more iridescent. Grackles are known for their cocky struts and eating anything at their disposal.
Fun fact: Grackles are the number one threat to corn crops.
Golden-cheeked warblers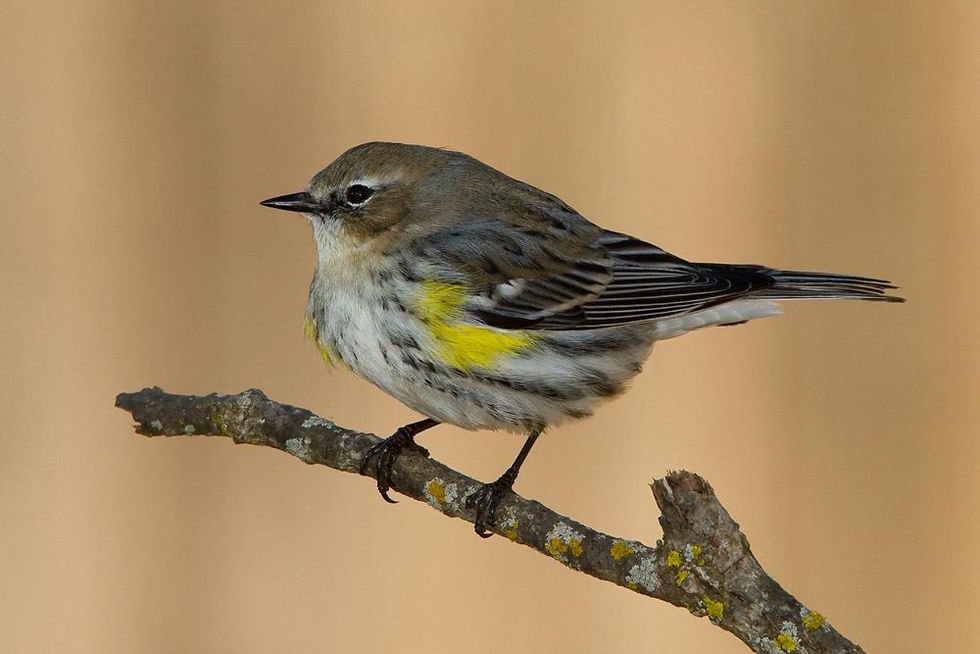 (Duane Angles)
Danger level: ☺️ Harmless
This yellow-cheeked bird only nests in Central Texas, leaving for Mexico in July to spend the winters, and takes up residence in wooded areas. The golden-cheeked warbler is categorized as endangered by both Texas and U.S. standards.
Fun fact: The golden-cheeked warbler is the only bird that breeds in Texas to exclusively nest in Texas.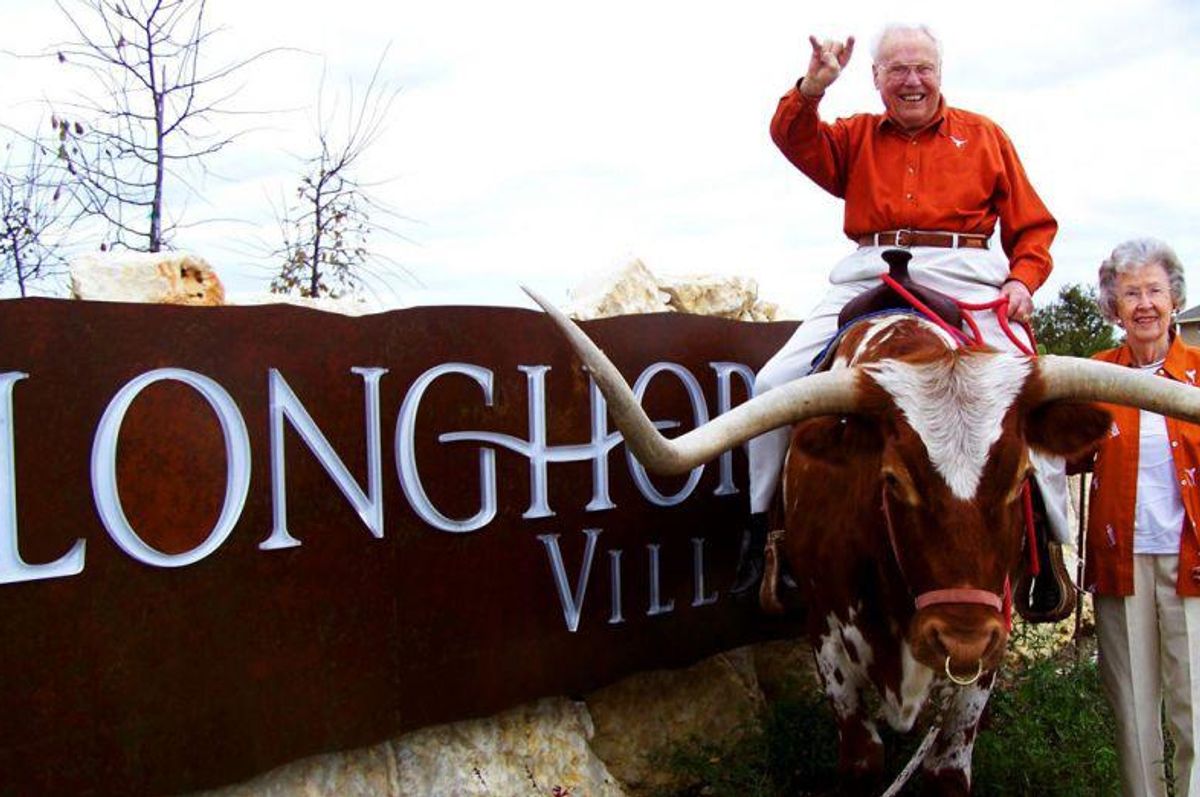 While Oscar winner Matthew McConaughey may forever have Austin's hearts, plenty of other winners live in Austin's city limits, including seven Guinness World Record holders.

The books frequented at Scholastic Book Fairs feature past and current Austinites—from speedy burrito makers to ancient felines—that made their mark in their own niche categories.
Here's a look at those record-smashing feats:
World's longest legs (female): Maci Currin (4.4 ft)
Cedar Park teenager Maci Currin strutted into the 2021 World Record book with her record-setting legs. At nearly a meter and a half in length (her longest leg checks in at 53.255 inches,) the 6 ft 10 teenager is no stranger to standing out.
Currin, who said she's been bullied for her height in the past, hopes the recognition will inspire other tall girls to embrace their height as she hopes to move into the modeling industry.
Oldest married couple (2020): John and Charlotte Henderson
❤️🙏🏽 The UT and @LonghornVillage Retirement Community mourning the loss of a legend: John Henderson. You'll remember, he & his wife, Charlotte, set the @GWR for the oldest married couple of aggregate age. The two of them met at UT. He was 107: https://t.co/gVtWrTixGL pic.twitter.com/2YgoptUyEX

— John-Carlos Estrada (@Mr_JCE) October 19, 2020
Not-so-newly weds, UT alumni John and Charlotte Henderson tied the knot before the Guinness Book of World Records had even started collecting records.
Before Austin's skyline featured much more than the Capitol, the two were married in 1939—83 years ago—after meeting in a UT zoology class in 1934. The two were named the oldest living married couple, when adding the two's ages, in early 2020.
At 107, John Henderson was also the oldest living Longhorn football player before his death in October 2020.
Fastest Sandwich made with feet: Rob Williams (1 minute 57 seconds)
Austinite Rob Williams is the ultimate bread-winner.
Williams became the fastest person to make a sandwich with his feet when his nimble toes crafted a bologna, cheese and lettuce sandwich, complete with olives on cocktail sticks, in a minute and 57 seconds. An audience member named Sally was lucky (or unlucky) enough to take a bite out of the record-breaking sandwich after it was created by the Kamikaze Fireflies member at Austin's Zach Scott Theater in 2000.
Biggest dog hair ball: Texas Hearing and Service Dogs (201 pounds)
Texas Hearing and Service Dogs put together a hefty hairball when it gathered fur from over 8,000 dogs to create a 201-pound fur ball. The bundle of fur became the heaviest on record and weighed more than the average weight of even the world's largest dog breeds.
Oldest Cat: Creme Puff (38)
Speaking of hairballs: Creme Puff the cat probably coughed up her fair share in her 38-year life.
The record-setting feline was born in 1967 and lived with her owner, Jake Perry, in Austin until August 3, 2004, breaking the record as the oldest cat on record.
Her secret? Dry cat food, broccoli, eggs, turkey bacon, coffee, and even an eyedropper full of red wine every two days.
Perry, who also had a cat named Granpa Rex Allen live to age 34, kept his home fit for kitty royalty, complete with a movie theater in his garage that played nature documentaries for their entertainment.
Most contributions to a painting: Schlotzsky's (2,643)
Thanks, Austin (all 2,643 of you, to be exact)! You helped us set a new @GWR for Most Contributors to a Paint By Number Mural! pic.twitter.com/hbE33WhTVI

— Schlotzsky's (@Schlotzskys) October 10, 2017
Austin's original sandwich chain earned a spot on the list after a whopping 2,643 residents contributed to a paint-by-numbers mural at Schlotzsky's original location on its 46th birthday in 2017.
Sloke One, the "Mayor of Austin Graffiti Art," crafted a colorful outline of a giant sandwich in front of an Austin skyline to commemorate the chain.
Most lanyards worn at once: Guillermo Rodriguez (300)
Late-night host Jimmy Kimmel paid witness to a world record-smashing moment when the strong-necked Guillermo Rodriguez wore a whopping 300 lanyards at his Jimmy Kimmel Live! SXSW appearance in 2015.
In a performance that was more slow-paced than Rodriguez probably would have liked, Kimmel put on the 300th lanyard as Rodriguez was presented a plaque to commemorate the feat.
Most burritos made in three minutes: London Nichols (10)
After getting plenty of practice as an employee at Austin-based Freebirds World Burrito, London Nichols broke the burrito-wrapping record as she made 10 burritos in just three minutes at SXSW in 2017.
Smallest test tube: UT scientists (2009)
Though it may have been hard to see the accomplishment, scientists at UT made the world record book as they conducted an experiment with a test tube with a diameter equivalent to one-thousandth of human hair in 2009.
Most haircuts in an hour: Ivan Zoot (34)
#OnThisDay in 2008, Ivan Zoot (USA) completed 34 haircuts in one hour, at the Men's Grooming Center in Austin, Texas 💇🏽‍♂️ pic.twitter.com/xu2GevI5Hu

— Guinness World Records (@GWR) August 22, 2019
Customers may have cried after their rapidly-executed cuts were revealed, but barber Ivan Foot still earned respect as he completed 34 haircuts at the Men's Grooming Center in Austin in 2008.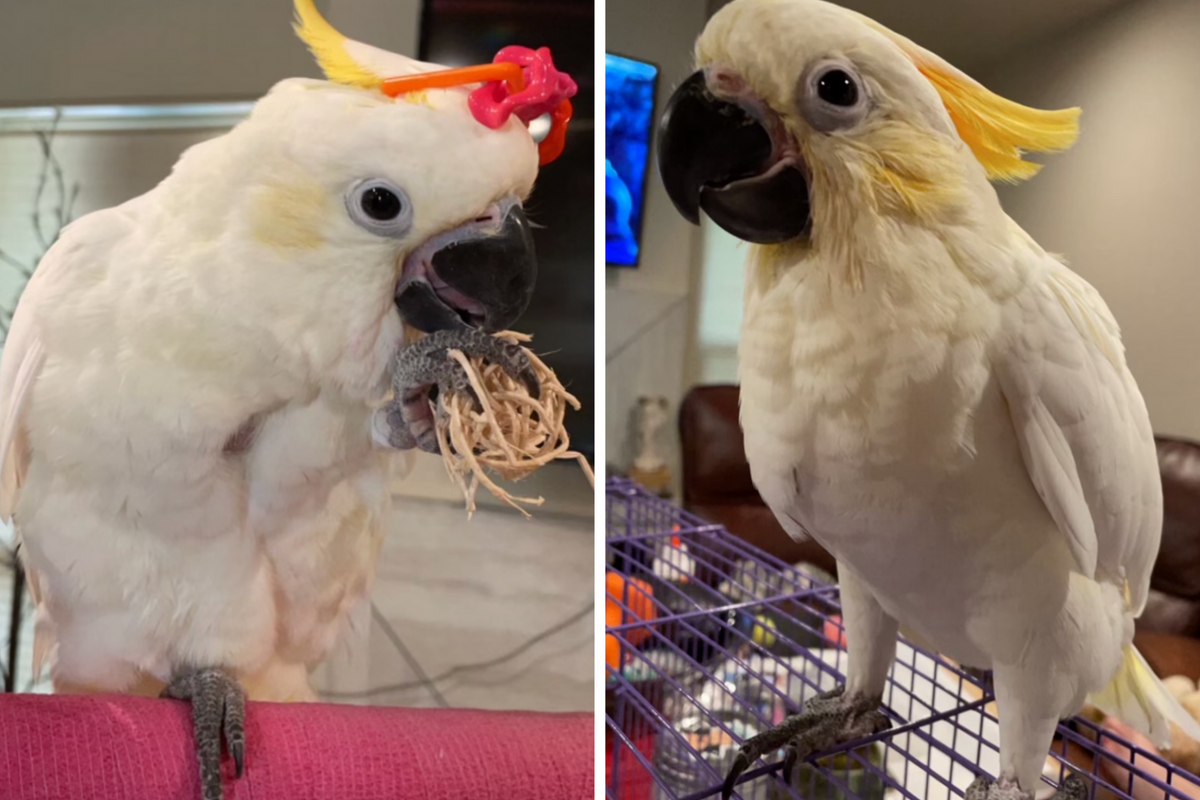 A big-money bird has been stolen from a northwest Austin pet store.
Kelsey Fernandez, the owner of a $6,000 sulphur and citron-crested cockatoo named Lemon Grab, said the emotional support animal was taken from the Gallery of Pets store, around closing time on Sunday.
"I've struggled with mental illness my entire life, and ever since I got him I've been doing so much better," Fernandez told Austonia.
The $6k cockatoo is young and will starve unless he is fed by hand, Fernandez said.
In a surveillance video, a man appears to have something under his shirt as he and two others exit the business around the same time the store believes that Lemon Grab was stolen.
Fernandez said a report has been filed with the Austin Police Department with an $1,000 reward for his return.