Austonia AM
100% Austin news, info, and entertainment, straight to your inbox at 6 a.m. every morning.
In five minutes, you're fully informed and ready to start another great day in our city.
Get connected with our daily update
Adrianna Salazar was celebrating her 19th birthday on 6th Street when Saturday morning's deadly mass shooting broke out, rushing her to the hospital with gunshot wounds in both legs.
Of the 14 injured from the shooting, one was killed and another will permanently be paralyzed. Both suspects in the shooting, an unnamed 16-year-old and 17-year-old Jeremiah Roshaun Leland James Tabb, are in custody.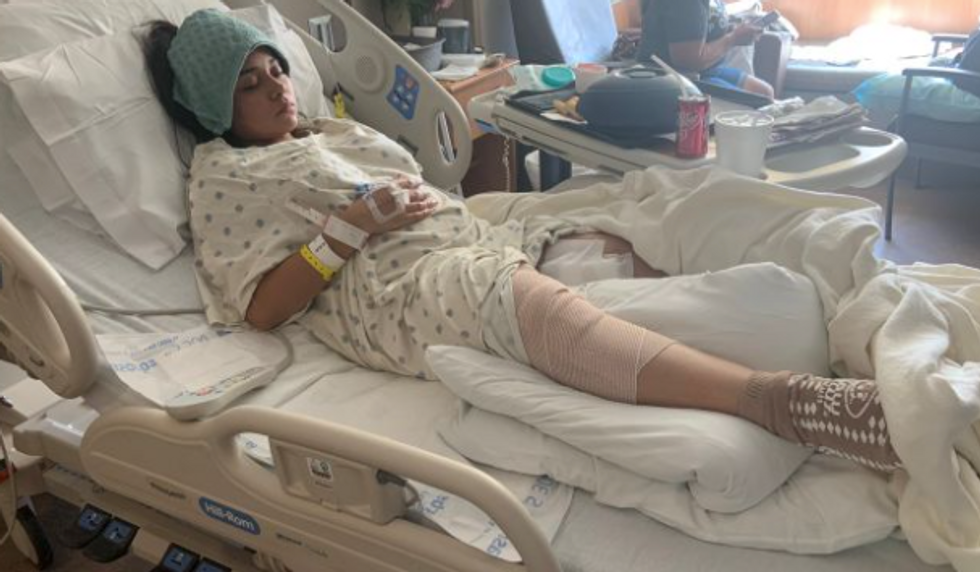 The Salazar family has set up a GoFundMe page to help pay for medical expenses. (Salazar family/GoFundMe)
Salazar was celebrating at an 18+ club on the street with her older brother before the incident. She said after she was shot, she FaceTimed her mother while laying on the street.
The bullet cleared through her right leg, shattering the bone, before sticking in her left leg, Salazar said, where it is still stuck. Her family set up a GoFundMe page to help pay for medical expenses, as Salazar is without insurance, they say.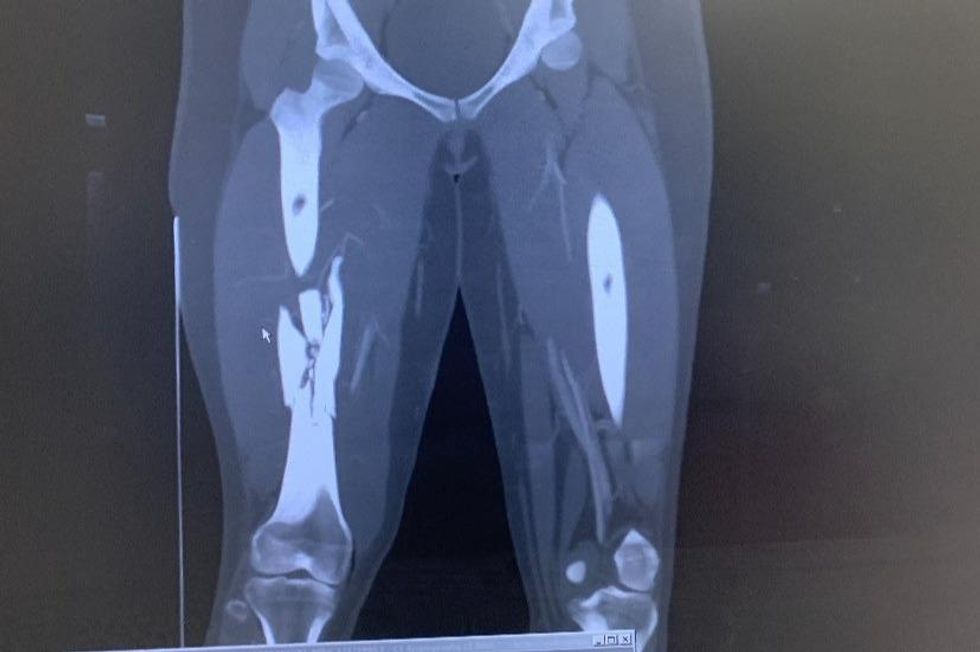 X-ray of Salazar's legs. (Adrianna Salazar/GoFundMe)
Salazar was the face of a striking viral photo showing police officers carrying her to safety. She will have to undergo extensive therapy to recover from her injuries and relearn how to walk.
"I basically have to learn how to walk again and go through a lot of therapy," Salazar said on the GoFundMe page. "Even the smallest donation would help and I greatly appreciate any donation received. Thank you."

Jeremiah Roshaun Leeland James Tabb is now in police custody for aggravated assault with a deadly weapon. (Austin Police Department)
An escalation of middle school drama led to the mass shooting on 6th Street last Saturday, which injured 13 and killed one man, an arrest affidavit obtained by KVUE shows.
The suspects, an unidentified 16-year-old and 17-year-old Jeremiah Roshaun Leeland James Tabb, are now in custody.
According to the TV station, the two knew each other from middle school and saw each other outside a bar at the 400 block of East Sixth Street. The 16 year old said Tabb walked by with "his crew" and approached him, asking "What y'all wanna do? Y'all wanna fight?"
One of the teens with the 16 year old responded, "It's whatever," when Tabb allegedly took a gun out from his waistband and began to fire shots. A member of the 16-year-old's group told police their group began to run away, hearing shots fired behind them.
The 16 year old also reported that Tabb had shot him in the leg previously in Killeen, Texas. The affidavit confirmed that there was a Killeen police report of the shooting.
A witness told police they saw one of the teens take out a gun in response to Tabb showing his weapon. The 16 year old said he shot back for their own protection. Investigators found eight shell casings from bullets in front of a bar that night.
Tabb is being charged with aggravated assault with a deadly weapon as an adult, as the incident is still being investigated.
Austin police are investigating a homicide in North Austin where a woman was shot and killed, just hours after a mass shooting in Downtown Austin hospitalized 14 people.
APD is working a suspicious death near the 1900 block of W Rundberg Ln. PIO is en route and will update with media staging location. PIO6
— Austin Police Department (@Austin_Police) June 12, 2021
Police originally responded to Ironhorse Flats Apartments, 1900 block of W. Rundberg Lane, at 3:20 p.m. when they found the woman with multiple gunshot wounds. She was transported to a local hospital, where she was pronounced dead at 4:07 p.m.

No one is in custody as of yet but police are speaking with potential witnesses. Officials said they believe this was an isolated incident with no danger to the public but said possible relation to the downtown shooting has not been specifically ruled out.
Officers could not provide a suspect description and the relationship to the victim is still unknown.
This is a developing story that will be updated as details become available.
As violent crime ticks up in Austin and the city experienced the latest mass shooting on Sixth Street Saturday morning, Austinites voiced their thoughts on social media.
The shooting sent 14 bystanders to the hospital—two in critical condition. One suspect has been caught, while another remains at large.
The incident has gained national attention, including a statement from the White House:
"This morning, Austin has become just the latest American community to wake up ravaged by an act of senseless gun violence," White House spokesperson Ike Hajinazarian said. "While we pray for the shooting's victims and their families — and thank first responders for their quick, heroic work — we must not lose sight of what this tragedy again makes clear: it's long past time for the Senate to pass meaningful gun reform and allow Texans—and all Americans—to enjoy a night out without the fear of another night of gun violence."
Gov. Greg Abbott shared a statement on Twitter thanking police and inviting Austinites to join wife Cecelia and "I in prayer for those who were injured," prompting backlash from hundreds of followers, largely surrounding the upcoming bill that will allow unlicensed open carry.
Though the bill has yet to be signed into law, Abbott has said he will sign the bill despite objections from law enforcement groups.
Prominent Austin City Council Member Gregorio Casar also commented on the incident, calling to "double down" on efforts to reduce violence. Several people responded, placing blame on Casar for writing the plan to defund the police.
While investigators are confident that they will catch the other suspect, Interim Police Chief Joseph Chacon said that with low staff levels, responding to violent calls is getting increasingly difficult. Police said they believe Austin is still a "safe city," though residents should remain alert and exercise caution while visiting downtown.

As Sixth Street is usually one of the busiest entertainment districts, it is usually highly policed. Still, some Austinites said they were afraid themselves, having been to the street themselves.
The We Are Blood community blood center is asking for donations to replenish its supply after using blood and platelet donations to treat patients involved in the shooting. Austin police are also asking for anyone with information to call 911 or 512-472-TIPS.