Get connected with our daily update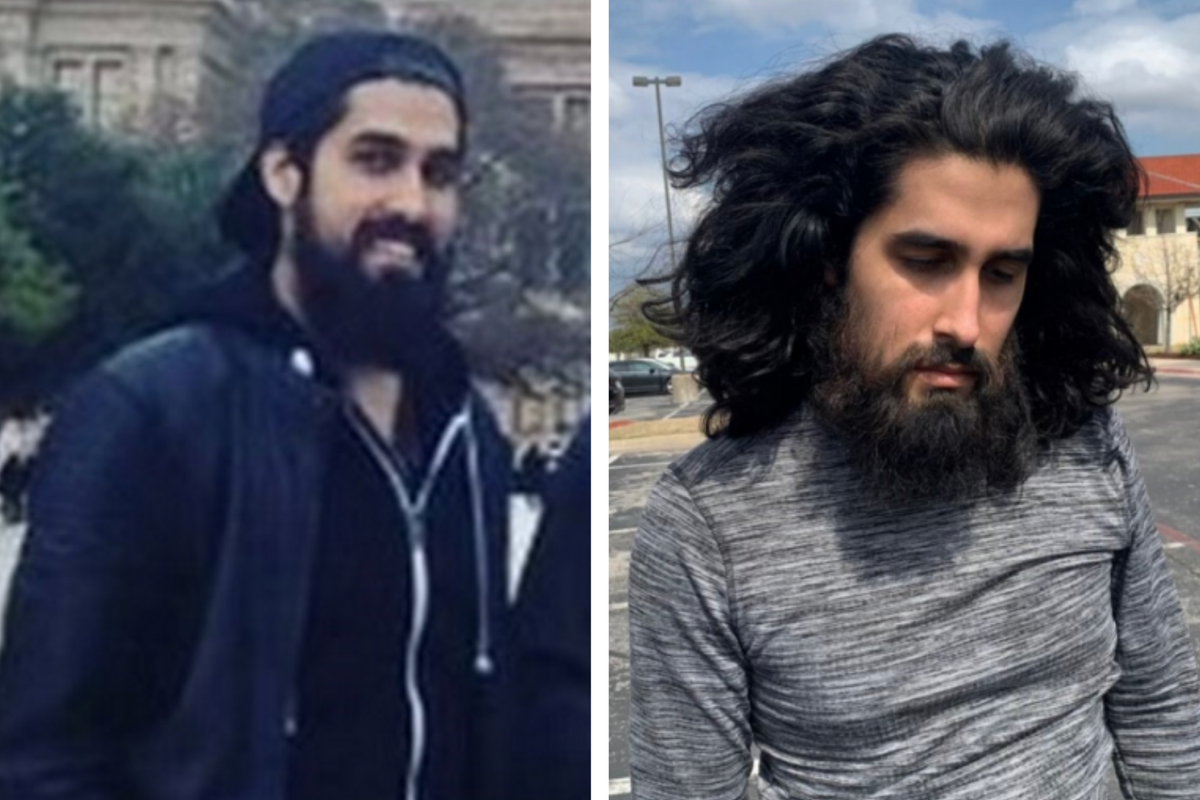 It's been over two months since Conroe couple Robert and Sandra Perez last spoke with their 31-year-old son, Timothy J. Perez, after he went to visit his brother in Austin in March.
The Perez family has been looking for their son ever since he appeared to get lost and run out of gas on the way to visit his brother on March 5. Robert said he last spoke with his son at around 1 a.m.
"He said, 'Dad, come get me, I'm lost,'" Robert Perez said. "I said, 'Pull, over,' but he just hung up, and we were never able to get a hold of him."
Robert said Timothy called his brother at around 2 a.m., but he was already asleep.
The Austin Police Department found Timothy's car with a cold engine and empty tank around 4:30 a.m. near the intersection of I-35 and W. Parmer Lane, around 15 miles from his brother's Austin home. No sign of Timothy was found.
Robert said APD received two calls with reports of a man who said he was lost in the area later that morning, but police did not respond to the scene. The Austin Police Department reported Timothy missing but ended the missing person case by April 8 due to Round Rock police locating him, police told Austonia.
Round Rock officers reported seeing Timothy last responding to a welfare check called in by St. William Catholic Church, who saw him walking around on the morning of March 5. Round Rock PD currently lists him as missing.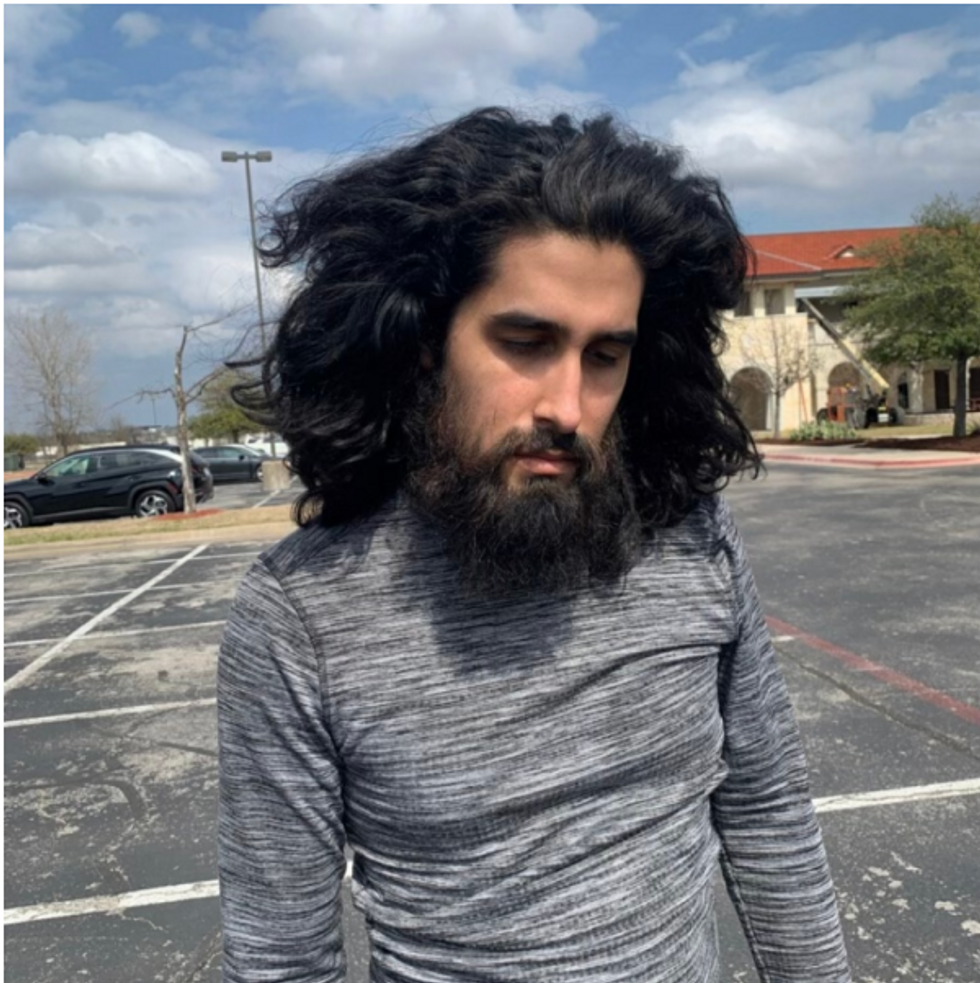 Robert Perez was photographed by Round Rock police officers before he was reported missing. (Round Rock Police Department)
Round Rock said that Timothy refused to identify himself and left the scene without incident. Because he was not yet reported as missing, police didn't report the sighting until days later.
"Officers determined this subject was not in danger or a danger to others," Round Rock police told Austonia. "Days later, we learned it was Mr. Perez and we entered him into the missing persons database. His current whereabouts are unknown and we believe Mr. Perez to be voluntarily missing from his friends and family."
But the Perez family and TexasEquuSearch are continuing their search. Robert said that Timothy, a professional musician and Baylor University graduate, has been depressed after losing business during the pandemic but has no other history of mental illness or run-ins with law enforcement.
Robert worries that his son suffered a nervous breakdown and may still be lost somewhere in Austin. Perez did not have anything but his phone with him at the time of his disappearance.
"This is not him. That's why I know something's not right," Robert said. "Right now he's considered a John Doe (because) he has no ID with him, which is really worrying us... We just want to get him the help he needs."
His phone pinged briefly in Conroe on March 16 but has never been located since, EquuSearch coordinator Angela Farris told KHOU.
"There was no actual location data other than it was in Conroe," Farris said. "It is bizarre."
Timothy is a 6'2, 180 lb. Hispanic man with shoulder-length black hair, a full beard, and brown eyes. It is unknown what clothes he was wearing at the time of his disappearance.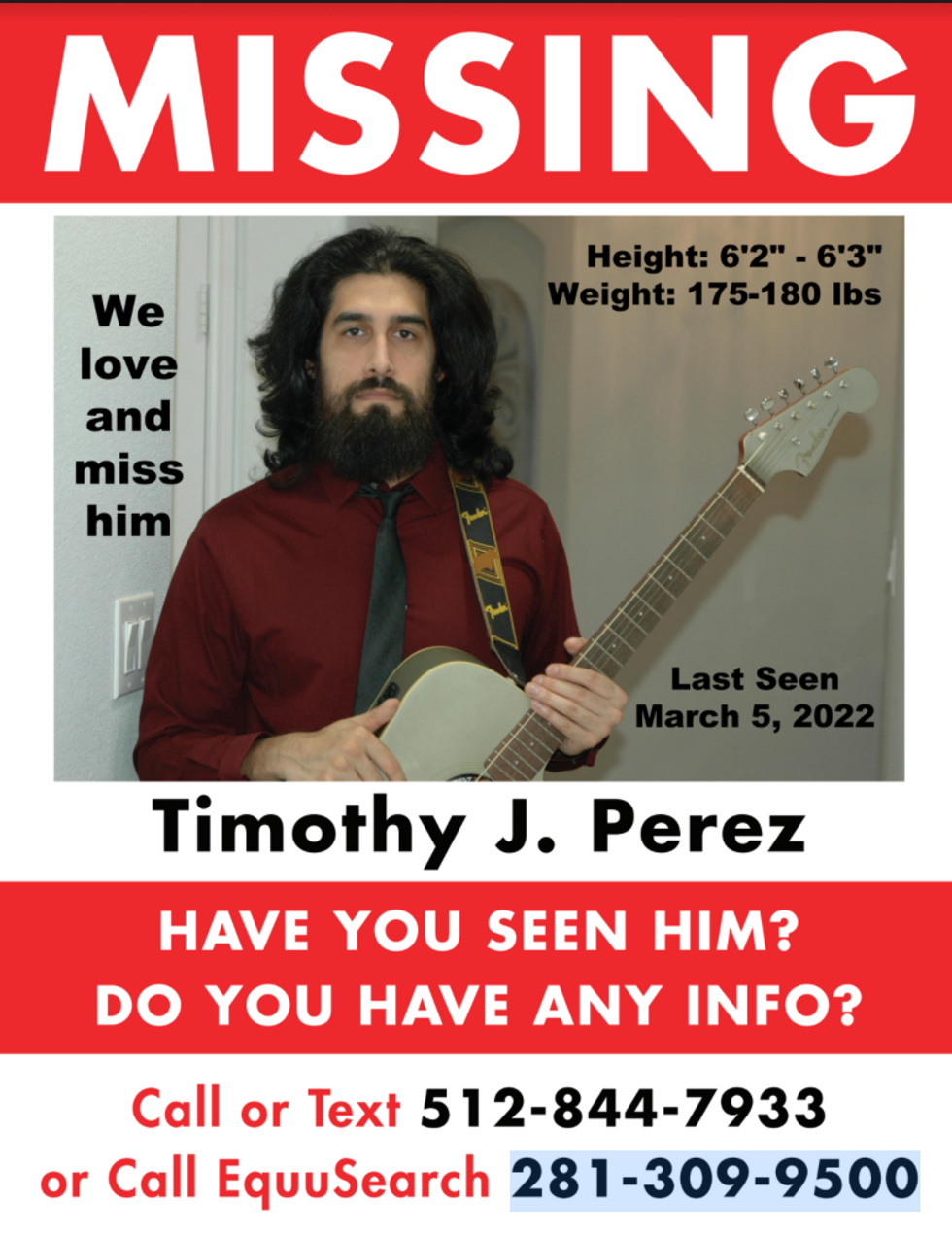 The Perez family has issued posters to help find their son. (Robert Perez)
Anyone with information on Timothy Perez's disappearance can call the family's private investigator at 512-844-7933, Texas EquuSearch at 281-309-9500 or the Houston Police Department Missing Persons Unit at 832-394-1840.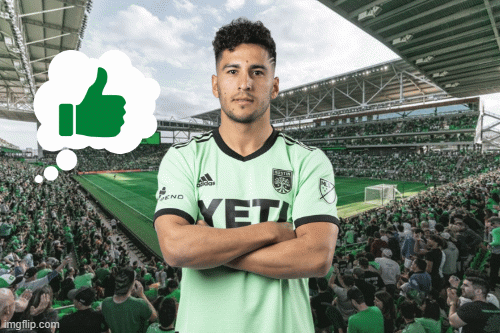 Austin FC forward Cecilio Dominguez was reinstated to the Verde roster after a monthlong suspension Wednesday, but the star player was far from the pitch as the club's two fan clubs fell into an uncharacteristic moment of silence at the Sunday match.
The team's two fan clubs halted their signature chants in response to Dominguez's return to the club after the league investigated an Austin police call alleging Dominguez's "verbal and emotional abuse" toward his ex-partner in early April. APD did not continue the investigation, and Dominguez's ex-partner did not pursue any charges.
But both fan clubs Austin Anthem and Los Verdes, as well as supporters' band La Murga de Austin, have made it clear that many do not want to see Dominguez back on the pitch
Each group issued statements condemning further involvement with Dominguez, especially after news broke of since-dropped domestic violence charges in 2016 while the player was in Paraguay.
According to a founding member of the new Verdes Against Domestic Violence Committee, who did not want to be named due to the sensitive subject, Los Verdes members voted on each decision that the group has made so far.
"You're never going to get unanimous agreement, (but)... the majority of members that voted chose to do the 10 minutes of silence," the source told Austonia.
The decision has seen plenty of backlash, even within the supporters' group ranks. Some have pointed to the absence of physical abuse in the APD call and Dominguez's ex-partner, who has stated she does not want the player to lose his position.
S9me people didn't want to be silent over nothing. Please understand the supporter groups are not affiliated with the club offially and do not speak for the fan base a whole. Some people aren't into freaking out over an investigation that warranted nothing!
— Austin FC Review (@AustinFCreview) May 9, 2022
Others have said the group's public statements represent performative activism.

Hated it. I understand what they were doing and it's a great cause but it shouldn't be done like that. Also, I hate that they're doing it in spit of Cecilio when he hasn't even been found guilty of anything yet. Innocent until proven guilty.
— Gage Boles (@gage_boles18) May 9, 2022
But the founding member said that many fan club members are victims of abuse themselves and say verbal and emotional abuse can be just as damaging as physical.
And the group has turned the situation into a way to protect domestic violence victims in the community. During the 10-minute silence (representing Dominguez's jersey number), fans held up banners for SAFE Alliance Austin's domestic violence hotline and a Verde and Black banner demanding "No more silence."
The clubs have also partnered with SAFE and five local breweries to create a GoFundMe and supply drive for abuse survivors and their families.
"Hopefully (head coach Josh Wolff) will see coverage about our moment of silence in the game," the source said. "That's all we can do is use our voices, or the absence of our voices, to create an impact and that's what we're doing."
Meanwhile, Wolff said Dominguez has been reinstated by the league and that he did not notice the silence during the LA Galaxy game. Wolff said he'll put his focus on Dominguez's onfield performance as he gets back into game day shape.
"We've talked about it, and I appreciate all of our fans' support and their interest in our team," Wolff said. "I try to do everything I can to focus on the game and focus on preparing this team, and that's kind of where I'll go in this direction.... what happens in our stands and at our stadium is obviously important to all of us as a staff and organization."
From Your Site Articles
Related Articles Around the Web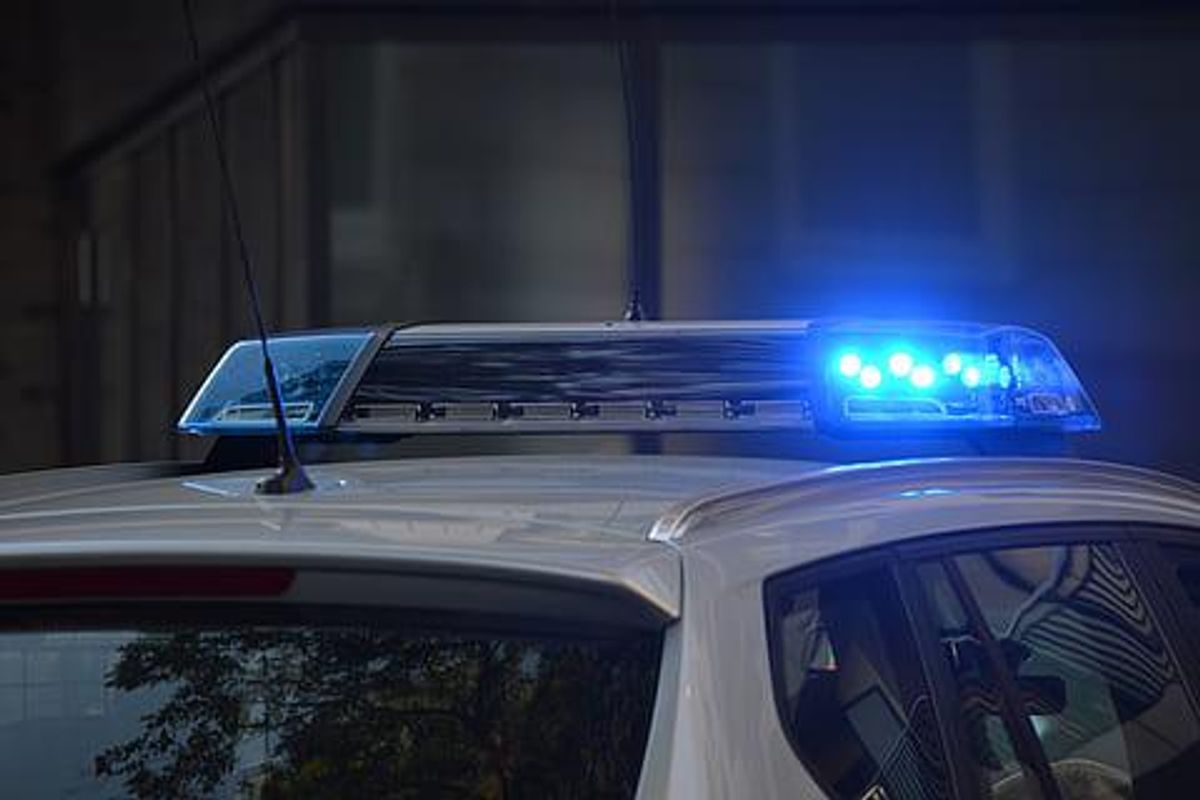 One person is dead and two more are in the hospital with potentially life-threatening injuries after two separate crashes involving scooters took place in downtown Austin early Monday morning.
The Austin Police Department said the first crash happened at around 1:25 a.m. Monday at the intersection of Eighth and San Jacinto Streets. The two scooter riders were struck with a vehicle, and both adult patients are currently hospitalized with serious injuries, Austin-Travis County EMS said.
About an hour later, a man died at the scene in an "apparent scooter collision" at 2706 E. 13th St near the intersection of Walnut Avenue, APD and ATCEMS said. No vehicle has been found related to the crash, and APD is continuing to investigate the death.
The death marks the second scooter-related death in less than two weeks as a memorial grows for 32-year-old local graffiti artist Adam Gaconnet, who was scootering home from work when he was killed on East Seventh Street on April 29. The memorial, located at the crash site on Allen and Gunter Streets, has seen an immense outpouring as friends and family remember Gaconnet, whose work can be seen around Austin with the tag "Zomek."
The driver involved in Gaconnet's crash, 21-year-old Francisco Jauregui, faces a driving while intoxicated charge from the crash. The driver involved in the second scooter crash remained at the scene.