Get connected with our daily update
Tesla is officially in with the big guns.
After Hertz Global Holdings Inc. placed an order of 100,000 Teslas—the biggest single electric car purchase ever—Tesla officially hit the $1 trillion market cap for the first time.
The trillion-dollar club has some big names, including Apple, Facebook and Amazon. With the purchase, Tesla's stock shot up to more than $1,045 a share by midday Monday, a new record after topping $900 a share just a day earlier.
The $4.2 billion deal is the biggest purchase of electric vehicles to date. Hertz said it will use the Teslas to round out their fleet of electric rental cars by 2022 just months after filing for bankruptcy protection.
The news came just days after Tesla followed its leader, CEO Elon Musk, and relocated its headquarters to Austin. Austin's Giga Texas plant, which is currently finishing construction, is set to begin producing Cybertruck models at the end of 2022 and will begin "volume production" by 2023, Musk said in the meeting.
Musk celebrated the stock market victory on Twitter.
Shortly after moving to Austin, Tesla saw its best quarter yet with Q3 revenue coming in at $13.76 billion—up from $8.77 billion this time last year. It was the electric car companies' ninth straight profitable quarter.
Enjoying Austonia? Signup for our newsletter to get daily Austin news, straight to your morning inbox!
An Austin-based program manager for Apple Maps and one of two leaders for the #AppleToo activist movement said she has been fired after a suspension.
According to the New York Times, Janneke Parrish said she was put on suspension for several days while the company investigated her activities before she was fired by a human resources employee via phone call on Thursday.
Parrish was under investigation for allegedly leaking a recording of an Apple staff meeting to the media, which she said she didn't do.
The report said the company told Parrish, who is 30, that she was being fired for having deleted files off her company-issued phone and computer before handing them in for examination. Parrish said the files she deleted contained her personal and financial information.
Among the files she deleted were the Robinhood app, which she said was to keep Apple from seeing "how much money I lost investing in GameStop," the Pokemon Go app and screenshots of programming bugs she was fixing.
Parrish said she believes Apple was retaliating against her efforts in organizing #AppleToo, a group of employees working to expose the company's "culture of secrecy" that has been "faced disproportionately by our Black, Indigenous, and other colleagues from minoritized racial, gender and historically marginalized groups of people."
Parrish had been publishing weekly accounts of workplace problems that had been shared anonymously with her from other employees, though she did not verify employment on all of them. The accounts she received were in the hundreds, so Parrish said she was hopeful her termination would lead to some justice within the company.
Employees at tech giants have been more outspoken than usual in recent months—with former Facebook data scientist Frances Haugen speaking out against her former employer—and Parrish said the company's desire to keep under wraps has eroded trust by discouraging employees to come forward with issues like harassment or wage disparity.
Apple spokesman Josh Rosenstock commented on the matter: "We are and have always been deeply committed to creating and maintaining a positive and inclusive workplace. We take all concerns seriously and we thoroughly investigate whenever a concern is raised and, out of respect for the privacy of any individuals involved, we do not discuss specific employee matters."
Additionally, the email detailing her termination, which was obtained by the New York Times, said Apple had determined that Parrish "engaged in conduct in violation of Apple policies including, but not limited to, interfering with an investigation by deleting files on your company provided equipment after being specifically instructed not to do so."
Doctors and chief executives make the highest money on average in Texas but in Austin, the money is in tech.
With a tech scene that is growing every day, some of the city's highest-paid professionals work closely with technology. Software engineers and members on technical teams can make as much as $325,000 per year when all the benefits are wrapped together, according to a study done by workplace insight network Blind.
Using self-reported data posted to its site from the first week of October, anonymous professional social network Blind compiled the top nine compensation packages offered to Austinites at the start of the month.
Wayfair: $325,085 yearly
Offered for an associate director position at the online furniture and home store, Wayfair is paying the prettiest penny for this Austinite. The company offered $170,000 in base salary, a $34,000 bonus, $121,085 worth in stock and an additional $25,000 sign-on bonus after negotiation.
In April, Wayfair announced an expansion to the capital city that would offer over 1,000 positions, including infrastructure engineers, product managers, data scientists, analysts and experience designers.
Stripe: $286,500 yearly
Stripe, a digital payment company, raised $600 million in new capital earlier this year and is one of the most valuable privately held companies in the world. Fittingly, compensation for a remote software engineer at Stripe included: $155,000 base salary, $15,500 bonus, $116,000 in stock and an additional sign-on bonus of $28,600.
Google: $273,000 yearly
Employees on Google's Cloud Platform team stand to make more than a quarter-million per year—an offer for a strategy and operations role came with $170,000 in base salary, a $34,000 bonus, and $276,000 in stock over four years—$69,000 per year. Not only that, but the first two years should total around $295,000 with incentives.
Google has about 1,100 employees in Austin and is reaching the completion of the new Google tower in downtown Austin.
Apple: $242,500 yearly
With a billion-dollar campus opening in north Austin, Apple has deep pockets. An Austin-based software developer was offered $175,000 in base salary, $270,000 in stock over four years and a $20,000 sign-on bonus.
The tech giant currently has about 7,000 employees.
Apple: $200,000 yearly
Another new Apple employee was offered $155,000 in base salary, $180,000 in stock over four years and a sign-on bonus of $30,000 for a software engineer position at "level 3."
PayPal: $200,000 yearly
A software engineer with a master's degree, seven years of work experience and a "level 25" technical staff member was offered $140,000 in base salary and $60,000 in stock to work at PayPal's office on West Parmer Lane.
VMware: $180,270 yearly
VMWare, a cloud computing company with an office in River Place Centre, offers almost $200,000 for a senior software engineer role. One recent post said the business offered $146,000 in base, a $17,520 bonus and $67,000 in stock over four years. The "level 3" candidate was also offered a $40,000 sign-on bonus.
Amazon: $158,000 yearly
At Amazon, junior software development engineers were offered $158,000 per year. The "level 4" entry-level coder was offered a $137,000 base salary, $21,000 in stock and also reported a $40,000 sign-on bonus.
Amazon: $142,000 yearly
An entry-level, newly-graduated software engineer role at Amazon closes out the list, offering a lower base salary of $120,000 and $22,000 in stock. The sign-on bonuses are the best part of this offer: a $60,000 bonus doled out over two years and a $7,000 stipend to relocate to Austin.
It's never too late to learn how to code.
Austin's big tech offices are starting to open up—to varying degrees.
Over a year of remote work later, some companies found it to be the perfect fit, while others experienced less productive employees. Overheard on Conference Calls, a workplace reviews site, ranked Austin as the third best city for remote work last year based on a variety of factors, including cost of living, average WiFi speed, commute time savings and coffee shops per capita.
Nevertheless, most tech companies are adopting a hybrid model, allowing more remote options than they did pre-pandemic but reinstating in-office minimums at the same time. Here's how six Austin offices are handling the transition. (Oracle declined to comment.)
Amazon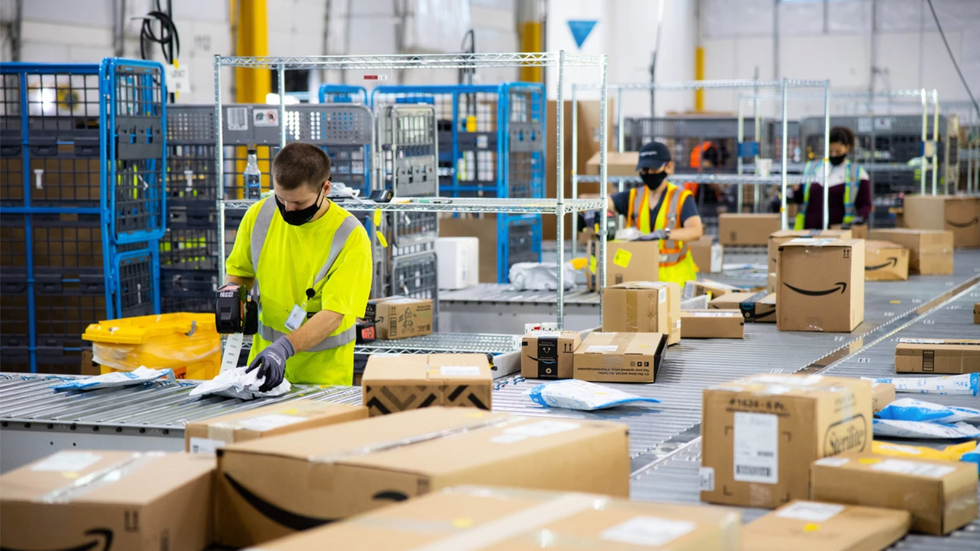 In addition to its corporate office at the Domain, Amazon is also planning to open fulfillment centers in Kyle, San Marcos and Pflugerville. (Amazon)
Office: The Domain
Approximately 1,000 corporate employees
Amazon expects its U.S. office employees will return to the office through the summer, with most back in the office by early fall, according to companywide guidance issued March 30. At that time, about 10% of the company's corporate employees were working from the office full-time.
Apple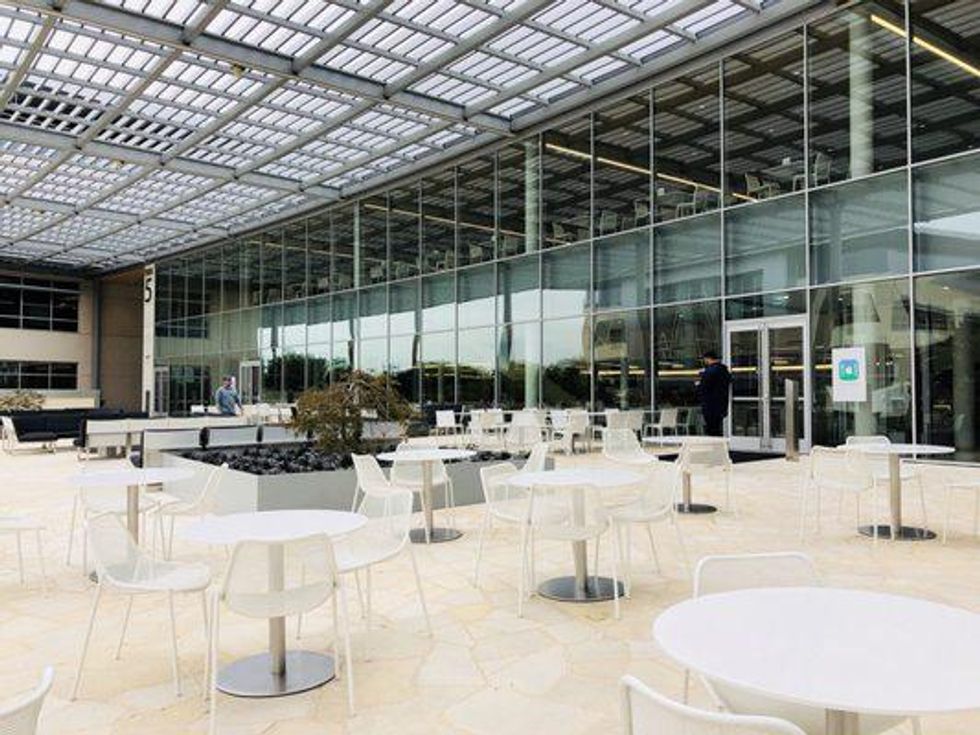 Office: Riata Vista Circle
Approximately 7,000 employees
Apple CEO Tim Cook sent out an email last week informing employees that they will return to the office three days a week starting in early September, according to multiple reports. Employees will be able to work remotely for up to two weeks a year, so long as management approves their requests.
Dell Technologies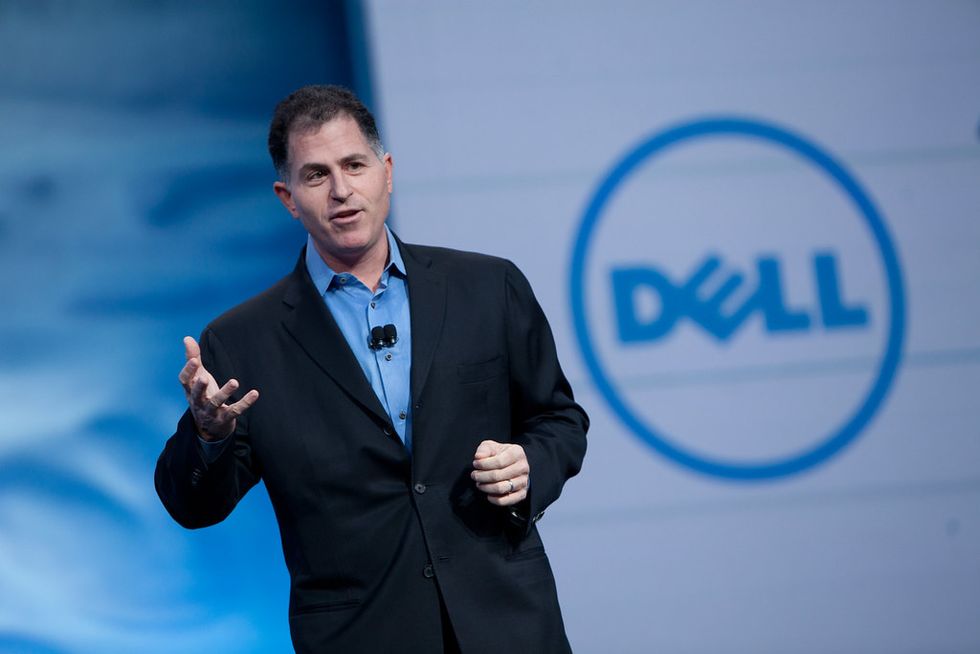 Dell Technologies CEO Michael Dell believes remote working will be the new normal. (Stock photo)
Multiple offices
Approximately 13,000 employees in Central Texas
Most Dell employees continue to work remotely, Senior Vice President Mark Pringe said in a statement to Austonia. Before the pandemic, 65% of the company's employees worked flexibly and 30% worked remotely on any given day. Last March, the company transitioned 90% of its team to remote work, and the majority are still remote today.
Moving forward, the company will continue to encourage flexibility and anticipates a hybrid model will emerge. "If employees can successfully do their job from home, they can work with their manager to make the choice to do so," Pringle said."
CEO and founder Michael Dell told the technology news site CRN in March that "remote working is absolutely here to stay," explaining that a company that offers flexibility will be more attractive to potential hires than one that doesn't.
Facebook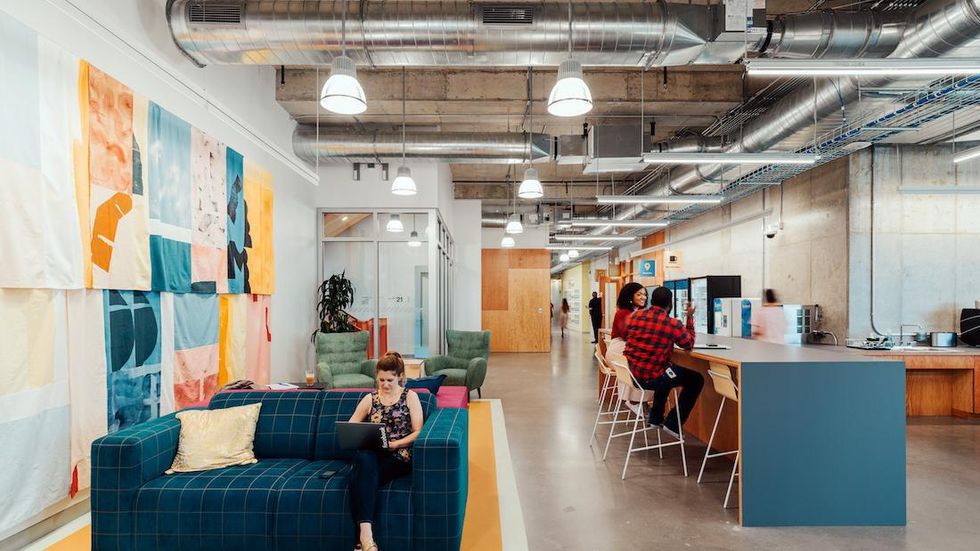 Facebook's downtown office opened at Third + Shoal in September 2019. (Facebook)
Offices: The Domain, Parmer Innovation Center, West Sixth Street
Approximately 1,200 employees
Facebook's Austin employees have not yet returned to local offices, and the company is still developing its return-to-office plan, Head of Local Communications Tracy Clayton wrote in an email to Austonia.
The plan will likely include increased flexibility, with both in-office and remote options. "We believe people and teams will be increasingly distributed in the future, and we're committed to building an experience that helps everyone be successful, no matter where they're working," Clayton said.
Google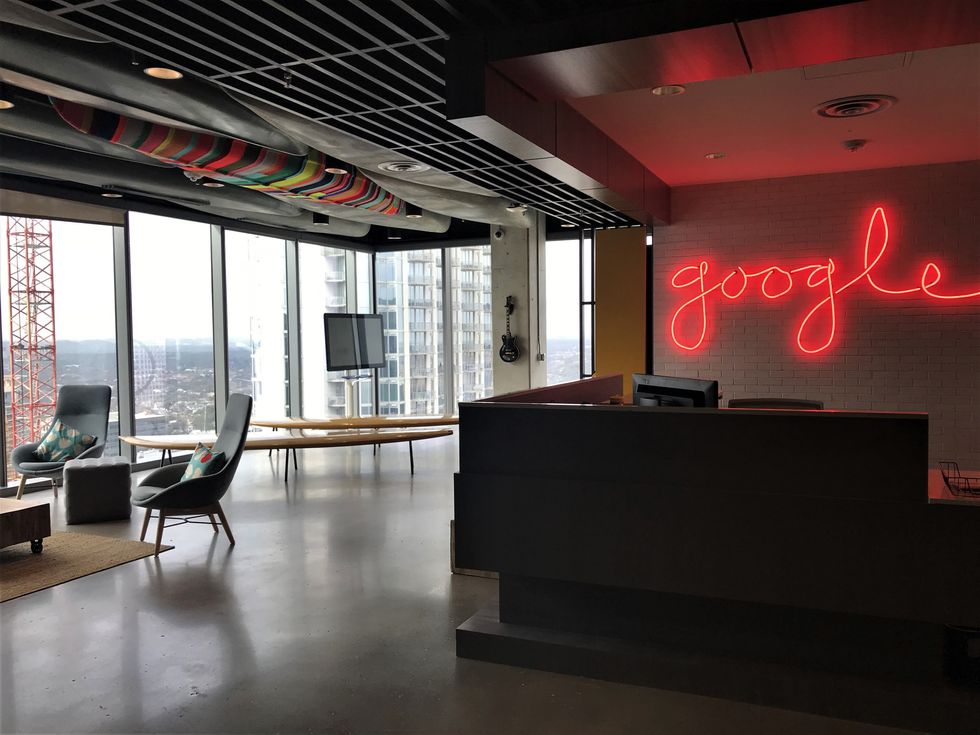 (Shutterstock)
Offices: West Second Street, Saltillo
Approximately 1,100 employees
Google declined to share Austin-specific return-to-office details through a spokesperson but referred to a recent blog post from CEO Sundar Pichai, which lays out a plan for all offices. It includes:

A hybrid work week where most employees spend three days in the office and two where they work best, with in-office time focused on collaboration
Employees will be able to apply to move to another office or to full-time remote work (compensation will reflect the base location)
Pichai "fully expects" the share of employees working remotely to increase in the coming months, according to the post. He estimates 60% will fall into a hybrid schedule, 20% will switch offices and 20% will work remotely.
An internal survey conducted by Google last June found that engineers reported feeling less productive than they did pre-pandemic, according to reports.
IBM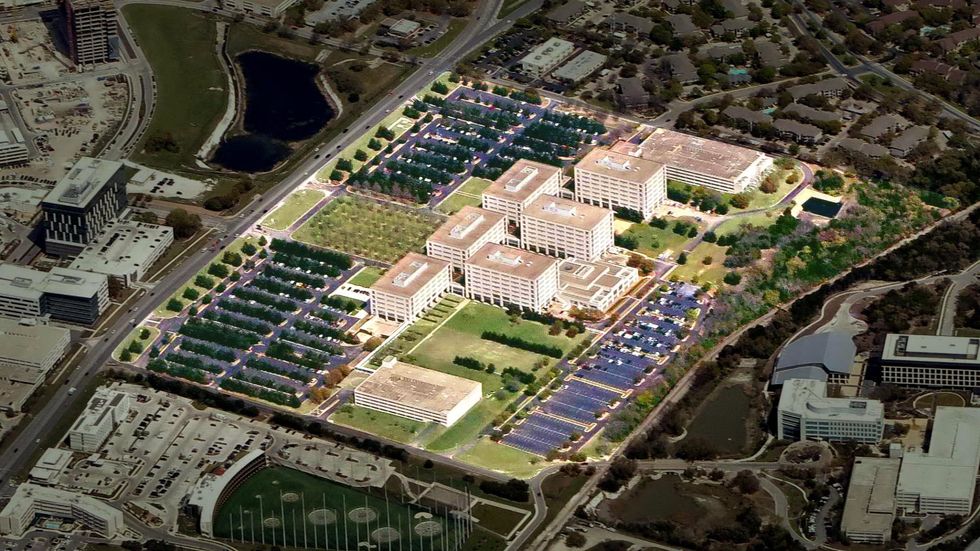 (Brandywine Realty Trust)
Office: Burnet Road
Approximately 6,000 employees
Around 90% of IBM's Austin employees are still working remotely as the company moves toward a hybrid office model similar to its pre-pandemic norm, according to a spokesperson.
CEO Arvind Krishna told Bloomberg in March that he expects 80% of employees to work in a hybrid model post-pandemic, with the remainder staying entirely remote. But he raised concerns about the impact such a split would have on the company's culture. "When people are remote I worry about, 'What's their career trajectory going to be?'" he told the business news site.