Get connected with our daily update
Austin Independent School District is holding its ground with mask mandates despite a back-and-forth ruling from courts across the state.
While a Monday court decision in Bexar County ruled local officials can allow face masks in public schools, the Texas Supreme Court ruled on Sunday against the same precautions in Dallas and Bexar counties. The Supreme Court ruling was a win for Gov. Greg Abbott, who barred local mask mandates, but it doesn't seem to be a done ordeal.
Nevertheless, AISD will join both Dallas and San Antonio in requiring masking in its schools as the school year starts on Tuesday.
The school district sent a reminder via email to parents after the Sunday Supreme Court ruling, quoting Travis County Judge Andy Brown on the city's decision to keep masks in schools.
"Until we end up in litigation directly with the governor, we're going to keep our requirement that public schools require masks in place," Brown told KUT.
The decision comes in defiance of Gov. Greg Abbott, whose executive order in March prohibits local governments from enforcing masking for businesses, schools or government properties. Austin kept its mask rules long after Abbott's order and was subject to a lawsuit by Texas Attorney General Ken Paxton later that month.
Paxton responded to the Supreme Court decision and warned other districts with mask mandates, including Austin, to "let this ruling serve as a reminder" that "the Governor's order stands."
In a statement on Sunday, the city of San Antonio responded to the ruling and said that Bexar County's mask mandate, which includes all pre-K-12 public schools and city facilities, will remain in effect.
"The City of San Antonio and Bexar County's response to the Texas Supreme Court continues to emphasize that the Governor cannot use his emergency powers to suspend laws that provide local entities the needed flexibility to act in an emergency. His suspension authority is meant to facilitate action, not prohibit it," San Antonio City Attorney Andy Segovia said in a statement
In a similar fashion, Dallas ISD announced on Sunday it would also continue mask mandates within schools, though nearby Irving ISD said they would adhere to Abbott's order.
Previously scheduled hearings on mask mandates in both counties will begin as scheduled on Monday.
Austin remains in Stage 5, the highest of its risk-based recommendations, and continues to uphold a mask mandate in schools and city property in defiance of Abbott's orders. Mayor Steve Adler said that the city will continue to enforce masking, especially within Austin schools, until the state reaches a final decision.
Texas Judge Lora Livingston ruled that the city of Austin can keep its citywide mask mandate, after a hearing on Friday morning.
Following a three-hour Zoom hearing, Livingston blocked a March 12 request by Texas Attorney General Ken Paxton to overrule the city health authority's masking restrictions.
The mandate, reinstated by Austin-Travis County Interim Health Authority Dr. Mark Escott, enforces COVID restrictions such as masking and social distancing effective Wednesday, March 10. While Gov. Abbott's order that reopened Texas at 100% doesn't let local jurisdictions overrule his order, it does grant counties the authority to reverse the reopening if COVID hospitalizations increase.
Paxton went through with a lawsuit against the city earlier this month after threatening to do.
Austin currently has a COVID death rate lower than any other metro in Texas. While the city experiences 73 deaths per 100,000, Texas has about 160 per 100,000. Escott credits mask use with saving at least 1,100 Austinites.
The city was previously in a similar position when the county tried to enforce a curfew on New Year's Eve weekend. The Texas Supreme Court went in the state's favor.
Texas Attorney General Ken Paxton is threatening legal action against the City of Austin and Travis County if leadership does not comply with Gov. Greg Abbott's decision to lift the statewide mask mandate, which went into effect today.
Not a full day after Mayor Steve Adler announced that the city would continue to enforce Austin Public Health's COVID-19 safety guidelines, Paxton tweeted at the mayor and Travis County Judge Andy Brown that they have until 6 p.m. today to rescind the restrictions, "otherwise, on behalf of the State of Texas," he will sue.
Paxton told officials to "come into full compliance with GA-34," which prohibits any Texas jurisdiction from requiring citizens "to wear or to mandate the wearing of a face covering," or enforce any "COVID-19 operating limits for any business or other establishment."

Paxton said he is "looking at every avenue available to stop" Adler and Brown, adding that the State of Texas has already taken Austin to court after the city tried to impose a four-day ban on dine-in food and drink services during New Year's Eve weekend.
"If you continue to flout the law in this manner, we'll take you to court again and you will lose again," Paxton said in a letter.
Mayor Adler responded to the letter at 4:33 p.m. Wednesday saying that himself and Judge Brown would do use "every tool available" to reduce the spread of the virus. "We will fight Governor Abbott and Attorney General Paxton's assault against doctors and data for as long as we possibly can," Adler wrote in a statement.
Austin-Travis County's mask mandate requires businesses to require customers to wear masks inside the establishment; knowingly violating the ordinance could result in a fine of up to $2,000. The decision was made in consultation with Interim Health Authority Dr. Mark Escott, who has been advising the city on safe COVID-19 practices.
"We need the efforts to continue. We need people to continue to mask and distance and do those things that have gotten us out of surge here in Travis County," Escott said in a press conference. "Our hope is that people, our community, our elected officials, will continue to echo the message that these protective measures, these nonpharmaceutical interventions work and they're important for us to continue with that transition."
When Abbott made the announcement that the mask mandate would end, he added that local governments would be able to reinforce restrictions if COVID-19 hospitalizations rise above 15% for a week straight. Hospital admissions for the virus have been below 7% for the past week.
Over the summer, Austin City Council authorized Escott to create rules that protect residents from the virus, meaning the city enforces rules made by Escott, not Adler or Brown. The City of Round Rock will also continue to enforce masks.
Even outside of Austin, Dallas, El Paso, Houston and San Antonio are still requiring masks to be worn in municipal buildings. Escott said no one can be arrested for not wearing a mask, though they can face criminal charges for refusal to comply with business rules.
Complaints can be made by calling 311.
The story was updated to include a later released statement from Mayor Steve Adler.
(REUTERS/Bill Clark)
Texas Attorney General Ken Paxton, who came under fire this weekend with allegations of bribery and abuse of office by seven of his most senior aides, will not resign his post as the state's top lawyer, he said Monday.
"Despite the effort by rogue employees and their false allegations I will continue to seek justice in Texas and will not be resigning," Paxton said in a statement.
The statement comes less than two days after top aides with the agency called for a criminal investigation of Paxton, writing "we have a good faith belief that the attorney general is violating federal and/or state law including prohibitions related to improper influence, abuse of office, bribery and other potential criminal offenses."
Media reports have tied the allegations to Paxton's relationship with Nate Paul, an Austin real estate developer and Paxton donor. According to the Houston Chronicle and Austin-American Statesman, former First Assistant Attorney General Jeff Mateer and the other officials felt compelled to act after Paxton allegedly appointed a special prosecutor to target "adversaries" of Paul.
In his limited public statements on the allegations, Paxton has pointed the finger back at the top deputies accusing him of wrongdoing. But Paxton claimed Monday that he was merely investigating a case that had been sent to the agency, as is his responsibility.
"The Texas attorney general's office was referred a case from Travis county regarding allegations of crimes relating to the FBI, other government agencies and individuals. My obligation as attorney general is to conduct an investigation upon such referral," Paxton said. "Because employees from my office impeded the investigation and because I knew Nate Paul I ultimately decided to hire an outside independent prosecutor to make his own independent determination."
Paul is a controversial real estate investor whose net worth Forbes estimated at around $800 million in 2017, whose assets include some of Austin's most prime downtown properties and a smattering of self-storage facilities. But his real estate empire has shown signs of decline, with at least 18 of Paul's companies declaring bankruptcy in the past year, according to the Austin Business Journal. And in 2019, his home and business office were the targets of an FBI raid, according to local news reports.
Even after top Republicans called the allegations concerning and U.S. Rep. Chip Roy, Paxton's former chief deputy, called for his resignation, Paxton signaled he will charge ahead through the allegations.
Paxton on Monday announced he would appoint Brent Webster, a former criminal district attorney in Williamson County, as his new first assistant attorney general, replacing Mateer, who resigned Friday and was one of the seven top aides leveling accusations at Paxton.
Without commenting on the circumstances of Mateer's departure, Paxton praised Webster's "substantial real-world experience." Webster has also worked as a civil litigator and criminal defense attorney in private practice, according to a news release from the Texas attorney general's office.
"I am confident that he will diligently and faithfully serve the office and the people of Texas," Paxton said in a statement.
Roy called on his former boss to resign from his post Monday, becoming the most high-profile Republican to do so so far.
"For the good of the people of Texas and the extraordinary public servants who serve at the Office of the Attorney General, Attorney General Ken Paxton must resign," Roy said in a statement. "The allegations of bribery, abuse of office, and other charges levied against him by at least 7 senior leaders of the Office of the Attorney General are more than troubling on the merits."
"But, any grace for him to resolve differences and demonstrate if the allegations are false was eliminated by his choice instead to attack the very people entrusted, by him, to lead the office – some of whom I know well and whose character are beyond reproach."
Roy called the office of the attorney general "too critical to the state and her people to leave in chaos."
"The Attorney General deserves his days in court, but the people of Texas deserve a fully functioning AG's office," he added.
Roy served as Paxton's initial first assistant attorney general during Paxton's first term, but resigned upon Paxton's request in a major shake-up of senior staff in 2015. He was elected to Congress as a Republican in 2018.
By Monday afternoon, Roy said he would return campaign donations from Paul, the real estate investor tied up in the allegations against Paxton.
"Upon learning of the recent news about Nate Paul and the Attorney General, we combed our financial records & found $2700 from a Nate Paul in the 2018 cycle. I do not recall meeting Mr. Paul and it shows as an online contribution," Roy tweeted.
Edgar Walters contributed reporting.
More: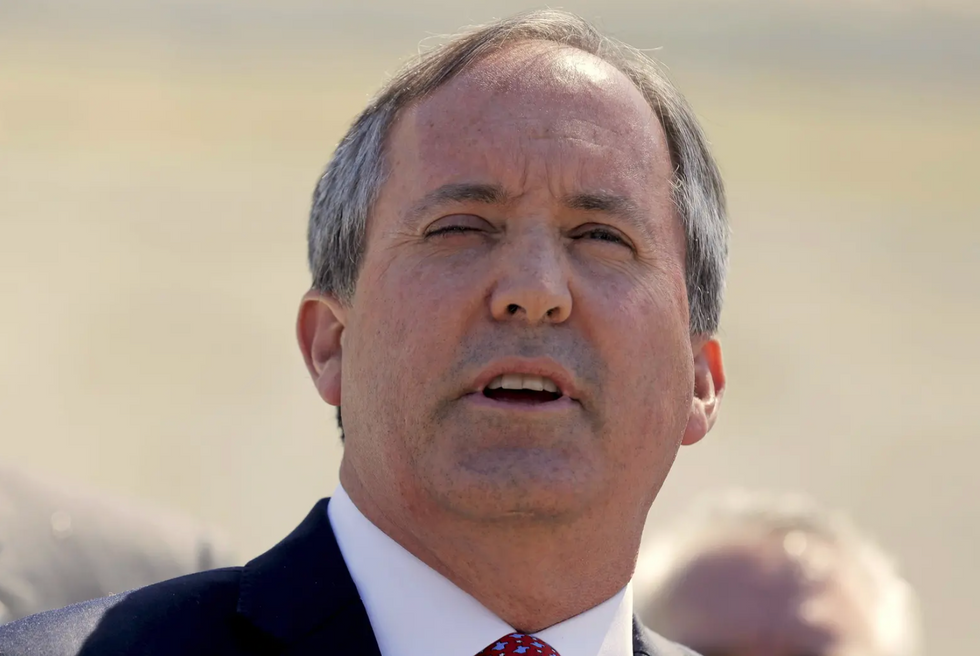 Gov. Greg Abbott says accusations against Texas Attorney General Ken Paxton "raise serious concerns"(REUTERS/Joshua Roberts)