Austonia AM
100% Austin news, info, and entertainment, straight to your inbox at 6 a.m. every morning.
In five minutes, you're fully informed and ready to start another great day in our city.
Get connected with our daily update
After Austin voters decisively passed Proposition B, City Council is revisiting the idea of sanctioned encampments: places where homeless residents can camp free from the threat of citation, fines or arrest—and where those will go in the city.
Prop B, which will reinstate city bans on sitting, lying, camping and panhandling in certain areas of central Austin starting Tuesday, passed with nearly 58% of the vote in the May 1 election. Council then voted unanimously on Thursday to direct the city manager to develop a plan and budget for temporary sanctioned encampments, including 10 possible sites, one in each council district, by next week.
Council Member Kathie Tovo, who sponsored the resolution, said such sites are critical with the city's emergency shelters and Camp Esperanza, a state-run campsite off of Hwy. 183 near Montopolis, at capacity. "When individuals in encampments ask where they should go, we need to have places to suggest," she said Thursday.
The concerns

The resolution approved Thursday directs city staff to assess all other funding sources before considering those earmarked for affordable housing. Council directed city staff to identify possible city-owned properties that could serve as sanctioned encampments. The dataset below shows properties owned by the city.
Matthew Mollica, executive director of the Ending Community Homelessness Coalition, said it is critical that public works funding is used; if housing dollars are reallocated toward sanctioned encampments, it could worsen the city's homeless problem by defunding the one proven solution. "Creating sanctioned encampments… is a public space management strategy," he said. "It is very clearly not a strategy to end homelessness in our community."

Homelessness experts and city staff say sanctioned encampments are problematic for many reasons: they are expensive to maintain, challenging to manage and hard to close, even when intended to be temporary.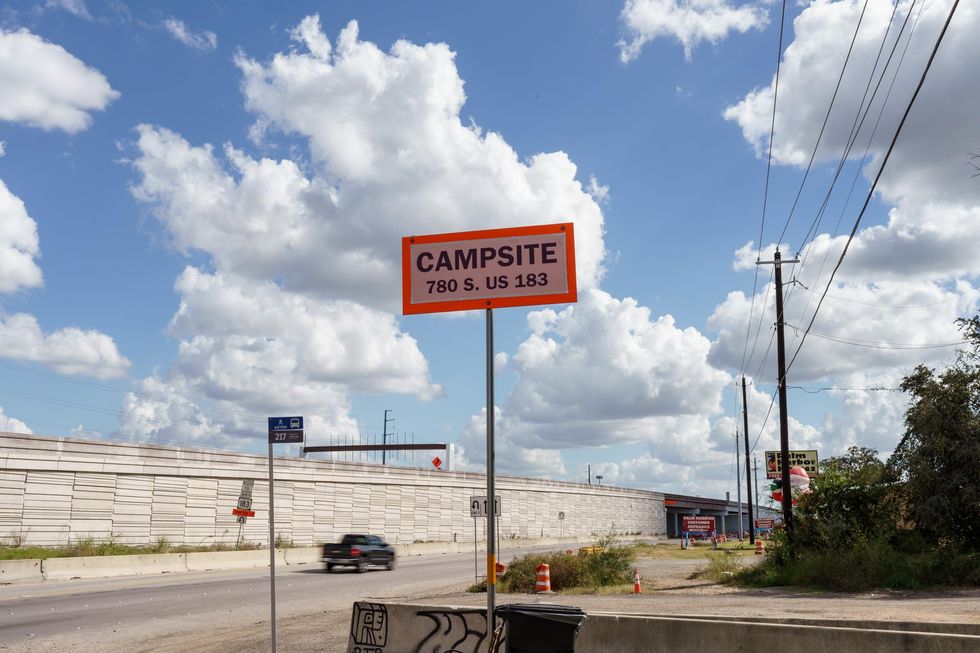 Camp Esperanza, the state-sanctioned homeless camp in Southeast Austin, opened in late 2019 and is home to approximate 150 people. (Jordan Vonderhaar)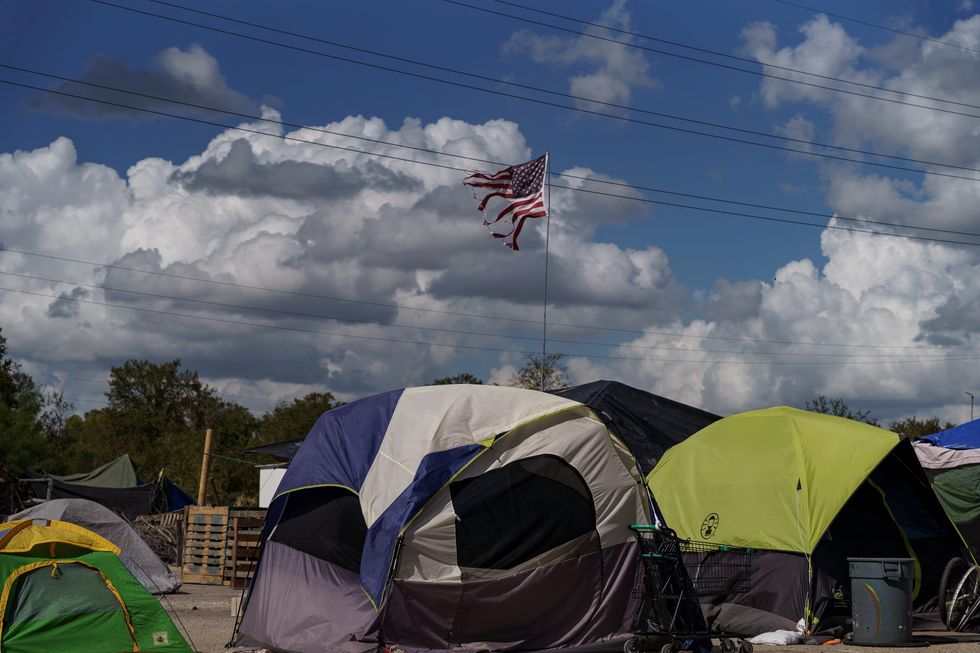 The Other Ones Foundation, a local nonprofit, operates the camp, providing work opportunities, case management, hygiene and laundry facilities, and a community shelter, among other services. (Jordan Vonderhaar)
In 2019, city staff declined to make recommendations for sanctioned encampments despite being directed by council to do so, citing 2018 guidance from the U.S. Interagency Council on Homelessness. "Neither authorized encampments nor parking areas provide housing for people experiencing homelessness," staff wrote in a memo. "Rather, each option detracts from the staff resources assigned to addressing this moral imperative."
Barbara Poppe, a nationally recognized homelessness policy consultant who has advised the city of Austin, said it is inefficient for cities to provide support services at sanctioned encampments when they could focus on housing efforts. She added that it is also unlikely the city will be able to establish enough sanctioned campsites to serve every homeless person, meaning that some will remain in violation of the ban.
The mandate

Despite these concerns, council is moving forward with two policies they previously abandoned: the camping ban and sanctioned encampments.
Cleo Petricek, co-founder of Save Austin Now, the local political action committee that spearheaded Prop B, is glad the city is moving forward with sanctioned encampments, which she feels are necessary in addition to ongoing efforts to provide housing support. "Regardless of the long-term strategies, it's long-term," she said. "We are in a humanitarian crisis right now."
Petricek points to the state-run campsite as a successful model and said the city's sanctioned encampments should be in industrial areas, far from schools, parks and residential neighborhoods. "It is undeniable that these (camps) will have an impact on surrounding areas," she said, citing recent fires and other crime. "We have to expect these worst-case scenarios."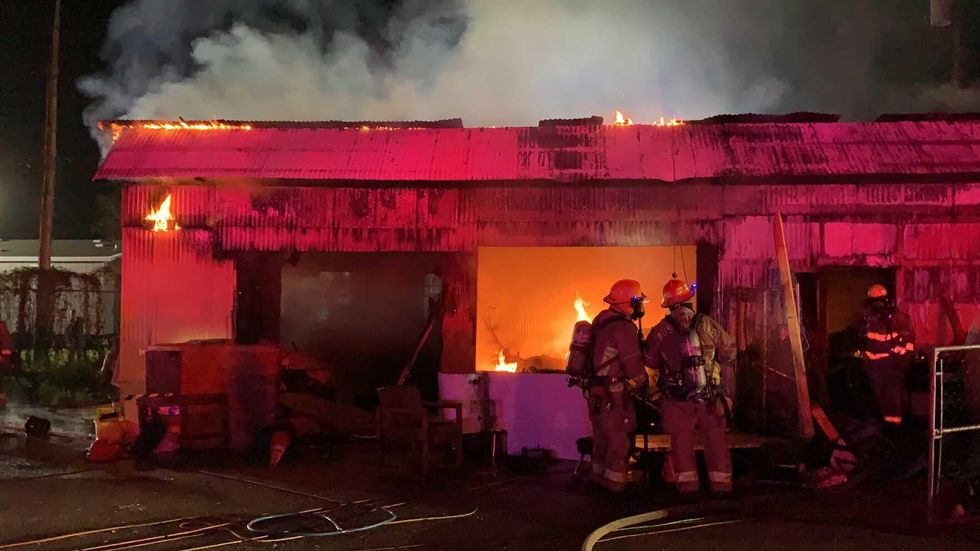 A fire broke out at the state-sanctioned homeless camp in Southeast Austin on April 2. (Austin Fire Info/Twitter)
Homeless services providers argue this approach is inhumane and leaves homeless people isolated from resources. They also warn that, wherever the sanctioned encampments are located, they are likely to prompt pushback. Petricek, a local Democratic advocate, successfully organized a petition in opposition to a proposed homeless shelter in South Austin, near an elementary school, in 2019. The city's recent hotel purchases, for conversion into homeless housing, also prompted protests.

As Austin police and other city departments begin enforcing the camping ban on Tuesday, homeless advocates say the homeless are left without a clear, legal option: "There is no place for them to go," Mollica said.
Austin City Council voted 9-1-1 on Thursday to restart the police training academy on a pilot basis by June 7, one year after thousands of residents marched in protest of police brutality and racial injustice. Council Member Greg Casar opposed, and Mayor Pro Tem Natasha Harper-Madison abstained.
"History will remember the 144th cadet class," Harper-Madison said, adding that she hopes its members understand the significance of their role in reimagining public safety in Austin.
Council approval has been meted out in stages. Members voted 8-1 to restart the academy on March 25, pending certain concerns about its curriculum were addressed, but withheld approval of a budget amendment that would fund the class. Since then, city staff have identified $2.2 million in savings, which means a budget amendment is no longer required, but city management still sought council's final approval.
The suspension of the training academy has exacerbated a years-long police staffing shortage. Although some council members argue that the academy can't be improved without a pilot program to assess which changes are working, others have expressed concern about the lack of support from community members and the city's own reimagining public safety task force.
Conditions for approval
Since late March, the Austin Police Department has completed 11 of the 23 conditions required by council and expects to complete the remaining 12 by May 31. "I want to assure Mayor and Council as well as our community that we're working diligently and urgently to fulfill our commitment to reimagining our cadet training academy," Interim Chief Joseph Chacon said during a council work session Tuesday.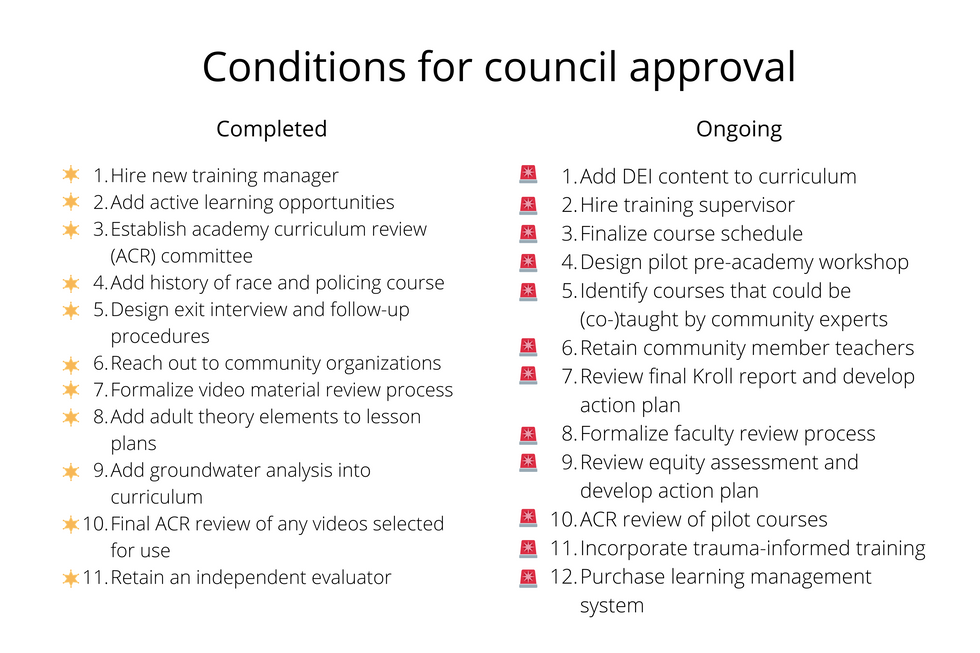 Kroll Associates, a New York-based consulting firm hired by the city to review and assess the training academy, also delivered its final report on April 23, which recommends "a shift away from a stress-oriented military-style academy toward a resiliency-based approach" that offers scenario-based, rather than lecture-and-listen, instruction.

APD has already incorporated some of Kroll's recommendations, including lengthening its training academy program to 34 weeks from 26 weeks; increasing diversity, equity and inclusion (DEI) content; incorporating more community participation; and strengthening mentorship programs for minority groups.
Now that the pilot class has been approved, Kroll will serve as an independent evaluator, observing all DEI-related courses, community engagement programming and de-escalation and reporting back to council.
Cole Cunov, a policy analyst for the Greater Austin Crime Commission, said it's time to see how the "completely overhauled" curriculum works in practice, especially giving the estimated 130 officer vacancies at APD. "By the time this academy class graduates (in late January), we're going to accrue additional vacancies," he said. Restarting the academy will help "stop the bleeding."

Rebuilding community trust
The academy has been on pause since last July, in response to mass protests following the murder of George Floyd. Council then voted unanimously in August to cancel funding for three planned cadet classes as part of a broader set of police budget cuts. Prior to this, the academy had come under fire for its "fear-based" approach to training, discriminatory recruiting practices and attrition rates.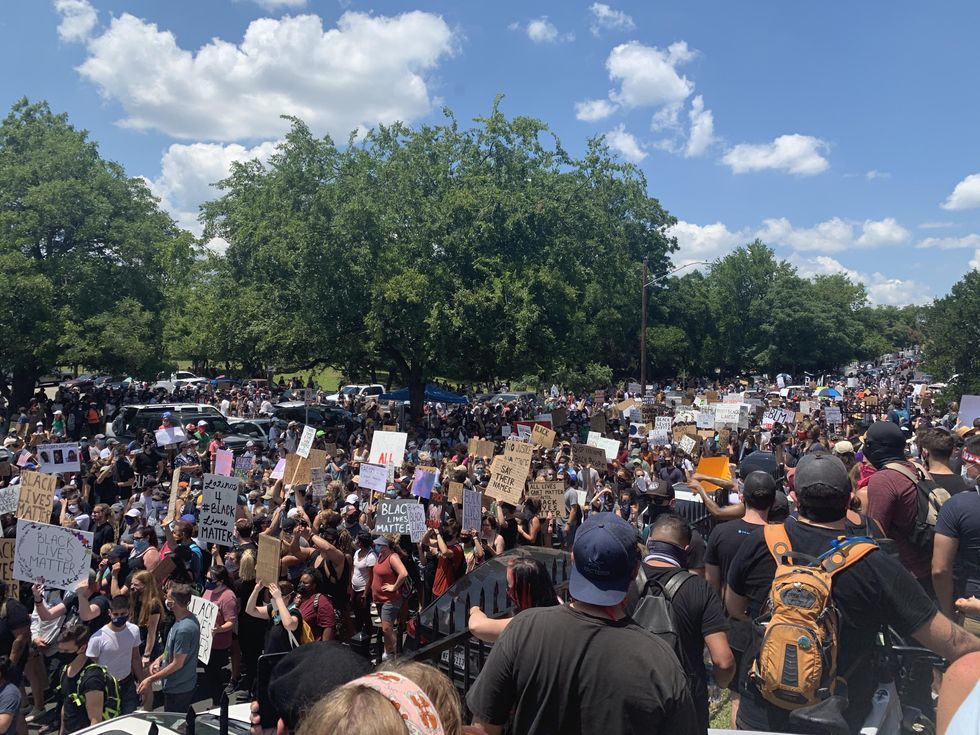 Thousands of Austinites marched from Huston-Tillotson University to the Texas Capitol on June 7, 2020, in protest of police brutality and racial injustice. (Emma Freer/Austonia)
For many community members, these concerns persist. Dozens of Austinites spoke in response to the March 25 resolution to partially approve the pilot cadet class, with the vast majority opposed.

Paula Rojas, co-chair of the reimagining public safety task force, told council members their partial approval was disheartening. "When City Council moved forward and voted for restarting the APD police academy, despite our formal task force vote against it and many testimonies the day of your vote," she said at an April 20 council work session. "At that point, many task force members wanted to walk away from the process altogether."
Council Member Alison Alter offers two amendments to the resolution related to additional reporting requirements. "Sunshine on this process and council attention is important to reassure our community that we are committed," she said Tuesday. "We're moving forward, but this is a pilot and … we may not get it all right this time."
Austin voters overwhelmingly supported Prop B—a city code amendment to reinstate restrictions on public sitting, lying, camping and panhandling in certain parts of downtown, near East Austin and West Campus—during the May 1 election.
Prop B's passage raises many questions, including what enforcement will look like and where homeless residents who are camping in the designated areas will go. Austonia has answers to five of these questions below.
When will the ban be reinstated? 
The new ordinance will take effect on Tuesday, May 11, according to a city spokesperson. In the meantime, city staff will be evaluating options for how to best implement the new ordinance, focusing first on individuals living in camps that present higher health and safety risks.
Where will homeless campers go?
This question remains unanswered.
Richard Bryant became homeless a year and a half ago after moving to Austin for a job that fell through shortly after he started working. He's been on a waitlist for housing for more than a year; in the meantime, he camps downtown.
Prop B's passage has Bryant concerned about his future. "They didn't provide a solution for the problem," he told Austonia while attending an anti-Prop B protest Monday morning. "We don't work, so how are we going to pay for tickets? If we don't pay for tickets, they're going to throw us in jail."
Once enforcement begins, Bryant expects the downtown campers will spread out into the wooded areas nearby. "People are going to die," he said.
Austin Mayor Steve Adler, who opposed Prop B, has repeatedly stressed that Prop B does nothing to provide housing or designate camping areas for homeless residents. Instead, he fears Bryant's prediction—that homeless people will be forced into less safe, and less visible, areas—will come true. "Let's get rid of tents the right way—the only real way—by housing people and not hiding them," he wrote in an April 27 opinion piece for Austin Monthly.
The Downtown Austin Alliance, which has been active in the city's homelessness efforts, also addressed this issue: "With Prop B's passage, we must provide real solutions and not just enforcement strategies," the local nonprofit wrote in a statement Saturday. "We need to provide clarity for those experiencing homelessness on where they can go, allow for voluntary compliance before ticketing, and provide mental health services and (ensure) adequate time to establish plans and alternatives to camping."
How will the Austin Police Department enforce the new ordinance?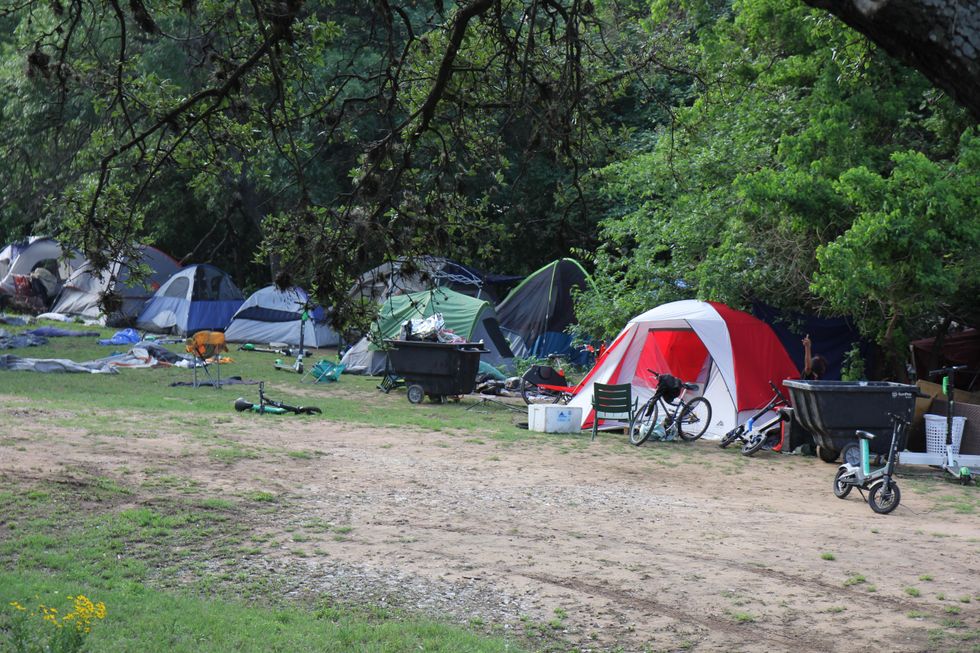 A new ordinance prohibiting camping, among other activities, in certain designated areas will take effect next week. (Laura Figi/Austonia)
APD is still developing its enforcement plan and training its officers to respond to the new ordinance, a spokesperson told Austonia.
Prop B proposed an ordinance "that would create a criminal offense and a penalty" for those sitting, lying down or sleeping outdoors in certain areas, but it did not specify what the offense would be. Before council overturned the ban in 2019, violation of it was considered a Class C misdemeanor, which carries a maximum fine of $500 and no jail time.
Such citations, homeless advocates say, do nothing to address the root causes of homelessness but, if they go unpaid, can lead to arrest warrants that can make it harder for homeless people to access housing, employment and other resources.
Is there a possibility of a court challenge? 
Although no Austin officials have suggested this so far, there are reasons to question the legality of a camping ban.
A group of homeless people in Boise, Idaho, sued their city in 2009, alleging that a local camping ban was unconstitutional because there was not adequate shelter space. A federal judge ruled in their favor, and the 9th U.S. Circuit Court of Appeals upheld the ruling. The Supreme Court declined to review the appellate decision in 2019.
Boise City Council approved a new local ordinance allowing homeless people to camp outside in February, as part of a settlement agreement that also includes $1.3 million in payments to homelessness prevention nonprofits.
The Boise case partly inspired Austin City Council's 2019 decision to overturn the local camping ban, both because the city did not have enough shelter beds and because of the possibility of a legal challenge. "Criminalizing homelessness and really upholding camping bans when there isn't enough shelter to house the population could be something that could be a violation of the citizen's rights," Texas Homeless Network President and CEO Eric Samuels told Austonia last week. "Boise went through all of this."
What is being done to connect homeless people to housing? 
The city is in the midst of several efforts to provide housing, including to homeless people living in four designated camps, which city officials have said will continue regardless of the election outcome.
In addition, the city continues to purchase motel and hotel properties to convert into housing for homeless residents, despite substantial pushback from neighboring residents and businesses.
During a recent summit on homelessness, city officials and community leaders developed a plan to address unsheltered homelessness. The main goal, which Homeless Strategy Officer Dianna Grey presented to council last month, is to house 3,000 people in the next three years at a cost of $250 million.
Local nonprofit Mobile Loaves & FIshes also announced plans last month to vastly expand Community First! Village, a 51-acre master-planned development that is home to more than 220 formerly chronically homeless residents. The two-phase expansion will add 1,400 micro homes across two pieces of land, with development to begin in summer 2022.
Since Austin voters approved a property tax rate increase to help fund Project Connect last November, the 13-year, $7.1 billion overhaul of the local transit system has moved full steam ahead.
In addition to the creation of a new oversight organization, Austin City Council has allocated millions of dollars for initial anti-displacement efforts, Transportation Secretary Pete Buttigieg has delighted public transit advocates and crews have taken the first steps toward the downtown tunnel.