Get connected with our daily update
A member of the Independent Citizens Redistricting Commission (ICRC) contacted council members asking for their home addresses despite a charter provision prohibiting the ICRC from considering such information in its mapping process, according to emails obtained by the Bulldog through a public information request.
Four council members or their staffers replied providing home addresses: Alison Alter, Paige Ellis, Mackenzie Kelly, and Leslie Pool, according to the emails dated August 9th to Aug. 17.
Save Austin Now is now 2-0 over Austin City Council after its petition to add more staffed police officers to the Austin Police Department was certified, garnering over the 20,000 votes needed to make it on an election ballot.
The petition calls for more police staffing per city resident, quicker response times and more training for city police officers in the wake of increasing violent crime rates nationwide and a year of limited APD staffing. The City Council will now decide whether to implement the ordinance outright or add it to the November election ballot; it will likely do the latter.
Over 25,000 of the 27,778 signatures racked up by the public safety petition were certified as valid, well over the 20,000-vote threshold required to be certified with the City Clerk. City Clerk Jannette Goodall placed the city's seal of approval on the petition on Tuesday morning.
The petition, by the same political group that got the camping ban reinstated through a petition in May, seeks to:
Require minimum staffing of two officers per 1,000 residents
Require a minimum standard of 35% community response time
Add 40 hours of training
Require city council members, Mayor Steve Adler and other city staff to enroll in the Citizens Police Academy
Facilitate minority officer hiring through foreign language proficiency metrics
Austin's 160 patrol vacancies have dropped its staffing rate to 1.2 officers per 1,000 residents, according to the department. APD's response time has increased by about one minute and 50 seconds in a year.
The petition comes nearly a year after APD's budgets were slashed by city council following the summer's Black Lives Matter protests, which saw several demonstrators severely injured as millions called for justice in the police-related deaths of George Floyd and locally Mike Ramos, an unarmed Black man killed by APD officer Christopher Taylor, in April 2020.
Austin and the U.S. have experienced a widespread uptick in violent crime rates in 2021. The city has reached 49 homicides in 2021, higher than the total number of murders in all of 2020 and the 38 homicides in the city in 2019. Austin police officers have seen response times rise as the department suffers increased vacancies and fewer newcomers while cadet classes are being readjusted.
Opponents argue the ordinance would ramp up a policing budget while taking away from other departments including Fire, EMS, violence prevention, and mental health care. City Council Member Greg Casar, the Travis County Democratic Party and the Austin Justice Coalition have spoken out against the organization's latest public safety move, calling out the campaign as a "right-wing petition" that misleads those who sign.
🔥 PANTS ON FIRE: Republican-front group Save Austin Now is lying about their petition!

They say their measure is about police reform, when it's really about devastating our city budget - all for the benefit of the police union. Watch the video here ⬇️ #ATX pic.twitter.com/Z6QQSfhHfH
— Gregorio Casar (@GregCasar) August 2, 2021
The latest battle between city council and Save Austin Now will be decided by Austin residents in the Nov. 2 election.
Fourteen years after the city of Austin purchased the former Home Depot site at I-35 and St. John's Avenue in 2007, City Council voted unanimously on Thursday to begin negotiations to redevelop it, with construction slated to start as soon as next year.
Real estate developer Greystar and the Housing Authority of the City of Austin have proposed a plan for the 19-acre site that includes:
A 3-acre public park with a splash pad, playground and community garden
280 affordable rental units
15,000 square feet of community retail and support services space for tenants such as grocers, vocational training centers and child care
Greystar and HACA have also agreed to pay off more than $10 million in city debt. Because the city purchased the property using 2006 bonds with the intention of building a police station or courthouse, this debt needs to be paid off before the site can be used for a different purpose that better aligns with the community's goals.
District 4 Council Member Greg Casar has been involved in this effort since before taking office in 2016. "It took way too long, but it's clear that the community pushing and wanting to keep people in the neighborhood … has finally gotten us to this point," he told Austonia.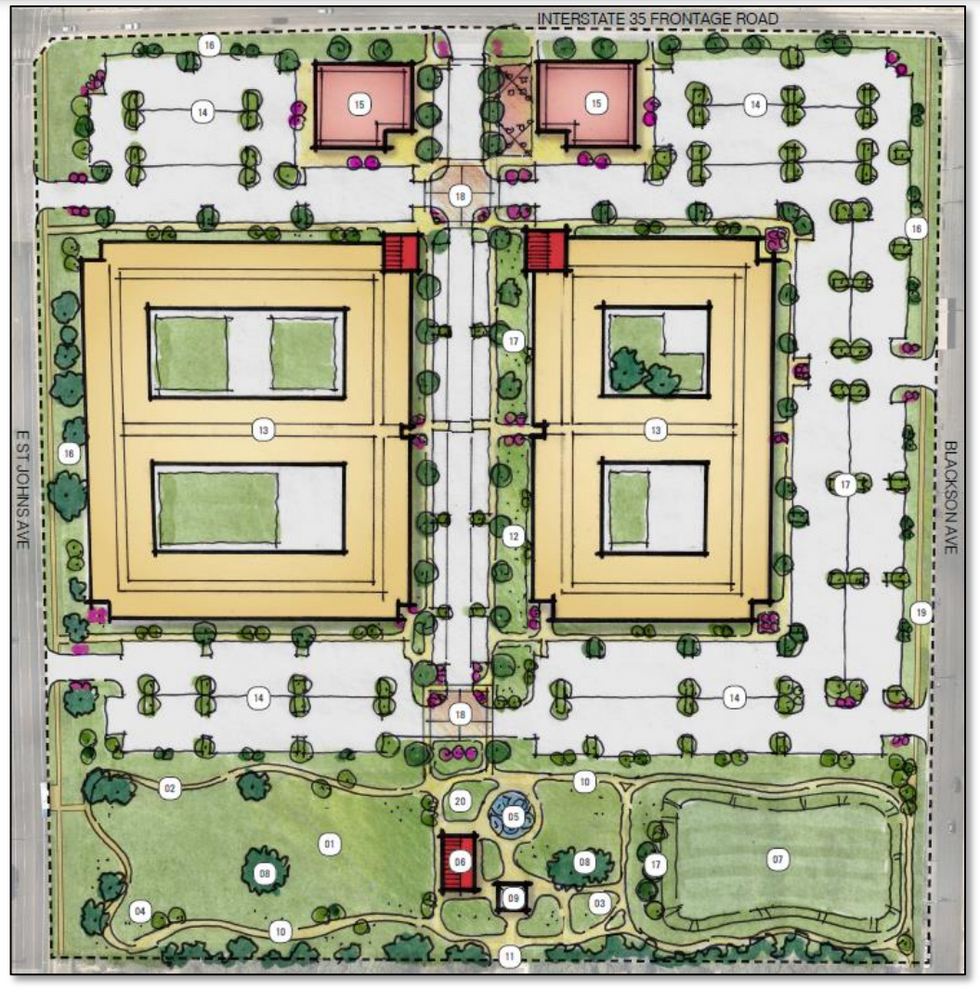 The proposed redevelopment includes affordable housing, expanded park space and commercial space. (TBG and Brent Design)
'A step in the right direction'

During the negotiations process, council has instructed staff to secure affordable homes for purchase in addition to rental units and right-to-stay and right-to-return programs that serve people who have been displaced by gentrification.
Cherelle VanBrakle grew up in the St. John's neighborhood and works at the People's Community Clinic, which is less than a mile away from the site. "I obviously love Austin," she told council on Thursday. "In the same breath, I cannot afford to live in Austin."
VanBrakle purchased a home in Manor four years ago after her mortgage broker told her she couldn't afford anything in the 78752 ZIP code—or anywhere else in the city of Austin. But she remained involved in the years-long community engagement process that led to the current proposal. "This is a step in the right direction," she said, urging council to support the proposal.
Thelma Williams, a St. John's resident known as Grandma Wisdom, is hopeful that the redevelopment will bring more job opportunities and social services to a community that sorely needs it. "The social issues are my great concern, and I think many of the things that we can do with this development will help with some of those issues," she told council.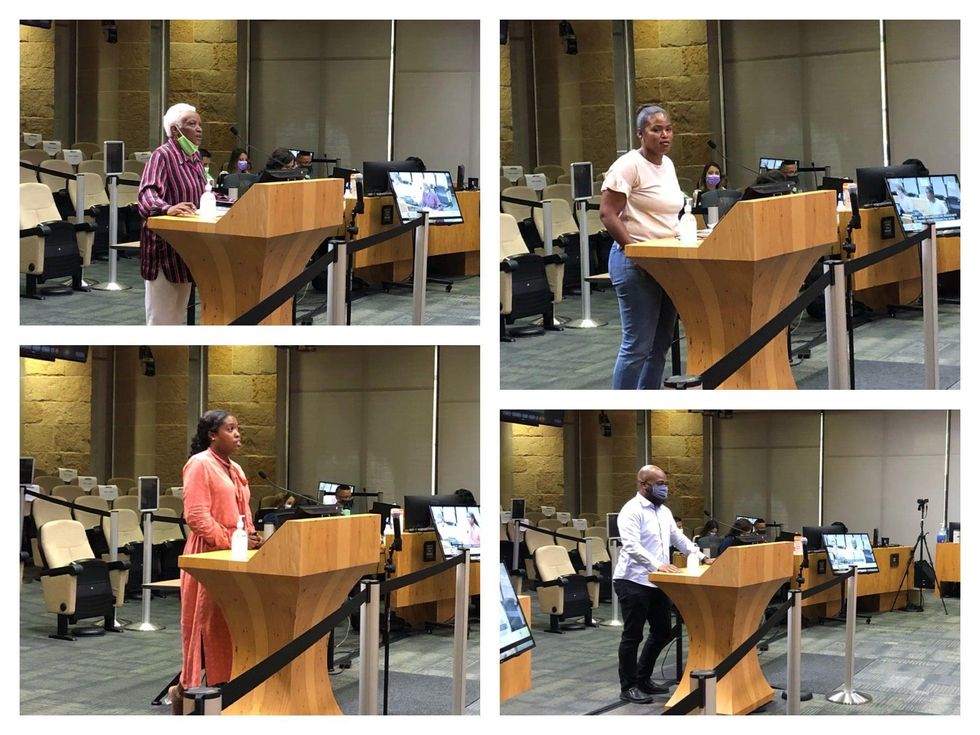 Thelma Williams, top left, and Cherelle VanBrakle, top right, were among the community members who spoke in support of the redevelopment proposal during the Thursday council meeting. (Council Member Gregorio Casar/Facebook)
Honoring the past

The former Home Depot (and current COVID testing) site is both a "symbol of blight and neglect," as resident Hakim McClellan said Thursday, and sacred ground with a rich history.
In the late 1890s, the St. John Regular Missionary Baptist District Association purchased 350 acres of land, spanning ACC Highland to Blessing Avenue, just West of Cameron Road. It served as a Freedman community, where formerly enslaved people could find work as sharecroppers, as well as home to an orphanage and school.
"In so many ways, while we had land, we were in an area where we didn't get a lot of participation from the larger community," Precinct 1 Commissioner Jeffrey Travillion said at a Friday press conference. "So what we see today is a sea change."
For many Black Austinites, the redevelopment serves as an important opportunity for the city to honor the history of the St. John's neighborhood, even as its demographics shift. Its population is now majority Latino, and its share of Black residents has shrunk from 13% in 2000 to 8.4% in 2017, according to U.S. census data.
"When the city of Austin ... moves forward with the redevelopment and rebuilding of this area, what the city is saying is that they are concerned about that segment of the community and that they're being intentional about lifting up … everybody who is in the St. John's area," Rev. Daryl Horton, a pastor at Mt. Zion Baptist Church in East Austin and member of the St. John Regular Baptist District Association, told Austonia. "And this becomes a shining light of what makes Austin a wonderful city to live in."
After Austin voters passed Proposition B, reinstating a ban on public camping, City Council directed staff to look into possible sanctioned campsites where homeless residents could live legally. Now two members are asking to shelve discussion on the controversial topic.
Staff presented dozens of possible sanctioned campsites across each fo the 10 council districts in late May, following the election. But members mostly pushed back on the proposed locations, citing cost, wildfire risk and lack of transparency as concerns.
With updated criteria, staff recommended two sites—one in District 1 and the other in District 8—for further review last week. After being briefed on the options during Tuesday's work session, Mayor Pro Tem Natasha Harper-Madison, who represents District 1, and Council Member Paige Ellis, who represents District 8, issued a joint statement proposing "a pause" on further discussion of temporary sanctioned encampments.
"We are not convinced that these sites would be a cost-effective solution, but rather a band-aid tactic when we need to be supporting the long-term strategy to get folks off the street permanent," they said. "It is our responsibility to look at the situation holistically and objectively, and to spend out city's limited resources on solutions we know can work."
Homeless Strategy Officer Dianna Grey noted that the two locations were imperfect and would require a lot of time and money to outfit as sanctioned campsites during the briefing.
City staff and homeless experts have previously raised concerns about sanctioned encampments, saying they are expensive to maintain, challenging to manage and hard to close, even when intended to to be temporary.
In 2019, staff declined to make recommendations for such sites despite being directed by council to do so, citing 2018 guidance from the U.S. Interagency Council on Homelessness. "Neither authorized encampments nor parking areas provide housing for people experiencing homelessness," staff wrote in a memo. "Rather, each option detracts from the staff resources assigned to addressing this moral imperative."

But with Prop B being enforced and too few shelter beds and affordable units for the estimate unsheltered homeless population in Austin, the city is facing the same predicament that prompted District 9 Council Member Kathie Tovo to pursue possible sanctioned campsites in the first place: "When individuals in encampments ask where they should go, we need to have places to suggest," she said at a May 6 council meeting.