Get connected with our daily update
At the cutting edge of tech, music and business are many successful leaders who not too long ago weren't old enough to drive or vote.
These wunderkinds were honored in Forbes' prestigious "30 under 30" lists, which highlights hundreds of top young entrepreneurs in categories from social media to science, in the 2022 rendition of the list on Wednesday. Some of the Class of '22 were as young as 14, while the average honoree was around 28 years old. Thirteen of these burgeoning business moguls were from Austin, which has seen such distinguished 30 under 30 alumni as former UT basketball player Kevin Durant get top spots on the 10-year-old list.
Here's a look at the 13 Austinites who made the cut:
Looks like Austin FC is cleaning house—and they're taking a few Verde faves out ahead of the 2022 season.
Following the retirement of defender Matt Besler, the club's original 33-man roster was trimmed to 22 in roster changes announced Tuesday.
Who's out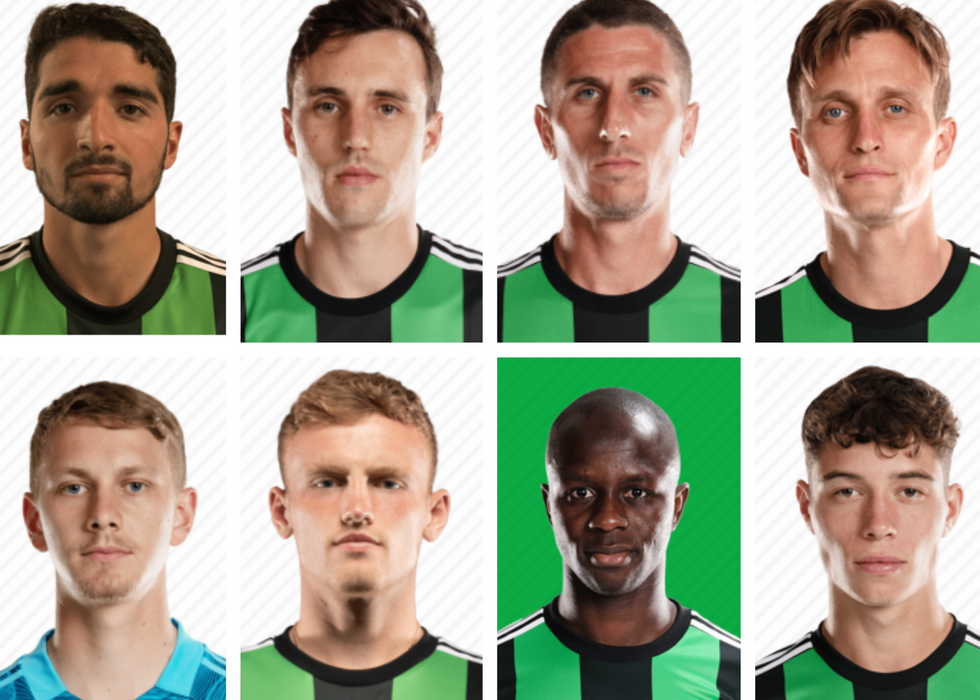 (From top left) Players Emmanuel Perez, Jared Stroud, Ben Sweat, Aaron Schoenfield, Brady Scott, Aedan Stanley, Kekuta Manneh and Sebastian Berhalter will not be with Austin FC for the 2022 season. (mlssoccer.com)
Austin FC declined its contract options for six players, including:
Kekuta Manneh
Aaron Schoenfeld
Brady Scott
Aedan Stanley
Jared Stroud
Ben Sweat
Stroud became an early fan favorite for the team after helping teammate Diego Fagundez to the team's first goal in April, racking up a second assist just one match later with another Fagundez goal. After a few months of limited appearances, Stroud started once again in November and attempted his first MLS goal, but no dice.
Manneh, a forward, showed promise as Austin FC's first Austinite: a Gambia native, Manneh played soccer in the Texas capital while in high school and early in his professional career. Manneh showed energy on the pitch but never saw his efforts translate to the stat board.
By the start of the season, Sweat had secured a starting spot as left back for Austin FC but tore his ACL in the Colorado Rapids match on April 17, putting him off the pitch for the remainder of the season.
Both under 23, Stanley and Scott saw few appearances to the Verde pitch. In May, Scott went on loan to play as goalkeeper for USL Championship side Memphis 901. Schoenfield, a 31-year-old forward, has played briefly for various MLS and USL teams as well as professional teams in Israel.
Austin FC also announced that they would not exercise the transfer options for Sebastian Berhalter and Emmanuel Perez, both of whom spent the 2021 season in Verde on loan.
Berhalter, the son of U.S. Men's National Team Head Coach Gregg Berhalter, filled some big shoes in key moments of the season as central midfielder. At just 20, Berhalter started five times in the key position for Captain Alex Ring. Perez made four starts as forward for Austin FC.
Who's in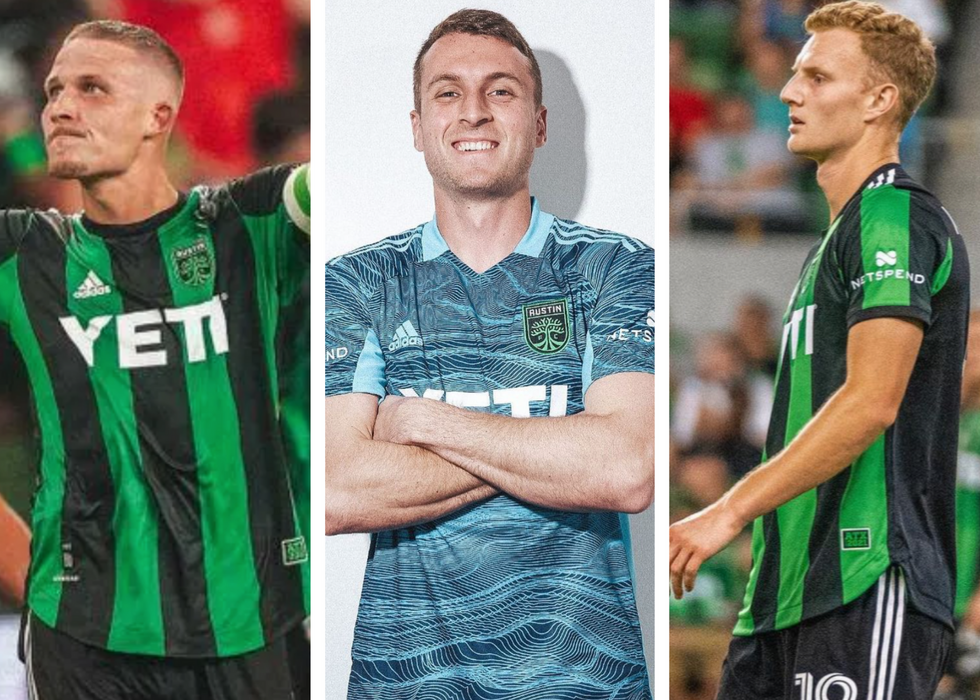 (From left) Captain Alex Ring, Will Pulisic and Freddy Kleemann all had their contracts renewed with Austin FC for the 2022 season.
It wasn't all doom and gloom. The club held on to the following for the 2022 season:
Captain Ring
Freddy Kleemann
Will Pulisic
Ring, known as one of the top defensive midfielders in the league, had a rocky but rewarding road as Austin FC's captain in their inaugural season. Despite two red cards that rendered him out of two key matches, Ring tallied four goals and three assists as he led the team throughout the season, earning MLS Team of the Week honors multiple times.
At 22, Kleemann made just three appearances in central midfield for Austin FC but showed potential toward the end of the season. Pulisic wasn't able to start due to fellow goalkeeper Brad Stuver's standout success, but the cousin of Chelsea standout Christian Pulisic has plenty of years left in the tank.
Who's missing
Austin FC now has three goalkeepers, six defenders, seven midfielders and six forwards as the team's brief offseason continues. After the retirement of legendary central midfielder Matt Besler, the team will need to make strong signing options in the back and midfield positions in the MLS SuperDraft and transfer seasons before their first match against FC Cincinnati on Saturday, February 26.
But don't worry about fan favorites Fagundez, Sebastian Driussi or Stuver: all 22 other players are still firmly rooted in place for the upcoming season.
Six artists with Austin ties, including Willie Nelson and Black Pumas, were nominated for this year's Grammy Awards, which will be released in the 64th rendition of the show on Jan. 31.
Country music legend and Austin native Nelson is up for his 10th Grammy with his 50th nomination, which was announced via webcast on Tuesday. The nomination for his tribute to Frank Sinatra's "That's Life" is his second nod in the traditional pop goal album category; Nelson's first Sinatra tribute, "My Way" received a Grammy in the same category in 2019.
Soulful Austin set Black Pumas, which has been seen performing at local events like Austin FC games and national ones like the Biden inauguration, are looking for their first Grammy after six nominations since its first self-titled album was released in 2019. Despite not releasing another album, the duo composed of Eric Burton and Adrian Quesada is up for best rock album with "Capitol Cuts: Live From Studio A," which is composed of eight live recordings and is up for best rock album, and "Know You Better," which is up for best rock performance.
Austin country artist Jack Ingram received his second nomination with "The Marfa Tapes," an album he shares with artists Miranda Lambert and Jon Randall that's up for best country album. Four-time Grammy winner and former Wimberley resident Sarah Jarosz is up for best folk album with "Blue Heron Suite."
Austin choral ensemble Conspirare has been nominated in the best choral performance category for their album "The Singing Guitar," which features string instruments, conducting from Craig Hella Johnson and contributions from the Austin Guitar Quartet, the Texas Guitar Quartet, The Los Angeles Guitar Quartet, Estelí Gomez and Douglas Harvey. Conspirare and Hella Johnson are seeking their second Grammy with the nomination.
Up for their third Grammy award is sister duo Sarah and Shauna Dodds, who were nominated for their design work on Reckless Kelly's albums "American Jackpot/American Girls." This is the duo's sixth nomination in the recording packaging category.
Another nominee with Austin ties is singer Kim Wilson, who performed in Austin as part of blues-rock band the Fabulous Thunderbirds in the 1970s-80s and is nominated in the traditional blues album category with his album "Take Me Back."
Aside from Nelson, Black Pumas and other current candidates, Austinites Gary Clark Jr., Stevie Ray Vaughan, Janis Joplin, St. Vincent and dozens of other musicians with Austin ties have earned Grammy nods in the past.
Already tired of the Austin FC offseason?
The now 1-year-old club has released its first 2022 opponent just weeks after its final match of 2021, announcing that it will play FC Cincinnati for its home opener at 5 p.m. on Saturday, Feb. 26.
The upcoming game could be a match made in heaven for the fledgling Austin FC—although the Verde and Black were 12th of 13 teams in the West in 2021, FC Cincinnati fared worse, earning just four wins to come in last in the Eastern Conference.
The Cincinnati matchup could be a chance for Austin to flex its new muscles early after recouping for its first offseason. While the team hasn't made big signing moves yet, it did exercise a permanent transfer option for left back Zan Kolmanic Nov. 19 after the young defender spent a year on loan with the club. Austin will also look for upcoming chances to bolster the roster this winter, including during the MLS SuperDraft in January 2022.
An early battle against Cincinnati could also be a cautionary tale for the Verde and Black: since its founding in 2019, the expansion team has never pushed past last place in the conference.
Austin, meanwhile, is looking to have a season with results that match its passionate fanbase this time around. The club sold out all of its 17 home matched in 2021, and on Monday, the team once again encouraged its fans to join the season ticket Waitlist Membership for presale access to the home opener.
The opening match will be regionally broadcast in English and Spanish. Single-match tickets will go on sale soon-to-be-announced shortly after the 2022 season schedule is released.