Austonia AM
100% Austin news, info, and entertainment, straight to your inbox at 6 a.m. every morning.
In five minutes, you're fully informed and ready to start another great day in our city.
Get connected with our daily update
What a way to end an eight game road stretch. Battling the heat and a top West Conference team, Austin FC took bullets from Sporting Kansas City as they fought for another point on the road in a 1-1 draw on Saturday.
The club has now accumulated eight points in eight matches towards their standings in the West as they wrap up their era of endless road matches.
For head coach Josh Wolff, averaging a point a game is just as expected.
"(It) doesn't seem amazing, but I've been in this league a long time, and that's worthy of something," Wolff said. "It's certainly above average, I would say, but we've got a lot of work still to do."
Austin's first-ever rematch was eerily reminiscent of their last appearance at Children's Mercy Park. On May 10, Jon Gallagher scored the first point of the match seven minutes of play; this time, Austin struck first once again with another unanswered first-half point.
As if by instinct, Cecilio Dominguez found his stride up front as he casually slipped in a goal in the 25th minute of play.
Dominguez took the striker spot for the second time this season as Austin experimented with 4-4-2 and 5-4-1 formations. With two strikers injured and a thin roster of just 17 healthy players, Wolff said the club is getting "a bit creative" as they wait for their athletes to recover.
After a strong first 45 minutes, Sporting Kansas City took control as the second half began. Kansas finally found the equalizer in the 70th minute of play as an overworked Brad Stuver couldn't quite keep Daniel Salloi from going into goal.
Kansas was stopped time and time again by Stuver, who had a career-best nine saves and produced more highlight-worthy saves than ever to keep the club alive. Stuver said his breakout success this season comes down to a stellar back line, eight years of training and a constant willingness to work.
"I've been working for eight years to get an opportunity like this, to go out and get a run of games where I could actually be the starter," Stuver said. "For me, it's not about proving people wrong or surprising myself. It's just going out every day, training hard and doing what I know I'm capable of."
Looking back at the grueling eight-week stretch at the beginning of Austin FC's existence, Wolff said it's been harder than he thought to keep a team going with so many games on the road. As they head to their home opener June 19, Wolff hopes to see more rest and more goals from the MLS' newest club.
"I think we left goals in a lot of games in these first eight games," Wolff said. "As coaches we certainly take accountability, but (for) our players it's part of the deal (to) come to training continue to work on it."
Austin will be rewarded for their eight-week away stretch with their first home match against the San Jose Earthquakes on Saturday, June 19. Stuver said the team can't wait to play in front of their dedicated Verde fans. "We get to make Q2 our our fortress," Stuver said.
After a week off, Austin FC is looking to win their first-ever rematch as they play Sporting Kansas City for their last match of an eight-game road stretch.
After losing to Kansas City 2-1 in early May following a catastrophic red card call, Austin is looking for vengeance against the No. 2 team in the West.
Austin FC will be at Q2 Stadium for their home opener June 19, but sit tight: there's still one more watch party to go before the club comes home.
Here's where to watch the Austin vs. Kansas City match at 2 p.m. on Saturday, June 12th:
Austin Anthem takes on Dreamland, 2770 W Hwy 290
What does pickleball, mini-golf, soccer, a giant outdoor screen and over 90 self-pour taps have in common? This week's #AustinFC watch party!
Join us at @dreamlanddstx in Dripping Springs for a full-day of family-fun & to cheer on the #verde to 3-points.https://t.co/ZakDLq4s76 pic.twitter.com/nZo5zSE9dg

— Austin Anthem (@AustinAnthem) June 7, 2021
Austin Anthem, Austin FC's first supporters' group, is back at Dreamland in Dripping Springs to watch Austin take on their head coach's former club. Expect more than just soccer—the facility comes with over 90-self pour beer taps, pickleball and mini-golf facilities, and a stage perfect for watching the big game.
Los Verdes' watch party and after party, Hopsquad Brewing Co. 2307 Kramer Lane
@AustinFC watch party this Saturday! BYO chair, come hang and watch the game on our huge LED, and stick around for a killer after party. Let's see how loud @LosVerdesATX @AustinAnthem and @LaMurgaATX will make that stadium. pic.twitter.com/i1YnWS5Ac9

— Hopsquad Brewing Co. (@HopsquadBrewing) June 10, 2021
From noon till well past Austin FC's 2 p.m. match, head to Hopsquad Brewing for live music, local eats and signature beers. Four bands will hit the stage for an after party following the match. Bring your own lawn chair and find parking early.
Season ticket holders: Stadium Preview at Q2 Stadium, 1835-A Kramer Lane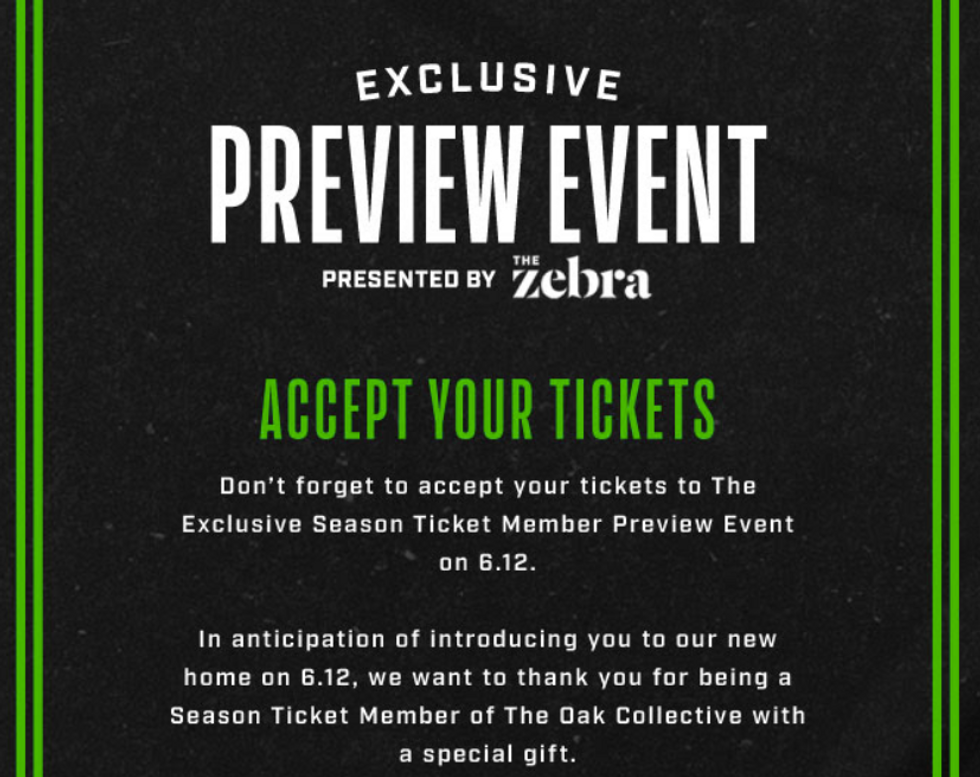 (Claire Partain)
Austin FC is presenting a gift for its season ticket holders just before the home opener. Members can attend an exclusive Stadium Premiere, complete with in-stadium food and drink, for Q2 Stadium's first watch party on Saturday starting at 1:30 p.m.
Pub Clubs
If none of these watch parties are quite the right fit for you, 31 bars will be streaming the match in the Austin metro as part of the Austin FC Pub Club.
In Austin
Austin Eastciders- Barton Springs, 1530 Barton Springs Rd.
Austin Eastciders- Collaboratory 979 Springdale Rd. Suite 130
B.D. Riley's Mueller, 1905 Aldrich St. Unit 130
The Bon Aire, 9070 Research Blvd
Bouldin Acres, 2027 S Lamar Blvd
Casa Chapala, 9041 Research Blvd Suite 100
The Cavalier, 2400 Webberville Rd Unit A
Cover 2,13701 N Highway 183
Cover 3 Anderson Lane, 2700 W Anderson Ln Unit 202
Happy Chicks, 214 E 6th St.
Haymaker, 2310 Manor Rd.
High Five- Anderson Ln, 2700 W Anderson Ln Unit 101
Local Post Pub, 7113 Burnet Rd
Pelons, 802 Red River St
Play on 6th, 620 W 6th St
Pluckers, various locations
Revelry On The Boulevard, 6215 N Lamar Blvd
Revelry- East 6th, 1410 E 6th St
Rusty Cannon Pub, 730 W Stassney Ln Unit 120
San Jac Saloon, 300 E 6th Street
Shiner's Saloon, 422 Congress Ave Unit D
Shooters Billiards 620, 11416 N FM 620
Taco Flats, mulitple locations
Twin Peaks, 701 E Stassney Ln
In the metro
Austin FC's home opener is just over a week away, and the chefs behind all of the local eats at Q2 Stadium are ready to showcase their cuisine.
From dumplings at Bao'd up to Austin FC's signature Verde Queso, Austin FC chef Sam Boisjoly said that the goal is to make anyone feel ready to grab a plate at the stadium. "If I had a friend that had a layover for three hours at Austin... if he came here, he would be able to see Austin," Boisjoly said.
Austonia's Claire Partain got a sneak peek at all the spicy, sweet and savory options soon to be offered at the stadium.
Here's what she thought:
Verde Queso: 8.5/10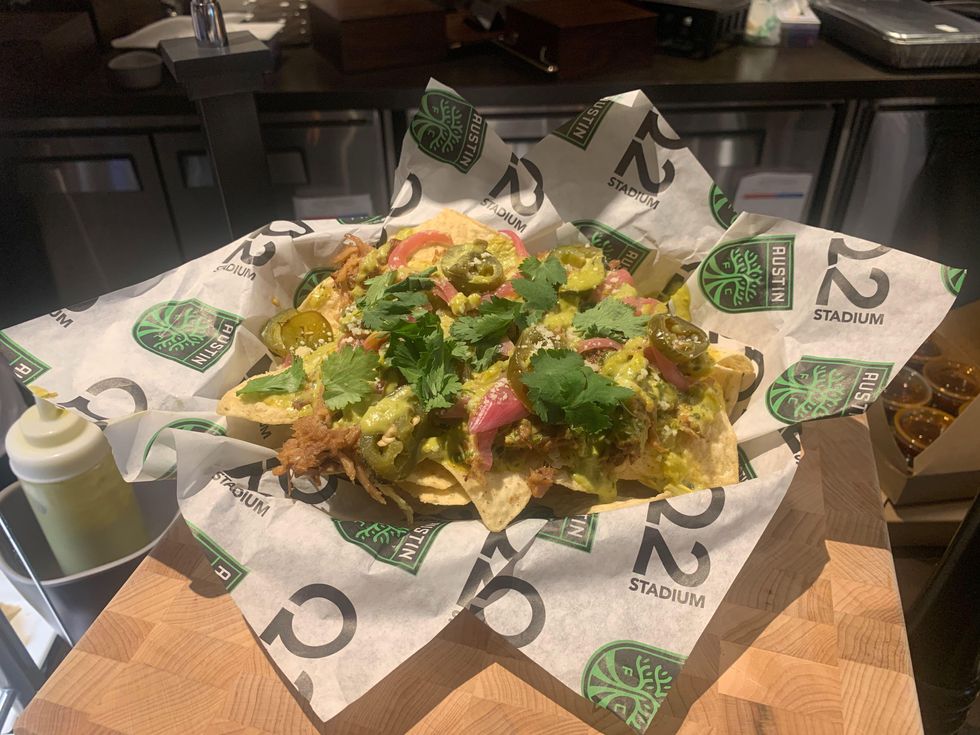 (Claire Partain/Austonia)
Austin FC's signature Verde Queso was the winner of the club's queso contest, which featured dozens of entries from homemade cooks across the city. It'll be featured at the club's soon-to-be-famous Queso Fountain alongside a classic queso and fuego queso. The queso and salsa verde combine into a lovely Tex-Mex flavor with a kick. Topped with pickled onions and chopped pork, this is a far cry from regular stadium nachos. Prepare to come to Q2 hungry for this one.
Bao'd Up veggie bao: 9/10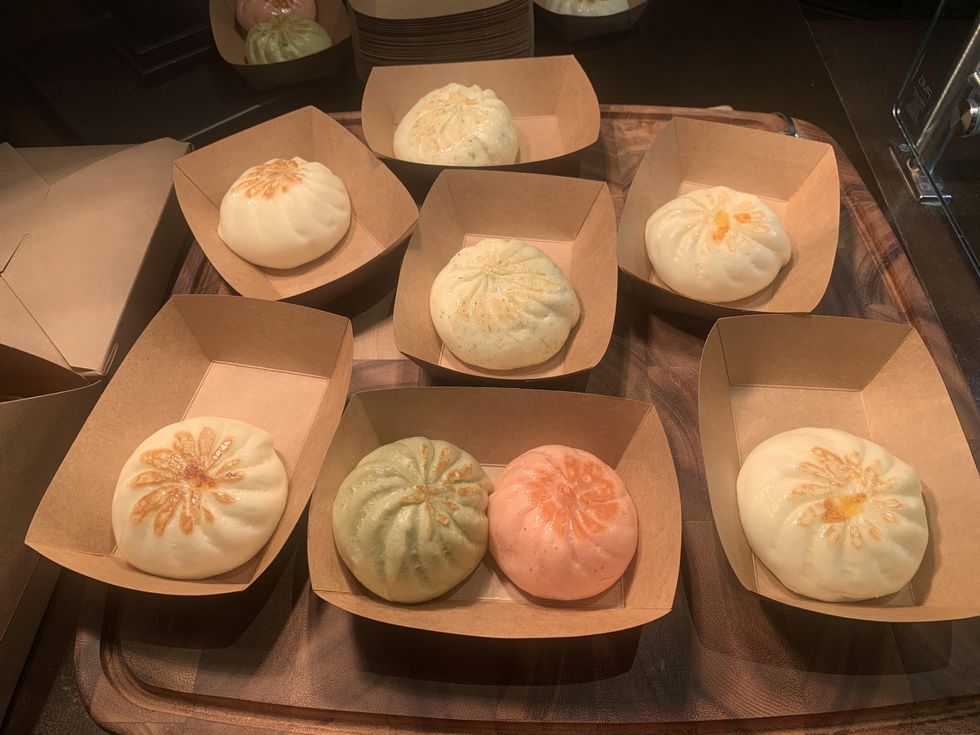 I've never had bao before, so I was least prepared for what was inside these lovely, aesthetically-pleasing dough rolls. The trendy restaurant stuffs bao with anything from buffalo chicken to cheesecake, but I chose the veggie flavor to see what vegetarians may be able to try at Q2. Boisjoly said that people with any diet would enjoy food at the stadium, and he didn't disappoint: the veggie bao featured a lovely cream inside wrapped in a warm, doughy crust. Definitely a must-try for any attendee.
Valentina's Tex-Mex: 8/10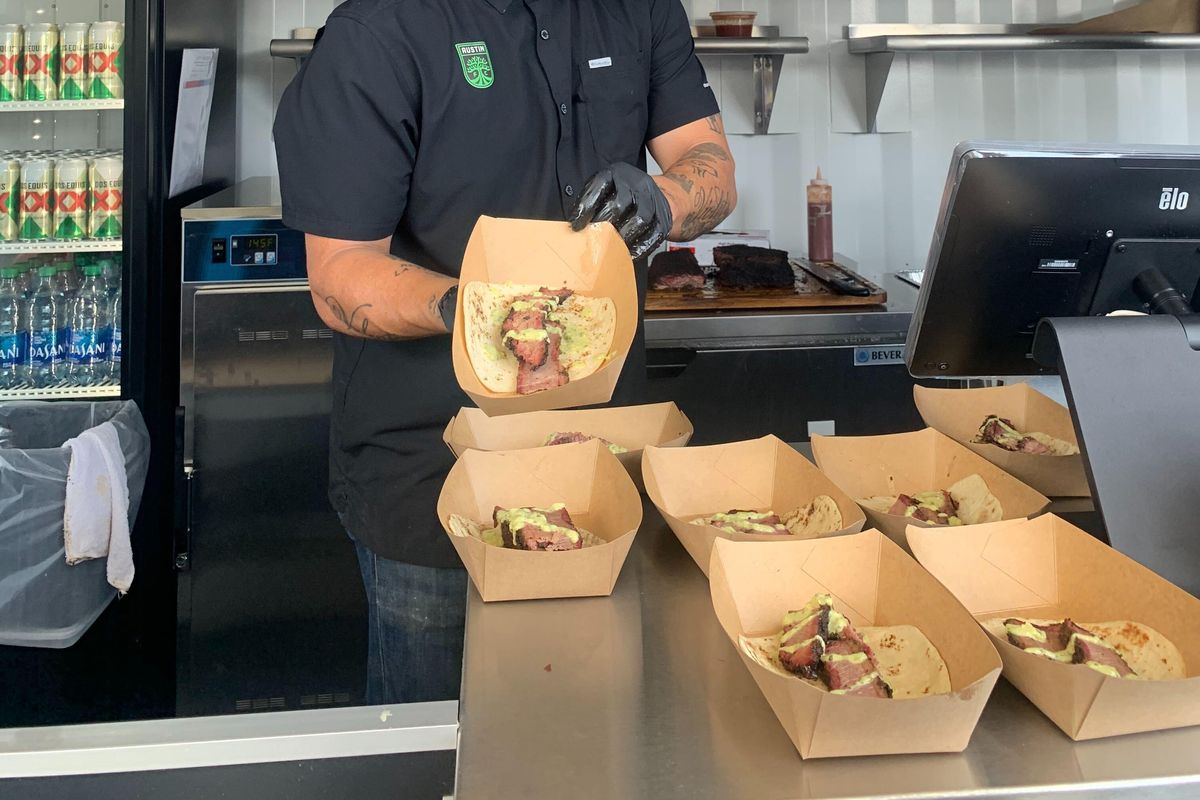 (Claire Partain)
The only reason this gets below a 9.5 is because they ran out of ribs before I could try it. I survived to tell the tale, and Valentina's other selection, a sliced brisket taco, did not disappoint. Featuring thick slabs of meat covered in a green sauce and wrapped in a fresh tortilla, Valentina's provides two Texas favorites—Tex-Mex and BBQ—into a joyfully delicious taco. The supporters' section will also have easy access to the truck, which is located nearby alongside a well-placed Dos XX booth.
Easy Tiger: 8/10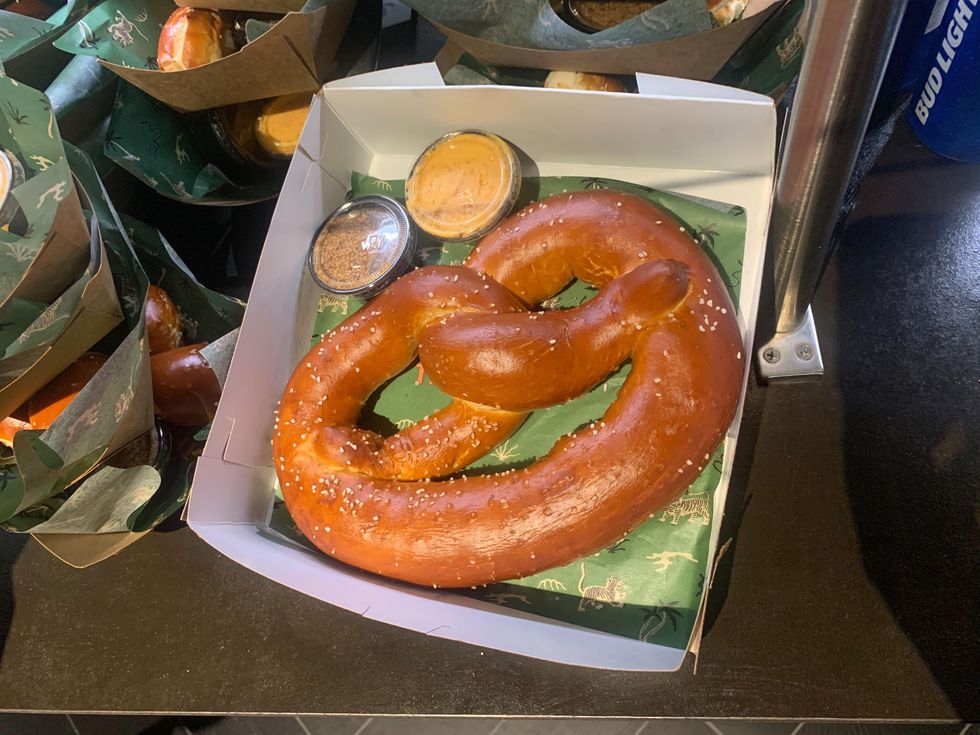 (Claire Partain)
Easy Tiger was given the task of providing Austin FC with a classic stadium pretzel, and they fulfilled expectations. The massive pretzels are just soft and salty enough to satisfy, and they're paired with equally yummy cheddar cheese sauce. The only drawback was the horseradish sauce, but that may just come down to personal preference.
T'Locs Sonora Dogs: 7.5/10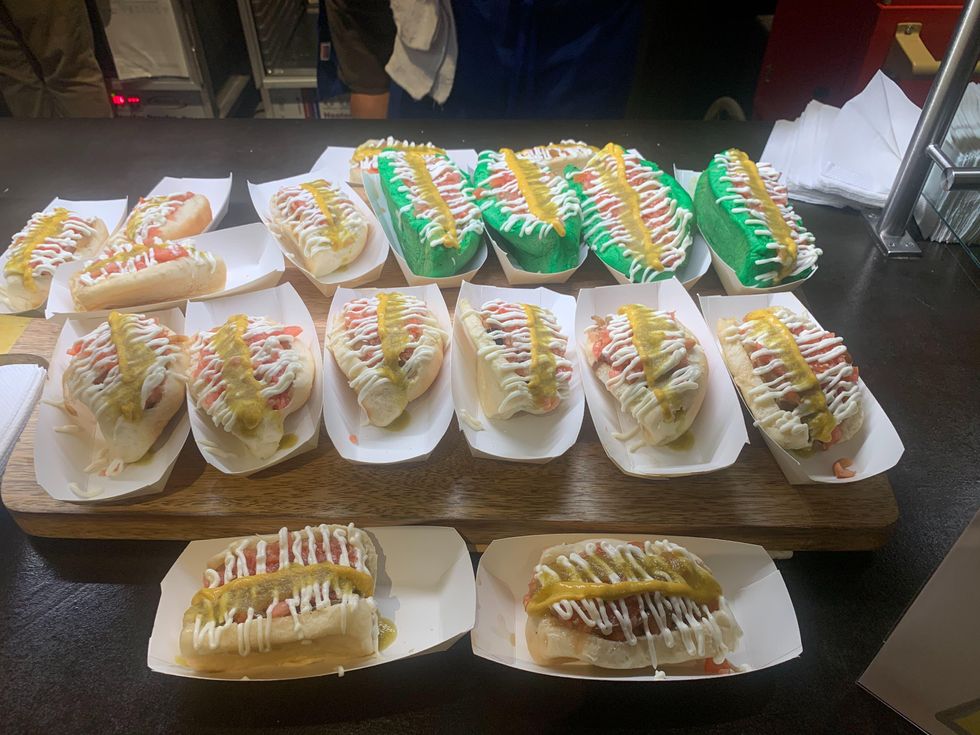 (Claire Partain)
What a combo: T'Locs Sonoran Hot Dogs combine savory, sweet, sour and spicy to form a truly excellent ballpark dog. Covered in multiple sauces, the meat is tender and juicy, but the true star of the show is their authentic Sonoran buns shipped in from Arizona.
DoubleDave's Pizza Rolls: 7/10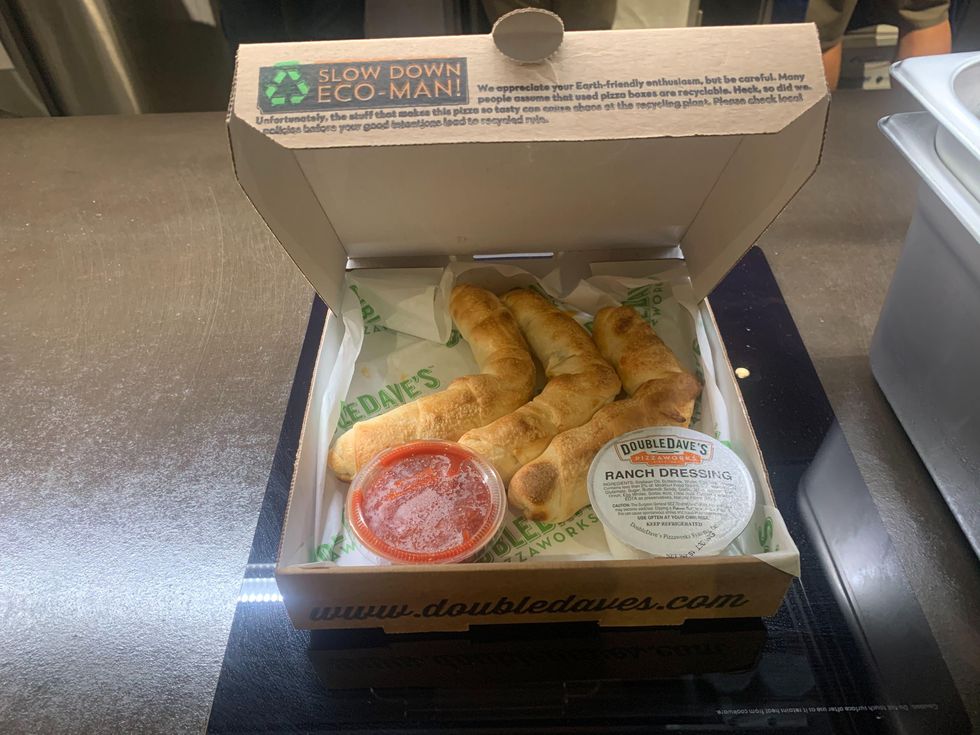 (Claire Partain)
DoubleDave's is featured on both ends of Q2 Stadium, and it's no surprise that stadium officials double booked Austin's signature pizza chain. As a frequent DoubleDave's customer, I was less starstruck by the rolls than other dishes, which is why it only receives a seven out of 10. Still, anyone looking for cheesy, pepperoni goodness should grab a pizza roll before any Austin FC match.
TacoDeli- 7/10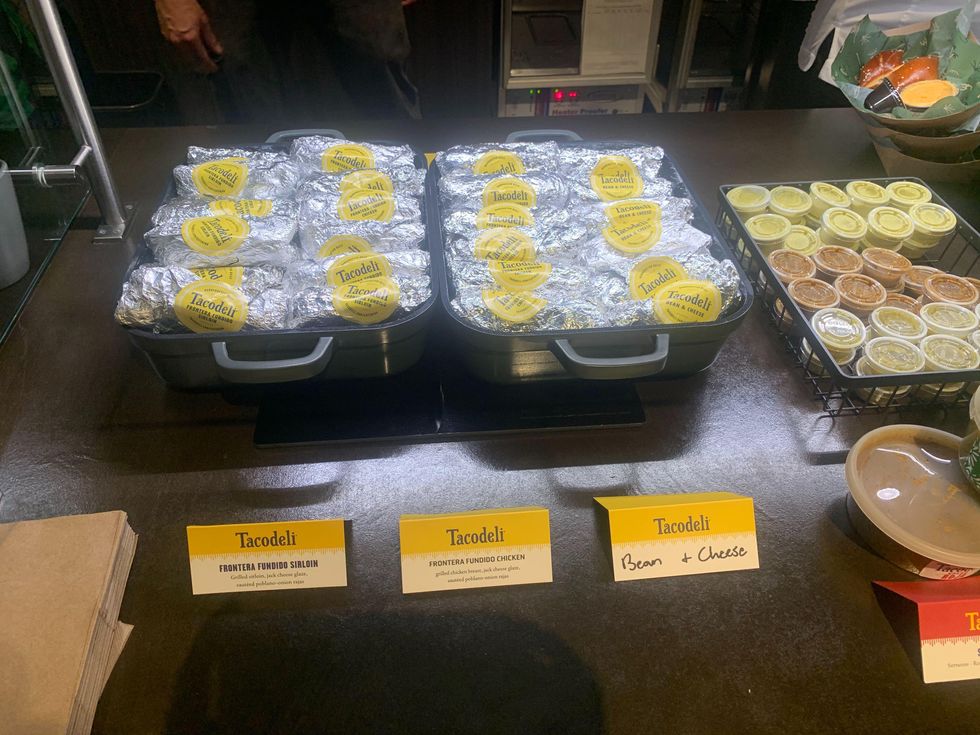 Tacodeli's frontera fundido sirloin taco was unfortunately the last I tried, which means I was only able to muscle down a bit. Still, the tender beef topped with signature salsa will be a satisfying and portable option for anyone at Q2 come game time.
From a one-woman show to a billion-dollar brand, jewelry entrepreneur Kendra Scott always has something up her sleeve. This time, she's breaking into gender-neutral jewelry and teasing a new partnership.
At the Q2 Stadium on Wednesday, Scott presented her men's and gender-neutral collection, ahead of a major partnership with Austin FC. "It's already in the works," Scott said, giving no other details.
In the meantime, you can shop Scott Bros. by Kendra Scott, designed in conjunction with her three sons, Cade, Beck and Grey. Scott said this collection has been a long time coming since her sons and male colleagues had been asking for jewelry to fit their style. The news comes on the heels of Scott stepping down as CEO, handing the baton to former company president Tom Nolan (Scott is still the executive chairwoman).
"My boys have been part of the family business since day one. I didn't have the resources early on to be away from them, I couldn't afford a nanny, I couldn't do a lot of those things," Scott told Austonia. "So them being engaged and involved was just part of how this business was going to go."

Three of the different styles are named after her boys, with another named after her father, Kenneth, who Scott described as her "North Star." Scott said she named the collection after the important men in her life and dedicated her launch party to celebrating inclusivity.
"We need to celebrate not just the women in our lives, we need to celebrate the men," Scott said. "Scott brothers is about celebrating diversity, inclusion, men. We are not just Kendra Scott, we are now Scott brothers by Kendra Scott."
The collection of bracelets is made with natural stones, each representing something: Banded Agate for stability, calm and balance; Blue Lapis for intuition, self-discovery and honesty; Brown Tiger's Eye for courage, confidence and motivation; and Turquoise Jasper for balance, healing and protection.
Scott's new collection is donating 20% of launch proceeds to the Peyton Manning Children's Hospital Art Therapy Program and going forward, 20% of proceeds from the Cade suite will benefit Shop for Good Giveback to support family and youth organizations.

From Your Site Articles
Related Articles Around the Web