Get connected with our daily update
Heading to Q2 Stadium? Four months ago, it would've been tough to do so without dropping a pretty penny, but by mid-September, season ticket holders were clamoring to sell their seats for as little as a $10 beer.
While Austin FC continues to sell-out crowds—their most recent match was at capacity despite their record and scheduling conflict with a Texas Longhorns game—demand has dipped as new factors continue to pull down prices.
Austin FC's rocky season has been met with unbridled fan support, but it's also lost that honeymoon-phase traction as they fell to the bottom of the standings, faced a third COVID surge and were met with school, work and good ol' Texas football.
On Sept. 15, Austin FC fan Tanis Olvedo was willing to strike a deal: two beers for a ticket.
Although he later sold at cost to another season ticket holder, many fans have seen the value of their season tickets take a serious dip. By Wednesday, Sept. 15, tickets that were once no lower than $36 had dropped to as little as $14.
Austin Anthem member Phil Stanch used his accounting skills to map out the dip in his ticket sales prices.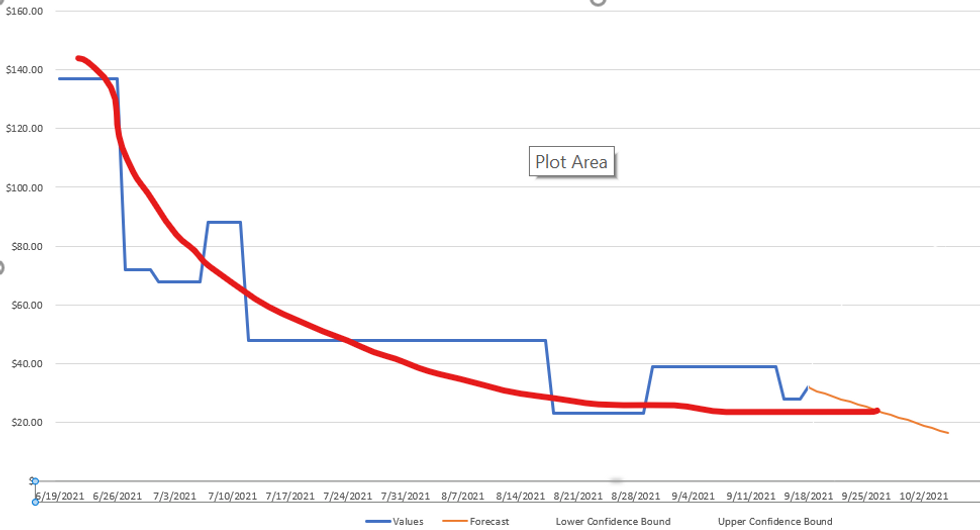 Phil Stanch found that the predicted value of his season tickets (in orange) will continue to trend downward. (Phil Stanch)
Here are the main reasons why fans say Austin FC's ticket prices have taken a tumble:
COVID
Austin FC's first home game on June 19 seemed like perfect timing—by June 16, 51% of Travis County residents were fully vaccinated. Mid-May saw Austin lift its risk-based guidelines to Stage 2 for the first time since the pandemic's onset just in time for the brand-new Q2 Stadium to open at 100% capacity.
But with the third surge sending Austin back into Stage 5 and hospitalizations skyrocketing in late summer, some diehard fans reluctantly began opting for the couch over a 20,738-capacity stadium.
That safety-consciousness comes tenfold for parents of young children who are still ineligible to get vaccinated, at-risk fans and the older population.
School starting and unvaccinated kids. That's why we haven't gone in a while. We are season ticket holders, so we have just given ours away to friends and coworkers that can go.

— jae (@jae98342926) September 23, 2021
Austin has stuck to capacity and hasn't added any masking or testing requirements, garnering some criticism from fans.
I stopped going because of the COVID surge. I tried to sell my tickets a couple of times and they didn't move. Then I decided to eat them to make space. Not happy the club didn't create a mask or vaccination requirement.

— Ruben Cavazos (@rcavazos) September 24, 2021
School
Just as the surge reached its peak in mid-August, schools across Austin once again opened in-person, leaving many families unable to go to late-night games on weeknights. Ten of the club's 17 home games have been on Wednesdays, Thursdays or Sundays—days that have quickly transformed into "school nights."
With 9-5ers unable to justify 8:30 p.m. weeknight games and kids tucked in bed by 10, fewer fans have been able to make their way to the games.
And with school comes another conflict of interest- tried-and-true Texas football is fully underway, and though Sept. 18 saw a sold-out crowd, a few Verde seats were left empty as the two teams played at home at the same time for the first time.
A combo of a number of things:
- Wednesday or Sunday games that end around 10pm are not appealing to people with jobs or kids.
- Being in last place hurts, no matter how passionate people are about the team. Nothing on the line.
- This is still Texas, and it's football season.

— Tom H (@hallockitup) September 23, 2021
Results
While COVID and fall responsibilities have played a factor, Austin FC is also dealing with the unfortunate reality of being a last-place team.
Season ticket holder Doug Mayo was one of the 4% of season ticket holders who didn't renew his deal with the team. Once confident that he would easily sell the coveted tickets for their original price, the team's record plummeted alongside his own ticket prices. Mayo said that the team's 5-4-16 record caused their honeymoon phase to end prematurely.
"The newness wore off fast," Mayo said. "Nobody wants to go to a sporting event when it's 99% certain the team they support will lose."
For Mayo, it'll take a better record and more passionate play on the field to get him back in the 20,000-member season ticket waitlist.
"Mainly (I want) them to start acting more like a professional team," Mayo said. "We were so excited to have something to look forward to throughout COVID and it's just been a disappointment."
I've been a big supporter in general, I went to 4 games in the first half of the season, but no amount of "fan camaraderie" makes me want to spend $30-40 to see a team that plays without heart. And that's bc the last game I saw we actually won (albeit Houston was down a man).

— Brown and in Austin (@DisraelTV) September 23, 2021
Still other reasons abound: some fans say it's those $10 beers themselves that cause prices to dip, while others say tickets were overpriced in the first place. Although Austin FC says 96% of season ticket holders decided to renew for 2022, many did so with a grain of salt, including longtime fan Shawn Collins.
"I have tickets in 110 (the Lexus Club) and even when the demand was crazy high I couldn't get face for my tickets because they were so high to begin with," Collins said. "When I got them I figured I'd make back what I paid on games I couldn't attend."
Austin FC's dip in ticket sales may be more of an MLS problem than a unique issue: gameday employee and University of Texas sports business student Ben Patterson said that prices shot up due to pre-season excitement and are now at more normal levels.
"The initial hype of finally having a pro sports team is likely what drove up season ticket prices at the start of the year," Patterson said. "Now that excitement has cooled off, ticket prices have dropped in value steeply."
But while five straight losses are enough to drive at least some fans away, plenty are committed to staying Verde through thick and thin.
It might not be easy being green, but thousands of fans are now enjoying the benefits of $20 tickets as they continue to pack Q2.
MLS and Liga MX may be far from merging as of yet, but the two will be collaborating more than ever for a one-month Leagues Cup competition starting in 2023.
Each summer, clubs for North America's two biggest leagues, including Austin FC, will take a pause to compete in the Leagues Cup as part of the Concacaf Champions League competition. Winners of the tournament will be granted automatic qualification in the Champions League round of 16, while second-and third-place clubs will be given automatic admission into the CCL's opening round.
The Leagues Cup is the first of its kind and will be the first major soccer tournament to include every club from two top-flight leagues.
The competition will boost attention to the continent's first division leagues in the years ahead of North America's ambitious 48-country FIFA World Cup in 2026. For the first time, three countries—Canada, Mexico and the United States—will co-host the competition.
"The partnership is rooted in the on-field rivalry but connected by a true spirit of collaboration off the field, with a focus on sharing best practices, growing the beautiful game in North America, and being a force for positive change in the communities of both leagues," the league said in a statement Tuesday.
The Leagues Cup also serves to unite North American soccer culture while fostering rivalries between teams in the two leagues. Liga MX teams often compete with MLS clubs in friendly matches and can be seen going head-to-head in MLS All-Star matches, the annual Campeones Cup, which pits the best club of each league against each other each year, and the current Leagues Cup, a yearly competition between the four top clubs of both leagues.
On the international pitch, the U.S. men's national team last bested reigning Concacaf champions Mexico in the Concacaf Gold Cup, with Canada coming in third. Rivalries continue to intensify between the U.S. and Mexico, which usually alternate championship titles.
Liga MX Executive President Mikel Arriola said the Leagues Cup will serve to boost Concacaf and other Caribbean leagues as well as MLS and Liga MX, which sit at ninth and 14th in world soccer league rankings, respectively.
"This day represents a before and after for the whole North America, Central America and Caribbean regions as they will greatly benefit from this agreement," Arriola said.
The expanded cup also hints at closer relations between the two leagues, which could eventually form a continental super league. Both FIFA President Gianni Infantino and MLS Commissioner Don Garber have hinted at the possibility of a merger in the past.
Players from each league last went head-to-head as the best players from each team tied 1-1 on Aug. 25 at LAFC's Banc of California Stadium, though it was Liga MX's best who prevailed in penalty kicks.
Next up, Seattle Sounders FC will play Liga MX's Club León in the 2021 Leagues Cup Final on Wednesday at Allegiant Stadium in Las Vegas. The Campeones Cup will see MLS reigning champions Columbus Crew SC host Liga MX's top team Cruz Azul on Sept. 29 to close out international competitions.
Seven goals, eight yellow cards and nine minutes of stoppage time later, Austin FC lost its stellar first-half lead in a contentious 4-3 loss to the San Jose Earthquakes on Saturday.
The Quakes came out victorious with their first goal and win against Austin after a scoreless draw in Austin FC's home opener on June 19. But the first half told a different story.
Newcomers Sebastian Driussi and Moussa Djitte broke that scoreless streak early with a goal in the sixth minute as Driussi drove in a block from Djitte's header for his second goal with the team.
San Jose responded in the 17th minute off a corner kick with a goal of their own, but the first half was all Austin as they took easy control over the game.
For the first time in a long time, the Verde and Black held back on possession and took their time up front, playing with purpose and style as Jon Gallagher and Alex Ring placed a smooth second goal in the 35th minute to make it 2-1 Austin.
Captain Ring scored just minutes later to make it 3-1 at the half with a tricky goal from outside of the box, and the home team left the pitch with ease after a half that let their identity and confidence shine for the first time in weeks.
But a second half marred with fouls, fights and a loss of pace soon lost the match for Austin FC.
San Jose quickly took momentum to start the second half as they scored in the 49th minute. In a cruel twist of fate, Austin was punished with a penalty kick on a handball call for the second match in a row as Ring was given a yellow card, and the Quakes took that opportunity to tie up the match.
A fight that marked the turning point of the match broke out just after, leaving the game in chaos for several minutes. Both Brad Stuver and San Jose's Cristian Espinoza were given yellow cards.
Soon after, the 'Quakes found their first lead of the match as Javier Lopez shot one into the bottom right corner, and Ring was given his second yellow one minute later as he was sent out of the match. The red card will keep Ring out of the next match as well.
Austin FC fought back with seven more shots, including four on goal, as they tried to tie the match again with just ten men. But with their confidence slipping and a new physicality in the game, including another yellow card for each team, the home team was unable to use nine extra minutes of stoppage time to take any points from the tumultuous match.
Austin FC is now on a five-match losing streak and has won just one of their past nine games. They'll take a break before fighting for redemption once again in a home match against the LA Galaxy at 8:30 p.m. on Sunday, September 26.
62' San Jose takes the lead
We are mayhem. pic.twitter.com/mCalCUeSR1

— San Jose Earthquakes (@SJEarthquakes) September 19, 2021
In just four minutes Austin FC has suffered two yellow cards and lost two goals as San Jose takes a 4-3 lead.
An unfortunate twist of fate makes Austin subject to another penalty kick as Alex Ring gets a yellow card off a hand ball call in the box for the team's second handball PK in two matches. Despite a near-save from Stuver, San Jose's Javier López ties the match with a shot to the right hand corner.
Just after the goal, Austin FC's biggest fight yet breaks out in the box, and after minutes of chaos, both Stuver and the Quakes' Cristian Espinoza are given a yellow card.
But peace doesn't last for long. Just four minutes later, Lopez scores again to give San Jose their first lead. Diego Fagundez and Rodney Redes are subbed in to boost morale, but in the 65th minute Ring is given a second yellow to get him kicked out of the match for the second time this season.
In five minutes, Austin loses its cool and pays dearly for it. The substitution of Cecilio Dominguez in for Djitte and a few minutes of complacency bring Austin FC at a deficit once again as the physicality of the match intensifies.
49' San Jose retaliates
Goals on goals on goals. 💯

Cristian Espinoza strikes to pull one back for #Quakes74 pic.twitter.com/6Q5Snfi2MN

— Major League Soccer (@MLS) September 19, 2021
San Jose is reminding Austin not to get too cocky. Just three minutes into the second half and with a few new faces, the 'Quakes found a way to bounce back with a goal from Cristian Espinoza.
Austin's 3-2 lead is feeling shakier as San Jose comes back strong, and subs Cecilio Dominguez and Sebastian Berhalter will need to adapt to the match quickly as they come in for Djitte and Pereira.
At the half: Austin FC's got style
Things we never get tired of. 💚🖤 pic.twitter.com/3k9jdmD05L

— Austin FC (@AustinFC) September 19, 2021
Up 3-1 at the half, Austin FC is playing with a purpose, and they're doing it without their usual tactics.
For the first time in a long time at least, Austin FC left the first half without an advantage in possession. But it seems to be paying off.
The home team held just 44.2% possession over the Quakes in an area they normally dominate as they sit comfortably in the lead with three goals for the first time since their last win against the Portland Timbers on August 21.
Each time they get the ball, Austin is playing with confidence and style, making deliberate passes up front instead of holding onto possession in the back. Outstanding performances from Captain Alex Ring, Jon Gallagher and Sebastian Driussi are providing a boost, while the presence of a true striker, Moussa Djitte, in the starting lineup is proving fatal for Austin's opponents.
So far this match, Ring has racked up a goal and assist, Gallagher has sunk his third goal and Djitte has nearly scored on his debut. The front end is slowing down the pace without losing confidence, and for once Austin fans aren't forced to watch the ball ping-pong from goal to goal.
This is the Austin identity that fans have just seen glimpses of this season, and although playoffs are out of the picture, it could be the key to a late-season comeback.
45' Ring makes it 3!
He can't be stopped. 😤 pic.twitter.com/CjSCG6KBaD

— Austin FC (@AustinFC) September 19, 2021
Austin FC is on a roll tonight, including Captain Alex Ring. Just minutes after a clutch assist, Ring jukes out a Quakes defender and keeper JT Markincowski with an out-of-box shot to the bottom left corner. It's 3-1 Austin at the half.
35' Austin FC goes up 2-1!
Beautiful ⚽️ from @AustinFC.

Alex Ring finds Jon Gallagher to put #VERDE on top. pic.twitter.com/bXKoNwYQSi

— Major League Soccer (@MLS) September 19, 2021
After an easy play up the middle from Daniel Pereira, Austin FC's Alex Ring and Jon Gallagher form a dream team as they pass their way into a goal. Austin FC has smoothed out their wrinkles and are playing deliberate, confident soccer as they go up 2-1 against the Quakes.
18' San Jose scores
A rocket off the header. 💥@20Marcos_Lopez equalizes on the set piece. #Quakes74 pic.twitter.com/5I4z7tl819

— Major League Soccer (@MLS) September 19, 2021
Austin FC struck gold first, but the Californian's didn't let them keep the lead for long as the Quakes' Marcos López headed one in after a corner kick and cross from Carlos Fierro.
Both teams have been hungry to score in their first faceoff, with each team taking three shots apiece in the first 20 minutes.
7' Driussi and Djitte make it 1-0 Austin
Moussa Djitté almost scores his first. 🤯
But it's @SebadriussiOk who takes it home!
Teamwork at its finest. pic.twitter.com/8DOXGMqRC7

— Austin FC (@AustinFC) September 19, 2021
Just minutes into his debut, Djitte nearly heads the ball in off of a cross from Alex Ring to become the first Austin scorer against San Jose. Instead, fellow newcomer Driussi gets it in off of a block from the Quakes keeper to make it 1-0 Austin seven minutes in. In eight games, Driussi has racked up two goals and three assists and helped rejuvenate Austin's offense.
Starting lineup
Ready to take the pitch tonight for #ATXvSJ.#AustinFC x @YETICoolers pic.twitter.com/7w1DorxMzQ

— Austin FC (@AustinFC) September 18, 2021
After three matches in just eight days, Austin FC head coach is giving two regular starters, Diego Fagundez and Cecilio Dominguez, some much-needed rest. In their stead is Tomas Pochettino, who returned to the lineup after a match off, and Moussa Djitte, the new striker who is making his starting debut with the team.
Center back Matt Besler is out of both the starting lineup and bench, while Jon Gallagher is in at the wing instead of last weeks' starter Jared Stroud.
Austin FC has found a solution for its South (and East, and West) Austin compadres looking to get Verde merch: the club officially opened its second Verde Store downtown to season ticket holders on Friday.
With the Texas Capitol well in view of the new location, the club's new 3,100 square foot store at 506 Congress Ave. will bring Verde merch to a centralized location. The store, which opens to the public on Saturday, will feature "a jersey customization station, apparel, headwear, and novelty items" as well as merchandise with jersey partner YETI.
Repurposed from an old bank, the new store also features downtown conference rooms and a shared rooftop deck that can be used for community and event spaces. Although smaller than the Q2 location, the new store includes exclusive collaborations with artist Will Bryant and could include holiday and Austin-centric touristy items in the future.
The store was created due to fan demand and the club's widespread fanbase from all corners of Central Texas. Nestled in the city's famed downtown, the club will connect with Austinites and out-of-towners alike with its second location, according to Austin FC President Andy Loughnane.
"The Verde Store on Congress is another great opportunity to interact, spend time and celebrate with our fans while expanding our reach to a new audience," Loughnane said. "Austin FC supporters have been incredible during this first year, and we look forward to getting to spend more time with them in the new downtown store–which will undoubtedly serve as a gathering spot for those who love the Verde and Black."
The store will be open Monday through Saturday from 11 a.m. to 7 p.m. and Sunday from 12 p.m. to 4 p.m. with extended holiday hours and will stay open year-round through 2022.