Austonia AM
100% Austin news, info, and entertainment, straight to your inbox at 6 a.m. every morning.
In five minutes, you're fully informed and ready to start another great day in our city.
Get connected with our daily update
Austin City Council voted 9-1-1 on Thursday to restart the police training academy on a pilot basis by June 7, one year after thousands of residents marched in protest of police brutality and racial injustice. Council Member Greg Casar opposed, and Mayor Pro Tem Natasha Harper-Madison abstained.
"History will remember the 144th cadet class," Harper-Madison said, adding that she hopes its members understand the significance of their role in reimagining public safety in Austin.
Council approval has been meted out in stages. Members voted 8-1 to restart the academy on March 25, pending certain concerns about its curriculum were addressed, but withheld approval of a budget amendment that would fund the class. Since then, city staff have identified $2.2 million in savings, which means a budget amendment is no longer required, but city management still sought council's final approval.
The suspension of the training academy has exacerbated a years-long police staffing shortage. Although some council members argue that the academy can't be improved without a pilot program to assess which changes are working, others have expressed concern about the lack of support from community members and the city's own reimagining public safety task force.
Conditions for approval
Since late March, the Austin Police Department has completed 11 of the 23 conditions required by council and expects to complete the remaining 12 by May 31. "I want to assure Mayor and Council as well as our community that we're working diligently and urgently to fulfill our commitment to reimagining our cadet training academy," Interim Chief Joseph Chacon said during a council work session Tuesday.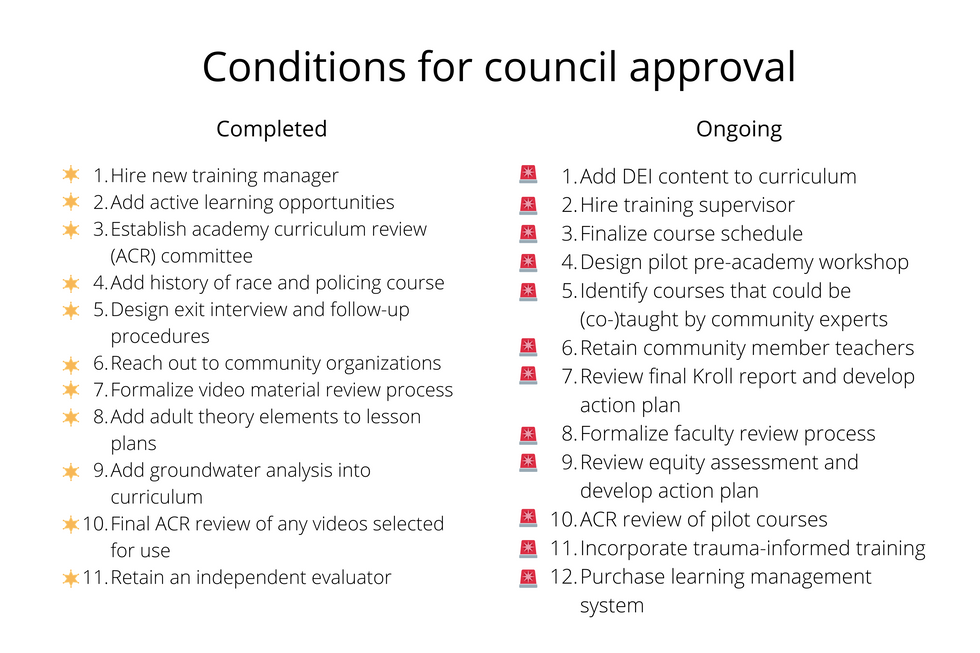 Kroll Associates, a New York-based consulting firm hired by the city to review and assess the training academy, also delivered its final report on April 23, which recommends "a shift away from a stress-oriented military-style academy toward a resiliency-based approach" that offers scenario-based, rather than lecture-and-listen, instruction.

APD has already incorporated some of Kroll's recommendations, including lengthening its training academy program to 34 weeks from 26 weeks; increasing diversity, equity and inclusion (DEI) content; incorporating more community participation; and strengthening mentorship programs for minority groups.
Now that the pilot class has been approved, Kroll will serve as an independent evaluator, observing all DEI-related courses, community engagement programming and de-escalation and reporting back to council.
Cole Cunov, a policy analyst for the Greater Austin Crime Commission, said it's time to see how the "completely overhauled" curriculum works in practice, especially giving the estimated 130 officer vacancies at APD. "By the time this academy class graduates (in late January), we're going to accrue additional vacancies," he said. Restarting the academy will help "stop the bleeding."

Rebuilding community trust
The academy has been on pause since last July, in response to mass protests following the murder of George Floyd. Council then voted unanimously in August to cancel funding for three planned cadet classes as part of a broader set of police budget cuts. Prior to this, the academy had come under fire for its "fear-based" approach to training, discriminatory recruiting practices and attrition rates.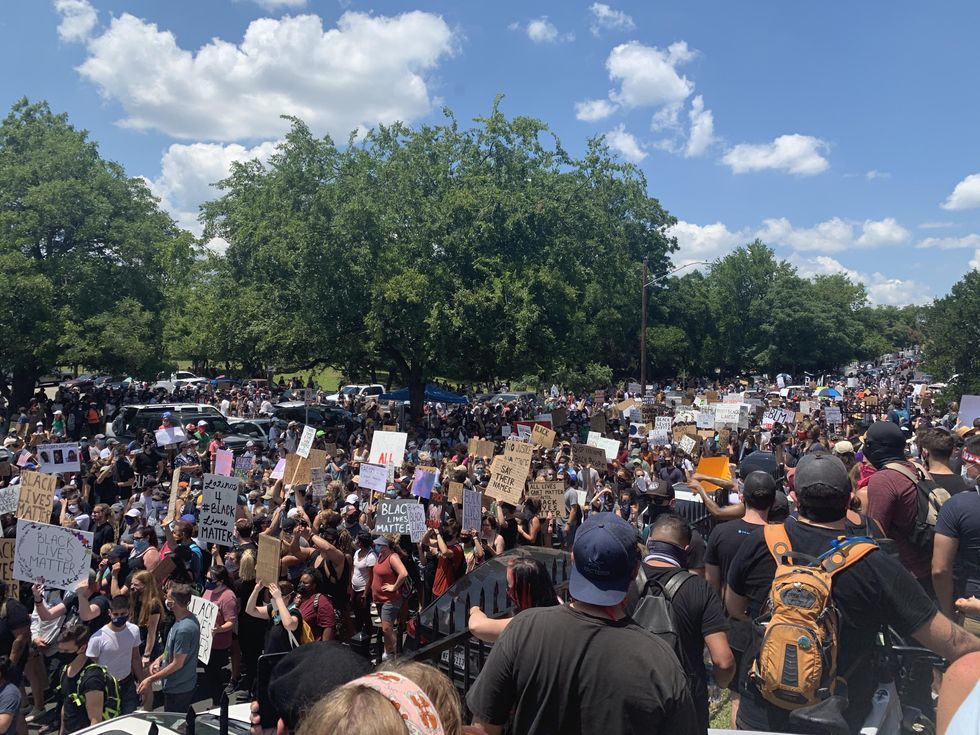 Thousands of Austinites marched from Huston-Tillotson University to the Texas Capitol on June 7, 2020, in protest of police brutality and racial injustice. (Emma Freer/Austonia)
For many community members, these concerns persist. Dozens of Austinites spoke in response to the March 25 resolution to partially approve the pilot cadet class, with the vast majority opposed.

Paula Rojas, co-chair of the reimagining public safety task force, told council members their partial approval was disheartening. "When City Council moved forward and voted for restarting the APD police academy, despite our formal task force vote against it and many testimonies the day of your vote," she said at an April 20 council work session. "At that point, many task force members wanted to walk away from the process altogether."
Council Member Alison Alter offers two amendments to the resolution related to additional reporting requirements. "Sunshine on this process and council attention is important to reassure our community that we are committed," she said Tuesday. "We're moving forward, but this is a pilot and … we may not get it all right this time."
Austin voters overwhelmingly supported Prop B—a city code amendment to reinstate restrictions on public sitting, lying, camping and panhandling in certain parts of downtown, near East Austin and West Campus—during the May 1 election.
Prop B's passage raises many questions, including what enforcement will look like and where homeless residents who are camping in the designated areas will go. Austonia has answers to five of these questions below.
When will the ban be reinstated? 
The new ordinance will take effect on Tuesday, May 11, according to a city spokesperson. In the meantime, city staff will be evaluating options for how to best implement the new ordinance, focusing first on individuals living in camps that present higher health and safety risks.
Where will homeless campers go?
This question remains unanswered.
Richard Bryant became homeless a year and a half ago after moving to Austin for a job that fell through shortly after he started working. He's been on a waitlist for housing for more than a year; in the meantime, he camps downtown.
Prop B's passage has Bryant concerned about his future. "They didn't provide a solution for the problem," he told Austonia while attending an anti-Prop B protest Monday morning. "We don't work, so how are we going to pay for tickets? If we don't pay for tickets, they're going to throw us in jail."
Once enforcement begins, Bryant expects the downtown campers will spread out into the wooded areas nearby. "People are going to die," he said.
Austin Mayor Steve Adler, who opposed Prop B, has repeatedly stressed that Prop B does nothing to provide housing or designate camping areas for homeless residents. Instead, he fears Bryant's prediction—that homeless people will be forced into less safe, and less visible, areas—will come true. "Let's get rid of tents the right way—the only real way—by housing people and not hiding them," he wrote in an April 27 opinion piece for Austin Monthly.
The Downtown Austin Alliance, which has been active in the city's homelessness efforts, also addressed this issue: "With Prop B's passage, we must provide real solutions and not just enforcement strategies," the local nonprofit wrote in a statement Saturday. "We need to provide clarity for those experiencing homelessness on where they can go, allow for voluntary compliance before ticketing, and provide mental health services and (ensure) adequate time to establish plans and alternatives to camping."
How will the Austin Police Department enforce the new ordinance?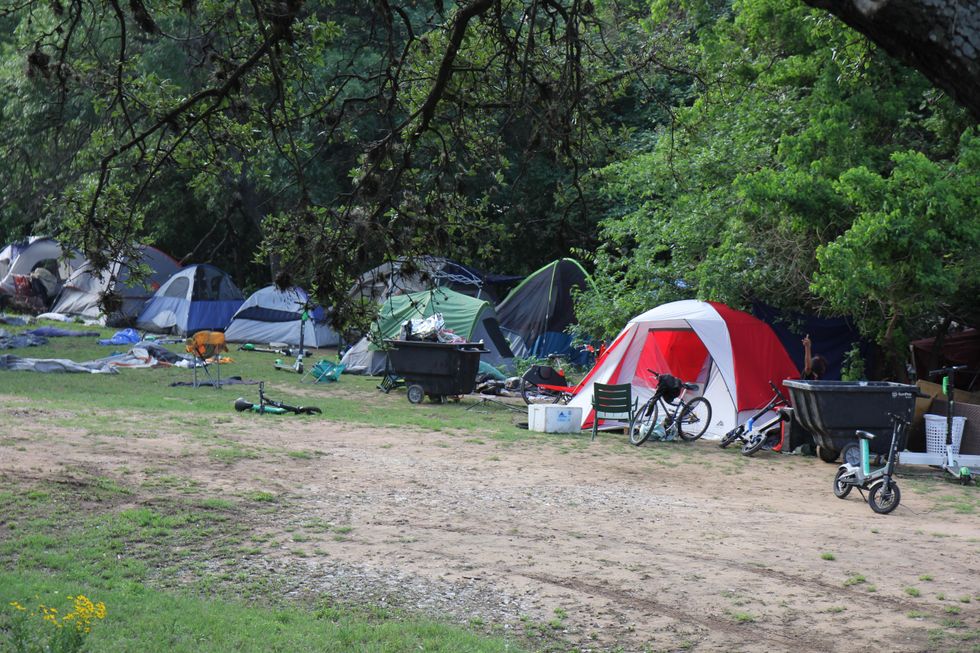 A new ordinance prohibiting camping, among other activities, in certain designated areas will take effect next week. (Laura Figi/Austonia)
APD is still developing its enforcement plan and training its officers to respond to the new ordinance, a spokesperson told Austonia.
Prop B proposed an ordinance "that would create a criminal offense and a penalty" for those sitting, lying down or sleeping outdoors in certain areas, but it did not specify what the offense would be. Before council overturned the ban in 2019, violation of it was considered a Class C misdemeanor, which carries a maximum fine of $500 and no jail time.
Such citations, homeless advocates say, do nothing to address the root causes of homelessness but, if they go unpaid, can lead to arrest warrants that can make it harder for homeless people to access housing, employment and other resources.
Is there a possibility of a court challenge? 
Although no Austin officials have suggested this so far, there are reasons to question the legality of a camping ban.
A group of homeless people in Boise, Idaho, sued their city in 2009, alleging that a local camping ban was unconstitutional because there was not adequate shelter space. A federal judge ruled in their favor, and the 9th U.S. Circuit Court of Appeals upheld the ruling. The Supreme Court declined to review the appellate decision in 2019.
Boise City Council approved a new local ordinance allowing homeless people to camp outside in February, as part of a settlement agreement that also includes $1.3 million in payments to homelessness prevention nonprofits.
The Boise case partly inspired Austin City Council's 2019 decision to overturn the local camping ban, both because the city did not have enough shelter beds and because of the possibility of a legal challenge. "Criminalizing homelessness and really upholding camping bans when there isn't enough shelter to house the population could be something that could be a violation of the citizen's rights," Texas Homeless Network President and CEO Eric Samuels told Austonia last week. "Boise went through all of this."
What is being done to connect homeless people to housing? 
The city is in the midst of several efforts to provide housing, including to homeless people living in four designated camps, which city officials have said will continue regardless of the election outcome.
In addition, the city continues to purchase motel and hotel properties to convert into housing for homeless residents, despite substantial pushback from neighboring residents and businesses.
During a recent summit on homelessness, city officials and community leaders developed a plan to address unsheltered homelessness. The main goal, which Homeless Strategy Officer Dianna Grey presented to council last month, is to house 3,000 people in the next three years at a cost of $250 million.
Local nonprofit Mobile Loaves & FIshes also announced plans last month to vastly expand Community First! Village, a 51-acre master-planned development that is home to more than 220 formerly chronically homeless residents. The two-phase expansion will add 1,400 micro homes across two pieces of land, with development to begin in summer 2022.
Video released by APD, detailing the officer-involved shooting that killed Alex Gonzales.
The Austin Police Department released body-camera footage of the Jan. 5 police killing of Alex Gonzales to the public on Wednesday morning, after first releasing it to Gonzales' family members on Tuesday.
Gonzales, 27, was shot by APD officers in two separate incidents, leading to his death. Off-duty officer Gabriel Gutierrez was driving his personal car, from which he shot Gonzales after he said Gonzales cut him off "in a road rage incident" and then pointed a gun at him, according to the 911 call transcript. Gonzales was driving with his girlfriend and their infant child.

Gutierrez then called for police backup. APD officer Luis Serrato responded. In the bodycam footage, he can be heard yelling at Gonzales, who by then was standing near the passenger side door of his car, to put his hands up and not reach into the car. When Gonzales appeared to reach inside the vehicle, which his family and attorneys have said he did to check on his child, officers fired multiple shots—nearly a dozen, according to the footage—at him. Two anguished screams follow.
Gonzales was pronounced dead on the scene. His girlfriend was shot multiple times but survived after being treated at a nearby hospital, according to APD. Their infant child was unharmed. APD found a gun on the driver's side floorboard of Gonzales' car.

APD is supposed to release video footage of police shootings within 60 days, according to a department policy enacted last year. It's been nearly four months since Gonzales' death. APD released a statement on April 2, four days before the 60-day deadline, saying that former chief Brian Manley had determined a delay was needed "to address investigative and prosecutorial interests."
Family representative Bertha Delgado addressed the video footage at a press conference on Tuesday, filling in for Gonzales' mother, who was too overcome to speak.
Delgado called the delayed release unacceptable and asked for the arrest and indictment of the officers who shot and killed Gonzales. She also spoke about the impact of the killing on District 3, where she lives and where Gonzales' death occurred less than a year after the police killing of Mike Ramos less than a mile away. "My community is not just irate," she said. "They are in fear of the fact that our Austin PD continues to kill our children, Brown and Black."
Gonzales' parents are represented by the Hendler Flores Law Firm, which is also representing Ramos' mother in a civil suit against the city of Austin and APD, which alleges her son's death was "a direct result of the racism that has permeated policing in Austin." The officer who killed Ramos was charged with first-degree murder last month.
After years of lobbying by gun rights activists, Texas House members overwhelmingly approved a bill last week that would allow handguns to be carried without a permit. It then moved to the more conservative Senate, but its chances of passage remained murky due to concerns from law enforcement and some Republican lawmakers.
As Lt. Gov. Dan Patrick attempted to sway his colleagues to support the bill, a former Travis County sheriff's deputy shot and killed three people—his ex-wife Amanda, her 17-year-old daughter Alyssa Broderick and Alyssa's 18-year-old boyfriend Willie Simmons III—in North Austin, prompting an hours-long shelter-in-place order and some local elected officials to decry the permitless carry proposal.
A March poll by the University of Texas-Tyler and the Dallas Morning News found that 64% of Texas voters oppose changing the state's permitting requirement, including a majority of both Republican and gun-owning respondents.

The Texas Police Chiefs Association and some local unions have also spoken out against permitless carry, which would eliminate training requirements, including basic safety instruction. "I think Texas gun laws are lax enough now that law enforcement probably has to approach every situation like people are armed," said Switzer, Texas Gun Sense executive director.
Despite these concerns, permitless carry could still become state law. Patrick created a new Senate Committee on Constitutional Issues, which is chaired by State Sen. Charles Schwertner, R-Georgetown. He announced in a tweet on Friday that the committee will hear the permitless carry bill approved by the house next week.
Melanie Greene, lead volunteer for the Moms Demand Action Austin group, said state lawmakers are likely motivated to pursue such legislation because of a small, vocal minority of gun rights activists and the threat of drawing even more conservative opponents in primary elections. Although they may be impervious to the recent triple homicide, others are not. "These mass shootings tend to galvanize interest in this topic," she said. "We see many more people signing up for our meetings or reaching out to us after a mass shooting."
Local efforts

Local officials are also taking action.
Austin City Council approved a resolution Thursday directing the city manager to accelerate local efforts to combat gun violence. Members also called on state and federal officials to address gun violence through "common-sense legislation," such as universal background checks, red flag laws and licensing requirements.
"Common-sense gun violence protection is both possible and necessary," District 10 Council Member Alison Alter, who sponsored the ordinance and in whose district the shooting occurred, said in a statement Thursday. "We all know that prayers are not enough."
Council Member Leslie Pool added: "Words cannot describe the frustration we feel to have lost three of our community members to gun violence—while the Texas Legislature doubles down on policies that will cause more loss of life with permitless gun carry bills."
In addition to addressing gun restrictions, local officials are focused on reducing violent gun crime, which is on the rise in Austin and across the country. The Austin Police Department launched a gun crime prevention program in partnership with the Travis County District Attorney's Office last Friday, which aims to increase prosecution of violent offenses by tracking gun crime trends more closely and referring cases to federal law enforcement where appropriate.
After last week's triple homicide, there have been 26 homicides in Austin so far this year, compared to 16 this time last year and 10 in late April of 2019. "I won't say it's unprecedented, but it's very, very concerning," Interim Police Chief Joe Chacon said during a press conference last Friday. "We haven't seen these types of homicide waves since the '90s."