Get connected with our daily update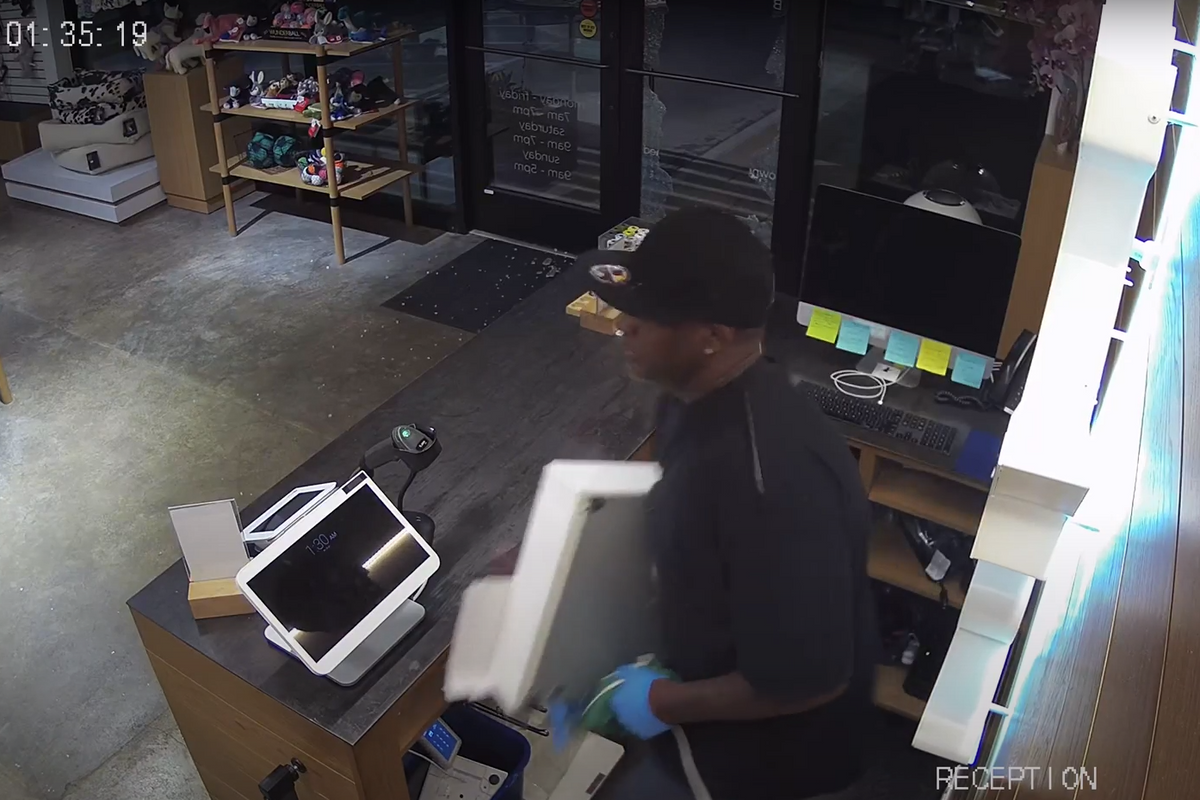 Pet grooming salons and dog supply stores have seen a rash of at least seven burglaries over the last month, bringing store owners together to try and put an end to the repeated crime.
The break-ins started in late June and have continued every few days at different locations around the city, according to the Austin Police Department and Austin/CentralTexasGroomers Facebook group.
Victims have started sharing their security videos via Facebook, with a nearly identical story each time: A gloved man uses a rock to break through a glass door or window in the early morning hours, takes the cash drawer and splits.
Barkin' Creek Dog Kitchen & Bath co-owner and CEO Jeff Springer has had two of his four locations hit. Springer said he's not only out a few thousand in stolen cash but also keys and checks from inside the drawers, plus several thousand dollars in repairs.
"There's a sense of anger and helplessness combined—anger because you've been victimized and helplessness because there's nothing that you can do that could have stopped this," Springer told Austonia.
The stores that were hit:
June 27: Mod Mutt Salon
July 2: Rainbow Paws Pet Salon
July 4: As the Fur Flies
July 11: Sniff Grooming Studio
July 23: Hair O' the Dog Pet Salon
July 26: Barkin' Creek Dog Kitchen & Bath Zilker location
July 29: Barkin' Creek Dog Kitchen & Bath South Lamar location
Springer said his first burglary occurred around 2 a.m. at the Zilker location—the perpetrator smashed through the door, ripped out the cash drawer, unlocked the unbroken door and calmly walked out. The scene was found by an employee a few hours later.
Springer said they spent the morning rescheduling grooming appointments and cleaning up the glass. Barkin' Creek's South Lamar location was hit three days later in the exact same way, by who he believes to be the same person Springer said, and the robbery was discovered around 6 a.m.
"He left the computers—he left some very expensive items that are on our sales floor right there," Springer said. "I think he wanted to expedite the theft and get in and out as quickly as possible."
While Springer has reached out to police, he said he's been repeatedly told they are understaffed and are trying to prioritize reports as they come in. He had to fill out the police reports online, as opposed to having an officer dispatched to him, due to staffing issues.
After reaching out to District Five Council Member Ann Kitchen, he was able to get in touch with a district sergeant who helped him upload evidence on Friday.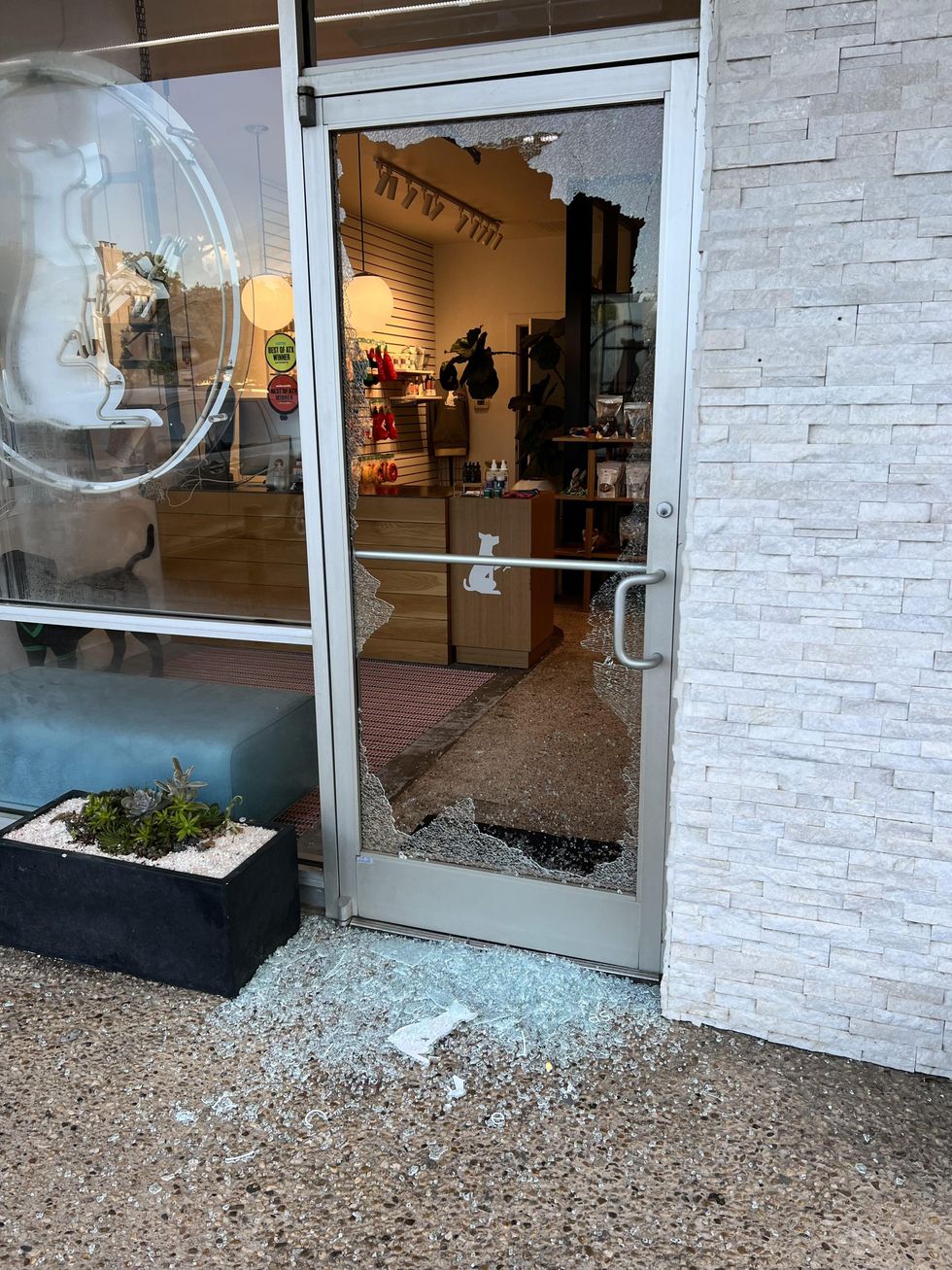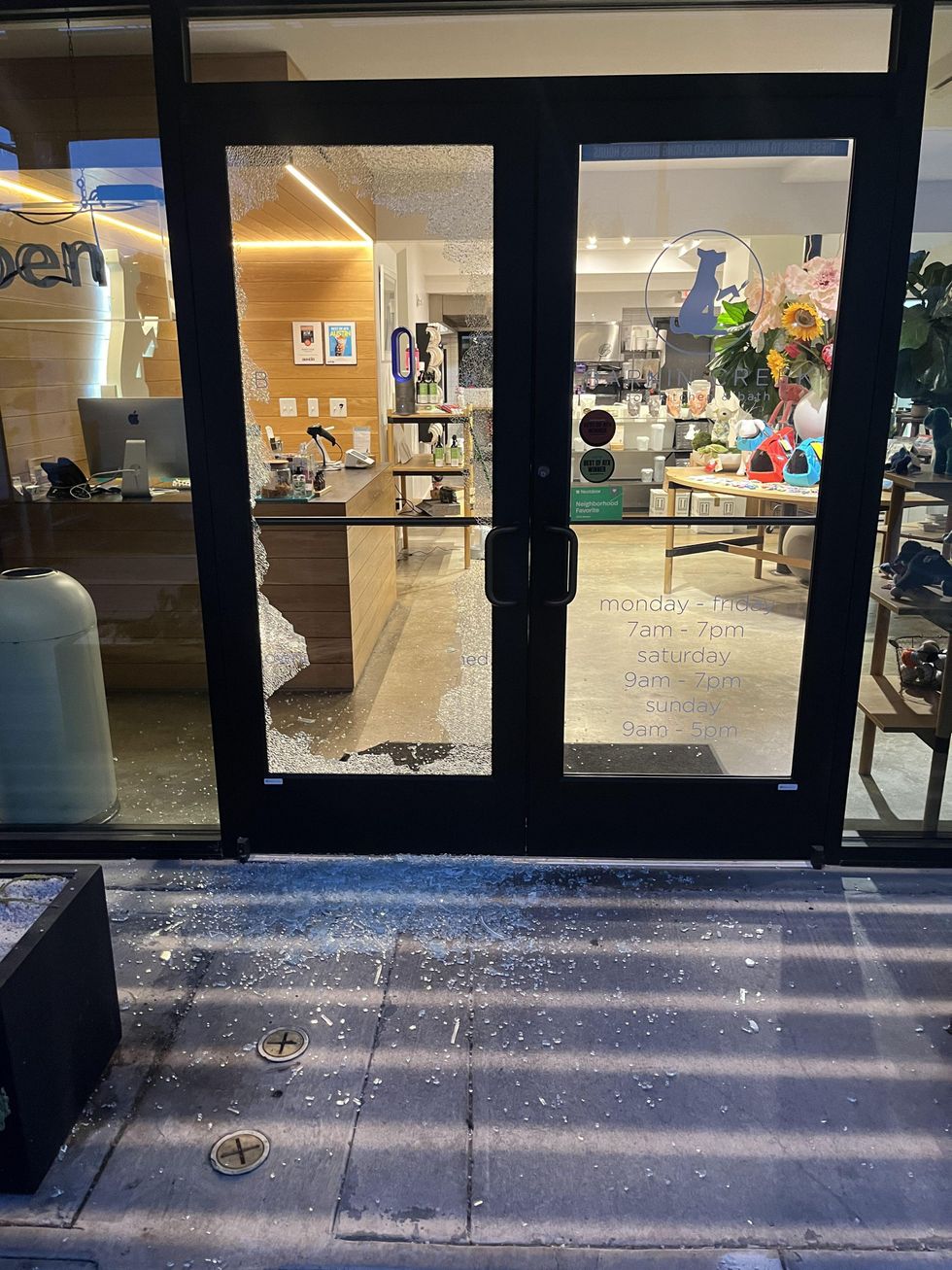 "That was frustrating because you expect the police to show up when you're burglarized," Springer said. "I wanted to make sure that the police were aware that we had a serial burglar on the loose who is targeting dog stores. This is low-hanging fruit given all the evidence that all these stores have collectively together on the guy."
A report from KXAN said several other store owners have complained about little to no police response—Nancy Rich with As the Fur Flies said police haven't come to take fingerprints on objects the perpetrator touched or evidence.
Springer said in the meantime, they have updated lighting in their parking lots, are converting to a cashless system and looking into stronger glass, but he fears that after the repairs are done, the robber will strike again.
"(Upgrading) the glass is another heavy cost," Springer said. "We're a small, family-owned business. We don't have a lot of money to pay somebody to be a full time security guard at each one of our stores. It's just not feasible."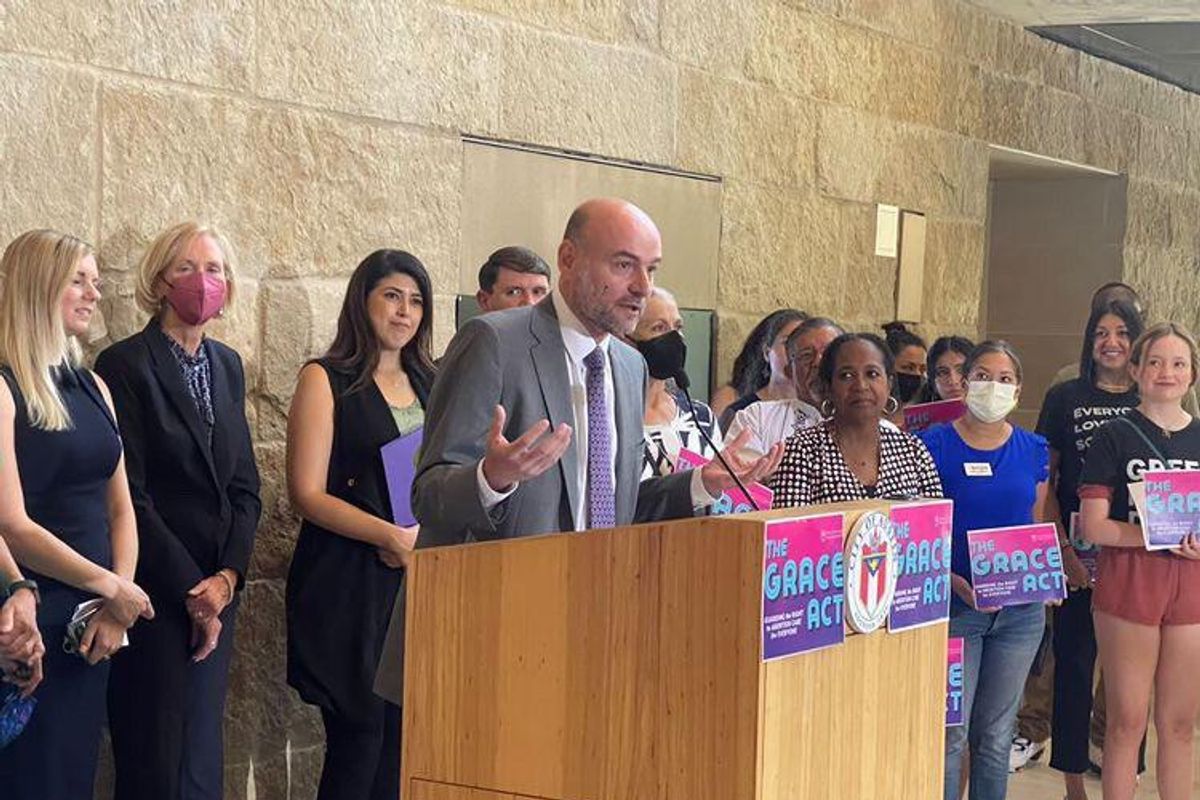 Austin City Council unanimously approved resolutions to decriminalize abortion within city limits during a special meeting Thursday.
It comes almost a month after the Supreme Court overturned Roe v. Wade, the landmark ruling that guaranteed a constitutional right to an abortion. Council Member Mackenzie Kelly was absent.
Following the passage of the "Guarding the Right to Abortion Care for Everyone," or GRACE Act, Council Member Jose "Chito" Vela celebrated the move on the plan he'd pushed forward along with co-sponsor Vanessa Fuentes.
"Nobody in Austin will be persecuted for their choices by the city," Vela tweeted.
It may lower concerns among healthcare providers who have faced a chilling effect under Texas' abortion laws and for those who seek abortion-inducing medication, reporting by the Texas Tribune notes. However, clinics could face state licensure and other consequences for providing abortions, pushing them to comply with Texas' abortion ban.
The resolutions call for the following:
Amend city code to prohibit discrimination based on reproductive health decisions, making so someone cannot be fired, evicted, denied housing or denied a job for getting an abortion.
Prevent city funding from being used to catalog reports of abortion, miscarriage or other healthcare acts.
The city manager is directed to explore the ability to conduct a public education program about long-term birth control with the help of local health partners.
The city manager is directed to address the feasibility of helping city employees with travel expenses and other benefits to access abortions and other reproductive services not available in state.
Asking police to treat abortion as the lowest priority for investigations is a recommendation by the city council, as the department cannot be ordered by council to adopt it. The Austin Police Department has not yet issued a statement in response to council's vote.
Other Texas cities have followed Austin's example, with Denton and Waco city councils considering their own acts.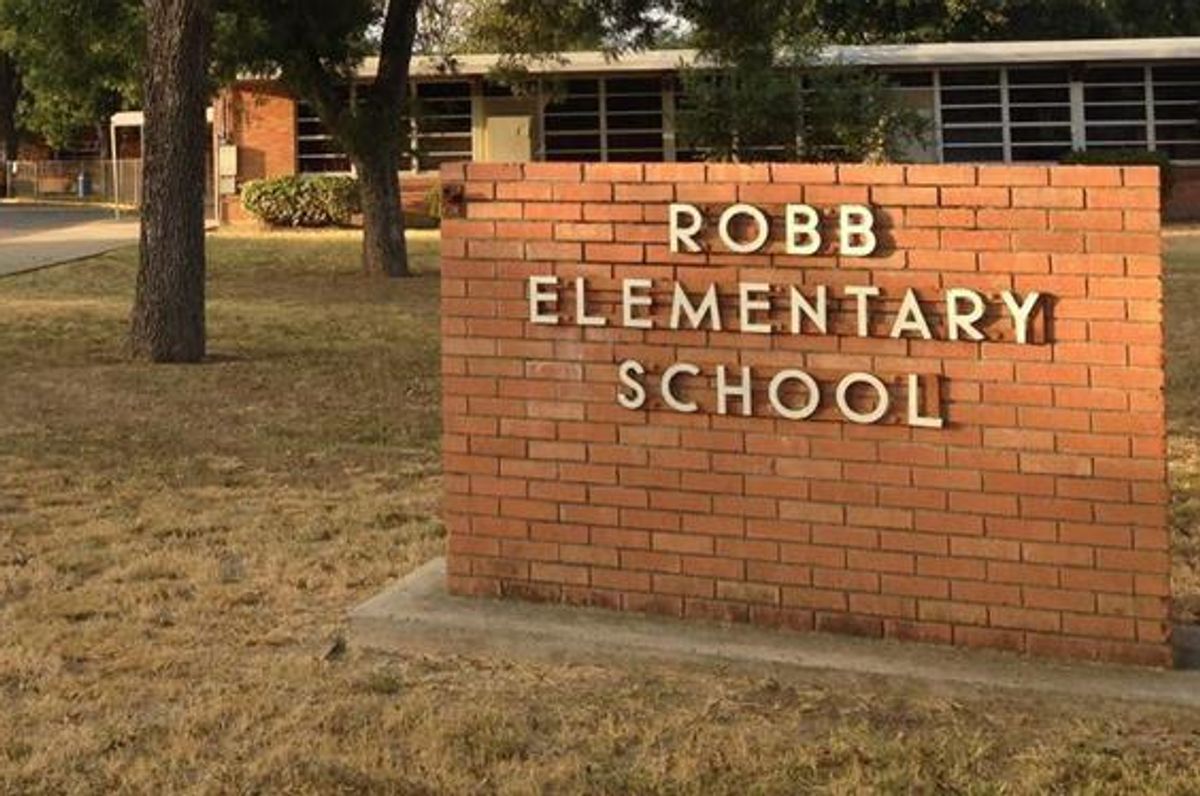 (Uvalde ISD)
Former Austin Police Department detective Jesse Prado has been selected to conduct an internal investigation of the Uvalde Police Department's actions during the Robb Elementary School shooting that killed 19 students and two teachers.
The move was announced by Uvalde Mayor Don McLaughlin in response to a report on law enforcement's delay in confronting the gunman. The report, shared by the Texas House Investigative Committee, found "systemic failures and egregious poor decision making."
"At Robb Elementary, law enforcement responders failed to adhere to their active shooter training, and they failed to prioritize saving the lives of innocent victims over their own safety," the report said.
After its release on Sunday, McLaughlin said "we agree with the committee's review of the incident." He added that there was "failure of command." 376 law enforcement officers were at the school.
"However, we have further questions as to who was responsible for taking command as each agency there had senior level commanders on site."
Before he retired in 2013, Prado was a detective with APD's Organized Crime Unit. The investigation will involve a review of Lt. Mariano Pargas, the acting chief of the city's police department on May 24, the day of the shooting.
On Sunday, McLaughlin also announced that Pargas has been placed on administrative leave until the investigation is concluded.
In a press release, McLaughlin said the leave is to investigate whether Pargas was responsible for taking command, what specific actions he took to establish that command and "whether it was even feasible given all the agencies involved and other possible policy violations."
It's unclear whether Pargas will be on paid leave, as McLaughlin said he didn't have that information and it was a decision made by the police chief and city manager.
The city is also releasing body camera footage from the Uvalde police officers who responded to the shooting. McLaughin said the community "has waited entirely too long for answers and transparency."