Get connected with our daily update
Austin, May 10, 2022
Digital media company Austonia Inc. is pleased to announce the hiring of Isabel Lanaux as Director of Partnerships.
Lanaux will lead Austonia's brand partnerships program, starting with current Austonia partners Tito's Handmade Vodka (titosvodka.com) and Delta Air Lines (delta.com).
She will also be responsible for marketing programs benefiting local Austin businesses, including Small and Medium-Sized Businesses (SMB) and Small and Medium Enterprises (SME).
A New Orleans native, Lanaux worked in sales and account management roles for Hearst Publishing and Sunset Publishing in Los Angeles, before moving to Austin.
"Isabel's leadership will match Austin's beloved local brands, large and small, with Austonia's fast-growing and influential local audience," said CEO Mark Dewey.
Lanaux believes in a "win-win" approach to partnerships, adding that the "constant change and energy makes Austin an exciting place to do business."
This is a new position at the company, which reaches more than 300,000 users each month through its austonia.com website, daily morning email newsletter (signup.austonia.com), and social media accounts, all of which are free of charge and cover Austin's news, technology, real estate, and entertainment.
Isabel Lanaux can be reached via email at isabel@austonia.com.
Austonia Inc. is a Public Benefit Corporation with local owners, local coverage, and a mission to build community through digital media.
Early this year, Austonia acquired the long-dormant @austinist Twitter feed from New York Public Radio (@WNYC).
With leadership from prominent Austin journalist Omar L. Gallaga (@omarg), we brought Austinist back to life, trying to keep to the spirit of the original—tech, entertainment, culture, news and a wry approach.
Nothing's changing in that respect.
We like the Austinist name and would be happy to continue with it, but it's owned by New York Public Media, who graciously allowed us to use the name for a transition period that has now expired. There were once eight "-ist" local city sites, and NYPR owns the original, Gothamist.
So, today we're changing @austinist to @austoniatweets. Same approach, different name.
@austoniatweets will continue to be about life in Austin, stuff to do, and weird and funny things we find online that locals should check out. The @austonianews account will focus on breaking news and headlines from the website.
Help us keep the spirit of the account alive as it continues to bring you fun, lively updates every day about life in this crazy town.
Many thanks to @omarg for his revival and stewardship of the feed. He's funny and smart and knows Twitter as well as anyone. He's a busy journalist, and agreed to help us get this project off the ground. After seeing us through the transition, he'll pass the torch and curation to Austonia's Claire Partain (@partain_claire).
We'll see you on Twitter!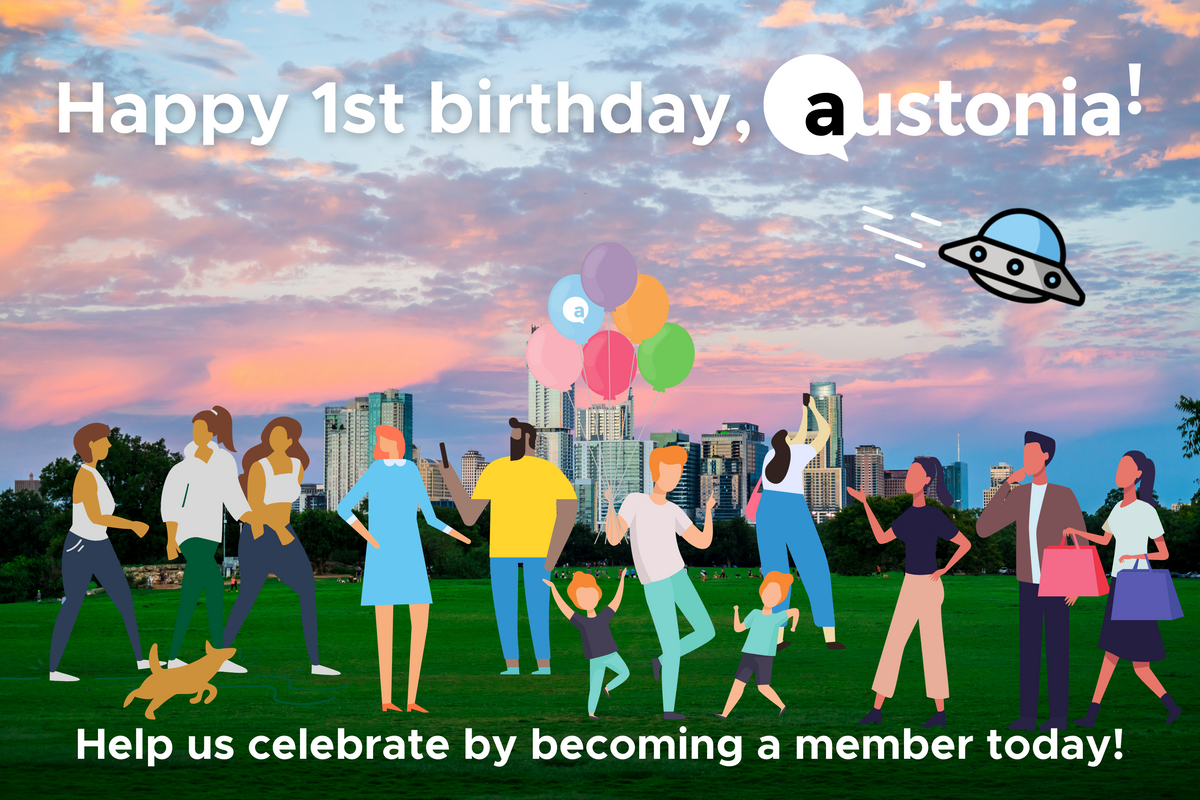 (Laura Figi/Austonia)
Put on your party hats—it's been a year since Austonia.com launched!
What a crazy year it's been, and we're glad we could be there for you every step of the way through a historic pandemic, election and winter storm.
On this celebratory day, Austonia is launching its membership program where you'll get some sweet perks for supporting us. We hope you'll celebrate one year by becoming a charter member today. Sign up here.