Get connected with our daily update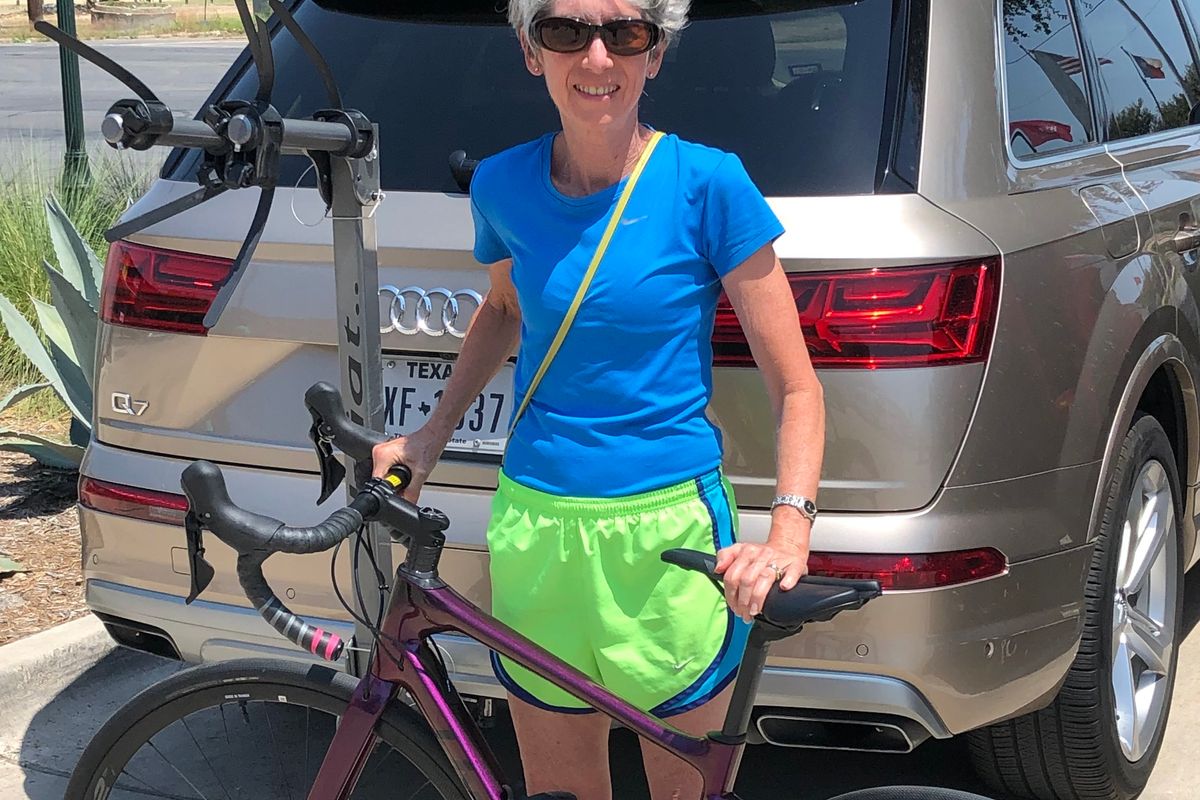 (Nancy Barnidge)
Nancy Barnidge loved to ride her Masi road bicycle on Austin's Veloway, safely circling the paved, three-mile loop with her husband outside the threat of cars and motorized traffic.
Her beloved $1,200 bicycle fit her small frame like a glove, and she'd been riding it on the Veloway regularly for some 15 years to stay in shape.
Then one day, someone lifted it off its vehicle rack in the busy Veloway parking lot while she was stretching a few feet away.
"It was stolen right off the back of my car," Barnidge said.
An experienced rider who has hung onto the same bike for 17 years, Barnridge was shocked to find out that replacing it wasn't as easy as a quick trip to the bike store—even in Austin, where bike shops are in nearly every neighborhood.
After searching Austin, she finally found one that fit her in Waco.
"There were just no bikes for me anywhere," she said.
High demand by furloughed workers and out-of-school kids, coupled with pandemic-related manufacturing and shipping delays, have major bike companies warning that new bikes won't begin showing back up in the U.S until next spring.
The resulting boom and shortage in the bicycle world—across the nation and across the world—has made headlines throughout the summer, but is felt particularly hard in Austin, where bike culture was huge long before the pandemic forced people into fresh air with new hobbies and low gas funds.
The shortage is landing hard on Austin bike shops, some of whom report historically low inventories—mainly in moderately priced bicycles—as a result of the delays.
At The Peddler Bike Shops in Austin and Cedar Park, inventory trickles in sometimes, thanks to proactive efforts early in the season, but it sells quickly—particularly for the consumer-level bikes, said shop manager Christa French.
High-end bikes over $4,000 stay in the shop a little longer, she said.
"We're all handling it mostly through pre-orders for the customers right now," French said.
The situation is similar at Mellow Johnny's downtown, where a sales manager told Austonia that high-end bikes are still in stock, but consumer-level bikes are way down.
Hybrid bikes, or "commuter bikes," are often the choice of newer riders and those who use it as their main mode of transportation, because they can handle roads as well as trails. They're down to 10% of their normal stock at Mellow Johnny's, he said.
It's the same story at ATX Bikes on Slaughter Lane, which specializes in Giant, the world's largest bike manufacturer.
"For the main vendors, I have less than 20 bikes remaining, and we're typically a store that keeps hundreds," said shop owner Frank Prior.
East Side Pedal Pushers saw an immediate drop in bike tires and tubes right after the pandemic started, which several riders—including Barnidge—say are still hard to find.
"Those were really popular when people were pulling them out of their garages to get serviced," said Lee Greshman, who has owned his shop for 17 years.
At Pedal Pushers, which repairs all types of bikes and specializes in Jamis and Surly sales, inventory on new bikes is down to four total in the store. He's looking for a new shipment around November.
But even though inventory is low, Gresham said, the shop will survive the downturn.
"I'm not worried," he said. "We're doing enough repairs that we've still got revenue."
At Bike Farm, higher end inventory and cheap bikes are still in stock but the mid-priced road bikes and mountain bikes—around the $500 to $700 range—get sold nearly as quickly as they come in, said Jake Lavender, a salesperson at the shop.
The shop got in 12 of them Saturday morning. They sold out within two hours after the store posted them on its Instagram.
"Trying to get your size, your budget and the style that you want, all three of those are hard to do right now," Lavender said. "So if anybody sees anything close to what they want, they grab it. A lot of these people have been waiting months on a reasonably priced bike."
Want to read more stories like this one? Start every day with a quick look at what's happening in Austin. Sign up for Austonia.com's free daily morning email.