Get connected with our daily update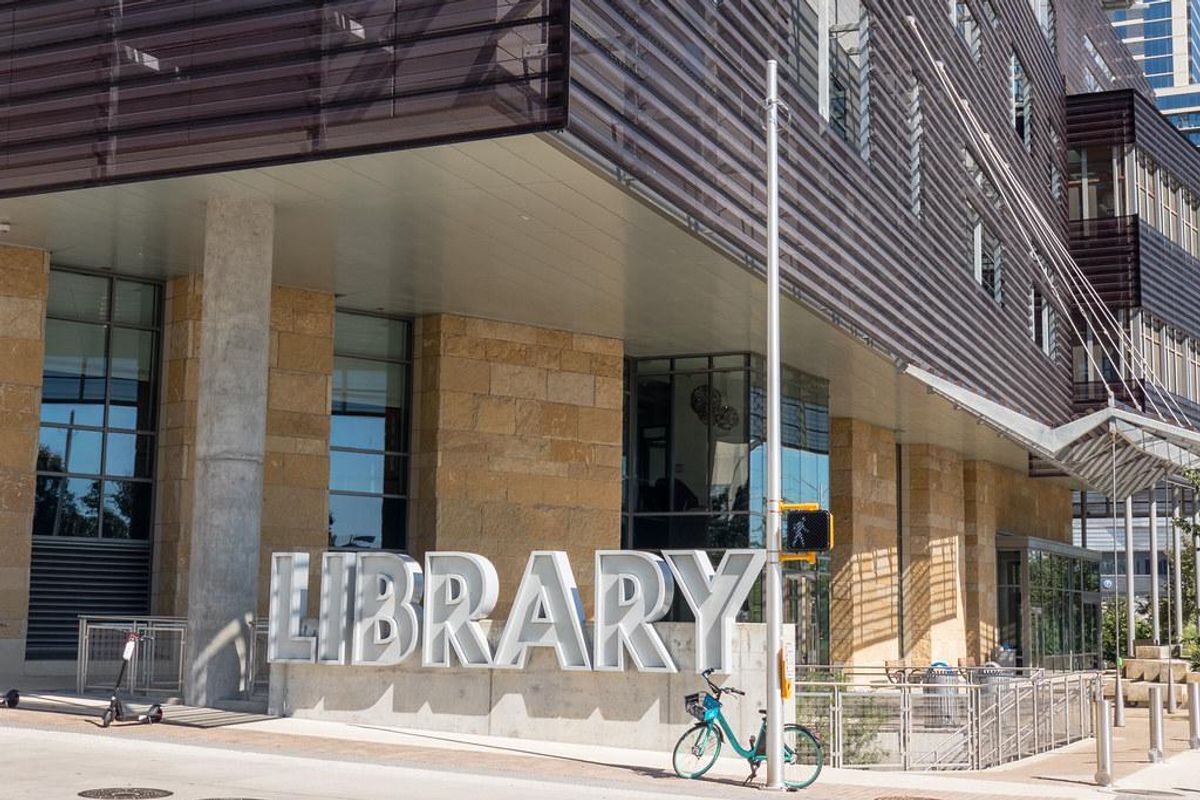 About 80 miles northwest of Austin, the Llano County Library shut down for three days last week to conduct a "thorough review" of the children's materials in the facility after certain Texas lawmakers began to question whether books about race, equality and sexuality should be available in school libraries.
The Austin Public Library responded today "in defense of the freedom to speak and the freedom to read," saying the local library system is "opposed to censorship of any library materials."
"Freedom to read is a right that must be protected in our schools and public libraries, and we must not give in to the vocal few that want to speak for the many," Austin Public Library Director Roosevelt Weeks said.
Austin made national news back in September when former Lake Travis ISD School Board candidate Kara Bell, who had also been arrested for assault after refusing to wear a mask in a dispute earlier in the year, filed a complaint about the book "Out of Darkness" by Ashley Hope Pérez. Bell read an explicit passage from the book about anal sex during a school board meeting. The book was subsequently pulled from the two middle schools in Lake Travis ISD to be reviewed.
On Dec. 1 this year, Leander ISD banned 11 books, including "Out Of Darkness," Shirley Jackson's "The Lottery," and Alan Moore's "V for Vendetta." New York-based nonprofit organization PEN America denounced the decision a day afterward, saying it was "an unwarranted exercise in censorship."

Chair of the House Committee on General Investigating and State Rep. Matt Krause continued the book-banning conversation in late October by notifying the Texas Education Agency that he would put out an inquiry into more than 850 books on school lists. Gov. Greg Abbott echoed the sentiment, saying schools should ensure "no child in Texas is exposed to pornography or other inappropriate content."
The list includes titles that deal with gender roles and sexuality like "Hood Feminism: Notes from the Women that a Movement Forgot" by Mikki Kendall and Michael Basso's "The Underground Guide to Teenage Sexuality: An Essential Handbook for Today's Teens and Parents."
The American Library Association's Office for Intellectual Freedom said it had received an "unprecedented volume" of challenges to books for fall 2021. Likewise, the Texas Library Association noted a "substantial increase in censorship activity" in October, saying in a statement:
"The Texas Library Association (TLA) holds that the freedom to read is a human right, protected by the First Amendment of the United States Constitution. TLA believes that individuals have the right to free inquiry and the equally important right to form their own opinions. Freedom in selecting materials is a necessary safeguard to the freedom to read and shall be protected against irresponsible attempts by self-appointed censors to abridge it. Therefore, TLA opposes efforts that restrict the freedom to read through banning, removing, or other forms of restricting access to books or other materials."
APL systems said they will uphold the ALA's Library Bill of Rights, which states that library materials should not be removed due to partisan or doctrinal disapproval, that libraries should challenge censorship and that libraries should provide materials and information presenting all points of view on current and historical issues.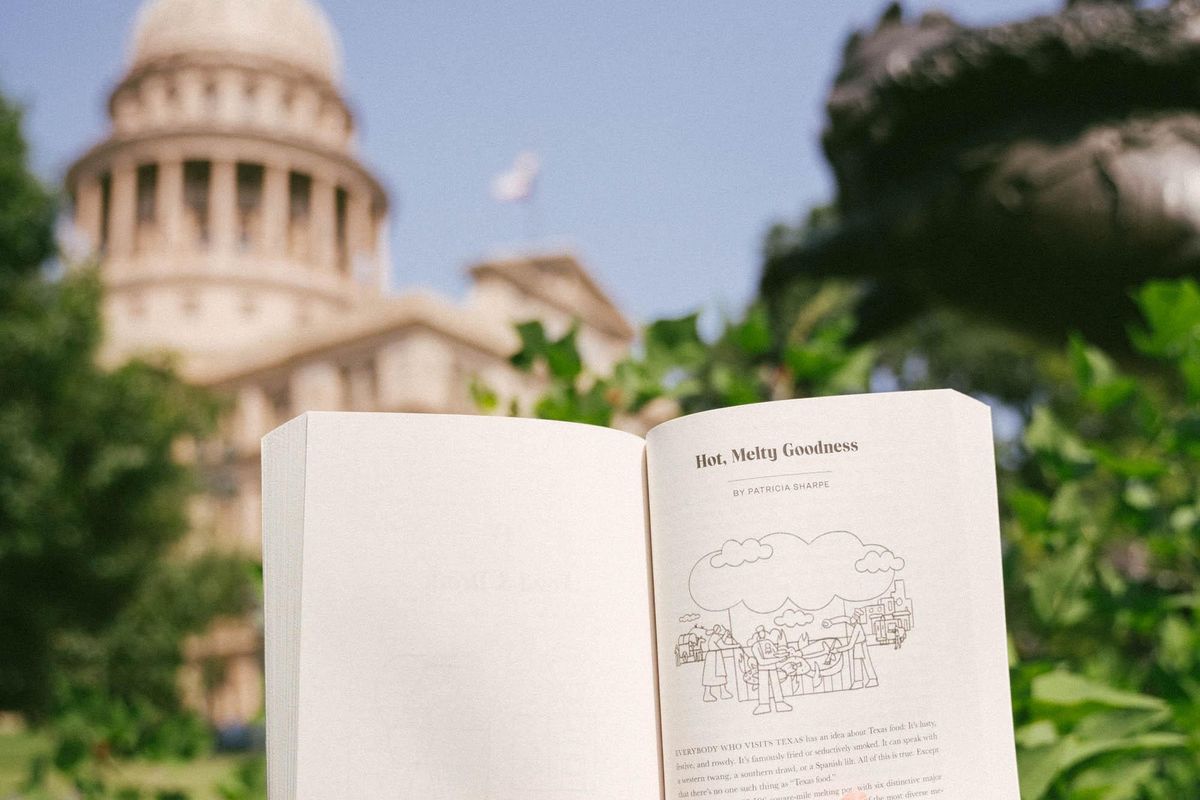 Released this month, "Being Texan" is the first of several Texas Monthly titles to come in the build-up to the magazine's upcoming 50th anniversary in 2023. It is divided into four sections: Identity & Culture, Town & Country, Arts & Entertainment and Food & Drink.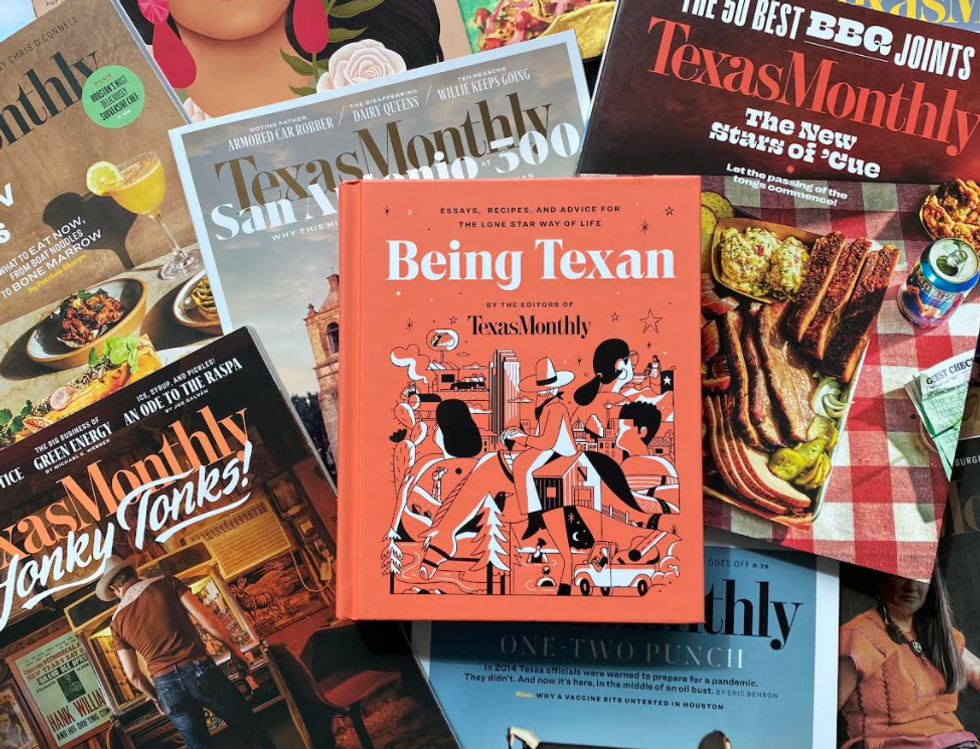 In the introduction, titled "What Does it Mean to Be Texan?," Texas Monthly editor Dan Goodgame addressed the eclectic aspirations of the book, writing: "Our modest goal was to craft a well-informed, thoughtful sampling of the best the state has to offer." To this humble end, forty-two editors were utilized to cover fifty-five topics, which tackle everything from the various dress codes that make up "Texas chic" to Selena's ongoing appeal.
The resulting richness is all over the map, running from Texas Monthly Senior Editor John Nova Lomax's frustration over the frequent mispronunciations of Texas cities ("From Amarila to Wad-a-loop") to Oscar Casares's bittersweet essay on Dia de Los Muertos in the time of COVID ("Souls of the Departed").
The book goes from silly to serious fast, and the pace might unseat some readers who would otherwise just enjoy the ride of pride that comes from being reminded that Texas gave the world Cheetos, Fritos, Doritos, Dr. Pepper, Liquid Paper and the microchip.
So, in a book that switches from the state's early instance on remaining a slave republic to a piece about collecting San Antonio ghost stories, it perhaps goes without saying that the essays on brisket and beer are the easiest to digest.
"Being Texan" does, in truth, contain some delicious and downright literary food writing.
Joe Galvan's "Ode to the Raspa," treats the summertime shaved ice staple as nothing less than a kind of edible ambassador of U.S. cuisine. "They serve as an important and necessary reminder of the fluctuating, imprecise words that American food inhabits," he writes like some semiotics professor, before waxing poetic on how raspas embody childhood innocence as well as "the humidity of a July evening that finds itself at the bottom of a Styrofoam cup."
But readers who are tempted to skim the section on "Strong Texas Women" or "The Evolution of Juneteenth" to get to Paula Forbes' warning not to skip the processed cheese when slow cooking queso, will have missed out on some deep insight into what it means to embrace all the appealing and uneasy aspects of the state.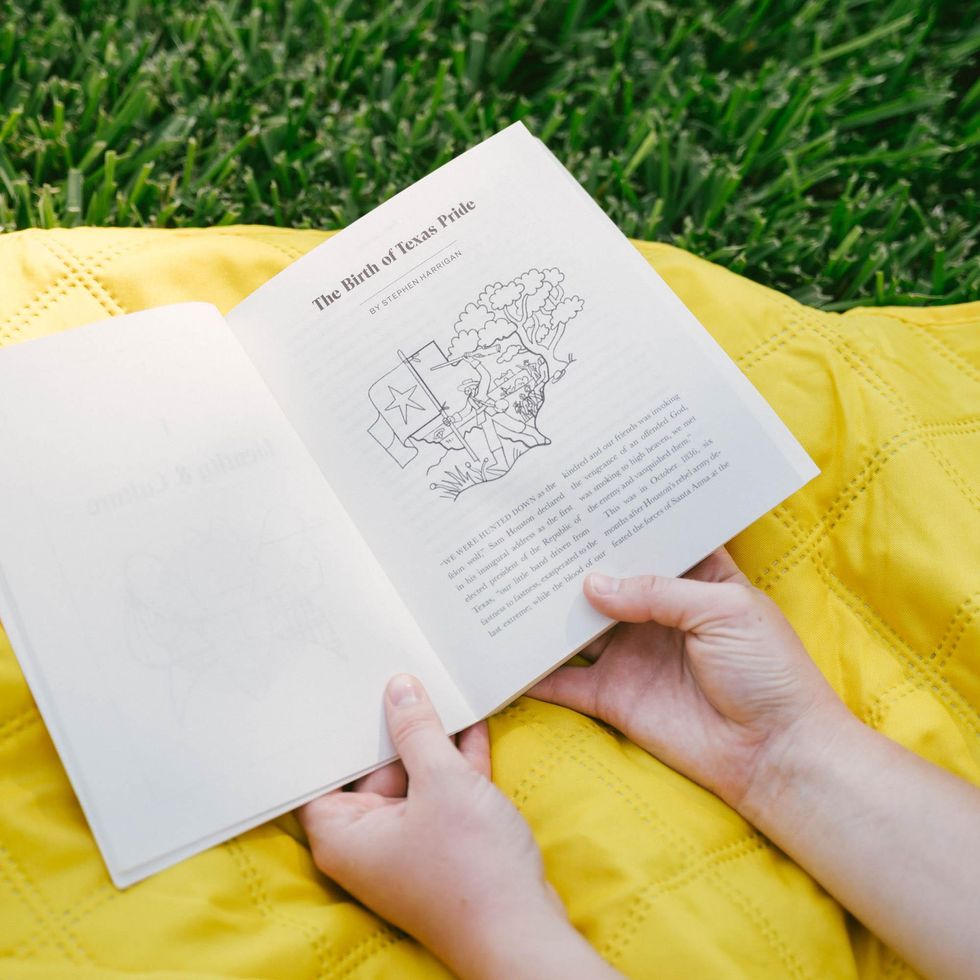 In "A Tale of Two High Schools," Dan Q. Dao, details how, as a Vietnamese kid growing up in Houston, he employed the tropes of Texas culture as a tool of survival. "Perhaps out of a sense of self-preservation, I became enamored with the gilded mythology of Texas, from the folklore of the Alamo to the twang of country music. I wore cowboy boots, showed up for Friday night football games, and rarely missed a rodeo," writes Dao, observing that: "Part of me believed that if I proclaimed my Texanness loudly enough, I would be spared the label of outsider."
The dilemma of the homegrown Texas outsider is artfully explored in Skip Hollandsworth's "Why McMurtry Matter,'' a meditation on the ironic popularity of Larry McMurtry, a writer who wrestled with his relationship to Texas--particularly the Hollywood myths and misconceptions that surrounded the state. Speaking about (to his mind) the perplexing success of "Lonesome Dove," McMurtry said: "All I had wanted to do was write a novel that demythologized the West. Instead, it became the chief source of western mythology. Some things you cannot explain."
There is much about Texas itself that seems hard to explain.
But David Courtney, a senior editor at Texas Monthly, does a good job of speculating on this rare amalgam of conservative pride and fearless experimentation that tends to run through the state, when he writes "Texans believe they possess something deep within themselves that sets them apart, and therefore they kind of do."
Despite the surface-level accessibility of a book that addresses the cultural significance of Neiman Marcus and the extreme brand loyalty to Whataburger, "Being Texan" offers rare input regarding Texas and its citizenry, as well as handy advice for breaking in a pair of cowboy boots.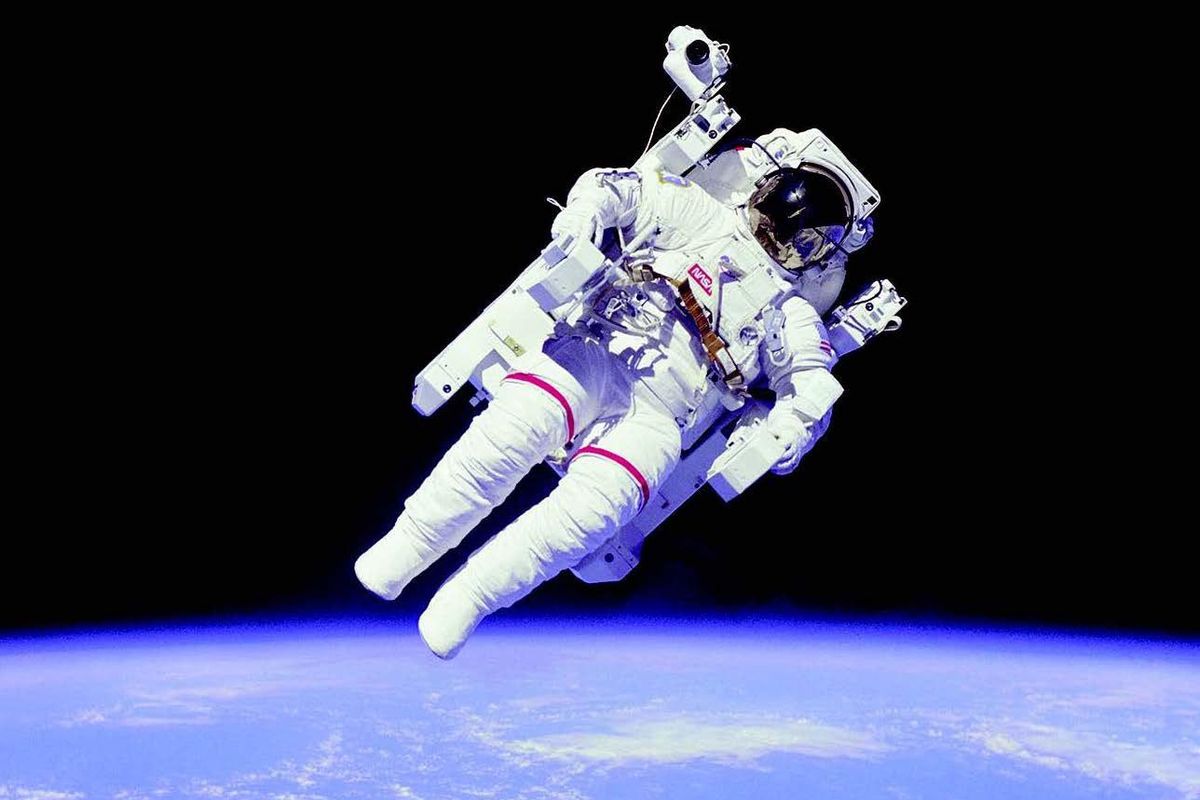 Editor's note: Addie Broyles is a longtime food writer, who wrote for the Austin American-Statesman for 13 years. This piece was published in her weekly newsletter, "The Feminist Kitchen," where she shares stories about parenthood, grief, ancestry, self healing and creativity. Check it out here.
You know Bruce McCandless' most famous moment, but you probably don't know his name.
McCandless is the astronaut who, in 1984, became the first untethered astronaut in space. He's the guy on those posters, mugs, shirts and everything else NASA could sell with the image of his "leisurely waltz with eternity," as his son calls it in his new book, "Wonders All Around: The Incredible True Story of Astronaut Bruce McCandless II and the First Untethered Flight in Space."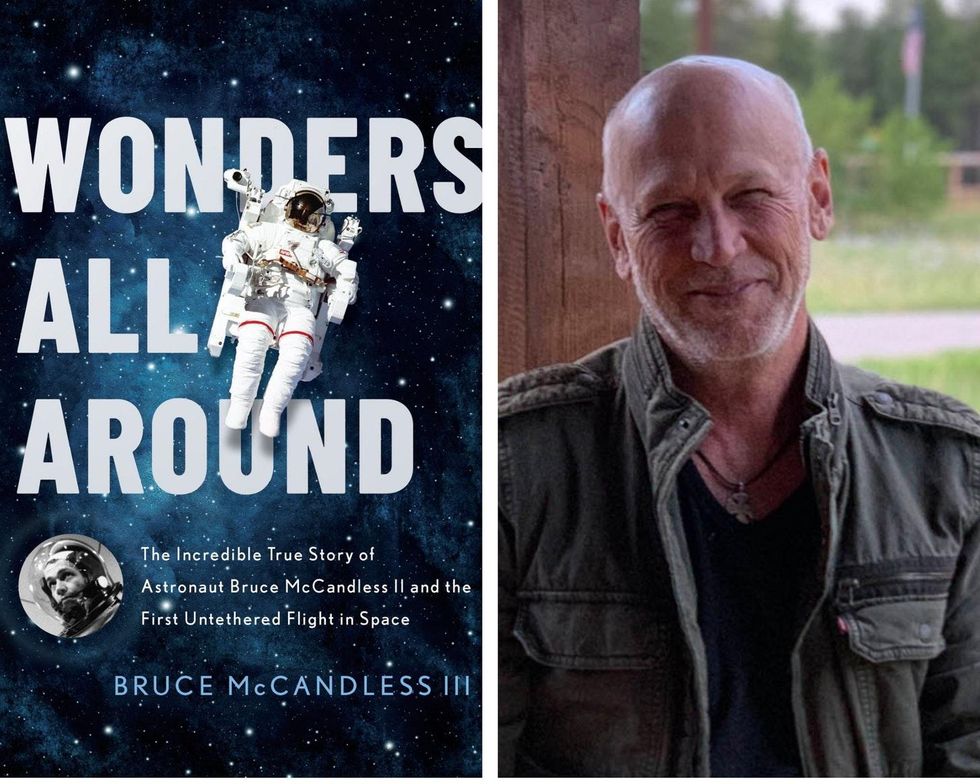 'Wonders All Around' is a new book by Austinite Bruce McCandless III about his dad, the astronaut Bruce McCandless II. (Bruce McCandless III)
I met McCandless III, who lives in Austin with his wife Pati, for a coffee a few months ago, thanks to the introduction from a mutual friend. As we talked about losing our dads, being writers and parents and living in Austin while still dealing with COVID, his dad's famous flight didn't come up, but the process of writing such an epic biography of a complex, only recently passed man was something worth unpacking over coffee.
I hadn't read the book yet, but over the next few weeks, I got to know the McCandless family in such a sweet way that I wanted to write a little about the book here to perhaps inspire you to seek out a copy of "Wonders All Around."
As much as this is a book about space, it's also a book about grief. And persistence. And stoicism. And masculinity and maternality.
The elder McCandless died in 2017, just a few years after losing his wife, Bernice, to cancer.
This passing of the torch from father to son left the younger McCandless inspired to take on this decades-long narrative. McCandless III sets the tone for the book with a memory of the family sitting around the dinner table at their home outside Johnson Space Center near Houston in the mid 1970s, when his dad, who joined NASA in 1966 at the age of 28, wasn't sure he'd ever actually make it to space.
"Our dinners were somber affairs. We ate around a rectangular Formica table in the breakfast nook. Tracy and I sat on benches padded with orange vinyl cushions. Mom and Dad occupied faux-Spanish style chairs with green felt upholstery. Despite the informal, Howard Johnson's-at-the-airport feel of the furnishings, there was a tension in the air that set in right around the time the frozen string beans started steaming. I had the feeling that my sister and I had forgotten to do something important, though I couldn't figure out what it was, or that judgment had been rendered on us and we'd been found guilty of … something — again, it was unclear what. Horseplay was prohibited. The TV and all sources of music or other frivolity were turned off, and singing was strictly forbidden. The only sound came from the aquarium pump. My father had a 100-gallon tank along the wall behind his chair. Sometimes the big plecostomus would attach itself by its mouth to the glass facing us, and I imagined it sucking all the oxygen out of the room."
Imagining what it must have been like to require oxygen to survive, not in outer space but in the living room with your family, sets up the story of the McCandless ancestors, including a guy who was killed by Wild Bill Hickok and the author's grandfather, who was an admiral in the U.S. Navy.
No pressure, Bruce.
It was fascinating to read about the 18 years that Bruce McCandless II worked for NASA before he finally had his first flight, which debuted the Manned Maneuvering Unit, a jet-fueled backpack that he and Ed Whitsett Jr. spent so many years developing. (That's the joystick-controlled machine he's wearing in that mind-bending poster that hung on millions of Americans' walls over the following decade.)
The author McCandless has the unenviable task of trying to put into words what that flight must have felt like. His dad flew 150 feet away from the shuttle Challenger, which would, of course, break into a million little pieces just a few years later.
When President Reagan called the shuttle to congratulate the astronauts that day in 1984, the command center set up a demonstration space walk to give the president a live view of McCandless through the shuttle window.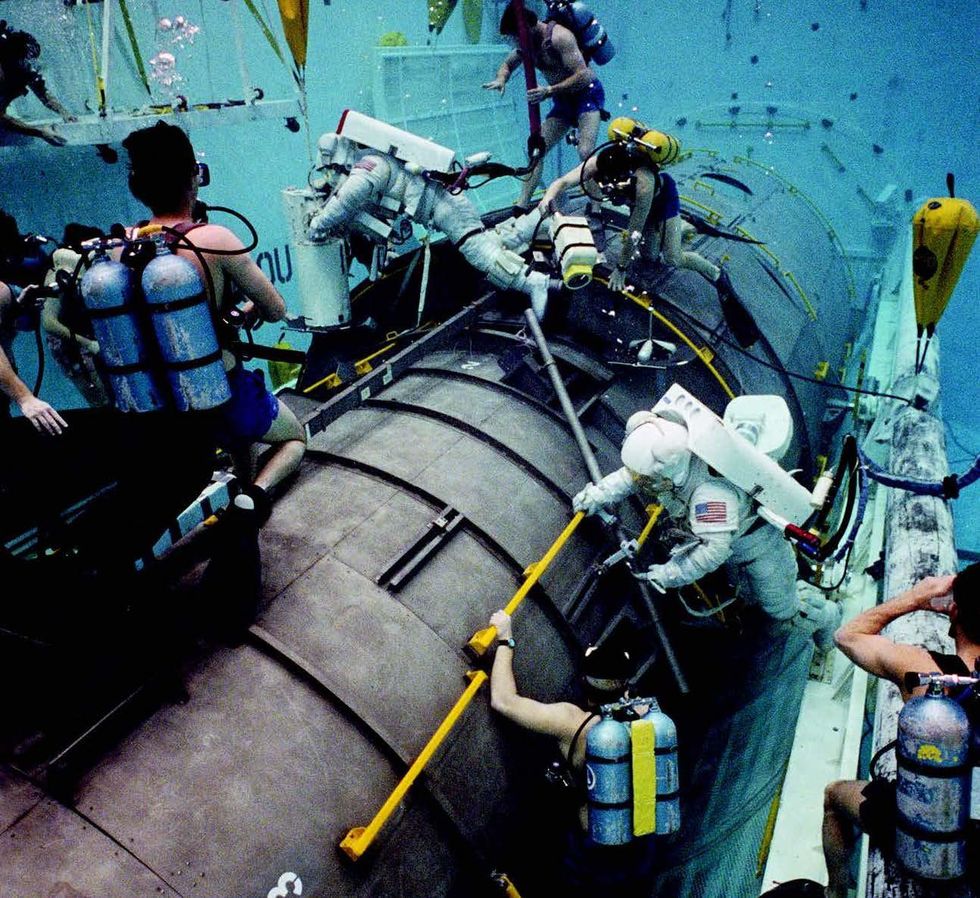 Bruce McCandless II, trains with Kathy Sullivan, right, in preparation to launch the Hubble Space Telescope. (NASA)
The only problem was, there wasn't much fuel left. McCandless went out anyway, trying to stay within 10-15 feet of the spacecraft. He got into position and turned off the unit to preserve propellant. After the president said a few words and the video switched off, McCandless turned on the unit and "looked for the closest piece of the orbiter, pointed at it, put the hand controller in +X (and) got a sort of sighing noise as it accelerated in that direction." He ran out of fuel just as he grabbed onto a rail on the orbiter. Hand over hand, he brought himself back to the donning station.
It's that kind of suspense that made this book so thrilling to read.
There's space tension like when McCandless is operating as CAPCOM, the only person talking to Neil Armstrong and Buzz Aldrin while they are walking on the surface of the moon, and his commander wants him to break protocol and call them back early, even though there are no signs of distress.
The book is also so touching. I cried while reading about the declining health of Bernice, who survived so many astronaut wife struggles over the years and at the end of her life remained a loving partner and mother.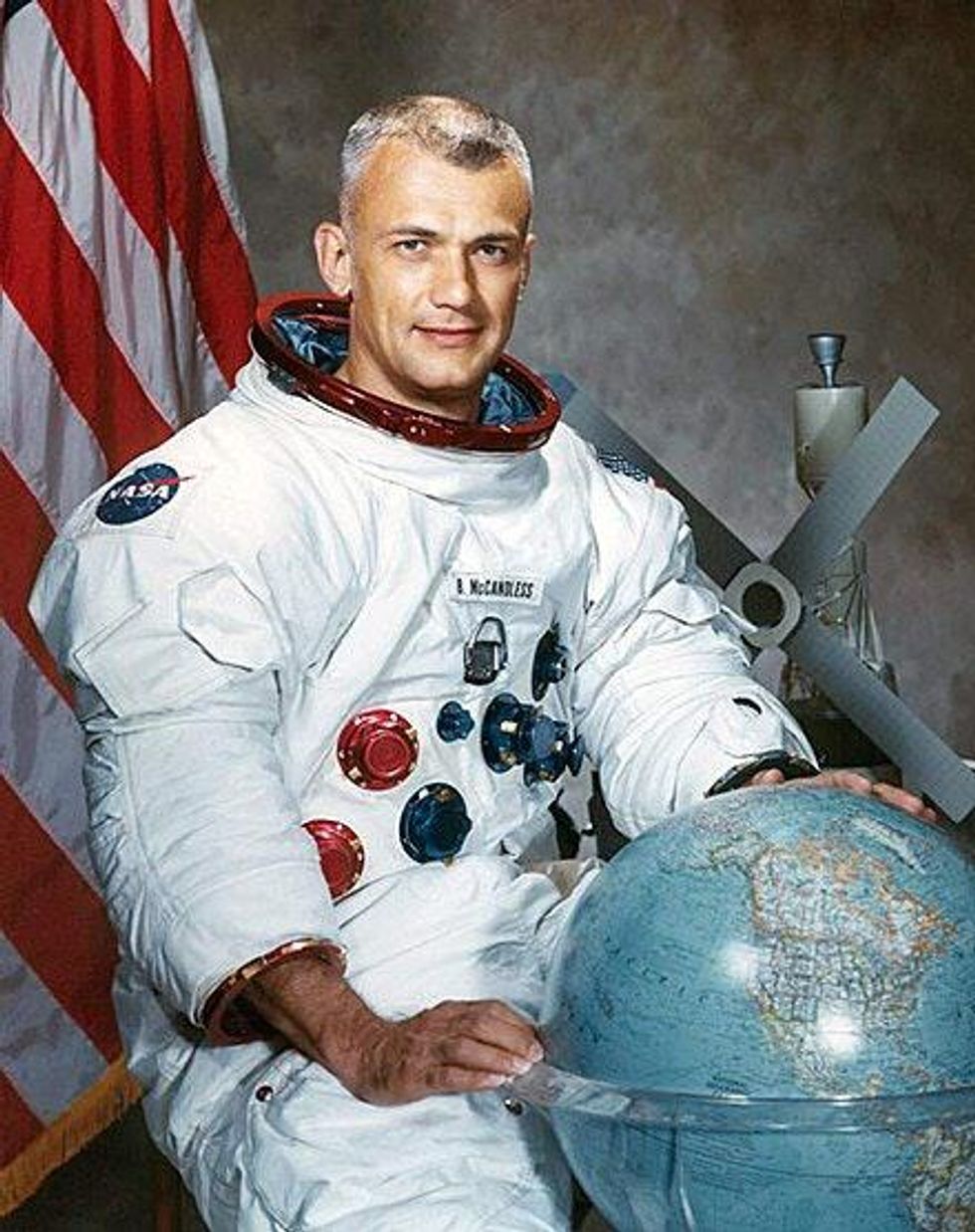 Bruce McCandless was a Navy pilot who was picked to join NASA in 1966. His first space flight wasn't until 1984. (NASA)
It's easy to forget that McCandless II had an entirely other memorable historic moment—launching the Hubble Space Telescope in 1990—and this one seems to have struck an even deeper chord with McCandless III.
The Hubble launch was McCandless' second and final flight. He was 52 and had worked at NASA for 24 years.
McCandless II spends the last chapters of the book making a compelling case that his dad's work to fix and update the Hubble are among the greatest achievements to science. He continued to work on Hubble for another two decades after retiring from NASA through his work at Lockheed Martin.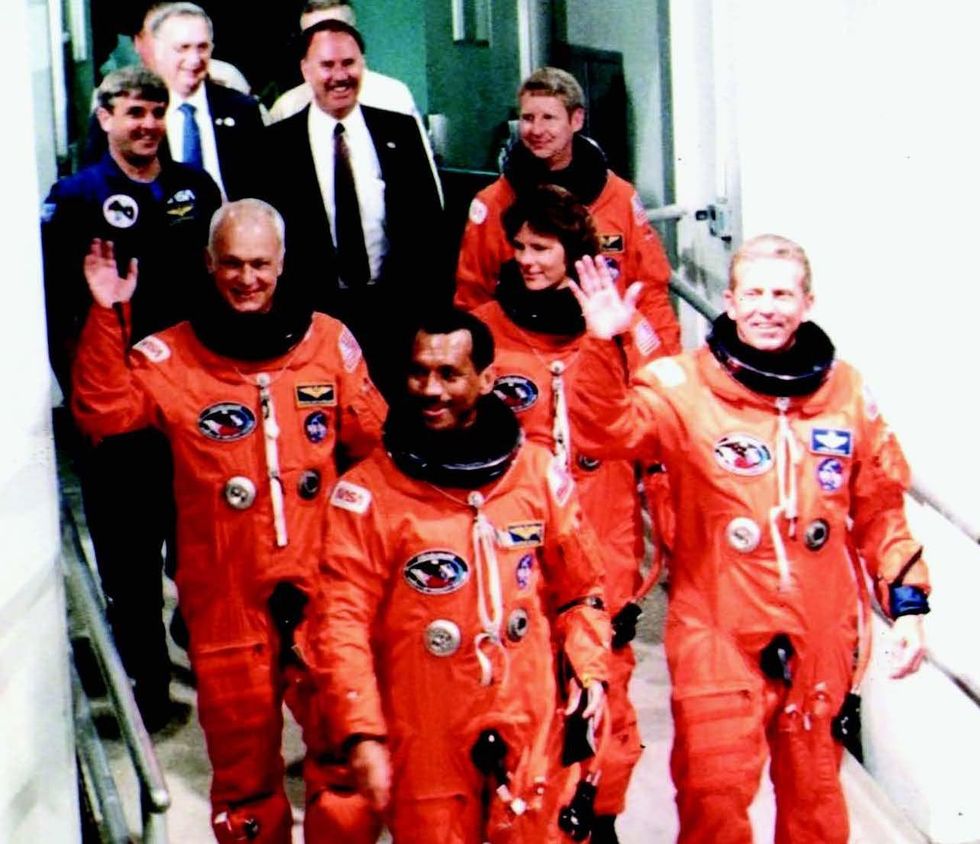 Bruce McCandless, left, and the flight crew that launched the Hubble Space Telescope in 1990. He was 52 years old. (NASA)
He was the "nuts, bolts, screws, and wires guy," the auto mechanic rather than the scientist, who kept the telescope going 340 miles above Earth for more than twice its life expectancy. The Hubble has been cited in more than 18,000 scientific papers and has revealed countless secrets and unsolved mysteries from around the universe and beyond.
"The size, shape, and sheer spectral weirdness of the images boggle the imagination and make prophets and dreamers of us all," McCandless writes toward the end of "Wonders All Around. "Some of us pay therapists to tell us we're important and unique. Then we check in with Hubble so the satellite can inform us just how galactically marginal we all are. The truth is somewhere in the middle."
What a beautiful reminder.