Get connected with our daily update
After a decade of steady growth, could Texas' new abortion law hinder Austin's Boomtown status?
The U.S. Supreme Court voted 5-4 to keep the law in place Wednesday, quashing any hopes from Austinites that the bill would be overturned. According to a poll by PerryUndem, 66% of college-educated workers said they would not take a job in a state that prohibits abortions after six weeks and around half of the respondents said they would move out of a state with such restrictions, coinciding with Senate Bill 8 that went into effect Wednesday in Texas.
Politicians and policymakers all over the U.S. and Texas opposed the bill, which is the most strict on abortion laws in the country, on social media, including President Joe Biden.

Texas law SB8 will significantly impair people's access to the health care they need—particularly for communities of color and individuals with low incomes.

We are deeply committed to the constitutional right established in Roe v. Wade and will protect and defend that right.
— Joe Biden (@JoeBiden) September 1, 2021
The vast majority of abortions occur after six weeks, as many women do not know they are pregnant before that mark. Local abortion providers like Planned Parenthood and Whole Women's Health are complying with the new law, making around 90% of the procedures are no longer permitted.

Austin has built a reputation as a hub for education in the South with one of the best public colleges in the nation, skyrocketing growth in the tech sphere and a growing urban population that is attracting talent from the Bay Area, New York City and Chicago. But the poll reported that 80% of respondents said they do not want Roe v. Wade to be overturned—the same amount said they felt that abortion rights were a core part of women's rights.
About 73% of working women and 53% of working men said they wouldn't even apply for a job in a state with a comparable ban. The new bill will not prevent abortions—around 51% of people in Austin have a bachelor's degree or higher and earn an average of $72,000 annually, which is more than enough to take a trip to a neighboring state for a procedure.
Around 65% of women work in Austin, the majority clustering from ages 22-44, according to the Census. Around 73% of the incoming workforce from Gen Z said they would not take a job in a state where their reproductive health was at risk. Likewise, 69% of millennials said the same.
Home sales in the five-county Austin metro took a dip in July for the first time since May 2020, according to a monthly report from the Austin Board of Realtors.
Residential home sales in the metro dropped by 9.9% to 4,041 as the market plateaued for the first time in over a year. Despite cooling sales, the market's home prices stayed hot, and broke a July year-over-year record with a median home price of $574,975. Home prices in the city of Austin dipped slightly from a median home price of $575,000 in June, ending a five-month streak of record year-over-year home sales.
Median year-over-year sales prices in the metro rose 37% to $480,000, a record for July, but fell just short of an all-time record of $482,364 set in June. As prices plateaued slightly in the metro, the ever-depleted monthly housing inventory also rose slightly from 0.8 months to 0.9 months of inventory. While still unhealthily low, the metro is showing a slight recovery from a frenzied first half of 2021.
While a slowing market, no matter how slight, is rare to see in Austin, MetroStudy regional director Vaike O'Grady said that prices aren't likely to drop significantly anytime soon.
"Austin is always considered one of the top places to live in the U.S., but we're losing ground due to shrinking housing inventory and affordability," O'Grady said. "With construction delays and regulatory barriers, builders and developers are having increasing difficulty getting new homes on the ground. Because of that, there's not enough supply coming to the market to significantly impact available inventory, which further pushes prices up. Looking ahead, there will likely only be new inventory available further out in the suburbs; meaning, other submarkets may gain traction over Austin."
The cooling market might instead point to seasonality as families go on vacation and enjoy their summer break. O'Grady said the market is still a gold mine for homeowners looking to sell.
"Seasonality has a hand in the increasing home sales growth across our region and nationally," O'Grady said. " If you're looking to buy or rent a home, don't miss this opportunity to take advantage of the market's slower pace. If you're looking to sell, don't mistake this dip as a cooldown—it's still an excellent time to sell a home."
The average Austin rent is steadily increasing after a months-long pandemic slump, largely due to prospective homebuyers who have been exhausted by the frenzied local housing market and turned to apartments.
After a nine-month pandemic downturn, the average rent in the Austin metro began to creep up in December. It is now $1,442 a month, up from $1,278 in July 2020 and $1,311 in July 2019, according to the latest market report from AparrtmentData.com. The occupancy rate is 91.4%, up from 89.3% last year, and only 20% of units are rented with concessions, such as one-month-free specials and other discounts, compared to 26% in June and 44% this time last year.
"The housing market is taking what used to be residential homeowners who can't find homes now and turning them into apartment renters," ApartmentData.com Vice President of Sales and Development Cindi Reed said.

The median home price in the city of Austin reached an all-time high of $566,500 in May, increasing $142,450 year-over-year, according to the Austin Board of Realtors latest market report. Low supply, high demand, labor shortages and rising construction costs are all contributing to the rising sales prices.
Many prospective homebuyers are being priced out of the brutal housing—and turning to the rental market instead. Deanna Garza, a Realty Austin agent, said people relocating to Austin for jobs at companies such as Tesla and Apple may also wish to rent before buying. These trends have led to more competition. The average rent in the Austin metro is more expensive—and rising more rapidly—than in other big Texas cities, despite a brief pandemic slump that offered tenants rare relief in an increasingly expensive market, according to ApartmentData.com.
The San Francisco Chronicle is the latest publication to tackle the California migration, and it credits Californians moving to Texas for Austin's housing boom.
Thousands of newcomers from the Golden State are taking comfort in the Hill Country's rolling hills, budding wine scene and warm weather, the Chronicle writes, while also taking advantage of higher affordability and a better quality of life.
Douglas Yearley, CEO of luxury Central Texas homebuilder Toll Brothers, said that much of that jump is due to Californians, the Chronicle reported. "The pricing power of Austin, which is number one in the country, is driven by California, plain and simple," Yearley said.
It's not all sunny skies
Home prices are being driven up swiftly in Central Texas as newcomers pile in. The Austin metro brings in over 180 people a day, more than anywhere else in the country.
The latest report from the Austin Board of Realtors revealed the median home price reached an all-time high of $566,500 in May, jumping nearly 35% year-over-year.
Meanwhile, California lost residents for the first time in its history last year, with San Francisco losing around 1.3% of its population. Austin is projected to soon become America's 10th largest city, a seemingly symbolic shift as it bumps down current No. 10 San Jose.
It seems the days of the Gold Rush are long gone. Real estate broker Ray Shapley, who helped Californians Josh and Jessi Rubbicco find a home in Austin, told the Chronicle that migration patterns are undergoing a massive overhaul across the country.
"I think the last few decades kind of belong to California. I think the next few decades might belong to Central Texas," Shapley said. "As someone who was born here and loves Central Texas the way it is, I don't know that I necessarily love that."
Shapley's fears are echoed by many Austinites who aren't sure the city is ready to tackle such a large housing boom.
Looking in the mirror
The article admitted that some of Austin's problems reflect that of California. Homelessness has been at the forefront of local politics for years, and the affordability crisis is only increasing in severity as supply-and-demand runs its course in the city.

The difference between Austin and its Golden State counterparts, however, is that the Texas capital's issues may still be solvable. By contrast, the Chronicle reported that many of the Bay Area's crises are deeply entrenched.
While the median home price has grown in the Austin metro, it's nearly triple that ($1.3 million) in the nine-county Bay Area. There isn't enough housing in Austin, but the Bay Area's homelessness crisis could take a whopping $11.3 billion to resolve.
Even property taxes, which are higher in Texas and ever-changing, are worth the better quality of life and sense of community, Josh Rubbicco told the Chronicle. "I feel like we have more friends here now than we've ever had in California," Rubbicco said. "People were so welcoming and friendly."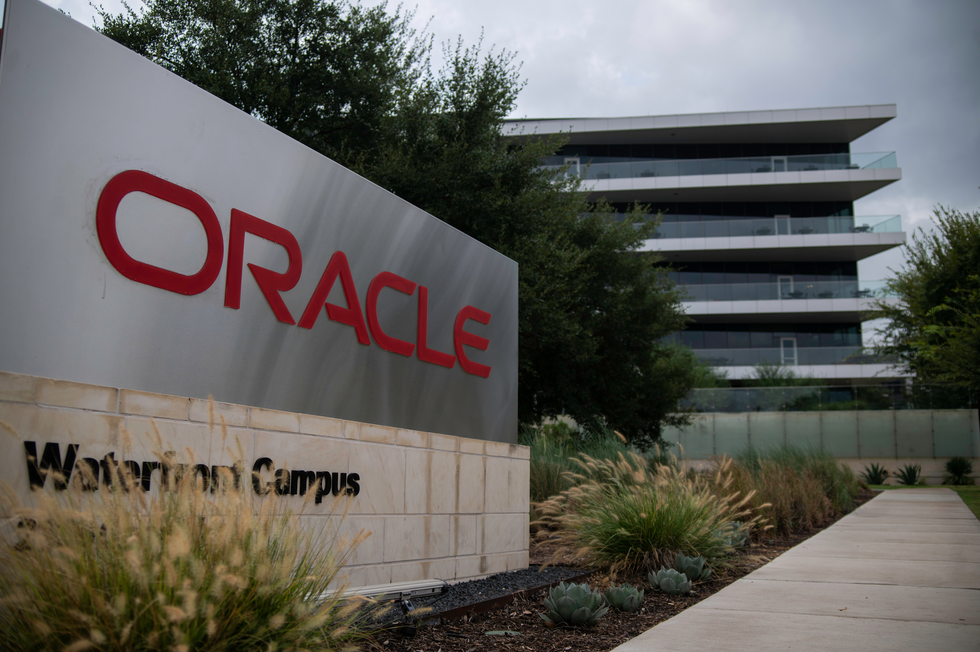 Oracle's Waterfront Campus on East Riverside recently became the new headquarters for the tech giant. (Shutterstock)
Austin is also the trendy new HQ for companies—a record 22,114 jobs were introduced from companies moving or expanding in the metro last year, according to the Austin Chamber of Commerce—but issues or not, the Bay Area's role in tech isn't going anywhere, University of Texas associate professor Jake Weggman, who studies housing, told the Chronicle.
"I don't think any of that's going away in the Bay Area. But I do think that the Bay Area is headed for a future where it's a little bit less dynamic... more slow-growing," Weggmann said. "Austin is going to be more fast-growing and dynamic and fast-changing."