Get connected with our daily update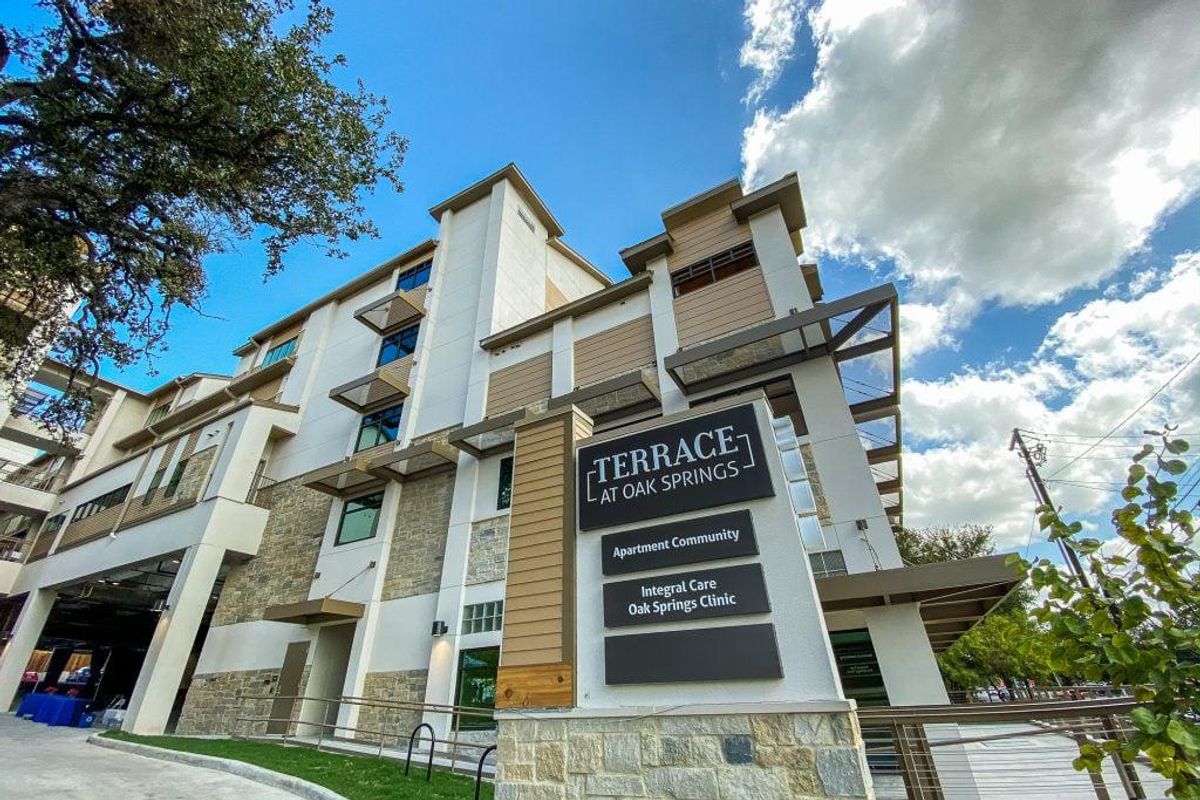 Austin is in dire need of new apartments, as a report shows the city will need more than 100,000 additional apartment units by 2035 to keep up with demand.
Commissioned by the National Apartment Association and the National Multifamily Housing Council, the study found that Austin had the highest apartment demand across the nation using projected percentage growth and absolute new renters from 2021-2035.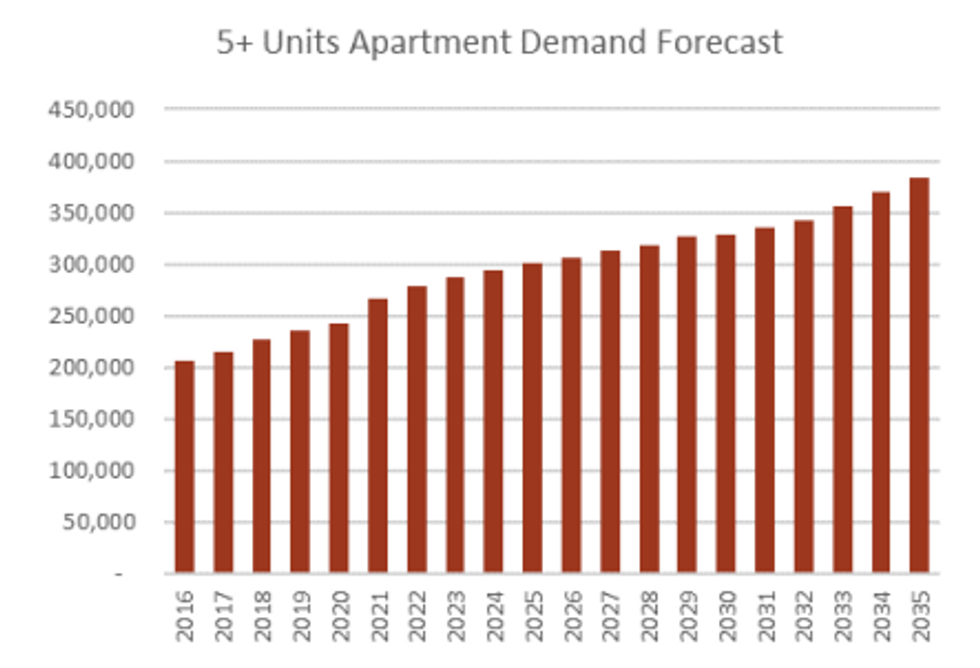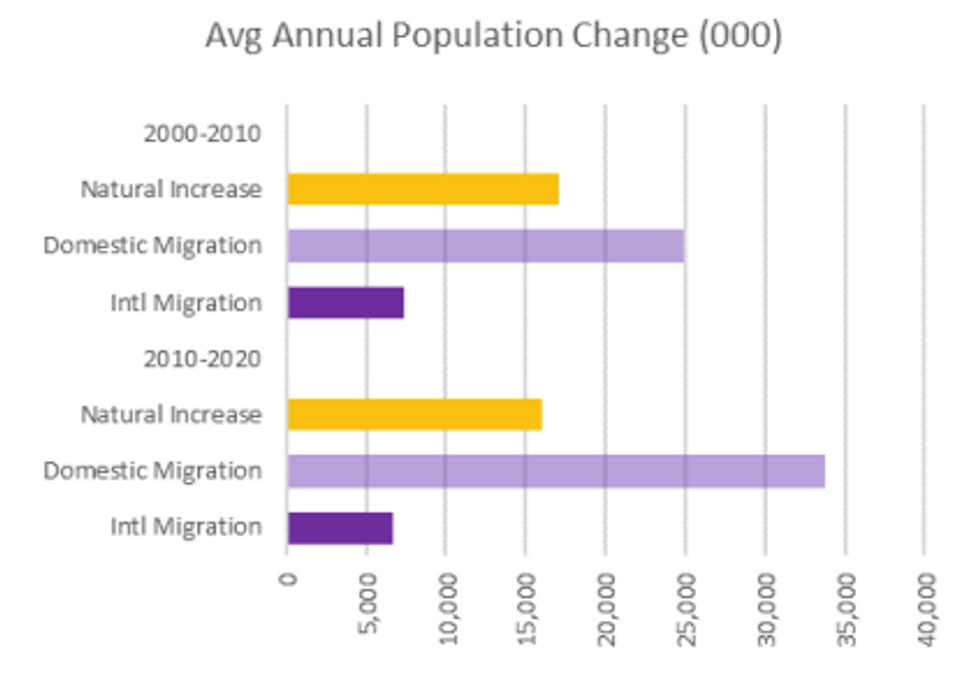 Texas dominated the need for rental housing, with Dallas-Fort Worth and Houston following closely behind in slots two and three, respectively. The study said percentage growth tends to favor smaller metros while absolute growth favors larger metros.
While the study showed Austin was most starved for new units, it ranked fifth for the absolute number of units needed by 2035: 117,107, or a little over 9,000 units per year. Meanwhile, DFW needs 269,906 and Houston needs 209,084, both higher than totals in any other metro on the list.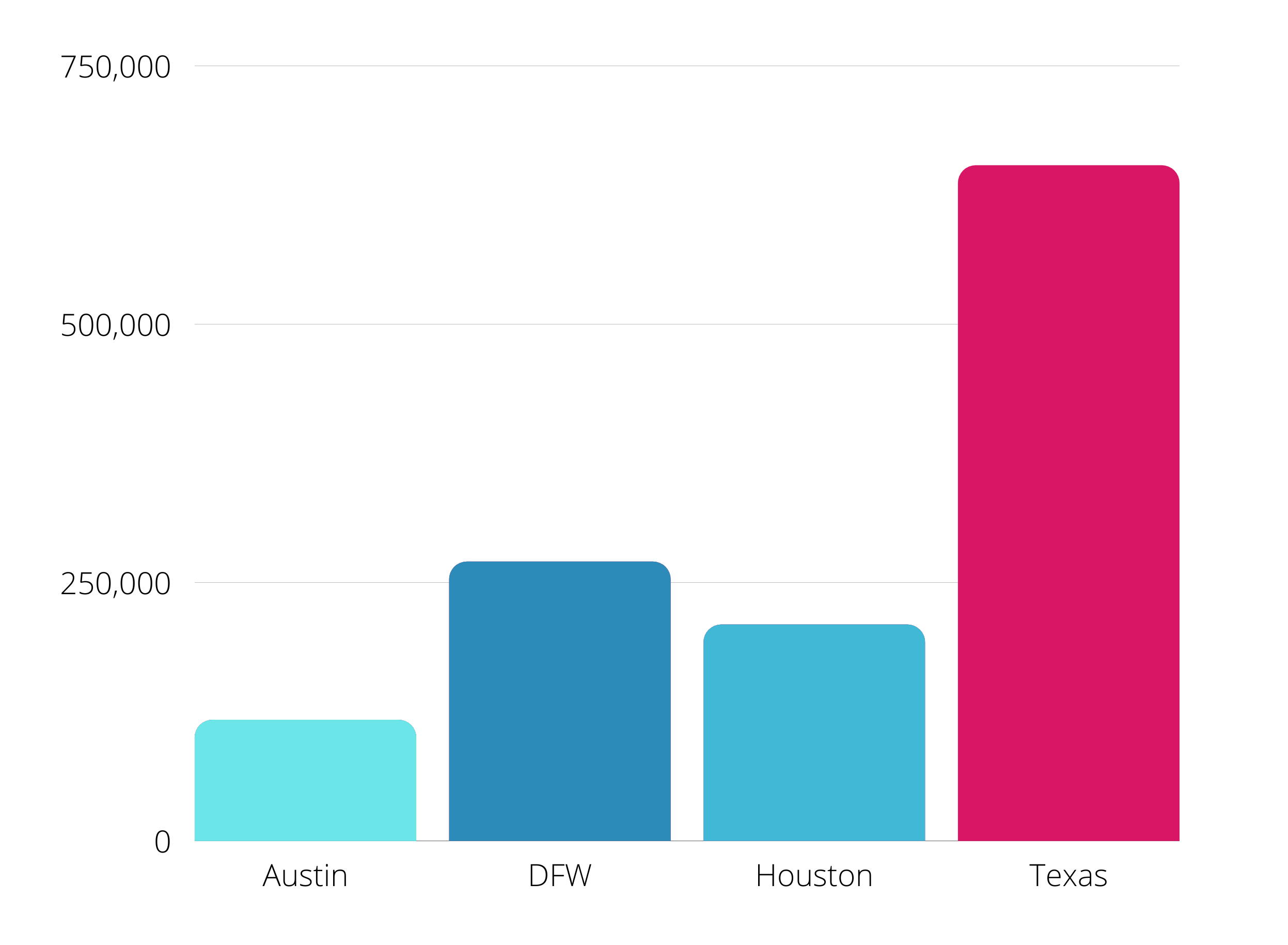 (Laura Figi/Austonia)
In terms of percentage growth needed, Austin ranked second for percent growth needed at 2.6%, DFW slipped behind at 2% and 1.9% for Houston per year.
All combined, Texas ranks sixth for needed housing, requiring 653,285 new units and an increase of 1.6% per year.
According to a report from the Austin Business Journal, 60 projects were delivered locally in 2021, adding 15,198 new units across Travis, Hays, Williamson, Caldwell and Bastrop counties. There are 50,000 units currently under construction in Austin, though 45,000 are awaiting permits, which can be a lengthy, year-plus long process right now.
Additionally, the industry is grappling with regulatory changes and supply shortages that are slowing the process.
As of July, 47 apartment complexes are under construction, making up 13,270 units according to Apartmentdata.com, and another 128 communities representing 42,257 units are proposed.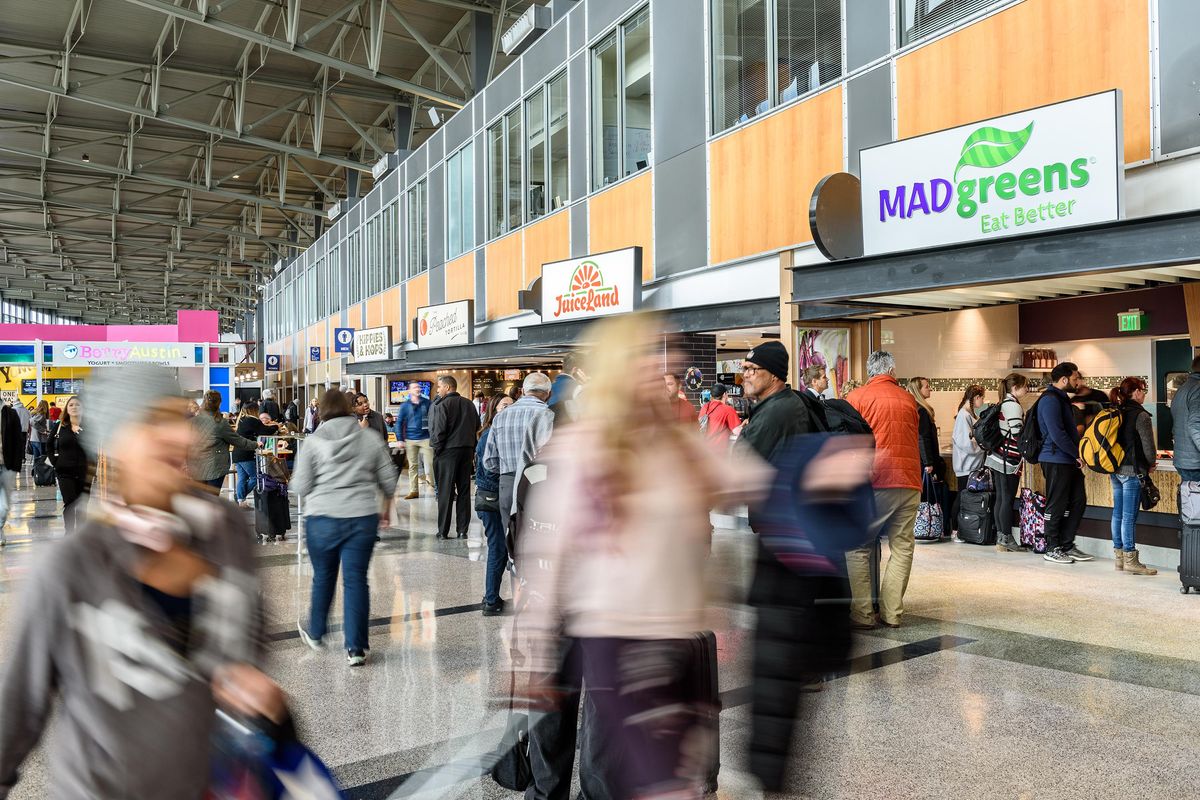 Traffic is soaring to new heights at Austin-Bergstrom International Airport, which announced it had its busiest month ever in April, ahead of an anticipated record-breaking summer travel season.
April passenger traffic brought 1,865,046 passengers through the terminal at ABIA, up 121.74% compared to traffic in April 2021, while total enplanements reached 942,940, an increase of 121.17%.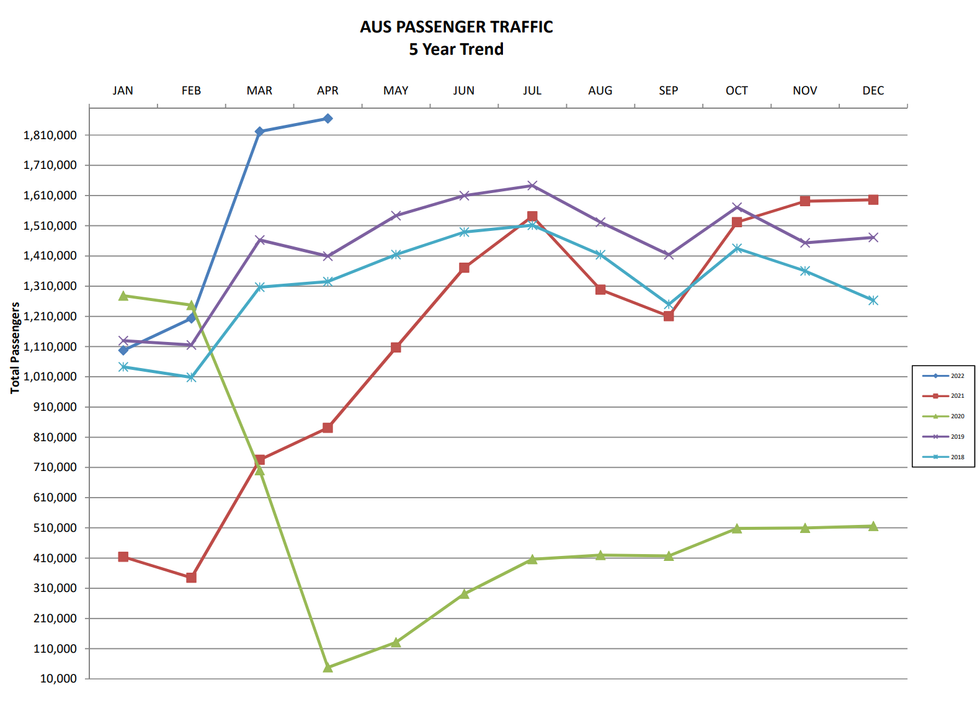 (AUS)
March also saw more than 1.8 million passengers, according to airport officials. Senior public information specialist Bailey Grimmett said the traffic spike kicked off with major events like SXSW and spring break.
"In general, AUS has recovered from the dramatic decline in passenger activity and is experiencing higher demand for air travel than ever before, which can be attributed to why… April passenger numbers surpassed March," Grimmett said.
While you're almost guaranteed to run into lines in the airport terminal, the airline travelers chose had some bearing on the in-flight traffic when compared to April 2021.
Where traffic is up:
Hawaiian Airlines picked up 4,176 passengers in Austin, an increase of 378.9%
Allegiant Air picked up 33,698 passengers, an increase of 157%
Southwest Airlines picked up 722,855 passengers, an increase of 155.1%
American Airlines picked up 500,823 passengers, an increase of 161.7%
Delta Airlines picked up 223,691 passengers, an increase of 101.9%
United Airlines picked up 184,736 passengers, an increase of 95%
Alaska Airlines picked up 83,295 passengers, an increase of 80.9%
Sun Country Airlines picked up 420 passengers, an increase of 68.7%
JetBlue Airways picked up 37,661 passengers, an increase of 0.4%
Where traffic is down:
Frontier Airlines picked up 8,860 passengers, a decrease of 48.1%
Spirit Airlines picked up 35,948 passengers, a decrease of 21.3%
Airport officials aren't expecting the traffic to die down anytime soon but reported that so far, things have been moving smoothly as passengers arrive early, plan ahead and follow travel recommendations.
"We are extremely grateful to our passengers for working with us during these record-breaking days and ahead of a record-breaking summer," Grimmett said.
Know before you go—check out Austonia's complete guide to the airport.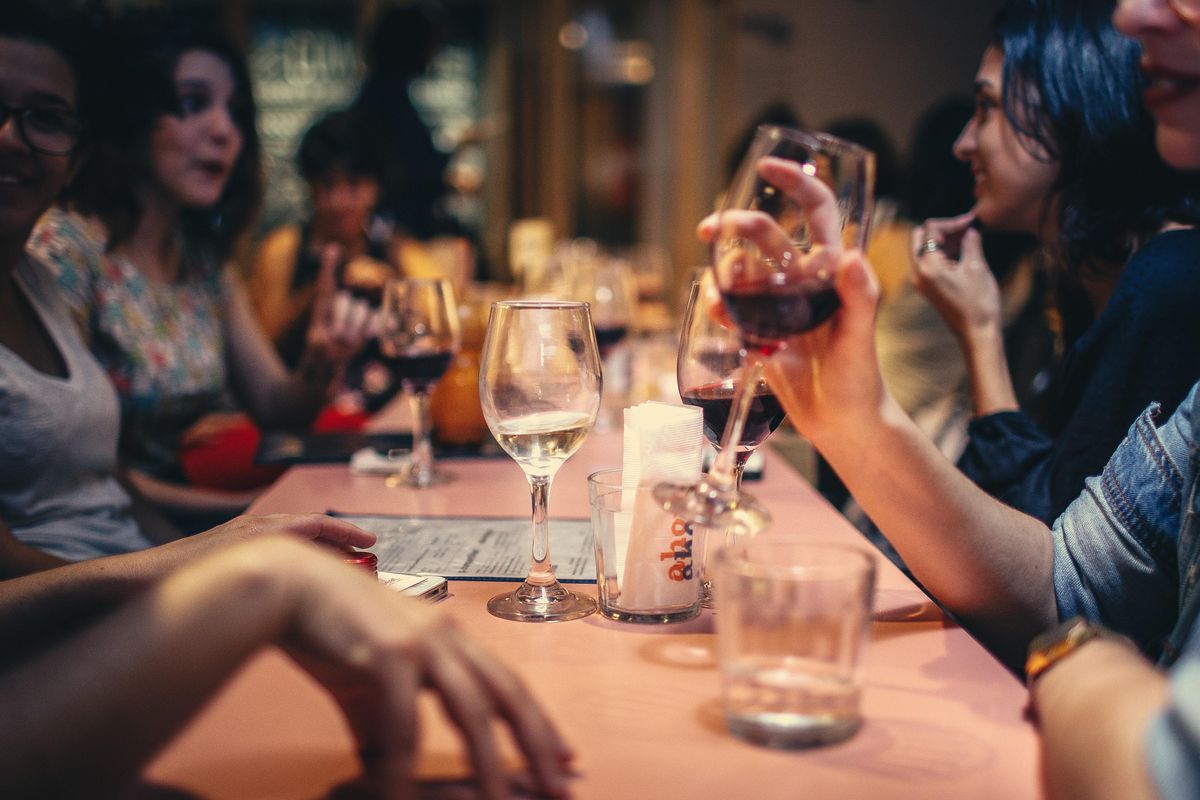 Making plans around reservations made a month out aren't going anywhere.
According to OpenTable, seated dining in Austin has been up by anywhere from 7-59% since late March compared to 2019. In addition to being up against upward-trending traffic, reservations are also rising: OpenTable's Mother's Day reservations are up at least 34% in Austin compared to 2019.
Plus, the National Restaurant Association said the most common plans for tech investments included a focus on "online or app ordering, reservations, mobile payment, or delivery management," so reservations aren't going away anytime soon.
So why is the need for reservations in restaurants going up?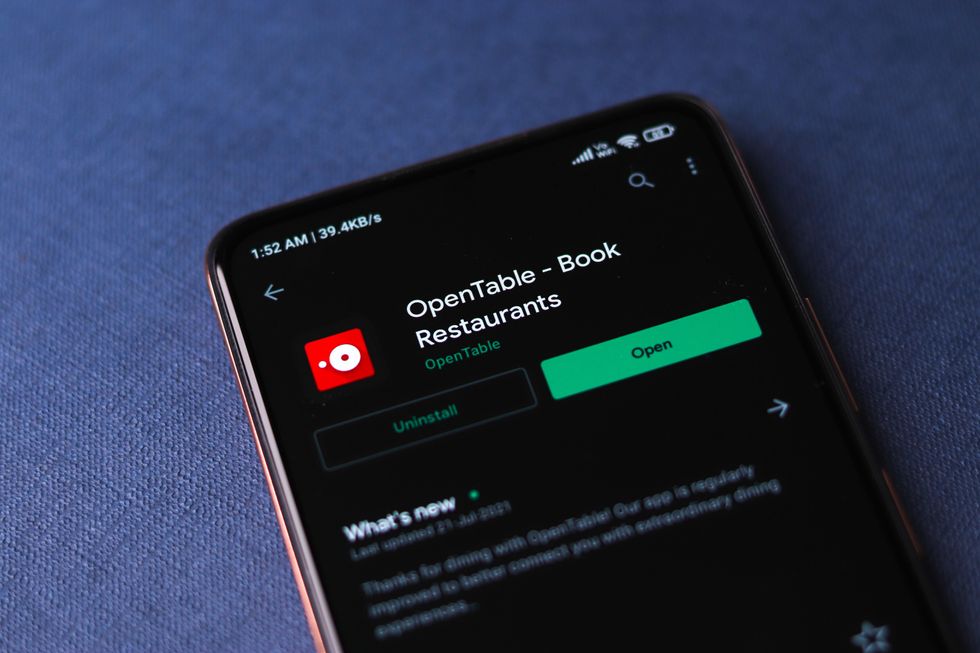 While foot traffic seems to have made a full recovery, the throes of the pandemic have left some scars on the industry. According to Yelp Austin Community Manager and born-and-raised Texan Tomas Rey, reservations are one of them.
Between Austin's explosive growth in the past few years and dust settling after the pandemic had restaurateurs constantly juggling changing restrictions, Rey said one of the reasons Austinites are seeing an increased need for reservations is to manage losses.
"A lot of these higher rated restaurants, like four to five stars, require reservations but it's also the mom and pop shops," Rey said. "A lot of these restaurants are just trying to stay open, and are operating day to day. It's really more of them being able to account for the ingredients they need to prep for or how many people are actually going to be there."
While it isn't the case for every restaurant, Rey said making and keeping a reservation is one of the best ways a restaurant can prepare, especially in times of financial strife.
"Their bottom line does make a difference for every day and reservations are a way for them to know how many people actually want to be a part of it," Rey said. "I think this is our way as a consumer to rally support for local businesses by understanding that this is what keeps (restaurants from) overextending themselves."
Sometimes trends drive reservation traffic
Built by McGuire Moorman Hospitality, Sammie's shares the same managing company behind trendy restaurants like Perla's, Elizabeth St. Cafe, Josephine House, Pool Burger and Swedish Hill.
Aaron, who declined to give his last name to avoid backlash, said walk-ins were rarely taken while he was bartending at new downtown restaurant Sammie's Italian, 807 W. 6th St.
On average, Aaron said reservations were booked three months out. Currently, the first-weekend reservation for two is unavailable until Sunday, June 5, at 9:15 p.m.
"It was very rare to walk in and be able to sit in the dining room—walk-ins would always be shown to the bar," Aaron said. "But they would also reserve the bar if anyone wanted that, so there were nights where we had no one sitting at the bar until 7:30 p.m. because it was fully reserved."
Reservations at Sammie's were particularly in high demand, Aaron said, because the restaurant would only release a portion online and offer the rest to diners to book in advance at the end of their meal.
"When people would come to the restaurant, have a great time and want to come back they would have an option and opportunity to do that—we would instruct them to talk to a manager and see what we can do for them," Aaron said. "It was kind of the Sammie's motto and goal to be able to make someone even happier than they already were on their way out."
Reservations are the "new normal"
While having to make a reservation used to bother him, Rey said that like using QR codes for menus, he believes reservations are here to stay.
However, if reservations are not your thing, Rey recommends being willing to make an adventure out of finding your meal, utilizing Yelp's waitlist figure to get on the restaurant's list ahead of time or finding a restaurant that reserves space for walk-ins, like Aba. Another trick for parties of 2 is gambling on open bar seating.
"I feel like this is just kind of the new normal when going out for dining or for libations," Rey said.