Austonia AM
100% Austin news, info, and entertainment, straight to your inbox at 6 a.m. every morning.
In five minutes, you're fully informed and ready to start another great day in our city.
Get connected with our daily update
Tesla CEO Elon Musk announced a record-setting second quarter during an earnings call broadcasted from the Giga Texas construction site in Southeast Travis County on Monday.
The electric carmaker reported more than $1 billion in quarterly net income and the production of more than 200,000 vehicles for the first time despite challenges such as a global semiconductor shortage.
"It … seems that public sentiment towards electric vehicles is at an inflection point, and at this point, I think, almost everyone agrees electric vehicles are the only way forward," Musk said.
Despite rising consumer demand and adequate factory capacity, Tesla faces what Musk described as a "quite serious" global semiconductor shortage, which will determine the company's growth rate for the rest of the year.

With increased revenue and production, Tesla is investing in new factories, Chief Financial Officer Zachary Kirkhorn said. These include Giga Texas, the $1.1 billion manufacturing plant that broke ground last summer and is slated to open later this year.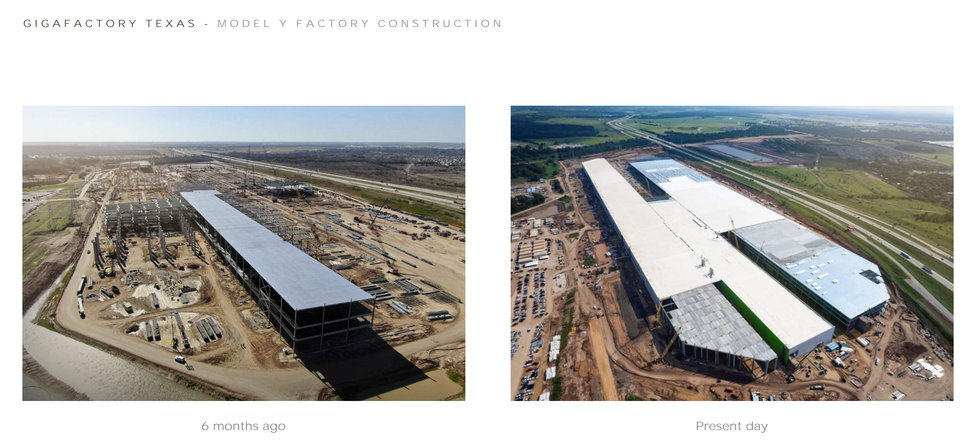 The Giga Texas factory in Southeast Travis County has rapidly increased in size since ground broke last August. (Tesla)
Musk commended the construction team for "incredible progress," transforming what was basically a vacant site into "a mostly complete large factory a year later."

I was at Giga Texas yesterday. Team is making excellent progress. Building will be almost a mile long when complete.
— Elon Musk (@elonmusk) July 25, 2021
Giga Texas will produce the highly anticipated Cybertruck, along with other models, but Musk said scaling its production will be difficult, especially given the supply chain delays caused by the pandemic. "It's going to move as fast as the slowest of its up to 10,000 unique parts," he said.

In other news, Musk said Monday's earnings call would likely be his last regular appearance, only jumping on future quarterly calls when big announcements warrant it.
Tesla Solar recently made news when it announced plans to build the nation's most sustainable residential community in Southeast Austin earlier this month. The newly built homes will feature Tesla solar roof tiles and Powerwall battery storage as well as electric vehicle charging stations.
Lucky buyers got to "own a piece of Austin history"—for a price tag of up to $80,000—after Austin City Limits sold 20 separate sections of the original backdrop from the historic television series in an online auction.
The piece, which depicts Austin's ever-growing skyline and includes landmarks including the University of Texas and the Texas Capitol, was sold to 20 separate buyers for over $265,000.
While some less visually appealing panels of twinkling Austin lights sold for as low as $1,500, the panel depicting the Capitol sold for over $80,000. Similarly, the glowing University of Texas tower panel sold for $45,050.
Austin PBS sold the pieces as part of a farewell to Studio 6A, where the original set for ACL's television program was shot. Icons including Willie Nelson and Loretta Lynn have played in front of the backdrop for years since it was instituted in 1982. The panel was put out of use in 2010.
Bidding began on Monday and ended Friday morning at 10 a.m. All proceeds went to Austin PBS and will be used to help the production company move locations in 2022.
The panel may be sold, but it will see one last hurrah as famed country artist Garth Brooks takes the stage on July 20-21 for another fundraiser to help with move out expenses.
Looking to take advantage of low-interest rates and stimulus check savings by buying a used car? Get in line.
Used car prices are soaring nationwide due to a global semiconductor shortage, which has forced some car manufacturers to shut down assembly plants, limiting new car inventory. There's also pent-up demand from consumers, who are armed with savings and ready to spend at this stage of the pandemic.
Killion Auto Sales in Round Rock had just one used car on its lot on Monday, compared to at least 60 normally, and has closed on Saturdays for the foreseeable future. "I am still buying cars, but they are just selling as fast as I bring them," co-owner Nathan Killion told Austonia.
Used car inventory is largely determined by new car inventory, fueled by trade-ins and other turnover. Car manufacturers faced factory shutdowns during the pandemic and are now contending with a chip shortage, meaning new car inventory is severely limited, and demand is spilling over onto used car lots.
Although Killion said demand is high, with stimulus checks and accidents driving customers onto used car lots, it doesn't make financial sense for him to buy used cars at a huge markup because his small dealership handles its own financing. Even if he is able to sell such vehicles at a profit now, the market will eventually correct. If one of his buyers gets into a car accident, insurance may only cover a portion of the car's sales price, leaving him out of pocket. "We've decided that it's better to have fewer cars that I can try to sell for reasonable money and to mitigate that loss when something bad happens," he said.
Still, with sparse lots and eager customers, the used car market currently benefits sellers.
"I just sold one of my cars for nearly the same price I paid for it three years ago," Randy Frederick, Austin-based managing director of trading and derivatives at the Schwab Center for Financial Research, tweeted on Monday.
South Austin Nissan is "giving all the money for decent vehicles" due to the nationwide inventory shortage, sales consultant Mark Sanchez wrote in a May 6 Facebook post. "Decent mileage and well taken care of pre-owned vehicles are worth GOLD!"
Carmax, the largest buyer and seller of used cars in the U.S., saw record demand in the first quarter of its current fiscal year, selling approximately 452,000 cars between March and May, up 128% from the same period last year, according to a statement shared with Austonia. The retailer, which has two Austin locations, reports that its sellers often receive a higher offer than they anticipated.

But a seller's market may price out prospective buyers. (Just look at the Austin housing market, where similar supply-and-demand issues are at work.) Overall, used car and truck prices increased 10.5% in June and a staggering 45.2% year-over-year, according to the U.S. Bureau of Labor Statistics.
Some used cars now command higher prices than their brand-new counterparts. "Dealers may think used car buyers are willing to pay more for the instant gratification of a lightly-used vehicle they can drive right off the lot rather than waiting for a new one," iSeeCars.com Executive Analyst Karl Brauer said in a recent analysis.
Killion anticipates it will take at least a year for new car inventory to catch up to demand after various delays. In the meantime, he has four or five notes on his desk from people who are looking to buy a used car, if only he can find one. "Having transportation in Austin, Texas, is not exactly optional," he said.
From humble origins in a horse barn to booming sales in three states, Texas' first hemp vodka distillery has become one of the fastest-growing Black distilleries in the U.S. in just a few years of business. Their latest stop? Austin, Texas.
Highway Vodka, founded by partners Ben Williams and Wendell Robbins III, is available for sale at over 25 retailers in Austin alongside cities across Texas, Georgia, Florida and California. The company, which is the first Black-owned distillery in the state of Texas, is almost growing too quickly—Williams said they're looking to slow down for a second before they spread too thin.
"We don't have any outside investors or anything like that, so I want to make sure I know what I'm doing," Williams said.
So why hemp? CBD is illegal to use in the distilling process, so the only effects the ingredient really adds to the mix is anti-inflammatory properties.
Hemp comes more into play in the distilling process itself. When experimenting with the ingredient in initial stages, Williams and Robbins discovered that hemp acts as a "super fuel" to the yeast as it converts sugar from its other main ingredient, corn, into alcohol (which also adds a slightly sweet taste.) The plant that helps make Mary Jane also "keeps the negative stuff down" by helping form an oily layer on top that protects the product from outside influence. The result, Williams said, is a smoother vodka that won't make the morning after drinking quite so bad.
"(Adding hemp) is not about flavor at all," Williams said. "I'm my own crash test dummy, so I know even if I overdid it the night before, I'm not getting that headache I might otherwise get."
Highway's journey started eight years ago in a horse barn in Houston when the two buddies decided to start experimenting with spirits as a hobby. After 9 years of trial and error and "a whole lot of drinking," the bustling business has seen an increase of 500% year-over-year.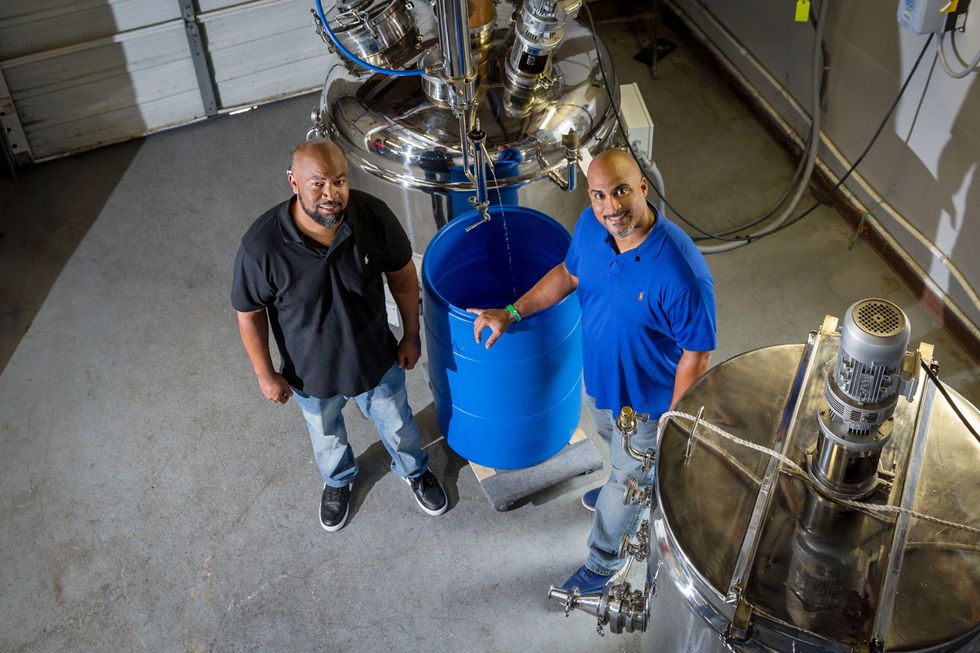 Williams and Robbins still operate within their original horse barn. (Highway Vodka)
Williams said it's no coincidence that the two love live music, drinking, and socializing at bars and restaurants; if the two were just in it for the money, he said the industry would "eat them alive."
"That's the biggest thing, to like what you're doing," Williams said. "Now I have a product that can play into all of these spaces that I enjoy."
When asked if he expected to see this kind of short-term growth, Williams simply said "no." Now that business is booming, however, Williams sees the company expanding nationwide in the next several years after they take a minute to regroup.
While Williams and Robbins are happy with their success, the most important thing is building a business that can be passed down the family. Robbins's daughter Codi Fuller has already started the legacy; at 26, she became the one of the only Black female distillers in the United States as she took the helm as Lead Distiller.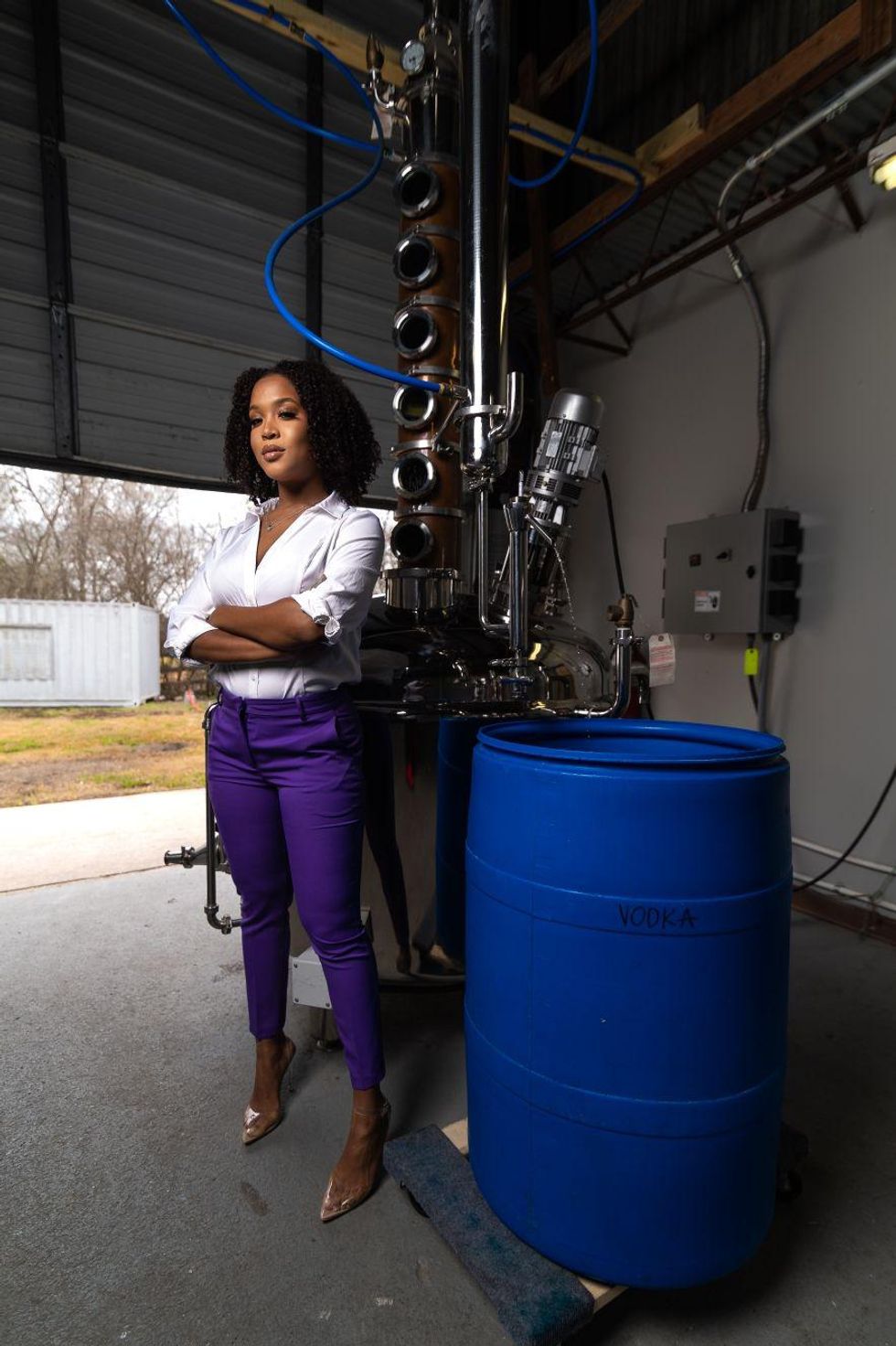 Robbins' daughter Codi Fuller is one of the only female Black distillers in the United States. (Highway Vodka)
Williams hopes his younger daughters will eventually follow suit.
"That's the dream," Williams said. "That's what you're building it for. I'm just hoping they don't go, 'Oh, that's dad's stuff' and think it's not cool."