Austonia AM
100% Austin news, info, and entertainment, straight to your inbox at 6 a.m. every morning.
In five minutes, you're fully informed and ready to start another great day in our city.
Get connected with our daily update
Elon Musk and girlfriend Grimes may have brought a high-profile love for cryptocurrency to Austin, but the city is now also host to one of the largest blockchain technology companies in North America.
Blockcap, a company dedicated to bringing Bitcoin and other cryptocurrencies out of the shadows and mining for cryptocurrency, is moving its headquarters from Las Vegas to Austin. The company was welcomed by the nation's newest tech hub and was even applauded by former Texas governor Rick Perry for making the move.
Blockcap founder and executive chairman Darin Feinstein said that Austin is the next big thig when it comes to cryptocurrency.
"Austin is our home base from which we will pursue our mission and bring this great city closer to the center of the United States' blockchain technology ecosystem," Feinstein said. "We also see the city as an ideal location from which to continue expanding our operations as we grow at both national and international levels."
With the all-digital Bitcoin, record-keeping, creating currency and using bitcoin can all be done by the same entity.

Blockchain technology, which Blockcap utilizes, serves as the closest thing to a bank for decentralized Bitcoin currency. By mining for bitcoin, Bitcoin users actually create currency as they use software, or "miners," to solve complex math problems. Bitcoin miners then record these transactions and make a safer currency network.
On Monday, the company announced it had added 8,000 miners to its repertoire and said it would soon surpass 50,000 miners in its supply.
Blockcap already accounts for 0.7% of all Bitcoin transactions, and with the 50,000 miners fully operational in the next year, it will only continue to grow its share.
Next up, Ethereum. Blockcap's announcement Monday came with a new up-and-coming cryptocurrency. Ethereum, which is the world's second-largest digital currency by market capitalization, has been used as a currency for Grimes' NFT artwork. It's considered the "next big thing" in cryptocurrency, especially when it comes to selling in the skyrocketing digital art and collectibles market, and Blockcap is ready to bring it into its arsenal.
The company announced that it would purchase Ethereum miners as another facet of its aggressive growth plan and it estimates it will account for 0.21% of the entire Ethereum network when its miners are fully operational.
Feinstein said the company is motivated to grow because it hopes to make the U.S. the forefront of mainstream Bitcoin use.
"Blockcap's growth strategy is focused on bringing various peer-to-peer digital assets directly to the people who will utilize them to improve their lives," Feinstein said. "We strive to contribute to the critical infrastructure necessary for mass adoption of these digital asset technologies so people can participate more fully in the global financial system. Currently, there are over 1.7 billion people around the world with no access to banking, and the rise of these digital asset networks will make financial products more inclusive and available to every individual."
After a year of pandemic operations, Doc's Backyard Grill owner Charles Milligan felt things were finally looking up. His Sunset Valley business had survived a temporary closure and transitioning to an online-order business model. By March the slow holiday season and the winter storm were behind him.
But the typically busy spring season hit a snag before it could even begin. Restaurant job applications tend to pick up around March, when outdoor dining is popular. Milligan and his managers reached out to each of the 93 applicants who came in through the jobs site Indeed; 10 responded to interview requests. Of those, three came in. They were good applicants, and Doc's hired them. When it came time for orientation, however, only one person showed up. "That's when we knew we were in trouble," he said.

Doc's isn't the only restaurant facing a hiring crisis. Across Austin—and the country—restaurants are struggling to rebuild their teams after a devastating year that hit the hospitality industry especially hard. "With the reopenings, a lot of businesses were starting from scratch," said Alice Cheng, founder and CEO of the hospitality jobs site Culinary Agents. "They weren't just looking for one or two people. They were sometimes looking for a whole new staff."
Industry challenges
Milligan knows he is not alone in his predicament because of the number of "Now Hiring" signs he's seen around town, from Chuy's and Tumble 22 to Cover 3 and Jack Allen's Kitchen. Easy Tiger, which recently opened a new location in East Austin, is currently hiring for 22 positions, from dishwasher to assistant general manager. In the last 24 hours, 64 Austin restaurant jobs have been posted on Indeed, including at Iron Works BBQ, Whisler's, Kalimotxo, June's All Day and Counter Culture.
For Milligan, the reason is obvious: the $1.9 trillion stimulus bill that President Joe Biden signed into law in early March, which extended weekly $300 federal unemployment benefits through early September.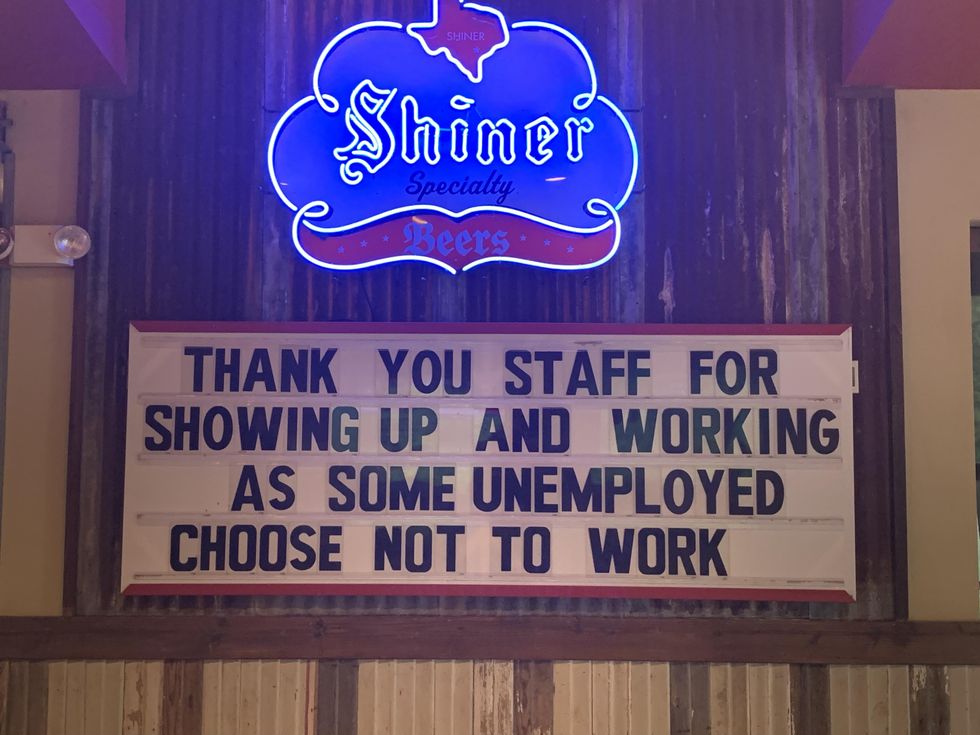 Charles Milligan, owner of Doc's Backyard Grill in Sunset Valley, posted this sign at his restaurant amid a hiring crisis. (Charles Milligan)
AnnElizabeth Konkel, an economist at Indeed, said these benefits likely play a role in restaurants' hiring crisis, but it is impossible to know how big with the data currently available. She also cited other factors. At this stage of the pandemic, hiring appears most difficult for in-person jobs, suggesting that exposure to COVID continues to be a concern among job seekers. The restaurant industry also has a high percentage of women workers, who may be unable to return to work because of ongoing childcare and school closures. "I think that also is a specific barrier to the restaurant industry," she said.

Patrick Watson, senior economic analyst for Dallas-based Mauldin Economics, suspects pandemic protocols—the enforcement they require—may also discourage job seekers. Although Texas Gov. Greg Abbott lifted the statewide mask mandate in early March, many local restaurants have maintained a masking requirement. Because people have to take off their masks to eat and drink, restaurants often require constant enforcement of the rules, putting employees in the unenviable position of dealing with customers who may be resistant or even assaultive. "Of course people don't want those jobs," he said.
Looking ahead
In an attempt to address these issues, Milligan offered a $250 referral bonus to employees. He also cited increased tips over the course of the pandemic, which have helped his servers average $20 to $25 an hour.
This type of creative benefit is increasingly common among restaurants, which may not have the money to raise wages. "In the best of times, restaurant profit margins are slim," Konkel said. But flexible shifts, signing bonuses and dining discounts may help woo job seekers while keeping costs low.
In the meantime, restaurants are in a bind. Without workers, they may have to limit their hours or capacity, exacerbating the risk of closure. If they close, there may not be jobs available for unemployed people when their benefits run out or tables available when customers feel ready to return to their pre-pandemic dining routines.

Still, Cheng is optimistic that restaurants will soon reach a hiring tipping point. "If businesses are busy and quite frankly if there's money to be made … people will make those decisions (to return to work)," she said.
Editor's note: It's small business week from May 2-8, so Austonia will highlight a small business every day this week. Check back tomorrow for the next small business profile.
Johnson's Backyard Garden has a mission: feeding the Austin community high-quality, certified organic produce that was grown right here in our backyards.
JBG started with humble beginnings—the year was 2004 when Brenton Johnson started selling the veggies he grew in his East Austin backyard at local farmers' markets. After 17 years, you can find it at 11 different markets and select stores around town, delivering fresh veggies to 10 different cities.

Today, all the produce is grown in Garfield, Texas, on 186 acres of land; the company quickly outgrew Johnson's small backyard. JBG marketing manager Ada Broussard said with the huge growth in Austin, local produce is in high demand.
"I wanted to work for a farm that was producing food in a way that was both sustainable and regenerative for the environment," Broussard said. "We are a local farm here but we're also in a huge growing town—there are almost a million people in this area so it really takes a lot of farmland to grow food for this community. JBG is able to grow a lot of food and turn the dial a little bit on our local food economy."
So why buy local produce?
Broussard said one of the biggest reasons is getting more bang for your buck. When you buy local, you buy fresher food and reduce your carbon footprint because it doesn't have to travel as far. It lasts longer, supports the local economy and keeps farmland from being developed.

Plus, Broussard said, local produce has more nutrients and tastes better.
"There are so many benefits and when you buy food locally, it gives you an opportunity to really know your farmer, which is just nice because it's easier to ensure the environmental sustainability or the quality or the employee welfare," Broussard said. "And of course, when you're eating from a local farm, you're really supporting the men and women who are the farmers at that business."
If you don't believe it, you can go check the farm out for yourself. JBG has a farm stand on Saturdays from 9 a.m.-1 p.m. where you can roam the fields, buy transplants for your own summer garden and of course, stock up on a rainbow of vegetables. Broussard said her current favorites are the variety of onions.
Even if you can't make it to JBG's myriad locations, it offers a Community Supported Agriculture program that delivers produce directly to your door.
"Having more residents in Austin and more people interested in local produce is definitely something we welcome," Broussard said. "We wish that there were more farms like us. We still need more local farms to feed the town. There are plenty of people that we're unable to feed so if there was more and more produce being grown here locally, it would help the supply to the local community."
From Your Site Articles
Related Articles Around the Web
About six weeks into the pandemic, Ryan Wuerch realized his employees were working harder and longer than they had before, leading to fatigue and irritability. "The lines all got blurred, and the computer was always on," he said. "There was never a moment where people felt like they had their break."
Wuerch is CEO of the Austin-based startup Dosh, which offers cashback on purchases and employs around 80 people. When COVID-19 forced the company out of its Bee Cave office, it also upended certain in-office benefits, such as daily lunch service. To compensate for this shift, and acknowledge the extra work employees were putting in, he and his executive team came up with new benefits.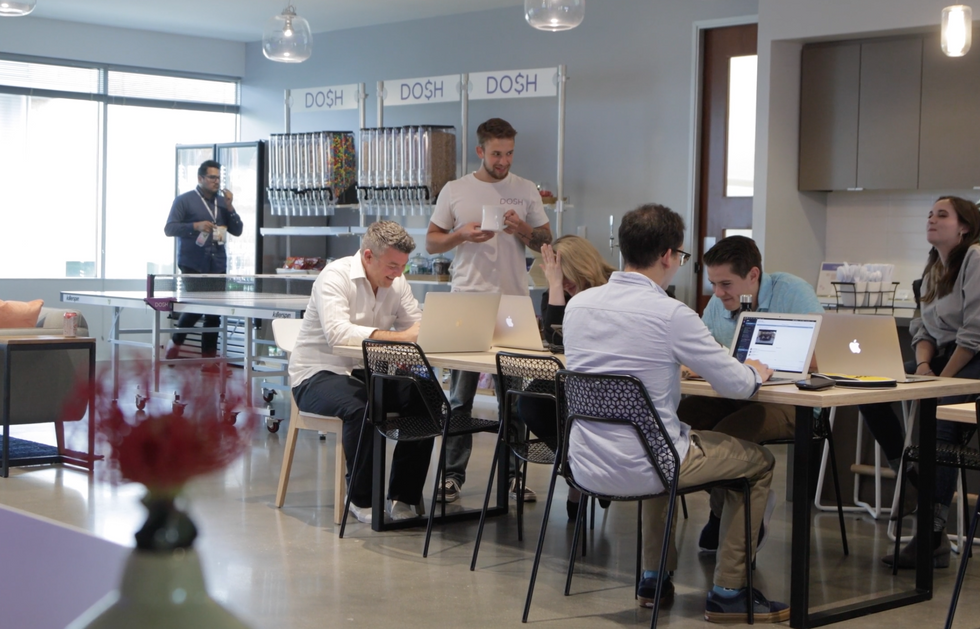 Dosh employees before the pandemic hit. (Dosh)
Wuerch announced the first Dosh Day—a surprise, company-wide Friday off—during a weekly Thursday staff meeting. For the next three days, there would be no work-related Slack messages, emails, Zoom meetings or texts. "When I announced this the very first time, the chat blew up," he said.

The company has since announced other Dosh Days and made other pandemic adaptations, which have paid off. Productivity has increased 23% over the course of the pandemic, and Wuerch sees the impact of such benefits among potential hires.
Dosh is hardly an outlier. A recent Care.com survey of 500 human resource leaders found that 98% of employers planned to expand benefits—the most frequently cited were health and dental insurance, retirement plans, health and fitness discounts, mental health support and child care subsidies—as a result of the pandemic. Local companies are coming up with creative solutions to address employee burnout and, in turn, improve retention, productivity and morale.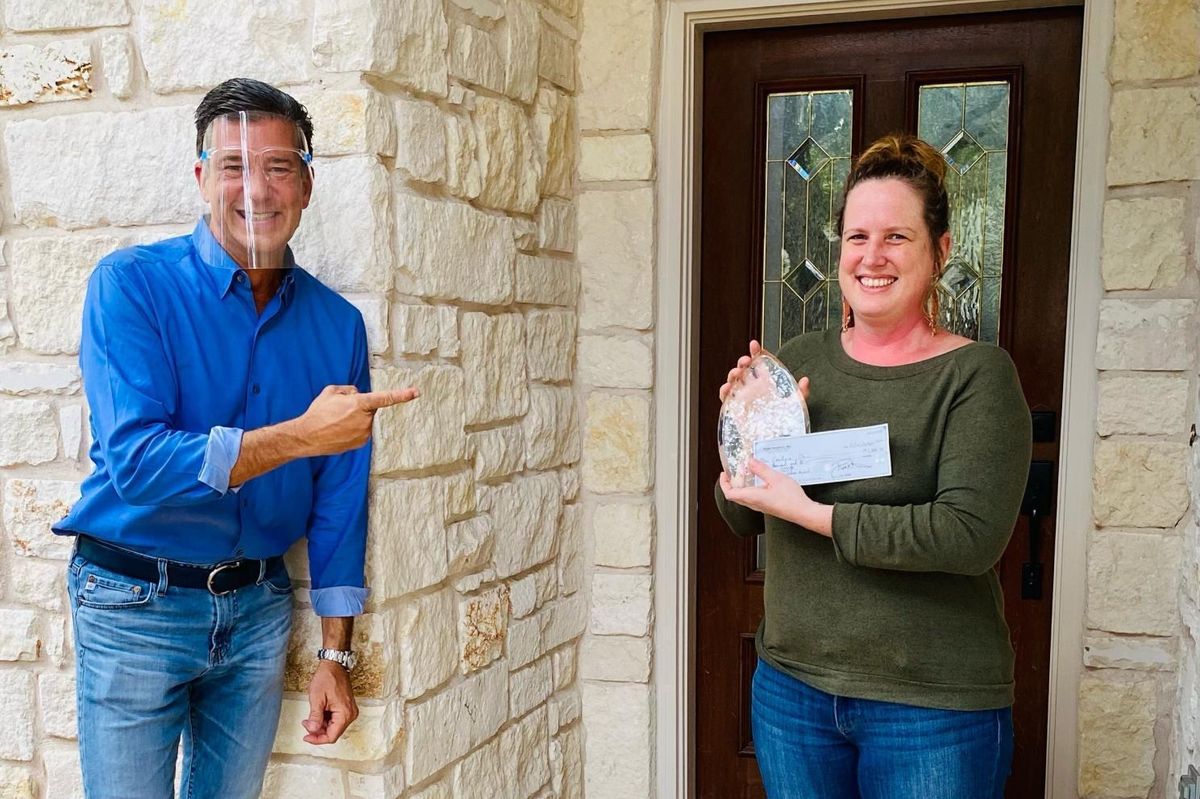 Ryan Wuerch, CEO of the Austin-based startup Dosh, delivers a company award to an employee during the pandemic. (Dosh)
A sea change

Last month, Austin-based fast-food chain P. Terry's announced that it had raised the minimum wage for full-time employees to $15 an hour, in addition to other benefits, such as a Christmas bonus, interest-free loans and birthday cakes.

Such substantive benefits are increasingly common across industries, going from "nice-to-have" perks to essential offerings, Care.com Senior Vice President of Sales Matthew O'Connor told Austonia. "We are seeing this becoming the new normal," he said.
Nearly two-thirds of respondents in the Care.com survey reported pandemic-related attrition, with 95% saying child or senior care concerns were a factor. The costs of hiring, decreased productivity and increased absenteeism caused by pandemic fatigue and burnout are rising for companies—and may outweigh the costs of improved benefits. "When people can be present at work and bring their best selves to work, everyone wins," O'Connor said.
Addressing burnout

Dr. Serena Messina, a licensed psychologist who practices in Austin, has seen increased demand for therapy among millennial clients over the course of the pandemic, many of whom cite workplace burnout as a concern. For people in their mid- to late-20s, she says it is developmentally appropriate to ask such questions as, 'Am I in the right job?' and 'What am I doing with my life?'
But the pandemic and its related stressors have exacerbated this experience for many of Messina's clients, including those who are older. "The pandemic is like a layer of depression on all of us," she said, adding that one of the symptoms of clinical depression is lack of hope for the future. "We are all, a little bit, experiencing that."
Messina cautions that this is a privileged problem; people who have lost jobs as a result of the pandemic don't have the luxury of worrying about whether they are fulfilled by their work. But she also said that burnout is a type of suffering and should be acknowledged as such. Therapy is a helpful intervention; she often helps clients develop skills such self-compassion and mindfulness to help them deal with the uncertainty of the pandemic and other life events.
Kristin Neff, an associate professor of educational psychology at the University of Texas at Austin, pioneer in the field of self-compassion research and author of the forthcoming book "Fierce Self-Compassion," said many people experiencing burnout benefit from practicing self-compassion—basically, treating oneself as one would a friend in distress, with warmth and support.
The pandemic has triggered interest in this field of research. "In general, it's been good for Amazon and it's been good for the self-compassion business," Neff said. "I've been really busy."