Get connected with our daily update
In just one month, Austin FC is back—and the "biggest party in Austin" at Q2 Stadium is opening up once more to both diehards and bandwagoners as the club gears up for its second season starting Feb. 26.
Whether you're a futbol fanatic or just curious about the city's first major league team, here's everything you need to know before beer showers and big celebrations begin again at each Austin FC match.
Austin's first major league team is ready to extend its reach with a new collaborative sports complex The Pitch, an Austin FC destination packed with local food, beverages and Verde fervor is set to open in Northeast Austin in February.
The Pitch, a collaboration between Austin FC and Karlin Real Estate, among other entities, will be located in the 50-acre Parmer Pond District, which already hosts the club's practice facility St. David's Performance Center.
Dubbed a "true destination" for both soccer fans and the community, The Pitch will consist of multilevel shipping containers designed by Mark Odom Studio that will carve out into a 1,200-seat stadium complete with a soccer pitch made of turf, food and beverage options and a five-acre "Parmer Pond" featuring jogging trails.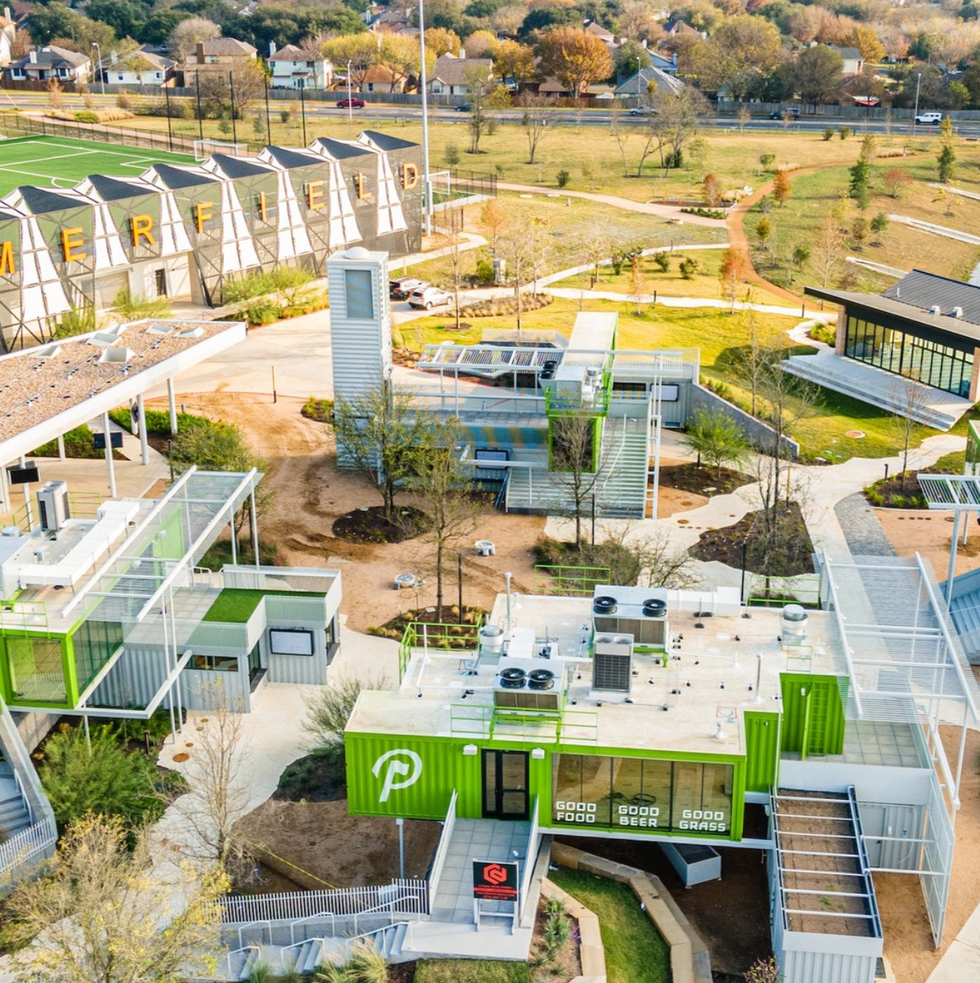 Made from multilevel shipping containers, The Pitch will include food and a 1,200-seat soccer pitch made from artificial turf. (The Pitch)
"The launch of Karlin's new food and entertainment experience will greatly enhance the Parmer development while perfectly complimenting St. David's Performance Center," Austin FC founder Anthony Precourt said. "The Pitch... will offer a strong variety of food options and gathering spaces for guests who will utilize St. David's Performance Center and Parmer Field for a variety of events."
The Pitch project lead Dave Greeley, who helped come up with the concept, is a former president of Austin FC parent company, Two Oak Ventures.
"The vision behind The Pitch at the Parmer Pond District is to be a first-of-its-kind sports, dining and entertainment destination," said Dave Greeley, The Pitch project lead and Team Orbis president. "This will be an unmatched experience for Parmer Austin tenants, Austin FC and club supporters, and the community."
With its proximity to the practice center, the venture hopes to contribute to the growing "soccer city" of Austin during Austin FC matches and youth games with the Austin FC Academy hosted at the St. David's Performance Center.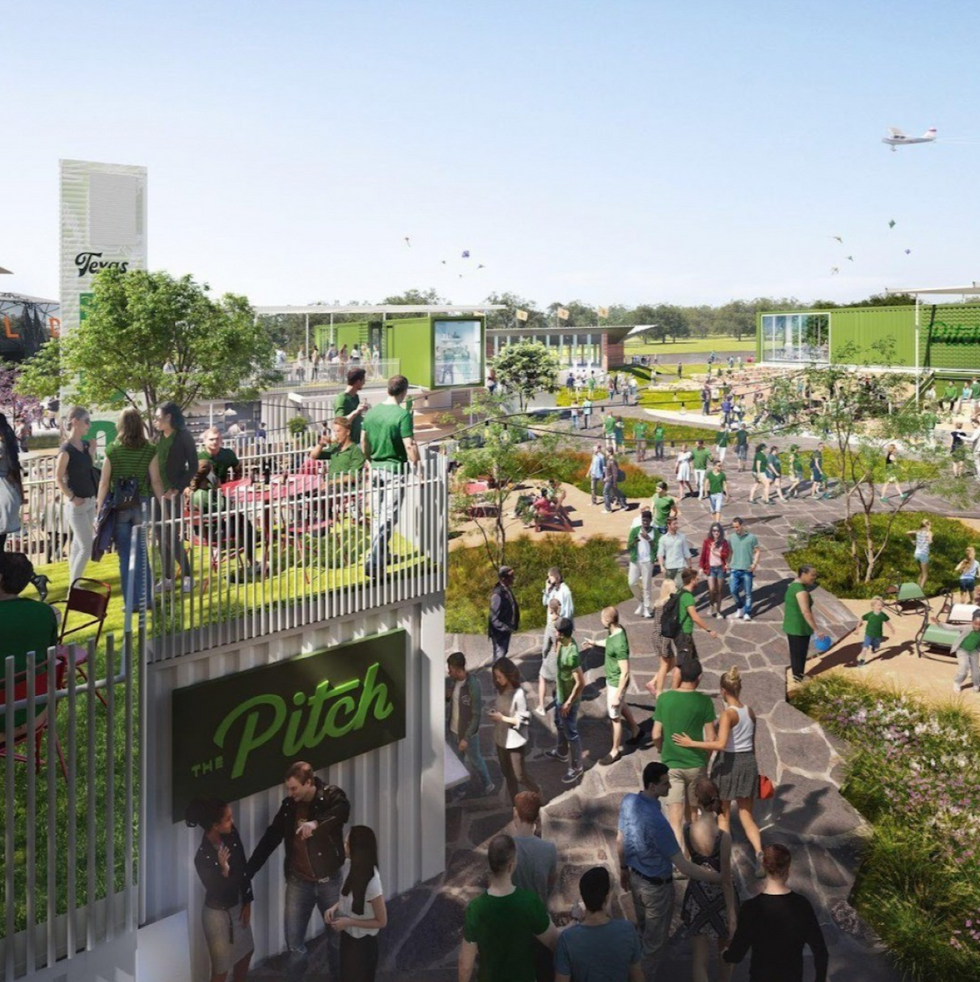 The Pitch hopes to converge both community and club interests with Austin FC. (The Pitch)
In addition to the soccer pitch, stadium and pond, The Pitch will provide a foody experience made by the creative team behind Austin staples like Fareground and Easy Tiger. The complex will offer local bites including:
Ranger Burger, which offers beers and burgers made from highly-coveted Wagyu beef direct from Ranger Cattle in East Austin
Ga Roti, which merges flavors from Northern Vietnam with the culinary techniques of France to create a unique rotisserie chicken joint
Taco Flats, a local taco chain serving Mexico City-style tacos, micheladas and more
Sand Bar, which fulfills its namesake with beauty cocktails, local beers and a sand volleyball court
Coffee Club, a coffee shop and bakery
Corner Kick Bar, the soccer-focused main bar of The Pitch complete with "tunes, TVs and (a) beer garden"
The Pitch will squeeze between St. David's Performance Center and Parmer Pond alongside the southern edge of Parmer Austin, a Karlin Real Estate venture that will eventually include multifamily housing, corporate office space and an aerospace and defense center.
The taco-slinging sisters of Veracruz All Natural and the woman behind Dee Dee Thai are joining forces for a fresh new take on eating local.
The three women, Dee Dee Thai owner Lakana Trubiana alongside Maritza and Reyna Vazquez of Veracruz, are planning on opening a five-acre botanical garden and cafe in southwestern Austin. According to a report from Austin 360, the cafe would be located at 6405 Brodie Lane.
Trubiana and the Vazquez sisters say the project will bring a meadow-like green space into the urban sphere, serving Thai and Mexican food made in part by food grown on the property. A native of Thailand, Trubiana said opening the garden restaurant would be a lifelong dream come true.
Dee Dee Thai, Veracruz All Natural and a to-be-determined third tenant will prepare food out of small cabins with three picnic areas on the property for customers to dine. There will also be room for another building, serving as a café and bar.
As of right now, the project needs a zoning change to become a reality. The plot of land the women are eyeing comes from the estate of the late Betty Grubbs, who purchased it with her husband back in 1952. A longtime supporter of women's athletics at the University of Texas, a portion of the proceeds from the sale must be donated to the women's athletics department, according to Grubbs' will.
In response, Trubiana and the Vazquez sisters said they will hold an annual fundraiser for the Betty Grubbs Endowed Scholarship Program at UT and work to support women-owned businesses.
Gary McIntosh, the estate's independent executor and longtime friend of the Grubbs family, said he will recommend that the zoning commission approve the venture, which would likely provide a record-breaking donation, and that Grubbs would have supported it as well.
In order to move forward, the women are asking that the city of Sunset Valley change the zoning on the property from single-family residential to neighborhood commercial. The planning commission will hold a hearing to hear the proposal on Jan. 26.
If approved, the space will be one of very few retail commercial spaces in Sunset Valley.