Get connected with our daily update
"Where else would you want to live where it's 93 degrees out, gloomy and smells like queso?" Trevor Wallace said.
TheCalifornian comedian poked fun at new Austin move-ins with $2,000/month dumpsters, plenty of Austiny quirks and an ode to Texas weather in a viral TikTok last week.
Over 1.8 million viewers have seen the video since it was posted on May 5. The post, which channels the woes of some Austinites—and the onslaught of "cool kids" that move in from his home state every day—has more than 275,000 likes as of Tuesday.
Austin's skyrocketing rents were on full display in the video as Wallace approached a dumpster that he claims goes for just $2,000 a month on Zillow ("and it's got a sunroof").
The comedian, who has gained 7.6 million TikTok followers for his often-douchey, clueless characters, also took aim at Austin's culture with these quick-witted quips:
"When we move here, what color do you think you're going to dye your hair?"
"Did you know if you say brisket three times fast, you'll actually shit your pants!"
"I'm actually growing out my mullet right now."
"What's my love language? Girls in a pink cowboy hat."
Wallace also commended the southern city's summertime weather. "Today's weather forecast—a Rainforest Cafe that caught on fire, which is pretty good for us," Wallace said in the skit.
Austin landmarks, including the Texas Capitol and Sixth Street, were on full display as Wallace satirized both Austin's queso-obsessed food scene and recent move-ins in one clever stroke.
"You don't know what queso is? (Laughs in clogged arteries) must be from Fort Worth," Wallace said. "That's in Texas, right?"
Wallace also took a jab at Austin's live-in comedian Joe Rogan, its public transportation and the tendency to see a few too many guns for a Californian's comfort in downtown Austin.
"New York has subways, LA's got Ubers, Austin's got scooters... and shooters," Wallace said. "Welcome to Sixth Street!"
In true Austinite fashion, many residents joined in on the lighthearted jokes against their city in the comments, while others took on the age-old duty of asking no more move-ins to make their way to Austin.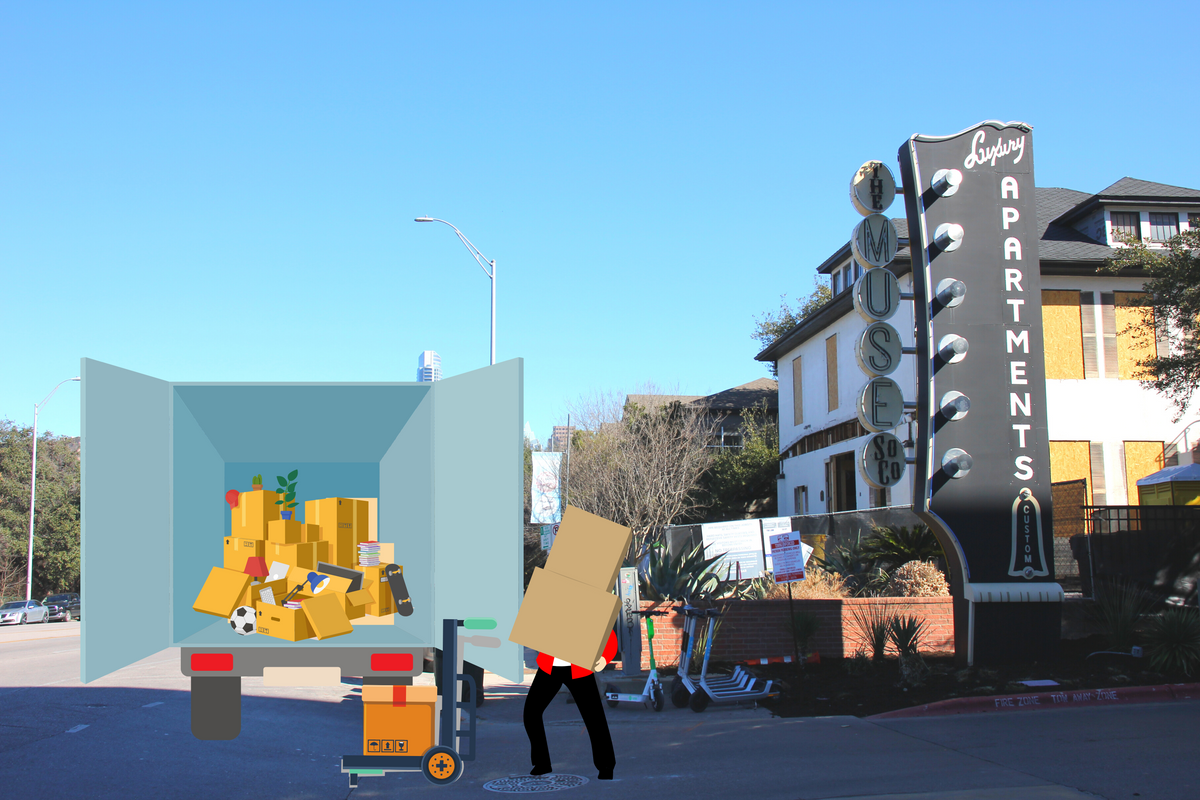 Is an Austin exodus already upon us?
As the cumbersome weight of the pandemic set in on the country, the city of Austin seemed to become a beacon of opportunity for remote workers and city dwellers across the United States. From 2010-2020—a decade that saw Tesla CEO Elon Musk, countless Californians and dozens of tech startups move en masse into the swelling city—the metro's population grew by nearly a third and cemented itself as the fastest-growing large metro in the nation.
But as quickly as some piled in, it seems others are beginning to trickle out. Leases are coming to an end for many, and some longtime Austinites are considering leaving their homes for the first time in years as apartment complexes respond to rising demand with record-high rent prices and renewal rates.
Average monthly asking rent prices leaped more than every U.S. city but Portland from January 2021-2022, according to Redfin. The 35% increase represented a national trend—10 of the U.S. cities studied saw rent prices increase by over 30%, while just two cities saw a year-over-year decrease.
When Katera Berent moved into her first South Congress apartment, she was living comfortably for $1,600 a month. But that turned out to be the best it would get before she made the move to Denver.
"By the time I left, I had to live in a place that was literally falling apart and also wildly unsafe for near the same amount after utilities and fees," Berent said. "Rent (in Denver) is crazy too but not nearly as bad as Austin."
She's not alone—on sites like Nextdoor, community groups have been made specifically to discuss the looming fear of rent renewal prices and affordable housing in the metro.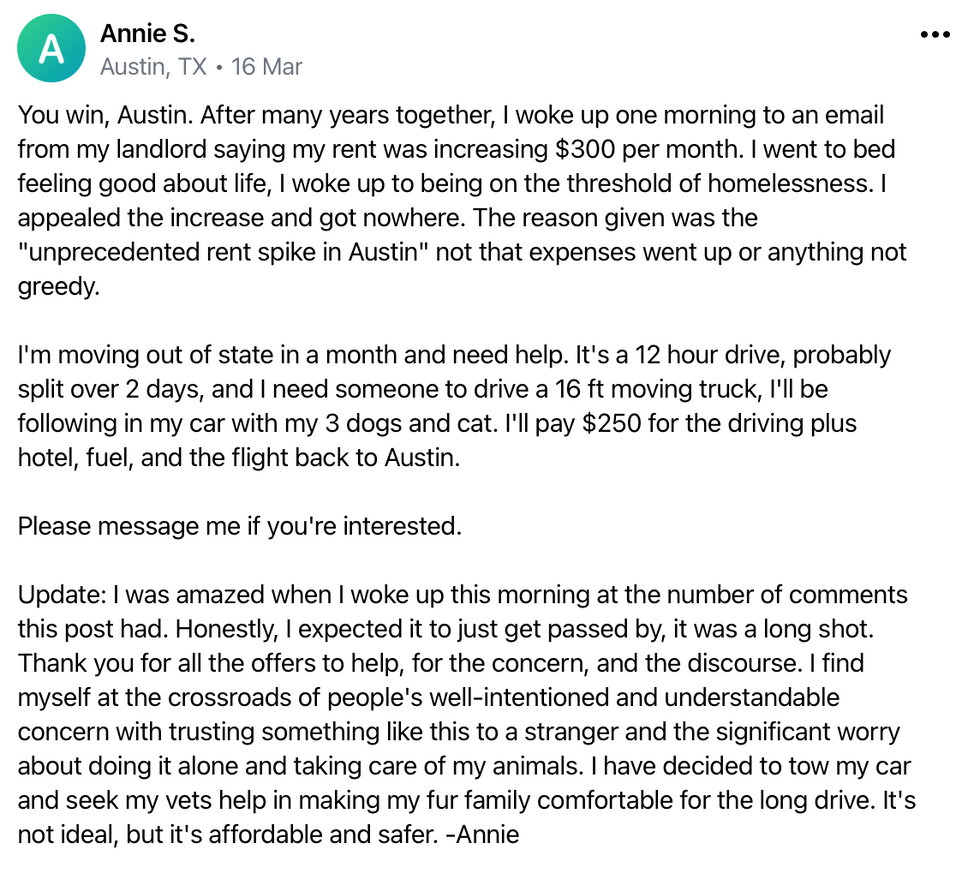 (Rental Community of Austin/Nextdoor)

(Rental Community of Austin/Nextdoor)
It's posing a problem for recent move-ins and longtime Austinites alike. Sherry Ricker, who has lived at one of the AMLI apartment complexes in Austin for 10 years, is one of many who were shocked to see that they can no longer afford the places they've called home for decades.
"My fellow renters and I are being pushed out," Ricker told Austonia. "We've received rent increase notices ranging from $400-$800 per month. My increase is a 20% increase over (the) prior year... I don't understand how they expect people on fixed incomes to absorb increases like that."
And the hot topic of affordability (or lack thereof) has bled into the housing market as well, with median home prices in the metro reaching a record high of nearly $500,000 in February.
Lori Mellinger, who has rented an Austin duplex since October 2020, felt the effects of the booming housing market firsthand when she went home one day and saw a For Sale sign planted in her yard.
With a move-out deadline set for May 31 (the duplex has already been sold), the odds are stacked against her: as a formerly incarcerated person, she's subject to discrimination based on her criminal record on top of mounting rent.
"A criminal record is a huge barrier for a lot of us in a town that says it's all about second chances," Mellinger said. "There are a lot of advocacy jobs for the formerly incarcerated (in Austin) if we know how to maneuver that, which brings us to Austin, the most difficult housing market in the state... what they have for employers, they certainly don't have for renters."
Mellinger doesn't know what she'll do if she can't find a place in time, but she knows she may one day have to leave the metro if prices continue to climb.
Even with record-breaking rent, Austin is still seen as a cheaper haven for tech workers, Californians and others from even more expensive metros.
But Austin's quick growth has already given hints to a more level future. In 2021, arriving U-Hauls made up just 50.4% of one-way rides in Austin, meaning just about the same number of people that trickle in to the Texas capitol are beginning to head out.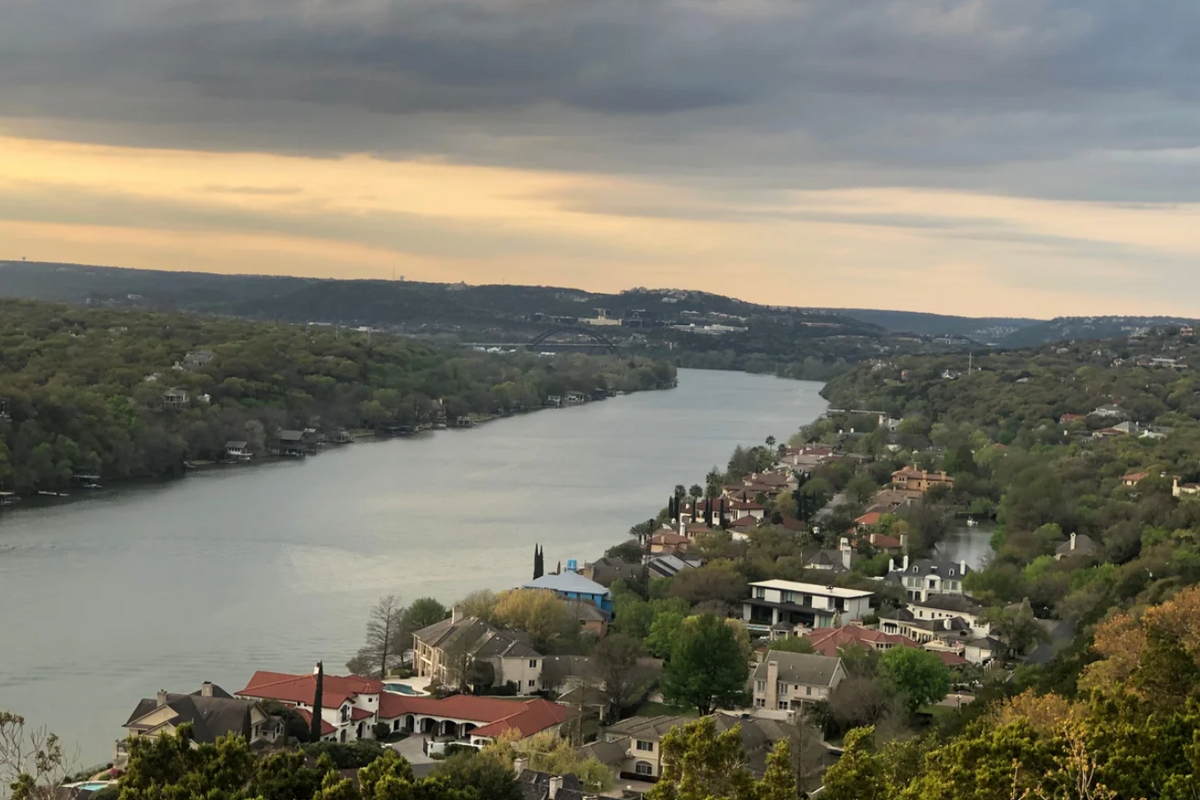 Over 12% of homes in Austin are now worth at least $1 million, more than any other Texas city, according to a Redfin report.
That's 8.4 percentage points higher than pre-pandemic levels, when just 3.9% of homes had reached that valuation. And it reflects a nationwide trend—a record 8.2% of U.S. homes are now worth at least $1 million, nearly double the rate in February 2020.
Seven of the top 10 metros with shares of $1M homes are in California. In San Francisco, which tops the list, you'd be hard-pressed to find a home worth less, with nearly 90% of housing valued at or above that margin. Californian cities like Anaheim saw their share of million-dollar homes leap by double-digits (28%), perhaps reflecting the well-reported migration of California residents to more affordable locales, including Austin.
Austin saw the second-highest increase in non-Californian cities in that time frame and sits well above Dallas (4.4%), Houston (2.7%), Fort Worth (2.4%) and San Antonio (1.5%) for total share of $1 million homes.
Texans looking for greener (or cheaper) pastures may find that in McAllen or El Paso: both Lone Star cities sit near the bottom of the list with just 0.2% and 0.1% of their homes valued at or above the $1 million mark.