Austonia AM
100% Austin news, info, and entertainment, straight to your inbox at 6 a.m. every morning.
In five minutes, you're fully informed and ready to start another great day in our city.
Get connected with our daily update
Austin is one of the 25 least affordable U.S. cities for minimum wage workers—even if the minimum wage was bumped up to $15/hour, according to a study by movebuddha.com.
Living in Austin costs more than the $2,400/month income of full-time $15/hour employees and that's without adding to a savings account. Alongside Plano, the 13th least affordable city studied, Austin is also one of the only cities on the most expensive end to not have a local minimum wage higher than $7.25/hour.
The study analyzed 99 cities, all with a population of more than 250,000, and factored in average costs toward rent, utilities, income taxes, transportation and food. The study does not take car expenses, phone bills, loans, insurance or property taxes into account.
With rent skyrocketing to record median price levels month-after-month and a booming housing market, it's no surprise that Austin is around a thousand dollars more expensive a month than the cheapest U.S. city on the list—Albuquerque, New Mexico. In Laredo, Texas' least expensive city studied, residents can pocket as much as $774 after paying for living costs.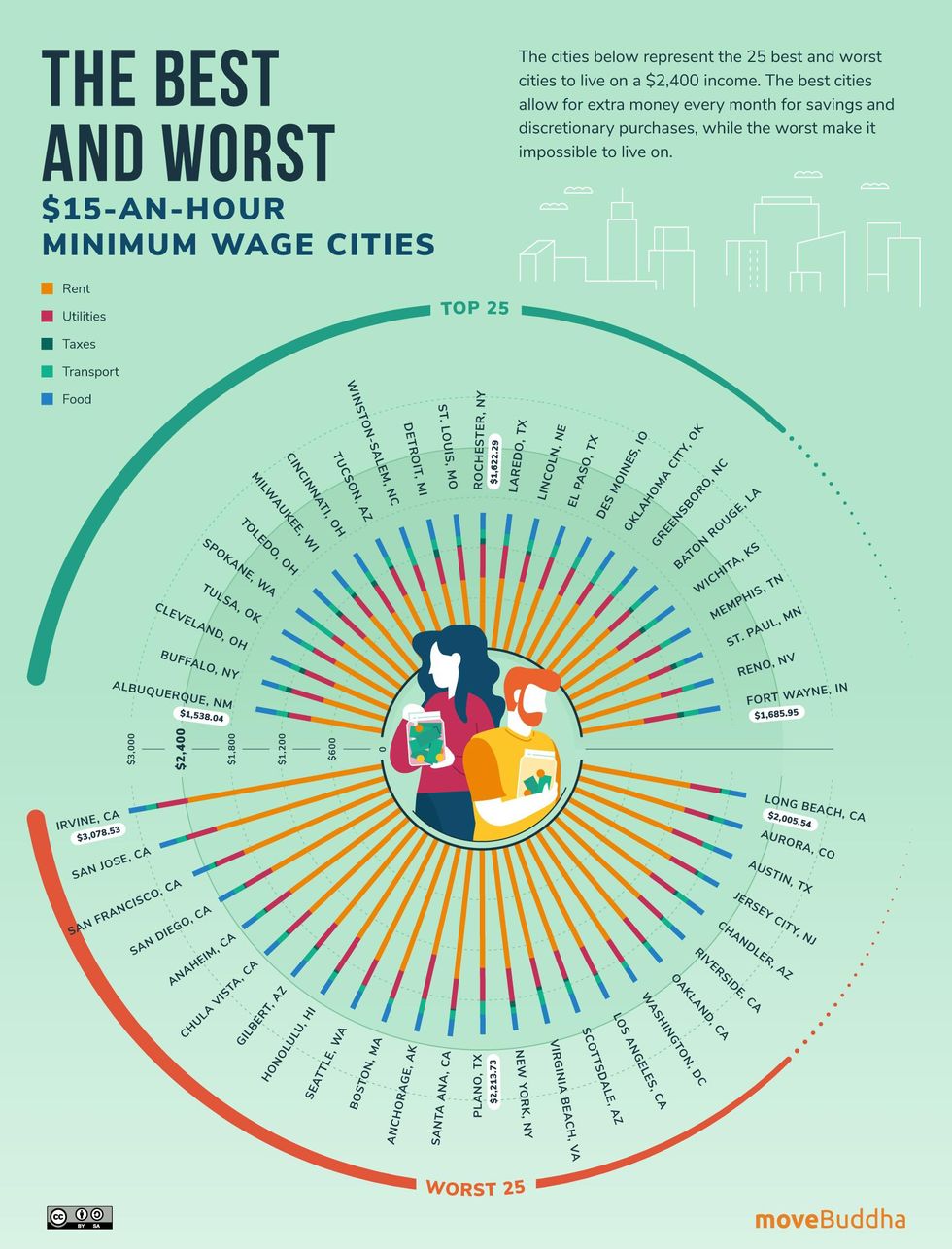 Move Buddha ranked the 25 most and least affordable cities for $15/hour wage workers, with Austin at No. 22 on the list. (moveBuddha.com)
With the average rent in Austin at a record $1,442 a month (60% of a $15/hour workers' income), Austin joins the growing ranks of U.S. cities that can no longer follow the "minimum wage should be a living wage" mantra championed by worker's rights groups.
Austin's rapid-fire growth is still far from the six most expensive cities, all of which are in California. All but $39 of a minimum wage worker's salary in Irvine, which tops the list, would have to go toward rent. Unsurprisingly, San Jose, San Francisco, San Diego, Anaheim and Chula Vista follow suit.

But many cities and states on the list have already instituted wages near what the fight for $15 movement has been working toward for years. In California, which constitutes 11 of the 25 most expensive cities studied, the state minimum wage sits at $14/hour, and San Francisco's minimum wage is elevated to $16.32/hour. Seattle and New York have similar heightened wage rates.
Just as a federal minimum wage of $15/hour slowly edges closer to reality, it becomes more evident that living on that wage alone isn't feasible in many U.S. cities. According to a Harvard University study, a quarter of U.S. renters now spend 50% or more of their salary on rent. That's well above the recommended budget, which puts rent at a third of monthly costs.

The San Francisco Chronicle is the latest publication to tackle the California migration, and it credits Californians moving to Texas for Austin's housing boom.
Thousands of newcomers from the Golden State are taking comfort in the Hill Country's rolling hills, budding wine scene and warm weather, the Chronicle writes, while also taking advantage of higher affordability and a better quality of life.
Douglas Yearley, CEO of luxury Central Texas homebuilder Toll Brothers, said that much of that jump is due to Californians, the Chronicle reported. "The pricing power of Austin, which is number one in the country, is driven by California, plain and simple," Yearley said.
It's not all sunny skies
Home prices are being driven up swiftly in Central Texas as newcomers pile in. The Austin metro brings in over 180 people a day, more than anywhere else in the country.
The latest report from the Austin Board of Realtors revealed the median home price reached an all-time high of $566,500 in May, jumping nearly 35% year-over-year.
Meanwhile, California lost residents for the first time in its history last year, with San Francisco losing around 1.3% of its population. Austin is projected to soon become America's 10th largest city, a seemingly symbolic shift as it bumps down current No. 10 San Jose.
It seems the days of the Gold Rush are long gone. Real estate broker Ray Shapley, who helped Californians Josh and Jessi Rubbicco find a home in Austin, told the Chronicle that migration patterns are undergoing a massive overhaul across the country.
"I think the last few decades kind of belong to California. I think the next few decades might belong to Central Texas," Shapley said. "As someone who was born here and loves Central Texas the way it is, I don't know that I necessarily love that."
Shapley's fears are echoed by many Austinites who aren't sure the city is ready to tackle such a large housing boom.
Looking in the mirror
The article admitted that some of Austin's problems reflect that of California. Homelessness has been at the forefront of local politics for years, and the affordability crisis is only increasing in severity as supply-and-demand runs its course in the city.

The difference between Austin and its Golden State counterparts, however, is that the Texas capital's issues may still be solvable. By contrast, the Chronicle reported that many of the Bay Area's crises are deeply entrenched.
While the median home price has grown in the Austin metro, it's nearly triple that ($1.3 million) in the nine-county Bay Area. There isn't enough housing in Austin, but the Bay Area's homelessness crisis could take a whopping $11.3 billion to resolve.
Even property taxes, which are higher in Texas and ever-changing, are worth the better quality of life and sense of community, Josh Rubbicco told the Chronicle. "I feel like we have more friends here now than we've ever had in California," Rubbicco said. "People were so welcoming and friendly."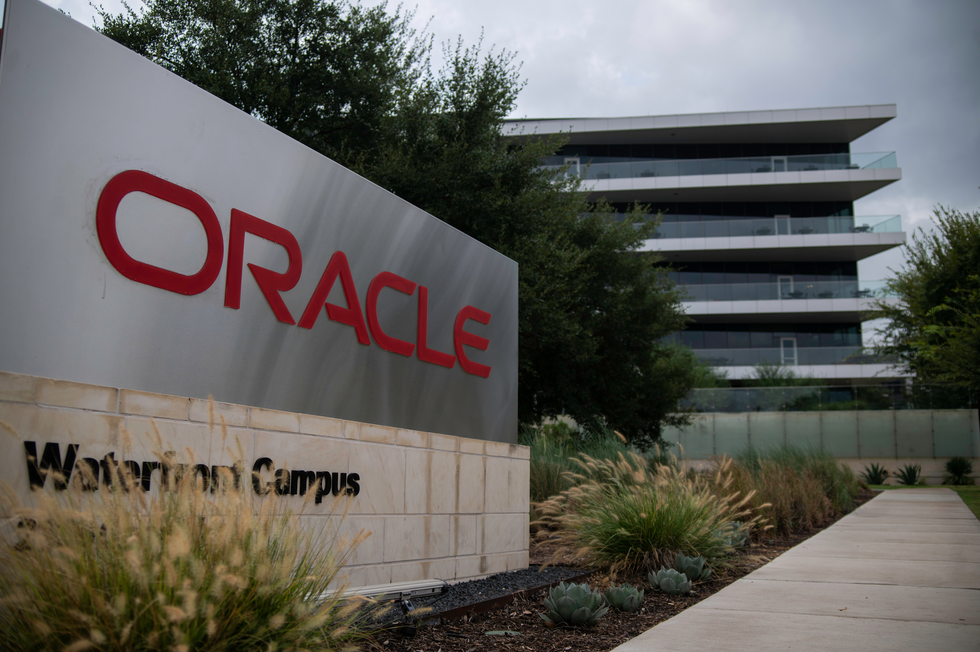 Oracle's Waterfront Campus on East Riverside recently became the new headquarters for the tech giant. (Shutterstock)
Austin is also the trendy new HQ for companies—a record 22,114 jobs were introduced from companies moving or expanding in the metro last year, according to the Austin Chamber of Commerce—but issues or not, the Bay Area's role in tech isn't going anywhere, University of Texas associate professor Jake Weggman, who studies housing, told the Chronicle.
"I don't think any of that's going away in the Bay Area. But I do think that the Bay Area is headed for a future where it's a little bit less dynamic... more slow-growing," Weggmann said. "Austin is going to be more fast-growing and dynamic and fast-changing."
Austinites will soon be able to train like some of Hollywood's biggest stars as F45, a fitness franchise backed by major celebs, like Mark Wahlberg and David Beckham, is on its way to Austin.
F45 listed Austin as the location of its corporate headquarters in a June 21 federal filing—a big shift for the California company. The fitness franchise is preparing for its initial public offering, which will be as an Austin-based company.
F45 will be one of many California companies—Tesla, Oracle and Samsung—that have recently expanded in the Capital City. The company has several famous investors on its side—famed basketball player Earvin "Magic" Johnson and golfer Greg Norman in addition to Wahlberg and Beckham.
The fitness company is opening a 44,000-square-foot headquarters, located at Penn Field on 801 Barton Springs Road, with a lease running through 2029. F45 was one of the early adopters of Austin-based real estate-technology platform AnthemIQ, helping tenants find commercial real estate.
F45 focuses on one-on-one 45-minute workouts, which patrons watch on in-studio displays. With 2,247 franchise agreements spanning across 63 countries, F45 also has offices in Australia and England.
"We believe this flexibility will enable us to capitalize on our estimated long-term global opportunity of over 23,000 studios," the company said in its filing.
The greater Austin area already has 11 F45 locations, which take up 1,600 square feet of space each.
From Your Site Articles
Related Articles Around the Web
As Hollywood film production studios follow big tech companies to Austin, three Hollywood actresses decided to move their families from Tinseltown to the Texas capital at the height of the pandemic.
As auditions and red carpet events were canceled or moved online, stars Becca Tobin, Haylie Duff and Jaymie-Lynn Sigler looked up and realized they had no need to be in the city they had moved to decades ago.
Tobin's claim to fame is her role as Kitty Wilde on Glee, while Haylie Duff, sister to Hillary Duff, has been in the industry since she was a teenager and played as Summer Wheatley in Napoleon Dynamite. Sigler is best known as Meadow Soprano in the television series the Sopranos. All of them have lived in Hollywood since they were in their 20s.
The three, who had banded together to form a "quaranteam" among their families, were looking for a city that provided a breath of fresh air and better quality of life for their families.
The crew looked at Atlanta and Nashville but found the best of both worlds in Austin, leaving California alongside over 180,000 others from their home state. They were looking for a change in pace, a focus on life, and more bang-for-your-buck pricing, and they found it in their new neighborhood about 25 minutes northwest of downtown. "I just feel like we're taking a big, deep breath since we got here," Sigler told the New York Times
With "Don't California My Texas" a popular slogan among disgruntled Austinites, Tobin said it's no surprise that some neighbors haven't approved of her move to the city. Still, there's a reason that Austin continues to expand while California suffered a population loss for the first time in its history last year. The city continues to be a lucrative option that gives a better quality of life for lower prices than many places around the country.
To help assimilate and contribute to her community, Tobin told the New York Times she's been active in local elections and helped donate to causes involving homelessness and abortion.
"I get it, they don't want us to L.A. their Austin," Tobin said. "My husband and I personally are going to really try to do our best to help out in the community and get involved where we can."