Get connected with our daily update
Austin tech workers' salaries average near those in California despite vastly different costs of living, according to a new report by Hired.
The report sought to interpret data on tech employees across the United States and United Kingdom, analyzing tech salaries, hiring processes and remote workers' data amid the Great Resignation. According to the report, Austin's average tech worker salary is $144,000—the same as San Diego and just $21,000 behind historic tech hub San Francisco, which topped the list.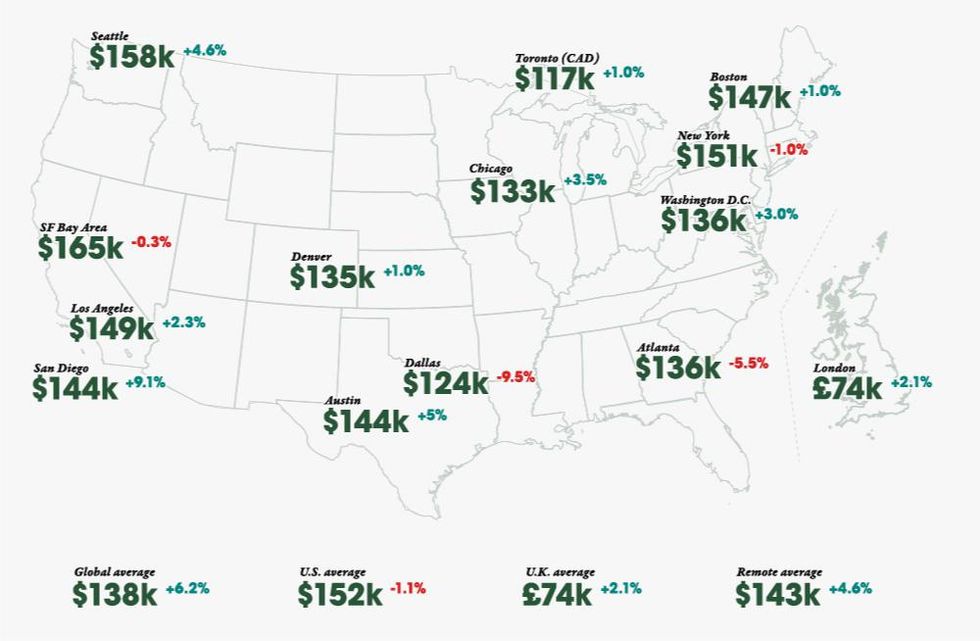 Austin's average tech worker salary is the same as San Diego and near other Californian cities despite vastly different costs of living. (Hired)
Austin's tech salaries shot up 5% when compared to 2020, while traditional markets including the Bay Area and New York decreased slightly. At the same time, Austin homes are 60% less expensive and almost 550 square feet larger than average homes in the Bay Area's Santa Clara County, according to a Storage Cafe study.
And so with the Great Resignation—a time in which people quit their jobs for new opportunities when faced with the reality of the pandemic—came a Great Migration. Workers could complete work remotely from anywhere—saving money outside the Bay Area.
Adding fuel to the fire is increasing remote work salaries—average pay for remote workers soared to $144,000 in 2021, while average tech salaries in Tier 3 markets (including Austin) rose to $135,000. Tier one markets, including London, New York and the Bay Area, came in last with an average of $133,000.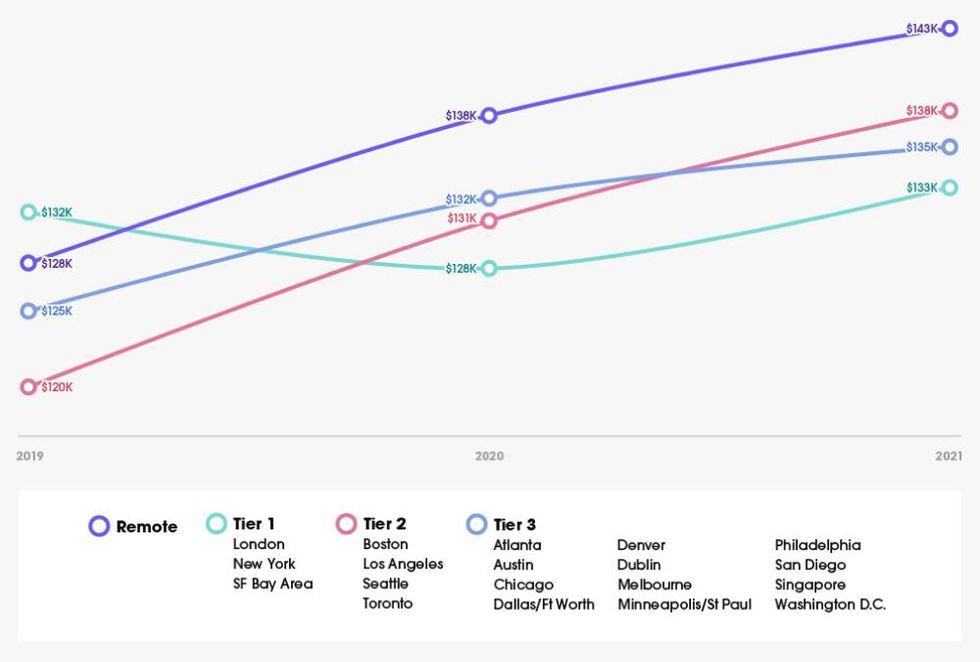 Average remote workers' salaries topped average tech companies in all three markets in 2021. (Hired)
Burned-out tech workers are increasingly placing importance on a work-life balance when getting a job, and a good work schedule was by far the most compelling company benefit aside from compensation in the Hired study.
One-third of workers surveyed said they aren't willing to give that up. Over 50% of those surveyed said they would prefer remote work with optional office time, while 14% opted for a hybrid model. Just 1% said they would prefer moving back in office full-time
With the ability to live anywhere, many are opting out of the nation's pricier locales for a more laid-back lifestyle. When adjusting for cost of living, remote workers making $165,000 in San Francisco could make an equivalent of $234,000 in Austin, an offer many wouldn't trade up.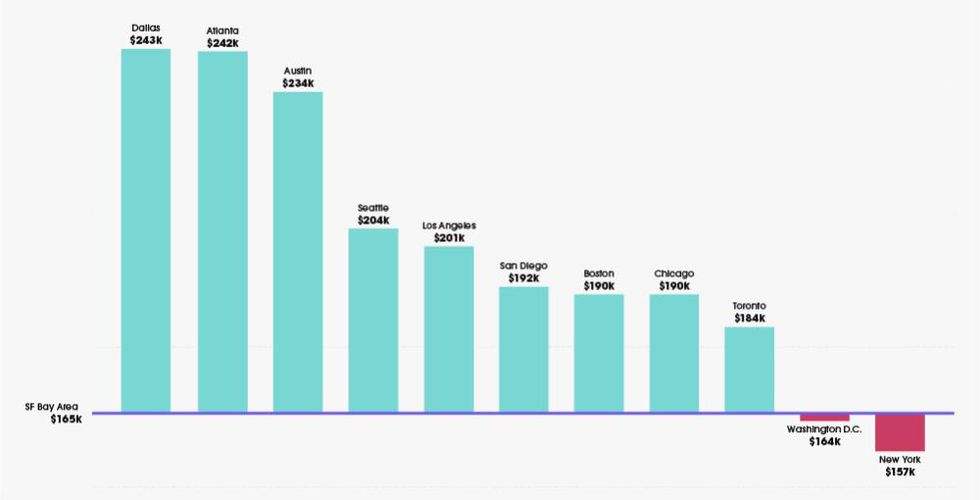 When balanced by cost of living, Austin workers making $234k make the equivalent of $165k in the Bay Area. (Hired)
But that shift has begun a ripple effect for cities including Austin—a Zillow report found that the Texas capital could become the most expensive city outside of California by the end of 2021.
Austin will need to quickly adapt to its influx of tech talent and other out-of-towners while continuing to promote the lifestyle that brought newcomers in the first place. But for now, the Texas capital is quickly drawing in top talent as it reaches "boomtown" tech hub status.
Just days after rumors swirled about the tech company's relocation, Tesla CEO Elon Musk announced Thursday that the company would follow its billionaire leader and move its headquarters to Austin.
Musk, who has had a long history of run-ins and complaints about the company's former home state of California, said in Tesla's third quarterly meeting that the company would switch HQ's from Palo Alto to Austin. The annual shareholders meeting was held at Austin's Giga Texas plant rather than its usual Bay Area location, leading some to believe that the move was imminent.
According to Musk, the company will still continue to ramp up operations by as much as 50% in its Fremont, California location—but Texas allows the company more space to grow.
"You go to our Fremont factory, it is jammed," Musk said. "We're like spam in a can."
Musk has previously called new tech hub Austin a "Little California" and joins Oracle, Hewlett-Packard and dozens of smaller tech startups in making the shift to the "Silicon Hills."
Musk moved to Austin in December 2020 and has flip-flopped between Austin and his 375-square-foot primary residence in South Texas as he monitors the production of Tesla's Giga Texas factory and SpaceX's rocket prototypes.
Austin's Giga Texas plant will begin producing Cybertruck models at the end of 2022 and will begin "volume production" by 2023, Musk said in the meeting. Musk said supply chain shortages are the culprit for the Cybertruck's multiple delays.
Austin cooler brand YETI rolled out another cheeky Austin-centric billbboard downtown, hinting at the billionaire space race and Texas' Elon Musk in a nature-focused ad.
"See Space. Save Billions," the billboard reads in front of a picturesque starry night scene. The ad is a reminder to embrace the outdoors, Yeti Vice President of Marketing Paulie Dery told Business Insider.
"With SpaceX and Tesla and everyone trying to get to Mars out of Texas it seems, we love the outdoors, and there's a lot of space out there," Dery said. "There's a big chunk of the world on this planet, and we think it's pretty special and it doesn't cost you billions."
The tongue-in-cheek ad comes after SpaceX CEO Elon Musk relocated to Austin and planted his space exploration company in South Texas, where he's planning to launch the biggest rocket ever in the near future. The 69-meter high "superheavy" Starship rocket is planned to one day take humans to Mars, but for now, the company is preparing for a $62 million Falcon 9 rocket launch that will send civilians into space for three days.
This is the second time in just a few months a local company has taken a jab at Elon Musk. Tequila 512 put up a billboard earlier this summer that read, "Elon, Welcome to Austin! We ❤️ you. But please leave the tequila to us! ;) -Tequila 512."
And it was only about time YETI got in on the fun—the brand has a history of being cheeky. It's thrown shade at fellow Austin business Westlake Dermatology before by dressing its signature bear in a bikini and playing into the California migration on their South Congress billboard.
What Austin influencer will they poke at next?
Houston? Dallas? San Antonio? No, it has to be Austin.
We know Californians love Texas, but a recent string of posts on neighborhood platform Nextdoor in Santa Barbara, California, displays what the craze to move to Austin looks like.
When one user posted, "Hi neighbors, I want to buy a house in Houston, Texas any recommendations?" the responses flooded in displaying what the admiration for Austin looks like from the West Coast. Users mostly advised against a move to Houston; one person even wrote, "Austin is the ONLY place to consider!!"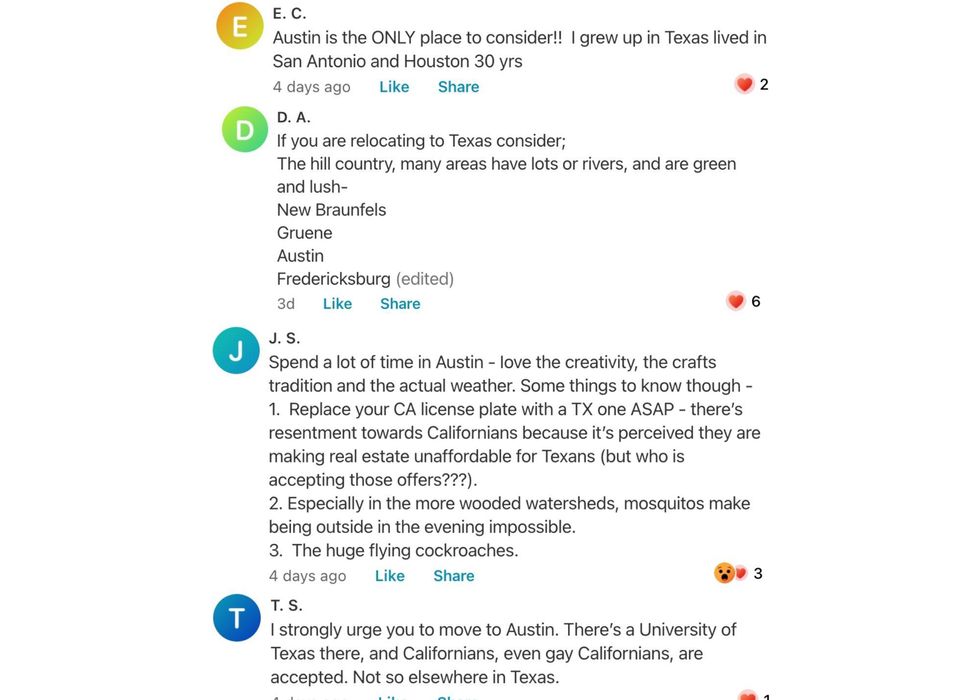 While some defended H-town, saying, "Awesome place to live," one person wrote, "WORST PLACE TO LIVE." Reasons to not move to Houston from Californians' perspective included:
"Foul air from refineries"
"horrible flooding due to the flat Gulf coastal shelf"
"crazy zoning"
"racial prejudice"
"super high humidity"
"very conservative"
The comments were shifted to Austin's lush greenery, weather and acceptance of gay people.
Over the last five years, Austin has seen more migrants from California than any other state, according to an Austin Chamber of Commerce report. The Austin appeal from residents living in more congested places like California became more prevalent during the pandemic when stay-at-home orders were issued and people sought more space.
It wasn't just Austin though; lots of other Sunbelt cities saw an influx in their housing market as a result of people working from home and looking for a lower cost of living. And that included Texas in general, with people flooding to various Texas cities.
But it hasn't come with resistance. The "Don't California my Texas" pleas are still alive and well, as Californians are blamed for raising the cost of living by outpricing current residents. The housing market has reached record numbers in the median home price year-over-year since the beginning of the pandemic. Austin was even predicted to be the most expensive city outside of California by the end of the year.
Still, Californians and even New Yorkers can't stay away. Companies and celebrities have followed, leading Texas transplant Elon Musk to label Austin's future as "the biggest boomtown that America has seen in half a century."