Get connected with our daily update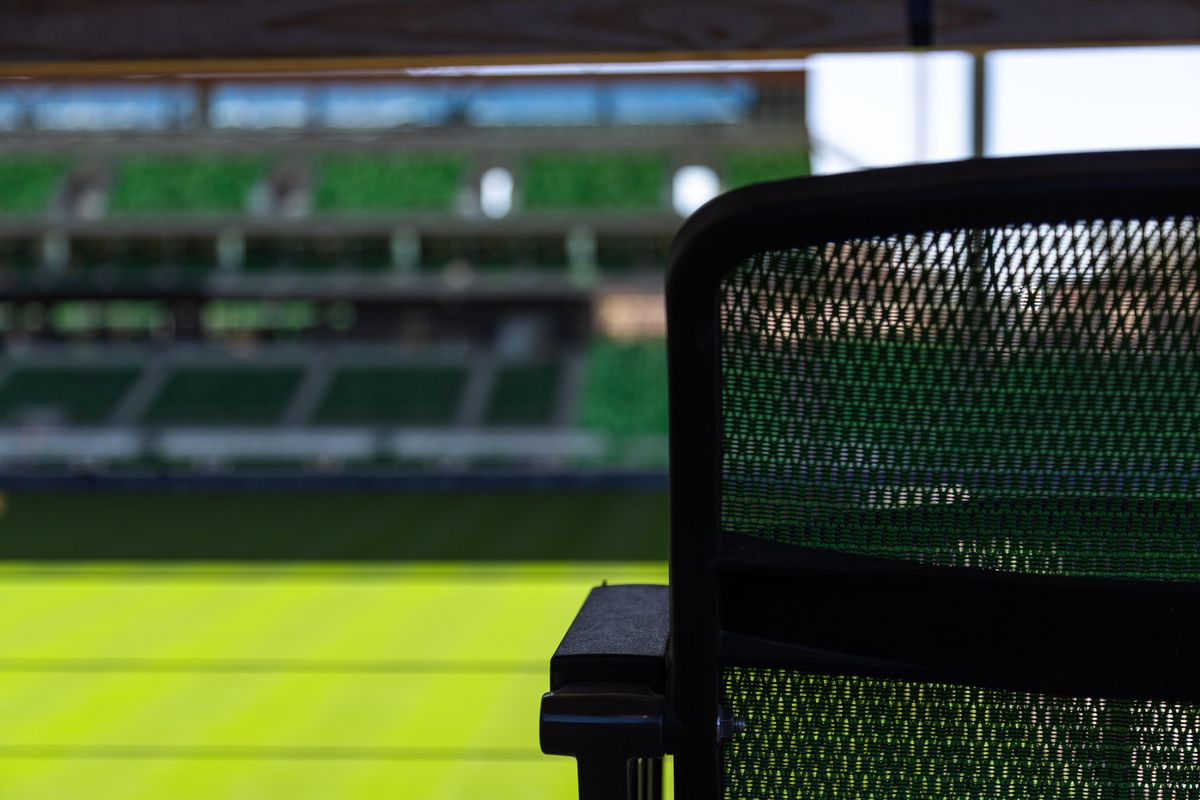 (Ghrista McWhirter)
After months of writing about Austin FC's $260 million Q2 Stadium, Austonia finally got a sneak peek of what the facility will look like in time for the June 19 home opener.
Austin FC writer Claire Partain, senior producer Sonia Garcia and photo journalist Christa McWhirter put on our hard hats, grabbed a camera, and learned about all the details-from mesh stadium seats to the pitch's premium grass species. We made pit stops on the field, in the stands and in the press box. View highlights of the visit on Instagram here.
Here are some things to take away before seeing it for yourself:
Overview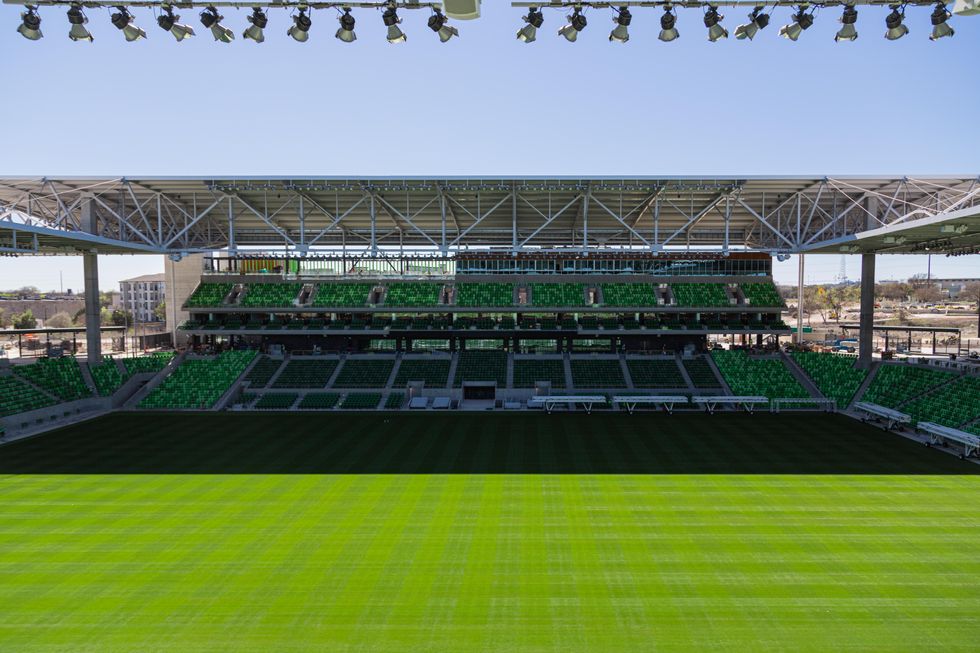 (Christa McWhirter)
When COVID rules are fully lifted, the Q2 Stadium can fill up to 20,500 people. Around 75% of seating will go to season ticket holders, while the rest will be allocated to regular-season single match ticket buyers.
Official COVID protocols have not been officially announced, but Austin FC President Andy Loughnane said that fans can expect a "large crowd" for the team's home opener. Stadium and team officials are going to continue to play it by ear as the pandemic continues to improve.
According to Loughnane, the stadium is on schedule to be completed—for the most part—by late March or early April. Some details, such as furniture and signage, may take a bit longer and will be filled in for the remainder of April and May, as well as some privately-run offsite traffic projects.
From the pitch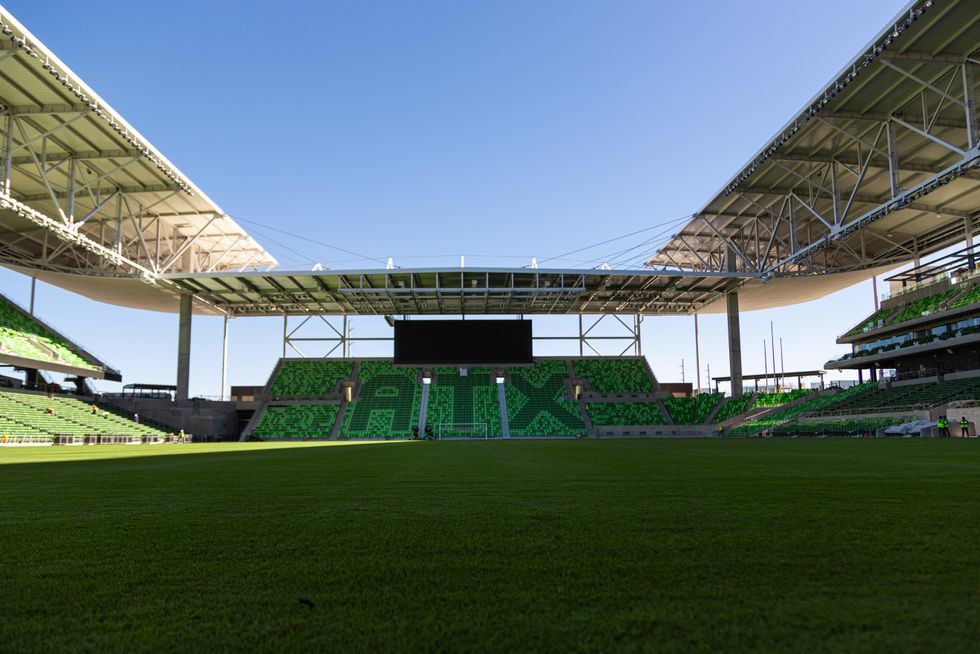 (Christa McWhirter)
A team with a signature Verde color needs to go hand-in-hand with a bright green field. That's where Platinum TE Seashore Paspalum comes in: the species of grass carefully selected and shipped in from Arizona to become Austin FC's first-ever pitch. The grass, which has been used by other shaded open-air stadiums such as the Houston Astros, can be cut short and is durable and reliable. It's the first time the species has been used on an MLS field, and the club has plenty of staff and technology to keep it green and pristine.
While the white stripes had been on the field previously, according to Senior Public Relations Manager Mauricio Villarreal, the 115-yard pitch was missing its lines once again when we paid a visit. The benches for the players, located on the west side of the stadium, were still being worked on and covered.
Amenities: what is and isn't ready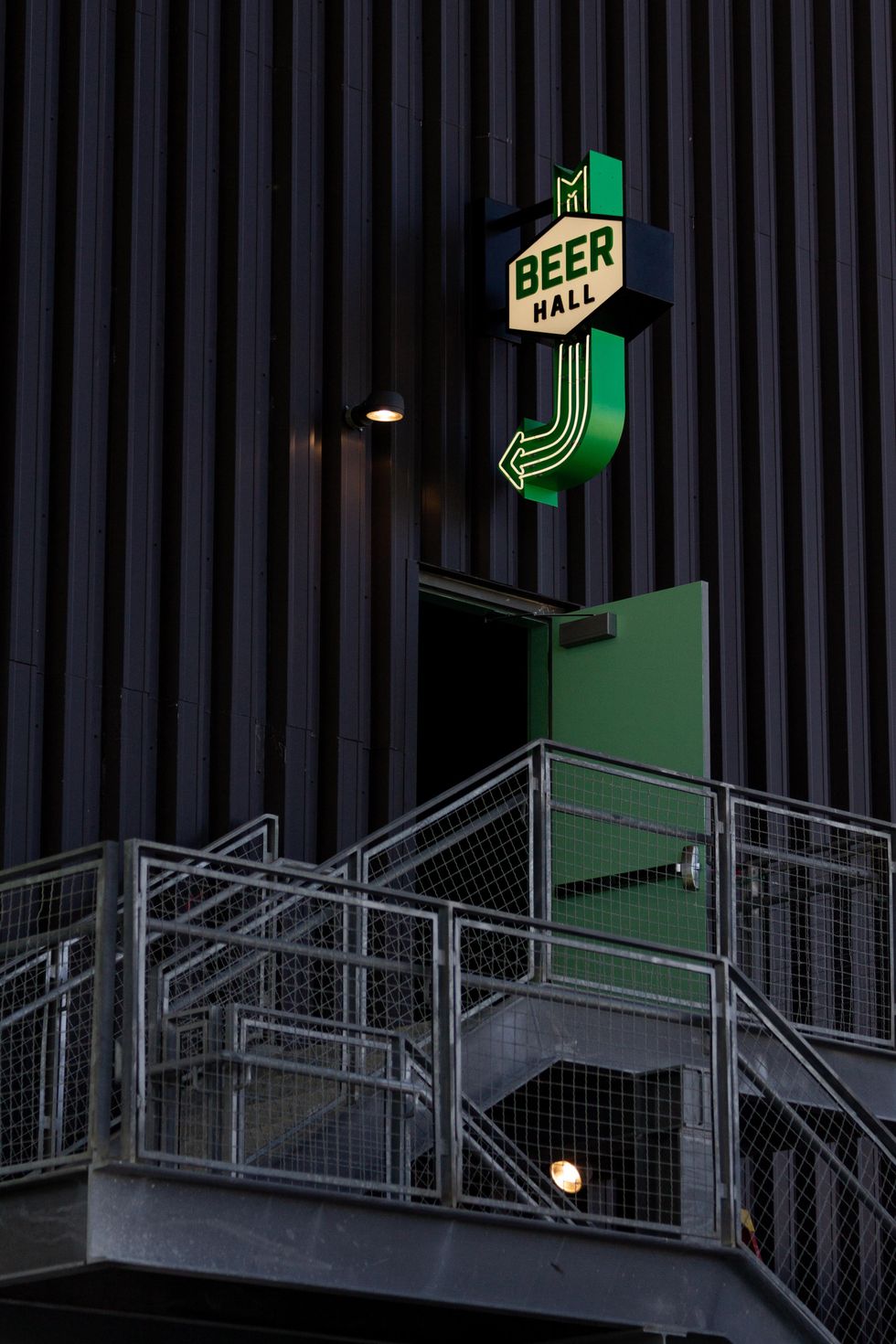 (Christa McWhirter)
While Austonia saw the field, the press box and part of the area's food and hospitality space, many features are still in progress.
Here's a list of things that are still in the works:
The beer hall won't be open to the public, but we know that the facility will have 18 taps, 20 TV screens and be able to hold up to 400 people.
The 5,000-square foot Verde Store, located underneath the beer hall on the north side, will be a one-stop shop for Verde merch and accessories. The store will be open even when matches aren't going on, with daily openings except for on major holidays. Another store, The ATXFC Shop, will be located on the other side of the stadium and will draw its inspiration from famous Austin record stores.
We got a peek at the luxury suites in the building but weren't able to enter. While much of the furniture and amenities that will take the suites to the next level were not yet in place, we were able to see some built in benches in the air-conditioned spaces.
The press box—more for us than for you—gives us a bird's eye view from the west side to make sure our coverage is as accurate as possible.
The H-E-B Plaza, located outside of the stadium's northeast corner, will be home to iconic Austin food trucks.
Austin FC's newest sponsor, Captain Morgan, will be the namesake for the east side's Captain Morgan Club, an entertainment and hospitality area.
Concerts and events at the live music capital​​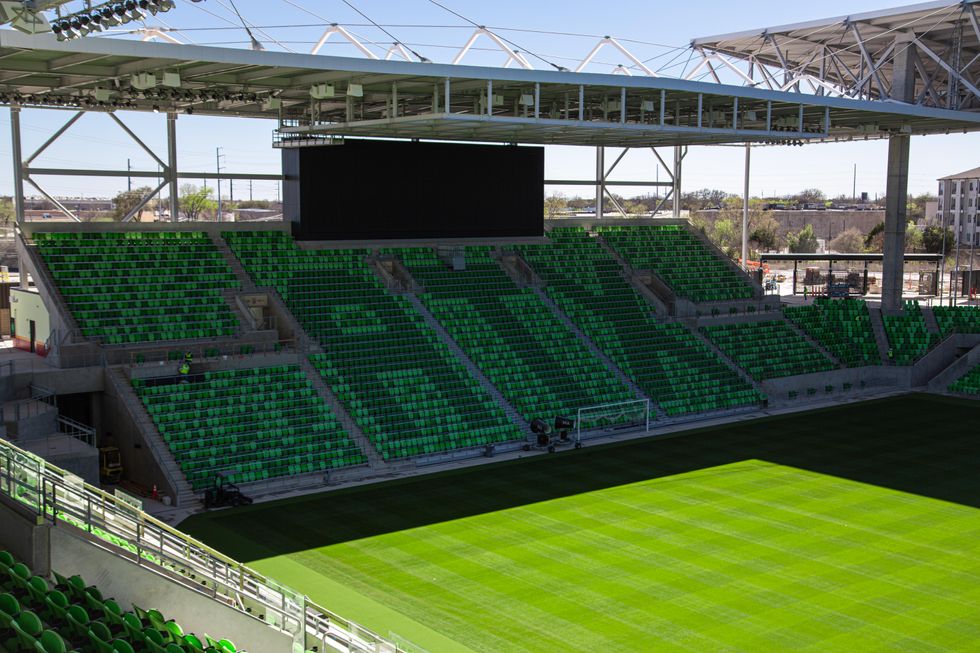 (Christa McWhirter)
With Austin being Austin, it's no surprise that the stadium will also double as a concert and events venue. Rumor has it that some events may even take place before the team's home opener, but no official announcements have been made.
The south side of the stadium's seats will also be a stage. The iconic "ATX" seats can actually be split in half and pushed away to give way to a massive concert and event facility.
The seats, which are designed for standing only, will be home to Austin FC fan clubs including Austin Anthem, Los Verdes and La Murga de Austin. The murga, or band, is inspired by fan bands for teams in many Latin American countries and will keep spirits alive in the stadium throughout the game. Although it hasn't been tested out yet, the stadium was designed to make sure fans in all corners of the stadium can hear La Murga's steady drumbeats and chants.
Keeping it cool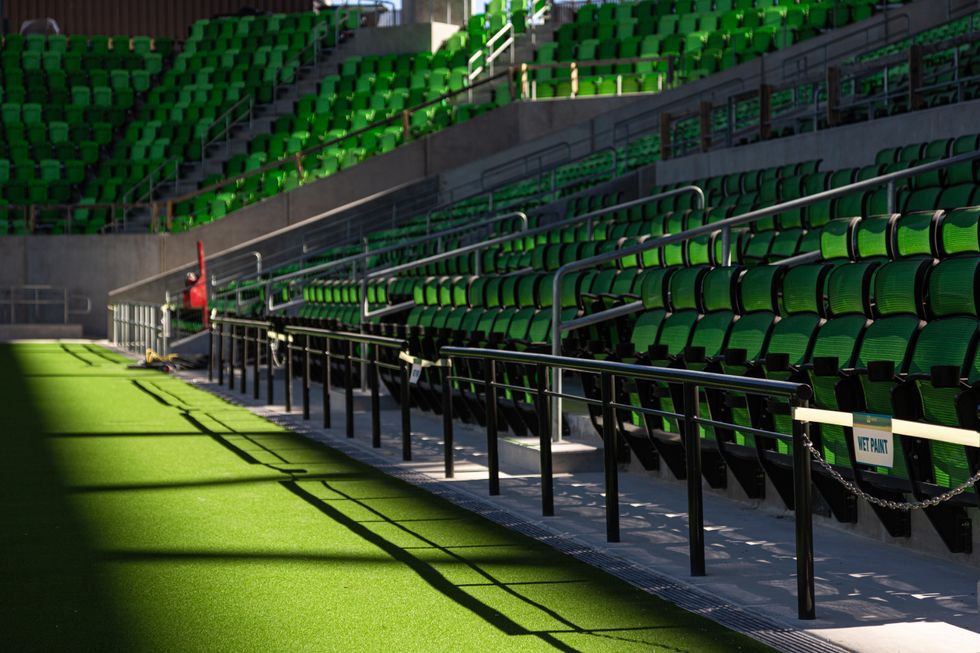 (Christa McWhirter)
Although the winter storm may have made us temporarily forget, a balmy Austin summer is ahead of us. Austin FC knows that keeping fans and players cool is a priority and have adjusted to the potentially oppressive Texas heat. The stadium has been built to bring wind in and keep a steady air flow throughout the stadium, and 6,000 total seats on the lower sections of the stadium are made of breathable mesh to minimize heat.
Air conditioned areas are located on the north and south sides of the stadium as well as suites on the west side.
Coming up
As construction wraps up for the city's newest stadium, fans may actually be able to see the facility for themselves before the June 19 home opener. On Monday, Loughnane said that the club is looking to open up public tours in the next few months.
Austin FC will face its first-ever opponent in Los Angeles against LAFC on April 17 before they make it home for the first time to play the San Jose Earthquakes on Saturday, June 19.
For daily updates on Austin FC, sign up for free messages from Austonia.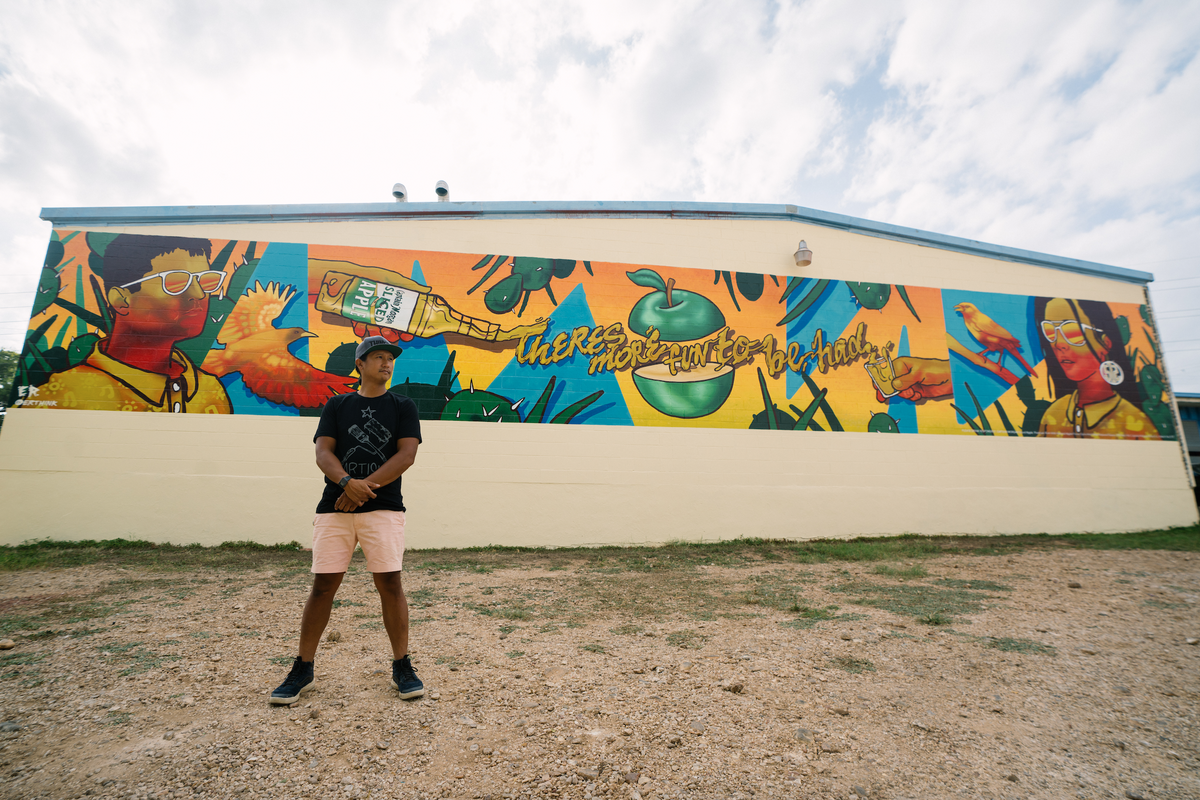 (Captain Morgan)
The intersection of Manor and Chestnut recently introduced some seasonal apple flavor to its walls.
Efren Rebugio, an Austin-based artist, leaned on influences from the city to paint a mural in collaboration with Captain Morgan for its new sliced apple spiced rum.
The mural, located at 2301 Manor Road, pictures a stream of rum flowing from a bottle to a shot glass that slices through a green apple and reads, "There's more fun to be had."
Rebugio said he "wanted to portray the wonderful people of Austin" with this mural. Beyond the people, he featured cacti and grackles, both found in abundance throughout Austin.

In late August, Captain Morgan chose five artists from five different cities to celebrate their communities.
They used a simple internet search to single out Rebugio as one of the most talented artists in Austin, and subsequently contacted him to see if he would serve as the art director for its planned mural.
"(Rebugio's) murals rarely feature a single straightforward subject, something that's especially evident in the mural he created for Captain Morgan. Something new catches your eye every time you look at it," said Sam Salameh, a Captain Morgan representative.
Rebugio accepted the opportunity and took a little over a month to complete the planning and painting.
"I was super excited to work with Captain Morgan. They really wanted to showcase a spirit of community," Rebugio said.
Rebugio's work has appeared across the country in places like California, Tennessee and Florida, as well as internationally in Toronto and Costa Rica.
Like many across the world, the pandemic has severely impacted the artist's work.
Rebugio likes to incorporate a live component into his art by painting in front of an audience. He has done six live painting shows during SXSW and five during Austin City Limits Music Festival. He had plans to produce more art during SXSW 2020 prior to its cancellation.
"It has definitely been a challenge this year," Rebugio said.
He has stayed busy by focusing on his studio, doing freelance graphic design work and learning how to make electronic dance music.
He has also managed to recreate the environment of a live show in his backyard, partnering with DJs to host backyard jam sessions. During the sessions, a DJ plays music while he paints.
"I'm just rolling with the punches, being positive and staying safe," Rebugio said.
The mural joins a recent wave of fresh paint on East Austin's walls, including the new mural honoring the late
Supreme Court Justice Ruth Bader Ginsburg
.
More on murals: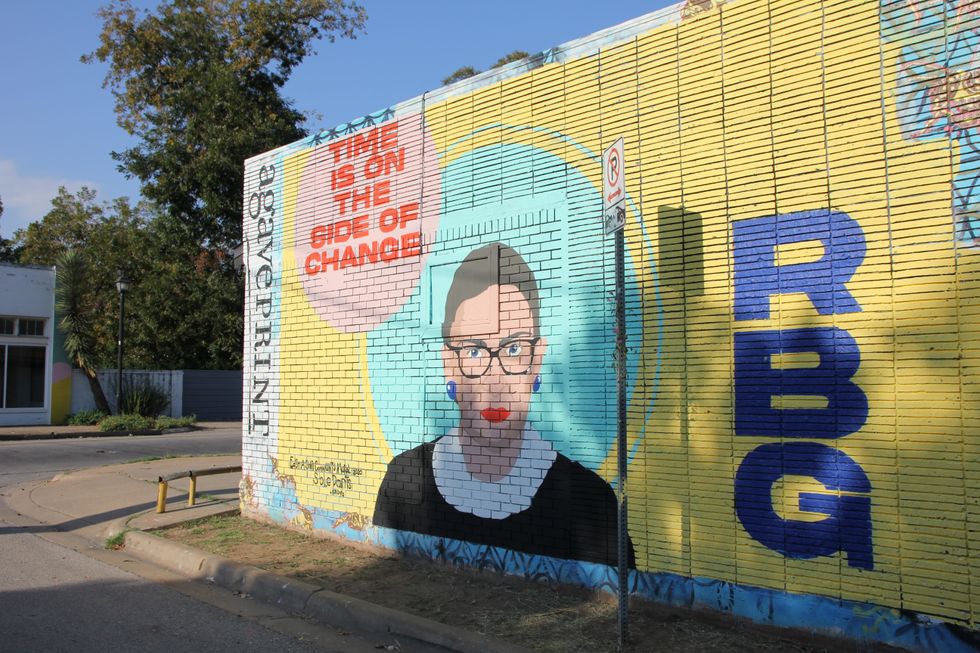 East Austin gains new Ruth Bader Ginsburg mural with community help