Get connected with our daily update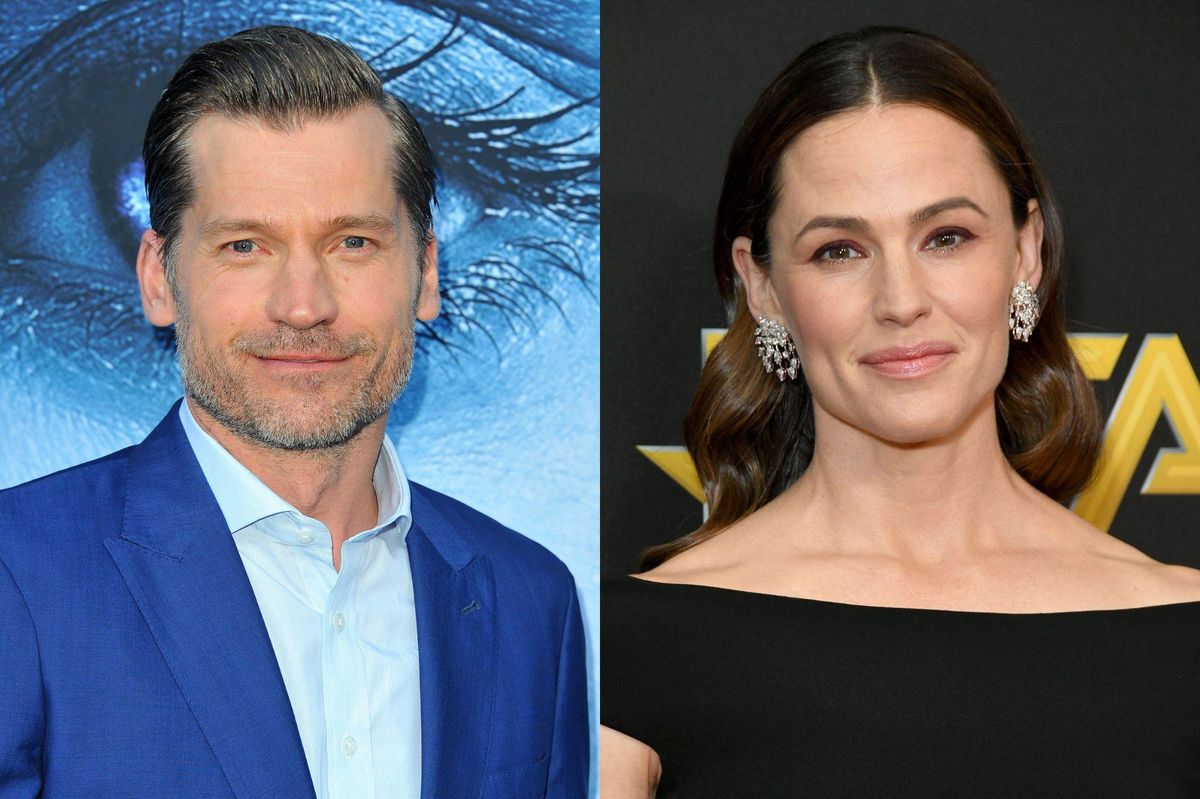 You might be able to spot the familiar Congress Bridge or Lady Bird Lake in the limited series "The Last Thing He Told Me."
Austinites have spotted "Game of Thrones" star, Nikolaj Coster-Waldau, and "13 Going on 30" star, Jennifer Garner, under the Congress bridge while filming their latest project this week. Other actors in the show include Angourie Rice, Aisha Tyler, Geoff Stults, John Harlan Kim and Augusto Aguilera. Garner and Reese Witherspoon are both executive producers.
The book-turned-limited series is about Hannah, played by Garner, who uncovers hidden truths about her husband Owen, played by Coster-Waldau, after he goes missing. It will premiere on Apple TV+ at an unknown date.
Filming in Austin isn't new to Austinites, with shows like "Walker" and "Fear the Walking Dead" being filmed. In November 2021, Garner's ex-husband Ben Affleck was filming in Austin at the Federal Courthouse on 4th and San Antonio Streets.
Next up, reports suggest the new "Spy Kids" movie will be filming a car chase downtown in the coming weeks.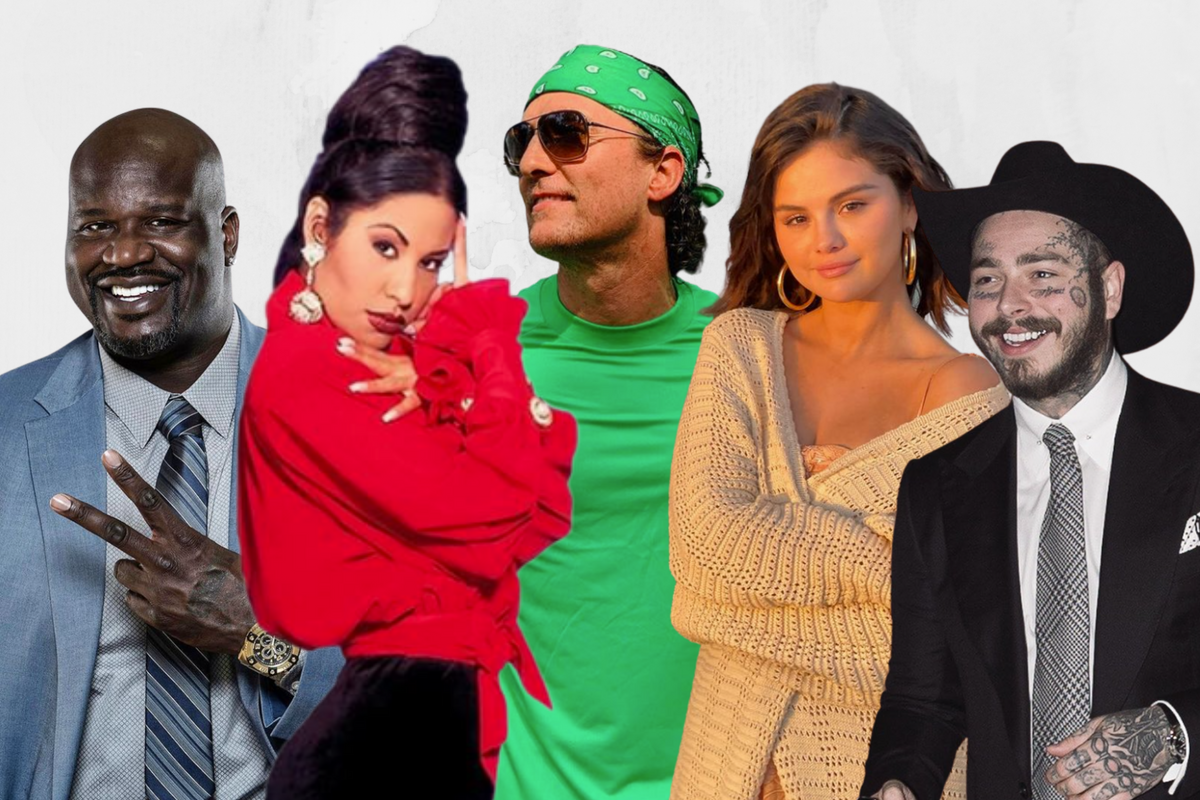 Texas has been home to some of the country's biggest celebrities of all time—think Amarillo resident Georgia O'Keeffe, Lubbock's Buddy Holly and Corpus Christi's famous singer Selena.
The Pudding's People Map of the U.S., which shows each city's "most Wikipedia'ed" resident, placed celebrities from all walks of life on the Texas map. As for Central Texas celebrities, there are some interesting (and not so surprising) names on deck.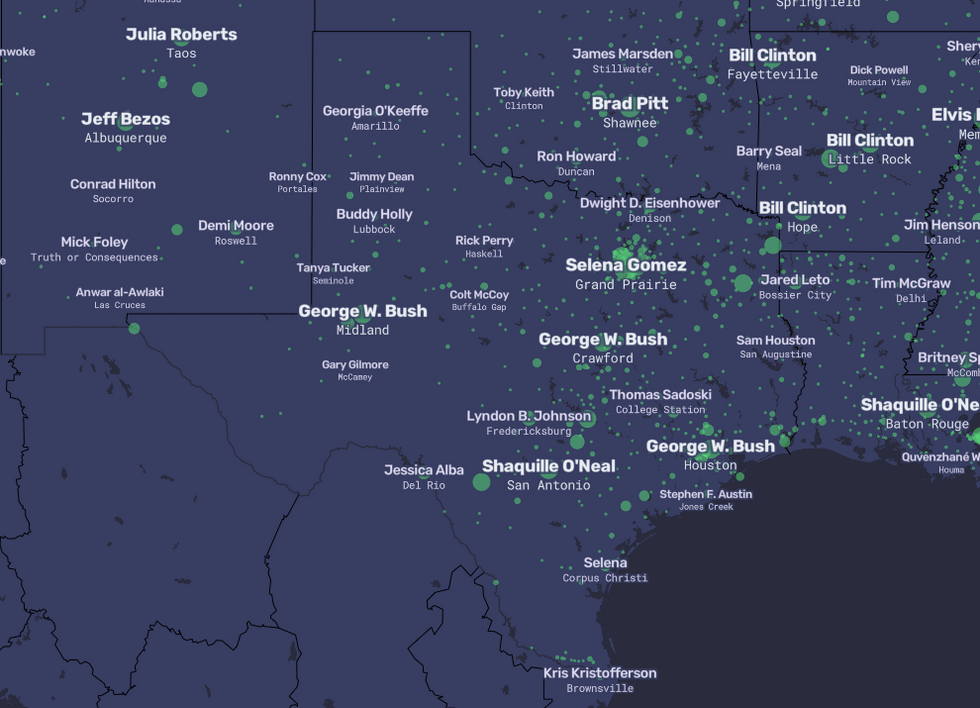 (The Pudding)
Proving that Austin is "alright, alright, alright," Minister of Culture Matthew McConaughey is both Austin's and Uvalde's top Wikipedia'ed resident. McConaughey, who was born in San Antonio adjacent Uvalde, has deeply ingrained himself in Austin by studying Radio-Television-Film at UT Austin, starring in the Austin-filmed movie "Dazed and Confused" and investing in Austin FC.
Heading down just a few miles south, San Marcos claimed former president Lyndon Baines Johnson as Texas State University's most famous alumni, who graduated in 1930, and was also named in Fredericksburg. LBJ wasn't the only ex-president on the map—George W. Bush was listed as the top resident in Dallas, Midland, Houston and Crawford.
You'll see some other names with ties to Austin strewn around the state: Janis Joplin in Beaumont and Port Arthur; Stone Cold Steve Austin in Victoria and Edna; Dan Rather in his hometown of Wharton; and Waylon Jennings in Littlefield.
Venturing outside of the central areas, there are big celebrities who call Texas Home. Actress and artist Selena Gomez dominated search traffic in her hometown of Grand Prairie, musical artist Post Malone was most "Wikipedia'ed" in Grapevine, and Shaquille O'Neal was named in the city where he went to high school, San Antonio.
Plus, Thomas Haden Church, Angela Kinsey, Jessica Simpson, Chuck Norris, Roy Orbison, Ron White, Jessica Alba, Colt McCoy, Jimmy Dean and Johnny Manziel all had at least one city covered on the list.
Where's Texas' newest resident, Elon Musk? You'll find him still in Los Angeles, as his foray into Texas living has just begun.
Click here
to view the full map.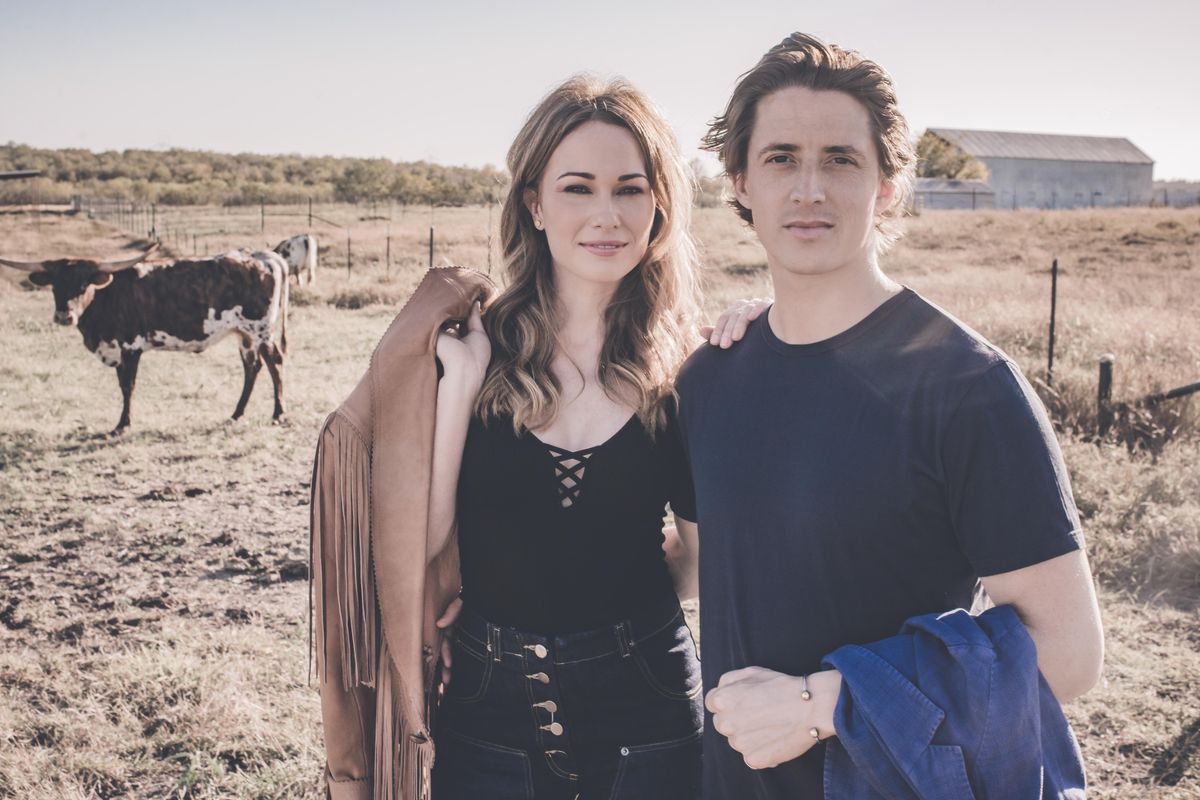 Though soon-to-be-wed couple Kelly Frye and Nick Campbell are the definition of jet-setters—traveling all around the globe, from filming in New Orleans, living it up in Hollywood or hopping across the pond to Campbell's English hometown—the pair has put down roots in Austin.
The "Secrets of Sulphur Springs" actress and international fine art consultant Campbell will tie the knot this week in Houston, Frye's hometown, officially starting their new life together in the Lone Star State. Though the couple is looking to buy their own land in Austin, they are currently renting a home in the Travis Heights neighborhood while they navigate the red-hot real estate sphere.
Between Frye's mystery character in "Hypnotic," which was filmed in Austin with Ben Affleck, and Campbell's Austin-based art advisory company making a case for buying local art, the new residents have already made a splash in the city.
So what made this international power couple want to make Austin a home base?
 Frye: It's the Hill Country drives and artistic freedom
Frye has been living in Austin on and off since 2018, the same year she met Campbell, but ever since the pandemic began and auditions went virtual, she's been able to spend more time in her home state.
While she's here, Frye's inner Texan comes out as she explores the many food options on South Congress and greater Hill Country towns like Lockhart for some Black's Barbecue or Fredericksburg for antiquing and wineries. Having spent lots of time in Austin, Los Angeles and New Orleans, Frye likes to pride herself on her tour guide abilities.
"I like getting in there and finding my favorite spots, discovering a city, discovering the neat things that it has to offer, no lenses," Frye said.
Frye said she is fortunate to have been able to keep up her travels despite the pandemic but since relocating to Austin, the local opportunities have come to her: Frye will star alongside Affleck and Alicia Braga in Robert Rodriguez's upcoming feature, "Hypnotic."
Frye said landing a Rodriguez film was one of her top five career goals—so important, in fact, that she left a vacation in Greece less than 24 hours in for the chance to be booked and dyed her signature red hair blonde.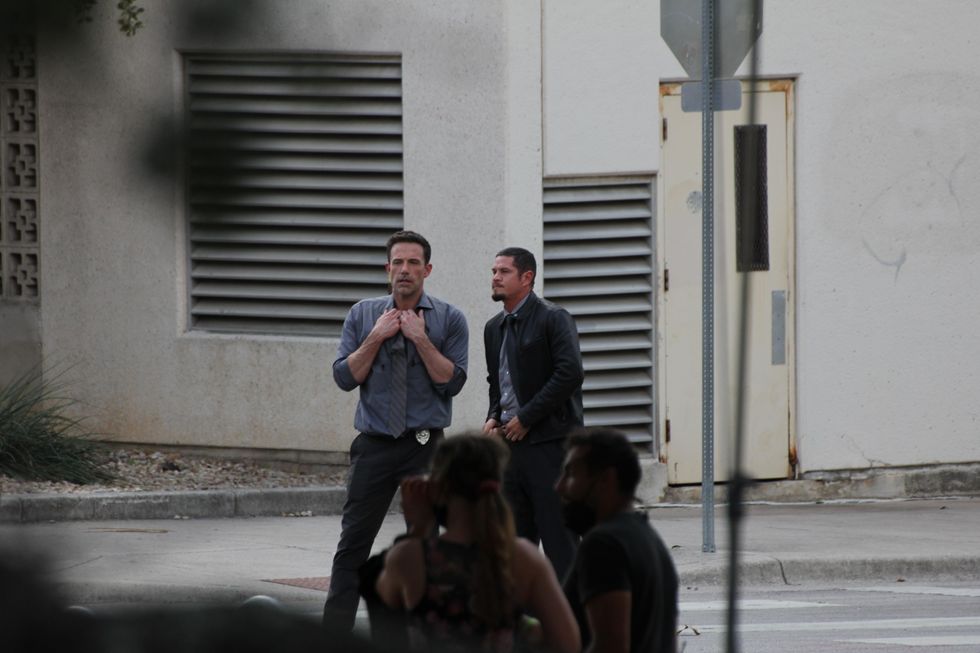 Frye starred alongside Affleck in the new movie, which famously filmed in downtown Austin September-November. (Laura Figi/Austonia)
"('Hypnotic' was) a total dream come true—I was pinching myself," Frye said. "So traveling 37 hours and dyeing my hair blonde was a big moment, but so worth it. (Rodriguez) is a true creative. The people he works with are like extensions of himself as a creative, which is an amazing thing to watch."
Frye wouldn't release many details about her character other than she's "a reveal" and a "boss 'b,'" but the film could be in theaters as early as this summer.

Campbell: Austin is "on the brink of something exciting."
Much newer to town than his fiancée, English-born Campbell said he is still learning the local ropes having only been in Austin for a few weeks but is excited to be part of the city's growth spurt.
"This established, but small, very vibrant, very exciting city is going through this sort of unprecedented state of flux in a very positive way," Campbell said. "It just seems like it's a city that's on the brink of something very exciting, so we wanted to be a part of that."
Campbell comes bearing a new perspective in the art collection industry—he launched Narcissus Arts, an art consulting firm specializing in art under $14,000, or £10,000, in 2010 with the intent of bringing fine art to the masses. Campbell then launched Campbell Art Advisory, based in Austin and Los Angeles, catering to all price brackets in 2018.
"It seemed to me that there was this growing number of friends that had, as it were, smaller resources to put into art," Campbell said. "There was obviously an incredible amount of supply out there but one just needed to know where to look."
Campbell is leveraging his new home base by connecting Texan artists Adrian Armstrong, Shaun O'Dell and Kyle Steed to buyers who can support their endeavors.
"I think that the talent is here, that's very obvious, and they need to be supported," Campbell said. "There are people here who are telling interesting stories that are very talented at telling those stories, and they need to have a light shone on them and should be celebrated."
Reflecting both Frye's love of Houston and Campbell's art profession, the pair plan to get married in the Rothko Chapel this week. They plan on continuing to split their time between here and L.A., so don't be surprised if you spot the pair on South Congress.