Get connected with our daily update
Instead of topping 1 million, as many expected, the city of Austin grew by just under 172,000 residents from 2010-2020 to reach 961,855 residents in 2020, according to new data from the U.S. Census Bureau.
Population growth estimates predicted that Austin would swell to nearly 979,000 residents as the housing market soared with demand and reports of a great "California migration" topped the news. While not quite reaching the expected population growth, Austin still experienced 21.7% growth in the last decade, near the 22.1% growth estimate.
Austin failed to surpass San Jose, California to become the nation's 10th largest city and remains in the No. 11 spot. Still, the five-county Austin metro, which includes Travis County as well as nearby Williamson, Hays, Bastrop and Caldwell counties, has been the fastest-growing metro in the U.S. for a full 10 years, according to U.S. Census Bureau data revealed in May.
Austin was one of 14 U.S. cities that gained more than 100,000 residents from 2000-2020. Five of those cities, including Austin, Fort Worth, Dallas, Houston and San Antonio, are located in Texas.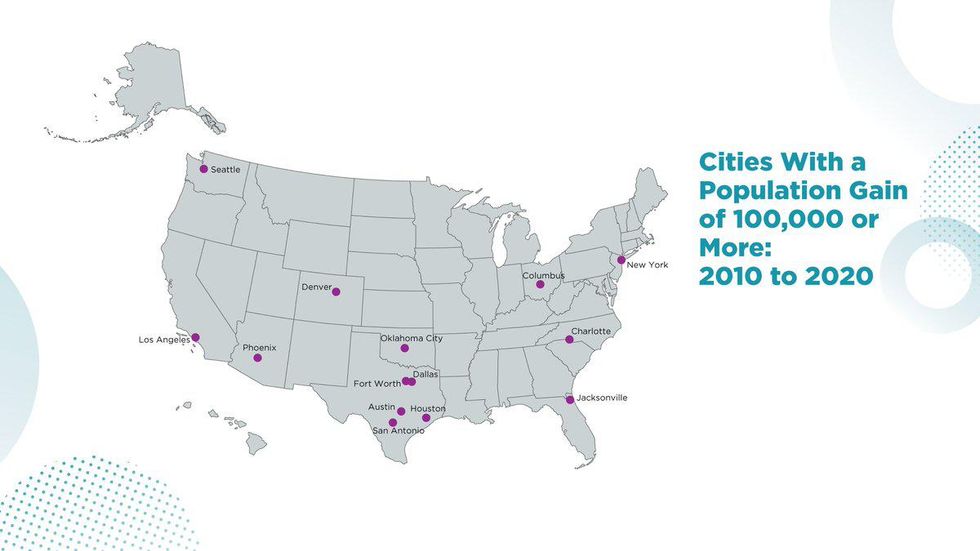 (U.S. Census Beraua/Twitter)
With 9.8% growth, Houston outpaced its expansion from 2000-2010 and topped Texas cities as the fourth-largest city in the nation. At No. 7, San Antonio grew about half as quickly from 2010-2020 as it did the previous decade but still topped Dallas with over 1.4 million residents, while Dallas experienced 8.9% growth (up from 0.8% from 2000-2010) to round out the top 10 list at No. 9.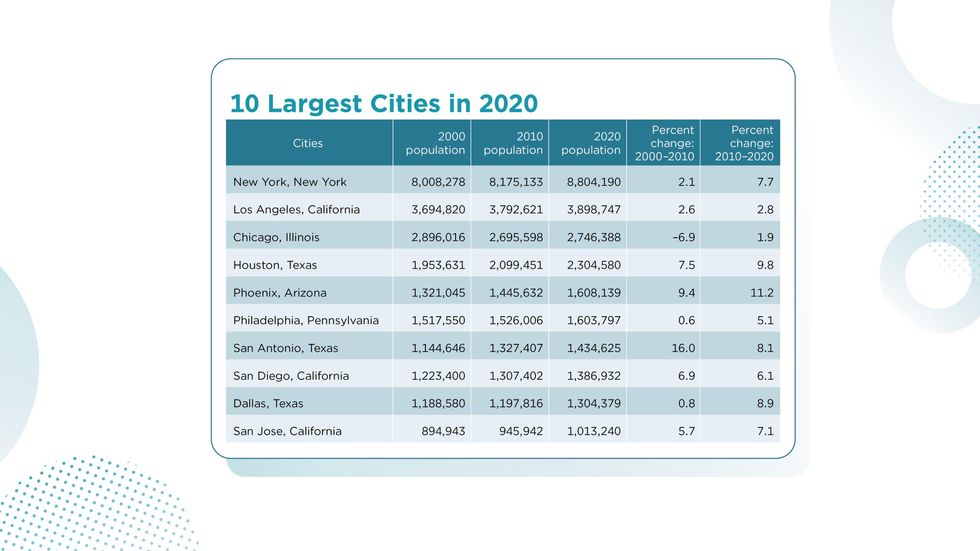 (U.S. Census Bureau/Twitter)
Meanwhile, nearby New Braunfels was one of the top ten fastest-growing populations in the nation and was one of four Texas cities to experience a population increase of at least 44%.
Texas' rapid growth has done more than reshape its cities: it's also given the state more political power. The Lone Star State will gain two new seats in the House of Representatives come election season in 2022, giving the state more influence over the nation. The data released Thursday will also be used by lawmakers to redraw congressional districts.
The Bureau has gained recent controversy for its use of "differential privacy," which slightly alters local data in order to protect survey takers' privacy. The new algorithm has been criticized by some for inaccuracies and bugs within the system.
More information on Austin's key demographic changes will be trickled out by the Bureau through Sept. 15, when official population estimates through July 31, 2021 will be finalized.
Michael Dell, Kendra Scott and Whitney Wolfe Herd already know: Austin is one of the top cities in the world for entrepreneurial success.
Austin ranks 11th among 75 international cities and sixth among U.S. cities, according to a new index from the e-commerce support platform Oberlo, which considered categories from infrastructure to financing.
Austin's ranking varied widely across categories. It outperformed in access to global markets (fourth overall), support systems available for female founders (seventh) and government COVID relief (seventh), according to the index. It underperformed in areas of human tech capital (19th), unemployment benefits (31st) and logistics infrastructure (32nd).
The top-ranked city in the world is London, which received a perfect score on the index. The U.S. cities that came in ahead of Austin include New York in second place, San Francisco in third, Los Angeles in sixth, Boston in eighth and Chicago in 10th.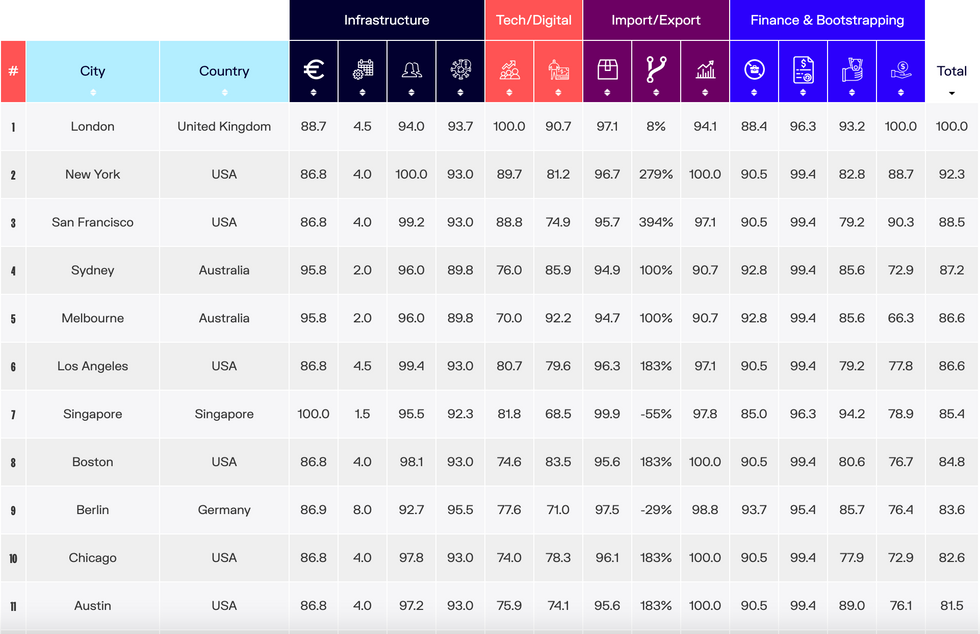 (Oberlo)
Austin ranked second among U.S. metros in the 2017 Kauffman Index of Entrepreneurship, which has since been retired. At the time, entrepreneurs made up 0.51% of the adult population—or one out of every 200 people.

And the city ranks sixth among large U.S. metros in terms of new business formation per capita, according to the Austin Chamber. There were 3.5 employer firms with less than two years in business per 1,000 population in 2017, the latest year for which data is available, compared to 2.6 nationally.
The census occurs every 10 years and determines how trillions of dollars of federal funds are allocated to state and local governments and where district lines are drawn at the local, state and federal levels. "This data is important," Travis County Intergovernmental Relations Officer Julie Wheeler told local elected officials on Tuesday. "It touches every area of our lives."
Although more granular census data won't be available until later this year, the 2020 census is already having an impact on Austinites, from how they will be represented in Congress to confirming its status as a perpetual boomtown.
1. There may have been an undercount. 
Texas gained two congressional seats as a result of population growth tallied during the 2020 census, more than any other state in the country, but the state was widely projected to gain a third.
Along with the pandemic and a lack of state investment in census outreach, the former Trump administration's attempt to add a citizenship question may have contributed to an undercount. "There was a lot of damage done with just that early confusion," Wheeler said.
Regional data will be released in late September, which will provide more insight into where an undercount may have occurred. But there are already indications that a gap occurred. The census tracts with the lowest self-response rate in the city of Austin are mostly concentrated on the East side.
Additionally, nearly 0.9% of Texas addresses remained unresolved—meaning members of those households did not respond to the questionnaire or census takers who followed up in person, according to the U.S. Census Bureau. This is a 71% increase compared to the 2010 census, when 0.52% of Texas addresses remained unresolved.
2. Even a small undercount could have large financial repercussions for Austin.
The city of Austin 2020 population estimate is 995,484. Assuming this is an undercount of 0.9%—which would be at the low-risk end of the spectrum, according to a 2019 report by the Urban Institute—it would leave 9,041 Austin residents uncounted.
For every person uncounted, the community loses $1,500 in annual federal funding, Wheeler said. So this gap would cost the community $135.6 million—in Medicaid funding, Title I school grants and public transit programming—over the next decade.
Although such federal funding has constraints in terms of what it can be used for, such dollars could help offset the costs of programs like:
The $3.85 billion in local funding required over the next 15 years for Project Connect.
The $168 million estimated investment required to fund a new city plan to house 3,000 homeless people in three years.
A $12 million proposal to transform the local early childcare system.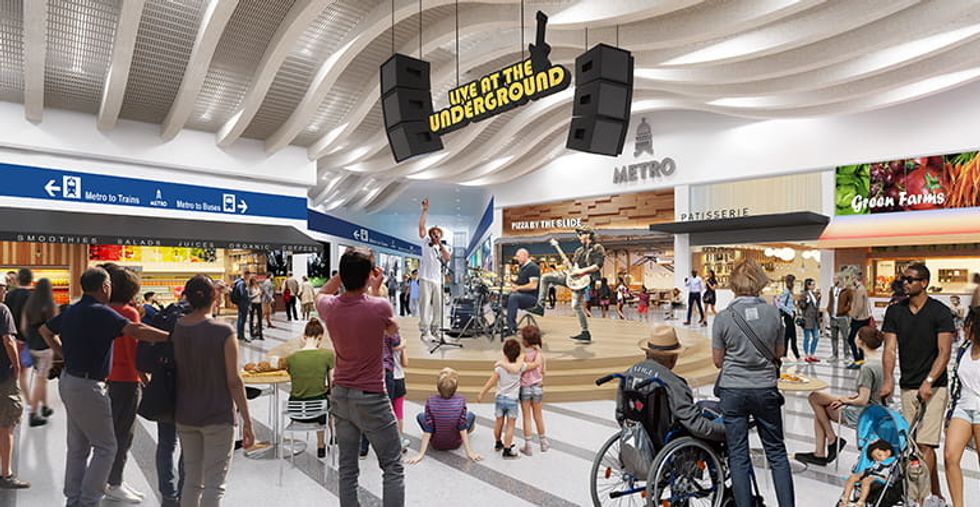 (Capital Metro)
3. Austin's racial and ethnic groups are growing at unequal rates. 
Between 2010 and 2020, the city of Austin's overall population grew by nearly 26%, according to census data. But this growth varied across racial and ethnic groups.
The city's Black or African American population grew at about the same rate between 2010 and 2019, the latest year for which such data is available. The non-Hispanic White and Hispanic or Latino populations grew at slightly lower rates—22.8% and 19.5%, respectively—over the same period. But the city's Asian population skyrocketed, growing by more than 50% over the last decade.
4. Austin outperformed other large Texas cities in counting its population.
Although the state of Texas saw its self-response rate ranking fall to 39th place in 2020 from 25th in 2010, Austin-Travis County improved its performance over the same period. In fact, it was the only large city-county pair in Texas to beat its 2010 self-response rate, City Demographer Lila Valencia said Tuesday. "I'm really optimistic for Travis County and Austin," she said, attributing the improvement to local investment in the counting process.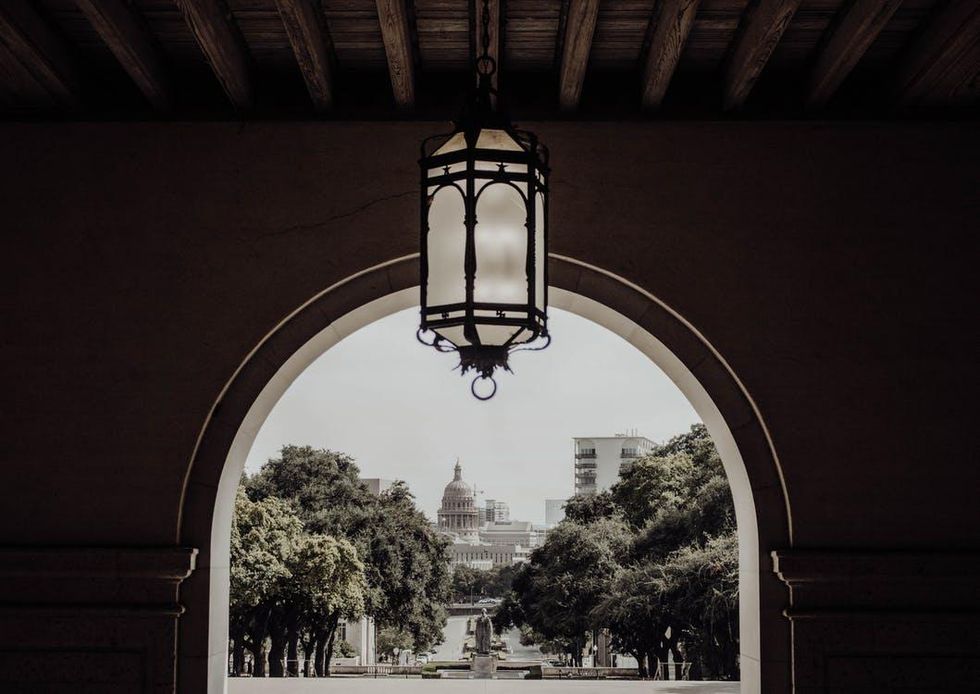 (Pexels)
5. It's not too soon to start thinking about the 2030 census. 
John Lawler, 2020 census program manager for Austin-Travis County, laid out a number of things the city and county could do in the meantime to improve accuracy, including:
Staffing up earlier to improve local outreach efforts
Building on relationships with grassroots community organizations, which proved critical in reaching hard-to-count populations
Jointly funding an organizing entity that improves civic participation overall, and not just during census years
"Frankly, we should start tomorrow planning for the census in 2030," he said.
Met a baby Liam or Olivia lately? It wouldn't be uncommon as those are the top two baby names of the last year in Texas.
The Social Security Administration released its top baby names based on Social Security card application data. Here are the most common names.
Boys
Liam
Noah
Mateo
Elijah
Sebastian
Oliver
Daniel
Santiago
Benjamin
Alexander
Girls
Olivia
Emma
Camila
Isabella
Mia
Sophia
Ava
Amelia
Sofia
Charlotte
Compared to the year before, most of the names stayed consistently in the top 10 with some minor bumps in ranking. For boys, Oliver scooted its way up eight spots from the year before and Benjamin and Alexander kicked formerly top 10 ranked, Ethan and Jacob, out of the top. On the girls side, Emma got knocked down from its last year first place ranking and Charlotte worked its way to the top 10, kicking out Victoria.
View all 100 top names here.