Get connected with our daily update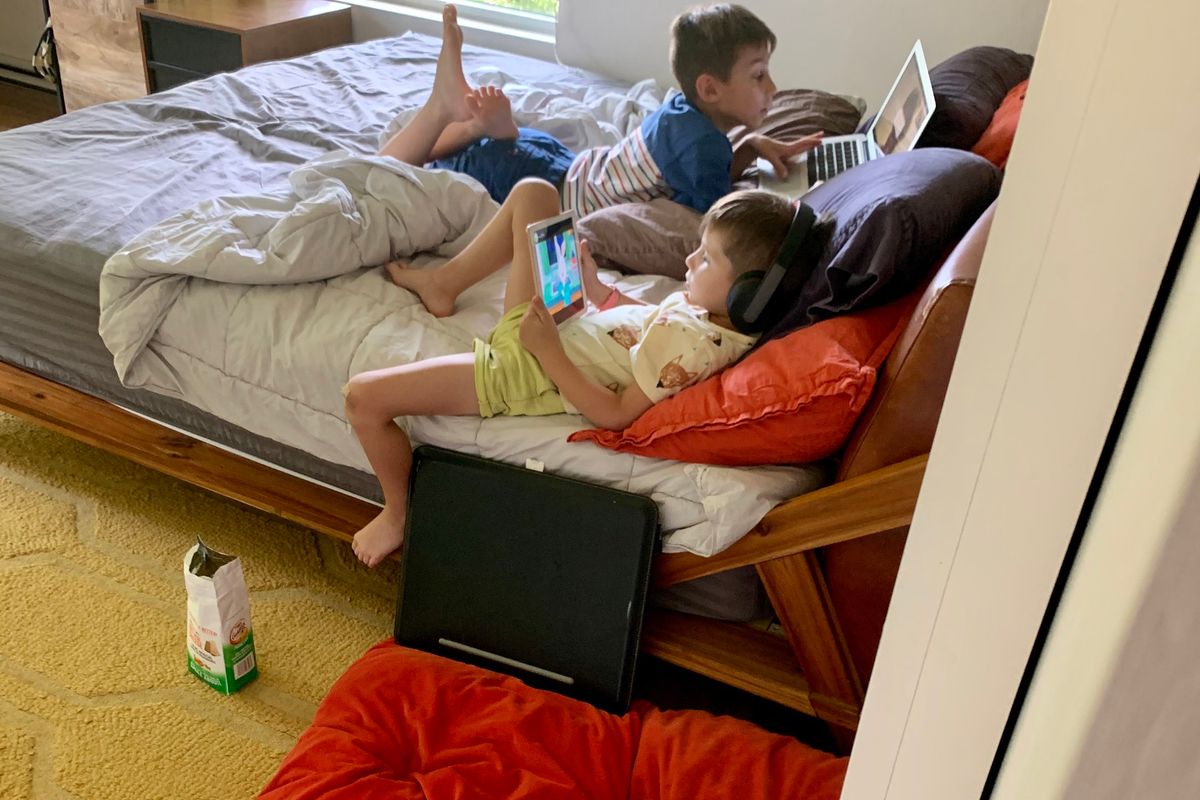 (Photo courtesy of Marisela Maddox)
Marisela Maddox is no stranger to the nanny game, having hired at-home caregivers in the past to help with her two children, ages 5 and 10.
In the early pandemic days, the Austin family managed without one, working and quarantining from home. But around June, when the national conversation about education started to lean toward online public schools, "I was starting to get very nervous," Maddox said.
So she looked for someone who could work full time and be ready to help with the education of her fourth-grader, who she assumed would be doing school entirely online.
That's when she learned that the market, the candidates, the health considerations and—most notably—the cost of hiring someone to be around your kids all day is a lot different now in the days of unpredictable and fast-changing school, work and money situations, than it was in the pre-COVID era.
When she hired a grad student in his late 20s, she said, the two other finalists were immediately hired by friends—a sign of the tight market that she hadn't seen before.
Maddox is paying 20% more than she used to—$25 an hour, up from the typical $20 rate—just to make sure the nanny was willing to stick with the family through such uncertain times. While her older child ended up returning to school, Maddox has kept the nanny around in the case that schools shutdown again.
"I think you have to pay more. I really do," said Maddox, a mediator and small business owner. "You have to incentivize people to want to stay because you really don't want to be doing this every three or four months."
Several employers and families said that pay has risen for several reasons: the influx of and demand for higher-paid educators into the nanny market, the instability of work and school schedules, the higher demands placed on caregivers and fear of COVID-19 all brought on by the pandemic.
The need for nannies, the availability of them and the ability to pay for them has risen and fallen as virus conditions and shutdowns have fluctuated throughout the summer, said Amber Mayhew, an Austin mom and nanny, and owner of Nanny Poppinz, a referral service she has operated in Austin for about a decade.
"In March, which is usually a very busy time of year for us, business stopped for a couple of months," she said. "And then it kind of picked up for a little bit, and then we kind of had the second flow of everyone panicking it seemed like, and so it slowed down again. And now it's starting to pick up again."
Along with the unstable market, families whose children are doing online school are looking for people who are more qualified in education or technology, and many of the candidates are now former educators or daycare workers who were laid off or worried about teaching in-person classes at public schools.
There is also less job stability because pandemic-era shutdowns, quarantines and COVID-19 infections put family needs in flux as schedules shift to accommodate school and work changes. And everything can shut down if a family member or the nanny gets sick and the nanny can't come into the home for weeks or months.
And the stakes are higher when it comes to health considerations. Families and nannies have to put a lot of trust in each other not to engage in behavior that could put one or both of them at risk.
"We've been very conservative in how much we've been leaving the house, and canceled all our vacations this summer, no road trips or anything, so the idea of having someone in our house was a little scary," said Austin mom Jeni Putalavage-Ross, who, after a difficult search, hired the daughter of a trusted friend to help with her 8-year-old and twin 6-year-olds.
All of this not only drives up the price, but it can make the overall experience more trying—both for the parents and for the providers.
"It can be done, but it requires more resources," Maddox said. "I had to do a lot of self checking. We had a lot of conversations around it. But I think it'll be OK. Everybody's sort of figuring it out right now."
More on families: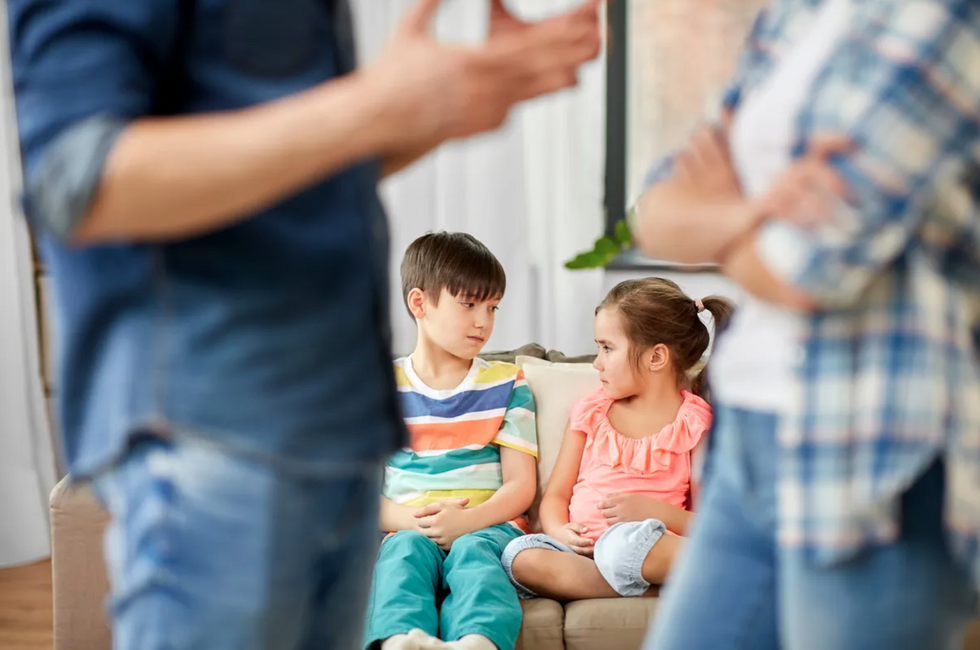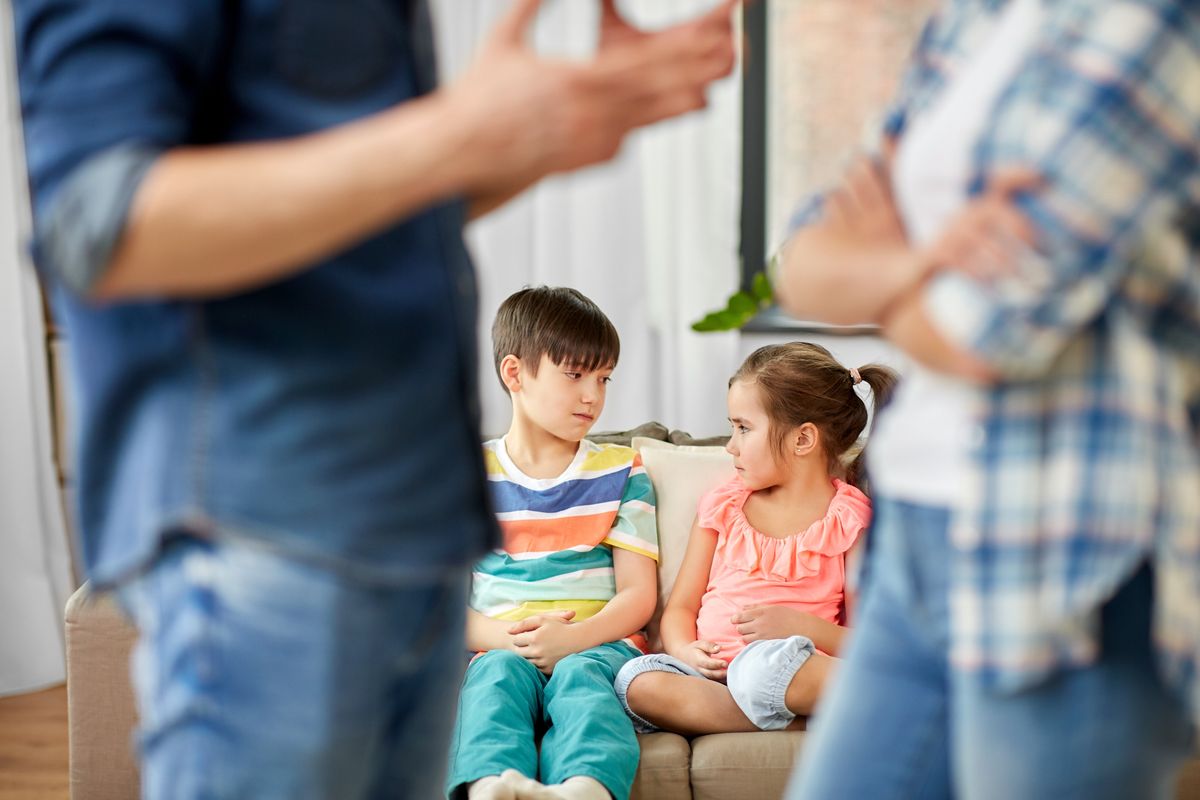 (Syda Productions/Adobe)
Louis, an Austin business owner and father, knows three couples right now who are getting divorced.
With his own 20-year marriage on the rocks, he would, in other times, be joining their ranks. But he's been furloughed and their kid is about to start college.
The idea of a second rent and more emotional wreckage sounds, to Louis, even less attractive than staying in a bad marriage for a few more months.
"There are a lot of people that are logistically married right now," Louis said, asking that his last name not be used to protect his family's privacy. "That's probably the camp I would put us in, depending on the day."
Stories of strained relationships abound during the pandemic, and the numbers of divorces being filed in Travis County, according to court records, have been increasing every month since April, the first full month of the shutdown and shelter-in-place rules.
But, due to a confluence of factors unique to these times, only half the number of local couples are filing for divorce now than they were at this time last year. Instead, they're choosing to ride out the storm together, for better or for worse. At least for now.
In Travis County, divorces from March through June dropped from 5,334 in 2019 to 2,802 for the same period this year.
In neighboring Williamson County, divorces are down from 2,022 to 1,322 for the same period.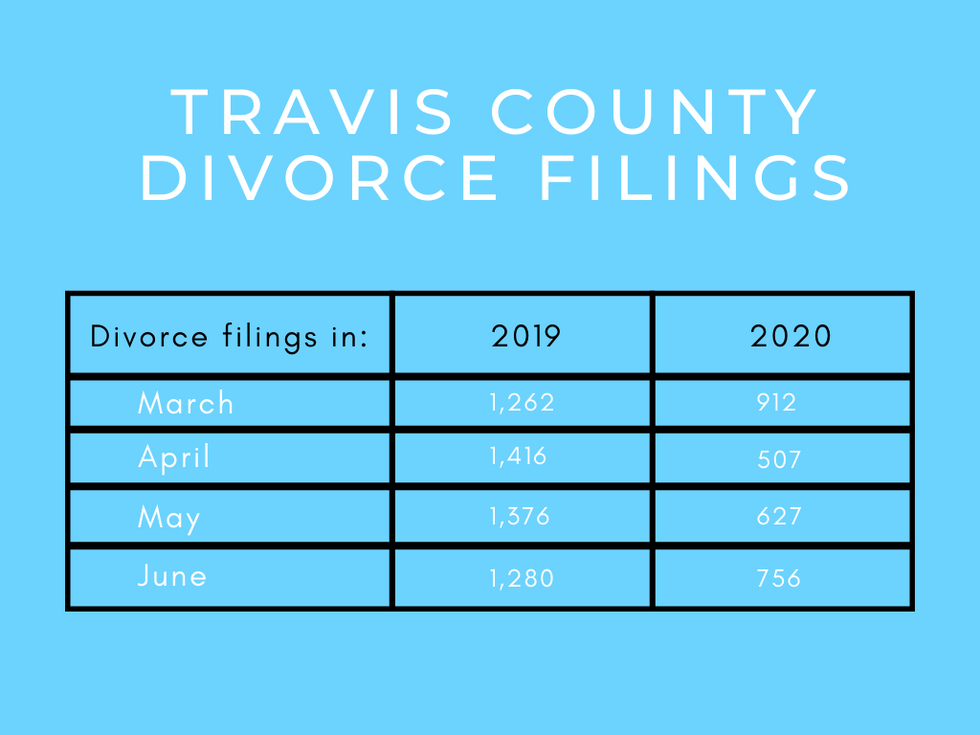 Data on divorce filings provided by the head of court administration for Travis County.(Data courtesy of Kirker Davis)
Austin family attorney Holly Davis said calls to her firm about family problems exacerbated by the pandemic have been "off the charts," so much so that they had to hire extra attorneys.
But court delays, financial hardships and logistical problems mean fewer couples are heading into divorce court, she said.
Courts have been "very good" about responding to families in abusive situations, but non-emergency hearings like deciding who pays the bills are being delayed for weeks or months, she said.
Simple logistics also plays a role, she said. It's more difficult to move and find a place to live, stay with family members who may be compromised healthwise, and run a household alone.
Right now, for example, when most kids are being schooled at home, a second pair of hands can be a lifeline.
"It's Hunger Games out there for nannies right now," Davis said, "and our schools are saying they don't know when they're going to let our kids back in. So if you're trying to run logistics for your household and you're about to split up the house, you're losing half of your help."
Davis and Ashley both predict an increase in filings when times return to normal, and Louis will likely be among them.
The pandemic, he said, revealed long-time problems that he can't ignore by traveling for work all the time now that he's stuck at home on furlough.
"We're at an impasse," he said. "And I won't go back to the status quo."
Part of the phenomenon, Davis said, is that couples are being more thoughtful about the decision to divorce. It's a shift in perspective, in a culture that views divorce as a relatively quick solution to marital problems.
"When your personal health is at risk, and you've got social injustice and racism and protests," Davis said, "the fact that your husband leaves towels on the floor, and has never really loved you in the way that you want to be loved, gets put on the back burner."
And for those who started the pandemic in a healthy marriage, tensions can turn into relationship-builders, said Austin marriage and family therapist Leigh Ashley.

"This kind of thing can expose a weakness, but then those folks that have the skills and the outlook and the camaraderie built, this can just be one of those seasons that actually gives them new and deeper history together," Ashley said.
For Austin public-relations executive Jason Stanford, the pandemic gave them new communications skills and a fresh appreciation for their partnership—strengthening an already solid 10-year marriage.
"Having a person who has promised to look out for you through thick and thin comes in pretty damned handy in a pandemic, come to find out," he said.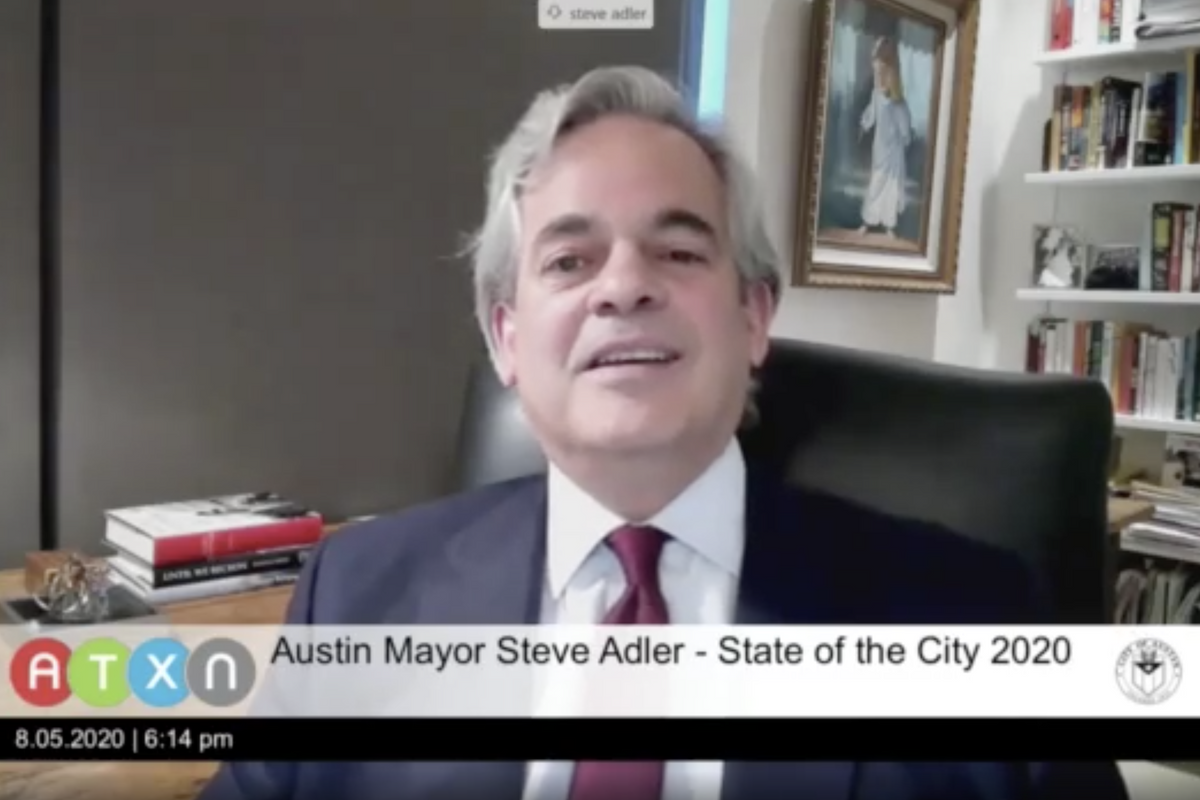 (City of Austin)
This story has been updated to include quotes from the mayor's speech.

Austin Mayor Steve Adler delivered his annual "State of the City" address Wednesday evening, in which he discussed the coronavirus pandemic, police funding, the local economy, homelessness, transit and equity issues.
Usually delivered to a crowd at City Hall, tonight's address was—as are all things Council these days—virtual.
"This could have been a speech only about COVID-19," Adler said. Instead, much of his 25-page address focused on the opportunities presented in this moment.
"Perhaps only at times such as these, where our routines and inertia are so utterly disrupted, can we be freed and forced to dream and act big," he said. "So let's do big things. Let's end homelessness. Let's bring real mobility to Austin. Let's reimagine how we keep one another safe. Let's address race and do something about correcting centuries of injustice because it is the fundamental injustice that fuels so many others."
Below are some quotes, excerpted from a transcript shared in advance.
On the coronavirus
"We all want the local economy—and our lives—back as we knew them. But the governor's decision to reopen before we had sufficient testing and tracing in place and before our numbers were low enough compounded the challenge. … Truth is, the virus was never gone. It just hides, waiting for us to invite it back into our lives."
On the economy
"Unemployment is at unimaginable levels. Businesses have shuttered - some temporarily and some lost forever. Many of our neighbors don't know how they're going to feed their families or whether they'll be evicted from their homes. Tenants struggle with rent; homeowners and landlords struggle with mortgage payments. Our hospitality and creative workers and industries, so great a part of our economy, are reeling. For many, it's already too late."
On homelessness
"To the people that signed on to the petition because they were desperate for a solution for people experiencing homelessness, I want to say that I share your impatience. Having chosen this more just path, though, and having rejected the false promise of cosmetic fixes, our work is incomplete unless we follow through with the commitment to house the homeless. This will require us to do a better job of inclusively managing shared public spaces."
On transit
"Project Connect is a bold transit plan for the just and accessible city we aspire to be. It certainly addresses traffic, but it will do so much more. … Project Connect will connect our entire city, creating new opportunity for Austinites, reducing our dependence on expensive personal vehicles, and save lives."
On police funding
"I want to address police department leadership. … We need not only an openness to consider change but a keen desire to move past the status quo and to look at public safety more broadly than [ever,] mainly focusing on ensuring we're best equipped to deal with unsafe moments when they occur. We need more than just a willingness to accept change if it happens; we need a champion for change at its best."
Want to read the whole speech? Here's the transcript.
Make it a game! Adler invited residents to use this bingo card to mark off every topic mentioned in the speech. Can you get to bingo? Share it on social media with #ATXSOTC.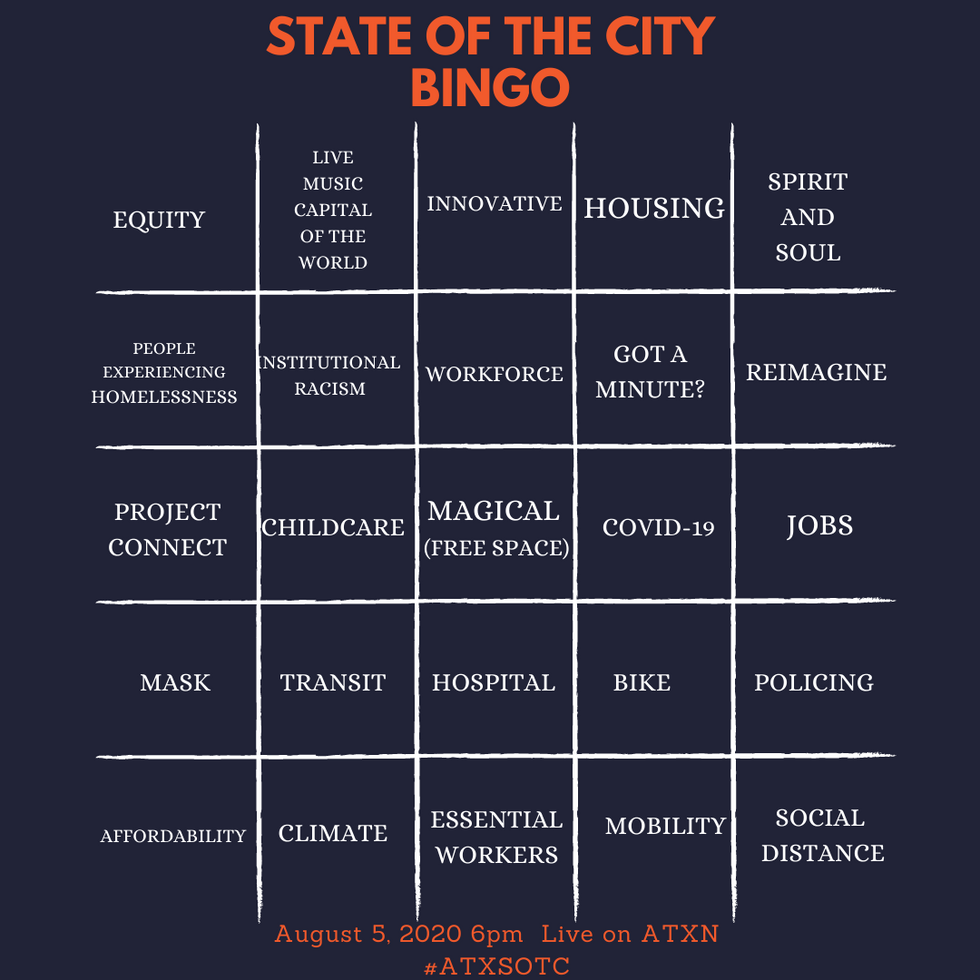 (City of Austin)