Get connected with our daily update
By Nathan Bernier, KUT
The Leander City Council is scheduled to vote tonight on whether to hold an election on severing ties with Capital Metropolitan Transportation Authority – a move that could end commuter rail service to the suburban community and allow Leander to keep millions of dollars each year in sales tax revenue.
The looming decision has prompted Capital Metro to make some last-minute overtures to the suburban community, including the creation last week of a $10 million fund to help smaller cities pay for infrastructure that supports public transit, like sidewalks, bus stops and lighting.
The Capital Metro board also directed CEO Randy Clarke to come back to the board by Monday with initial options for a deal with Leander.
But that may be too late to avert an election on Capital Metro membership. Leander City Council is set to meet at 6 p.m. tonight and vote on whether to hold the referendum May 7.
At the heart of the issue is the almost $10 million in annual sales tax revenue Leander sends to Capital Metro each year, an amount Leander expects will grow to more than $18 million in the next decade as the city's population swells.
Austin, Manor, Lago Vista, Jonestown, Point Venture and San Leanna also collect a 1 percent sales tax to pay for Capital Metro services. But only Austin and Leander have rail service.
For its annual payment to Capital Metro, Leander gets to be the last stop on the MetroRail commuter line. Capital Metro also operates the on-demand service Pickup in Leander along with the MetroExpress 985 commuter bus, which offers five daily southbound trips from Leander into Central Austin.
But Leander's MetroRail service remains by far the most expensive. It costs $7.2 million annually, which is 92 percent of the cost of Capital Metro services in Leander, according to a city-commissioned transit study by Goodman Corporation, a planning and engineering firm.
As transit ridership plummeted during the pandemic and Leander's sales tax revenues surged with more people shopping online, the subsidized cost for each trip on a bus or train by a Leander resident rose from about $45 to $214, the Goodman Corporation told Leander City Council members.
"There's nothing wrong with the service itself," Leander City Council Member Kathryn Pantalion-Parker told KUT. "We've got more (transit service) than we need. It's just not being used. If the ridership doubled, it still does not justify the money."
Capital Metro has raised doubts about the Goodman Corporation study, arguing that pre-pandemic ridership should not be used to forecast future transit demand, especially given that Austin voters agreed to help fund a $7 billion transit expansion.
Project Connect includes light-rail lines that one day will make it possible to ride the rails from Leander to Austin-Bergstrom International Airport.
"We're going to be a region of 4 million people. This place is exploding in growth and we all know it," Clarke said. "We can't have a multimillion-person region and everyone alone by themselves in a car."
If Leander holds the election and voters approve leaving Capital Metro's service area, the city would have to pay the transit agency more than $33 million based on a legal formula. That would amount to about three years in sales tax revenue.
If voters rejected leaving Capital Metro, a withdrawal election could not be held again for at least five years.
This story was produced as part of the Austin Monitor's reporting partnership with KUT.
The Austin Monitor is a nonprofit, nonpartisan media organization with a mission to strengthen our shared information space and democracy.
In earlier phases of the pandemic, people took it as the perfect moment to uproot their lives to the newest boomtown. Many, particularly Californians, found a fit with Austin, enjoying the Texas weather and lower cost of living. But for some, it may only be a pitstop.
Melaku Mihret, who works remotely in Austin for a Meta office in the Bay Area, thinks some of the Californians who have moved to Texas in the pandemic may just move here temporarily, save money and then head back. Others have also speculated a possible reverse migration, but it may be too early to tell.
According to the Kinder Institute at Rice University, Texan migration to California has remained steady for years. And when it comes to Californians leaving, the institute says it's less about a pull into Texas and more of a push out of California driven by home prices.
But they're not all staying in Austin. U-Haul data shows departures from Austin were up 18% even as one-way arrivals were up 22% in 2021.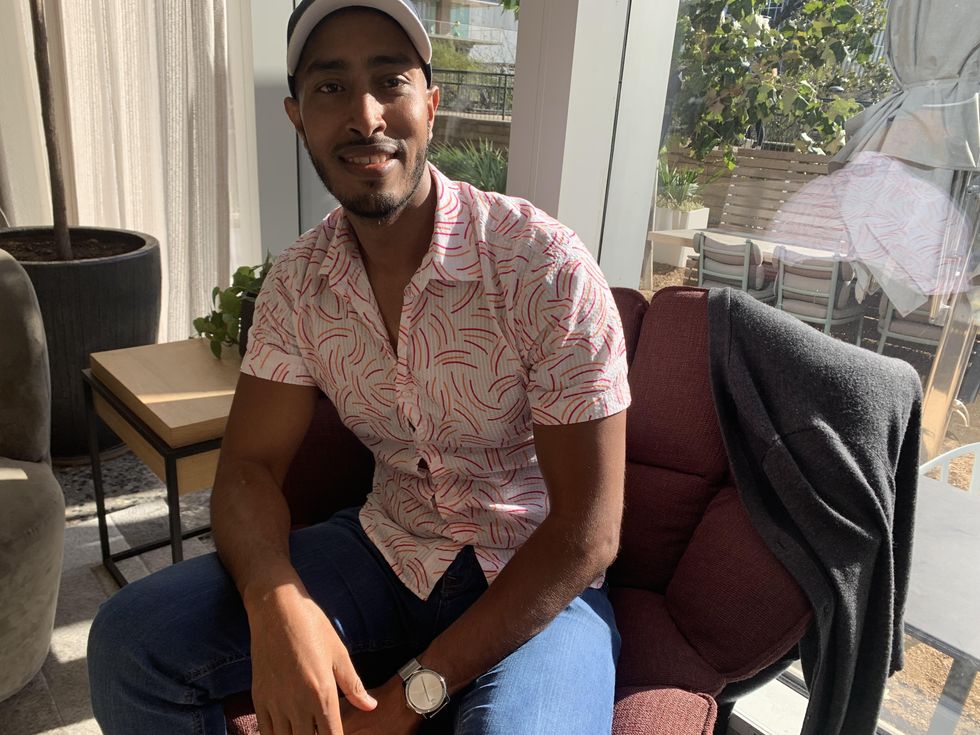 Melaku Mihret, a remote worker a Meta office in the Bay Area, is now living in Austin. (Andrea Guzman)
For Mihret, the biggest driver behind his move was the squeeze of costs in Northern California. If the cost of living wasn't an issue, Mihret said he'd live in the Bay Area. So if Austin continues to become less and less affordable, would Californians go back?
For Mihret, not many places come close to what California offers. He points to the nature, such as the mountains and lakes, in California and the massive tech hub it is. Austin is "not even nearly close to California," Mihret said, after acknowledging Austin's growth as an emerging tech hub.
Meanwhile others like Ian Davies, who grew up in Austin and left in 2011 when he was in high school, much prefer living in Austin.

His family had moved to Philadelphia, years passed and he eventually landed a job in financial operations at NBC Universal in Los Angeles, California. When the option of remote work during the pandemic came around, he longed to return home.

"I couldn't wait to move back to Austin," Davies said. "Not that I didn't enjoy my time in LA. But LA is just a whole other beast than Austin."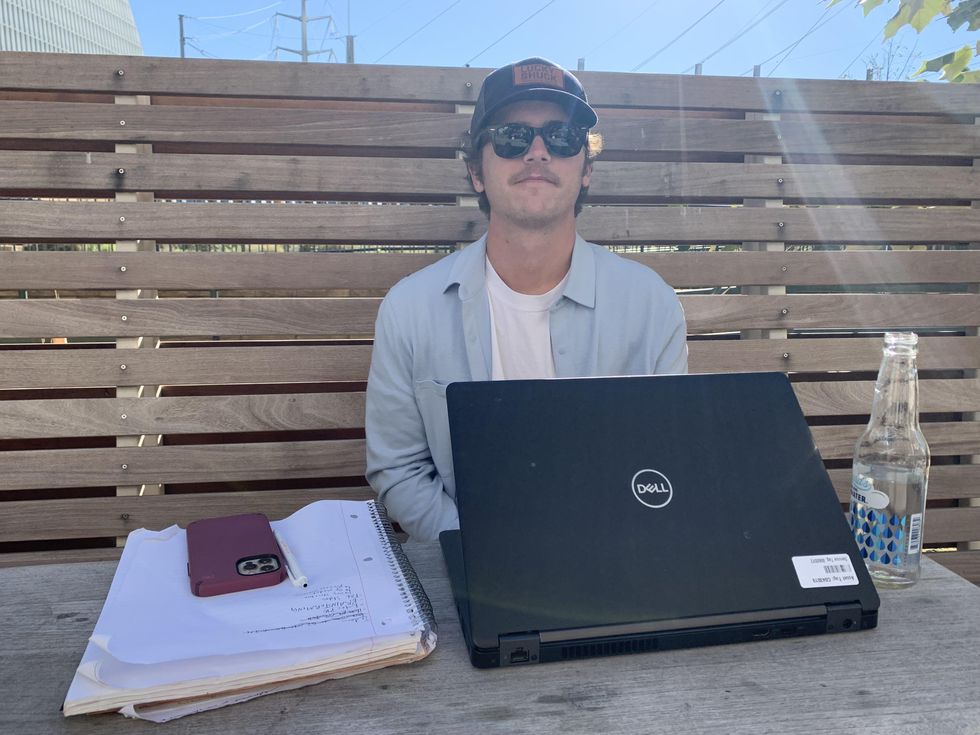 Ian Davies does remote work for NBC Universal in Downtown Austin in early January. (Andrea Guzman)
But a downside he says is it's become more expensive in the past year and half since he returned. The Austin-Round Rock-Georgetown metro area had the 12th highest change in a recent study on cost of living increases across the country. And among the nation's top 10 tech hubs, Austin saw the largest year-over-year increase in average rent this past September, with an average of $1,647.
It's a cost of a growing city. Davies sees a positive in all the growth, as he enjoys living in a city with a diverse population, like when he was in LA.
"There's a group of Austinites who are very against people moving here, and I'm definitely not part of that crowd. I want to share this city with other people. I think it's awesome."

He says he wouldn't want to be anywhere else.
"I hope that Austin can keep its soul and keep its weirdness. Like blues and rock and live music," Davies said. "I haven't seen much of that change. I hope people that move here can adapt the spirit of the past and carry that."
As 2021 comes to a close, City Council Member Kathie Tovo said she's "strongly considering" a run for mayor in 2022, according to a report from the Austin Monitor.
Though she didn't confirm the run, Tovo is entering her final year as a District 9 representative and 12th year on City Council. Currently, candidates for mayor officially include conservative Jennifer Virden. Meanwhile, State Rep. Celia Israel has formed an exploratory committee and former State Sen. Kirk Watson has expressed interest.
Mayor Steve Adler can also petition for a third term, which he has yet to indicate, otherwise his term will end in 2023. Election day is Nov. 8, 2022.
After two of what Tovo called the hardest years on City Council in 2020 and 2021, Tovo has had plenty of time to reflect on which issues to tackle in the New Year. Alongside the rest of the world, Tovo, a Democratic council member, said her main focus has been on COVID-19 recovery.

District 9, which covers Downtown, Central Austin and South Congress, has been hit particularly hard in the pandemic. Tovo said she has been focused on business and arts sector recovery, particularly uplifting musicians, increasing equitable food access and strengthening child care options.
When Austin's pandemic response took a pause for Winter Storm Uri, Tovo sponsored the resilience hubs initiative which will expand to all Austin neighborhoods to bring food, water and warmth in the event of another disaster.
Tovo is also focusing on reducing violent crime on Sixth Street after the last year saw increased criminal activity, including several shootings. Tovo's solution is to foster a well-trained and fully-staffed police force.
Finally, after focusing on bringing affordable housing to the city over the last year, Tovo wants to proliferate accessory dwelling units and increase access to affordable construction loans. A resolution for ADUs is planned for January or February.
Tovo's seat already has some competition—progressive candidate Zohaib Qadri announced his run for the District 9 seat in
mid-November.