Austonia AM
100% Austin news, info, and entertainment, straight to your inbox at 6 a.m. every morning.
In five minutes, you're fully informed and ready to start another great day in our city.
Get connected with our daily update
On May 12th the City's Ethics Review Commission spent nearly two hours discussing a complaint against Mayor Pro Tem Natasha Harper-Madison lodged by Olivia Overturf. Commission members tuned in remotely for the meeting.
The complaint was ultimately dismissed.
But the substance of the discussion was eclipsed, in hindsight, by the fact that Commission Member Debra Danburg made faces at her computer camera that could only be described as bizarre, as seen in the photo montage published here.
Read the full story at The Austin Bulldog.
(The Austin Bulldog)
The Austin City Council will vote Thursday to direct staff to calculate a proposed maximum property tax increase of 8% higher than the current revenue.
The vote is an administrative step that gives the council the flexibility to adopt a rate higher than the state cap of 3.5%.
Under a property tax law passed in 2019 (SB 2), cities are capped at a 3.5% revenue increase per year without voter approval, excluding revenue derived from new construction and improvements.
Read the full story at The Austin Bulldog.
In 1987, North and South Austinites put their differences to the test as they met on opposite banks of what was then called Town Lake for an epic tug-of-war competition, where more than a hundred "Bubbas" of South Austin, the so-called "auto parts capital of the world," met with the "Yuppies," who were known by the South as "wine-sipping, quiche-eater pantywaists."
More than 30 years later after the ripped T-shirt Bubbas dragged their suit and tie Northern foes into the water, Lady Bird Lake separates two very different cultures within the capital.
While South Austin is known for its "weird" Austin atmosphere and ties to the music and food culture, North Austin is often viewed as Austin's center for big tech, bigger corporations and swaths of young professionals.

With iconic South Congress and Zilker Park on their side, South Austinites claim to reside in the cultural hotbed of the city, where Austin's reputation as the "Live Music Capital of the World" earns its merit.
Cody O'Dell, a real estate agent and comedian who grew up in Austin, said that his current South Central neighborhood is a lingering remnant of a former Austin.
"I feel like South Central's where you really see the DNA of the city of Austin," O'Dell said. "It embodies that kind of 'Keep Austin Weird' vibe."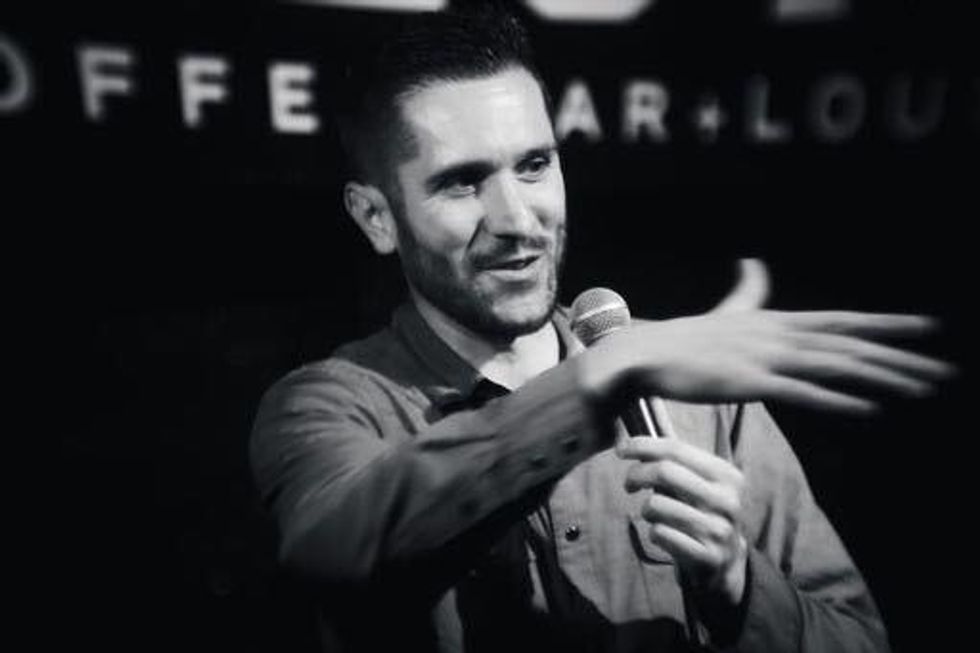 Cody O'Dell says South Austin, where he lives, still has a sense of old Austin.
Meanwhile, 24-year-old Matt DeMario, who grew up in Round Rock but has had his taste of many different Austins, is a North Austinite through and through.
DeMario boils the division down to two words: hippie vs. tech. He also said development hasn't transformed South Austin in the same way it has up North.
"One of the interesting distinctions is South Austin hasn't been gentrified, but the North has," DeMario said. "It's the old Austin hippie vibe versus new Austin tech."
Matt Myers is president of the North Austin Civic Association. He has seen his neck of the woods transform around him.

Myers set his roots in Austin more than 30 years ago and bought a North Austin home for $88,000 in 1992. Since then, he's seen large-scale developments including the Mueller planned development and The Domain, a commercial, retail and residential development, bring big business in. He's been around as the North Austin Tech District attracted Samsung, Apple and other corporations. Now, Myer's home is even within walking distance of Austin FC's new Q2 Stadium.

Myers planned to leave North Austin when his youngest daughter graduated from high school, but he stuck around because of good neighbors, lighter traffic and great entertainment.
"It's just a very attractive part of town to work in, to live in, to be entertained in," Myers said. "I've really earned a respect for the people who live here that are passionate about our neighborhoods and want to see them improve."
The Domain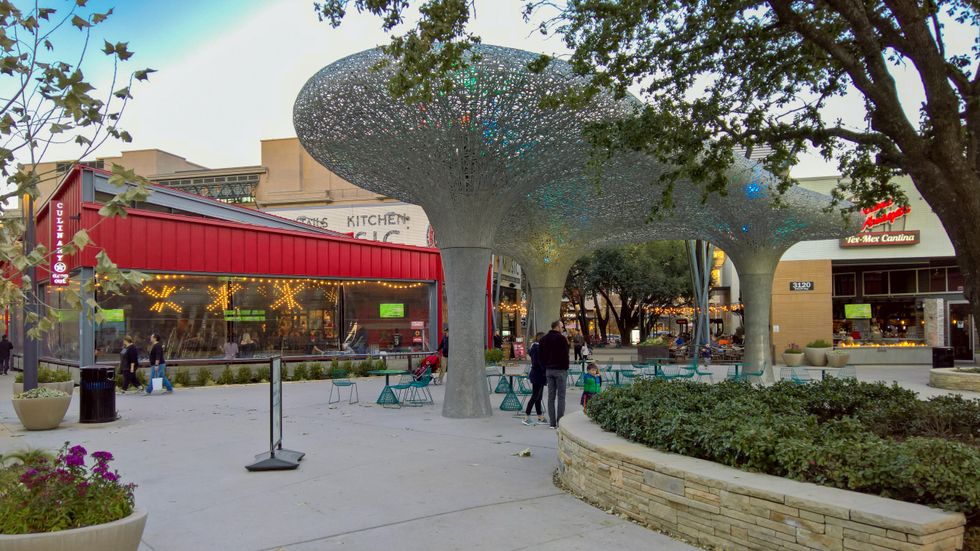 The Domain combines living, working and playing in a sprawling, high-end North Austin city center. (Shutterstock)
River Park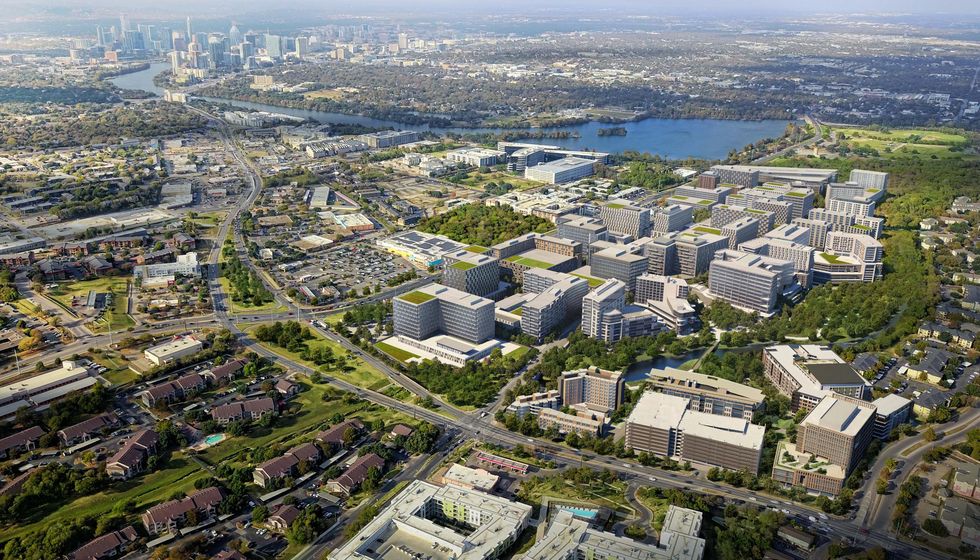 The controversial River Park development is due to open in phases over the next two decades. (Sasaki)
New developments are crowding South Austin, however, and Myers thinks the South could eventually mirror the North. A Domain-style development, River Park, is in the works on East Riverside as Tesla and Oracle move nearby, and South Congress's new Music Lane is drawing even more interest to the cultural hub. Still, DeMario thinks that development will be skewed North "for the foreseeable future."
O'Dell, who believes The Domain is the "antithesis of what Austin is supposed to be about," doesn't welcome the change.
"I feel like the South is fighting that existential battle with the North over the corporate behemoths' influence of big tech and all the shifts that come with that," O'Dell said. "It's the struggle of Austin to keep its cultural identity."
Both are united on one front, however. Skyrocketing housing prices on both sides of the river are driving people out, and eventually, the North/South division could be between Round Rock and Buda as newcomers leave Austin for less expensive housing.
"Those city vibes... (some people) aren't really interested or care about that," O'Dell said. "They're just looking for affordable living."
As the new Moody Center comes to life, homegrown tech giant, Dell Technologies, announced it is the premier founding partner for the new venue that will replace the Frank C. Erwin Center for Austin events and Austin entertainment.
The Moody Center, located at 2001 Robert Dedman Drive, will be the new home for University of Texas events, including graduation and basketball games, along with acting as a multi-purpose facility for the city that will serve for concerts and other events.
Through the partnership, just outside a section of the facility will be Dell Technologies Plaza, a place for post-game shows and community events. Dell will also donate tickets for Longhorns basketball games to the Boy & Girls Club of the Austin area.
It's been a long time coming for the Moody Center, which was first announced in December 2018; it broke ground one year later. It has since started booking shows for its debut in 2022, starting with pop sensation The Weeknd for April 2022. The facility, named after the Moody Foundation, will be able to expand to 15,000 seats.
In a live virtual media conversation with Senior Vice President of Global Brand and Experiential at Dell Liz Matthews, C3 Presents Partner Charles Attal said he sees the Moody Center changing Austin from a place world-class bands used to skip on tours to being the world-class venue they book multiple dates for.
Matthews said aside from the Moody Center maintaining Austin's music scene, it was important to Dell that it be an inclusive environment that will host women's basketball games, along with men's.
In the same conversation, UT's Minister of Culture Matthew McConaughey, who helped up with the vision of the facility, said the Moody Center is making wins—furthering the women's basketball program and bringing big-time bands to Austin—sustainable in the city for years to come. McConaughey quoted UT Athletic Director Chris Del Conte in what he see's the Moody Center being: "It should be the first place that a world-class band should want to come play, and the last place that a visiting basketball wants to come play."