Get connected with our daily update
When the historic Polar Vortex swept through Austin in February, all 254 counties in Texas were put under a disaster declaration as millions of people statewide were left without power, water, heat or all of the above. As the weather begins to cool off, the threat of another winter storm is becoming more and more imminent.
Now nine months after Winter Storm Uri left hundreds dead in its wake, ERCOT reports that Texas could suffer another outage during the chill if enough power facilities are forced offline during peak energy demand like they were in February—and it would take a storm less extreme than Uri to make that happen.
What state action was taken after Winter Storm Uri?
Six ERCOT board members resigned in order to "allow state leaders a free hand with future direction" less than a week after the conclusion of the storm. Since the resignation, little has happened on the statewide level.
In June, Gov. Greg Abbott signed two power grid reforms into law, declaring that they had "fix(ed) all of the flaws" that sent 4 million residents without power during the storm. Later that month, 12,000 MW of power unexpectedly went offline, which is several times more than would typically be offline during the month.
But some from both parties worried that the reforms, which include mandating "winterizing" essential power plant equipment across the state and imposing fines on energy providers that fail to do so, as insufficient.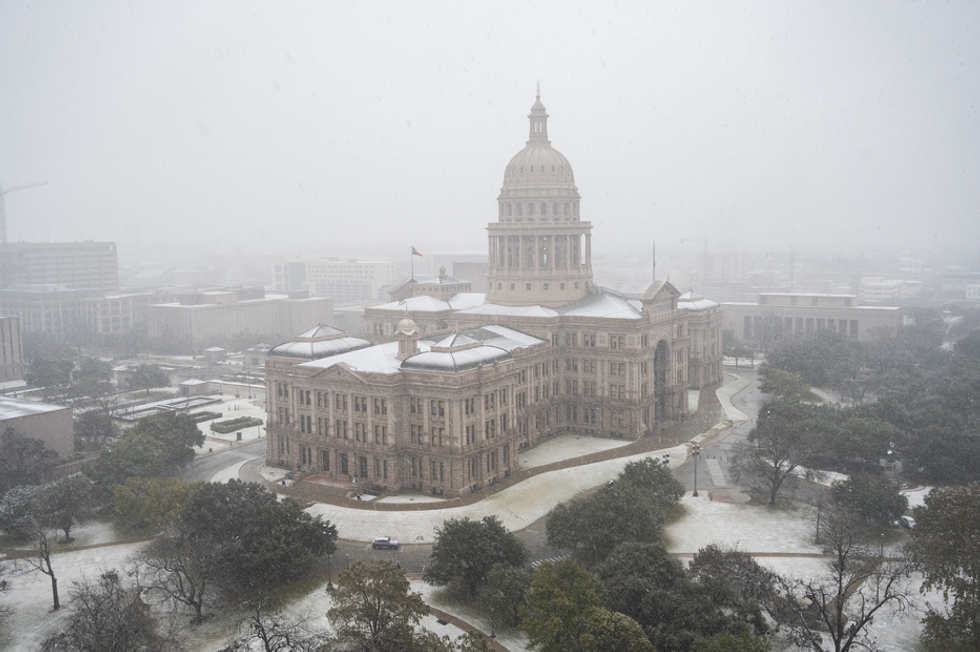 Snow covered Austin and the Texas Capitol in February that led to statewide power outages. (Bob Daemmrich)
Oil and gas companies, which have long reigned king in a fossil fuel-drenched Texas, labeled winterizing each plant as excessive, and Senate Bill 3 leaves it up to those companies to determine which sources are "essential." The bill failed to raise the power-generating capacity of the grid.
Still, in October regulators completed a rule that requires power plants to use "best efforts" to keep plants going this winter, including fixing issues from last year. With the reforms, ERCOT "anticipates that there will be sufficient installed generating capacity available to serve the system-wide forecasted peak demand" of the upcoming winter season. And though the grid operator estimates that more energy will be available this winter when compared to last winter, four of its five extreme, low-probability scenarios studied in the report would result in a serious power shortage.

The winter storm has been one of the main issues that has caused Abbott's approval rating to dip from 59% to 45% from pre-pandemic to September 2021.
What's happened on a local level?
As the lights slowly switched back on in the crippled Texas power grid, the city of Austin's woes were just beginning. Before Winter Storm Uri, Austin Water saw winter weather as a low threat to the city's water supply. But after days of freezing temperatures, the city faced broken pipes, a "boil water" notice as water treatment plants sat shut off, and eventually an outage that left thousands without water.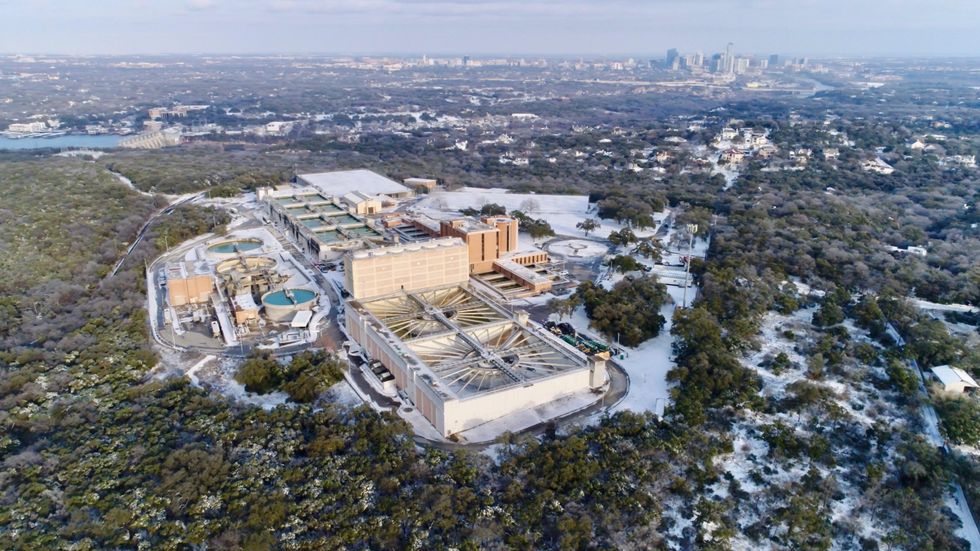 The Ullrich Water Treatment plant with a layer of snow in February. (Steven Joyner)
The city has since recovered from the crisis and says it is working to improve beyond the state's measures. The city of Austin, including Austin Energy and Austin Water, conducted extensive reviews released in early November to see how they can improve the Austin metro's infrastructure before another potential disaster.
Austin Water has completed repairs at most of its water treatment plants; dispatched heaters, sand and more winter equipment; and is expecting to have all exposed pipes insulated by the end of 2021. The department's 52-step improvement plan prioritizes winterizing equipment and upping certain plants' electricity generation capacity.
"Austin Water teams have done tremendous work since Winter Storm Uri to repair our facilities and put measures in place to make our infrastructure more resilient should prolonged freezing temperatures return this winter," Austin Water Director Greg Meszaros said in an email to Austonia. "We also have developed a blueprint for infrastructure replacements and upgrades that will be prioritized to further enhance our resiliency."

Meanwhile, an Austin Energy spokesperson told Austonia that while Austin Energy "helped prevent a total ERCOT-wide grid failure," it recognizes room for improvement and is "actively engaged" with state lawmakers and regulators. On the local level, the department has completed 29% of the 112 follow-up actions discussed in their After-Action report, including "increased vegetation management, further sectionalizing circuits and developing processes to reduce power in the downtown network and to collaborate with large industrial customers in response to grid emergencies."
The intersection at Bettie Naylor and Colorado Streets is now a sea of colorful stripes where Austin City Council and Austin LGBTQ Quality of Life Advisory cut the ceremonial ribbon on newly-minted rainbow crosswalks in honor of National Coming Out Day.
City officials, LGBTQ advocates and Mayor Steve Adler met at the intersection on Monday morning to announce the crosswalks, painted with a brand new Progressive Pride flag. The intersection will be closed until completion—approximately 5 p.m. The City also released the 2021 LGBTQ+ Quality of Life study today.
Adler said the gesture was long-overdue, announcing Austin had become the third most populous per capita city for the LGBTQ community in the country, and a symbol of belonging for everyone in Austin.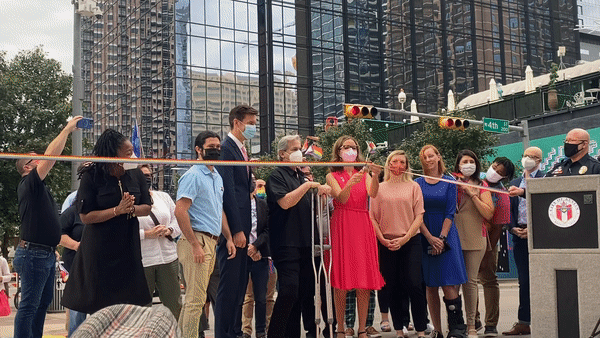 The mayor and city officials cut a rainbow ceremonial ribbon to unveil the new crosswalks. (Laura Figi/Austonia)
"For many here in our community, seeing this physical representation of a stated city value is long overdue but a really welcome sight," Adler said. "These crosswalks are an indication of Austin's spirit of inclusion, unity and acceptance. These vibrant colors painted on our streets will stand as a beacon and a symbol of diversity to everyone."
The location was intentional, according to the city. The crosswalks sit along Bettie Naylor, a portion of W. 4th Street named after the LGBTQ visibility activist, and in the heart of Austin's gay nightlife scene.
In addition to the four crosswalks, three nearby utility boxes will also be decorated as part of Austin Transportation's Art Boxes program—the box in the same intersection will have a Progressive Pride flag and a purple circle in a yellow triangle for intersex individuals.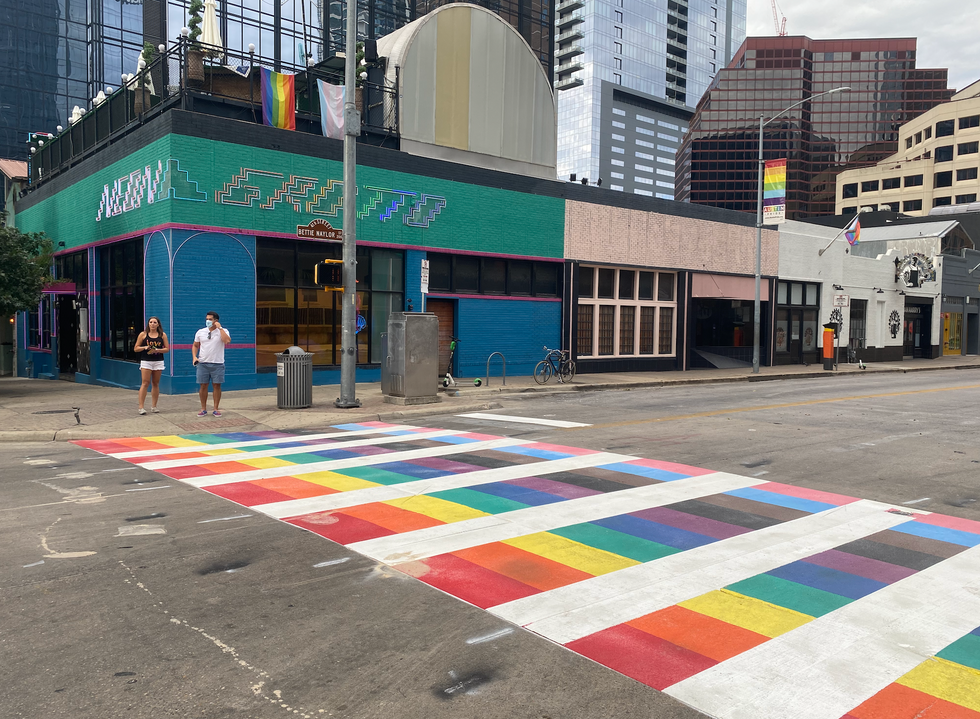 The intersection of Bettie Naylor and Colorado streets is now painted in the LBGTQ community's symbolic colors. (Laura Figi/Austonia)
Ryn Gonzales, operations & program director for OutYouth and chair of the LGBTQ Quality of Life Commission, said they were excited to see a step in the right direction and they look forward to advancing Austin together.
"This is a great symbolic first step for our community—our kids are going to feel a little bit more seen than they did yesterday and all the days before," Gonzales said. "We cannot do this alone, we have to do it together. The thing that I've always loved about our community: we've always done it together. Maybe not always perfect but together, and always in the spirit of making sure that no one is left behind, no one is forgotten."
The design is a mixture of the six colors of the rainbow for Pride, black and brown to represent the community of color; baby blue, white and pink for the Transgender community. According to the City, the colors were requested by the community.
"Everyone in Austin, no matter what street corridor or crosswalk that they're on, gets to feel like this is home for them," Gonzales said.
From Your Site Articles
Related Articles Around the Web
As Austin City Limits wristbands get ready to ship out, Austin city officials confirmed that they have yet to approve the October festival for its special event permit on Wednesday.
KXAN reports that ACL may need to change its COVID-19 safety guidelines in order for the show to go on—the city updated its requirements in late August for event permits on city property, saying large events must acquire a negative test from all attendees, regardless of vaccination.
The festival's website still states that fully vaccinated attendees "may show proof of full COVID-19 vaccination instead of proof of negative test."
Earlier this week, the city denied the permit for the 40th annual Pecan Street Festival, which was scheduled for Sept. 18-19. This is the fourth time the Pecan Street Festival was canceled.
Amid artist Stevie Nicks dropping out of the festival due to COVID concerns, there have been calls to cancel the festival again with #cancelACL. Though COVID-19 cases and hospitalizations spiked this summer, the seven-day moving average for cases has been on a steady decline since late August.
The city only has authority over events on city-owned land, like ACL at Zilker Park, which is why other large events are unaffected by the permit restrictions.
As local ICUs exceed capacity in a third surge, Austin COVID deaths have surged past numbers from this time last year.
At 19 deaths for the past week, this is the first time this summer that deaths were higher than last summer, according to the latest data from the City of Austin.
There were three weekly COVID deaths in Austin for all but two weeks starting in mid-June, with four deaths in the week ending July 16 and six the week ending July 30. By Aug. 13, the number had tripled to nine deaths, followed by 12 deaths in the week of Aug. 20 before hitting 19 this past week.
Last summer's surge swelled to 38 deaths in the week of July 23, but by the week ending Aug. 26 had fallen below this year's weekly toll with nine deaths this time last year.
The weekly death toll is also the highest it's been since the winter surge, when deaths peaked at 59 for the week ending Jan. 30. By March 6, the number had fallen to 12 deaths.
The numbers released by the City of Austin come as hospitalizations due to COVID surpassed the rate from the first summer surge in Texas. Available ICU beds reached a pandemic low in the state on Friday afternoon with just 303 available beds, with just seven available in the 11-county Central Texas region that includes Austin.
Austin Public Health said on Friday that ICU resources are being "stretched to the max," with 239 patients in the ICU for the 200-bed capacity.
A number of factors have contributed to the surge affecting hospitals. The more contagious Delta variant has led to more spread of the virus in the community, especially affecting the unvaccinated population. ICU patients with COVID complications have mostly been unvaccinated people, according to APH. Additionally, a nurses staffing shortage has kept the city and hospitals from offering more beds for ICU patients.
Gov. Greg Abbott and the Texas Department of State Health Services announced the deployment of additional medical personnel and equipment to assist hospitals Thursday, while APH once again urged Austinites to get vaccinated to help prevent hospitalization and alleviate the strain on the city's health resources.