Get connected with our daily update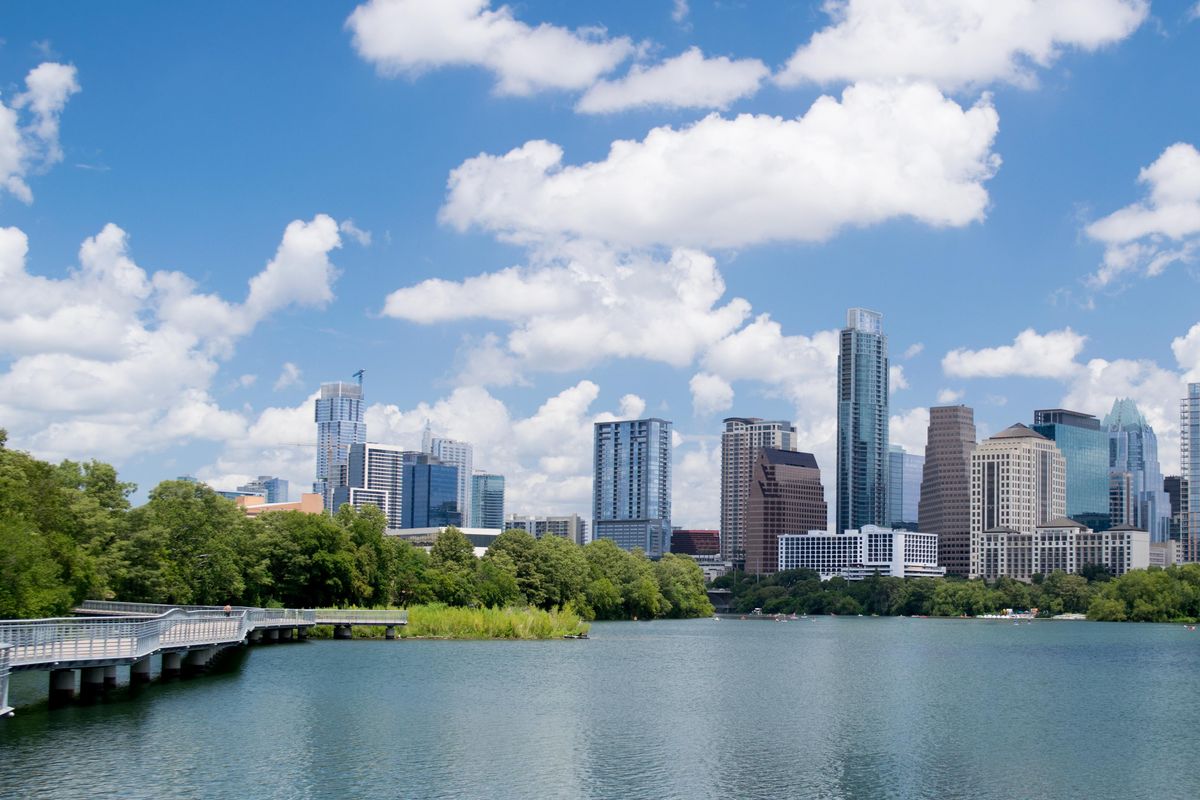 Days after Memorial Day, it officially feels like summer in Austin with a Heat Advisory Monday and a slew of 100+ degree weather on track for the week.
Triple-digit temperatures are expected in Central Texas for at least seven days straight, with near-record temperatures expected Tuesday, Friday and Saturday, according to the National Weather Service.

Increasing clouds tonight for most of the eastern part of south central Texas with lows in the 70s. For the rest of the week, the story is dry and heat weather conditions with highs in the upper 90s up to 107 degrees. #txwx pic.twitter.com/i19NMZDAaT
— NWS Austin/San Antonio (@NWSSanAntonio) June 6, 2022
That near-record heat, coupled with almost nonexistent cloud coverage, could exacerbate a drought that has reached extreme levels. Lake Travis is at its lowest level since 2018.
Austin also just came out of its hottest May in 125 years. Austin-Bergstrom International Airport saw 1.8 inches of rain in May, down from an average of 5.1 inches.
At San Antonio International Airport, only 4.58" of rain has fallen between Jan 1 and June 5. This is their 9th driest start to a year. Some folks are drawing comparisons w/ 2011 in TX. Drought is not as bad/widespread as it was at this time that year, but it'll be a hot summer! pic.twitter.com/Nw9oxsEj3b
— NWS Austin/San Antonio (@NWSSanAntonio) June 6, 2022
Austin still hasn't reached 2011 records, when an extreme drought scorched Austin with 27 straight days of 100+ triple-digit days. Still, the city typically doesn't reach 100 degrees until July 4, and the Climate Prediction Center said that Central Texas will continue to see above average (93.1-93.7 degrees) temperatures through June 19.
When triple-degree heat sets in and heat indexes rise high enough for a Heat Advisory, the National Weather Service recommends that residents limit strenuous activity outside, stay hydrated, stay out of the sun whenever possible and keep children and pets out of unattended vehicles.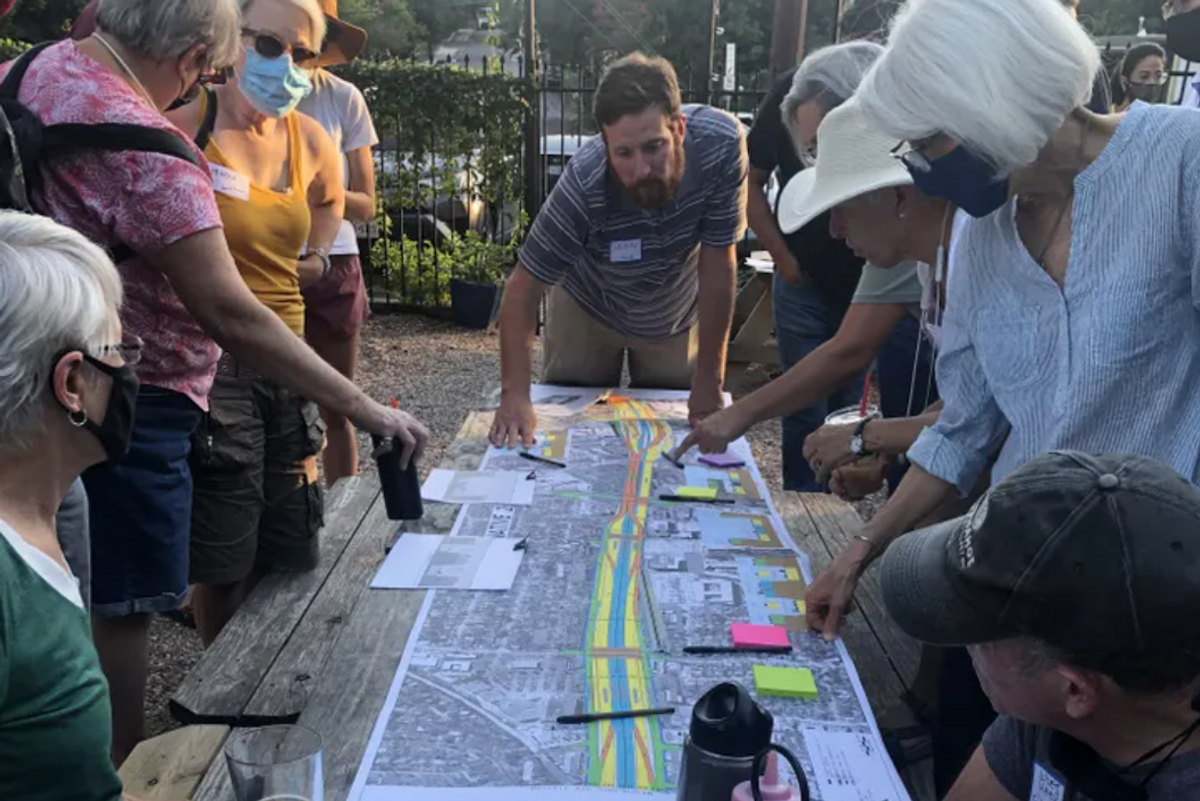 Community opposition to the Texas Department of Transportation's plan to drastically expand Interstate-35 continued this week, with local elected and appointed officials speaking out against the project in droves.
The Capital Express Central project, which would widen I-35 in an eight-mile stretch of central Austin from the Manor Expressway to Ben White Boulevard, is designed to improve the highly-trafficked highway as the population of Central Texas continues to grow.
The current proposed plan, which is undergoing an environmental review, would add two lanes in each direction on I-35, significantly widening the highway, as well as adding additional flyovers and improving access for cyclists and pedestrians. TxDOT says that the changes will "creat[e] a more dependable and consistent route for the traveling public."
Some Austinites—particularly those who live close to the highway—are not pleased. Individuals can give their feedback on the project online through Sept. 24.
Community opposition
A bevy of community leaders, including city council members, rallied last week against the proposal. The city's Urban Transportation Commission gave it an official seal of disapproval Tuesday night, voting in favor of a resolution asking TxDOT to abandon the expansion project or asking the city to do its best to stop its implementation.
That frustration with the plan, which opponents argue will increase noise and air pollution while doing nothing to decrease traffic on the already heavily congested stretch of highway, has been echoed at community meetings.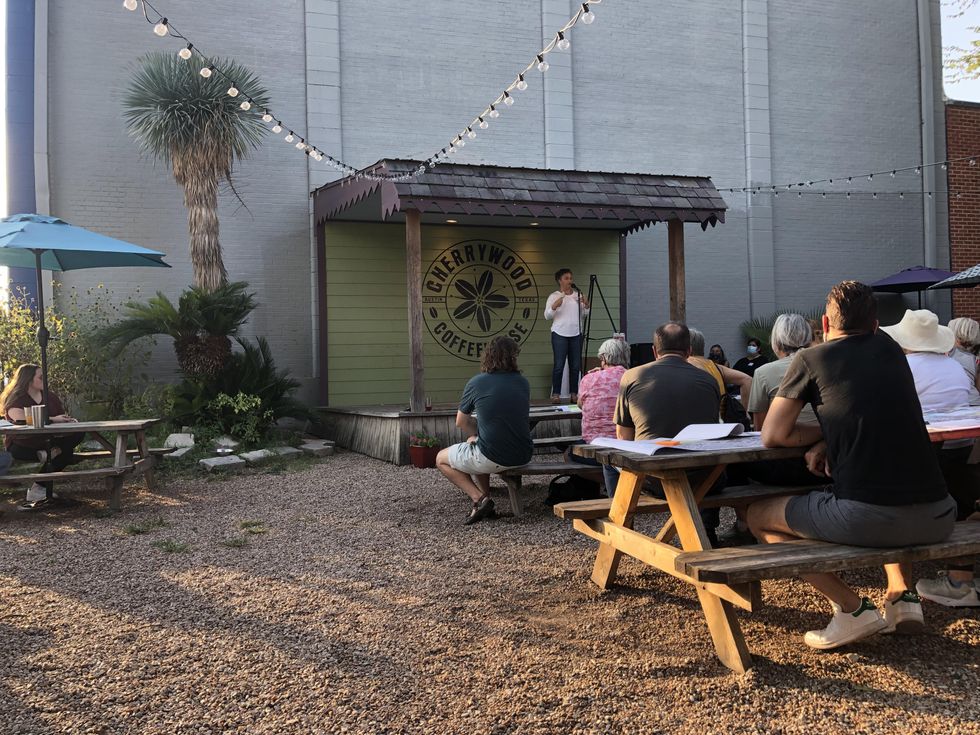 Brandy Savarese of the Cherrywood Neighborhood Association helped host a meeting about the I-35 project at Cherrywood Coffeehouse. (Abe Asher/Austonia)
At Cherrywood Coffeehouse in East Austin on Wednesday night at an event sponsored by the Cherrywood Neighborhood Association steering committee, State Senator Sarah Eckhardt (D-Austin) said that the highway project needs cooperation between city, state and federal officials on how to renovate in a climate-friendly way that combats economic displacement.

State Rep. Sheryl Cole (D-Austin) agreed—arguing that Austin is not getting the input it should have in the process.
"What can we say? The state has done it to us again," she said. "TxDOT has told us what they won't do, but we can't listen to that and stop from making our voices heard. And I really feel like our voices have not been heard and TxDOT has not taken enough of an opportunity to come out."
TxDOT representatives were present at Cherrywood Coffeehouse, answering questions about possible plans. Some of those present supported TxDOT alternatives to the proposed build, while others voiced support for different measures like obtaining new funding for cap-and-stitch measures and other proposals like one from transportation organization Reconnect Austin.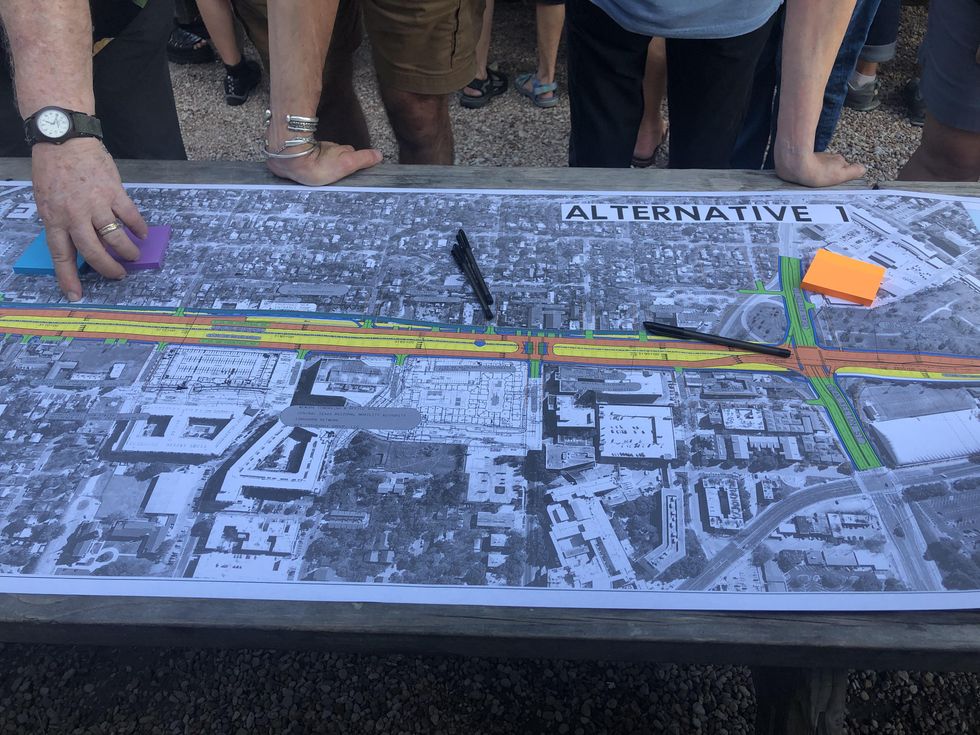 TxDOT provided alternatives to its I-35 plan to those at Cherrywood Coffeehouse. (Abe Asher/Austonia)
The interstate makes up the Cherrywood neighborhood's western edge, and many of the older homes in the neighborhood predate its initial construction.
"If you look anywhere around the United States and the world, you can see a lot of alternatives (to highway expansion)," Cherrywood resident Lamar Vieau said. "It's not like we need to do this again to see that it doesn't work."
The city of Austin does not have any direct ability to stop the project, and may, depending on how TxDOT precedes, be forced to follow an example set earlier this year when Harris County sued in district court to halt the Department of Transportation beginning planned expansion of I-45 and redoing the project's environmental review. The project has since been paused by the Federal Highway Administration, citing civil rights concerns associated with the project.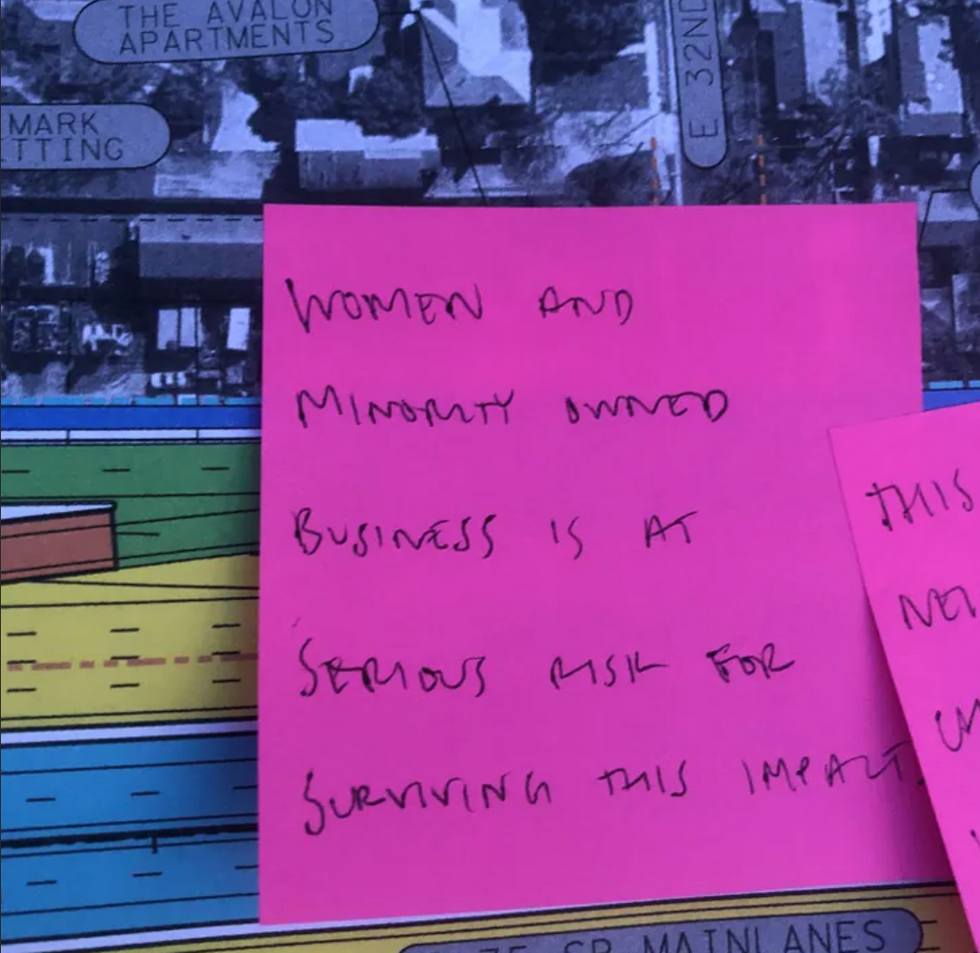 A note on the expansion plan stated the project would hurt minority owned businesses. (Abe Asher/Austonia)
Historical, climate concerns

The current plan appears to be at odds with Austin's stated transportation and livability goals, along with having cultural issues, on a number of levels.
I-35, which was called East Avenue before it was incorporated into the interstate system, seperated the city between the white westside and Black and Hispanic eastside in the first half of the 20th century and has long been seen as a race and class dividing line. Two years ago, State Sen. Kirk Watson (D-Austin) told KVUE that the highway is a "scar on the city."
That aspect was not lost on Vieau. "I think it would be great if we could bury it and stitch it over, or at least look at some other ways of moving some of that traffic," he said.
The proposed expansion would also necessitate that the state claim some 150 properties as eminent domain alongside the current I-35, including a number of houses as well as longstanding businesses like the venerable Stars Cafe and the office of The Austin Chronicle.
With the city's stated goal to reduce single-occupancy vehicle mode share from its current level of 74% to 50% within the next two decades, a major highway expansion designed for cars is not expected to help accomplish that.
"We can't just… do what has always been done," Annette Stachowitz, a 61-year resident of Austin originally from Germany, said. "Lots of traffic, add some more lanes. There will be lots of traffic, add some more lanes. And there will be lots of traffic again, and, you know—somebody has to say, hey, let's find a different way."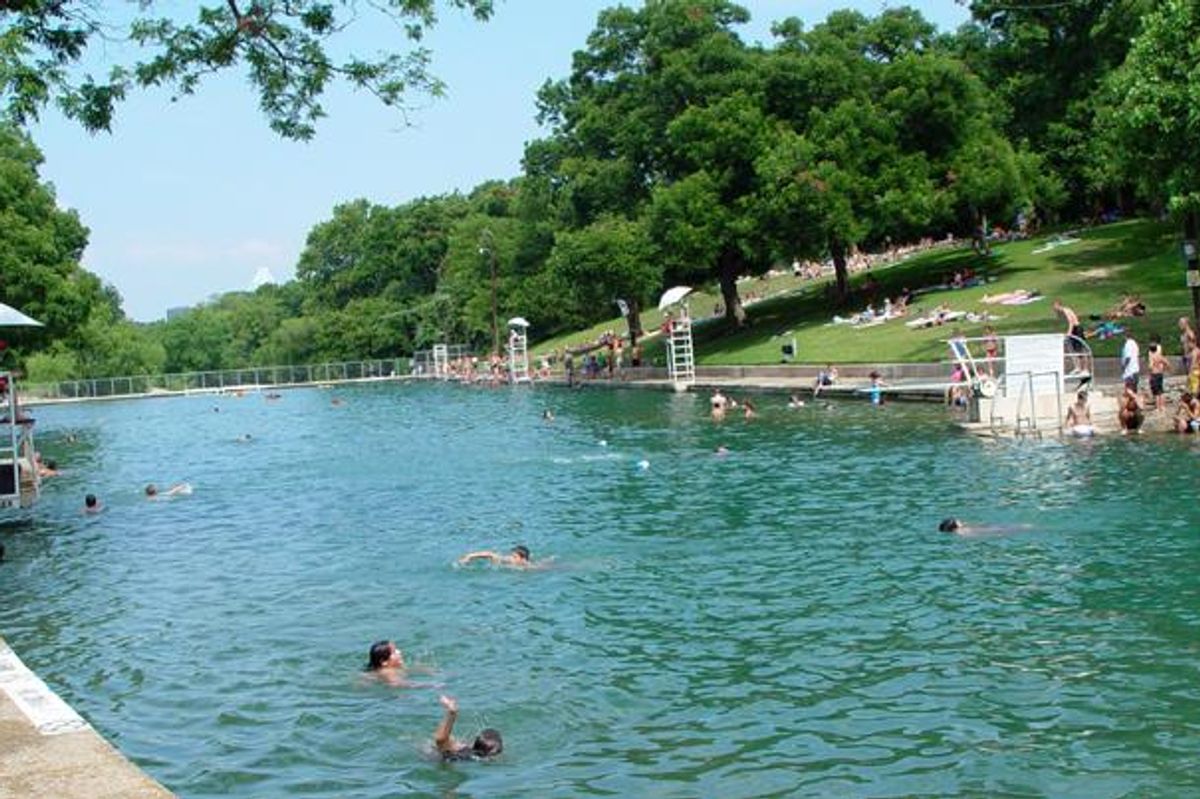 Austin's already warm climate is getting warmer, according to new data released by the National Oceanic and Atmospheric Administration.
NOAA calculates climate normals, describing the average weather over the past 30 years, based on measurements gathered at more than 15,000 observation stations; they're updated each decade.
In Austin, the average temperature at Camp Mabry on West 35th Street was 70.7 degrees between 2011 and 2020, up 0.9 degrees from the previous decade and 2.1 degrees from 1981-90. The steepest increase was reported among the average daily maximum, which was 81.5 degrees between 2011 and 2020, up 1.2 degrees from the previous decade and 2.7 degrees from 1981-90.
"Texas is definitely one of the areas that has more warming than some areas in the country," NOAA Science Project Manager Michael Palecki said. "That's probably directly related to greenhouse gas-induced climate change."
Nationally, average temperatures are clearly rising. Between 1981 and 2010, the average temperature in the contiguous U.S. was 52.8 degrees. The new normal, calculated between 1991 and 2020, is 53.3 degrees—the warmest on record.
Although the new climate normals were anticipated, their impact is still being felt in Austin and around Texas. Environment Texas Executive Director Luke Metzger cited worsening heat, flooding, wildfires, species loss and toxic algae blooms.
Rising temperatures have drastically increased the number of days over 100 degrees compared to the 20th century, shifting Austin's climate closer to that of Arizona than what it has been historically and affecting residents' quality of life. "If it's just so hot, it's miserable," Metzger said, noting the particular impact on people who work outside, such as those in the construction and agricultural industries, and vulnerable populations like the elderly.