Get connected with our daily update
There is nearly nothing Texas loves more than its Saturday game days, and according to Texas Athletic Director Chris Del Conte, Longhorn fans can plan to pack the stands again in 2021—pending herd immunity.
As the one-year anniversary of COVID-19 rolls around, a hopeful fan reached out to Del Conte on Twitter this week and asked if the University of Texas is planning for full stadium capacity when the season starts, "assuming the majority of the country is vaccinated."
Del Conte responded with an optimistic "That's our plan," flashing a hook 'em emoji.
Texas plans to open the season on Sept. 4 against Louisiana—a start date that is still more than 190 days away. During the 2020 season, stadium capacity was limited to 25%—or about 25,000 attendees. Other sports were limited as well.
With medical professionals projecting that the U.S. will return to some degree of normalcy this year—Dr. Marty Markay predicting normalcy by April and Dr. Anthony Fauci predicting a much later timeline of the end of 2021—Texas Football celebrations might be in the future.
However, Austin Public Health has previously said relaxing COVID safety measures—such as capacity restrictions at events—the county would need to establish herd immunity—which occurs when 70% to 75% of the population is immune to the disease. Currently, only 11% of the age 16 and older Travis County population is vaccinated with at least one dose. The Johnson & Johnson vaccine could be authorized for emergency use by the Food and Drug Administration on Friday; the availability of a third vaccine could speed up the process of achieving herd immunity. And COVID cases continue to decline.
All in all, UT started collecting deposits for season tickets three weeks ago, inviting fans to become part of the #AllGasNoBrakes era of Texas Football led by new Head Coach Steve Sarkisian, saying the athletic department plans to return to normal on its website.
"Texas Athletics is currently planning for attendance at 2021 home games to be at 100% seating capacity. We will continue to monitor local COVID-19 health and safety conditions in coordination with NCAA, Big 12, University, state, and local medical partners," the website reads.
Texas is starting the spring season a little later than normal this year, planning to start the first practice on March 23 and first game pending on April 24. In his weekly newsletter, Del Conte encouraged fans to come out for the first game, saying "you'll definitely want to plan to be in Austin for that one."
(Texas Football/Instagram)
Saturday, the Texas Longhorns will face one of its oldest rivals—Baylor—in a matchup that has all the makings of a do-or-die game for the Longhorn season.
Last season, The University of Texas lost a back-and-forth game to Baylor 24-10 in Waco. This year will mark the 60th time the two programs face off against each other in the capital city, with Longhorns fans hoping that this season's home field advantage might play a role in a Texas victory.
Baylor, losers of their last conference game against West Virginia on Oct. 3, come to Austin in hopes of moving up the Big 12 standing and competing for a conference title at the end of the year.

The Longhorns, and their fans, are still trying to get over the overtime loss to Oklahoma two weeks ago, which not only knocked Texas out of AP's Top 25 ranking but also put them at 1-2 in conference play. Add into the mix the debate over "The Eyes of Texas" still burning bright on Longhorn message boards, with the Longhorn band reported not to be traveling due to resistance to play the song. Even the school mascot Bevo isn't safe from controversy after being sued by a photographer it charged at the Sugar Bowl in 2019.

Dear Baylor Bears: you'd better strap-down your helmets, the Longhorns are our for revenge. Seriously, you'll get… https://t.co/YebyNj45Vs

— Ed (@Ed)1603152081.0
One of the only bright spots has been senior quarterback Sam Ehlinger. Ehlinger threw for 200 yards and rushed for 79 more against the Baylor defense last year. This season, Ehlinger has continued being dangerous with both his arm and his legs, leading the conference in passing yards (1,211) and touchdowns (16). Combined with his five rushing touchdowns, Ehlinger is the proven dual-threat quarterback in the conference. But even with Ehlinger and the offensive successes, the Texas defense still ranks near the bottom of the conference in defensive efficiency.

The defense shouldn't be a problem this weekend however for the Longhorns. Baylor has struggled putting points on the board against good Big 12 competition, scoring only 21 points in two overtimes against West Virginia.
Longhorns fans of course are always nervous when senior quarterback Charlie Brewer comes to town. Brewer threw for a touchdown and rushed for one last season in the match up in Waco, but was forced to leave against West Virginia two weeks ago due to a shoulder injury.
After the Bears had to move their game last week against Oklahoma State back due to COVID concerns, Brewer has had two weeks of rest and should be ready to go for Saturday's game. The Baylor quarterback's arm is still something for Texas fans to keep an eye on as the game progresses on Saturday.
A Sam Ehlinger led football team has never beaten a Charlie Brewer led football team: 2015 - lost 35-14 2016 - inj… https://t.co/dT1f3JIIW9

— Kyle Umlang (@Kyle Umlang)1603242485.0
The match between the Bears and Longhorns will be ugly. These are two of the most penalized teams in the conferences, and something UT will have to cut down on if they want to win against Baylor. The Longhorns beat themselves on many drives against the Sooners by jumping offsides and committing penalties that took big plays off the board.
To beat Baylor it will come down to three key questions.
Can the Texas offensive line allow Sam Ehlinger and red shirt sophomore receiver Joshua Moore enough time to move the ball down field and keep Baylor linebacker Terrel Bernard out of the picture?
Can the Texas defense contain Brewer?
Can Texas cut out all the different distractions that have been circling this team all season?
The Longhorns are 12-4 coming off a loss in the Tom Herman era. The Longhorns season may be on the line as they try to protect home field against the Baylor Bears at 2:30 p.m. Saturday on ESPN.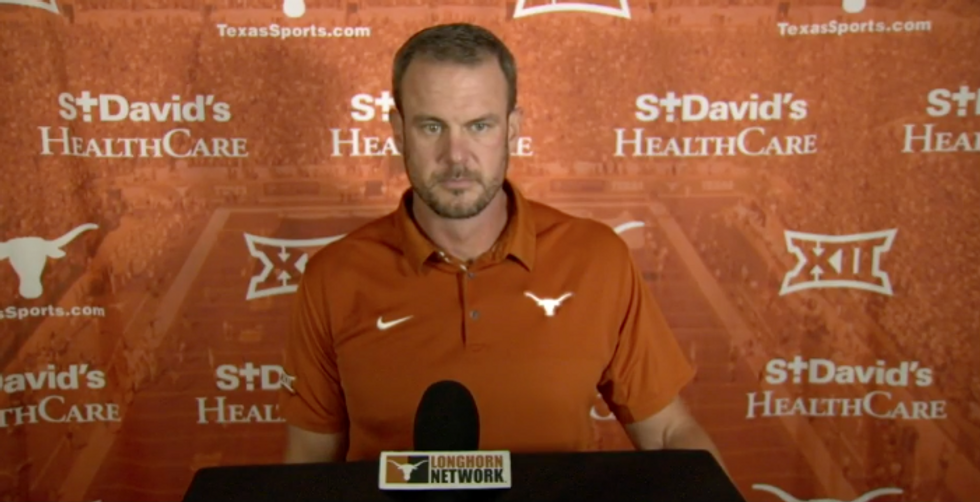 Longhorns' head coach in the hot seat after loss against OU
From Your Site Articles
Related Articles Around the Web
On Saturday, the Longhorns will travel to Lubbock to face off against Texas Tech in the Big 12 season opener for both teams.
Ranked at No. 8 on the Associated Press' Top 25 college football rankings, the University of Texas Longhorns come off a bye week after playing UT-El Paso two weeks ago.
Quarterback Sam Ehlinger threw for over 400 yards and five touchdowns against a UTEP defense that was a good warm up for Ehlinger and new offensive coordinator Mike Yurcich. The Longhorns averaged almost 12 yards per passing attempt in their first outing, an indication that the Texas offense is rounding the corner in Ellinger's last season. Ellinger is currently a Heisman Trophy contender, the most prestigious award in college football.
The running game, led by junior Keaontay Ingram, was able to net over 200 yards in the home opener. Fans might want to also keep an eye on sophomore Roschon Johnson, who had eight touches against UTEP. The one-two punch of Ingram coupled with Ellinger's ability to run the ball is something the Raiders' defense will have to be prepared for on Saturday.
The Longhorn offense is a step up from Texas Tech's home opening opponent, Houston Baptist. While Tech was able to come out with a win, the Huskies' passing attack shredded the Raiders' secondary.
The Raider offense, led by sophomore quarterback Alan Bowman, will have to keep their defense off the field. Bowman didn't see a lot of time last season, only appearing in three games before getting redshirted as a freshmen. Against HBU, Bowman threw for 430 yards and two touchdowns. The Tech running game was led by sophomore Sarodrick Thompson, who last season rushed for 86 yards and a touchdown when Tech visited Austin, a game the Longhorns won 49-24.
Longhorns fans can expect a chess match between Texas Head Coach Tom Herman and Tech's defensive minded Head Coach Matt Wells.
For the Longhorns to win their Big 12 opener, Texas will need to limit their mistakes and keep long drives going with a dynamic run game and Ehlinger's passing strategy. Saturday should be a good tune-up game for the Longhorns and a chance to see one of the more dynamic offenses in college football hit their stride.
More on UT football: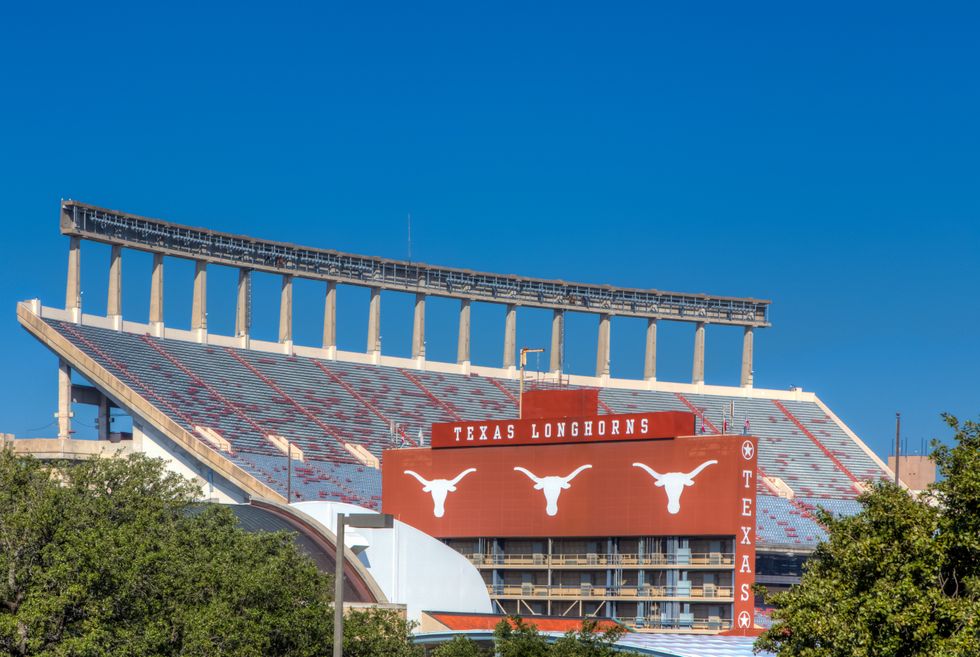 (Eddie Gaspar/The Daily Texan)
By Stacy Fernandez
Officials at the University of Texas at Austin said Wednesday night that students with football season tickets will be required to take a COVID-19 test on Friday and test negative before they can attend Saturday's season opener against the University of Texas at El Paso.
But the same precautions won't be required of thousands of other fans in the stands thus Saturday. There is no testing requirement for fans who aren't UT-Austin students, nor is there a requirement for visitors from El Paso. And not all UT-Austin students are required to be tested — only those who buy "The Big Ticket" season package are subject to the tests, but students who purchase individual game tickets are exempt, said J.B. Bird, a UT-Austin spokesperson.
The mandatory pre-game tests will be provided by the university for free. Students will have from 9 a.m. to 4 p.m. to get tested on campus Friday, according to the university athletics website.
University officials did not immediately respond to questions about why testing only applied to students.
Students, however, were not required to test negative before returning to campus or attending in-person classes.
The Darrell K Royal-Texas Memorial Stadium where the game will be held holds a little over 100,000 people, but capacity for the game will be limited to about 25,000 fans. Meanwhile, outdoor gatherings in Austin are still limited to 10 people or less. Gov. Greg Abbott, however, allowed Texas sports to resume with limited fans in the stands.
Austin officials have repeatedly voiced concerns about the public health effects of hosting such a large gathering at this time."Our gathering limit is 10, and having 25,000 people in one space is a concern," Mark Escott, Austin Public Health's interim health authority, said at a press conference Wednesday morning.
Game attendees must wear masks, there will be marking for social distance and tailgates will not be allowed. The university also added 225 hand sanitizer stations throughout the stadium.
Wednesday, the university reported three coronavirus clusters in a university dorm with about 100 positive cases collectively.
Earlier this week, Baylor University and Louisiana Tech University postponed their opening game due to a spike in coronavirus cases following Hurricane Laura, according to a university statement. Texas Christian University also postponed its season opener against Southern Methodist University. Both games were scheduled for Saturday.
The Texas Tribune is a nonprofit, nonpartisan media organization that informs Texans — and engages with them — about public policy, politics, government and statewide issues.
More on UT: