Get connected with our daily update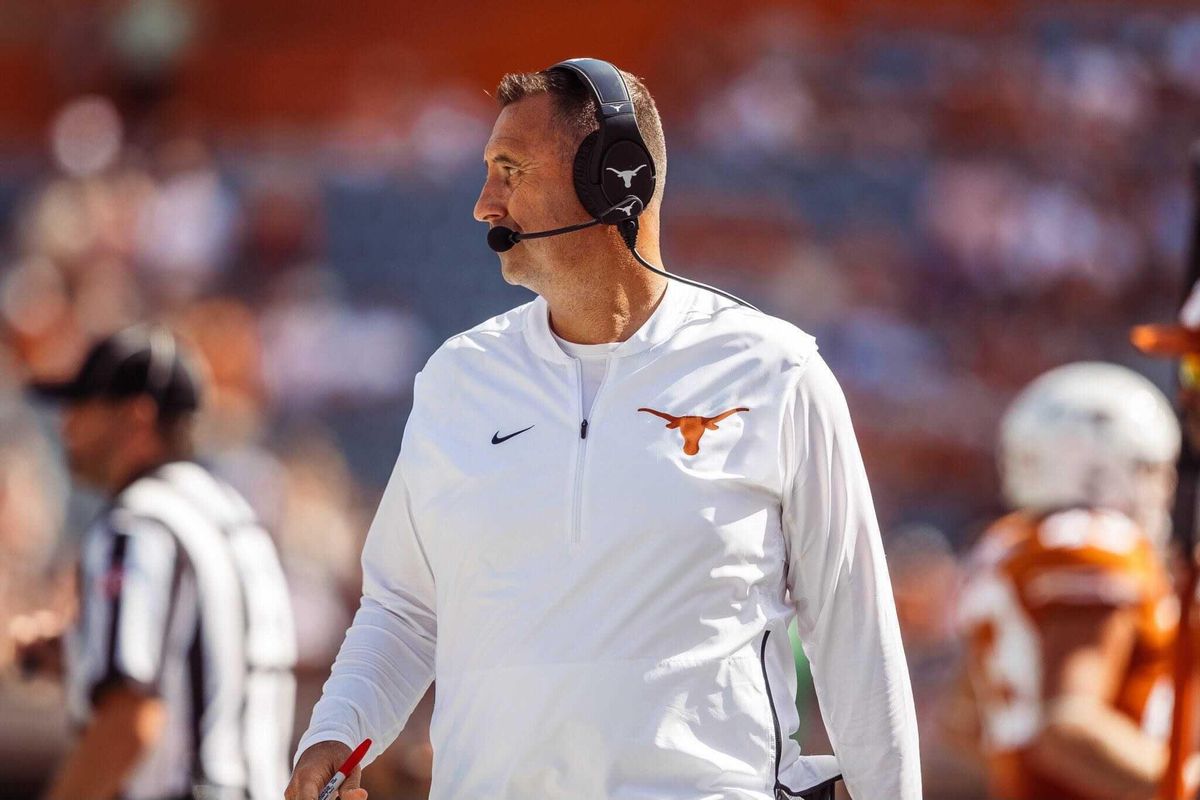 After last season's devastating loss to Iowa State to fall out of Big 12 championship contention and a $25 million payout for former head coach Tom Herman, the University of Texas' football program looked for a fresh start as they brought former Alabama offensive coordinator Steve Sarkisian on for the 2021 season.
Iowa State running back Breece Hall chalked the 2020 win up to a "five-star culture vs. five-star players." That seemed to still ring true as the Longhorns fell to 2-8 underdog Kansas in overtime Saturday, slipping to their first five-game losing streak since 1956.
Herman's name reemerged in Texas football discourse as fans were left reeling from the loss, with many wondering if his departure was too soon. Others speculated that an underdeveloped roster, new coaching style and lack of that "five-star culture" are to blame for the losing skid.
Jeremy Viermann, a moderator for 24,000-strong Facebook group "TEXAS Longhorn Fans," said that the team's habit of firing coaches has created an inconsistent team mindset.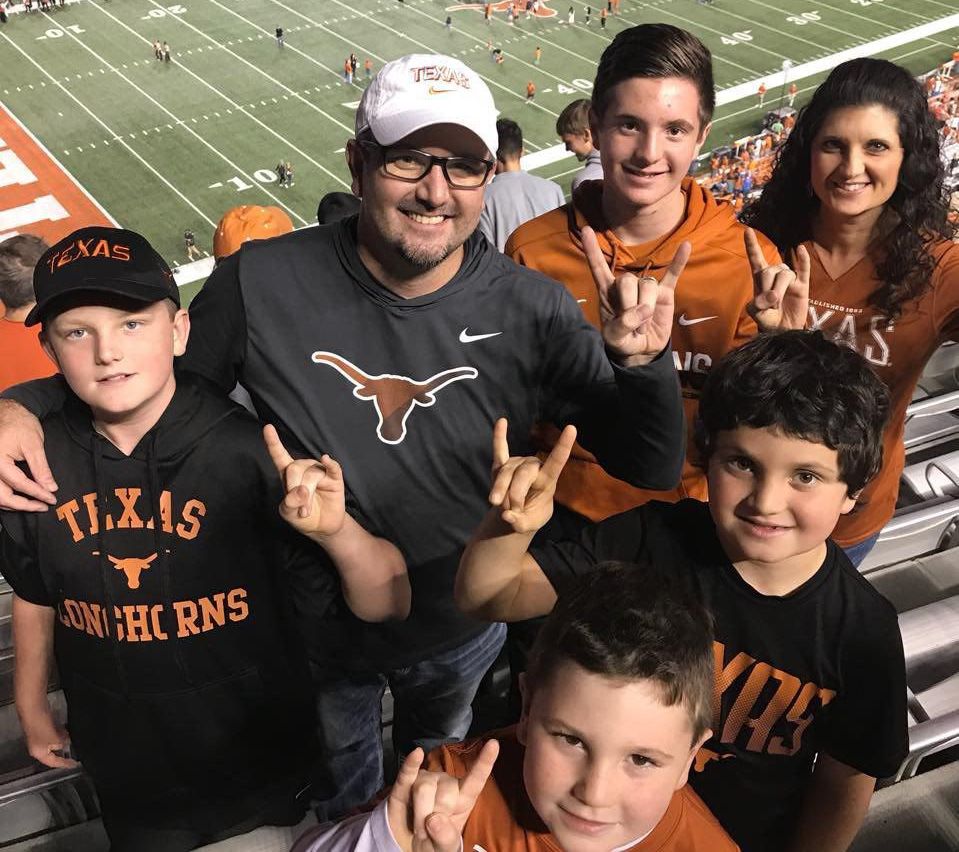 Texas fan group moderator Jeremy Viermann, pictured with his family, is willing to wait for the team to build before calling for Sarkisian's departure. (Jeremy Viermann)
"I think there's some behind-the-scenes cultural things that we don't see on Saturdays," Viermann said. "Now Texas seems to be caught in this cycle where if we're not winning enough, and we're not making everybody happy, then we're going to move on to the next guy. And at some point, you have to break that cycle."
Indeed, Texas' track record hasn't let any coaches fully unpack their bags since 2014, when former head coach Mack Brown was swapped for Charlie Strong six years after his national title. By 2016, Strong's reign was up, while Herman was given the boot four seasons later despite four bowl wins and a winning record each season.
Some say Herman's departure was premature and costly. Others like fan Bryce Hudnall say this season's performance is evidence that he needed to go—even the best new head coach can't perform if only crumbs are left behind.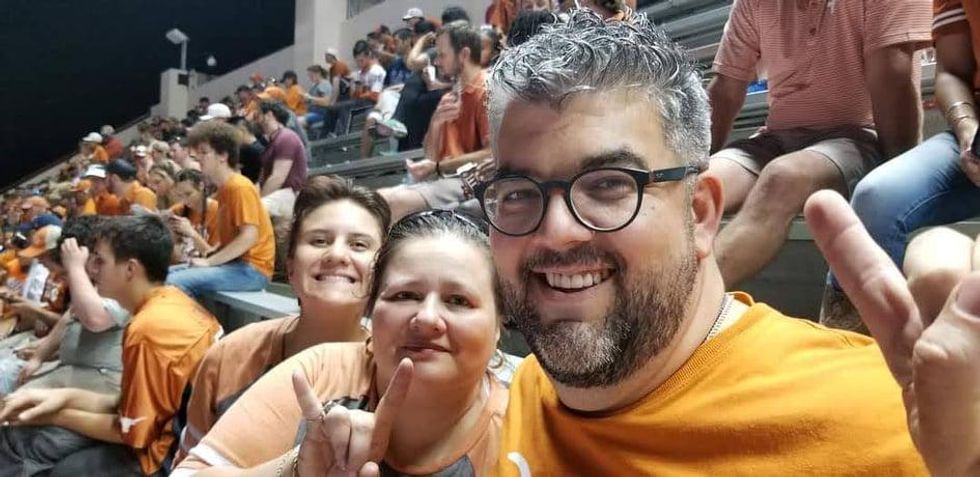 Texas Longhorns fan Bryce Hudnall said Herman's recruiting choices led to issues in the team's offensive and defensive lines. (Bryce Hudnall)
"Herman did put together several wonderfully ranked classes, however, they did not produce," Hudnall said. "Now we can't block and we can't stop the run."
Herman's decent output was also marred by years of scandals that made some believe he wasn't bringing the right values to the team—from rumors of cheating on his wife to unsportsmanlike conduct and the "Eyes of Texas" controversy. Multiple team captains opted out of the final games in the 2020 season, further raising eyebrows of a bigger cultural problem.
Sarkisian points to attrition being an issue at Texas more commonly than most other schools when he was in the race for the head coaching job.

Says he believes the number to be 50% of the 2018 & 2019 recruiting classes are no longer with the program.
— CJ Vogel (@CJVogel_TFB) November 15, 2021
With a dwindling sophomore and junior class, a leaked video of an expletive-laden rant from DL coach Bo Davis as players laughed after an Iowa State loss and wide receiver Joshua Moore's midseason walkout after an altercation with coaching staff, "Sark" is already in the hot seat.
Texas DL coach Bo Davis with some choice words following Texas' no-show in Ames. Refreshing to hear someone with some passion for winning other than the old "winning is hard" BS. Fire em up! #HookEm pic.twitter.com/NA24NIuDwD
— Keshav Prathivadi (@kpthefirst) November 9, 2021
But many fans, including Fanatic Perspective YouTuber Steven Ngati, pin more problems on lack of leadership than coaching oversight.
"Once this team hit adversity this season, they've really melted down in terms of not being able to respond from a toughness standpoint," Ngati said. "What I see is a coach that is trying to implement his culture... some people on the team are buying in, and some people are not."
Still, defensive lineman Keondre Coburn said on Monday the team is still eager to earn two final wins to gain bowl eligibility.
"I can't tell you how people are feeling but we are hungry," Coburn said. "The guys I go on the field with, I know they believe."
And despite a slew of injuries—including star running back Bijan Robinson—the team has seen some highlights. After a shaky two-quarterback system, junior Casey Thompson has taken the reins and became just the second Longhorn to throw six touchdown passes in a game. And true freshman Xavier Worthy has been a surprise standout, logging 11 touchdowns on 49 passes to tie with first among Division 1 receivers.
While some are already calling for Sark to depart, it seems most, including Ngati, are willing to wait for the team to build from the ground up as they await a move to the SEC in 2025.
"My own expectations as a fan have been reset to patience and giving this man his time because I've seen enough signs to where I believe we can be successful," Ngati said.
Enjoying Austonia? Signup for our newsletter to get daily Austin news, straight to your morning inbox!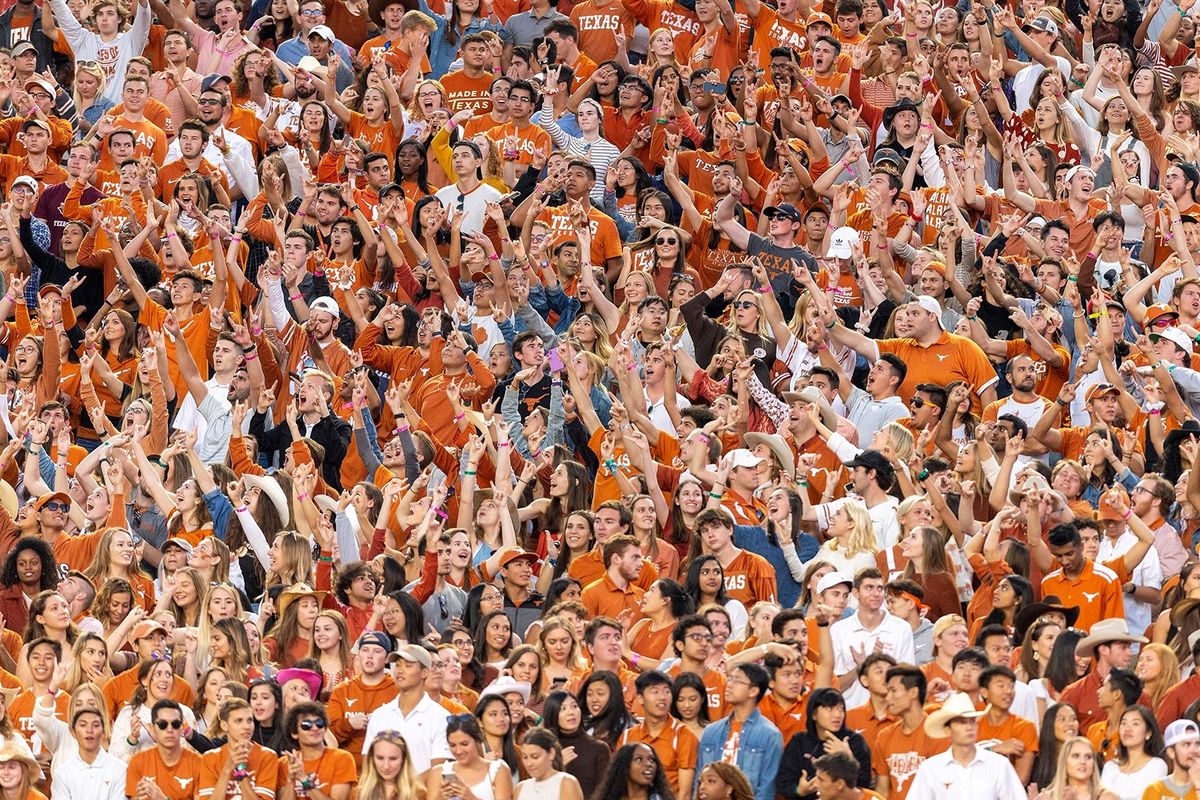 There is nearly nothing Texas loves more than its Saturday game days, and according to Texas Athletic Director Chris Del Conte, Longhorn fans can plan to pack the stands again in 2021—pending herd immunity.
As the one-year anniversary of COVID-19 rolls around, a hopeful fan reached out to Del Conte on Twitter this week and asked if the University of Texas is planning for full stadium capacity when the season starts, "assuming the majority of the country is vaccinated."
Del Conte responded with an optimistic "That's our plan," flashing a hook 'em emoji.
Texas plans to open the season on Sept. 4 against Louisiana—a start date that is still more than 190 days away. During the 2020 season, stadium capacity was limited to 25%—or about 25,000 attendees. Other sports were limited as well.
With medical professionals projecting that the U.S. will return to some degree of normalcy this year—Dr. Marty Markay predicting normalcy by April and Dr. Anthony Fauci predicting a much later timeline of the end of 2021—Texas Football celebrations might be in the future.
However, Austin Public Health has previously said relaxing COVID safety measures—such as capacity restrictions at events—the county would need to establish herd immunity—which occurs when 70% to 75% of the population is immune to the disease. Currently, only 11% of the age 16 and older Travis County population is vaccinated with at least one dose. The Johnson & Johnson vaccine could be authorized for emergency use by the Food and Drug Administration on Friday; the availability of a third vaccine could speed up the process of achieving herd immunity. And COVID cases continue to decline.
All in all, UT started collecting deposits for season tickets three weeks ago, inviting fans to become part of the #AllGasNoBrakes era of Texas Football led by new Head Coach Steve Sarkisian, saying the athletic department plans to return to normal on its website.
"Texas Athletics is currently planning for attendance at 2021 home games to be at 100% seating capacity. We will continue to monitor local COVID-19 health and safety conditions in coordination with NCAA, Big 12, University, state, and local medical partners," the website reads.
Texas is starting the spring season a little later than normal this year, planning to start the first practice on March 23 and first game pending on April 24. In his weekly newsletter, Del Conte encouraged fans to come out for the first game, saying "you'll definitely want to plan to be in Austin for that one."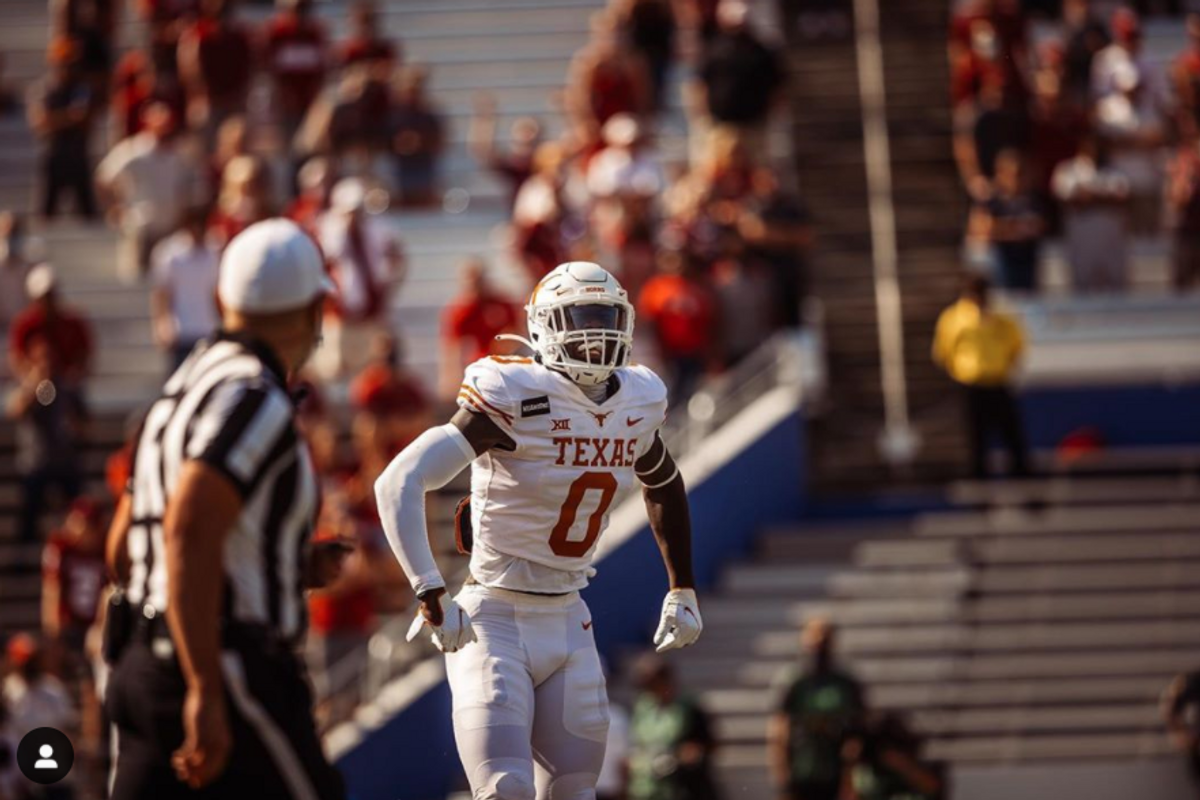 (Texas Football/Instagram)
Saturday, the Texas Longhorns will face one of its oldest rivals—Baylor—in a matchup that has all the makings of a do-or-die game for the Longhorn season.
Last season, The University of Texas lost a back-and-forth game to Baylor 24-10 in Waco. This year will mark the 60th time the two programs face off against each other in the capital city, with Longhorns fans hoping that this season's home field advantage might play a role in a Texas victory.
Baylor, losers of their last conference game against West Virginia on Oct. 3, come to Austin in hopes of moving up the Big 12 standing and competing for a conference title at the end of the year.

The Longhorns, and their fans, are still trying to get over the overtime loss to Oklahoma two weeks ago, which not only knocked Texas out of AP's Top 25 ranking but also put them at 1-2 in conference play. Add into the mix the debate over "The Eyes of Texas" still burning bright on Longhorn message boards, with the Longhorn band reported not to be traveling due to resistance to play the song. Even the school mascot Bevo isn't safe from controversy after being sued by a photographer it charged at the Sugar Bowl in 2019.

Dear Baylor Bears: you'd better strap-down your helmets, the Longhorns are our for revenge. Seriously, you'll get… https://t.co/YebyNj45Vs

— Ed (@Ed) 1603152081.0
One of the only bright spots has been senior quarterback Sam Ehlinger. Ehlinger threw for 200 yards and rushed for 79 more against the Baylor defense last year. This season, Ehlinger has continued being dangerous with both his arm and his legs, leading the conference in passing yards (1,211) and touchdowns (16). Combined with his five rushing touchdowns, Ehlinger is the proven dual-threat quarterback in the conference. But even with Ehlinger and the offensive successes, the Texas defense still ranks near the bottom of the conference in defensive efficiency.

The defense shouldn't be a problem this weekend however for the Longhorns. Baylor has struggled putting points on the board against good Big 12 competition, scoring only 21 points in two overtimes against West Virginia.
Longhorns fans of course are always nervous when senior quarterback Charlie Brewer comes to town. Brewer threw for a touchdown and rushed for one last season in the match up in Waco, but was forced to leave against West Virginia two weeks ago due to a shoulder injury.
After the Bears had to move their game last week against Oklahoma State back due to COVID concerns, Brewer has had two weeks of rest and should be ready to go for Saturday's game. The Baylor quarterback's arm is still something for Texas fans to keep an eye on as the game progresses on Saturday.
A Sam Ehlinger led football team has never beaten a Charlie Brewer led football team: 2015 - lost 35-14 2016 - inj… https://t.co/dT1f3JIIW9

— Kyle Umlang (@Kyle Umlang) 1603242485.0
The match between the Bears and Longhorns will be ugly. These are two of the most penalized teams in the conferences, and something UT will have to cut down on if they want to win against Baylor. The Longhorns beat themselves on many drives against the Sooners by jumping offsides and committing penalties that took big plays off the board.
To beat Baylor it will come down to three key questions.
Can the Texas offensive line allow Sam Ehlinger and red shirt sophomore receiver Joshua Moore enough time to move the ball down field and keep Baylor linebacker Terrel Bernard out of the picture?
Can the Texas defense contain Brewer?
Can Texas cut out all the different distractions that have been circling this team all season?
The Longhorns are 12-4 coming off a loss in the Tom Herman era. The Longhorns season may be on the line as they try to protect home field against the Baylor Bears at 2:30 p.m. Saturday on ESPN.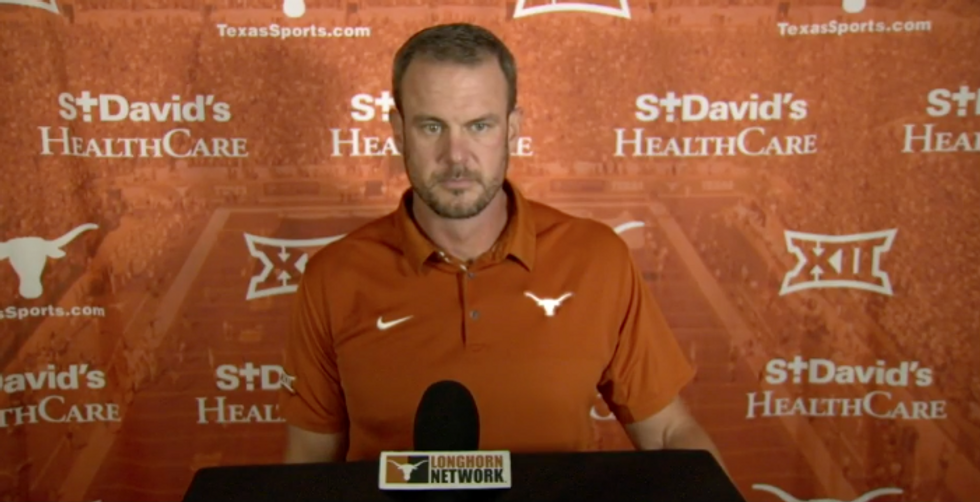 Longhorns' head coach in the hot seat after loss against OU
From Your Site Articles
Related Articles Around the Web