Get connected with our daily update
"Where else would you want to live where it's 93 degrees out, gloomy and smells like queso?" Trevor Wallace said.
TheCalifornian comedian poked fun at new Austin move-ins with $2,000/month dumpsters, plenty of Austiny quirks and an ode to Texas weather in a viral TikTok last week.
Over 1.8 million viewers have seen the video since it was posted on May 5. The post, which channels the woes of some Austinites—and the onslaught of "cool kids" that move in from his home state every day—has more than 275,000 likes as of Tuesday.
Austin's skyrocketing rents were on full display in the video as Wallace approached a dumpster that he claims goes for just $2,000 a month on Zillow ("and it's got a sunroof").
The comedian, who has gained 7.6 million TikTok followers for his often-douchey, clueless characters, also took aim at Austin's culture with these quick-witted quips:
"When we move here, what color do you think you're going to dye your hair?"
"Did you know if you say brisket three times fast, you'll actually shit your pants!"
"I'm actually growing out my mullet right now."
"What's my love language? Girls in a pink cowboy hat."
Wallace also commended the southern city's summertime weather. "Today's weather forecast—a Rainforest Cafe that caught on fire, which is pretty good for us," Wallace said in the skit.
Austin landmarks, including the Texas Capitol and Sixth Street, were on full display as Wallace satirized both Austin's queso-obsessed food scene and recent move-ins in one clever stroke.
"You don't know what queso is? (Laughs in clogged arteries) must be from Fort Worth," Wallace said. "That's in Texas, right?"
Wallace also took a jab at Austin's live-in comedian Joe Rogan, its public transportation and the tendency to see a few too many guns for a Californian's comfort in downtown Austin.
"New York has subways, LA's got Ubers, Austin's got scooters... and shooters," Wallace said. "Welcome to Sixth Street!"
In true Austinite fashion, many residents joined in on the lighthearted jokes against their city in the comments, while others took on the age-old duty of asking no more move-ins to make their way to Austin.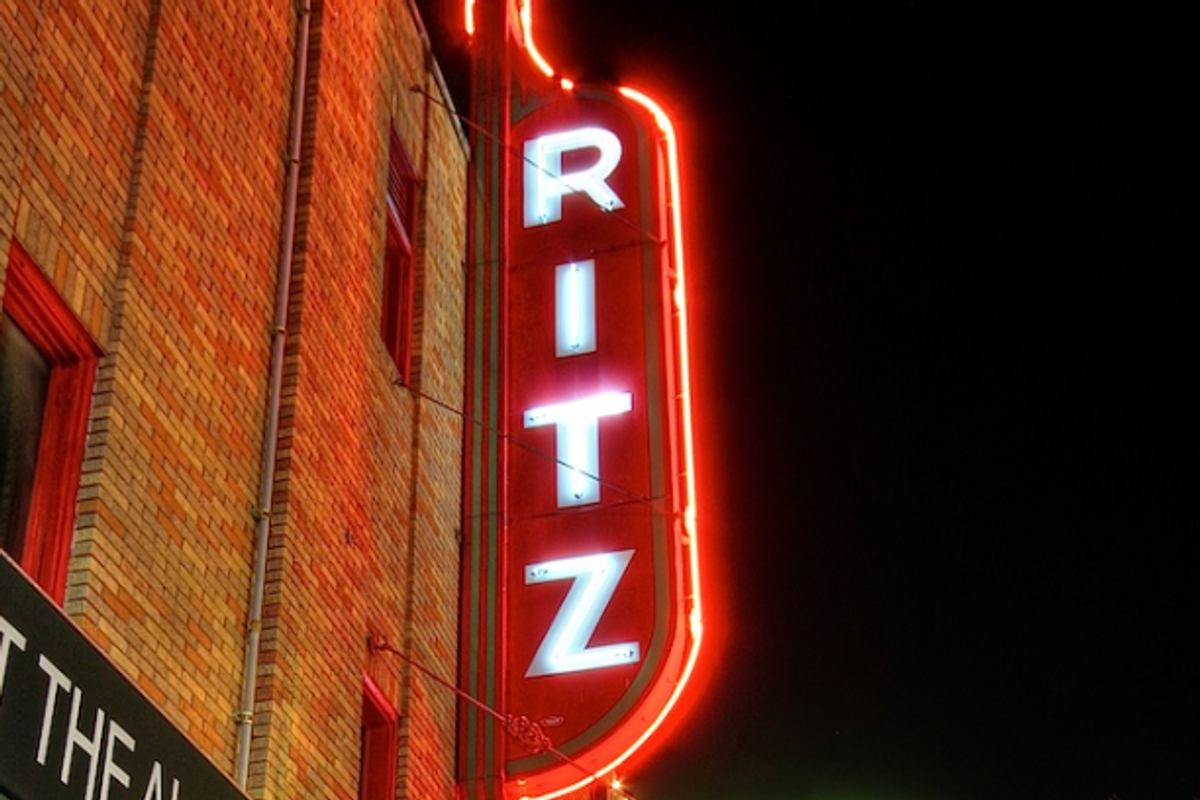 Polarizing podcast star and Austinite Joe Rogan appears to have finally found a home for his planned comedy club in a prime Austin location at the historic Ritz Theater on 320 East Sixth St, according to city property filings and applications.
The new club will be titled the Comedy Mothership, according to a signing permit filed by the group. The news comes after Rogan's plans to open a club at the One World Theatre in West Austin fell through last spring.
At nearly 100 years old, the historic Ritz building has worn many hats as a Sixth Street entertainment hub—it's been host to countless film showings and been home to a comedy troupe and music venues before it was repurposed into an Alamo Drafthouse from 2007-2021.
The venue was bought by the Rogan-linked Asylum Real Estate Holdings in November 2021 after the Drafthouse closed the location. The business is managed by Matthew Lichtenberg, Rogan's representative who represents Level Four Business Management in California.
The entity has filed an application to Austin's Historic Landmark Commission, with a new signage permit set to be discussed on the commission's Feb. 28 meeting under the "Comedy Mothership" title.
That new sign is set to replace the Alamo signage as the group plans to renovate the building to more closely resemble its original design, with a new canopy and roll-down gate expected to be installed as well, according to a Towers report.
Aside from the Monday meeting, there is no timeline on when entertainers—perhaps including Rogan himself—will make their way on the new Comedy Mothership stage. But with Rogan's well-known—or controversial—name behind its back, the club is sure to make a splash on Austin's up-and-coming comedy scene.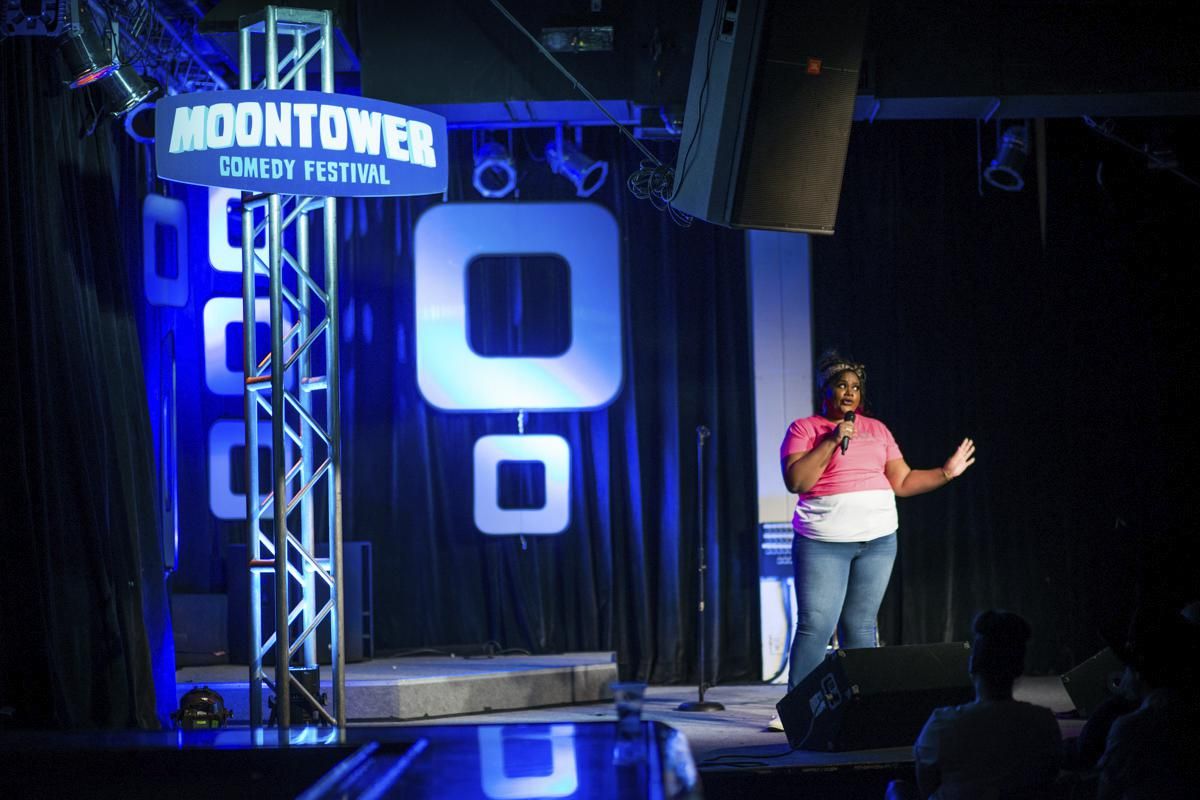 Austin's Moontower Just For Laughs comedy festival organizers announced the first round of performers as it gears up to return for its second annual festival.
The festival for funnies is stepping up its game this time around, taking the festival from just four days to 12 days from April 13-24. More talent announcements will be released in the coming months.
Moontower Comedy Festival and Montreal-based international comedy producer Just For Laughs Group partnered last year and held a quick festival in September, with a shorter schedule due to pandemic postponement. This year's festival will be the first in its true, extended format, spanning over 10 venues.
Here's the lineup: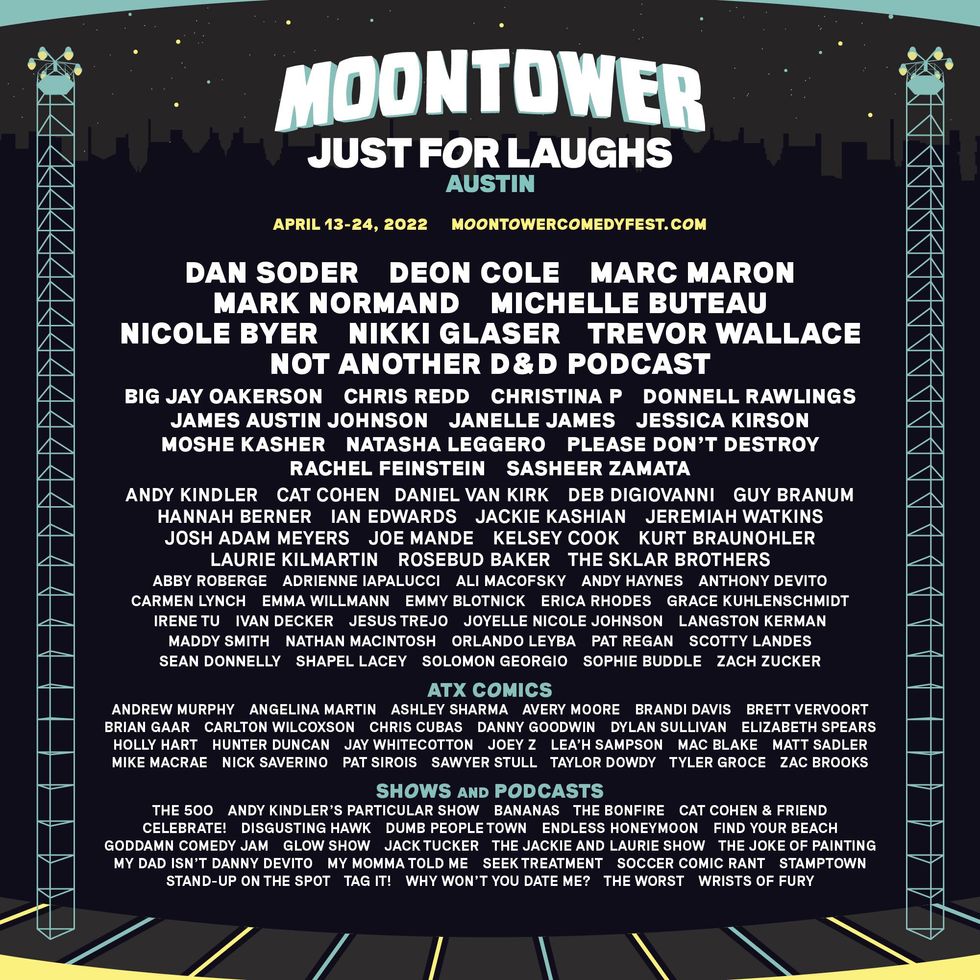 With 20 headlining shows already scheduled at the Paramount and Stateside Theatres and more to come, Moontower Just For Laughs is bigger than ever before.

The Paramount's star-studded lineup includes Showtime's Billions actor and comedian Dan Soder, Emmy-nominated "Nailed It!" host Nicole Byer, "black-ish" actor Deon Cole, "fest favorite" and podcaster Marc Maron, professional Comedy Central roaster Nikki Glaser, and the four hosts of the "Not Another Dungeons and Dragons Podcast," Brian Murphy, Emily Axford, Jake Hurwitz, and Caldwell Tanner.

"Your Mom's House" podcaster Christina P will kick off the Stateside festival, which will also show Saturday Night Live cast members Chris Redd and James Austin Johnson. From "Chappelle's Show," Donnell Rawlings is scheduled to headline three shows, and Rachel Feinstein and Jessica Kirson will co-headline a show in a "rare tour de force."
Plenty of national headliners will be hitting the clubs, like Andy Kindler, Big Jay Oakerson, Grace Kuhlenschmidt and Janelle James. Be on the lookout for the family-secret exposing one-man-show "My Dad Isn't Danny DeVito," by Anthony DeVito. Clubs will also host some live podcast tapings, including favorites like "Bananas" with Kurt Braunohler and Scotty Landes and "Find Your Beach" with Rosebud Baker and Andy Haynes.
Last but not least, the festival will also debut Just For Laughs' signature show New Faces, which showcases the up-and-coming names in the industry. The show, which is a "discovery stand-up showcase," has helped launch major comedians like Gabriel Iglesias, Ali Wong and Pete Davidson.
There's still more to come from Moontower Just For Laughs but you can find more information and
badges on sale here.