Get connected with our daily update
Ready to really crack up? Because Austin's growing comedy scene is just for laughs.
Moontower Comedy Festival organizers met outside the historic Paramount Theater on Friday morning to announce that the 10-year-running event partnered with Just For Laughs Group, a Montreal-based international comedy producer, which will greatly expand the festival.
This year, the festival is running from Sept. 22-25 since it was postponed due to COVID but Moontower Comedy Festival said it will return to its normal April schedule in 2022, this time rebranded as "Moontower Just For Laughs Austin" with 10 days of shows instead of just four.
"We have a built-in audience population who are willing to really experiment with these folks," Paramount Theatre Executive Director and CEO Jim Ritts said. "This is a great place to live. Yes, it's expensive, but yes, it's a great place to live and the (comedy) community is starting to grow. I think that's going to be really important for us."
Moontower Comedy Festival already puts on 95 shows over the course of four days—the new "powerhouse comedy event" will add even more specialty content, venues and comics from both festivals to the diverse lineup. The team said more information on the 2022 festival will become available in the coming months.
Ritts said with this partnership, the Paramount Theatre, Moontower and Just For Laughs hope to make "Austin the Mecca for comedy in the United States."

"We do get the statement related to us with 'Keep Austin Weird.' What we really care about is 'Keep Austin Experimental," Ritts said. "Be willing to try new things, be willing to be open to failing. That's what a comic does."
As the festival expands, Ritts said its comics will still receive the same compensation as before. According to Ritts, all of the comics that participate in the festival are paid full industry rates, have travel covered and are treated like the "special artists" they are.
"I think stand-up comedians are the single greatest, bravest people in the world. They walk out onto a stage and if it doesn't go well, they have no rescue, there's not another actor on the stage, not a director that they can blame," Ritts said. "One of the things that happened is that as the reputation grows... and as we expand this, there are more work opportunities that will happen over time."
Moontower Comedy Festival is still ongoing until Saturday with dozens of sets still to go. Catch Sal Vulcano followed by Margaret Cho at the Paramount Theatre tonight. Tomorrow holds Girls Gotta Eat at the same theatre and Killers at The Creek and The Cave, among others.
From Your Site Articles
Related Articles Around the Web
An influx of talent is both creating an Austin comedy renaissance and dividing the local stand-up community.
The California migration to Texas is influencing politics, culture and the makeup of the state capitol. With big names like Joe Rogan coming to town, it's also shaking up the entertainment industry, 11-year Austin comedy vet Chris Tellez said. Tellez is co-host of Shit's Golden, Austin's longest-running monthly stand-up show.
"There's no denying it, seems like over 100 comics moved here from New York, L.A., and everywhere in between. It's like a funny science experiment," Tellez said.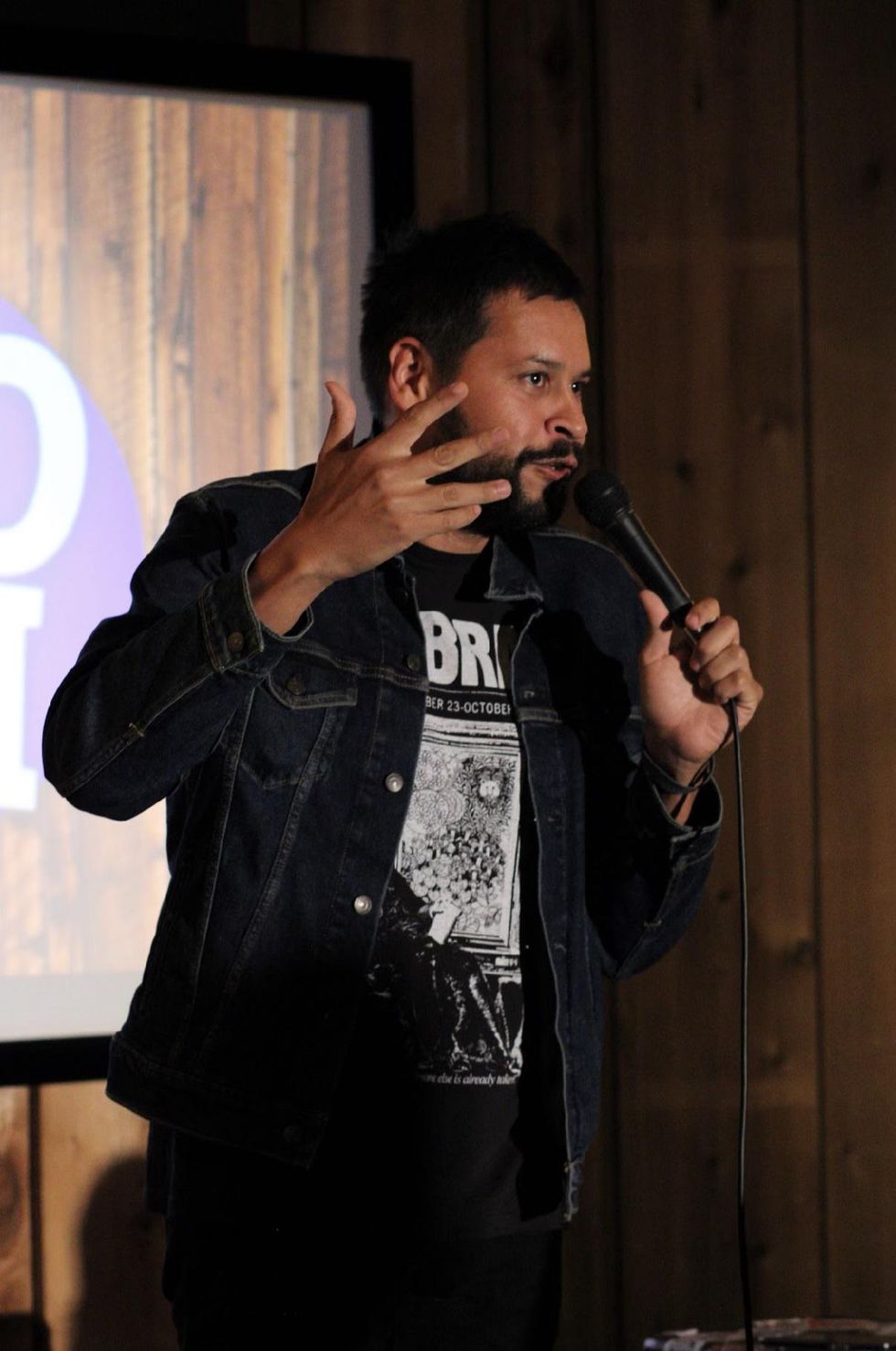 Chis Telles is a co-host of comedy monthly Shit's Golden in Austin. (Chis Tellez)
The new class is enthusiastic. "It's like we're all freshmen in college coming from different cities; making friends and having fun," Adam Hartle, booking manager for Sunset Strip in downtown's Sunset Room, said. Hartle splits time between Florida and Austin and leaned on Los Angeles connections for initial Sunset Strip bookings, he said.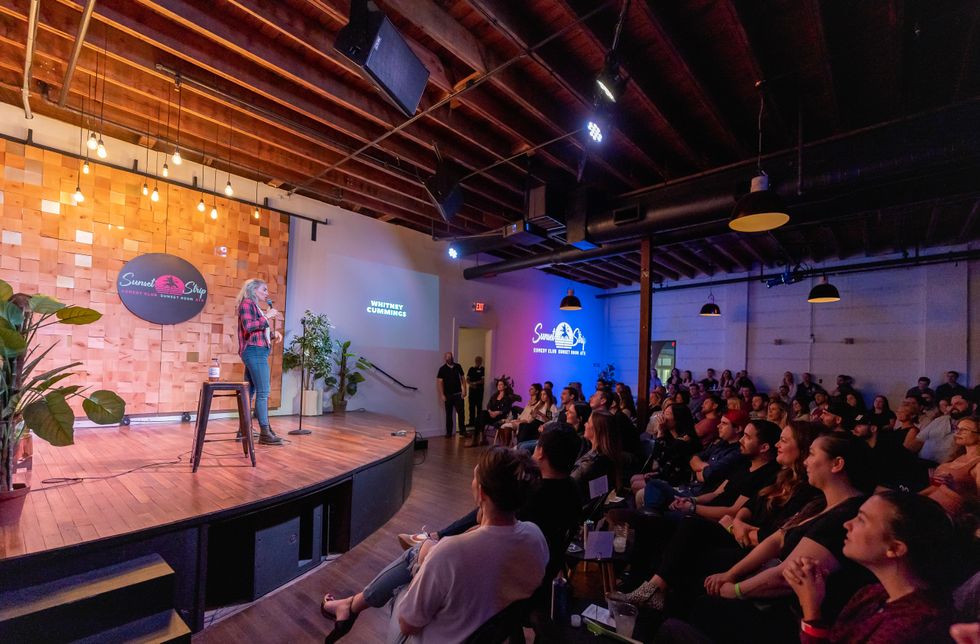 The Sunset Room is host (The Sunset Room)
New-to-Austin comic and Detroit native Genivive Clinton said Austin affords opportunities harder to get in saturated markets. After failing to get on the Kill Tony podcast in L.A. she succeeded on the first attempt in Austin, which led to her being booked for more work with Hinchcliffe and the Death Squad Secret Show. Secret Show was created by Brian Redban, the man also who helped create Kill Tony and The Joe Rogan Experience. "Local shows kept asking me to do sets too," Clinton said.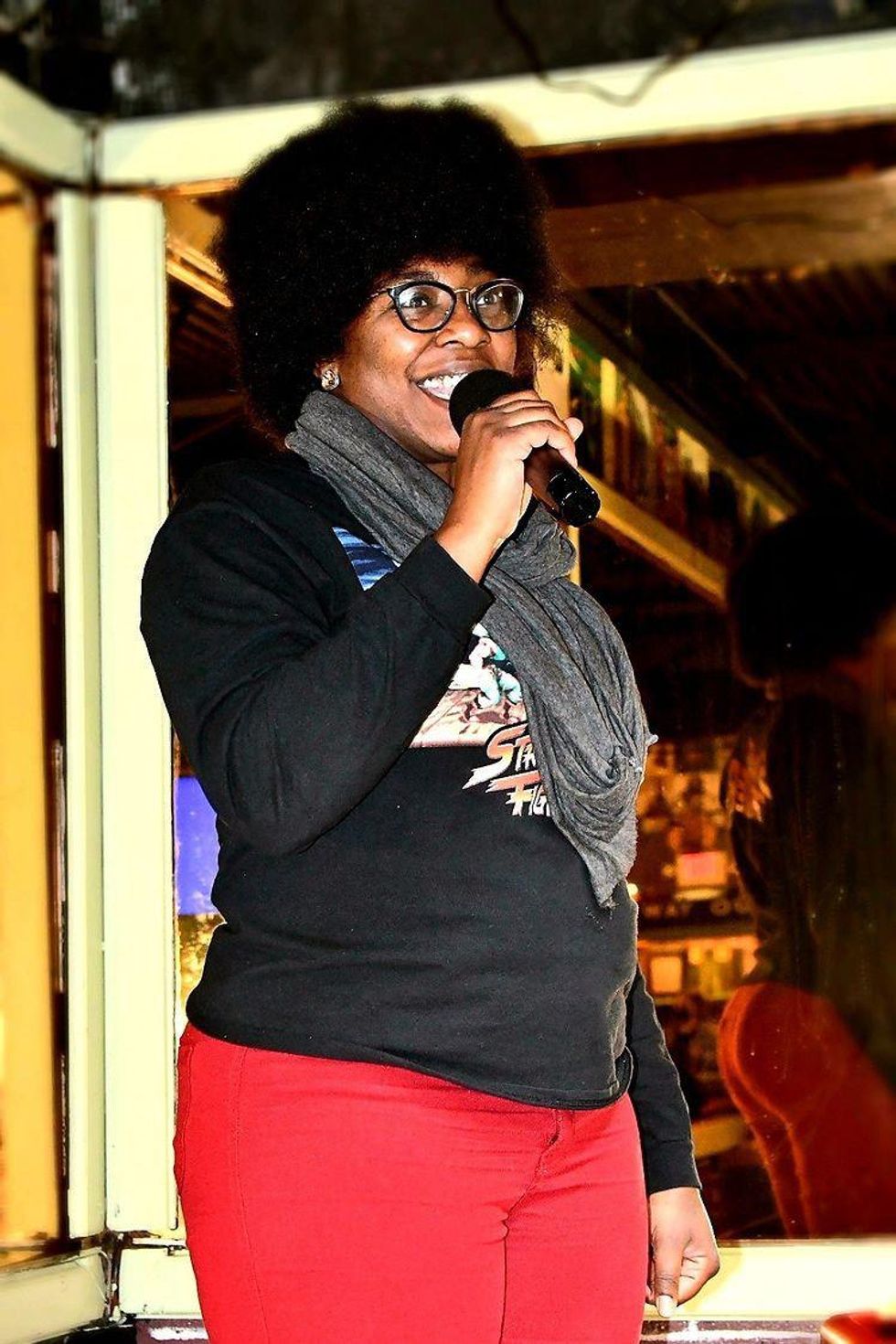 Comic Genivieve Clinton was awarded new opportunities when she moved to Austin. (Genevieve Clinton)
Some Austinites applaud the fresh blood. Round Rock native and three-year comedy vet Allison Wojtowecz says watching experienced new performers is a master class on the art of comedy. The richer landscape also means she can aspire to make sustainable career. "I loved the Austin scene," she said, "but there wasn't an opportunity to make living money here. Now there's four new places and Rogan is opening a room. There's ample stage time that actually can pay you now."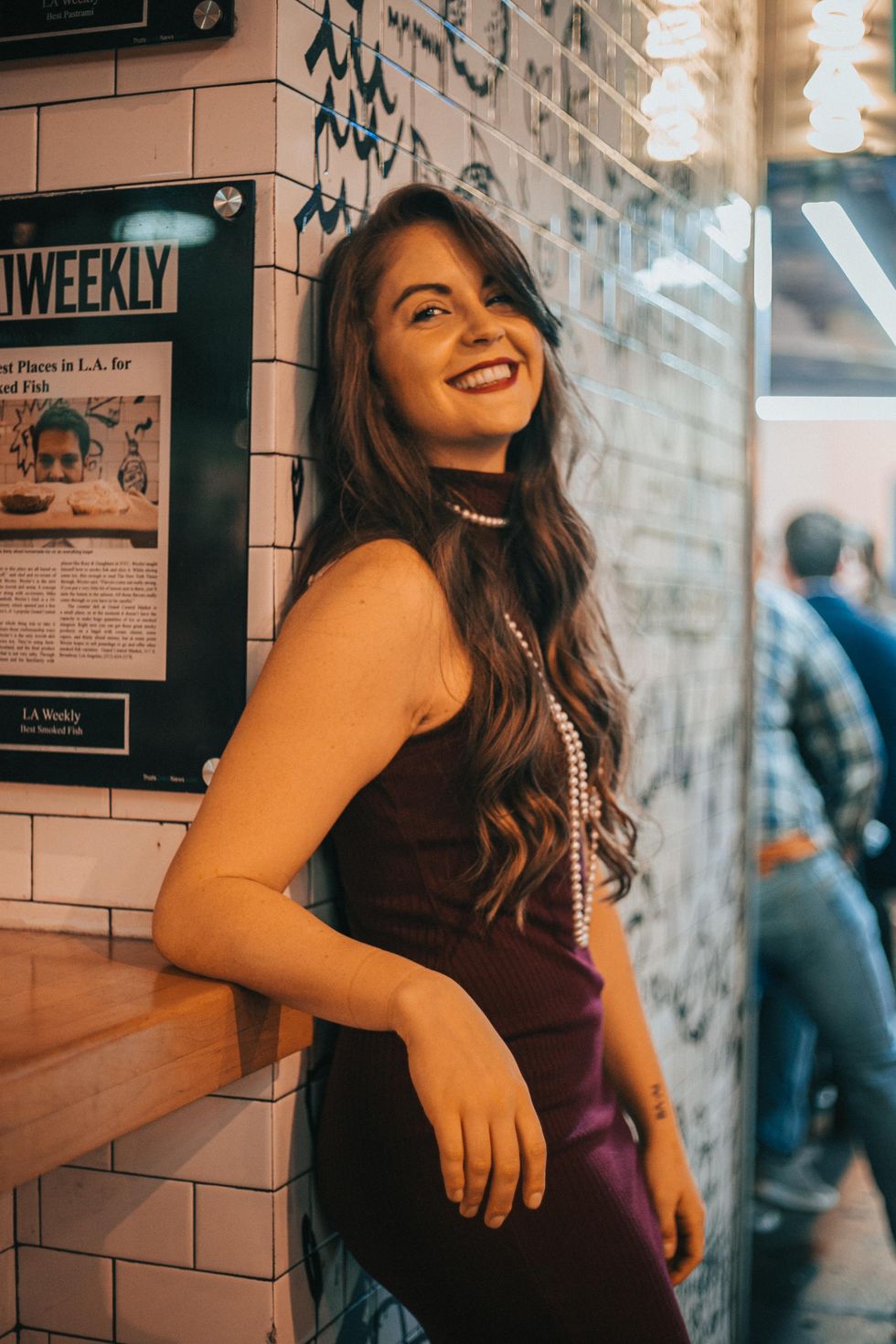 Comic Allison Wojtowecz said she can work towards a sustainable career in Austin after the new comedy boom. (Allison Wojtowecz)
Four venues have been opened or dedicated to comedy in the post-pandemic Austin comedy frenzy: The Creek and the Cave, Vulcan Gas Company, Sunset Strip at the Sunset Room, and The Romo Room in the Domain.
Joe Rogan, whose move to Texas and talk of opening a club has injected new attention to the scene, has also come at a cost. In May, Rogan and his associate Tony Hinchcliffe experienced a culture clash with locals with what critics denounced as anti-trans and racist jokes.
Brandon Lewin, Big Laugh CEO and booking manager at Vulcan, said he doesn't condone the jokes and knows Hinchcliffe learned a lesson. "What he learned from it is if you tell a joke it has to be good," Lewin said.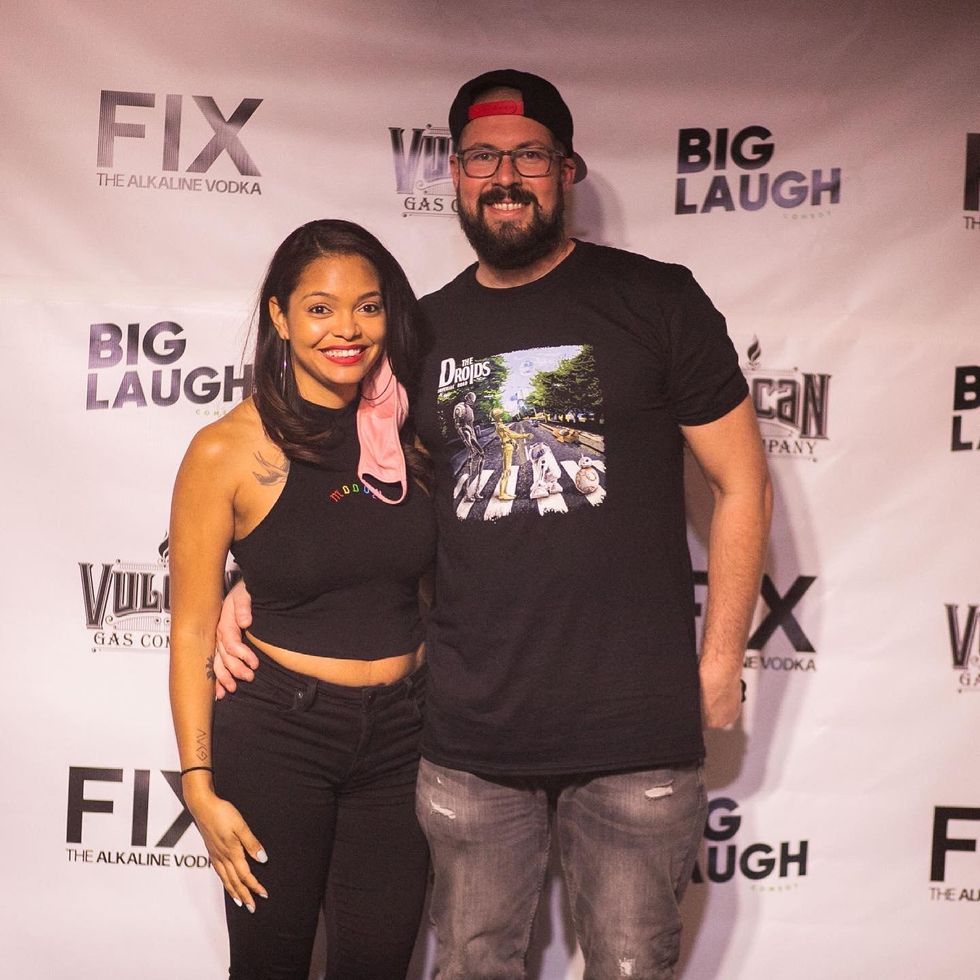 Brandon Lewin is a longtime comedian and CEO of Big Laughs in Austin. (Brandon Lewin)
Some local comedians are not so sure it's all water under the bridge. Pushing political buttons is no substitute for a real act, said Brendan K. O'Grady, co-host of Sure Thing, a weekly comedy showcase running for nine years and counting. Shock jokes are also lazy, said Andrew Murphy, ten-year Austin comedy performer and winner of 2019's Funniest Person in Austin award from Cap City Comedy. "With the comics that I grew up with, no one ever wanted to do normal or generic comedy. If you're not trying new things to be exciting or different, you're not gonna make it here," Murphy said.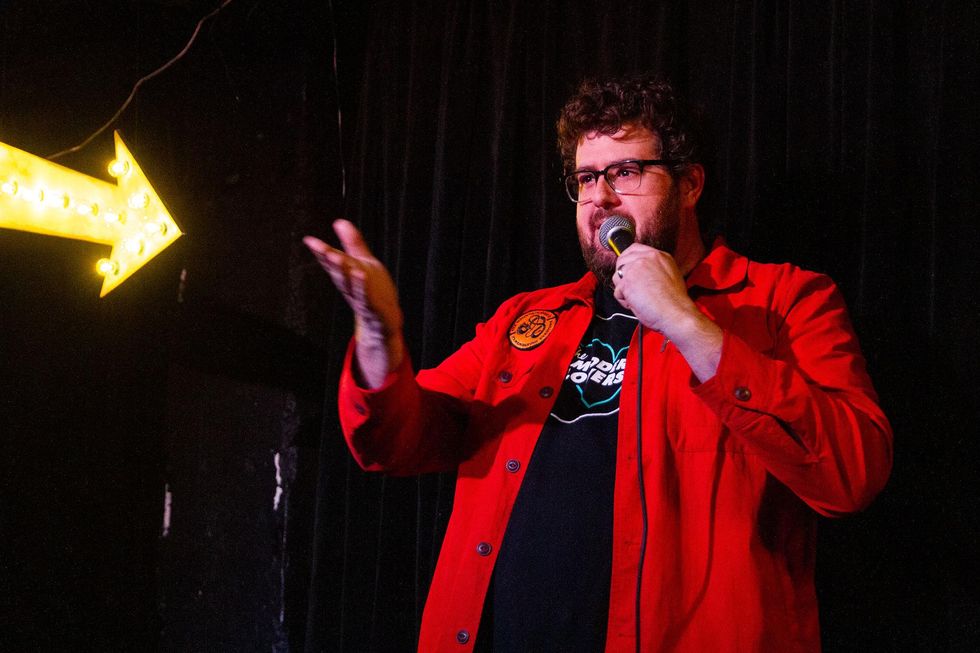 Comic Brendon K O'Grady said shock jokes are lazy and repetitive. (Brendan K O'Grady)
Out-of-town comedians who worked in the early pandemic also raised eyebrows with some locals who felt safety was sacrificed for self-promotion. "We need to have standards for what is acceptable behavior for physical safety in the pandemic and how men treat women," O'Grady said. Fallout Theater, where he co-hosts Sure Thing, plans to cap attendance at half capacity and require proof of vaccination from audiences and performers.
But some locals performed in the early pandemic too, and rule books don't exist for conducting safe pandemic events. "Especially when places were closed, people were opportunistic about doing comedy in bars," Tellez said, including himself among those who worked.
Despite their differences, many believe the two worlds can coexist and find success in the newly-energized scene—so long as they take notes.
Arielle Norman has performed stand-up in Austin since 2015 and co-hosts a monthly heckling-welcome show called Off-Script. Norman is proud to be a woman on too-often male dominated lineups and said her presence means misogynist jokes from unseasoned strangers don't go unchallenged.
She's energized too. "I was so bored here before the pandemic and now with Joe and everyone moving here and all the clubs opening, I don't have to move to L.A. or New York. I can't wait to see what Joe does with the new comedy club."
(Adam Eget/Instagram)
Business partner and other half to Austin's new comedy club Adam Eget took to Instagram to announce that he and metaphorical "brother" Joe Rogan are officially building a club at the One World Theatre.
This project has been a long time in the making for Rogan, who has been doing standup comedy since 1988. The podcaster has been planning to make his dream a reality since at least last August.
Eget has spent the past 11 years working at The Comedy Store, one of the most prominent comedy clubs in L.A., and said he is "incredibly sad" to leave his former gig but "unbelievably excited" to start this new project.
Though he shared little details about the upcoming project, Eget said they are building the club "from scratch."
"Trust me when I say that this club will be EPIC on every level," Eget said in the post.
Austonia first broke the news on Thursday after confirming rumors that had been swirling around the Internet. Read that exclusive report here.
Rogan has yet to comment.