Get connected with our daily update
More than 200 people paddled 21 miles Monday to raise funds for the mental health therapy of those impacted by cancer. The target: $1.2 million.
The TYLER's Dam That Cancer event is an annual fundraiser held by Austin-based nonprofit Flatwater Foundation and involves a trek from Lake Austin's Mansfield Dam to Tom Miller Dam.
Some Austinites like Michelle Beaver Gilliland have been participating for years.
"We've spent all day crying and laughing and talking because we're all sharing our stories about people that are fighting and have lost the battle or are still going through battle," Beaver told Austonia while taking a break near the 360 bridge.

"We paddled out here one day when our grandfather was in ICU. But the water is very therapeutic. And our mantra is as long as cancer exists and this event exists, we'll paddle."
Paddlers in this year's race have pledged to raise a minimum of $3,000 each, and the public can make a financial contribution through the paddlers' individual fundraising pages at tylersdtc.com.
In its 13th year, the event has supported millions of dollars worth of care. Flatwater founder Mark Garza says Monday's efforts can support 14,000 hours of therapy.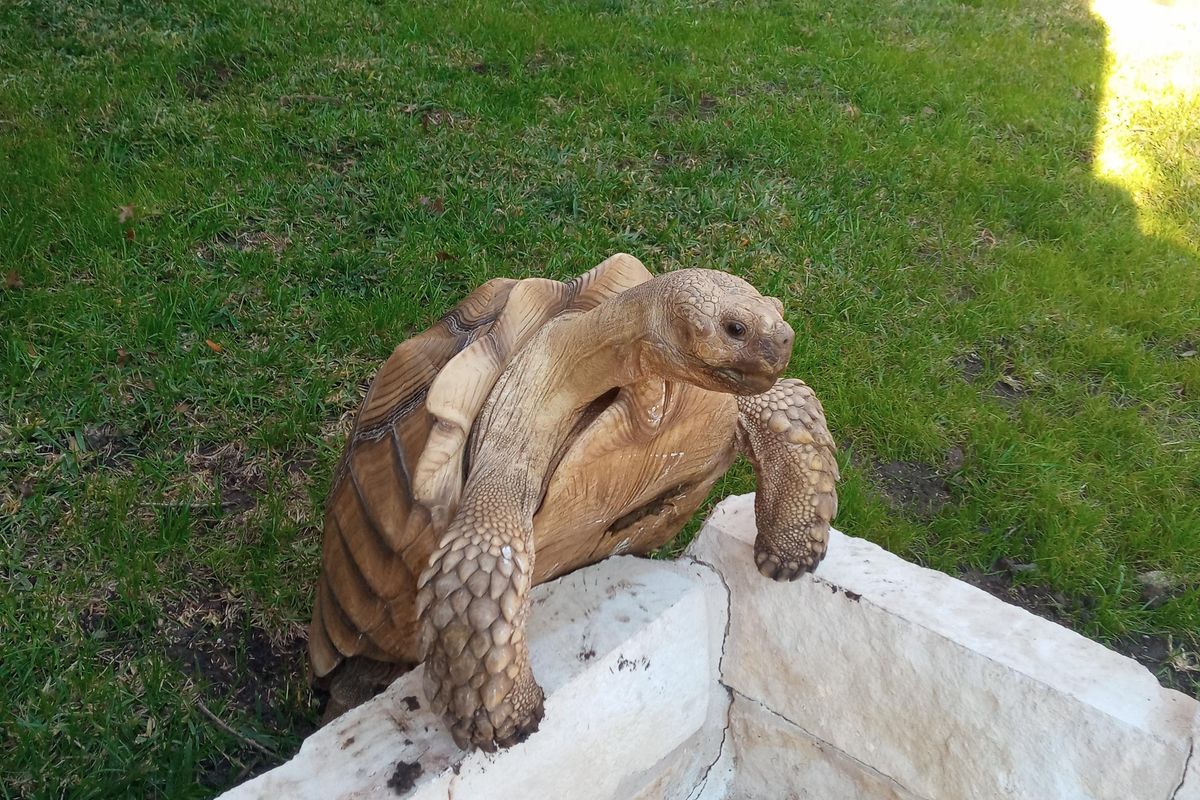 If you ever see a tortoise wandering West Austin alone, check his rear end for a set of labeled phone numbers and an Apple iTag. If that's what you see, you'll know you've found Bruce, who has a penchant for adventure.
Bruce, a Sulcata tortoise, just returned to his Daveport Ranch home mid-last week from a six-day trip that had his family, Austinites Brian and Samantha Price, anxiously searching on foot. Brian searched between his 24-hour shifts as an ER doctor.
"I was panicking because there was 109-degree weather, it was ridiculous, and there was no rain," Brian said. "I was getting super nervous so I was literally out there every single day."
In the 15 years Bruce has lived with the Prices, he has escaped a handful of times but always finds his way back with the help of his friends and social media.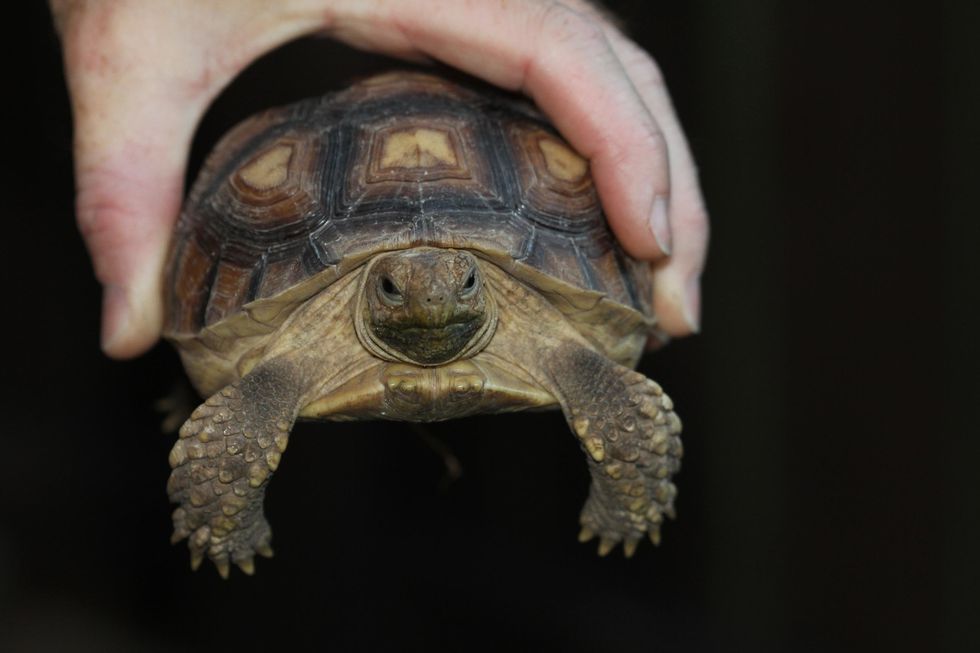 Bruce as a baby.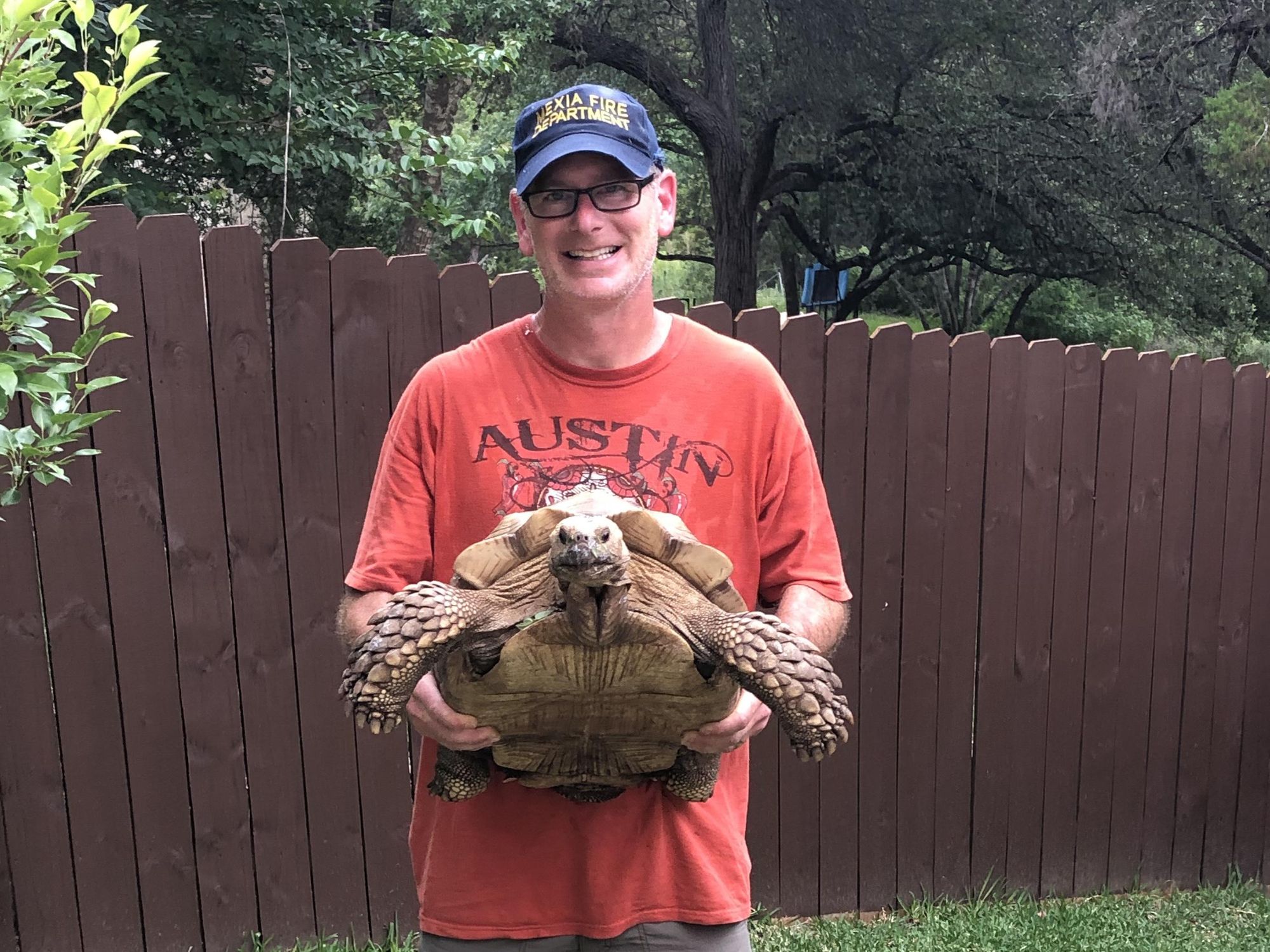 Bruce now weighs 70 pounds.
The Price family adopted Bruce as a baby when their youngest son started asking for a pet tortoise. In the spirit of the dad who didn't want the family pet, Bruce largely became Brian's responsibility (and best friend) before long.
"Brian searched for him for hours and hours every day. He worked so hard and found him and also had a really good idea of where he was going to end up," Samantha said. "He truly understands Bruce."
Now a solid 70 pounds, Bruce has become famous in their neighborhood for his antics—Brian said he has escaped home three times, once for 19 days straight and as far as nine miles away.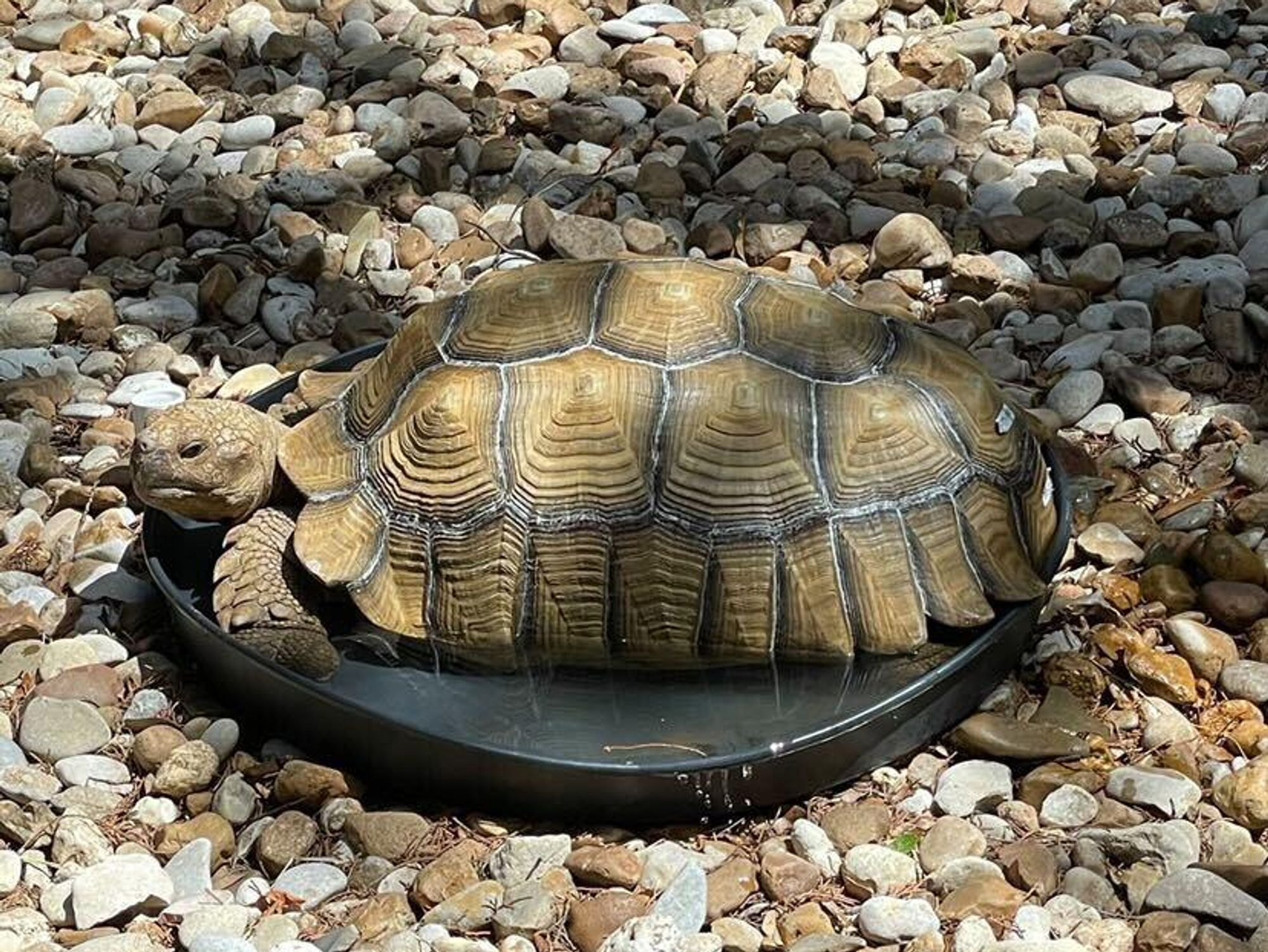 After his first disappearance, the Prices added stickers with their phone numbers to his shell, which helped him get found the second time when he stopped by someone's lawn. Then they added the iTag, which he conveniently managed to slough off before he disappeared this month.
Each time they have taken to Nextdoor to spread the word of his disappearance, where neighbors have organized search parties, created maps of his favorite locations, given out flyers, shared tips and brought Bruce home.
This time, Bruce was found by a neighbor's child in the greenbelt while Brian was searching using mating calls that had been suggested online.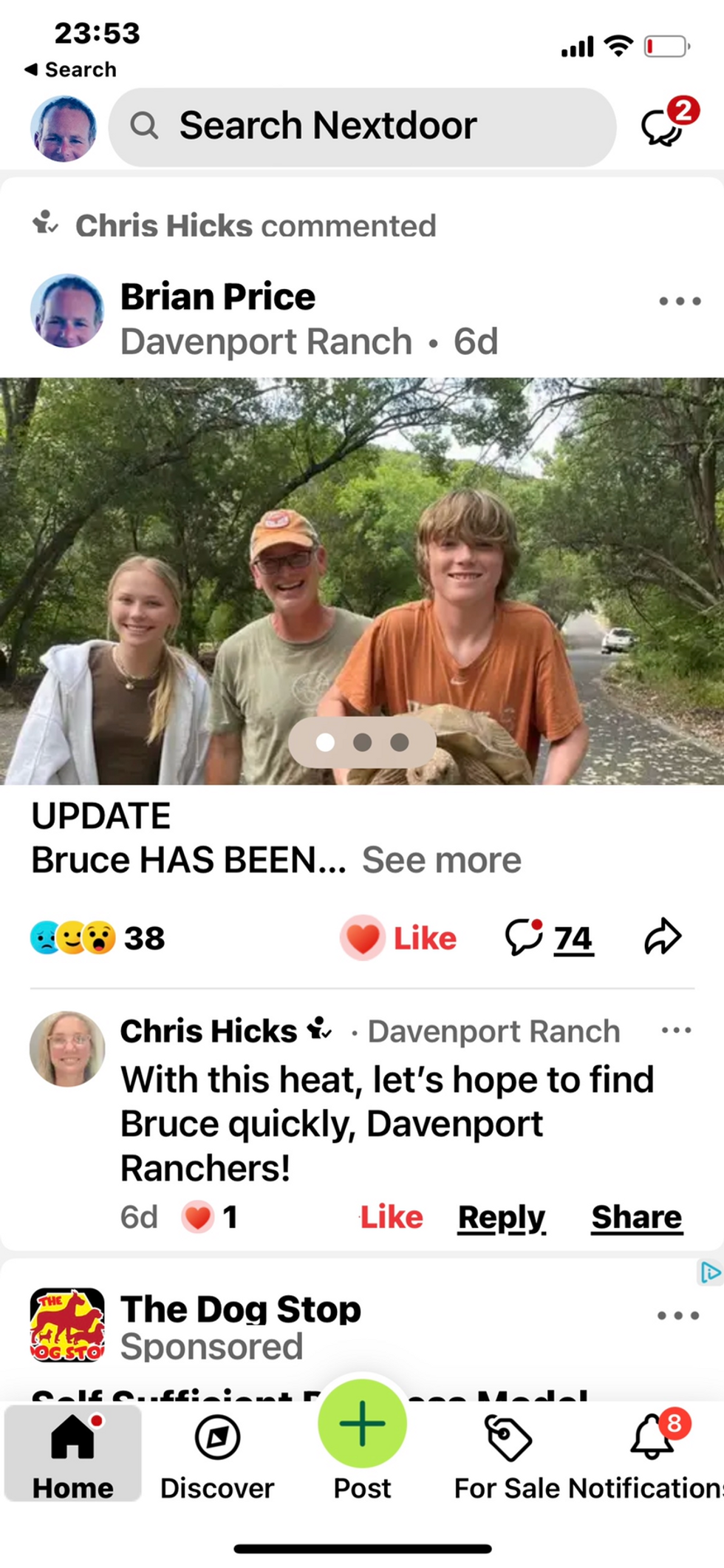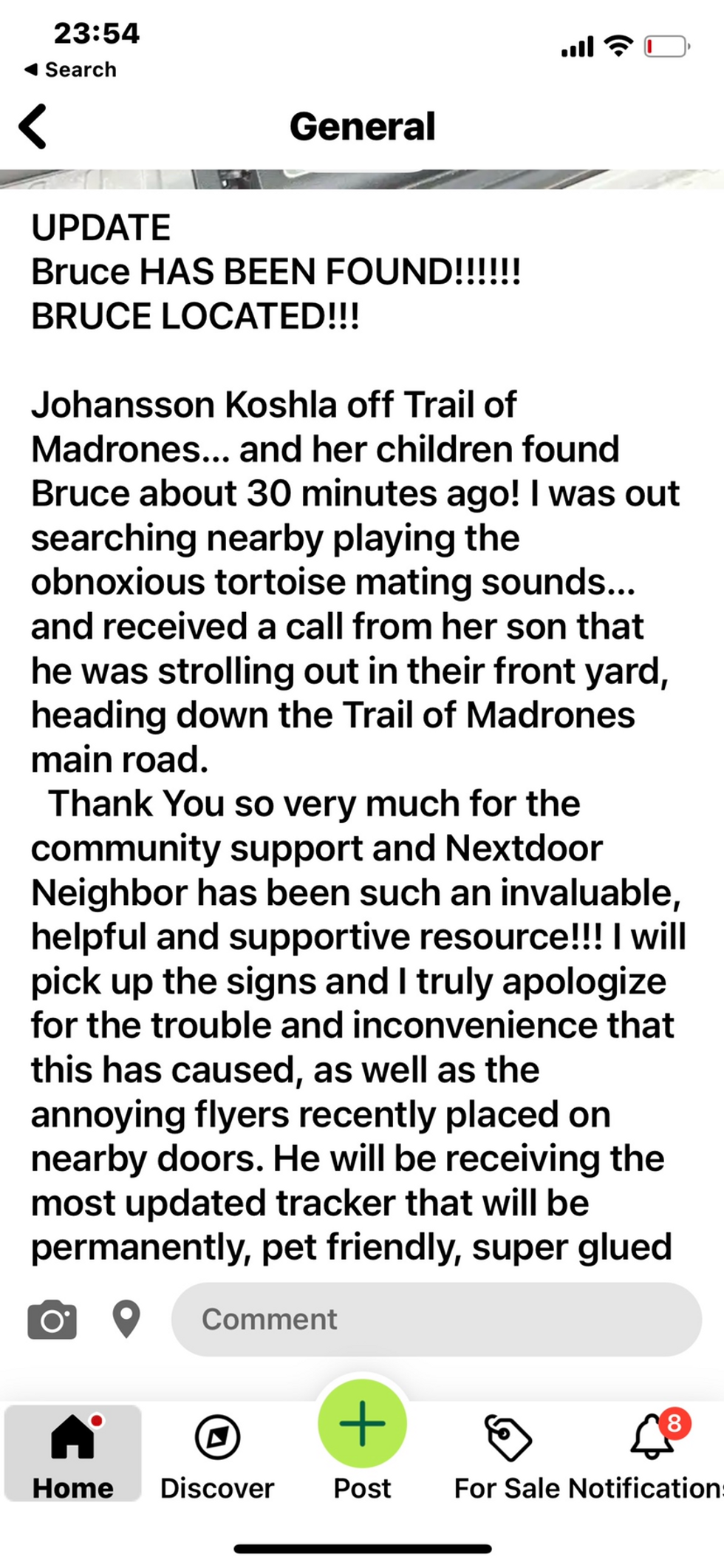 "Everybody knows Bruce in Westlake because of his escapes, everybody knows about the adventures of Bruce," Brian said. "Whenever we go on vacation, the neighbors help take care of him."
His adventures have inspired a book idea, which Samantha envisions as an educational chronicle of Bruce's adventures from his perspective; a reattached tracker and an enclosure upgrade that gave him about 200 square feet of shade to roam so he hopefully won't want to seek it elsewhere.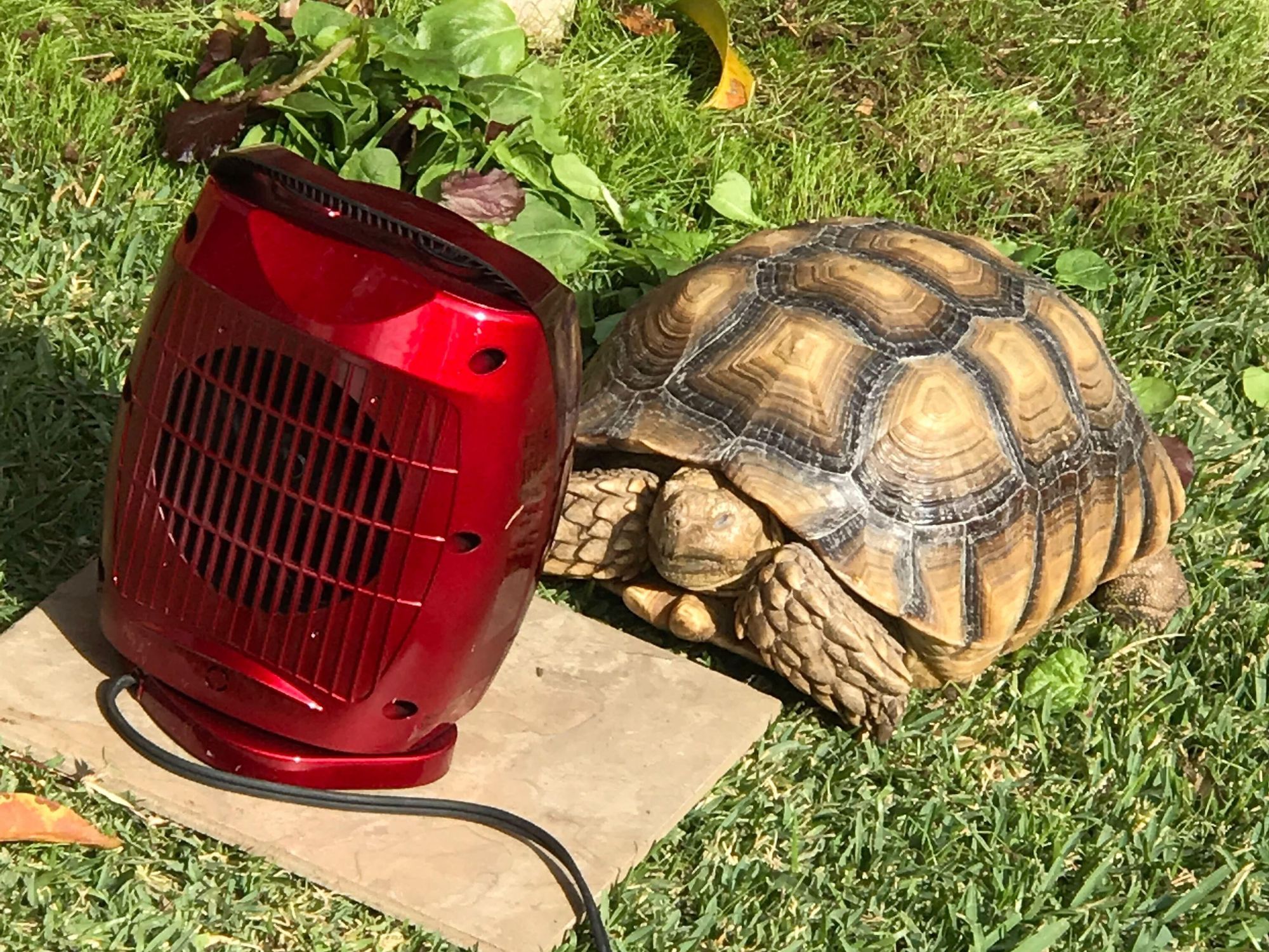 "I saw the community coming together and just wanting to find him, he really does bring our community together," Samantha said.
Brian said his aversion to social media even faltered a little when he watched his online community comment, "Bruce for mayor!" upon his post announcing the tortoise was back home.
"He's a little celebrity," Brian said.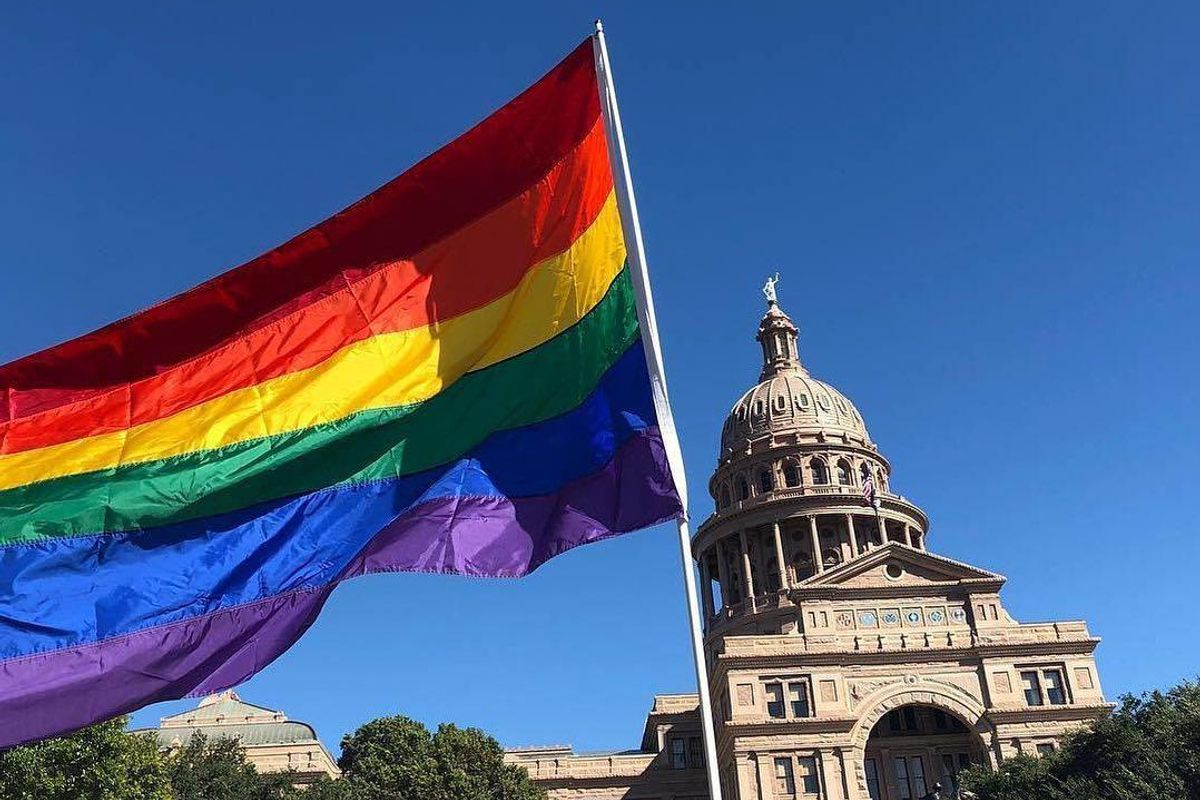 Four Austin-area cities—Round Rock, Leander, Pflugerville and Lockhart—are bringing out the rainbow flags for their first-ever Pride Month events to celebrate their LGBTQ residents.
Here's a look at the four cities celebrating Pride for the first time:
Thanks to a group called Inclusion, Diversity, and Equity for All Leander (IDEAL), the city of Leander named May 14 Leander Pride Day. The official declaration was celebrated with "A Rainbow to Remember," which featured vendors, food trucks, and an art show and drag show at Wilco WorkSpaces + Events on May 14.
Round Rock is set to host its first-ever Pride Festival from 2-6 p.m. Saturday at Centennial Plaza downtown. The inaugural event will come with appearances from Round Rock Mayor Craig Morgan, the city's Pride Founder, Richard Parson, and emceeing from KVUE reporter Tony Plohetski. Other acts include a "Drag Queen Story Time" and a performance from Mini Kween Kee Kee and a performance from the Austin Gay Men's Corus.
Downtown Pflugerville will also get decked out in rainbow this month as the city's Pride organization hosts its "Pride Pfestival" from 1 p.m. to 6 p.m. June 18. Acts include an appearance from "RuPaul's Drag Race" queen Tammie Brown, music from Tish and The Mizzbehavin' Band, an LGBTQ panel from State Reps. Celia Israel and Sheryl Cole, and comedy from Ky Krebs and Ava Smartt.
Lockhart will host the longest-running festivities of all, with the week of June 12-19 set aside for Lockhart Pride. After nights of community events from movie nights to drag, the week will end with a Pride Fest from 4-10 p.m. at Luna Gardens on June 19.
Meanwhile, Austin's Pride will wait a few months until the annual Pride parade and festival, which will be held on August 20 this year.