Austonia AM
100% Austin news, info, and entertainment, straight to your inbox at 6 a.m. every morning.
In five minutes, you're fully informed and ready to start another great day in our city.
Get connected with our daily update
On a gloomy Thursday evening, Austin Justice Coalition hosted a vigil to honor the lives of those killed by law enforcement. The event came just two days after former Minneapolis police officer Derek Chauvin was convicted of second- and third-degree murder as well as manslaughter for the death of George Floyd last May and on the eve of the one year anniversary of Mike Ramos' death.
Both names were catalyst for the Black Lives Matter movement that sparked nationwide protests. More recently other police killings—Alex Gonzales in Austin, Adam Toledo in Chicago and Daunte Wright in Brooklyn Center, Minnesota—have made news. The vigil brought people together to remember all lives lost at the hands of police.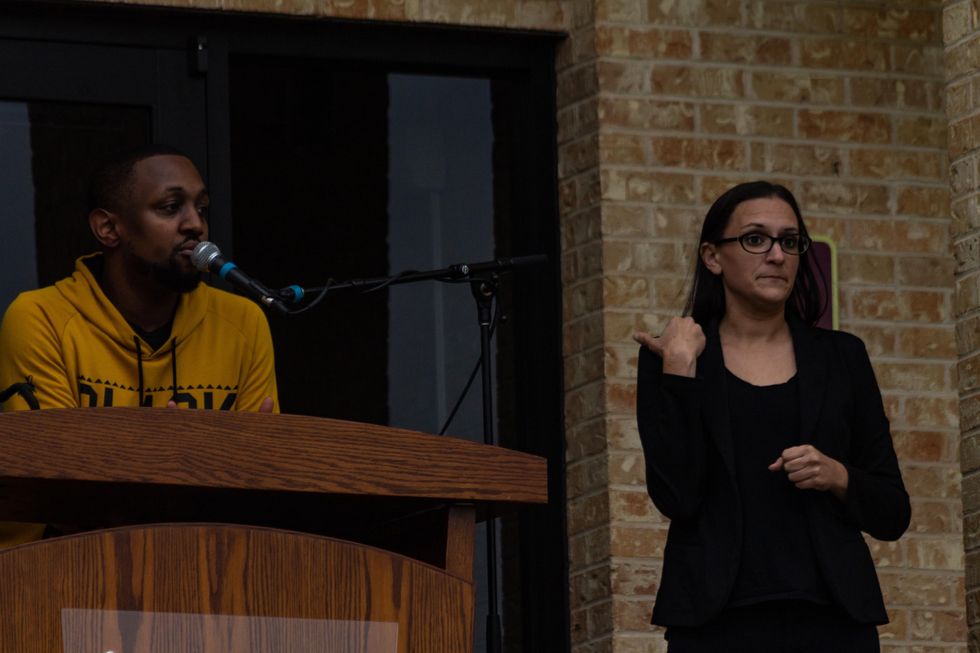 (Christa McWhirter/Austonia)
Founder and Executive Director of AJC Chas Moore, with an American sign language interpreter, started the vigil by drawing attention to the definitively fewer amount of people in attendance versus the demonstrations last summer that saw thousands gather, including at the same location.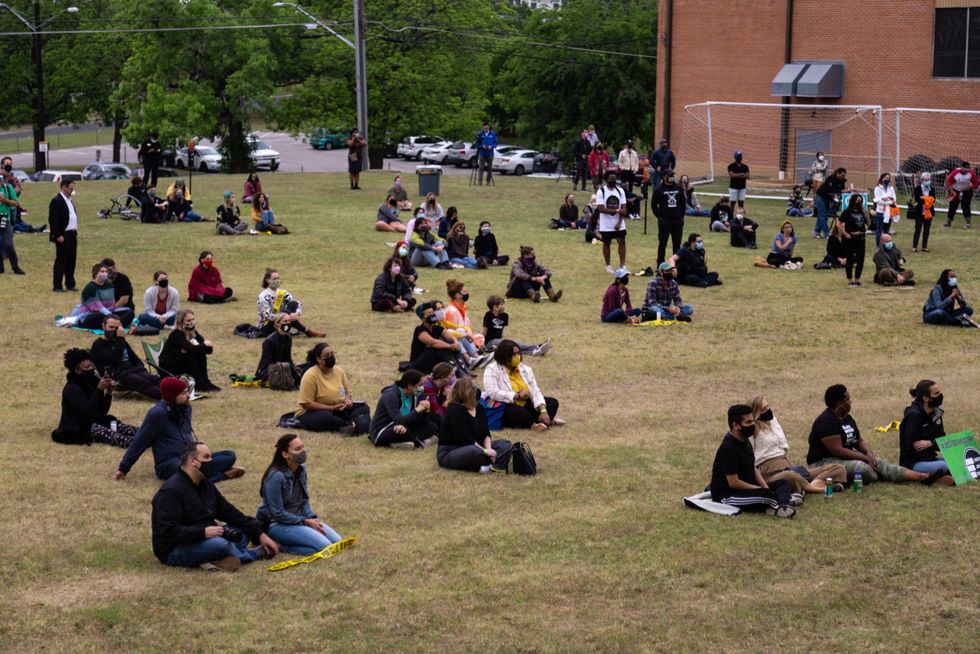 (Christa McWhirter/Austonia)
In stark contrast to demonstrations held in 2020, only around 100 people gathered at Huston-Tillotson Thursday evening.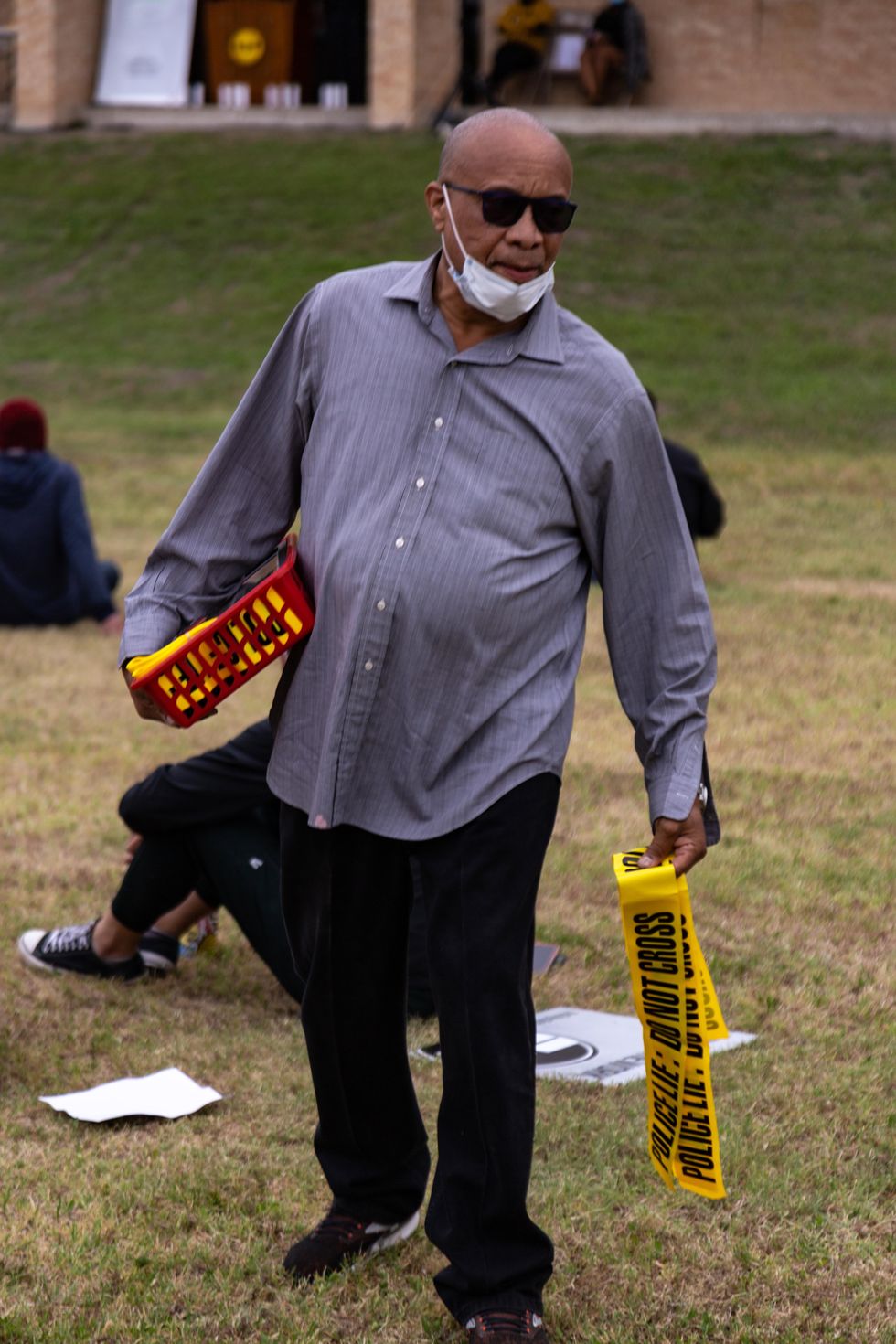 (Christa McWhirter/Austonia)
Many in the small crowd held police tape passed out by one of the volunteers of the event, Ernest, who declined to reveal his last name.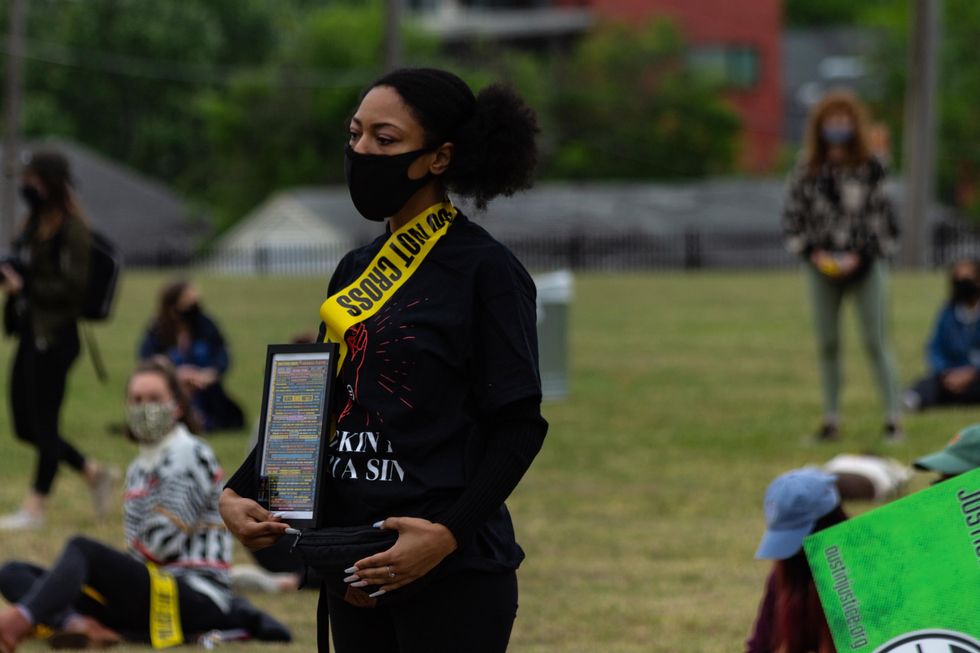 (Christa McWhirter/Austonia)
Some attendees held picture frames depicting loved ones lost to police violence, including Yasmine Smith, director of justice and advocacy at Austin Area Urban League.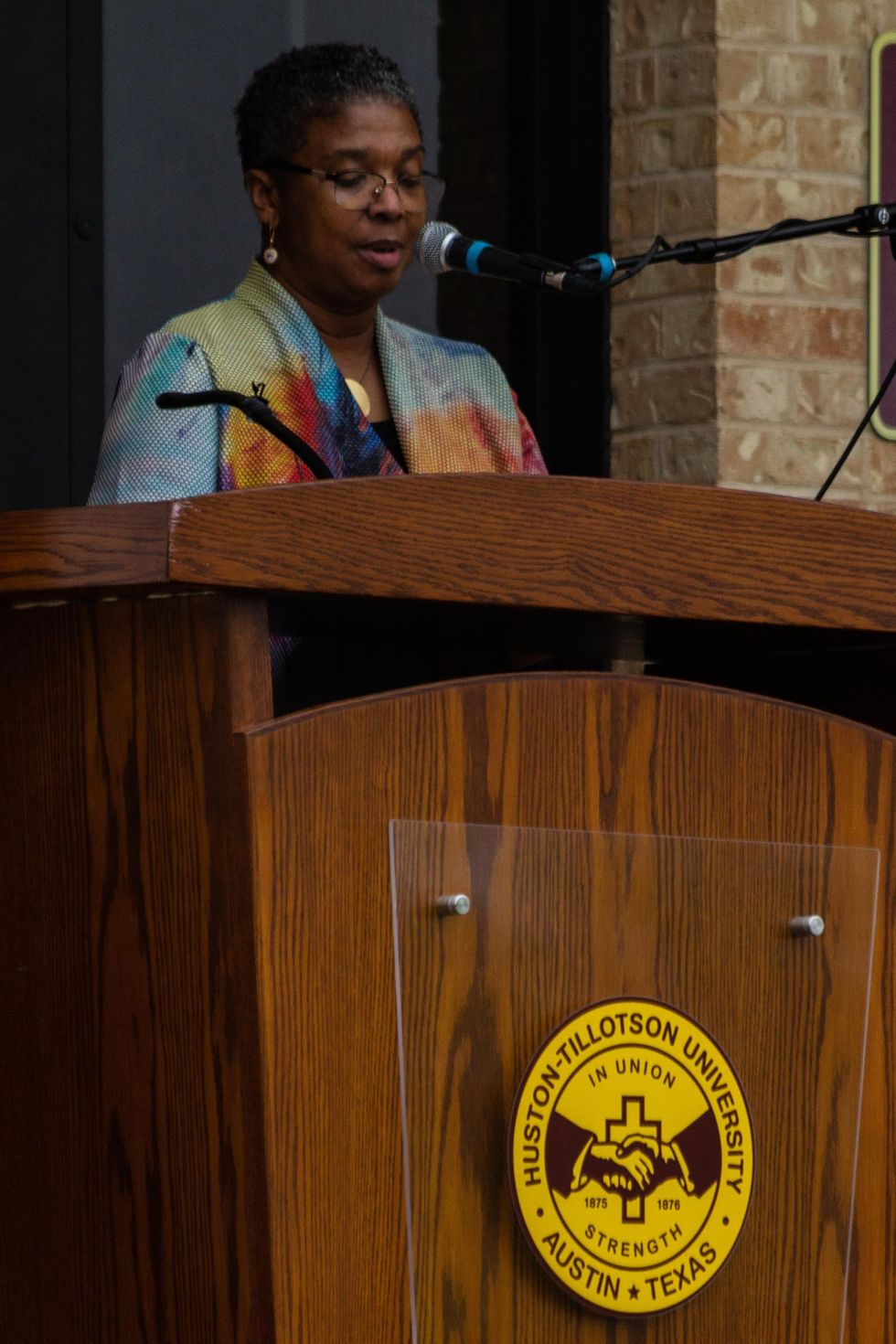 (Christa McWhirter/Austonia)
The first speaker of the evening was Colette Pierce Burnette, the president of Huston-Tillotson University. She spoke of the recent conviction of Derek Chauvin saying, "We can breathe, but not a sight of relief yet."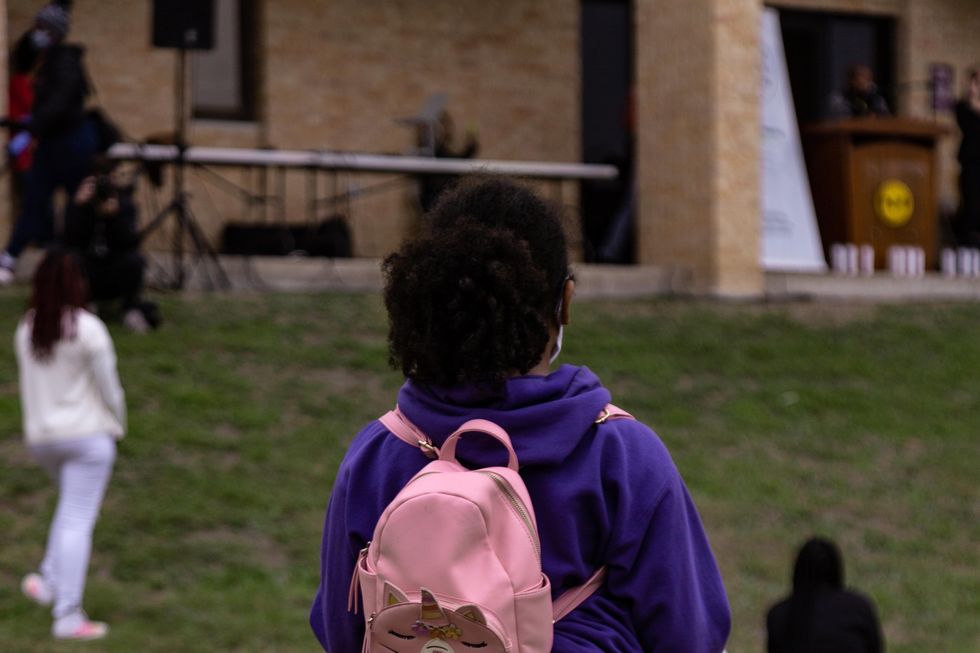 (Christa McWhirter/Austonia)
Attendees showed up with their families to listen to speakers and participate in the vigil.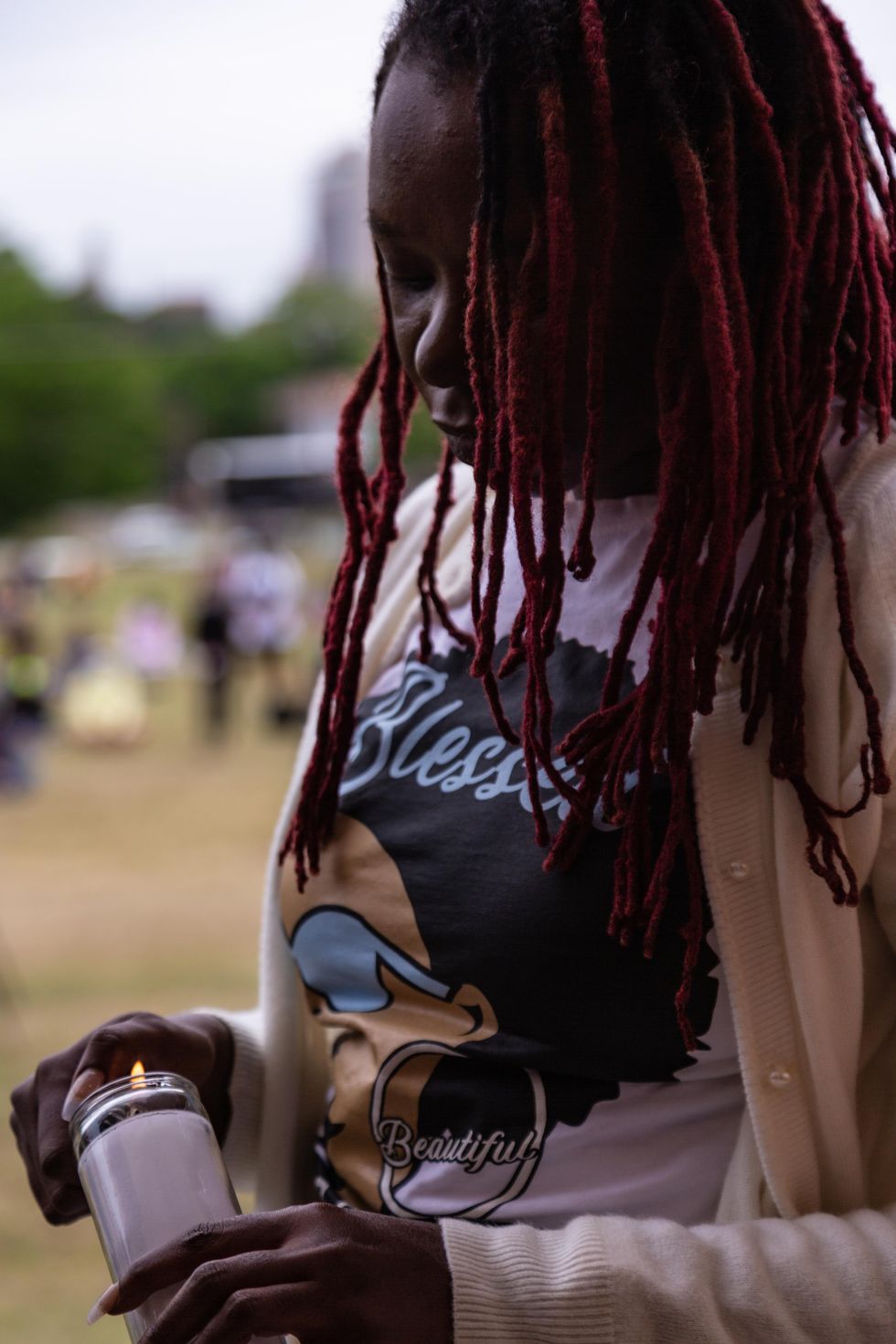 (Christa McWhirter/Austonia)
Speaker Korretta Brown lights white candles in honor of loved ones who have been killed by police violence.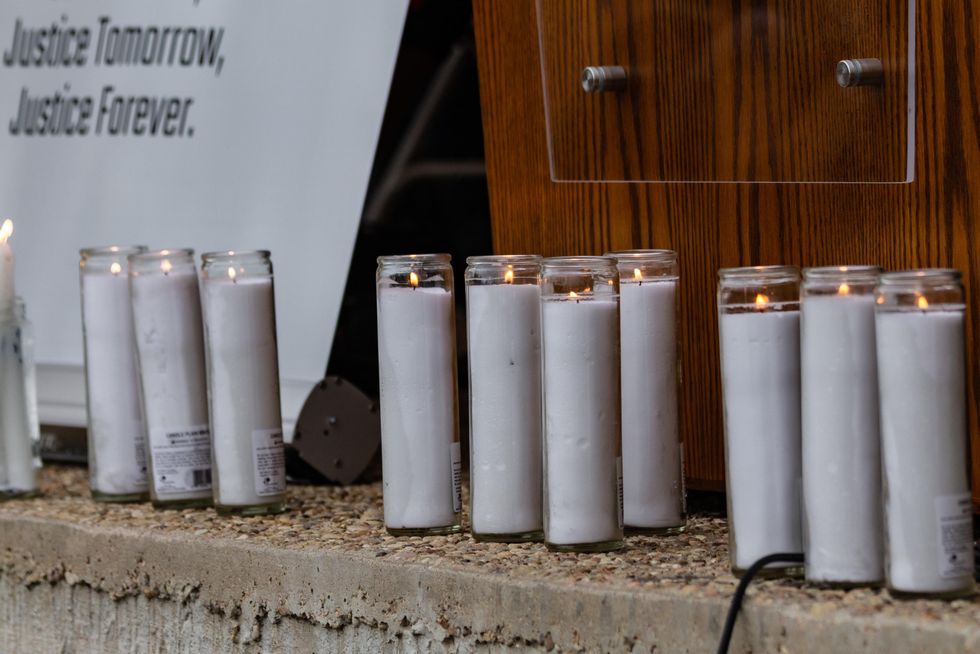 (Christa McWhirter/Austonia)
The candles were lined up at the base of the speakers' podium throughout the vigil.
Moore ended the vigil by encouraging attendees to march to the Zaragoza Rec Center to early vote in the local election.
It could be the pictures on the wall that perfectly reflect her personality. Or the full kitchen where she recently cooked up steak, asparagus and mashed potatoes for dinner.
But if 18-year-old Shaunna Contreras had to pinpoint her favorite thing about her new apartment, it would be the balcony, where she loves to sip her morning coffee while listening for the crickets and frogs that inhabit the creek below.
It's a tranquil and unexpected new phase for Contreras, who spent two years in foster care before aging out at 18 into a situation she called "hopeless." But thanks to a new program called Grace365 that funds apartments for aging out foster youth ages 18-22, Contreras now has support, and a safety net, as she transitions into adulthood. Grace365 also pays participants' bills, helps them get driver's licenses and offers twice-monthly stipends so they can purchase items such as groceries and clothing.
Contreras said walking into her own apartment for the first time was "unreal." "I just couldn't believe it," she said. "I was beyond grateful."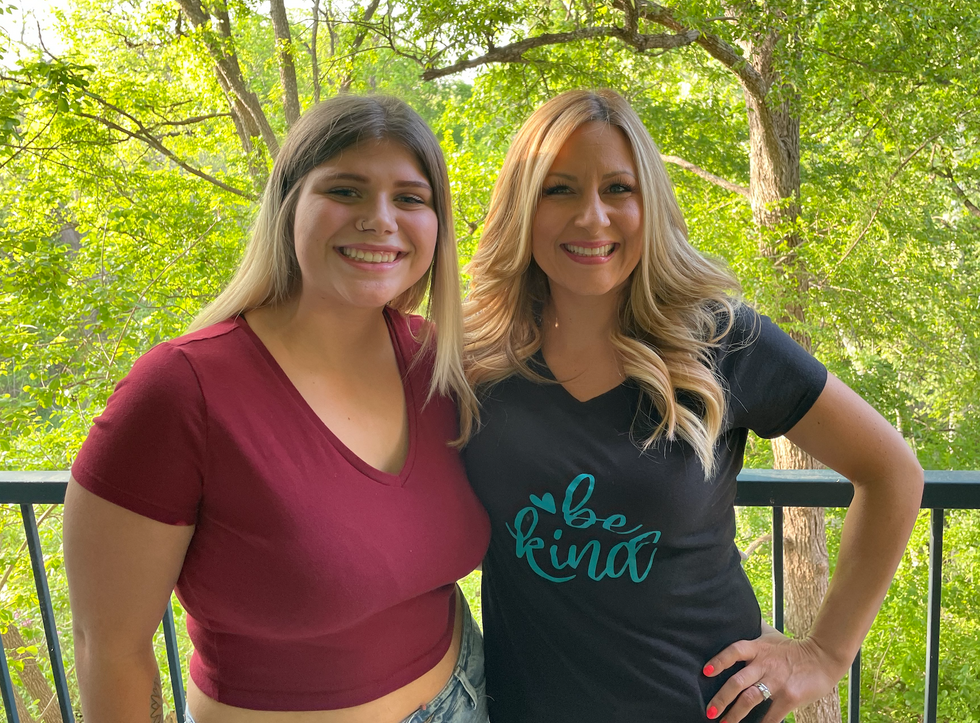 Stacy Johnson, right, with Shaunna Contreras on the porch of Contreras' apartment in Round Rock. (Kristin Finan/Austonia)
Grace365 is a new program by the nonprofit Central Texas Table of Grace. Unlike the new program, Central Texas Table of Grace only provides emergency shelter services to children and teens in the foster care system. Founder and CEO Stacy Johnson said the purpose of Grace365 is to offer stability to youth who are aging out while connecting them with all of the services available to them.
"Foster kids in Texas get free college, they get all kinds of different services that they can utilize, but nobody is really telling them how to do it and they're kind of falling through the cracks when they age out. A lot of them become homeless," Johnson said. "I'm just trying to prevent that from happening so that we can give them a place to transition."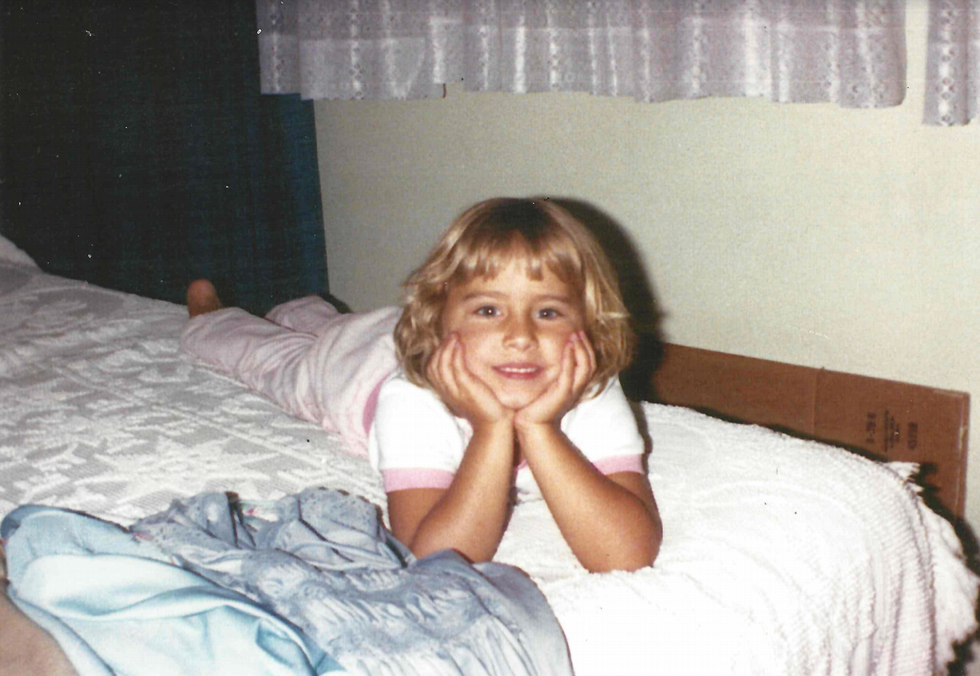 At a young age Stacy Johnson entered the foster care system where she experienced the difficulties of transitioning out of the system. (Stacy Johnson)
Johnson, a Round Rock resident, knows all about the perils of aging out of the foster care system. She entered foster care at age 2 and emancipated at age 16 only to find herself struggling to make ends meet. She recalls days when the only thing she would eat was a $1 spicy chicken sandwich from Carl's Jr., purchased with any spare change she could manage to scrape together from under her couch cushions.
"I didn't know how to cook, I didn't know how to buy groceries, I didn't know how to budget," Johnson said. "Just buying a soda if I wanted was a luxury because you literally are down to pennies. I feel like I was saved by the grace of God so many times."

As an emergency shelter, Johnson's Central Texas Table of Grace is not allowed to house youth past their 18th birthday. Johnson said it was "heartbreaking" watching children turn 18 and have nowhere to go.
"Once they age out, the people that will help them are the sex trafficker and the drug dealer and the pedophile. It's almost like they have a target on their heads," Johnson said. "Once they become homeless or something goes wrong, it's really hard to get them back."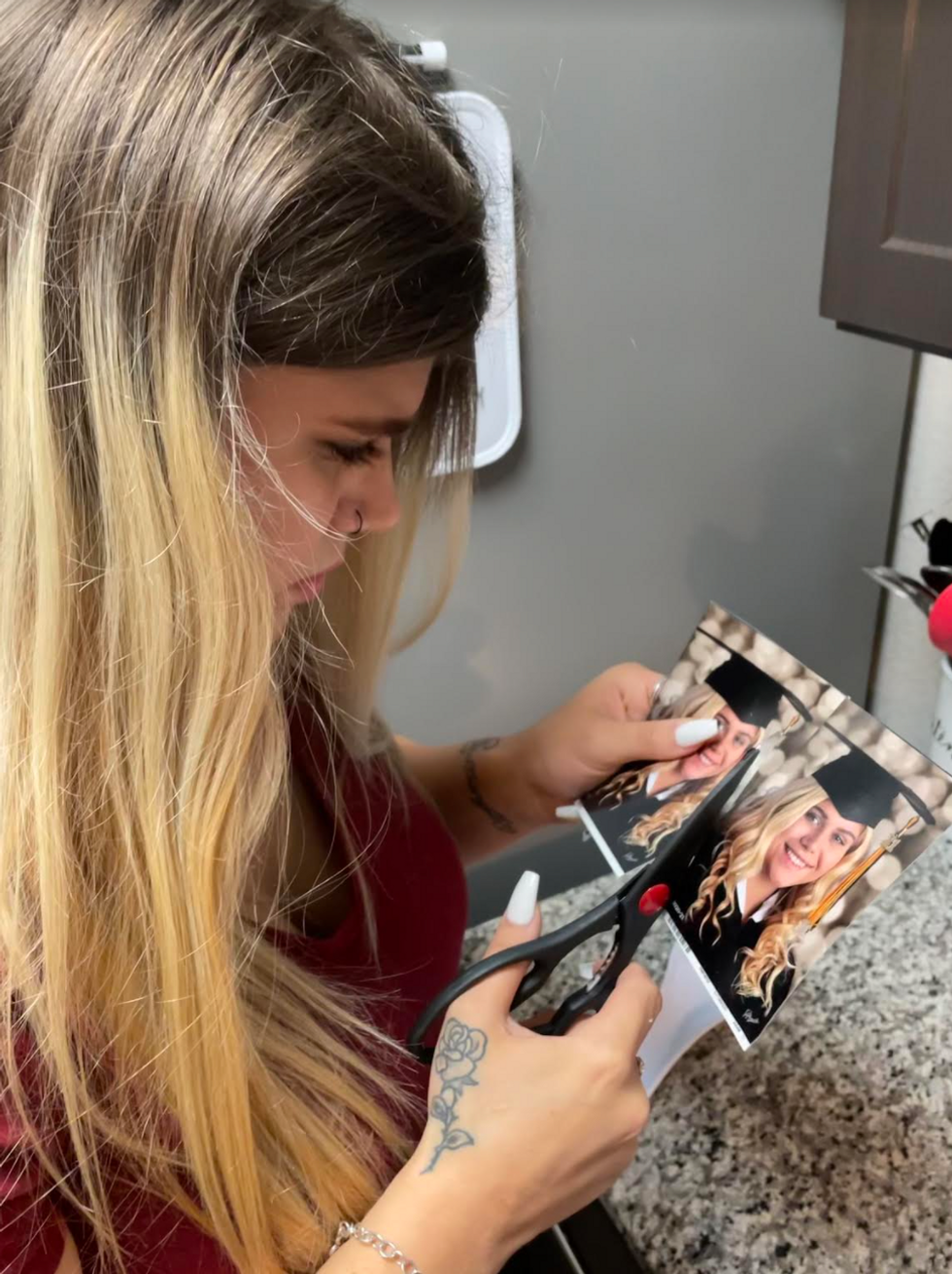 Shaunna Contreras cuts one of her graduation portraits for Stacy Johnson. (Kristin Finan/Austonia)
For Contreras, being part of Grace365 brings her full circle—she also spent three months in Johnson's shelter two years ago.
She now works as a caregiver at a retirement home and moved into her new apartment three weeks ago. She ultimately wants to be a phlebotomist and hopes to start college in the fall.
"Sometimes I'm very hard on myself, and I tell myself, 'You can do better.' But I'm proud of myself," Contreras said. "I'm proud of where I've gotten, because I didn't think I would get this far."
"I'm really proud of you, too," Johnson said.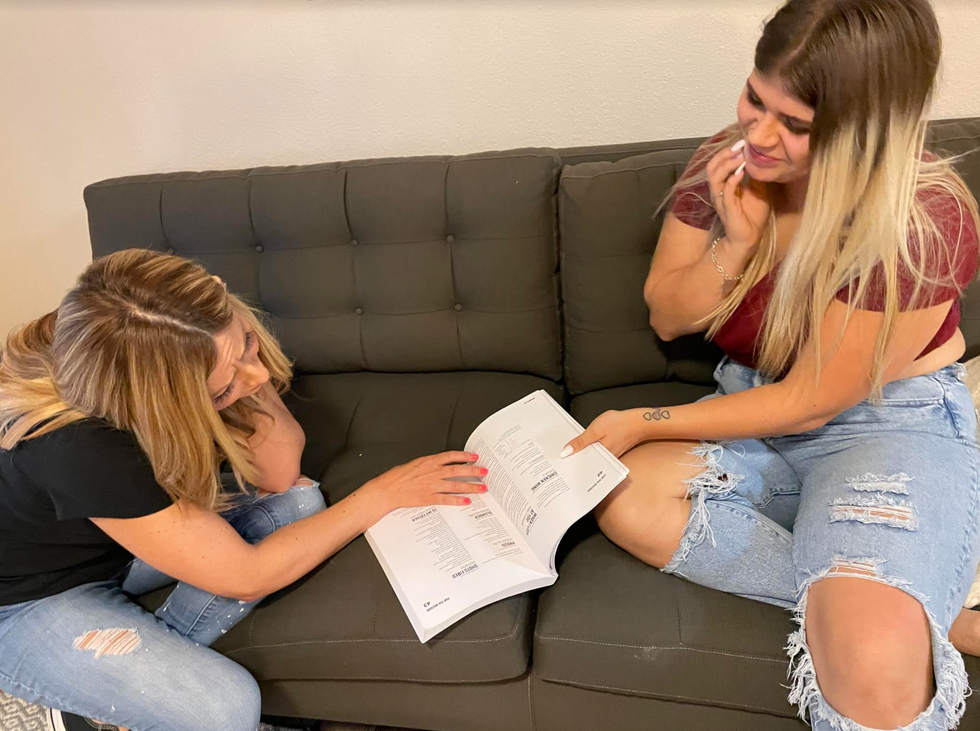 Stacy Johnson, left, reads poetry written by Shaunna Contreras in Contreras' new apartment. (Kristin Finan/Austonia)
Johnson said her hope is that participants be financially independent a year to 18 months after starting the program but that Grace365 will evaluate apartment funding on a case-by-case basis. The program currently funds three apartments but plans to quickly add more and has a long-term goal of creating a tiny home village for youth who are aging out.
As for advice to anyone going through a hard time?
"Never give up," Contreras said. "Don't feel like it's the end, because it's not."
(Laura Figi/Austonia)
With some Austinites entering day five with either no electricity, and possibly no water or natural gas, the winter storm has been a struggle, to say the least, for nearly all Texans.
Austonia asked our readers to tell us about what they have gone through. Between some reporting having power since the beginning, offering what they can to help their neighbors, and others just trying to keep warm, everyone in the city has kept going in the best ways they know how.
Colton Katzen said he had been surviving off of bags of chips from 7-Eleven and sleeping outside by a fire to keep warm, so it was disheartening to see his downtown office building lit up.
"This is embarrassing on the city/state! Luckily I'm young and healthy so can survive but for the young/old people out there in this, just makes me worry," Katzen said.
Others, like Mark Ritter, said his family is running low on supplies as of Thursday morning but they are still trying their best to keep up a good attitude.
"We are in good spirits, giving it the old Texas can-do attitude," Ritter said.
The situation is improving, now with 96% of Austin with energy restored, but with water, broken pipes and natural gas issues still looming, the crisis isn't over yet.
Share your story with us here:
Here are some stories from your fellow neighbors.

Feb. 19:
Pamela
"Leaning on friends, melting snow to flush toilets, watching Netflix, getting out of the house for short ventures, wearing a heated vest, doing yoga in my living room, finding one thing good in each piece of shit experience our so-called leaders have dumped on us through their incompetence and lack of concern."
L&C
"We live in Jester Estates (78750) and the entire subdivision lost water Wednesday afternoon. We are unable to get down either hill to go anywhere. Everyone is melting ice/snow for flushing and we are boiling some to wash hands. We see on the news that when we are able to get down the hill, there will not be any water available to purchase."
Holly Thompson
"We have had no water for four days and are in a dire situation."
Dave Kroll
"Feb 18 (Thurs): high 20s (still need to get above freezing...) City shut our water off last night, water plant pumps froze, no power either (?). they're trying to replace equipment. No idea when we'll get water back. Will start grabbing water from the pool to fill toilets and boil water and snow as needed. Ugh. With four 15-year-olds here, we're starting to go through our food reserves. Quickly feeling in survival mode... Able to drive but snowing again this morning. At 9:45 a.m., decided to venture out driving/sliding my way to HEB near us (closed, no water). Randall's was just opening—yes! Fairly long line of 40+ people but went smoothly. Was able to get basics, eggs, milk, TP, passer towels and some food to last a few more days with the girls. Produce shelves barren but plenty of options nonetheless. Grateful to get basics before they sold out. We can survive a few more days! The parents of the 15-year-olds will be pleased that I kept their daughters alive... ;-) My wife's flight home canceled today, 90 minutes before take off. Try again tomorrow. Temperatures hit 30 degrees, not quite enough. Another long day trying to work and get by. Powered down and drained our water heater to ensure it didn't freeze up with no water flow and damage it. Hoping water comes back soon. Tired of schlepping water to fill toilet tanks to flush. Grateful we at least have power/heat when many don't.
Feb 19: woke up and checked faucets (cue a different take on Tom Hanks character, Chuck Nolan, in Castaway): "Waterrrrrrrrr!!!!" Water's back on this morning! Thank you Travis Co. Water District 10! Hard to describe the relief, and the burden of not knowing how many days we'd be without it. As we pull out of survival mode today/tomorrow, thinking about how we can help others, as we're not through this ordeal yet, as a city and state. Hope my wife makes it back today! Takeaways (even though the state is still going through it...) This week has been a reminder of how quickly one's reality and stability of civilization is a thin veneer that can be taken away quickly. Let's all remember and appreciate that. This article captures my sentiment of the leaders who never took action to ensure Texas citizens would be protected through a predicted severe weather condition... https://www.theatlantic.com/ideas/archive/2021/02/..."
Tim Irvine
"Lots of sweatshirts, a little TV, loads of anger over the ERCOT corporate greed model and embarrassment over Ted Cruz. I am 72 and grew up in the northeast. This is the first time I have ever had power cut due to snow and cold, despite way more and way worse weather."
Lucinda Rudin
"Power was out for 48 hours. Kept blinds closed. Have gas stove and could cook. Everything in freezer melted and am not sure if it's safe to eat. Survived by putting on several layers of clothing and lots of blankets. Stayed in bed most of the time. My pets huddled with me. I am 83 years old."
Feb. 18
Abby Kaighin
"We have been without power since Sunday afternoon, Feb.14. We are lucky to have old fashioned gas space heaters in bathrooms. Main irritant (aside from not being able to keep phone charged for long) is trying to inform city a transformer exploded two doors away. If power comes on, I am thinking it still can't here because of transformer. Reported it to 311. I'm curious to see when it gets fixed."
Wendy Cavanaugh
"No power for over 77 hours! Im disabled. I have Lupus, Huntington's Disease, RSD, Arthritis, Neuropathy, high blood pressure—just to name a few. Since it was never said this would last days there was no reason for us to anticipate the extended outage. By the time we realized that my health was in great jeopardy we had NO OPTIONS! All open hotels were booked solid! I called the Red Cross, Tuesday night, crying and scared. I explained my medical conditions AND my concern that my 22 medications weren't supposed to be stored in 42-51 degrees! To replace them will now cost ME upwards of 10 THOUSAND dollars! Insurance companies do not care about WHY they were improperly stored! I explained that I COULD NOT risk exposure to COVID (very susceptible, due to health issues), but could no longer tolerate the cold, with no power, no heat since Monday at 2:07am. I honestly thought I'd die if I didn't warm up! She told me to Shelter-in-Place! I was mortified! Therefore, we were forced to stay home! Luckily, though I'm in horrific pain... I survived. Our condo has stayed in the 40s, but it'll still take me months, years, a lifetime, to "recover." My boyfriend missed three days of work because he couldn't power his computers, had no internet, etc. Since he's in a contract-position, he lost three days of pay. He is our sole source of income! I understand this was an unprecedented storm and therefore, I don't "blame" Austin for lack of readiness. WHO WOULDA THOUGHT THIS COULD EVER HAPPEN!? HOWEVER... It's the RIDICULOUS LACK OF COMMUNICATION , that absolutely infuriated me! Being in a "technical malfunction" area? THEY HAD TO KNOW THIS, from early on. And yet we couldn't even get through to a live person until yesterday! I'm outraged, and would like Austin Energy to compensate us! Him/us for lost wages and me, for cold related health issues, flare ups, pain, medications and ongoing concerns due to lack of resources! Our lives were in jeopardy and NO ONE CARED! I don't know if I'll EVER get back to pre-storm health (which was already questionable!). I have a TELEMED appointment with my doc, later today. Many have frozen pipes. We ALL have $1000 wasted in our fridge and freezers and so on... It's going to be expensive, for us all. HOWEVER—The negligence through all of this has caused me extensive long term damage that NO AMOUNT OF MONEY can repair! It's cost me THE LITTLE "QUALITY OF LIFE" I DID HAVE, and, quite probably, YEARS OF MY LIFE! We are OWED for the ignorance, neglect and lack of life saving resources!
Rachel
"We have been boiling snow to use in the toilet tank. I also pass some boiled snow through a coffee filter and use that to rinse hands."
Jessica Marlin
"Staying bundled up with layers and blankets. Keeping faith, just wish that were going to get out of this alive."
No name provided
"I live on a small family ranch. We've had very sporadic times with power and I consider us lucky for the short bursts we got. The inside of my home got so cold that it froze the water inside of my animals' water bowls. We weren't able to keep our pipes warm, so they froze and broke and we've been without running water for days—no showers, no washing our hands, and we're trying to melt snow in buckets to be able to flush our toilets, but without power and thus no heat, that gets pretty difficult. The only time we have connection to anyone is the times when we do have power because we live in an area that does not have cellular service and without internet. We can't contact anyone. We can't water our animals outside because the pipes froze and we can't even get more water for them so we've just been hoping there was enough in their trough. We are lucky to have a furnace we can put firewood in but the heat still isn't great. Everyone is okay, thankfully, no injuries or major sickness to take care of, but it's been rough. I consider us to be lucky to be alright but I can't imagine how bad it got for others."
Rhonda Lands
"Have had power outages of 10, 27 and 33 continuous hours along with brief on and offs. Coping by wearing silk long johns, multiple layers, gas stove for heating soup, a heavy comforter and two loving cats. Charging phone in car. Have a shopping list for next time."
No name provided
"A major water line in the Balcones/Spicewood Estates neighborhood on Spicewwod Parkway 78750. Crews left equipment on the road because they couldn't get to the place to repair it because of iced road."
Pam Schott
"Coping with limited heat and no water for several days—I've dressed with four layers all over, lots of contact daily with several groups of friends, offering to help others when and where I can, exercising via dvds, attempting to drive for water but now melting snow. Complaining to friends about the total lack of competence that comes when Republicans are in charge."
Carolyn M. Appleton
"Both our Lakeway and Bee Cave mayors have been sharing helpful updates on Facebook, proving yet again how important the platform has become when disaster strikes. Our water at 3501 RR 620 S did not go out until Wednesday at noon. It did return to the taps later that evening. Thursday morning, it is still on (fingers crossed). So far no electrical outages but last night, I did notice a light at home flickering, suggesting weak power. AT&T Internet has kept going with a few low moments (sadly, during a mid-morning video meeting) on Wednesday, but all seems fine as of Thursday morning."
Mark Ritter
"It has been difficult. We live in Travis Country West and most of our subdivision has not had power since it went down a few days ago. We are kinda running out of options here...we have been hoping Austin Energy would cycle us back on, even if for a little bit, but that has not happened. We are in good spirits, giving it the old Texas can do attitude, but again, are a bit discouraged with Austin Energy. This status update is as of Thursday morning. Thanks for asking about us. We would like to get word out to Austin Energy. All we can reach is the automated line."
Dolores Luna
"We are on our late 70s and our power went out Sunday morning at 5:00 a.m. We have been without power since. It's been an experience but thanks to our Dear Lord we have so survive it."
No name provided
"We woke up to no power on Monday morning, like most of the city! After it seemed clear that is was not going to be a "rolling blackout" we opted for a hotel room downtown. Feel very lucky that we made that decision early because many friends were not able to find an empty room later in the day. My husband drives back to the house each day to make sure it's still standing! Power came back on sometime Wednesday but our pipes are frozen so we had to shut the water off. We lost an oak tree—very sad about that. Pool may not survive... four days in sub freezing temps without power is not good! We feel very fortunate overall. We are well insured and have been safe, warm and fed. So concerned for the people of Austin who don't have equal resources. Epic fail by the state of Texas to protect it's citizens."
Lisa
"Melting snow and ice. No bathing or cleaning allowed. Cooking is minimal, due to can't wash dishes. Little water would be better than none at all."
Charlie
"In Kyle—Pedernales coop. Power was on all night for first time. May have frozen hose bibs even though they were covered—ticking time bomb waiting for unfreeze and backed up plumber "schedule." Got boil water notice from Kyle—some in Kyle already have no water."
Esmeralda Galvan
"I'm doing alright. Wish I could just go back home and have electricity back to be warm."
Colton Katzen
"I live just off of South Congress and we lost power on Sunday but luckily have one working pipe for water. We had a lot of firewood that we burned to stay warm (even sleeping outside by the fire) but that has finally run out after 72+ hours without electricity. We have a gas stove so have resorted to constantly boiling water to get the house up to closer to 45-50 degrees. Food is running low and surviving off 7-11 chips... My office building downtown remains lit up (absolutely terrible they are lit up) so I can walk there for hot showers if need be. This is embarrassing on the city/state! Luckily I'm young and healthy so can survive but for the young/old people out there in this just makes me worry."
No name provided
"No power since Monday evening 6 p.m., don't have gas connection, no water. Our apartment is very cold."
Mrs. Holloman
"It's been absolutely awful. I have a husband and two kids ages 8 and 10. We have been without power since Sunday morning! We ran out of food. Luckily we have a gas fireplace but as a precaution we had to monitor it, turning it off periodically. Some of our food expired. We suffered in ways I feel was absolutely unnecessary. We camped in our living room huddled up to try to stay warm. Our water went out. Thursday afternoon and things went downhill from there. Four days like this in the worst ice storm to hit Texas?!"
LS
"I'm one of the lucky ones. My parents in Jollyville have been without power since Sunday night but they have water, a fireplace and good camping gear, so they're okay. I'm Central-East and I still have power and water. I also have a four-wheel-drive and have been giving rides and doing what I can."
Brent Henry
"It is a real struggle. Had power out early in the storm for 48 hours. I had my neighbors across the street with power while I didn't. No water now going on two days but have power. Apartments 50 yards away has been without power now on four days."
Udi
"Just found out I have stage three breast cancer and all my appointments have been cancelled. I'm beyond overwhelmed and depressed. But it seems like everyone I know is feeling sick and scared at the moment. :("
No name provided
"No water no electricity, very cold, terrible."
No name provided
"We are much luckier than so many others, but at 74 years old, my husband and I had no power from 3 a.m. on Monday until 9 p.m. last night and our house was about 45 degrees for the entire time. We could not leave our house. We did not freeze but it has been brutal. It did not help that the people who have been in charge of the state for the last 20 years made statements like Rick Perry's saying that Texans are willing to live for three days without power to keep the feds out of our lives. This said from his home probably with a whole house generator and his own water well. He does not speak for us. And, every time we heard from the governor, he was trying to find someone else to blame. Please, governor, just take some responsibility and do something to make things better."
No name provided
"We have been out of power since the beginning. Our food most all ruined. Now no water. I cannot say it has been fun but we have been trying to support our neighbors and help where we can. We are still out of power today, Thursday. Our pipes are frozen. We tried to find a hotel with power and water that would take pets with no luck. Historic episode or not, Austin Energy has grossly mismanaged this situation. I hope some lessons are learned from this and changes made."
Stories submitted were slightly edited for typos and clarity.
The nonprofit foundation was made to ensure that her children Shaw, Tucker and Loretta have the resources they need for their future education.
Since its creation, the organization has received more than $100,000 from the community. Doug Wolfe, a friend of the family, said that the foundation can be used to give Dodson's family the same care she gave to so many families through her practice at Children's Medical Group.
"The Foundation is an opportunity for our community to serve Lindley's family and children and the family's charitable goals around education in the same way she loved and cared for ours," Wolfe wrote in a statement.
Thousands have taken to social media to mourn Dodson's death, and community members have held prayer circles and dropped off flowers at the site of the well-respected pediatrician's practice. The circumstances behind her death, in which the terminally-ill Dr. Bharat Narumanchi held multiple employees hostage before killing Dodson and himself, is still under investigation.