Get connected with our daily update
It's a recent Wednesday night and a crowd is queuing at the Museum of Ice Cream, an Instagram-friendly hotspot comprised of installations including a plastic-sprinkled-filled swimming pool and rideable pink animal crackers that recently took up residence at the Domain shopping and entertainment complex.
A little over a mile away, fans pack into Q2 Stadium, Austin's first professional sports stadium and home to the Austin FC professional soccer club, which is midway through its first season.
As the world tiptoes back to normalcy despite a continuing pandemic, North Austin continues to court new businesses that are making a major impact on both the city's economy and the local landscape. But with all of this change and development, how do longtime residents and business owners feel about North Austin's sustained growth?
After all, North Austin has changed significantly over the years. After some started calling the city "Silicon Hills" in the 1980s due to the influx of tech companies to the area, many of those companies settled in North Austin, with some of them opting to office at the Domain—a retail, entertainment, office and residential complex that quickly became a second city-center after it opened in 2007. Even Apple, which already has a significant presence in town, plans to mark the 30th anniversary of its first Austin office with the debut of a $1 billion campus in Northwest Austin in 2022.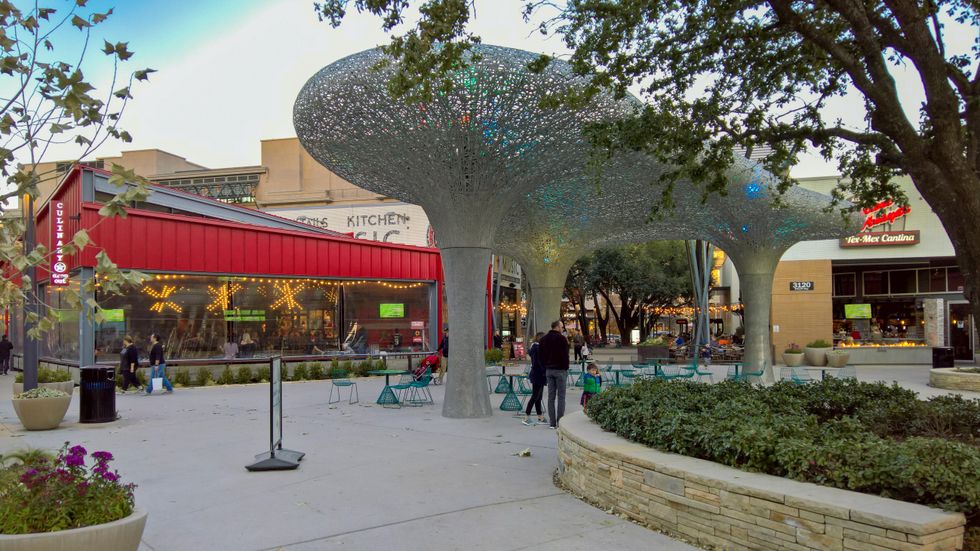 (Shutterstock)
Mike Lavigne has lived in North Austin for more than 20 years and has been a resident of the Crestview neighborhood since 2002.

"We have a 12-year-old daughter and I can't think of a better place on earth to raise a child," Lavigne said. "(The neighborhood) is mixed in terms of age and economic status. It still has diversity and, most importantly, it has families."
Lavigne said that as a whole he appreciates the role that places like the Domain serve in Austin.
"We need those multiple city centers. The Domain and Mueller are the few places that have been able to take some of the stress off single-family neighborhoods," he said. "I like that there's a place for apartments and retail and all of those things that don't need to be everywhere but do better when they're together. I think that's necessary and it's a smart way to grow."
That doesn't mean, however, that Lavigne isn't concerned about the impact that the influx of chain shops, restaurants and bars in the area are having on small business owners and the "old Austin" vibe in general. As a partner in Violet Crown Clubhouse, a neighborhood hangout for Crestview and Brentwood residents that features an arcade and an ice cream shop, and as an investor in the oddly wonderful holiday-themed dive bar LaLa's Little Nugget, Lavigne can attest firsthand that the pandemic has been "a kick in the pants" for local businesses.
"There's definitely a lot of places that were epicenters for communities that are just gone and they're not going to come back. It's up to us to create new places and keep things odd and unpredictable. That's on us to do as natives," he said. "(When it comes to progress) there's no turning back now. Whether it's good or bad remains to be seen."
Austin is currently ranked nationally as the second most overvalued market in the nation, and finding homes in the North Austin area can be next to impossible. Jen Sparks, broker and owner of Kifer Sparks Agency, said that currently there are only seven homes on the market and 38 homes with pending contracts in the Domain area between Mopac and I-35 and 183 and Walnut Creek.
"The consistent growth in the Domain area by top-tier employers continues to attract highly skilled tech talent, which is in turn driving competition in the real estate market. With a large number of restaurants and nightlife options and the new Q2 Stadium, the demand for single-family homes continues to break records," Sparks said. "Although the market historically slows in the fall, I anticipate the inventory in this area will continue to remain low, which will in turn cause prices to rise."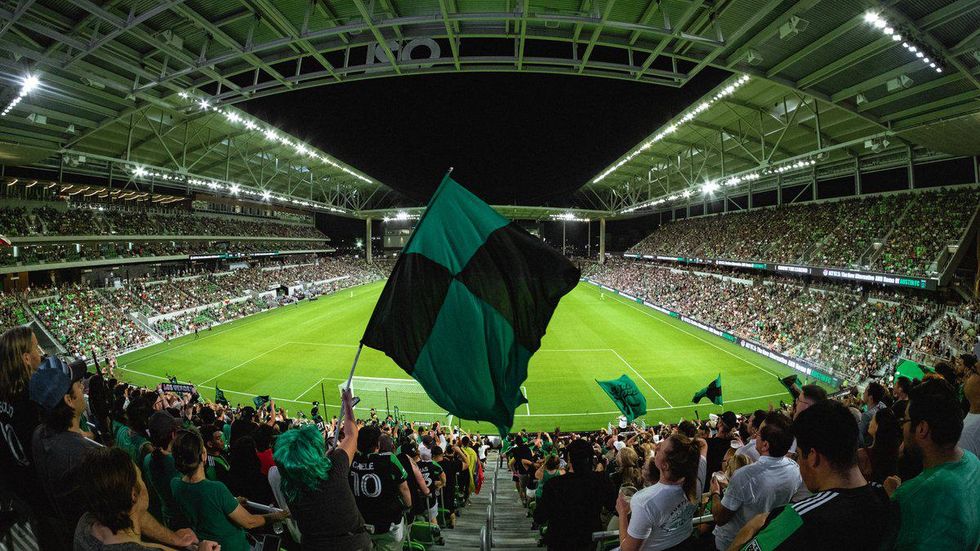 Jenni Carter has run her vehicle inspection business, Sticker Stop, on Burnet Road for the past 15 years. She said it was "pure luck" that she found the property, which is now located less than a mile from Q2 Stadium.
"For us, the growth has been amazing. The more the area grows, the more the business grows. We have been very fortunate," she said. "When we first opened, the majority of our customers were commuters, they worked in this area. Now it seems we have a very even mix of customers that reside around the Burnet Road corridor and work here."
While Lavigne said he enjoys visiting the Domain and looks forward to attending some Austin FC games, he hopes Austinites will continue to buy local in an effort to help keep Austin, well, weird.
"I would say that if there is a cool place in your neighborhood and it's a small local business, make sure you're supporting them double," Lavigne said. "The Domain doesn't need your help, but we do. We don't get the same kind of subsidies that the big guys get. If you care and you want to keep a place, you've got to spend your money there."
Read more on the growing city: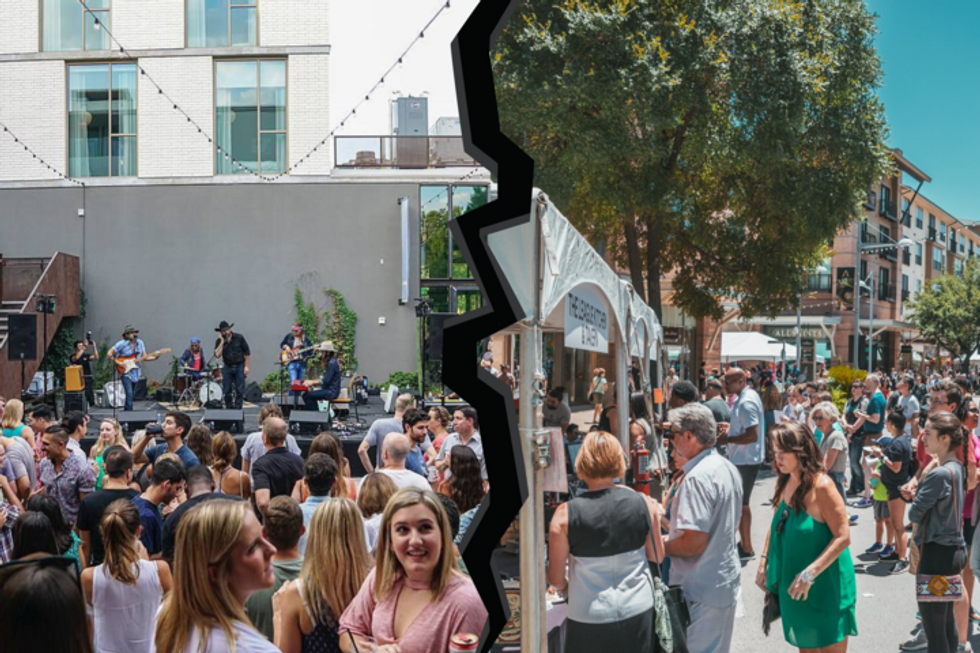 North vs. South: The 'Yuppies' and 'Bubbas' of Austin are divided by more than Lady Bird Lake
After a year-long hiatus, Austin City Limits is returning to Zilker Park—the festival's iconic central Austin location. But after 18 years, some residents are ready to see the festival move to a different part of town, lamenting another year of traffic, losing access to their favorite park and corporate greed.
Longtime Austinite Robert Reeves, a lover of live music who spent years working on the Vans Warped Tour, has been living in the city since 1992. Reeves said he wants ACL out of Zilker Park, not just to save a few minutes driving on the weekend, but also to keep Austin local.

ACL is run by C3 presents, an Austin entertainment company. However, in 2014, 51% of the company was acquired by Live Nation, a Beverly Hills-based company. While C3 puts on the festival, Live Nation has a big say on how the show is run.
"It is no longer the showcase for Austin and Austin talent," Reeves said. "You don't get credit for being homegrown Austin when you're no longer a homegrown Austin company, when you're catering to people outside and you're causing problems for the residents here."
Reeves is not the only resident who feels this way. Austinites took to Twitter and a recent Towers survey to share their displeasure with the festival's location.
Since shit in Austin flows downhill, expect Roy Guerrero Park to soon be publicly talked about as a new location for the ACL Festival. Because of all that diversity, equity and inclusion n' stuff. It should move to COTA.https://t.co/nQ9GwqrpVp

— Fred McGhee (@fred_mcghee) July 4, 2021
I actually do think Zilker is too small for ACL now. So the next logical place for it to move would of course be Muny. https://t.co/E4G3QogIB9

— sarianrogue (@sarianrogue) July 2, 2021
The problem, Reeves says, is that the festival no longer supports the community. C3 has donated more than $35 million to Austin Parks and Recreation over the years. But Reeves thinks Live Nation needs to give back more to the community if it wants to use it.
"It's not how much we think something is worth, it's how much the other person thinks it's worth," Reeves said. "Look, I love ACL, but I've got to tell you, it has lost its way. Regardless of how much value (ACL) adds to Zilker Park, it's a park, whatever. If we told Live Nation to fuck off… they would have to take a charge on their next earnings report to Wall Street, their stock would plummet."
Reeves acknowledges that ACL was a huge economic boom during its inception but says that Austin has more economic freedom now. On top of that, Reeves said residents of Barton Hills, Rollingwood and Bouldin Creek neighborhoods have had enough of the traffic, rental problems and commotion.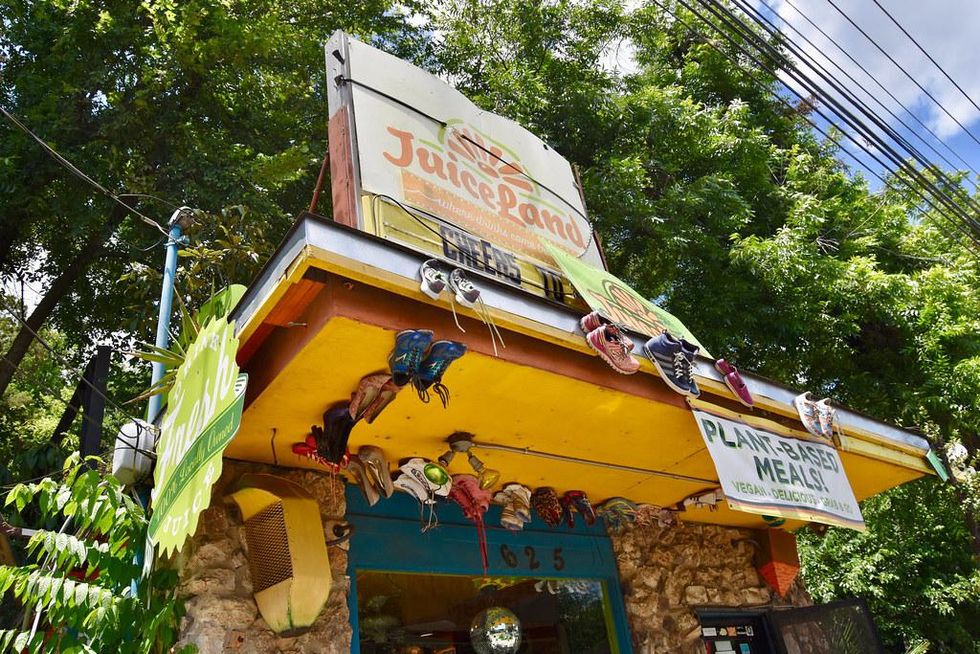 Juiceland is one of the businesses to benefit from business ACL brings in. (Nick Amoscato/CC)
"It takes inventory out of the real estate market, which in turn raises prices," Reeves said. "There's assholes in LA that have mansions in Malibu at Live Nation because of this."
Reeves' argument: Live Nation needs ACL more than Austinites do. So if not Zilker Park, where should the festival be held?
"Not my fucking problem," Reeves said. "If you're not changing, you're dying."
Few businesses in the area share the same opinion—ACL is a huge revenue driver. Barton Springs Juiceland Manager Kaley, who declined to give a last name, said the two weekends are the best shifts of the year.
"Employees will make over $100 in tips a day, it's the best time for us," Kaley said. "We didn't have ACL last year and we're still fine but that being said, it is definitely something that I think everyone around here looks forward to. It really drives up revenue for us and Chuy's and Juliet (Italian Kitchen)."
Beyond that, Kaley, a lifelong Austinite, said ACL just wouldn't be the same festival if it was held elsewhere.
"Quite frankly if it wasn't at Zilker Park anymore, it wouldn't be ACL anymore," Kaley said.
On a gloomy Thursday evening, Austin Justice Coalition hosted a vigil to honor the lives of those killed by law enforcement. The event came just two days after former Minneapolis police officer Derek Chauvin was convicted of second- and third-degree murder as well as manslaughter for the death of George Floyd last May and on the eve of the one year anniversary of Mike Ramos' death.
Both names were catalyst for the Black Lives Matter movement that sparked nationwide protests. More recently other police killings—Alex Gonzales in Austin, Adam Toledo in Chicago and Daunte Wright in Brooklyn Center, Minnesota—have made news. The vigil brought people together to remember all lives lost at the hands of police.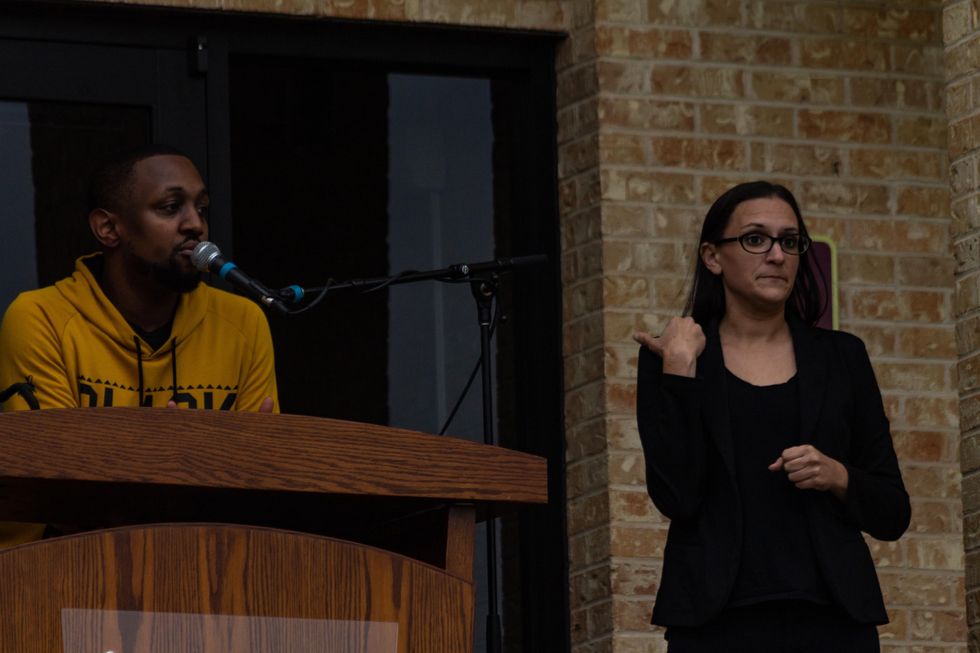 (Christa McWhirter/Austonia)
Founder and Executive Director of AJC Chas Moore, with an American sign language interpreter, started the vigil by drawing attention to the definitively fewer amount of people in attendance versus the demonstrations last summer that saw thousands gather, including at the same location.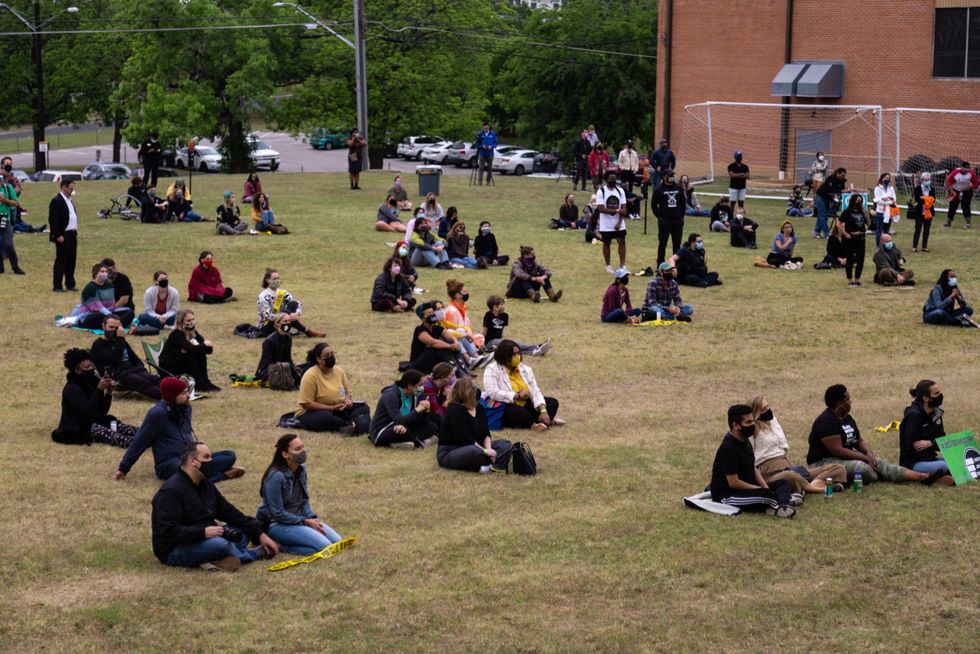 (Christa McWhirter/Austonia)
In stark contrast to demonstrations held in 2020, only around 100 people gathered at Huston-Tillotson Thursday evening.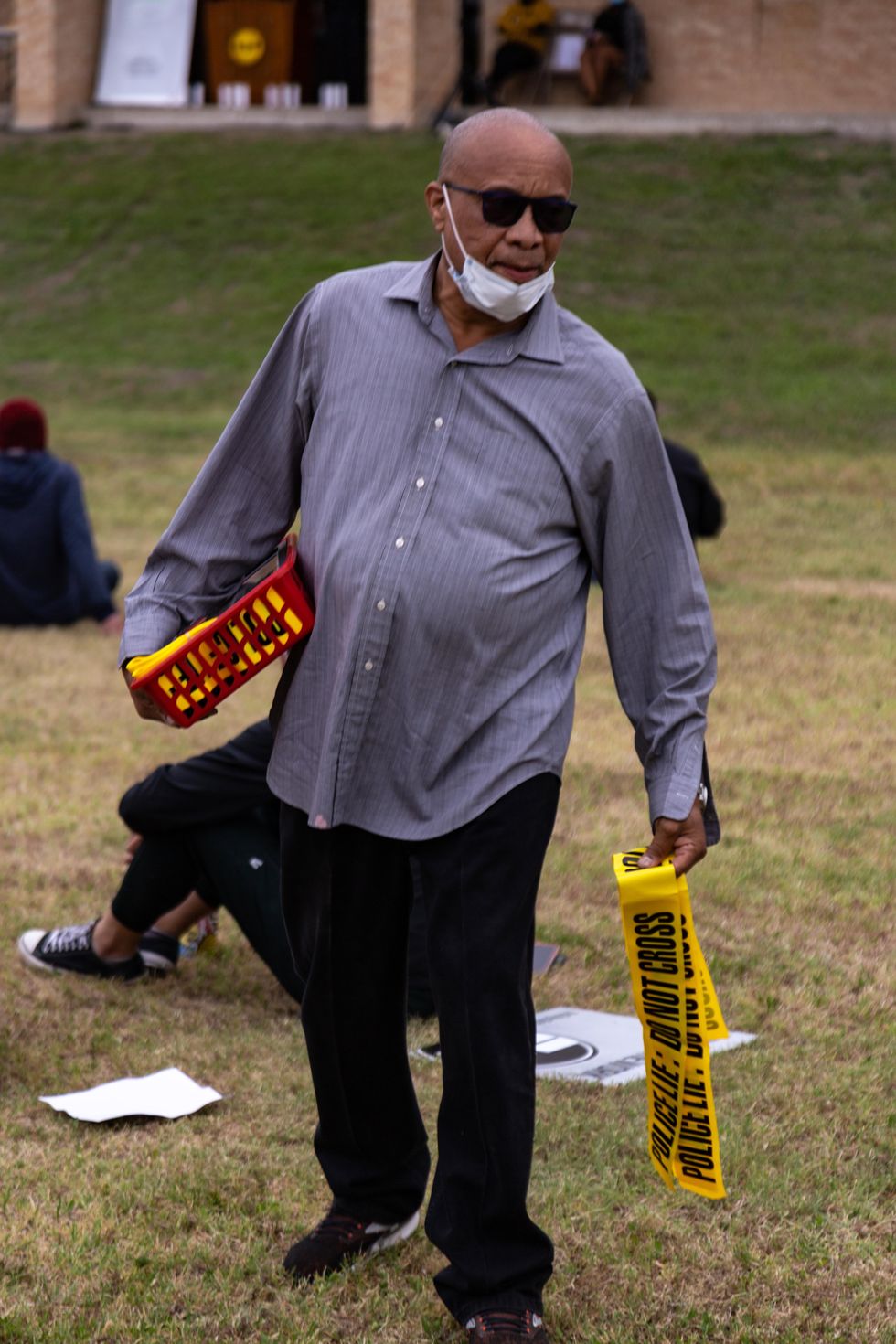 (Christa McWhirter/Austonia)
Many in the small crowd held police tape passed out by one of the volunteers of the event, Ernest, who declined to reveal his last name.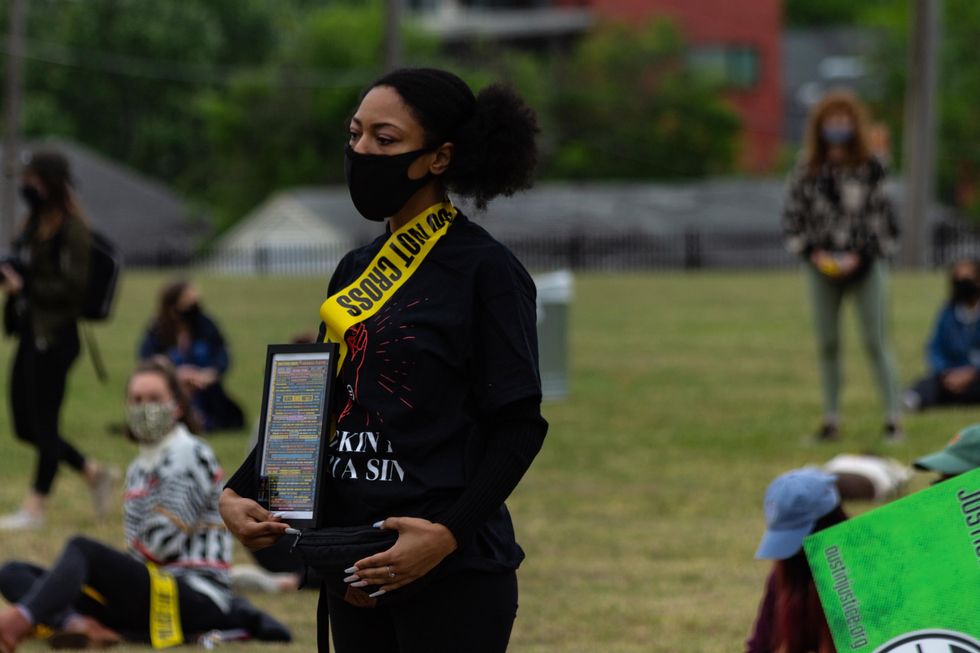 (Christa McWhirter/Austonia)
Some attendees held picture frames depicting loved ones lost to police violence, including Yasmine Smith, director of justice and advocacy at Austin Area Urban League.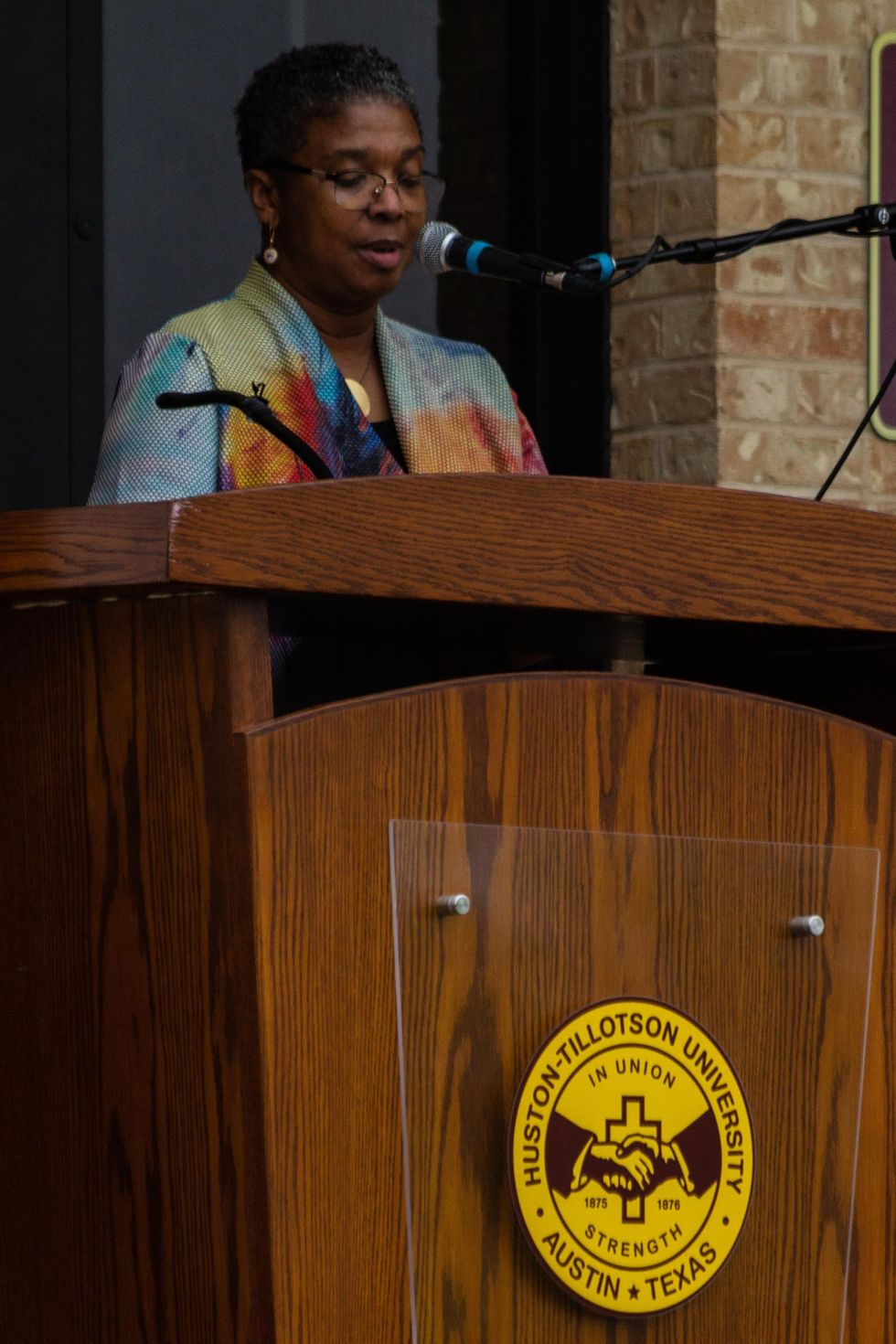 (Christa McWhirter/Austonia)
The first speaker of the evening was Colette Pierce Burnette, the president of Huston-Tillotson University. She spoke of the recent conviction of Derek Chauvin saying, "We can breathe, but not a sight of relief yet."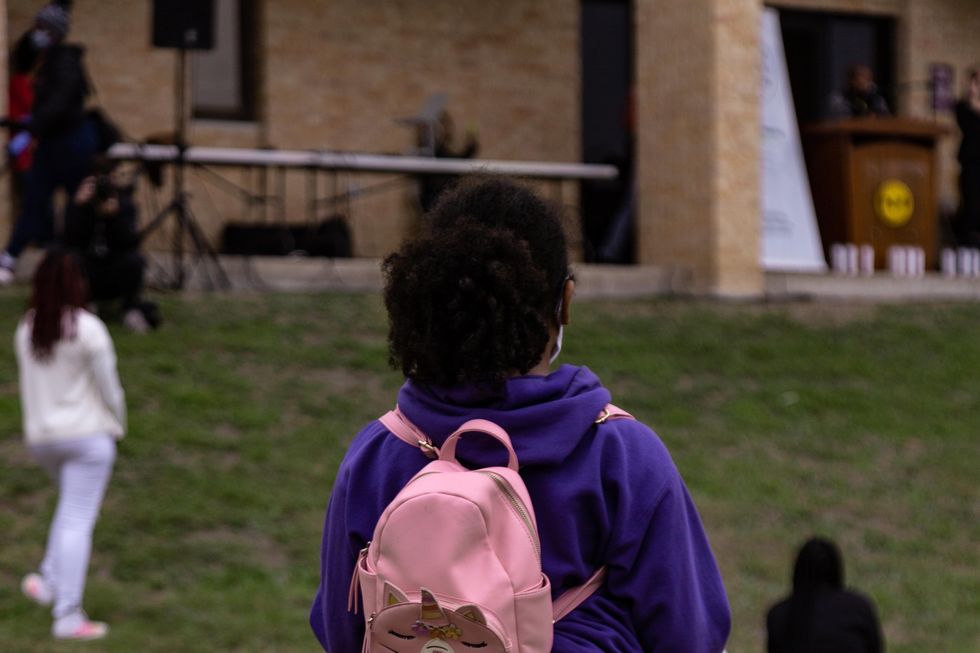 (Christa McWhirter/Austonia)
Attendees showed up with their families to listen to speakers and participate in the vigil.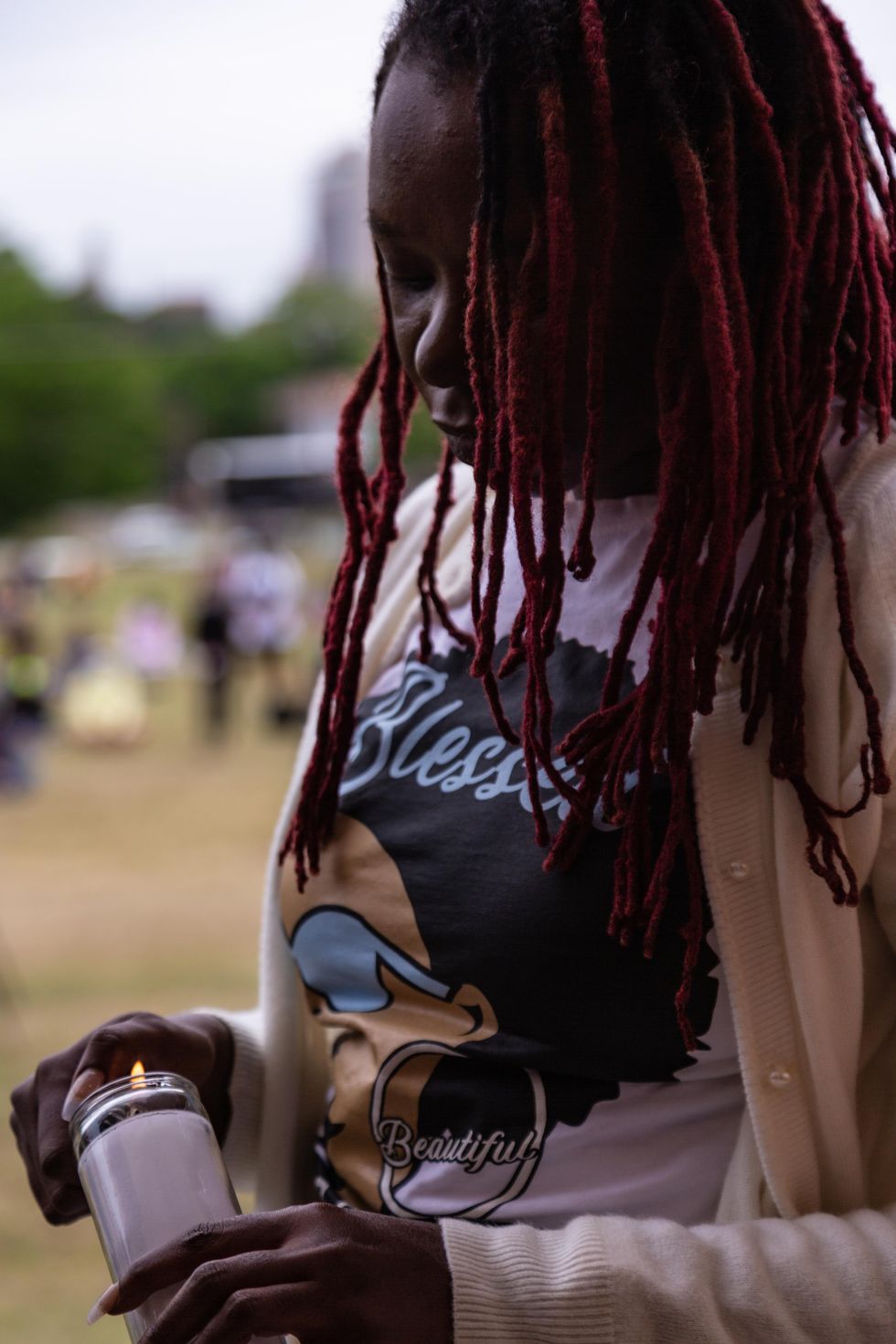 (Christa McWhirter/Austonia)
Speaker Korretta Brown lights white candles in honor of loved ones who have been killed by police violence.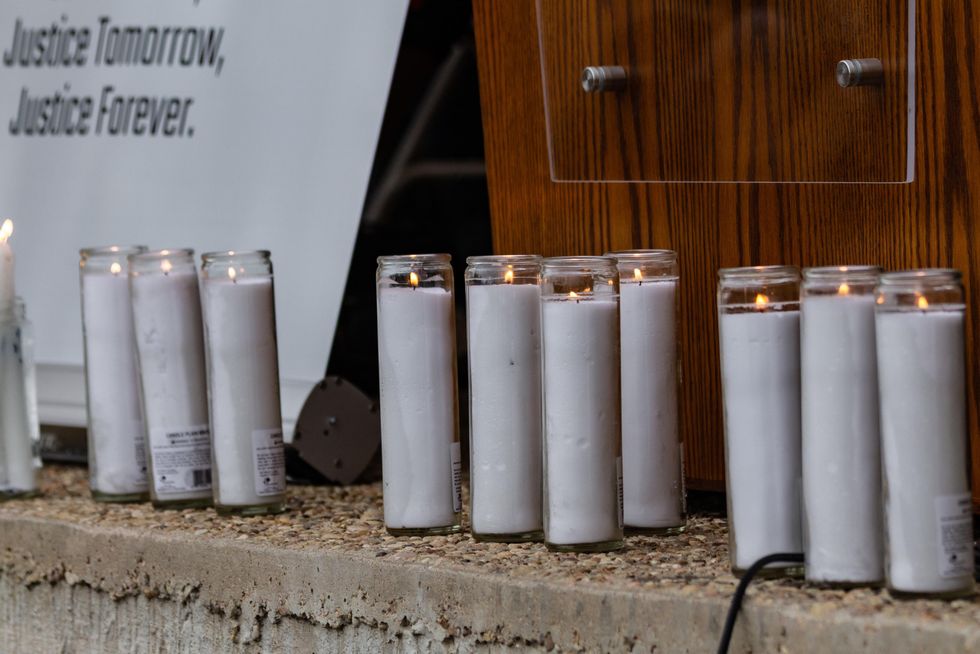 (Christa McWhirter/Austonia)
The candles were lined up at the base of the speakers' podium throughout the vigil.
Moore ended the vigil by encouraging attendees to march to the Zaragoza Rec Center to early vote in the local election.
It could be the pictures on the wall that perfectly reflect her personality. Or the full kitchen where she recently cooked up steak, asparagus and mashed potatoes for dinner.
But if 18-year-old Shaunna Contreras had to pinpoint her favorite thing about her new apartment, it would be the balcony, where she loves to sip her morning coffee while listening for the crickets and frogs that inhabit the creek below.
It's a tranquil and unexpected new phase for Contreras, who spent two years in foster care before aging out at 18 into a situation she called "hopeless." But thanks to a new program called Grace365 that funds apartments for aging out foster youth ages 18-22, Contreras now has support, and a safety net, as she transitions into adulthood. Grace365 also pays participants' bills, helps them get driver's licenses and offers twice-monthly stipends so they can purchase items such as groceries and clothing.
Contreras said walking into her own apartment for the first time was "unreal." "I just couldn't believe it," she said. "I was beyond grateful."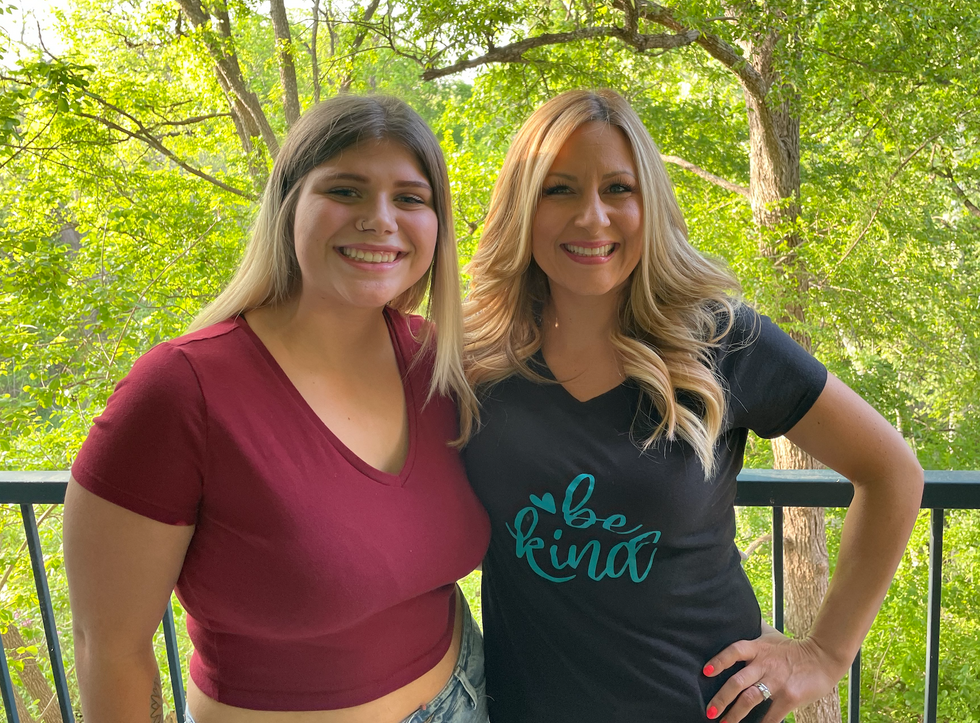 Stacy Johnson, right, with Shaunna Contreras on the porch of Contreras' apartment in Round Rock. (Kristin Finan/Austonia)
Grace365 is a new program by the nonprofit Central Texas Table of Grace. Unlike the new program, Central Texas Table of Grace only provides emergency shelter services to children and teens in the foster care system. Founder and CEO Stacy Johnson said the purpose of Grace365 is to offer stability to youth who are aging out while connecting them with all of the services available to them.
"Foster kids in Texas get free college, they get all kinds of different services that they can utilize, but nobody is really telling them how to do it and they're kind of falling through the cracks when they age out. A lot of them become homeless," Johnson said. "I'm just trying to prevent that from happening so that we can give them a place to transition."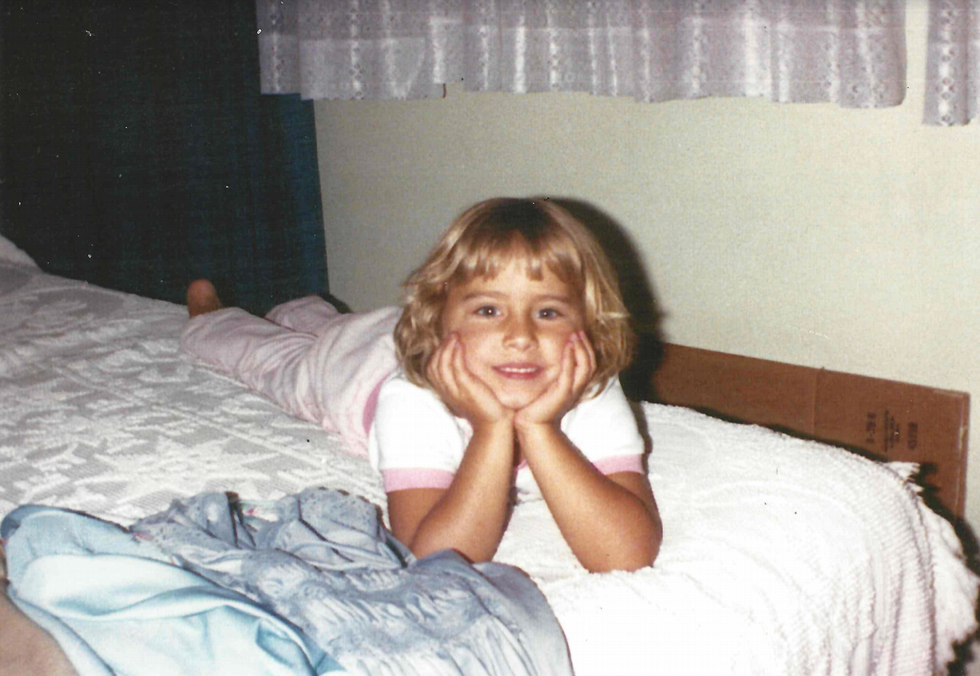 At a young age Stacy Johnson entered the foster care system where she experienced the difficulties of transitioning out of the system. (Stacy Johnson)
Johnson, a Round Rock resident, knows all about the perils of aging out of the foster care system. She entered foster care at age 2 and emancipated at age 16 only to find herself struggling to make ends meet. She recalls days when the only thing she would eat was a $1 spicy chicken sandwich from Carl's Jr., purchased with any spare change she could manage to scrape together from under her couch cushions.
"I didn't know how to cook, I didn't know how to buy groceries, I didn't know how to budget," Johnson said. "Just buying a soda if I wanted was a luxury because you literally are down to pennies. I feel like I was saved by the grace of God so many times."

As an emergency shelter, Johnson's Central Texas Table of Grace is not allowed to house youth past their 18th birthday. Johnson said it was "heartbreaking" watching children turn 18 and have nowhere to go.
"Once they age out, the people that will help them are the sex trafficker and the drug dealer and the pedophile. It's almost like they have a target on their heads," Johnson said. "Once they become homeless or something goes wrong, it's really hard to get them back."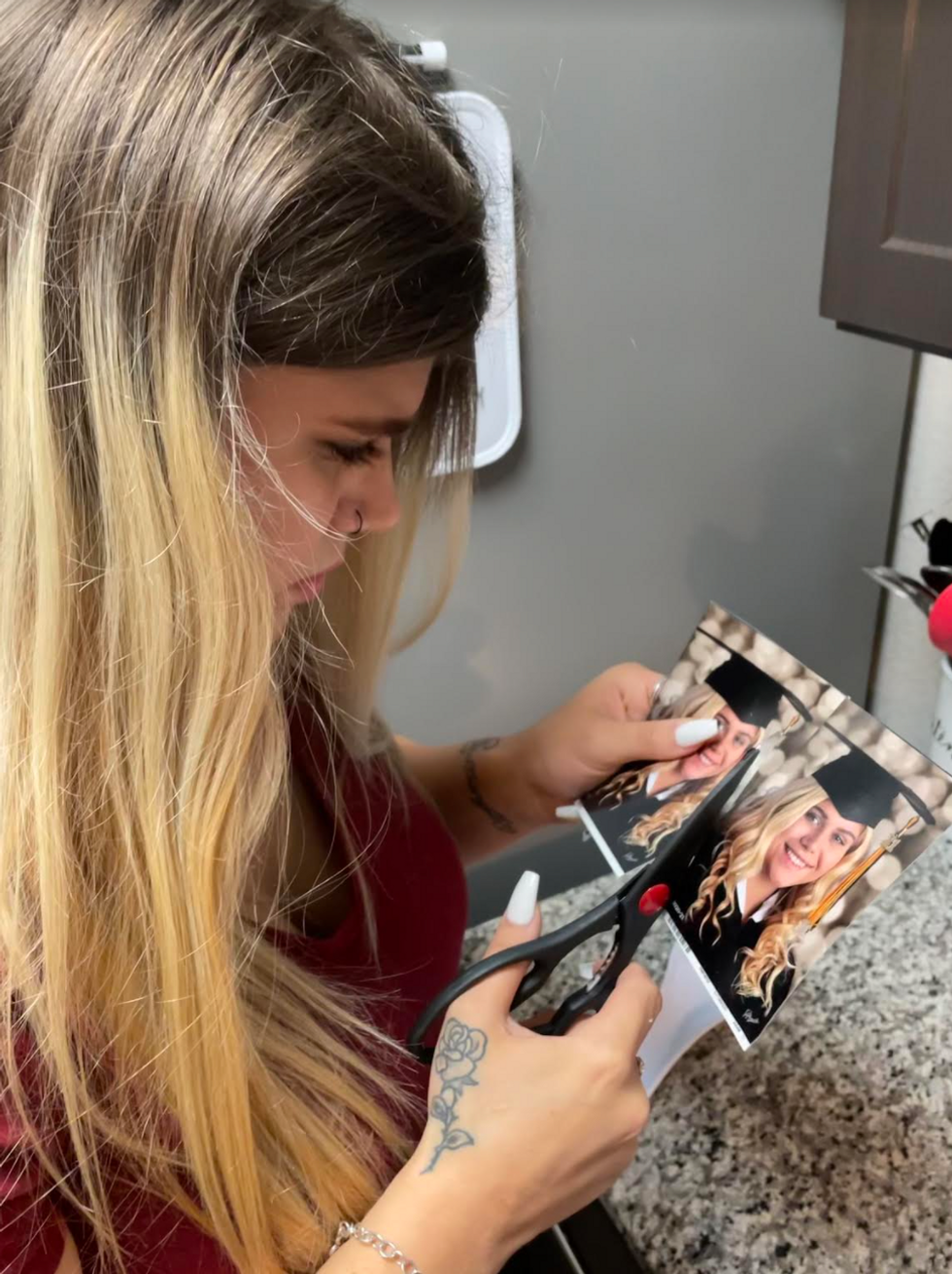 Shaunna Contreras cuts one of her graduation portraits for Stacy Johnson. (Kristin Finan/Austonia)
For Contreras, being part of Grace365 brings her full circle—she also spent three months in Johnson's shelter two years ago.
She now works as a caregiver at a retirement home and moved into her new apartment three weeks ago. She ultimately wants to be a phlebotomist and hopes to start college in the fall.
"Sometimes I'm very hard on myself, and I tell myself, 'You can do better.' But I'm proud of myself," Contreras said. "I'm proud of where I've gotten, because I didn't think I would get this far."
"I'm really proud of you, too," Johnson said.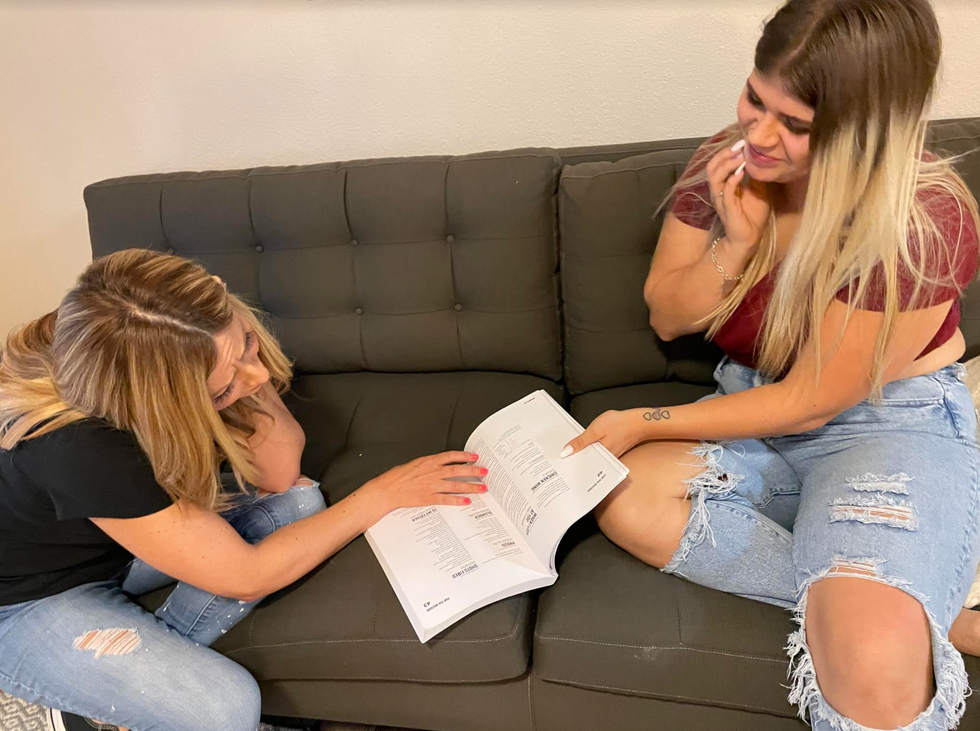 Stacy Johnson, left, reads poetry written by Shaunna Contreras in Contreras' new apartment. (Kristin Finan/Austonia)
Johnson said her hope is that participants be financially independent a year to 18 months after starting the program but that Grace365 will evaluate apartment funding on a case-by-case basis. The program currently funds three apartments but plans to quickly add more and has a long-term goal of creating a tiny home village for youth who are aging out.
As for advice to anyone going through a hard time?
"Never give up," Contreras said. "Don't feel like it's the end, because it's not."