Get connected with our daily update
Note: This guide was written before weekend one of ACL.
The time has finally come, Austin City Limits fans. Try to contain your excitement—there is still lots of prep work to be done.
Festival crews began setting up in the park last week, giving hope and excitement to ticket holders. With just a few days left until the festival's post-COVID debut, use those jitters to plan out the best possible festival season.
Whether it's your first time or you're an ACL veteran, here are a few tips to keep in mind while you prepare for the music.
Don't miss a beat: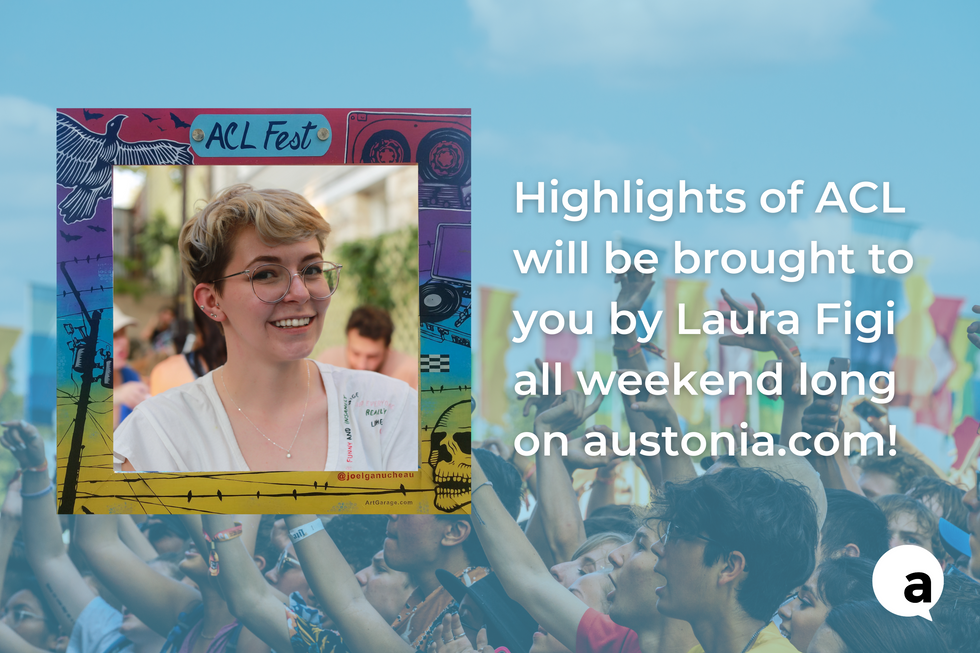 What to bring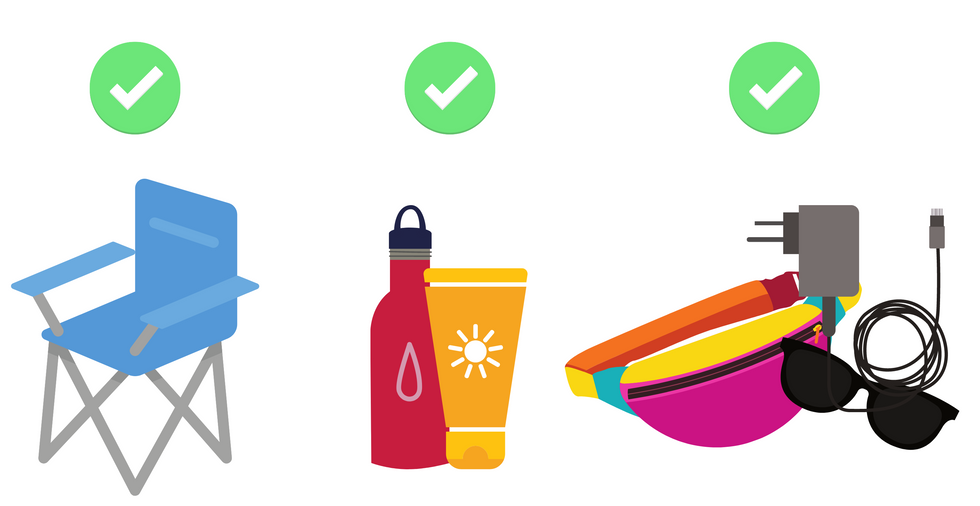 (Laura Figi/Austonia)
First things first, put on that wristband before leaving the house so there's no chance of losing it. Also, just as important as your wristband to get in, all attendees must show a negative COVID-19 test obtained within 72 hours of entering the festival. Fully vaccinated attendees may show proof of vaccination instead of a negative test.
Now to the fun stuff.
Pack light. I repeat, PACK LIGHT because you're going to be doing a lot of walking and moving around. That said, there are a few light creature comforts that will make the sizzling sun bearable, starting with a seat: a foldable chair, picnic blanket, whatever, but you'll want to have a place to camp out while waiting in-between sets or enjoying a bite to eat.
If you bring nothing else, make sure you bring a reusable water bottle. Hydration is crucial and water refills are free at ACL, with stations to fill you up all over the park, so save your money on plastic bottles by bringing one.
Sunscreen is a must, especially if you're planning on making it through a full weekend. Lather up but remember that it's not in an aerosol container and weighs less than 3.4 ounces. It's always good to have a bandana on hand, you never know when you might need one, but you can always grab a freebie from festival vendors.
Expect your battery life to be drained from posting on social media and trying to find friends in the crowd. Do not forget a cell phone charger. This year ACL will have antennas through MatSing, which means the typical WiFi challenge will be partially alleviated. You can pack it all in a one-pocket fanny pack, which doesn't have to be clear if it's smaller than 4.5" x 5.5" or any clear bag smaller than 12" x 12" x 6."
What NOT to bring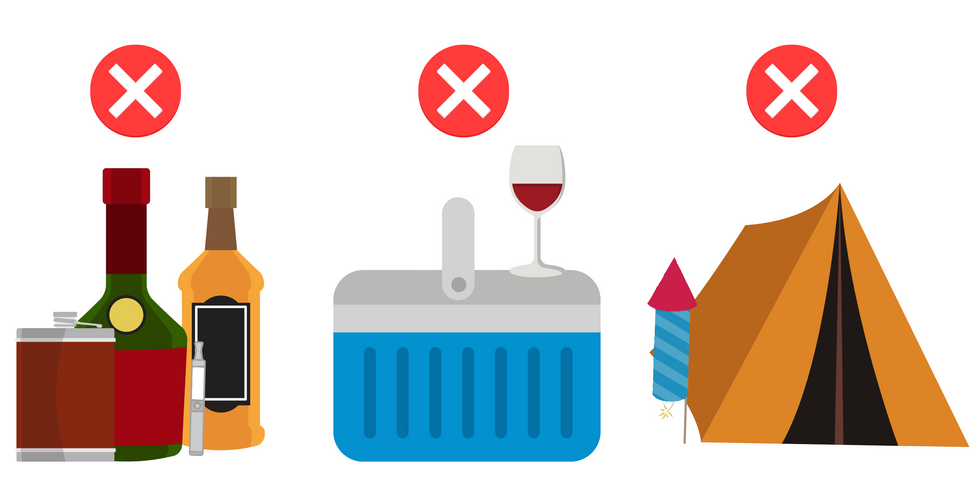 The ACL gods have spoken and they said no coolers, glass containers or hammocks are allowed. You can bring in a point and shoot camera but ACL prohibits anything with a detachable lens—in fact, the festival prohibits all professional photo and video equipment.
If it's illegal, it is probably prohibited. ACL is not allowing any e-cigarettes or vape devices, outside drinks, tents, spiked jewelry, fireworks, bicycles, pets, umbrellas and selfie sticks are all prohibited. Read the
full list of illegal items here
.
How to get there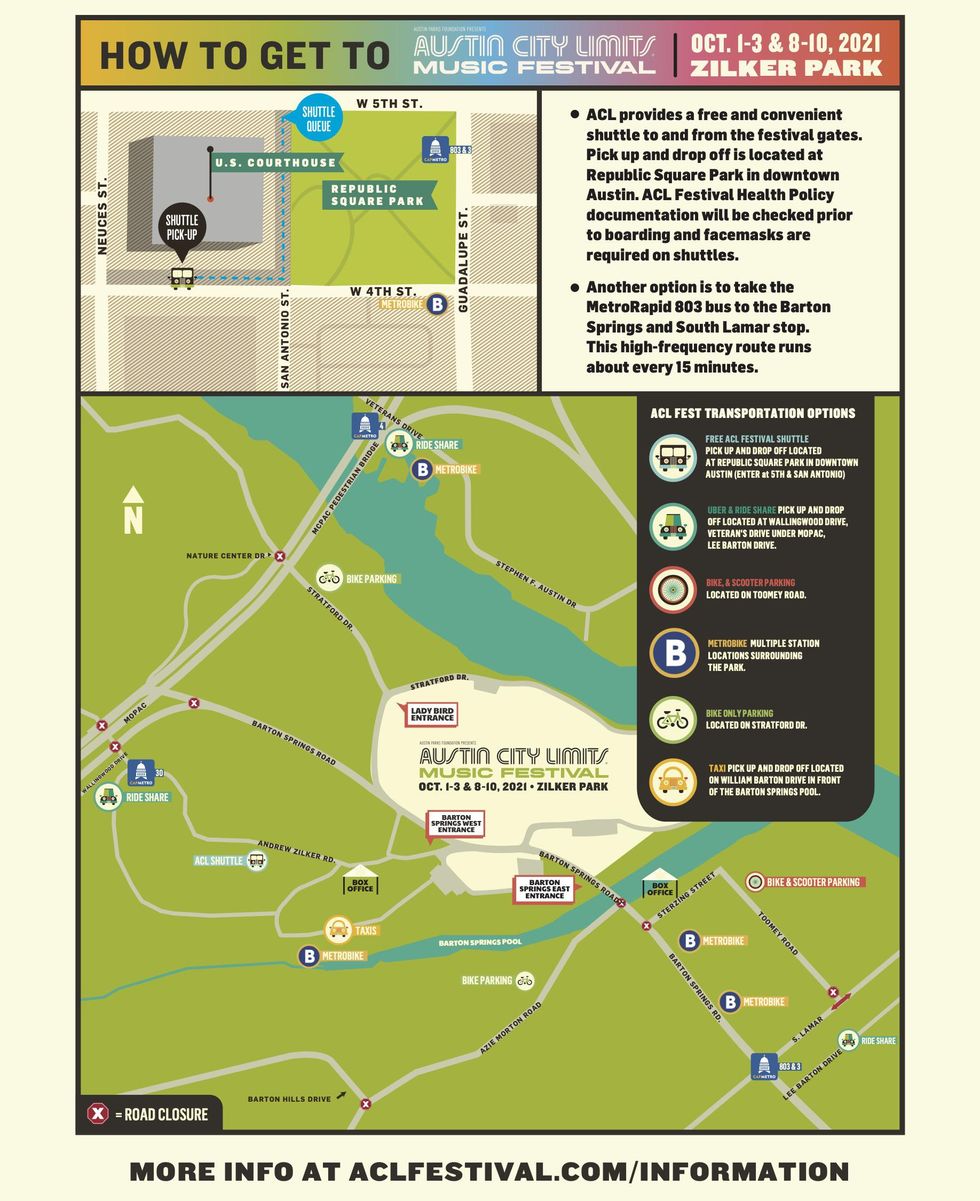 (ACL Festival)
Trying to park at Zilker or anywhere close to the park will leave you disappointed—unless you purchase a third-party parking pass, such as at Chuy's on Barton Springs for $100-weekend parking—so it's probably best to nail down another mode of transport because streets nearby will be blocked off.
Rideshare 🚙
More likely than not, you'll still have to do some walking if you take an Uber, which partnered with ACL as the official rideshare app. Drivers have designated pick-up and drop-off zones that are often a trek away from the action. Plus, with high demand comes high prices, so you'll need to factor it into your ACL budget. When you're ready to head home, you won't be able to call an Uber until you pass the river, South Lamar Boulevard or the Frontage Road.
Shuttles 🚌
Depending on where you're coming from, it may be best to park downtown and shuttle over to Zilker Park. ACL has historically held free, quick and easy shuttles that pick up attendees, bus them all the way to the Barton Springs West entrance and drops them off at the end of the day. You can catch the shuttle at Republic Square Park downtown starting at noon on Friday and 11 a.m. on Saturday and Sunday. CapMetro also has bus routes around the city that run to Zilker Park, like MetroRapid Route 803.
Biking and walking 🚲
You won't be able to take your bike inside the festival but bike parking is available on Stratford Drive after crossing the Mopac Pedestrian Bridge and on Toomey Road at Sterzing Street and on Azie Morton Road.
How to survive the heat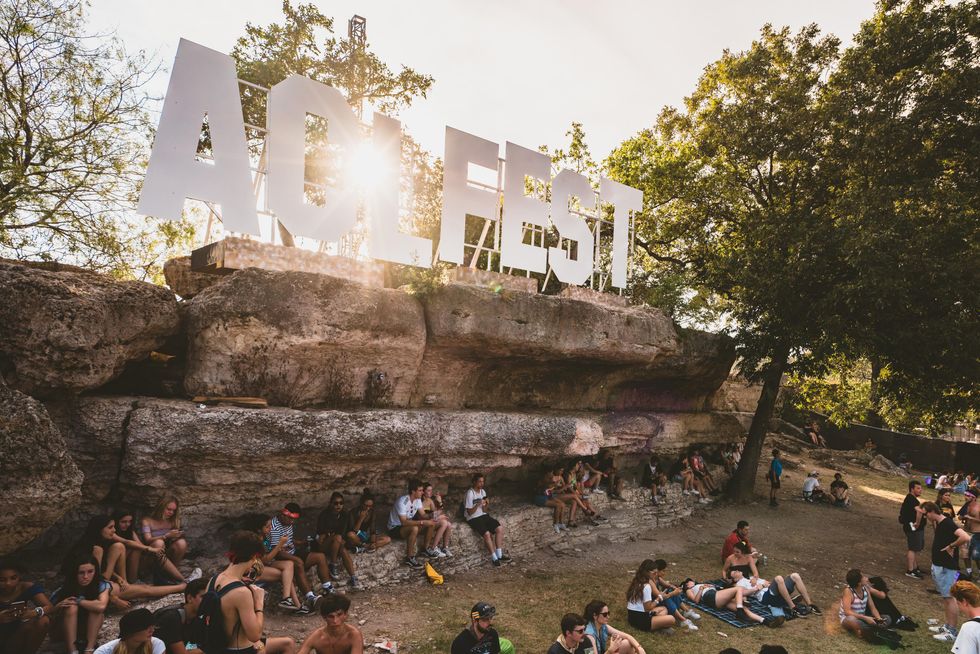 (Roger Ho for ACL)
You're going to sweat, so make peace with that. Luckily, this year's forecast is calling for relatively mild temperatures. Now that that's out of the way, you can stay cool by dressing light, staying hydrated and giving yourself time to rest in the shade, which is where all the "must-brings" come in handy. Keep attire light and breathable, a hat or a bandana to keep the hair out of your eyes and a pair of sunglasses on hand. (Pssst… Don't miss our ACL style guide!) Make sure to take breaks and explore the air-conditioned areas of the park—the merch store and beer hall offer respite from the sweaty exterior.
Friday Update: Check out our latest weather report on festival weather here (it's going to rain!).
What to eat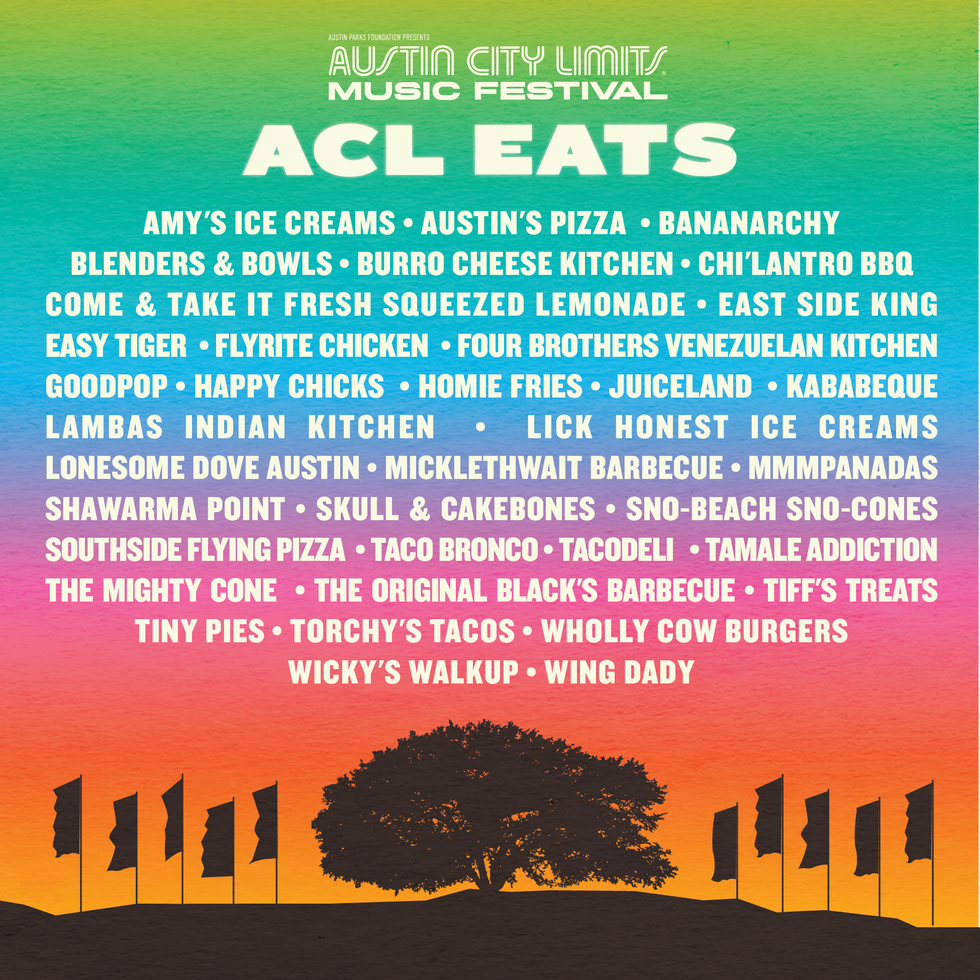 (ACL Fest)
Like every year, ACL is bringing in only local restaurants, so you know you'll be eating well. Prepare yourself for a mark-up while you're there—there are plenty of restaurants around the Zilker area and on Barton Springs Road that you can sneak out to if you don't want to pay festival prices.
If you are going to eat at ACL, this is a great time to try something new because you can visit Torchy's any ol' time. Why not try Taco Bronco or Tamale Addiction if you're in the mood for Mexican food? It wouldn't be Texas if The Original Black's Barbecue or Micklethwait Barbecue weren't on the list, it wouldn't be trendy if you couldn't get a bodega-inspired snack from Wicky's Walkup, and it wouldn't be greasy festival food if you couldn't get a mac and cheese stuffed grilled cheese from Burro.
For your sweet tooth, Skull & Cakebones serves spooky sweets just in time for fall, Lick Honest Ice Creams creates creamy masterpieces with local and organic ingredients or if you're trying to stay mobile, pick up a handheld pie from Tiny Pies.
How to maximize your time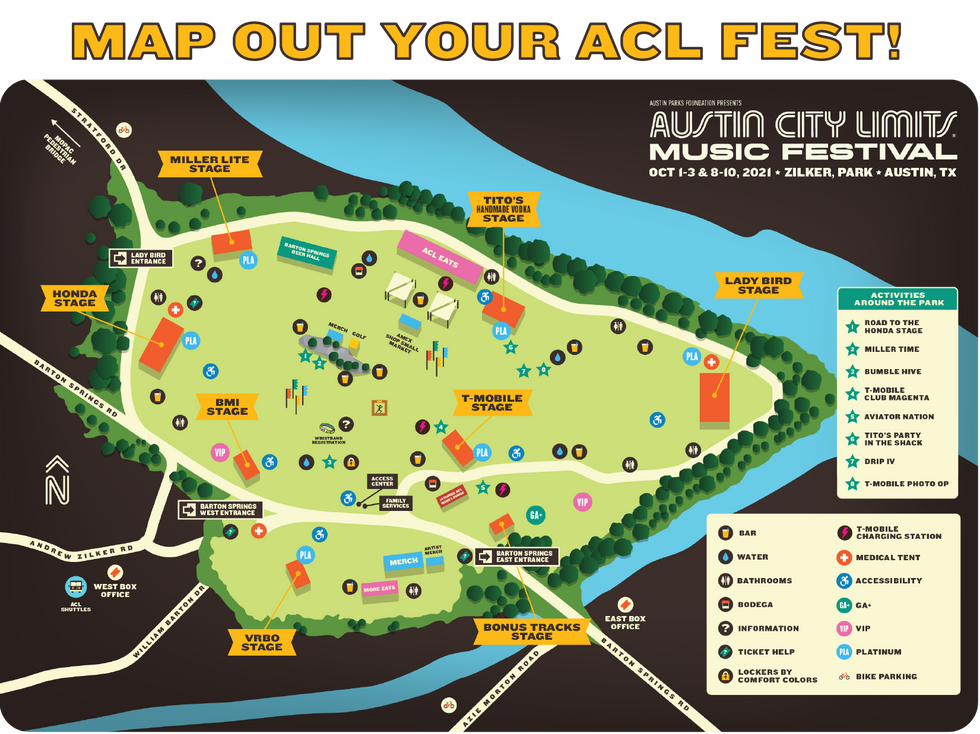 (ACL Fest)
Don't go into the festival blindsided, lest you miss shows that are important to you. The first step in enjoying the festival to its fullest is by familiarizing yourself with the artists—a big part of ACL is discovering new favorites and up-and-coming musicians. This year, almost 20 local artists are performing and the worst feeling is discovering an artist that you could have seen at ACL.
Next, map out which artists you want to see with ACL's daily schedules. Though ACL has yet to unveil its new version of the app, previous versions allow you to schedule reminders for shows you wanted to see.
Don't forget to download the app prior to the festival—ACL can alert guests of set changes, weather and festival news in real-time.
Who to see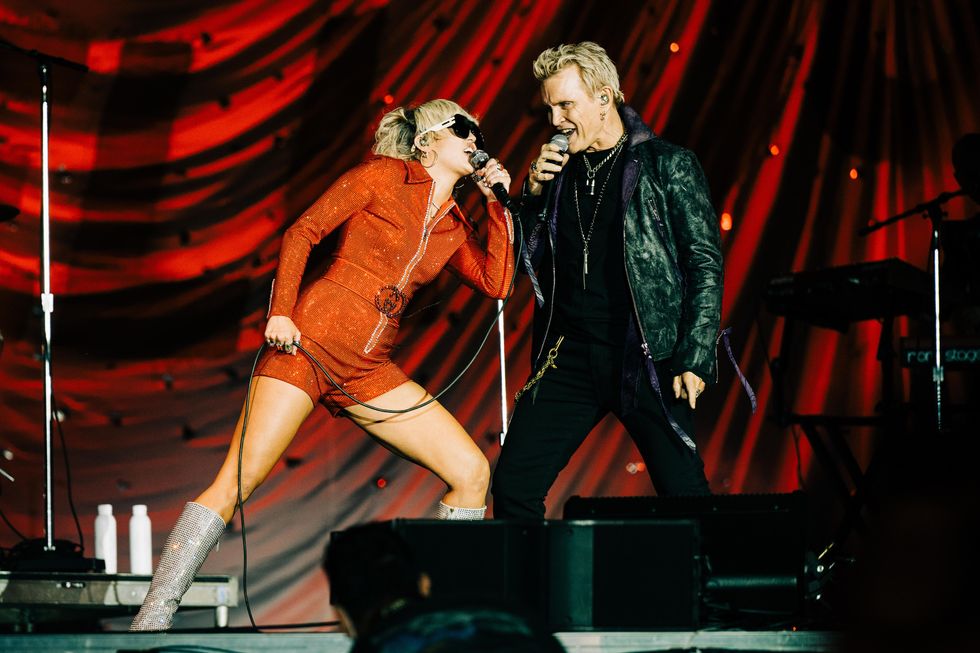 Miley Cyrus brought Billy Idol to the stage at this year's Lollapalooza. (Charles Reagan for Lollaplooza)
Miley Cyrus brought out special guest Billy Idol during her Lollapalooza set to perform their duet "Night Crawling," so ACL guests might get a two-for-one. Tyler, The Creator, took the Lollapalooza set with a theatrical performance that relives his past eras. The queen of Hot Girl Summer, Megan Thee Stallion, successfully got the entire crowd on their feet. It's important to keep in mind that some of these artists might be nearing retirement, like George Strait, so seize the opportunity to catch rare acts live.

There are some local treasures you don't want to miss—Black Pumas, of course, a band that needs no introduction and has its own holiday in Austin; Dayglow, an indie-pop project put on by frontman Sloan Struble; Nané, a thoroughly-Austin band formed from UT students Ian Green and Daniel Sahad, Dayglow drummer Brady Knippa and Black Pumas keyboardist JaRon Marshall; and Sir Woman, a solo project by Wild Child singer Kelsey Wilson.
Ultimately, who you decide to see is up to you but know that you won't regret branching out. You may not love every new band you see but you're bound to find at least one new jam. From the biggest stages, Honda and Lady Bird, to the smallest BMI and VRBO stages, there is a show to enjoy on all of them.
The festival will be here before we know it!
Why pay full price when you have next-to-new Austin fashion at your fingertips? Thrift shopping is nearly as ubiquitous to Austin as live music and food trucks, but it can be hard to get your foot in the thrifting door.
No need to fear: we've got a complete guide to the smorgasbord of Austin thrift shops right here.
Half a mile long, lined with more than 20 bars, Rainey Street's entertainment district bustles as a large part of Austin's nightlife scene every weekend. With themed bars, a food truck park and an excitable atmosphere, it's no wonder why.
In 1885, Rainey Street sprung up as a quaint residential neighborhood with many of its turn-of-the-century homes still standing today. Over 130 years later, Rainey Street is reliably busy every weekend and one of the booziest streets in the city.
Whether you're looking for a fruity frozen cocktail, a full meal or an ice-cold beer, you can find it all on Rainey Street.
Best overall drinks: Half Step, 75 1/2 Rainey Street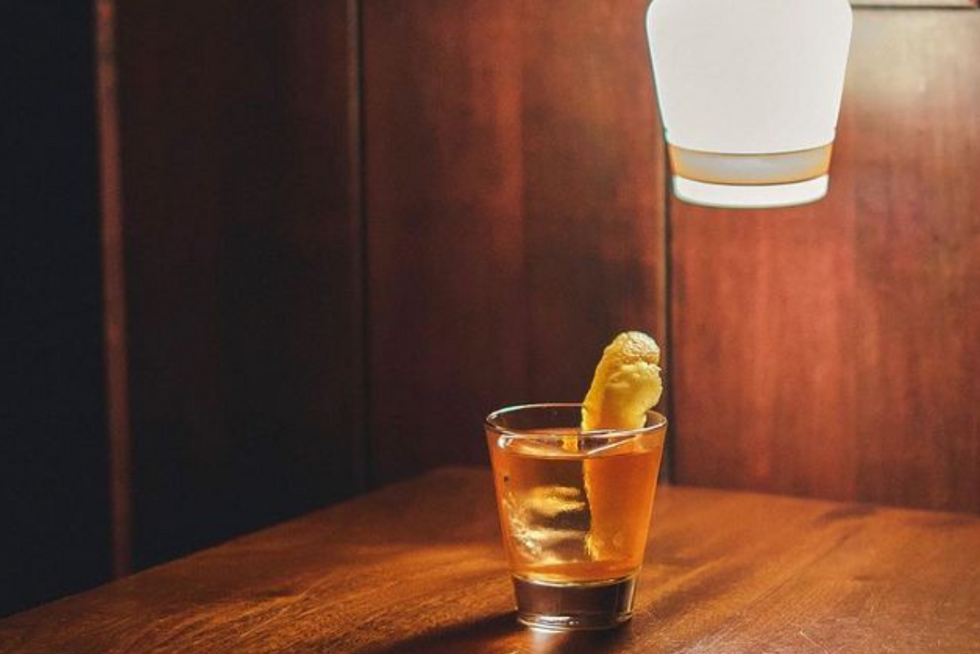 Half Step's old fashioned cocktail is celebrated among visitors. (Half Step/Instagram)
​This tiny bar has a huge patio to sprawl out on and it is serving up high-quality cocktails that are made with love. Choose from elevated classics like the draft Paloma and old-fashioned or a tantalizing take on yacht club punch made with absinthe. There will probably be live music playing when you get there and you can get a snack at Little Lucy's Mini Donuts, parked right nearby.
Most elaborate drinks: The Tipsy Alchemist, 70 Rainey Street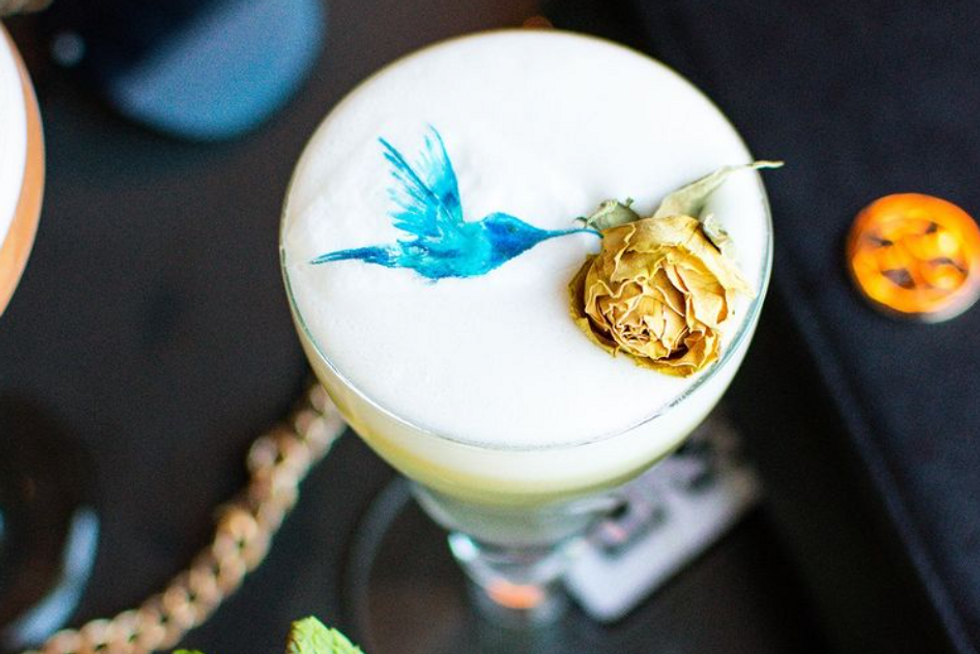 The Strawberry Tea Fizz is made with lemon, strawberry reduction, gin and topped with a rose. (Tipsy Alchemist/Instagram)
This elevated cocktail bar makes drinks with science while you observe Rainey Street from above. With an upscale yet wacky atmosphere, The Tipsy Alchemist serves different drinks that push the boundaries of physics, travel through a tube across the entire bar, are made with liquid nitrogen and come in a coconut.
Most "Austin" atmosphere: Javelina, 69 Rainey Street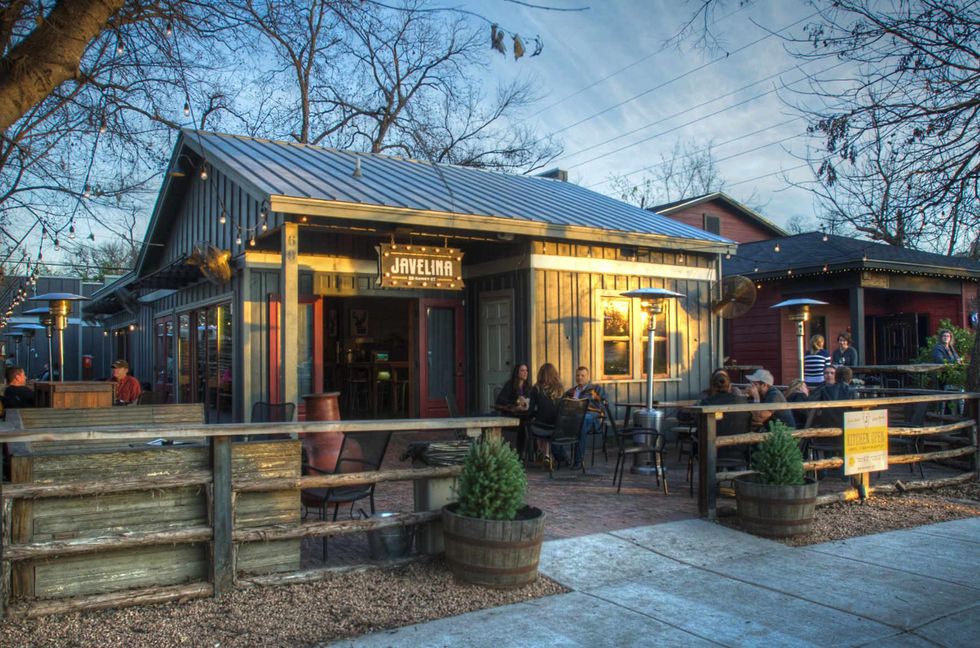 Javelina was started by four Austinites who wanted to create an ice house, dance hall and beer joint. (Javelina)
This bar's unique fare is something the four local founders call "Hill Country Soul," so suffice to say the menu is savory and hearty. Just about anyone would feel more like a local after dining on some green chile pork fries or a cornflake-crusted chicken sandwich paired with a Hill Country lemonade. You can also get a meal until 1:30 a.m. here, later than any other kitchen on the street. Keep an eye out for the live music, drag queen brunches and burger specials that keep this bar weird.
Best overall atmosphere: G'Raj Mahal, 73 Rainey Street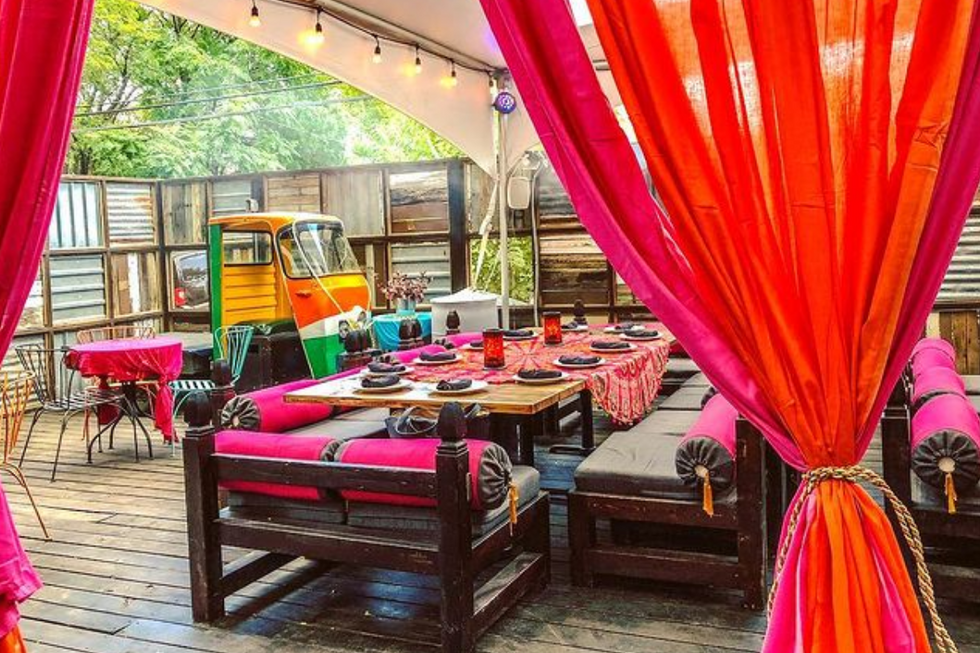 G'Raj Mahal imports many of their furnishings directly from India. (G'Raj Mahal/Instagram)
​This warm, colorful atmosphere will make you want to stay all night. Though the restaurant serves upscale Austin-inspired authentic Indian, and specifically Goan, food, Texas' signature Southern hospitality is not lost. Either outdoors or on the spacious patio, you can enjoy a traditional saag paneer or nutty korma made with free-range and grass-fed proteins while you people-watch or enjoy the full bar menu. As the restaurant says, they welcome you to "Sit and Namaste a While."
Best food truck: Little Lucy's Mini Donuts, 75 1/2 Rainey St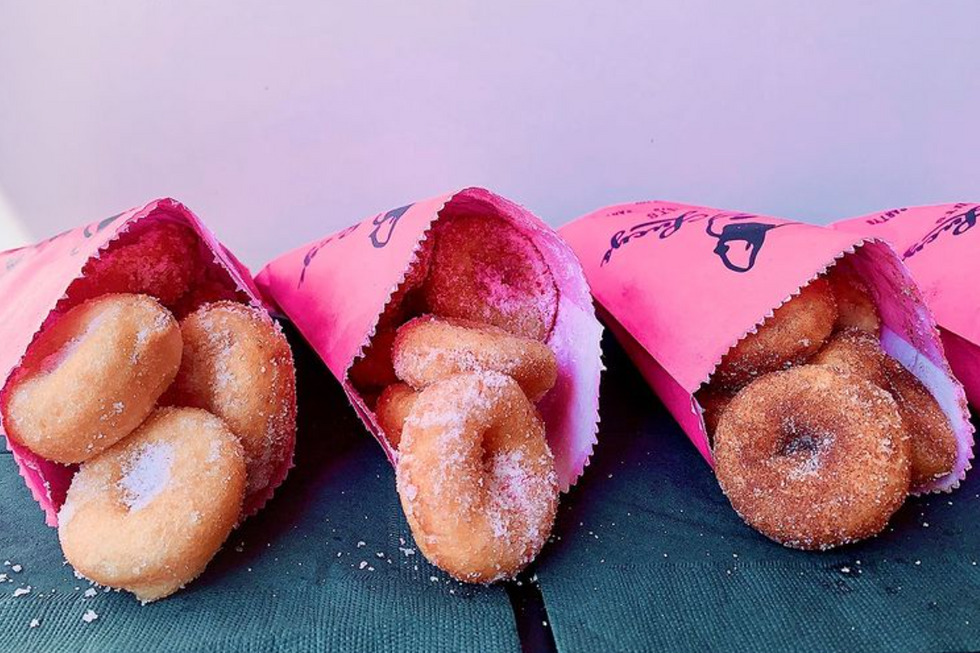 Try the "Poodle," "Schnauzer" or " Maltese" flavors. (Little Lucy's/Instagram)
You've had donuts before, maybe even ones with creative names and fancy ingredients, but they don't compare to the donuts you get when you go to Little Lucy's. These mini donuts—just a little larger than a golf ball—are fried then doused in a luxuriously-flavored flavored sugar while still hot and fresh. We recommend the "Schnauzer," which are pistachio, lavender and vanilla flavored, or the "Maltese" Italian cream cake. I can already smell the donuts cooking 🤤
Best lunch and dinner: Emmer & Rye, 51 Rainey Street inside SkyHouse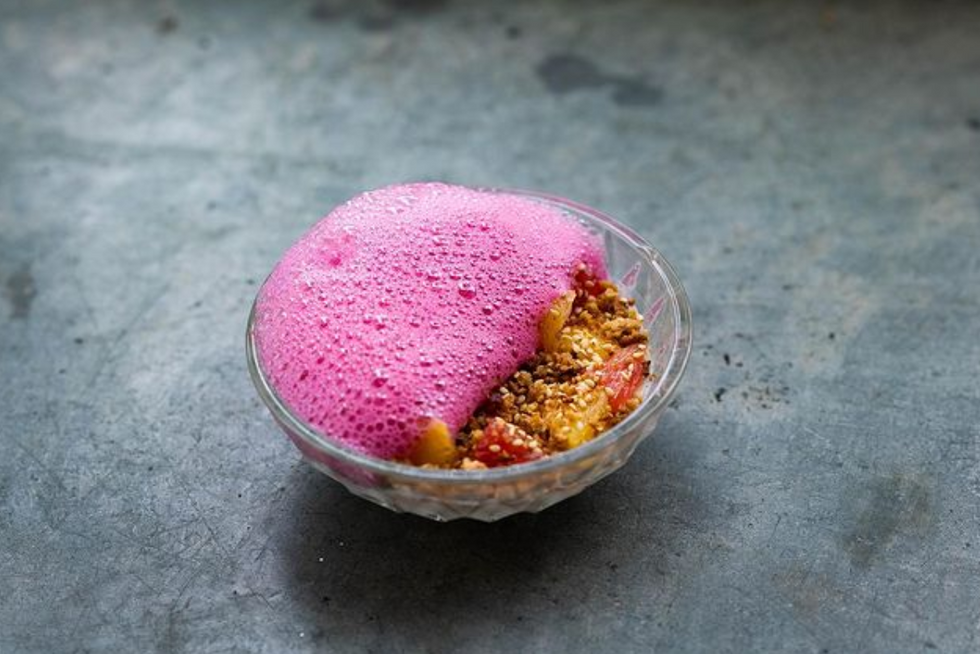 The blackened grapefruit panna cotta is topped with beet bubbles and benne seed shoyu streusel. (Emmer & Rye/Instagram)
While this restaurant is some of the very best on Rainey Street, this is not the place to go to end your night. This menu changes with the season and the famer's harvest, meaning you're likely to try something new each time you visit. You have two options when you dine in at Emmer & Rye, stick to the menu or forget it and get the off the menu option, which comes out with a variety of dishes meant to be shared. You can also order specials off carts that travel around the dining room during the meal. Be prepared to shell out but enjoy it when you do!
Best tap beer selection: Banger's Sausage House and Beer Garden, 79 Rainey Street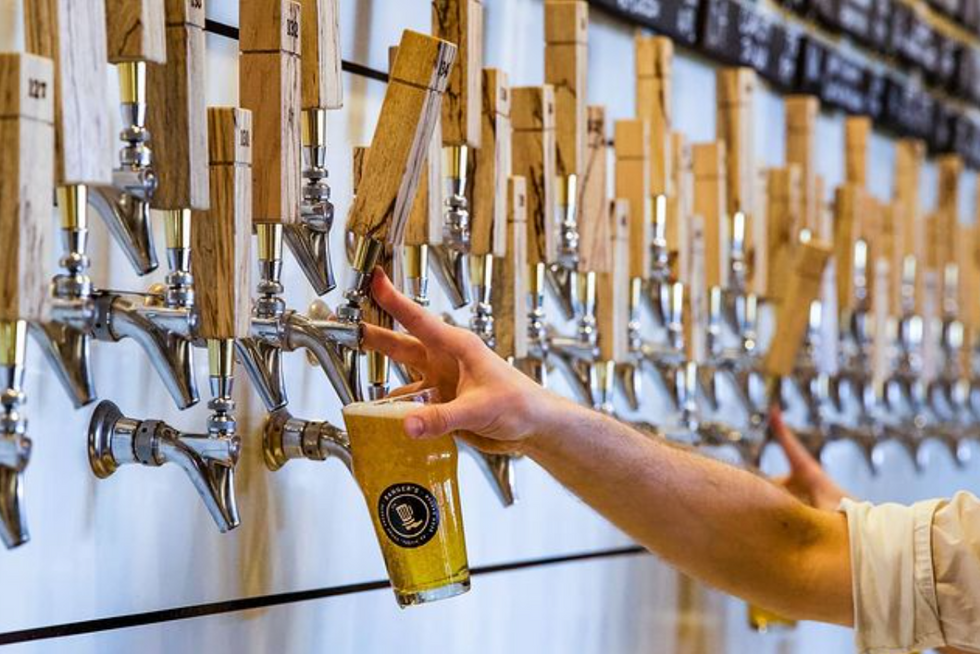 Banger's has an ever-rotating selection of brews on tap. (Banger's Sausage House and Beer Garden)
You're going to be hard-pressed to find anything but beer at Banger's Sausage House but you will find more than 80 types on draft. In addition to the vast lineup of beers from all over the country, plus a few domestic choices, dozens of brews come straight from the capital of Texas. If that's not enough, the bar also has a pretty expansive food menu.
Best specials: Idle Hands, 85 Rainey Street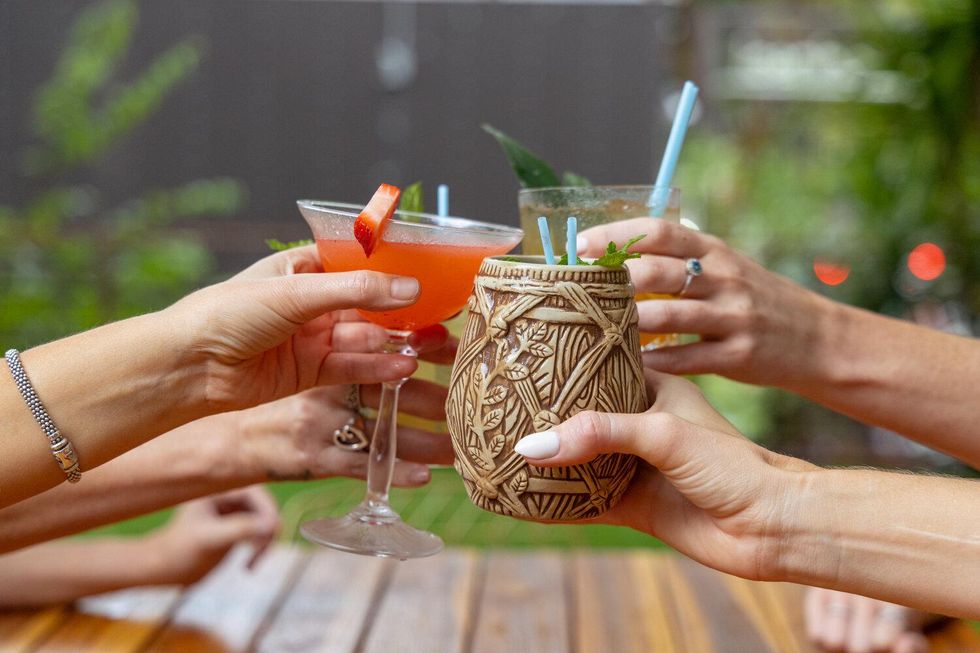 Idle Hands has tropical drinks on deck, plus a healthy selection of beer and wine. (Idle Hands)
In addition to the fruity cocktails, full menu and tropical atmosphere, Idle Hands offers a new special Monday-Thursday. Time your visit right and you can get $10 draft cocktails, 50% off a Cubano sandwich or a $4 slice of cheesecake while you relax on one of the bar's swinging wicker chairs. If those specials don't tickle you, keep an eye on the bar's Instagram, where it announces specials like Paella Night or free oysters for early guests.
Best brunch: Anthem, 91 Rainey Street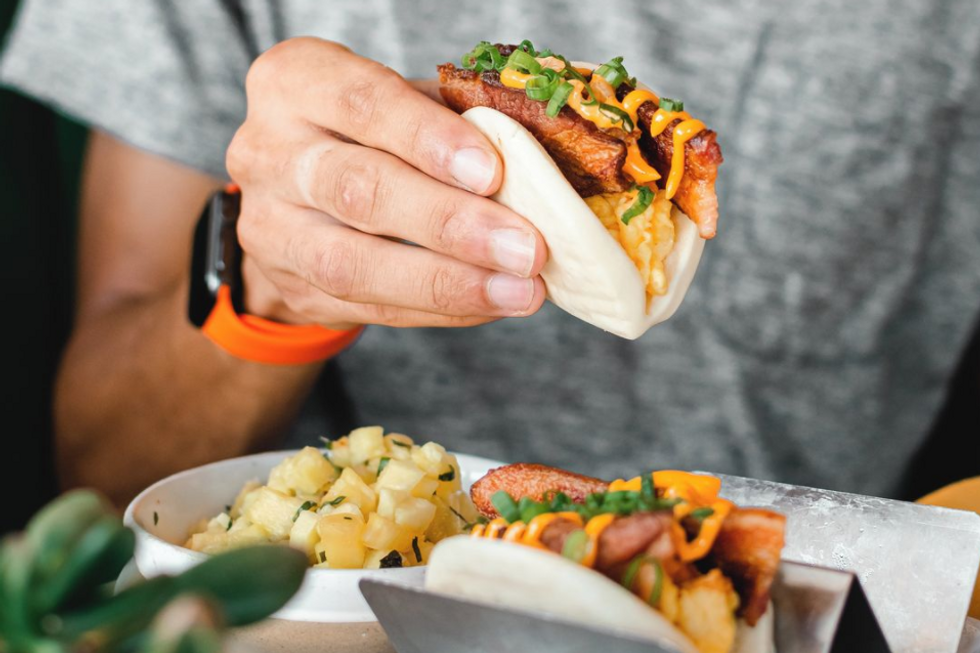 With Asian barbecue brisket and curry potatoes are the stars of the brisket breakfast tacos. (Anthem/Instagram)
If you're looking for a break from the classic eggs benedict and pancakes, Anthem has you covered with it's umami-filled brunch menu. Branch out with Thai doughnuts topped with yuzu icing, basil and black sesame seeds or a more traditional JFC biscuits & gravy with sriracha hot honey and shoyu gravy. The main menu is filled with plenty of Asian-inspired bites, so there's reason to visit anytime. You can still get your mimosa or Michelada but brunch is only served on Saturday & Sunday, 11 a.m. - 3 p.m.
Best place to dance: Augustine, 86 Rainey Street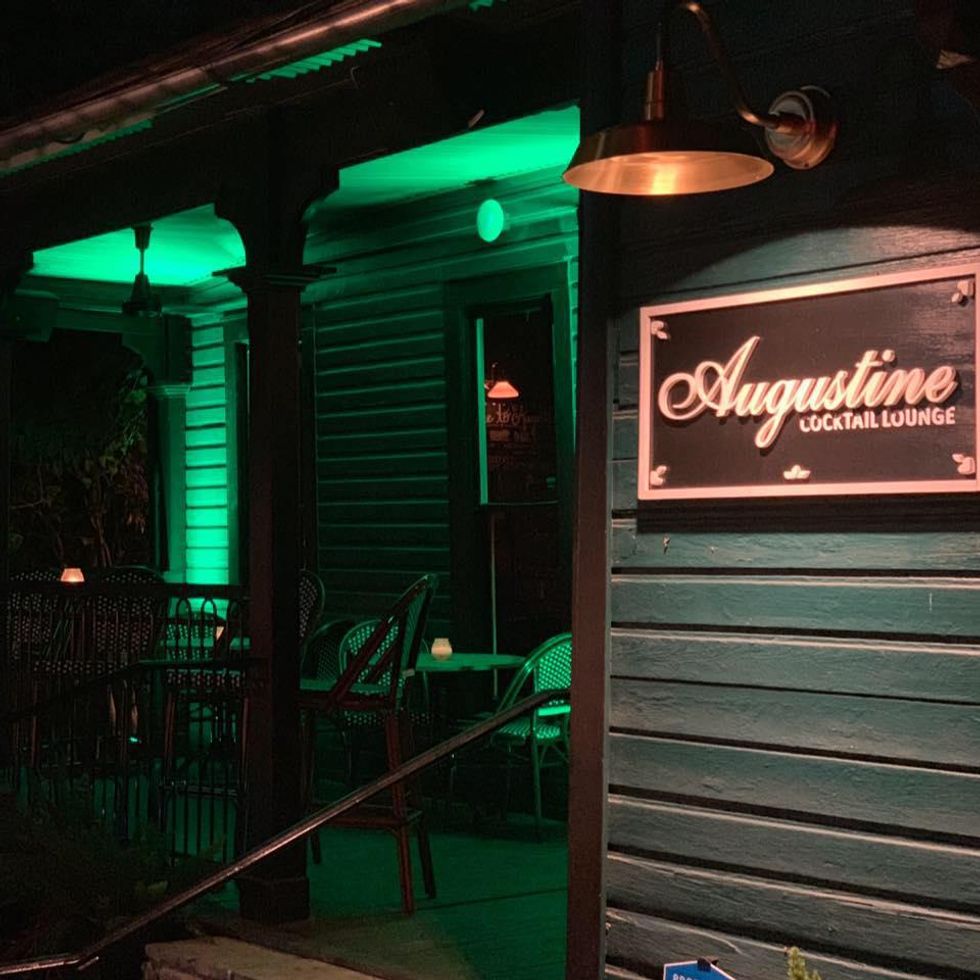 (Augustine)
​With a spacious front patio, indoor space and plenty of room in the backyard, Augustine is "a little classy, a whole lot of groovy," with plenty of room to get down. With a colorful cocktail menu, great photo ops and a glowing green sign, it's impossible to miss this bar.
Where to park: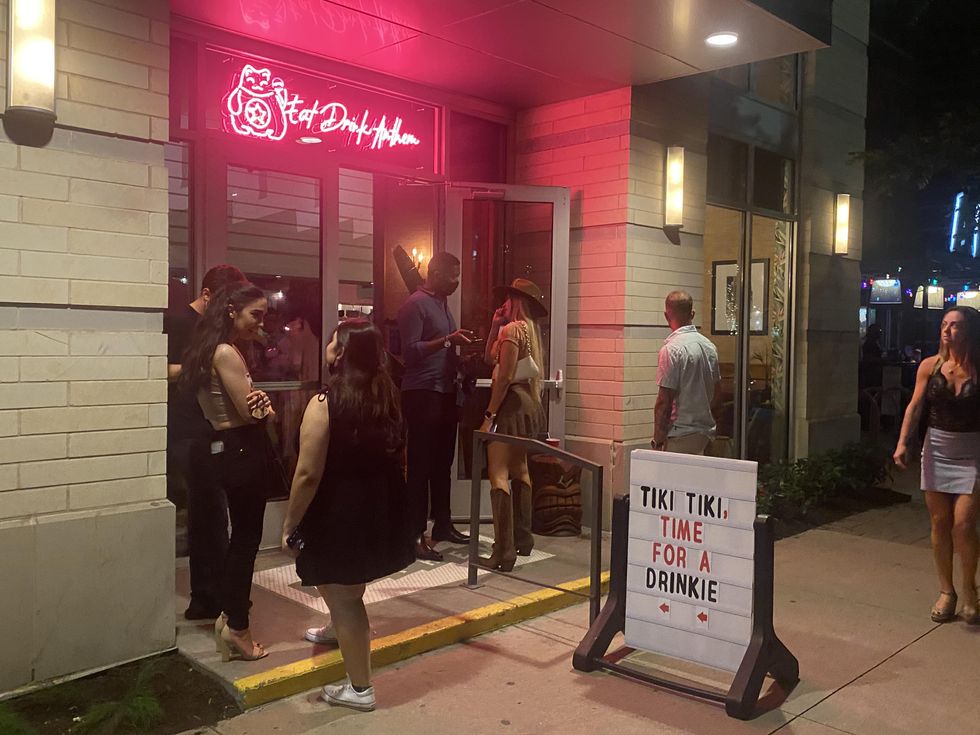 (Laura Figi/Austonia)
You might be able to find street parking if you visit Rainey Street between Monday-Wednesday, but don't count on it. Rainey Street does have an attached gravel parking lot but costs tend to be expensive, like $10-20 per hour type expensive, so the best option is to walk, Uber or branch out to one of the many options that will be cheaper to park.
Free
You can try your luck with the many street parking options around Austin or get free parking at...
742 Interstate 35 Frontage Road
Triangle Park and Ride, 4600 Guadalupe Street
Mexican American Cultural Center, 600 River Street (only free on Sundays)
You might just have to do a little walking!
$5 or less
Finding parking for a small fee is very doable if you're willing to do some scouting.
Hyatt Regency Austin, 208 Barton Springs Road ($4)
N Interstate 35 Frontage Road / E. 6th St ($5)
801 Trinity Street ($5)
1501 E. 6th St ($5)
$10 or less
This category gives you the most options while still saving a little bit of cash for Rainey.
604 Driskill St. ($10)
314 East Cesar Chavez St. ($8)
One Texas Center, 505 Barton Springs Road ($8)
707 East 7th St. ($10)
AMLI Downtown Garage, 201 Lavaca St. ($6)
419 East 7th St. ($10)
313 East 7th St. ($10)
717 Red River St. ($6)
108 West Gibson St. ($6)
Where to stay: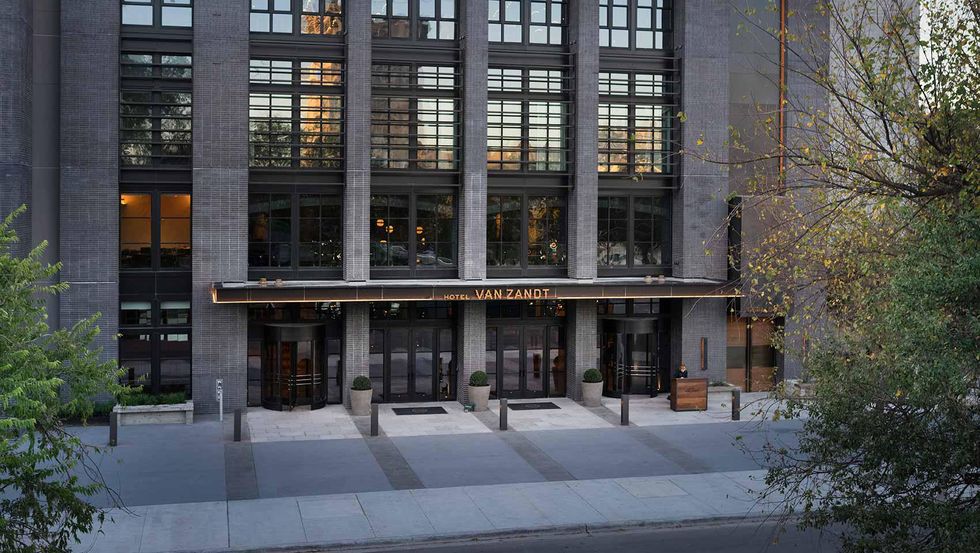 (Hotel Van Zandt)
If you're trying to stay walking distance from Rainey Street, you have options across the board.
In the two-star range, Rainey is home to some eclectic hostels. The Heirloom Lounge and Rusty Railway Hostel is a colorful homage to old Austin, not just another "hipster hostel," offers $3 breakfast buffets and regular movie nights. With a cafe and bar onsite, Native Hostel is an upscale hostel tucked away inside an 1890s railroader hotel. Though you'll be sharing a room with four to six people, the luxurious furnishings will make you feel cozy and you might even make some new friends.
For a guaranteed private room, you'll need to move to the three star range. Homewood Suites has rooms from around $140-$200 and sits along I-35, right behind Rainey Street, so you won't even have to Uber. Just a little further away is the Holiday Inn, sitting further South on IH-35, but is still a very comfortable walk to Rainey Street. You can stay there for cheaper too: around $90-$175.
If you can swing it, Austin has some luxurious hotels to lay your head for the night. Four-star hotel Locale Austin offers fully-furnished apartments to stay in, so you'll feel right at home, and comes complete with expansive views of the city. Hotel Van Zandt has been named "#1 Hotel in Texas" by Condé Nast and you can enjoy the downstairs restaurant Geraldine's for a fancy meal, or have them bring it to you as part of the 24/7 room service. Both hotels are just a stone's throw away, sitting right beside Rainey.