Get connected with our daily update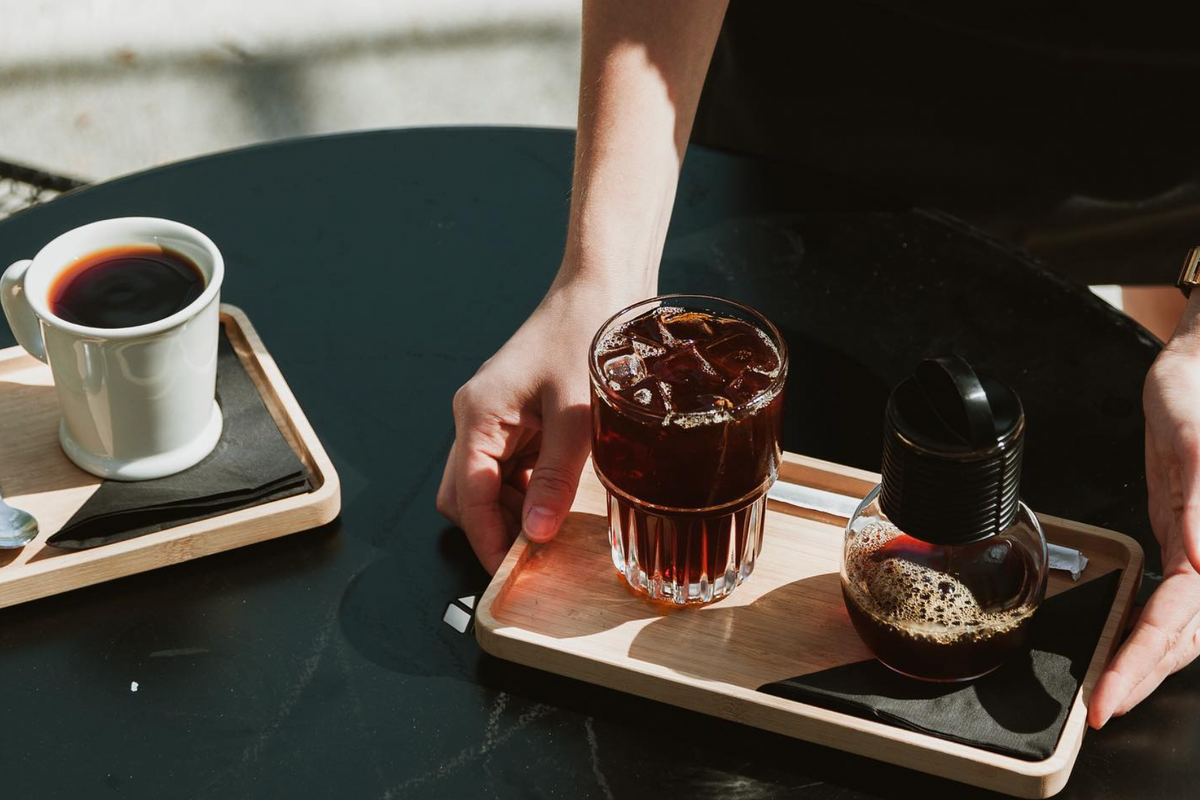 Over the past year, the Austonia team has been meeting at different coffee shops weekly to co-work. In the process, we've visited more than 40 local coffee shops in the city.
It's safe to say that we've become very well-versed in Austin's local coffee scene and we've had fun doing it. Since we were coworking, there was some criteria: There had to be seating and outlets for laptops, and each shop had to be open until 5 p.m. or later.
Our go-to orders:
Senior producer Sonia Garcia typically goes for a floral iced tea or a chai tea latte.
Austin FC reporter Claire Partain tries a different iced latte at each place she visits.
Reporter Laura Figi usually reaches for a London Fog tea latte.
Tech reporter Andrea likes the classics: a vanilla oat milk latte.
Next time you go out for a cup of joe, shake things up by visiting some of our tried-and-true cafés around town.

Café Crème | 1834 E Oltorf St.
This spacious Riverside coffee shop has it all: Parking, ample seating, hot food and a huge variety of coffees, teas and smoothies. Try a Cafe Sua Da, Claire's favorite Vietnamese iced coffee, and a homemade breakfast taco or have your pick of loose leaf teas while you nosh on a savory crepe. The eclectic inside has local art for sale all along the walls, large windows for tons of natural light, conference rooms you can rent and a lowkey outdoor patio for enjoying spring weather.
Cenote | 1010 E. Cesar Chavez St.
Come for the array of breakfast options and stay for the flavored mimosas. With plenty of seating indoor and out, Cenote shines best when it comes to its kitchen. Don't sleep on its rainbow of salads, hot honey chicken or migas taco. Stay for a Michelada or your choice or local beers.
Flightpath Coffee | 5011 Duval St.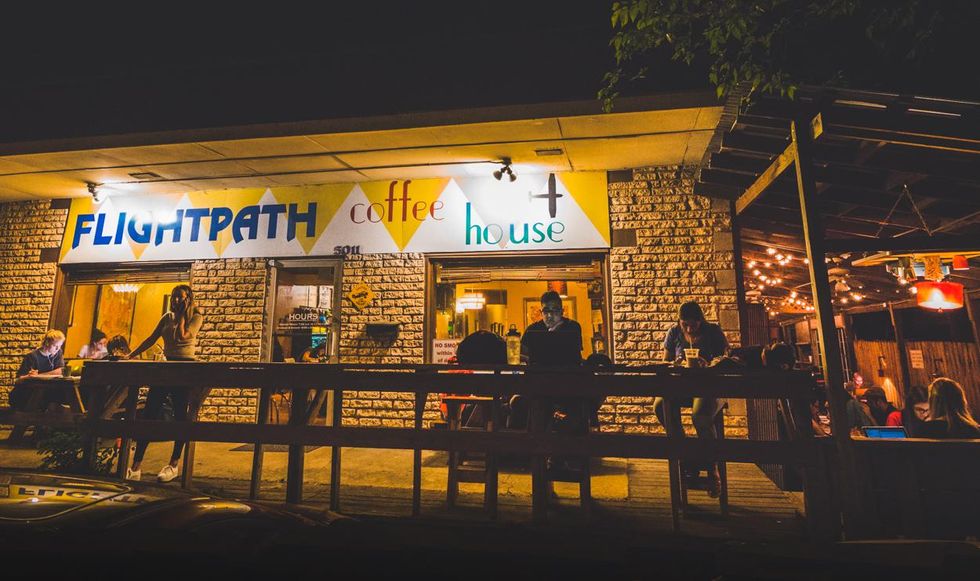 An unassuming gem, Flightpath Coffee makes for a great coworking space with multiple rooms, plenty of outlets and food options for all-day work. Flightpath's cozy outdoor patio is well-shaded so it stays cool even in the summer. Get a great selection of tea here!
Freddo ATX | 2336 S. Congress Ave.
Across the street from the oldest H-E-B in Austin in the historic Victorian Walter Tips House, Freddo ATX is a tranquil, quiet place to get some work done. A full menu of paninis, Austonia-approved breakfast sandwiches and daily happy hour from 3-6 p.m. will keep you fed, whether you're grinding or just enjoying the day. Don't leave before you roam through all the rooms upstairs!
Greater Goods Coffee Roasting Co. | 2501 E. 5th St.
There isn't much to eat at Greater Goods but the laptop-friendly atmosphere and phenomenal drinks make up for it. No two drinks are exactly the same, from the turmeric Tiger latte, coconut sugar Kali mocha, to Figi's favorite, the McGregor, a rose tea and bourbon syrup latte.
The Hive | 10542 Menchaca Rd.
Nestled far south in a lush garden, The Hive will bring you back into nature without having to venture too far from the city. True to its name, The Hive has a huge garden to lounge in outback, and fresh treats while you're there. We visited this coffee shop multiple times—our favorites are the coconut lemonade, lavender lattes and carrot cake.
Madrone Coffee Co. | 6266 US-290
A big stone building in Oak Hill, Madrone's interior is dimly-lit and gives off a wintery vibe with a large fireplace as the focal point. Ask the barista what their recommendation is—Madrone frequently has revolving specials like dark chocolate matcha or mocha picante. Currently, Frida's Cocina Food Truck serves on the outdoor patio from 7 a.m.-11 p.m.
The Meteor | 2110 S Congress Ave.
Retro on the outside, modern on the inside, The Meteor is a cross between a café, bodega and bike shop. You'll find your standard espresso and coffee options, lots of tea (may we say the best chai tea), plus a host of local beers and wines, for dine-in or to-go. If you're hungry, grab one of their pastries, a sourdough pizza or Sonia's favorite, "The Meteor Logical Bowl," to enjoy on the sunny patio.
Nate's Baked Goods & Coffee | 401 Orchard St. 
This itty-bitty hidden coffee shop tucked just off of 5th Street, has some huge flavor inside. There is very little seating, which is offset by the huge amount of baked goods, unique drinks and affordable gourmet sandwiches. During our visit, we enjoyed a mint matcha lemonade, Dolly Parton-inspired cookies and a Super Bun breakfast sandwich.
Plaza Colombian Coffee Bar | 3842 S Congress Ave.
A festive tiki bar outside with a velvety dining room and stage inside, Plaza Columbian makes an easy transition from coffee to margarita. You'll find lots of Colombian-inspired snacks inside, including the guava Gloria pastry, bocaditos and empanadas. Figi was wowed by the London Fog, made with vanilla beans, while the whole team enjoyed the plantain chips!
Opa | 2050 S. Lamar Blvd.
Grab a seat on the sunny patio or indoors for a good game of chess and some light Greek bites. There isn't usually too much seating available for a long day of work, which goes to show how popular this day and night shop is. Grab a pizza, one of our favorite menu items, and some wine once the clock hits 5 p.m.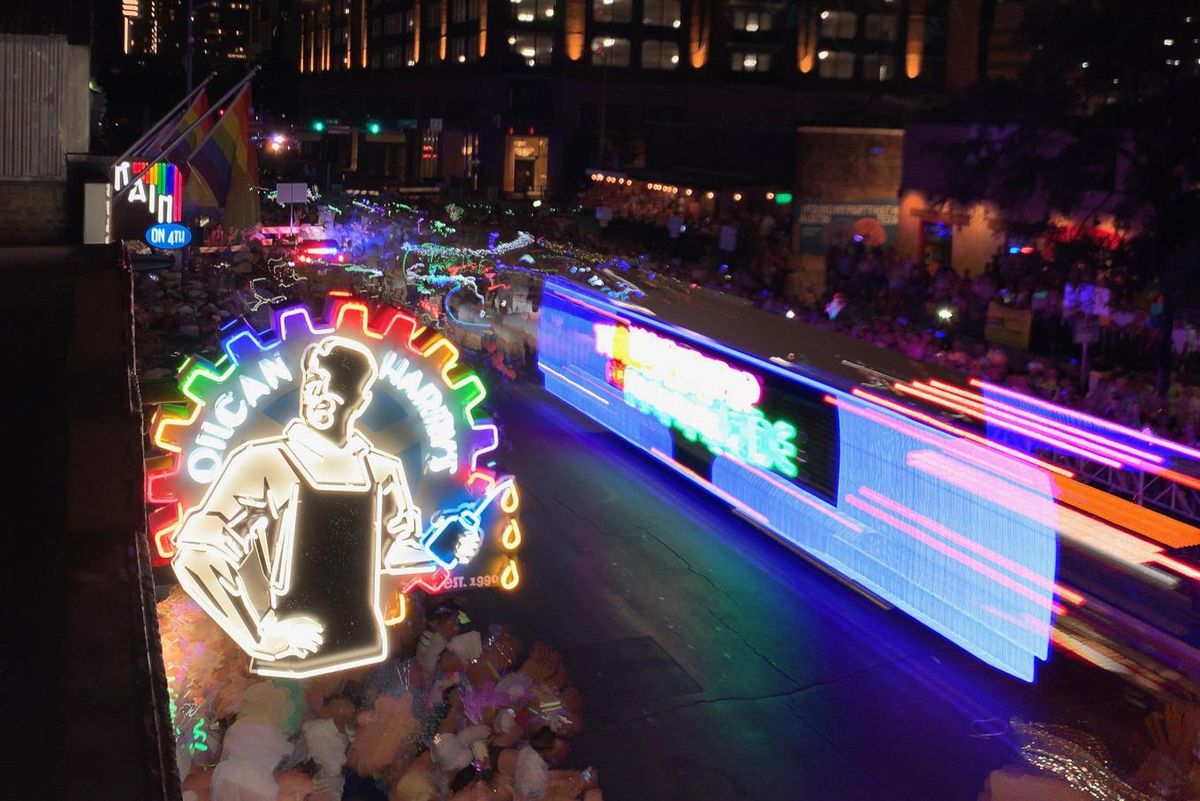 With Sixth Street and Congress right nearby, Fourth Street is a hidden gem that can be easily overlooked. You'll know you've made it when you spot the colorful crosswalks along Bettie Naylor Street.
Known in particular for its bustling drag and gay nightlife scene, Fourth Street is where you're most likely to catch a drag queen in her natural habitat. However, the strip is also a hub for fine dining, rooftop views and themed bars off the beaten path.
Home to many gay clubs and bars, Fourth Street is dubbed Austin's Gay District—but everyone is welcome to enjoy themselves on this strip. In October 2021, rainbow crosswalks were installed at LGBTQ+ advocate Naylor's intersection, commemorating that everyone deserves to feel at home in Austin.
Here's what you can find in this bustling district.
☕️ WHERE TO GET A COFFEE
Halcyon | 218 W. 4th St.
This java house by day, bar and lounge by night is meant to give you the feeling of 'halcyon': calm, peaceful and happy. Halcyon has a fully-stocked kitchen with breakfast, lunch, pastries, drinks, cigars and sweet treats, including tableside s'mores. People-watch from the outdoor patio, drop in for some live jazz on Monday nights, live music every Wednesday and Thursday and drag brunch on Saturdays.
Houndstooth Coffee | 401 Congress Ave.
Nestled inside the Frost Bank building, Houndstooth Coffee is a hipster hangout with locations here and in Dallas. Using roasts from Tweed Coffee in Dallas, Houndstooth prides itself on being locally-owned and operated. Though you won't find much to eat at Houndstooth other than a PB&J sandwich or popcorn, Houndstooth offers a full range of gourmet cocktails to go.
Juan Pelota | 400 Nueces St.
Located in a shared building with Mellow Johnny's Bike Shop, Juan Pelota's sporty indoors is a welcoming environment for a morning espresso whether or not you're cycling. Marking the furthest point on the west end of 4th Street, Juan Pelota has been dealing local coffee, pastries and brewskies since 2008. Though it is only open until 5 p.m., or 2 p.m. on Mondays, the cafe starts its daily happy hour at 3 p.m. for $2 off beers and $1 off wines.

🍽 WHERE TO EAT
Group Therapy | 400 Lavaca St.
On the seventh floor of Hotel ZaZa, Group Therapy isn't what it sounds like but you will leave fuller than you did before. A plush, velvet-lined interior will draw you in for either a classy evening meal or weekend brunch. Catch live music on the weekends, grab a drink at the attached Cabana Bar or watch the sunset over some whipped feta.
RA Sushi Bar | 117 W. 4th St.
Lively music, intricate cocktails and Instagram-worthy sushi rolls await at RA Sushi Bar. Dine-in either the vibrant interior, at the sushi bar or on the rooftop patio with a furry friend. Catch the afternoon and evening happy hour Monday through Saturday!

Péché | 208 W. 4th St.
Named after the French word for "sin," Péché is Austin's first absinthe bar, meaning it showcases a cocktail menu full of pre-Prohibition-style drinks and European fare. Bar manager Derek Weiss and executive chef John Lichtenberger aim for visits to be an educational experience, so come with questions in mind. You'll know you're there when you see the serpent on its sign tempting you with "sinful cocktails and cuisine."
🏳️‍🌈 WHERE TO FIND DRAG
A drag queen is someone, usually male but not always, who uses clothing and makeup to construct an exaggerated female identity for entertainment.
During a show, a queen will typically hold a dramatic performance by lip-synching, singing, dancing, interacting with the audience and doing comedy. Attendees are encouraged to tip the queen during the show.
​Coconut Club and Neon Grotto | 310-318 Colorado St.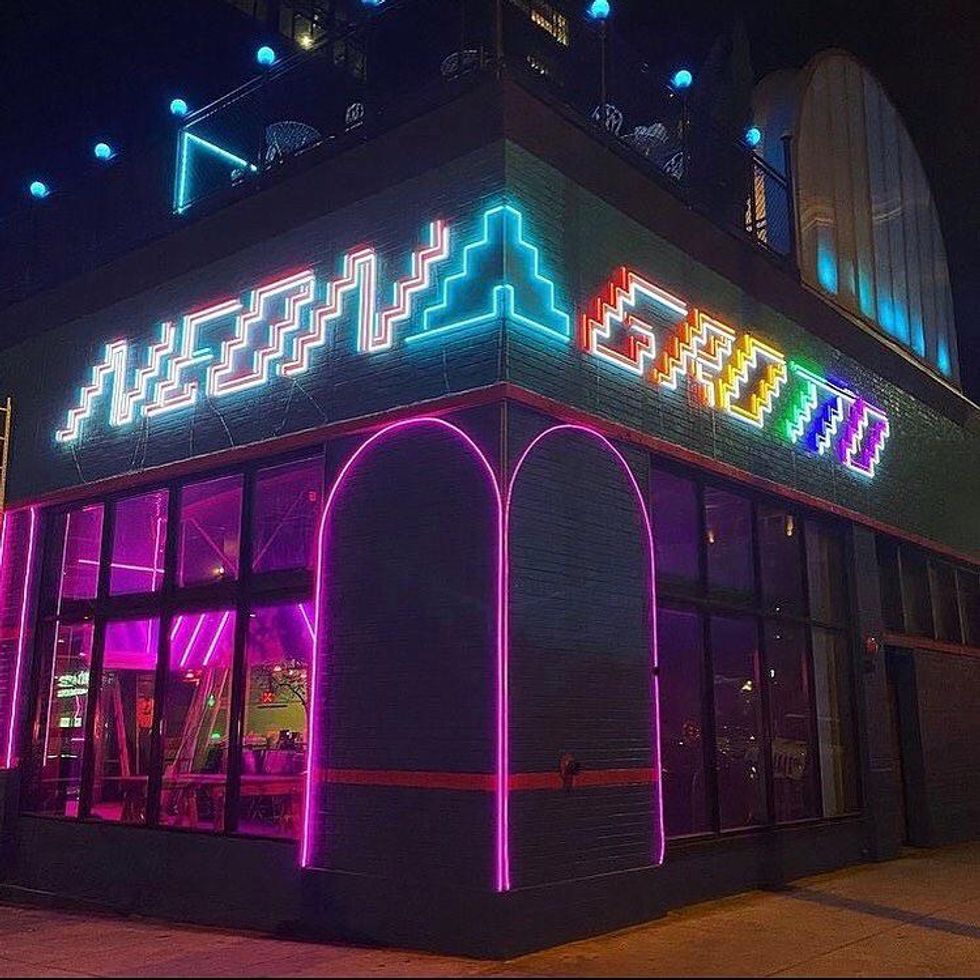 (Neon Grotto/Facebook)
These two adjoining nightclubs have both joined in on celebrating queer artists and culture but maintain a classic nightclub atmosphere. Both relatively new to the strip, the tropically-themed Coconut Club opened in 2019 from the people behind Cheer Up Charlies, whereas Neon Grotto turned its rainbow lights on in 2021. Check out Coconut Club's rooftop bar and Gatorade-based drinks, Neon Grotto's live DJs and lively drag shows at both.

Oilcan Harry's | 211 W. 4th St.
Claiming to be the oldest LGBTQ+ bar in Austin, Oilcan Harry's opened its doors in 1990 as a safe haven for people of all walks of life. The bar has a little something for everyone: OCH is famous for its drag shows but also has a sports bar, hosts live DJs, and an outdoor patio to lounge on. OCH holds a drag show or two every single night, frequently alongside karaoke or competitions, on top of special appearances and RuPaul's Drag Race watch parties. The bar is open to those 18 and older on Thursdays, so everyone gets to partake in the fun.
Rain | 217 W. 4th St.
Right next door to OCH, Rain will give you your fill of drag shows while offering some sexier content compared to its neighbor. Catch go-go boy dancers from every Thursday through Saturday, Thursday night amateur strip contests, Sunday happy hour from 5-7 p.m. and plenty of no-cover local drag queen performances on the weekends.
🍹 WHERE TO GET A COCKTAIL
​DuMont's Down Low | 214 W. 4th St.
Self-proclaimed "most unique new venue" in Austin, DuMont's Down Low is located in a cozy basement lined with whiskey barrels from local distillers. Exposed brick and large furniture gives the bar a warm and inviting feeling. Try the seasonal clarified punch or the flowery Lavender Bee cocktail.

Driftwood Downtown | 319 Colorado St.
From real estate developer Discovery Land Company, Driftwood Downtown is a private club with three floors for lounging, coworking, meeting and entertaining. The club includes a taproom with a golf simulator, a mezzanine perfect for enjoying a drink and private rooftop overlooking downtown ensure you'll never be bored at the club. Driftwood Downtown is open daily for members but can accommodate reservations for private events.
Hen House Basement | 117 W. 4th St.
You may have to do some searching to find this hidden bar, which is also known as the Lost Lei, but you'll find a tropical paradise when you do. Tucked in an underground basement, Hen House is full of tropical decorations and fruity, festive cocktails. This is a great place for photo opportunities as drinks come in tiki glasses.
🥱 WHERE TO STAY
Hotel ZaZa | 400 Lavaca St.
Overlooking Republic Square, Hotel ZaZa puts you right in the center of downtown and surrounds guests with luxury amenities. With 159 guestrooms, Concept Suites and Magnificent Seven Suites, ZaZa has a range of opulent options. Hotel guests have access to the ZaSpa, seventh floor Cabana Bar and pool, and two different restaurants: Group Therapy and its "relaxed little sister" Perfect Strangers, which offers breakfast and lunch on the Fourth Street patio.
Prices fluctuate based on time of year, room and length of stay, but expect to pay at least $250 per night at this upscale hotel.
Onyx Hotel | 301 E. 4th St.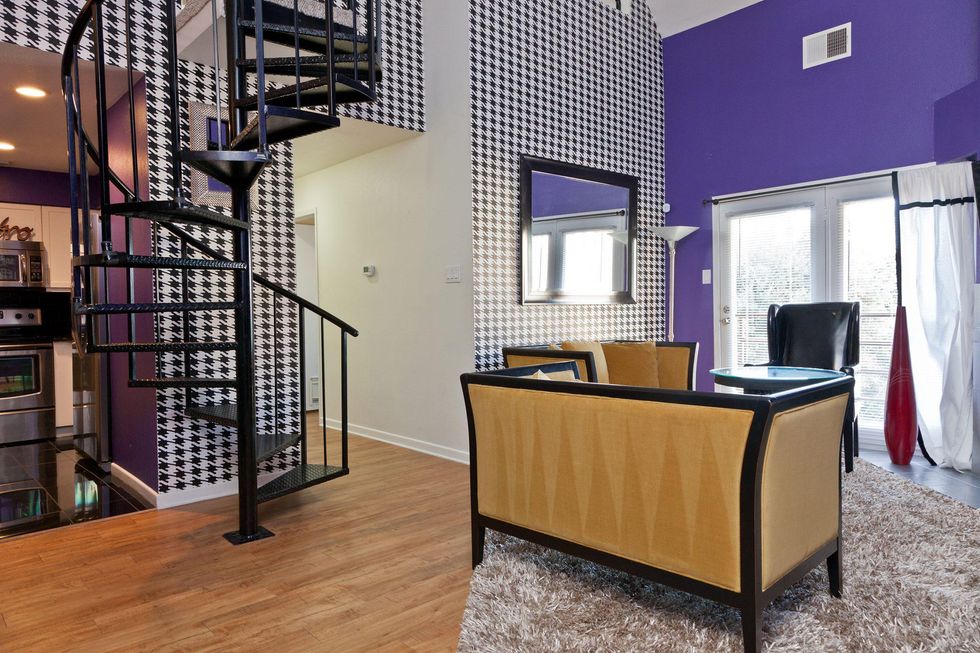 Inside the Grand Austin Hotel suite. (Onyx Hotel)
Marking the Eastern end of 4th Street, Onyx Hotel offers the Austin experience through themed suites for parties of all sizes. Ranging from $149-$399 per night, many of the suites feature multiple bedrooms. Check out the spiral staircases inside the Rock Royalty suite, complete with decor inspired by the many musicians that have passed through Austin, or the desert-esque Marfa suite. All suites come with a kitchen and gated parking.
🚗 WHERE TO PARK
Like Most places downtown, parking is going to be a challenge. Your cheapest options are likely going to be street parking or off 4th Street.
​LAZ Parking | 400 Congress Ave.
Open 24/7, this parking lot is very central but charges upwards of $25 per hour.

​SPACES Parking | 301 Congress Garage
Right across from the Frost Bank Tower, this garage will run you at least $15 per hour.

​405 Colorado Street
One of the cheaper options, you can park in this garage from about $12 for two hours.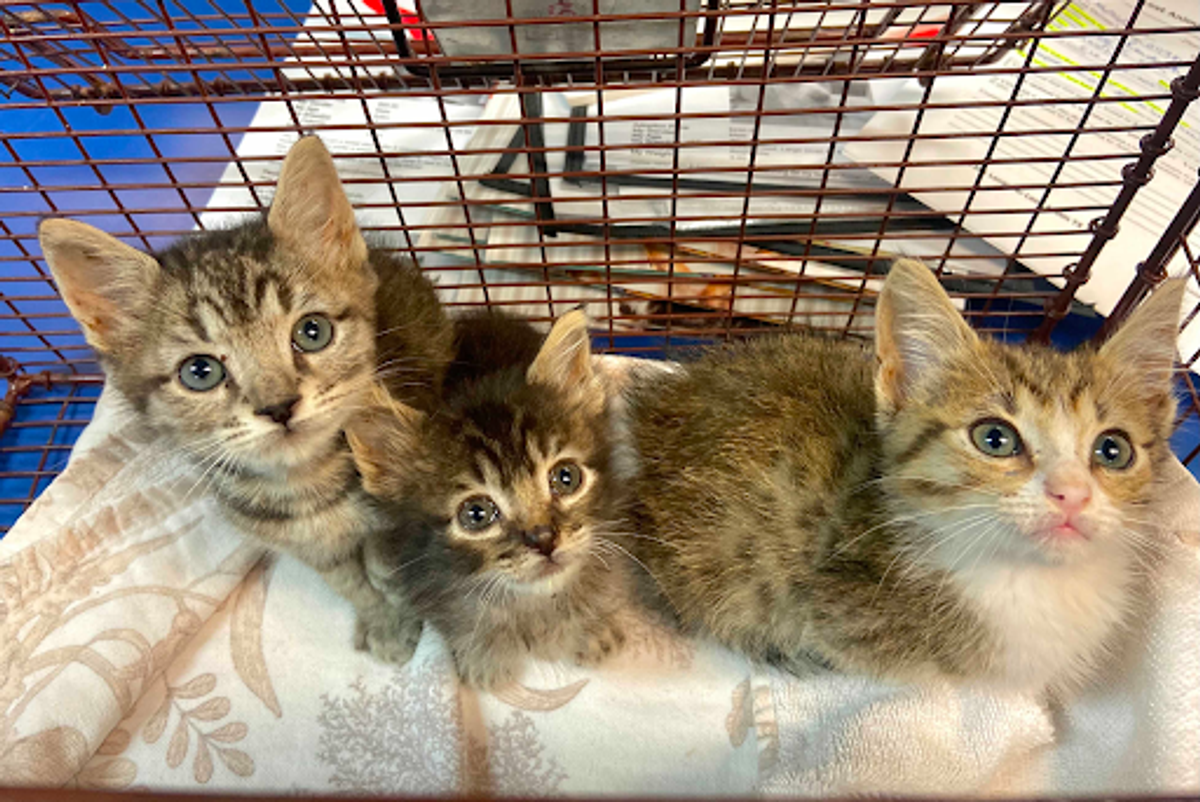 No Austinite is complete without a fluffy friend! The fact is locals love all their pets; studies rank Austin as one of the most dog-friendly cities in the U.S.
In 2010, Austin City Council passed a No-Kill Implementation Plan that pledged to increase live outcomes by more than 90%. According to community relations officer Suzie Chase, APA! was able to bring the euthanasia rate from 87% to 5% or less.
The result of becoming a No-Kill city means shelters are often stretched thin—Austin Humane Society typically takes in 11,000 animals per year, APA! often takes in more than 10,000 cats and dogs per year, with intake hitting 982 in November—and they encounter new challenges on the daily.
Though the pandemic drove adoptions up as working from home became more prevalent, the demand to put animals in safe homes has bounced back with shelters sending out pleas for adopters and fosters in recent weeks. Here's how you can get started.