Get connected with our daily update
(Shutterstock)
Austin City Council is poised to take the next steps toward a long-discussed, $1.2 billion expansion of the Neal K. Kocurek Austin Convention Center this week, despite the economic uncertainty brought about by the COVID-19 pandemic.
At a meeting on Thursday, members will consider whether to approve a contract with "all necessary parties for acquisition" of two adjacent downtown blocks as well as whether to commit additional funding to the project in the form of consultants and legal counsel.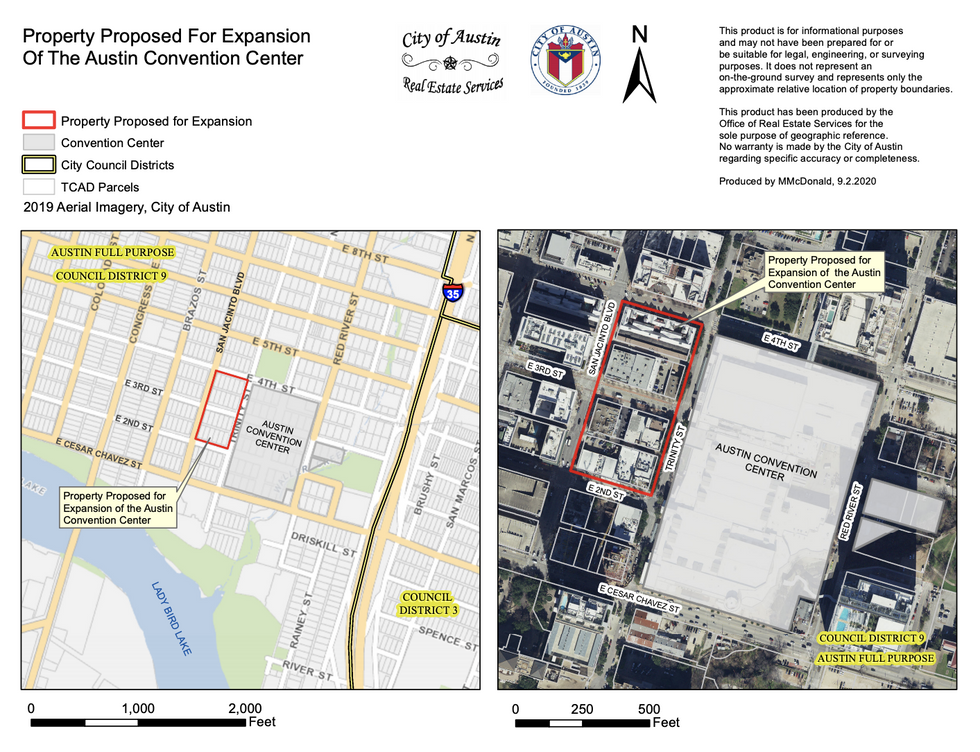 Austin City Council will take the first step toward purchasing two adjacent downtown blocks on Thursday as part of a planned expansion of the convention center. (City of Austin Real Estate Services)
The convention center opened in 1992 and underwent an expansion between 1999 and 2002. Council members voted unanimously in May 2019 to approve a second, $1.2 billion expansion that will extend the convention center to the west. The proposal also ties in the preservation of the historic Palm School, development of Palm Park and improvements to Rainey Street.

Given the city's rapid growth, the current venue "has not been able to accommodate all event demand," according to a market study conducted by the consulting firm HVS published last month. An expanded convention center, however, is projected to drive economic activity by drawing more people to Austin—and the hotels, restaurants and other businesses that call it home.
The consultants estimate that the proposed expansion will increase the economic impact of the convention center by more than $300 million a year, leading to higher tax revenues for the city as well as the creation of more than 1,700 new jobs.
HVS Managing Director Thomas Hazinski told council members on Tuesday that he expects the convention center demand across the U.S. to return to normal in the next few years, in time for the 2024 opening of the first phase of the expansion in 2024.
"I think it is very fair to assume that this (pandemic), while it is much more prolonged than we ever expected it to be, is a temporary phenomenon and some resolution is going to happen before 2024," he said.
That said, Hazinski did raise concerns about the longer-term impacts of the economic recession occasioned by the pandemic.
"My bigger concern, and the concern that we built into this analysis, is what the pandemic's long-term impacts are on the economy," he said. "What we have seen in past recessions is it takes a long time to recover from a recession."
If council votes to approve these agenda items on Thursday, the next steps will include the design phase of the expansion project and the purchase of the two downtown blocks, which is anticipated to occur next summer.
"I think we obviously have a lot of open questions," Austin Mayor Steve Adler said on Tuesday. "(I) look forward to the action this week and answering some additional questions as we go forward."
The expansion project will be funded by hotel occupancy tax revenue. City Council voted to increase the hotel occupancy tax, or HOT tax, rate from 15% to the maximum 17% allowed under state law last summer. The city of Austin will use the revenue from the 2% increase for the expansion.
A group called Unconventional Austin gathered signatures for a citizen-initiated petition that would have required voter approval of any convention center expansion, but 54% of Austin voters rejected the measure last November.
(The Weather Channel)
Just over a month after it was prepared to open as a field hospital to care for overflow COVID patients, the Austin Convention Center is now being prepared as a shelter for Hurricane Laura evacuees, who continue to stream into the area.
Typically the city and county rely on large shelters during an emergency, but officials have refrained from opening such facilities due to the pandemic.
Instead, the city has accepted evacuees at Circuit of the Americas and directed them to area hotels, but there has been more demand than anticipated, Austin Mayor Steve Adler said at a press conference on Wednesday.
We all have a watchful eye on #Laura as it's hitting our coast. Once again, our community, our state, & our neighbo… https://t.co/VXvFbM5yqB

— Mayor Adler | 😷wear a mask. (@Mayor Adler | 😷wear a mask.) 1598481689.0
Hurricane Laura, a Category 4 hurricane, made landfall around Cameron, Louisiana—near the Texas, Louisiana border—Thursday morning. It is currently traveling westward with winds up to 150 mph.
The city and county have already provided more than a thousand hotel rooms for over 3,000 guests. In comparison, they sheltered around 850 evacuees during Hurricane Harvey, said Juan Ortiz, Austin's director of homeland security and emergency management.

As a result, officials are now encouraging evacuees to continue heading north to the Dallas area, where hotels likely have more capacity.
For those who do not have the resources for a hotel room, the city and county are preparing the convention center. But the process is made more complicated by doing so "in the shadow of COVID," said Eric Carter, chief emergency management coordinator for Travis County.
Officials are relying on pandemic recommendations from the Centers for Disease Control and Prevention and the Federal Emergency Management Agency to guide capacity limits at the convention center, which will be around 135, and screening protocols.
In addition to the stand-up shelter, officials are also working to establish a medical shelter for any patients in need of care.
"It's going to be all hands on deck for this response," Austin Public Health Director Stephanie Hayden said.
It is likely that the pandemic will continue to affect emergency planning.
"We're not at the peak of the [hurricane] season yet," Ortiz said.