Never miss a story
Sign up for our free daily morning email...
...and afternoon text update
Get connected with our daily update
Texas Attorney General Ken Paxton is threatening legal action against the City of Austin and Travis County if leadership does not comply with Gov. Greg Abbott's decision to lift the statewide mask mandate, which went into effect today.
Not a full day after Mayor Steve Adler announced that the city would continue to enforce Austin Public Health's COVID-19 safety guidelines, Paxton tweeted at the mayor and Travis County Judge Andy Brown that they have until 6 p.m. today to rescind the restrictions, "otherwise, on behalf of the State of Texas," he will sue.
Paxton told officials to "come into full compliance with GA-34," which prohibits any Texas jurisdiction from requiring citizens "to wear or to mandate the wearing of a face covering," or enforce any "COVID-19 operating limits for any business or other establishment."

Paxton said he is "looking at every avenue available to stop" Adler and Brown, adding that the State of Texas has already taken Austin to court after the city tried to impose a four-day ban on dine-in food and drink services during New Year's Eve weekend.
"If you continue to flout the law in this manner, we'll take you to court again and you will lose again," Paxton said in a letter.
Mayor Adler responded to the letter at 4:33 p.m. Wednesday saying that himself and Judge Brown would do use "every tool available" to reduce the spread of the virus. "We will fight Governor Abbott and Attorney General Paxton's assault against doctors and data for as long as we possibly can," Adler wrote in a statement.
Austin-Travis County's mask mandate requires businesses to require customers to wear masks inside the establishment; knowingly violating the ordinance could result in a fine of up to $2,000. The decision was made in consultation with Interim Health Authority Dr. Mark Escott, who has been advising the city on safe COVID-19 practices.
"We need the efforts to continue. We need people to continue to mask and distance and do those things that have gotten us out of surge here in Travis County," Escott said in a press conference. "Our hope is that people, our community, our elected officials, will continue to echo the message that these protective measures, these nonpharmaceutical interventions work and they're important for us to continue with that transition."
When Abbott made the announcement that the mask mandate would end, he added that local governments would be able to reinforce restrictions if COVID-19 hospitalizations rise above 15% for a week straight. Hospital admissions for the virus have been below 7% for the past week.
Over the summer, Austin City Council authorized Escott to create rules that protect residents from the virus, meaning the city enforces rules made by Escott, not Adler or Brown. The City of Round Rock will also continue to enforce masks.
Even outside of Austin, Dallas, El Paso, Houston and San Antonio are still requiring masks to be worn in municipal buildings. Escott said no one can be arrested for not wearing a mask, though they can face criminal charges for refusal to comply with business rules.
Complaints can be made by calling 311.
The story was updated to include a later released statement from Mayor Steve Adler.
Westlake-area resident Joan Skerry said she and her sister were excited to receive their first Moderna COVID-19 vaccines at a First Medical Response of Texas pop-up clinic on Jan. 2, held in the Dripping Springs Fire Department's parking lot. However, when their second shot deadline came and went last Saturday, Skerry feared the two would have to start the vaccine regimen anew.
Due to a misunderstanding about saving part of their vaccine allotment for the second booster shot the vaccine process requires, First Medical used up all of its shipment on first vaccines and didn't have any more doses left for the second round, co-owner Edwin Reyes told Austonia.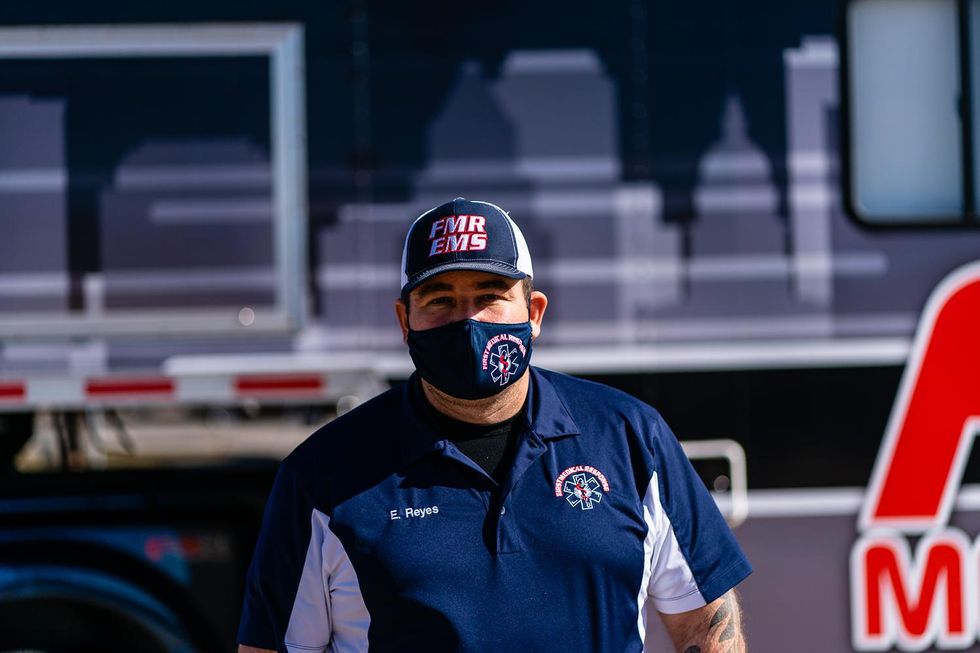 Edwin Reyes, owner of First Medical Response in front of his operations trailer, last month. (Jordan Vonderhaar)
Almost a week overdue, Skerry's sister managed to get a second vaccine elsewhere before Ascension Seton contacted her with a slot that she gave to Skerry. Both qualify as 1B recipients—consisting of older individuals and those with chronic health conditions—for the vaccine, the second phase in the distribution effort designated by the Texas Department of State Health Services after first responders and healthcare workers in group 1A. Skerry is 72 years old and her sister is 66 years old.
"I was so relieved when (Seton) called me that I started crying—not my usual behavior," Skerry said of the news that she would receive a booster shot. "So my story has a happy ending."
First Medical worked with government officials and state representatives to finally secure the 1,800 vaccines needed to provide those first vaccine recipients with their second vaccines, scheduling a clinic Friday for distribution, Reyes said.
However, some residents aren't so lucky and are still on the hunt for a second dose, including those who received an initial dose from clinics that were able to extract 11 doses from a vial allocated for 10 doses. There's no assurance they can take out extra doses to coordinate with those individuals who received the "extra" doses the first time.
Jeffrey Warnken, pharmacist and co-owner of 38th Street Pharmacy, is one of those providers. He drafted a second dose waitlist that contains 25 to 30 individuals qualified under 1A or 1B as of Feb. 3.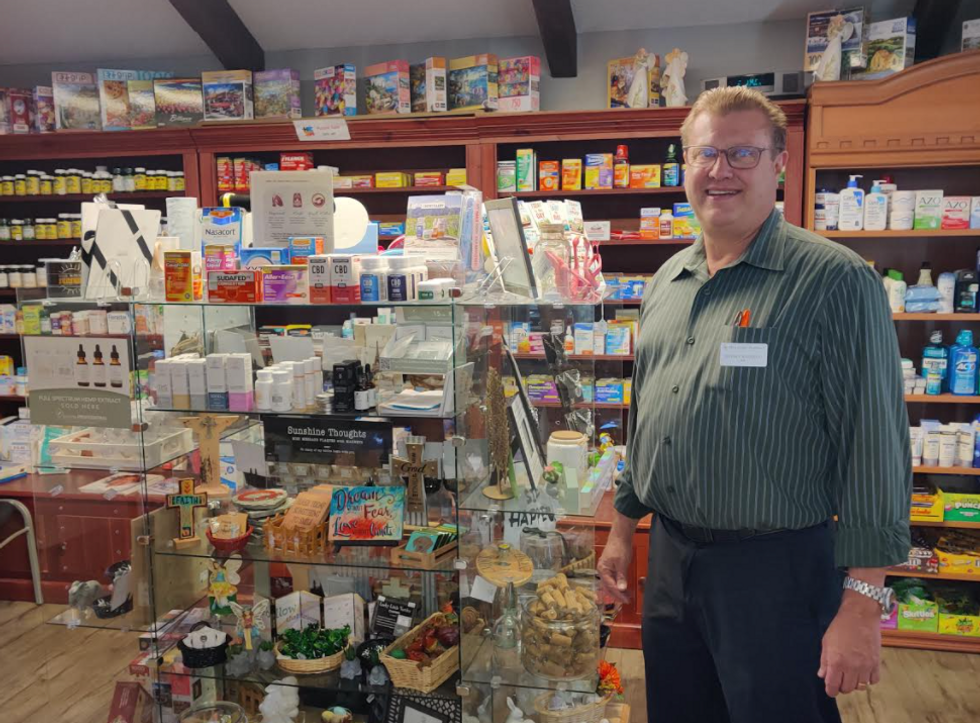 Pharmacist/Co-owner Jeff Warnken (38th Street Pharmacy)
Warnken said his pharmacy recently administered seven first doses to people with the understanding that they could not be assured of receiving a second dose from his facility. He thinks finding second doses will continue to be a problem until more vaccines become available.
"Instead of wasting it, it's better to give somebody a first dose with the possibility of not giving them their second dose because a half is better than zero," he said, adding that a single dose provides some immunity to the disease although the extent of that immunity is unknown. The protection from a single Moderna COVID-19 vaccine dose could range from 50% to 80% immunity after four weeks, Warnken said.
He's hopeful the pharmacy will get more vaccines in, especially with President Joe Biden's plan for the federal government to distribute vaccines directly to retail pharmacies like his facility.
Tarrytown Pharmacy's Pharmacist-in-Charge Rannon Ching also maintains a 1,300-name second dose waitlist for individuals looking for a Moderna booster. Because some individuals were able to find their first shot at independent locations, the opening of larger vaccine hubs have stranded those vaccinated by smaller sites that, as with Ching, haven't received additional doses in weeks.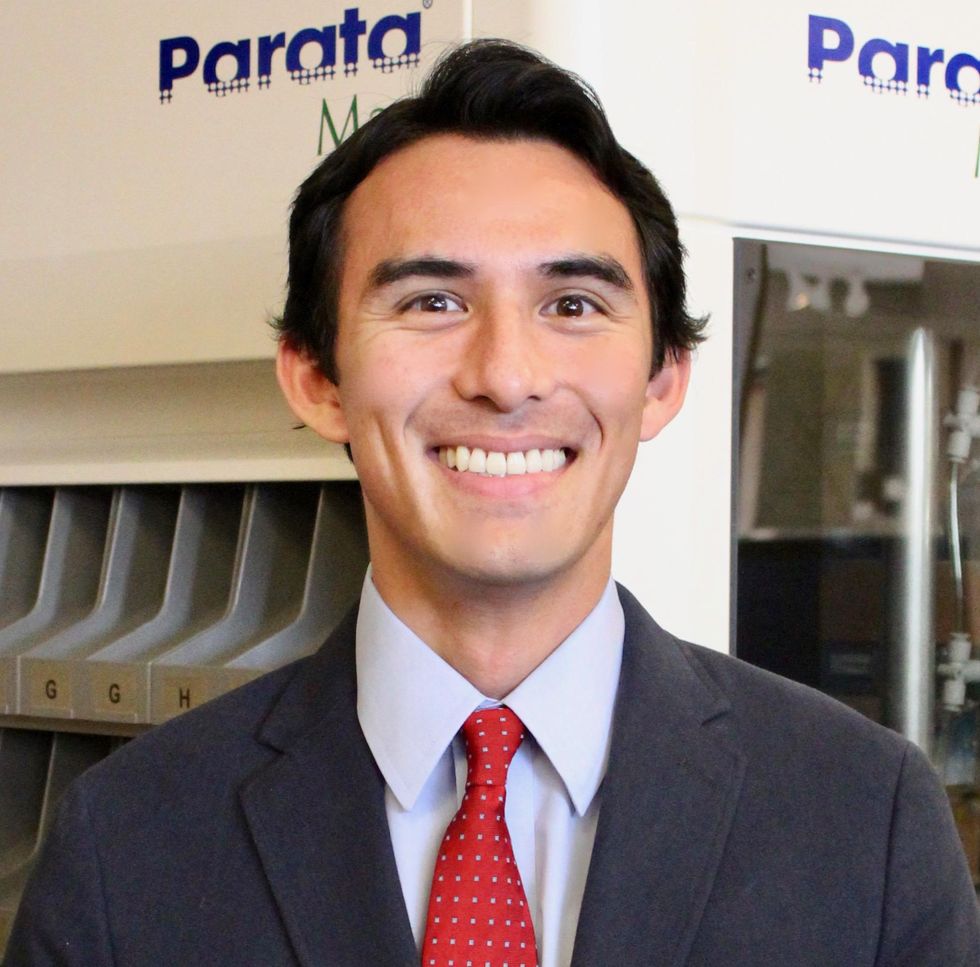 Pharmacist-in-Charge Rannon Ching (Tarrytown Pharmacy)
He said he views those who aren't matched with a second dose fighting for that booster along with everyone else in the fight for a vaccine.
"The good thing about second doses is, once you give them, that's it and you don't have to coordinate for another dose," Ching said. "Second doses lend themselves well to those extra doses we pull out of the vial because those aren't accounted for and won't be accounted for to get second doses four weeks later."
His waitlist also includes individuals who want to make sure they have a "backup plan" in case something happens to their designated second vaccine and recommended first vaccine recipients return to their initial provider for the booster.
Austinite Leslie Lindzey, who received her first dose of the Moderna vaccine on Jan. 14 at Austin ISD's Delco Activity Center, isn't sure if she should pursue other options for her second dose. As of Feb. 4, she hadn't received word on scheduling her booster.
Although the vaccine hub isn't giving out second doses to individuals who didn't have their first vaccine through Austin Public Health, spokesperson Jen Samp said the department will be reaching out to first vaccine recipients for their second dose. As of Feb. 3, she said APH was waiting on news from DSHS regarding the second doses.
"We don't want to contact folks if we don't have the vaccine," Semp said about the second doses. "Once we secure the vaccine, we'll be contacting (them)."
On Jan. 21, the Center for Disease Control and Prevention updated its recommended interval for the two Moderna vaccines to include the scheduling of a second dose to be administered up to 42 days following the first dose if it isn't feasible to be timed at its recommendation of 28 days.
"The 28 days is not a deadline," Samp said. "It is merely an expectation that you should wait at least that amount of time before you get your second one."
With the two-dose Moderna vaccine and similar Pfizer vaccine in distribution, pharmaceutical maker
Johnson & Johnson submitted an application Thursday to the U.S. Food and Drug Administration requesting Emergency Use Authorization for a new single-dose COVID-19 vaccine
. The company stated in a news release that it expects to be able to ship that vaccine immediately after it is approved. Maybe that will end the two-dose conundrum?
More on the vaccine: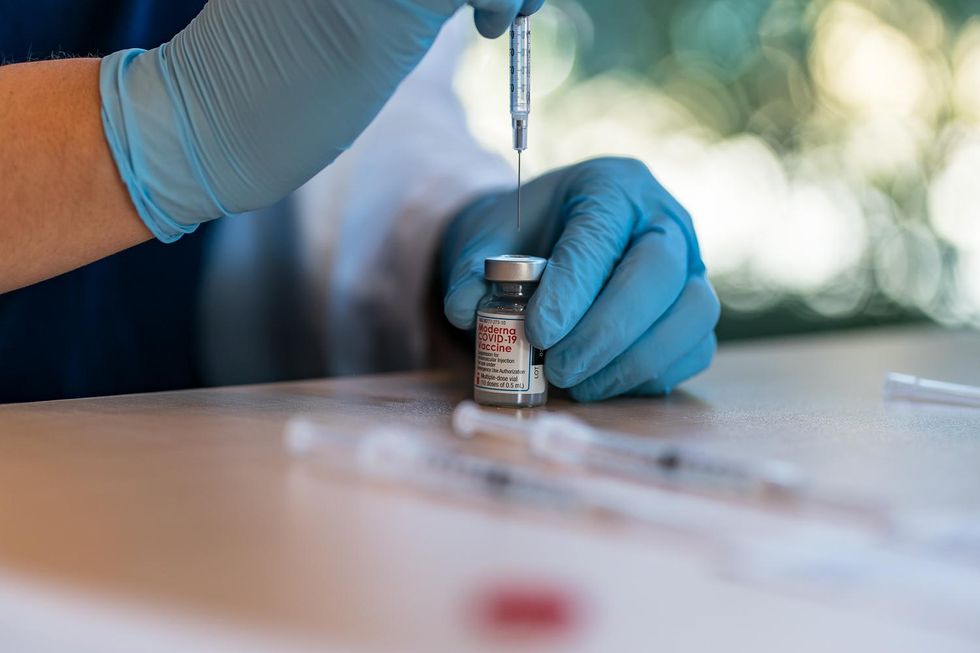 Vaccines administered in Texas surpass total case count
(Pexels)
A newer coronavirus strain, said to be more contagious, was reported in the Austin-Travis County area by the state health department.
Lab-tested by a private local testing organization, the Texas Department of State Health Services and Austin Public Health report it is the first confirmed case of the UK variant of the virus in Austin. However, officials say it is possible this variant has been in the community longer.
"While it is concerning that there is a confirmed COVID-19 variant in Austin-Travis County, it does not come as a surprise," said APH Director Stephanie Hayden-Howard. "It is important to remember that these COVID-19 variants spread the same way, and so it is important to continue the prevention measures we have been using for almost a year. People need to keep wearing a mask, social distancing, avoiding gatherings, and washing your hands frequently."
Vaccines already being distributed to the public are expected to be effective against the new strain.
Extensive lab testing is required for APH to determine different strains under the coronavirus umbrella, according to APH.
Just last month, a Harris County man was reported to have contracted the variant, despite no recent history of travel.

Now a few months into the vaccine distribution effort, Austin-based Benchmark Research is working toward developing a COVID-19 vaccine safety trial for children ranging from ages six months to 11 years old.
The trial would study the Moderna vaccine's efficacy in kids and be a continuation of its teens trial studying ages 12-17, which is already underway in Austin, as first reported by KXAN.
The trial has not announced a start date or timeline but Benchmark Research officials have said they are still researching and will take as many safety precautions as possible.
This study would be reflective of the earlier announced teen trial and would use similar doses. For every two authentic doses administered to the children, one child will receive a placebo dose.
This is not the first vaccine trial done on children—Austin Regional Clinic enrolled teenage participants for a Pfizer vaccine trial back in October and plans to hold another trial for 5-11 year olds sometime this summer.
Moderna's teen trial began on Jan. 29 and is still accepting applicants. Benchmark Research is currently holding a number of trials and is also actively looking for adults to participate. For more information,
click here