Get connected with our daily update
Outpacing the percentage vaccinated in Texas—61% fully vaccinated—the city is closer to reaching herd immunity, which was once thought to be a 70%, but has since increased to a higher vaccinated population. Of those 12 and older, 80% have received at least one dose in Austin.
Local officials hoped to reach the 70% mark by Labor Day weekend, but vaccinations were conducted at a slower rate as most who were eager to get it, got it as they became widely available. The challenge then turned to vaccinating those that are hesitant for a number of reasons including ideology, health concerns or distrust of the government, which APH has focused outreach efforts toward.
Those efforts have been focused on the Black and Hispanic populations that have fallen behind in getting vaccinated with 34% and 47% fully vaccinated, respectively.
Despite the milestone, it might not mean COVID-19 will be less prevalent. The Delta variant's virality has led health officials to believe the herd immunity threshold should be 80% instead of the originally stated 70%. The Centers for Disease Control and Prevention last month revealed the Delta variant was as contagious as chickenpox, which has a herd immunity threshold of at least 90% vaccinated.
Additionally, a portion of the population—kids under 12—are unable to even get the vaccine, setting back further progress toward herd immunity. But Pfizer announced Monday its vaccine works for children ages 5 to 11 and will seek FDA approval soon.

Local health officials are encouraging everyone eligible to get the COVID vaccine to help relieve hospitals. While COVID hospitalizations have been declining in recent weeks, ICUs continue to be majorly impacted with unvaccinated individuals, who are staying sick longer, according to Austin Public Health.
After a month of teetering in the single digits for available ICU beds, the Austin metro that includes 2.4 million people, is reporting no staffed ICU beds available and four available pediatric ICU beds, according to state data updated Sunday afternoon.
The 11-county area made headlines at the beginning of August for dwindling down to two available ICU beds. Since then it has fluctuated in the single digits as the state faces a third COVID surge, driven by the Delta variant and spread among those unvaccinated.
Hospitals in Austin alone have been overwhelmed with COVID patients as ICU resources have been "stretched to the max" for more than a week to provide for more than the 200 available staffed beds, Austin Public Health reported.
Health officials have been particularly concerned for pediatric cases as those 12 and under are ineligible for a vaccine and schools reopened last month.
And as ICU capacity is exceeded, there are more COVID deaths. In a single day this past week, COVID fatalities reached a record number not seen since last year with 12 Thursday and the first child death.
But even as ICU capacity maxes out and deaths rise, cases are on a decline, making Austin health officials "cautiously optimistic" as Labor Day festivities could threaten another spike in cases.
A sixth fully vaccinated Texas House Democrat, State Rep. Donna Howard, D-Austin, tested positive for COVID-19 in Washington D.C. earlier this week, spurring concerns about so-called "breakthrough" cases.
Breakthrough cases occur when a fully vaccinated person gets infected with the coronavirus. The two-dose Pfizer and Moderna vaccines were found to be about 95% effective at preventing illness during clinical studies, and the one-shot Johnson & Johnson vaccine was 72% effective, meaning that a small number of breakthrough cases are to be expected.
"When you hear about a breakthrough infection, that doesn't necessarily mean the vaccine is failing," Dr. Anthony Fauci, director of the National Institute of Allergy and Infectious Disease, told a U.S. Senate panel earlier this week.
But how common are breakthrough cases?
Of the approximately 15,400 COVID cases reported in Travis County since early February, 488—or around 3%—have been among fully vaccinated individuals, according to Austin Public Health data. In other words, the overwhelming majority of cases—around 97%—in recent months have been among unvaccinated individuals.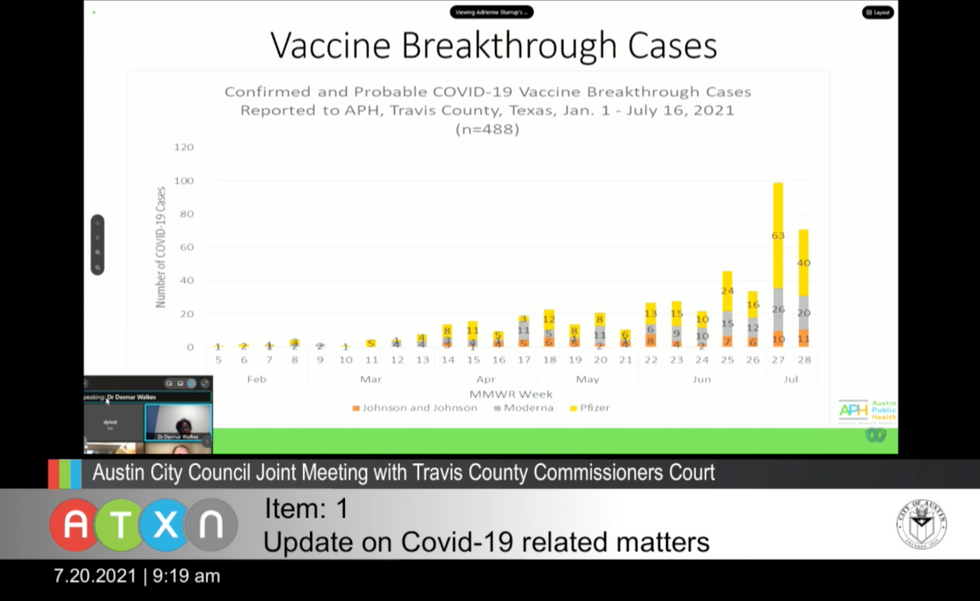 There have been a total of 488 breakthrough cases in Travis County since early February, according to Austin Public Health. (City of Austin)
The disparity grows even starker when looking at COVID deaths. Of the 8,878 people who have died in Texas due to COVID since early February, 99.5% of them were unvaccinated, according to the Texas Tribune. Around 0.5%—at least 43—were vaccinated and died as a result of breakthrough cases.

Overall, breakthrough cases are more likely to be asymptomatic and less likely to require hospitalization because the vaccinated person already has some immunity to the virus, according to a recent report by the Associated Press.
Austin-Travis County Health Authority Dr. Desmar Walkes has said that more than 90% of patients hospitalized with COVID in Austin-area hospitals are unvaccinated, mirroring trends seen around the country and giving rise to the phrase "pandemic of the unvaccinated."
An Alabama hospitalist recently went viral after writing an emotional Facebook post on Sunday. "I'm admitting young healthy people to the hospital with very serious COVID infections," she wrote. "One of the last things they do before they're intubated is beg me for the vaccine. I hold their hand and tell them that I'm sorry, but it's too late."
Public health experts stress that the three available COVID vaccines are effective in the face of new variants and at preventing severe illness and death.
The Centers for Disease Control and Prevention has also noted that the more contagious Delta variant could play a role in breakthrough cases. As a result, federal health officials are keeping an eye on breakthrough case data as they consider the utility of a possible booster shot.
In the meantime, local officials have implored vaccinated residents to resume masking and unvaccinated Austinites to get their shots. Both behaviors help mitigate the spread of the more contagious Delta variant and protect those who are ineligible for the vaccine, including children under 12.
"We know what works," Walkes told local elected officials on Tuesday. "Masks stop the spread, and vaccination stops severe disease and illness."
Here we go again.
Local elected officials and public health leaders are concerned about a spike in new COVID cases and related hospitalizations as four cases of the more contagious Delta variant were confirmed in Travis County on Wednesday and amid continued vaccine hesitancy.
"I hate that we are here together again at a press conference talking about the virus," Austin Mayor Steve Alder said Thursday. "I had thought and hoped that we would not be in front of you again talking about a rise in COVID cases."
With rising new COVID cases and related hospitalizations, Austin-Travis County Interim Health Authority Dr. Desmar Walkes announced a return to Stage 3, according to Austin Public Health's risk-based guidelines.
At Stage 3, APH recommends high-risk unvaccinated individuals wear masks and take other precautions to mitigate risk. "This is due in part to the confirmed presence of the Delta variant in our community and the associated dramatic increase in new cases and hospitalizations that we've seen in the last few days," Walkes said.
The seven-day moving average for new COVID-related hospital admissions in the five-county Austin metro was 20 as of Wednesday, after 29 people were admitted, according to Austin Public Health data. The average has jumped from 14 a week ago.
Not the direction we wanna go in. The best way to flatten the curve and bend it back down again is to get as many eligible residents as possible fully vaccinated. It's safe, effective, and free! Anyone who's still on the fence needs to check out https://t.co/stZMeGXU5F now. https://t.co/463Jw4kP0A
— Natasha Harper-Madison (@NatashaD1atx) July 15, 2021
Almost everyone hospitalized with COVID is unvaccinated, officials said, although they declined to provide more specific numbers. Walkes told KXAN last week that more than 90% of hospitalized patients were unvaccinated.

Of the 107 people hospitalized overall on Wednesday, 41 patients were in the ICU, where capacity is currently strained, Walkes said at the same press conference.
In addition to increased demand as Austinites shed their masks in favor of summer social outings and travel, there are also staffing shortages at area hospitals. "It's been a hard year," Adler said, adding that it's harder to hire nurses and other healthcare professionals at this stage of the pandemic.
Even before the four Delta variant cases were confirmed on Wednesday, public health leaders said it was very likely it was spreading through the community given confirmed cases in surrounding counties. Testing limitations—with the sequencing required to detect the variant only be used in limited cases—means that detection is also limited.
Unfortunately, with Covid infections rising in Austin, even some of the fully vaccinated getting infected, the uncertainty of the delta variant, and with Austin now in stage 3 on a collision course with stage 4 restrictions, we are going back to requiring masks at all times.
— Waterloo Records (@WaterlooRecords) July 15, 2021
To reverse these trends, officials implored residents to get vaccinated, if they aren't already, and encourage others to do the same. "This has to stop, and we know how to make that happen," Walkes said, adding that all three vaccines—Pfizer, Moderna and Johnson & Johnson—are effective at protecting recipients from severe COVID disease and death.

As of Wednesday, around 70% of Travis County residents 12 and older have received one dose of the COVID vaccine and 62% are fully vaccinated. Although the county is approaching the threshold for herd immunity, which experts estimate is around 70%, the uptake rate varies across communities and ZIP codes.
Although demand for vaccine appointments has dropped off in recent months, there are still 14 providers in Travis County offering shots. Austin Public Health has also partnered with community organizations and will arrange for in-home appointments or to visit businesses. "Whatever you need to make this choice, we are prepared," Interim APH Director Adrienne Sturrup said.