Austonia AM
100% Austin news, info, and entertainment, straight to your inbox at 6 a.m. every morning.
In five minutes, you're fully informed and ready to start another great day in our city.
Get connected with our daily update
A sixth fully vaccinated Texas House Democrat, State Rep. Donna Howard, D-Austin, tested positive for COVID-19 in Washington D.C. earlier this week, spurring concerns about so-called "breakthrough" cases.
Breakthrough cases occur when a fully vaccinated person gets infected with the coronavirus. The two-dose Pfizer and Moderna vaccines were found to be about 95% effective at preventing illness during clinical studies, and the one-shot Johnson & Johnson vaccine was 72% effective, meaning that a small number of breakthrough cases are to be expected.
"When you hear about a breakthrough infection, that doesn't necessarily mean the vaccine is failing," Dr. Anthony Fauci, director of the National Institute of Allergy and Infectious Disease, told a U.S. Senate panel earlier this week.
But how common are breakthrough cases?
Of the approximately 15,400 COVID cases reported in Travis County since early February, 488—or around 3%—have been among fully vaccinated individuals, according to Austin Public Health data. In other words, the overwhelming majority of cases—around 97%—in recent months have been among unvaccinated individuals.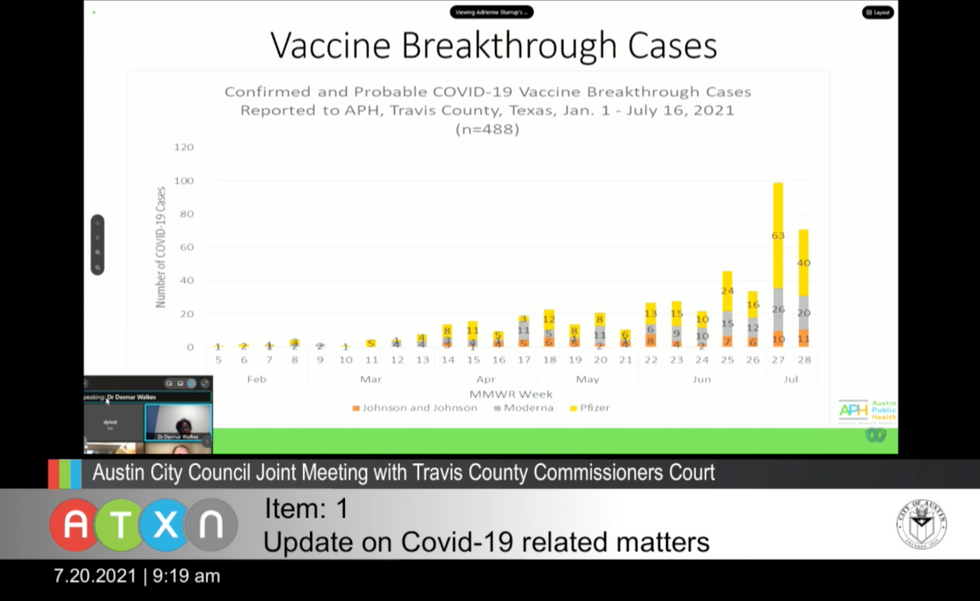 There have been a total of 488 breakthrough cases in Travis County since early February, according to Austin Public Health. (City of Austin)
The disparity grows even starker when looking at COVID deaths. Of the 8,878 people who have died in Texas due to COVID since early February, 99.5% of them were unvaccinated, according to the Texas Tribune. Around 0.5%—at least 43—were vaccinated and died as a result of breakthrough cases.

Overall, breakthrough cases are more likely to be asymptomatic and less likely to require hospitalization because the vaccinated person already has some immunity to the virus, according to a recent report by the Associated Press.
Austin-Travis County Health Authority Dr. Desmar Walkes has said that more than 90% of patients hospitalized with COVID in Austin-area hospitals are unvaccinated, mirroring trends seen around the country and giving rise to the phrase "pandemic of the unvaccinated."
An Alabama hospitalist recently went viral after writing an emotional Facebook post on Sunday. "I'm admitting young healthy people to the hospital with very serious COVID infections," she wrote. "One of the last things they do before they're intubated is beg me for the vaccine. I hold their hand and tell them that I'm sorry, but it's too late."
Public health experts stress that the three available COVID vaccines are effective in the face of new variants and at preventing severe illness and death.
The Centers for Disease Control and Prevention has also noted that the more contagious Delta variant could play a role in breakthrough cases. As a result, federal health officials are keeping an eye on breakthrough case data as they consider the utility of a possible booster shot.
In the meantime, local officials have implored vaccinated residents to resume masking and unvaccinated Austinites to get their shots. Both behaviors help mitigate the spread of the more contagious Delta variant and protect those who are ineligible for the vaccine, including children under 12.
"We know what works," Walkes told local elected officials on Tuesday. "Masks stop the spread, and vaccination stops severe disease and illness."
Here we go again.
Local elected officials and public health leaders are concerned about a spike in new COVID cases and related hospitalizations as four cases of the more contagious Delta variant were confirmed in Travis County on Wednesday and amid continued vaccine hesitancy.
"I hate that we are here together again at a press conference talking about the virus," Austin Mayor Steve Alder said Thursday. "I had thought and hoped that we would not be in front of you again talking about a rise in COVID cases."
With rising new COVID cases and related hospitalizations, Austin-Travis County Interim Health Authority Dr. Desmar Walkes announced a return to Stage 3, according to Austin Public Health's risk-based guidelines.
At Stage 3, APH recommends high-risk unvaccinated individuals wear masks and take other precautions to mitigate risk. "This is due in part to the confirmed presence of the Delta variant in our community and the associated dramatic increase in new cases and hospitalizations that we've seen in the last few days," Walkes said.
The seven-day moving average for new COVID-related hospital admissions in the five-county Austin metro was 20 as of Wednesday, after 29 people were admitted, according to Austin Public Health data. The average has jumped from 14 a week ago.
Not the direction we wanna go in. The best way to flatten the curve and bend it back down again is to get as many eligible residents as possible fully vaccinated. It's safe, effective, and free! Anyone who's still on the fence needs to check out https://t.co/stZMeGXU5F now. https://t.co/463Jw4kP0A
— Natasha Harper-Madison (@NatashaD1atx) July 15, 2021
Almost everyone hospitalized with COVID is unvaccinated, officials said, although they declined to provide more specific numbers. Walkes told KXAN last week that more than 90% of hospitalized patients were unvaccinated.

Of the 107 people hospitalized overall on Wednesday, 41 patients were in the ICU, where capacity is currently strained, Walkes said at the same press conference.
In addition to increased demand as Austinites shed their masks in favor of summer social outings and travel, there are also staffing shortages at area hospitals. "It's been a hard year," Adler said, adding that it's harder to hire nurses and other healthcare professionals at this stage of the pandemic.
Even before the four Delta variant cases were confirmed on Wednesday, public health leaders said it was very likely it was spreading through the community given confirmed cases in surrounding counties. Testing limitations—with the sequencing required to detect the variant only be used in limited cases—means that detection is also limited.
Unfortunately, with Covid infections rising in Austin, even some of the fully vaccinated getting infected, the uncertainty of the delta variant, and with Austin now in stage 3 on a collision course with stage 4 restrictions, we are going back to requiring masks at all times.
— Waterloo Records (@WaterlooRecords) July 15, 2021
To reverse these trends, officials implored residents to get vaccinated, if they aren't already, and encourage others to do the same. "This has to stop, and we know how to make that happen," Walkes said, adding that all three vaccines—Pfizer, Moderna and Johnson & Johnson—are effective at protecting recipients from severe COVID disease and death.

As of Wednesday, around 70% of Travis County residents 12 and older have received one dose of the COVID vaccine and 62% are fully vaccinated. Although the county is approaching the threshold for herd immunity, which experts estimate is around 70%, the uptake rate varies across communities and ZIP codes.
Although demand for vaccine appointments has dropped off in recent months, there are still 14 providers in Travis County offering shots. Austin Public Health has also partnered with community organizations and will arrange for in-home appointments or to visit businesses. "Whatever you need to make this choice, we are prepared," Interim APH Director Adrienne Sturrup said.
COVID-19 hospitalizations are on the rise in Austin, likely fueled by the highly contagious Delta variant and overwhelmingly affecting unvaccinated individuals.
There have been four confirmed Delta variant cases in Travis County, Austin Public Health announced Wednesday.
Meanwhile, there were 24 new admissions in the five-county Austin metro on Tuesday, bringing the seven-day moving average to 19—its highest point since April 29, according to Austin Public Health's risk-based guidelines.
This puts the metro squarely in stage three, where APH recommends that high-risk unvaccinated individuals—namely those 65 years or older—avoid any non-essential activities to mitigate risk.
Overall, 100 people were hospitalized with COVID-19 in the metro as of Tuesday, with 39 in the ICU and 19 on ventilators.
More than 90% of the hospitalized patients are unvaccinated, Austin-Travis County Health Authority Dr. Desmar Walkes told KXAN last week, mirroring trends around the country.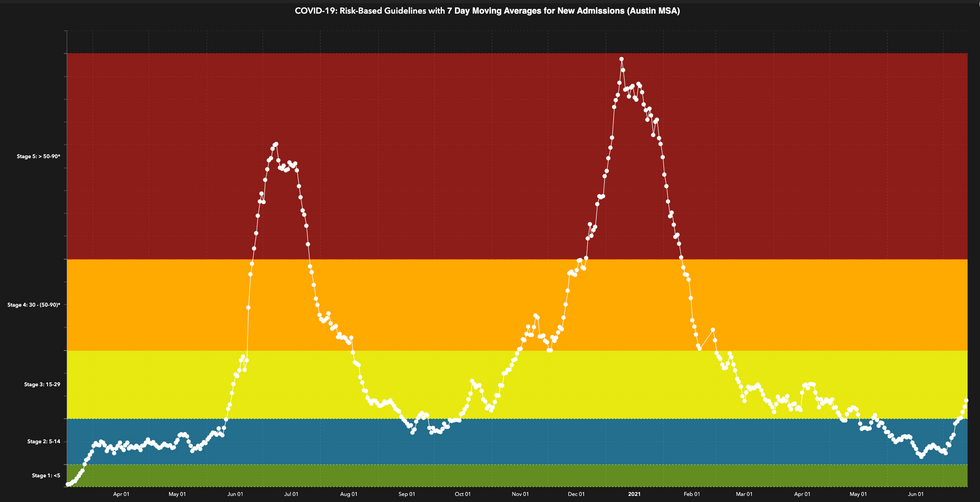 The Austin metro is now in stage three of APH's risk-based guidelines based on new hospital admissions. (Austin Public Health)
New reported cases are also trending upwards. More than 200 cases were reported Tuesday, bringing the seven-day moving average to 85, up from 33 a week ago, according to APH.

Walkes told Travis County commissioners on Tuesday that the likely culprit behind these trends is the more contagious and deadly Delta variant, which now accounts for about 58% of all COVID cases in the U.S., according to the Centers for Disease Control. In late May, Delta was estimated to account for approximately only 3% of new cases in the U.S.
Although Travis County is approaching the threshold for herd immunity—which experts have estimated is around 70%—it has not yet reached it, meaning that the disease is still circulating and evolving to become more contagious, pushing the threshold further up. There are also still subsets of the population that are not yet eligible for the vaccine, including young children.
More than 70% of Travis County residents 12 and older are partially vaccinated, and more than 61% are fully vaccinated, according to the Texas Department of State Health Services.
Local health officials continue to implore residents to get vaccinated if they haven't already. "Existing vaccinations are still more than 90% effective in keeping individuals safe," Interim APH Director Adrienne Sturrup said in a July 2 press release. "It is more important than ever to have these discussions around vaccinations and why they are so important for families and our community in helping prevent the spread of COVID-19."
Information about where to find a free COVID vaccine can be found here.
This story was updated at 4:30 p.m. to include how many cases of the Delta variant have been confirmed in the metro.
Fourteen months into the pandemic, downtown Austin is still reeling from its impact: pedestrian traffic declined as much as 74%, hotel occupancy rates plummeted, at least 10 music and event venues closed permanently, as many as 25% of downtown storefronts are vacant and an estimated 3,000 jobs have yet to be recovered, according to the Downtown Austin Alliance.
But a new report issued by the local nonprofit on Wednesday maps out a road to recovery, aided by major developments such as the Waterloo Greenway urban park system, Project Connect and the South Central Waterfront, just south of Lady Bird Lake; small and local business reopenings; and a plan to house the city's unsheltered homeless residents, many of whom reside in tents along Cesar Chavez Street.
"It won't happen overnight, but our team is dedicated to working with the community and local government officials and stakeholders to implement this vision that will result in a better downtown experience and a downtown economy that is better able to withstand future catastrophic challenges," President and CEO Dewitt Peart said in a statement.
There are reasons to be optimistic, according to the report. Demand for downtown housing remains strong thanks to rising employment and population numbers, and two new apartment buildings in the Rainey District will add 600 units.

Although many offices remain remote and leasing activity dropped precipitously in 2020, DAA believes demand will rebound. Tech companies such as Google and Facebook, both of which have invested in new office towers downtown, have maintained their intention to return to the office, according to the report. And with the upcoming openings of the Indeed Tower, 300 Colorado and several other office buildings, downtown is set to add more than 1.5 million square feet of Class A, the most luxurious, office space this year, a new annual record.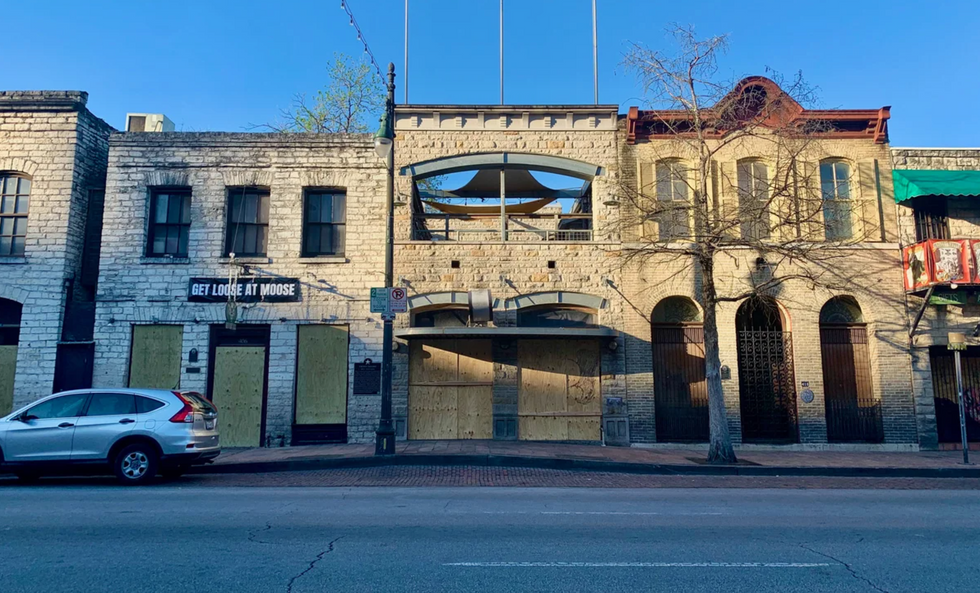 Downtown businesses have been adversely impacted by a loss of pedestrian traffic and tourism during the pandemic, according to the DAA report. (Emma Freer/Austonia)
In addition to downtown's role as a business center, it is also a leisure destination for tourists and residents alike. DAA's roadmap includes plans to expand arts, cultural and music events in downtown parks and to advocate for financial support for small and local downtown businesses, which have been especially hard-hit by the pandemic.

The report comes on the heels of a recent summit of local elected officials, community leaders and organizations including DAA, who developed a plan to address unsheltered homelessness—and as city residents vote on a proposition to reinstate a ban on camping in certain public spaces. The main goal, which Homeless Strategy Officer Dianna Grey presented to the City Council on Tuesday, is to house 3,000 people in the next three years by incentivizing landlords to provide rental units, developing new permanent supportive housing and adding 200 new case managers and other staff positions.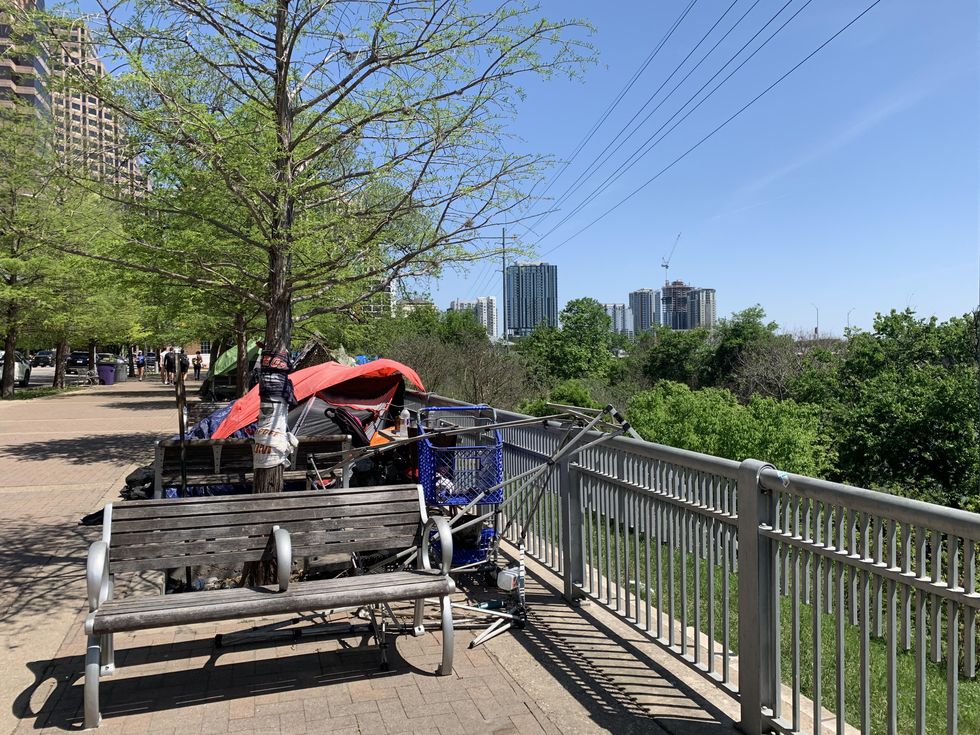 An encampment has formed along Cesar Chavez Street near Lady Bird Lake in downtown Austin and has become a focal point of Save Austin Now, the local political action committee behind Proposition B. (Emma Freer/Austonia)
"So many people love downtown Austin and because it is the economic engine of our region, we need to ensure it remains a destination for job creators, residents, local visitors and tourists," Director of Research and Analysis Jenell Moffett said in a statement. "The fundamental strengths are a strong foundation to build upon."