Get connected with our daily update
Austin Public Health and other clinics around Austin are now providing booster shots for all three vaccines, including Pfizer, Moderna and Johnson & Johnson, to fully vaccinated individuals after both Pfizer and J & J were approved by the CDC on Wednesday.
APH and Austin clinics, which were already administering the approved Pfizer booster, will begin distributing shots as soon as Friday.
Those who received the second dose of the Pfizer and Moderna vaccine more than six months ago are elligble to receive a booster if they are over 65 or if they are over 18 and:
Live in a long-term care environment
Have underlying medical conditions
Work or live in high-risk settings, such as schools, hospitals or correctional facilities
Those who took the Johnson & Johnson shot are eligible if they are over 18 and received their dose over two months ago.
Austin-Travis County Health Authority Dr. Desmar Walkes said in a media Q&A Friday that APH is encouraging boosters just as much as they have urged residents to get their first and second doses.
"Boosters are incredibly important to keeping our community protected and hospitalizations low," Walkes said. "If we can stay on top of our vaccinations, we provide protections for our most vulnerable and make it that much harder for COVID to spread in our community."
Eligible residents are free to choose the same booster as their first doses or "mix and match," per the CDC announcement.
Those looking for another dose can simply bring their vaccination card to APH centers or the dozens of Walgreens and CVS locations in the metro, which began administering doses Friday.
Additional updated guidance from the CDC allows for all eligible individuals to choose which vaccine they receive as a "mix-and-match" booster dose. It is advised to remember to bring your CDC COVID-19 Vaccination Card showing the original doses with you when going for booster shots.
Chupie the Lykoi cat isn't as feral as he may look—unless, of course, it comes to getting his paws on some precious baguettes.
The unusual kitty has recently gone viral on social media, garnering over 30 million views on TikTok and cheering up cat fans globally during the difficulties of the pandemic.
But according to owner and Austin resident Michelle, who asked not to disclose her full name for privacy reasons, this wasn't what she expected at all when she first made Chupie's Instagram and TikTok in January.
Chupie's claim to fame—aside from his overwhelming cuteness and love for all foods (except salsa and carrots)—is his unique genetics. Lykoi cats, named after the Greek word for "wolves" and often aptly dubbed "wolf cats," are the result of a mutation originally found in feral cat populations that have since become a pedigree cat breed.
He's gotten plenty of love—and plenty of bullying—for his wolf-like appearance. Michelle has been told he looks like anything from the weasel of "Suicide Squad" to Clint Eastwood as a cat.
"I think that a lot of people think that he looks like an ugly cat because he looks mangy," Michelle said. "But that's kind of what makes him special."
But Chupie doesn't have the disposition of a werewolf. In fact, the friendly cat can be seen kayaking, hiking and lounging around locales around Austin, from historic bar Nickel City to his favorite spot at South Austin's Little Darlin'.
He's almost always well-behaved, too—that is, until food enters the picture.
Just a few days after making his Internet debut, Chupie first went viral for viciously gripping onto a bag of H-E-B buns. The post gained 1.3 million views.
Since then, similar videos of Chupie gripping baguettes, treats and other goodies have gained up to 11 million views apiece.
Michelle and her husband have beencreating content nearly every weekend and are now busier than ever. Still, it's been a rewarding, if unexpected, life change, especially as she hears from fans worldwide who view Chupie as a bright spot in their life.
Michelle said that she's received countless positive messages from fans, many of whom struggled during the pandemic.
"I joke that he's a 'meowtivational speaker' because I really think that we sometimes live in really dark places, especially during COVID," Michelle said. "So if we can give them even a little part of their day, even if it's 10 seconds where they feel joy, then it's worth it."
That popularity has translated into real life. Chupie is celebrated by fans and newcomers alike nearly everywhere he goes. In an interview with Austonia, Chupie was almost immediately greeted by a fascinated stranger who was quick to scratch his head and take pictures, something Michelle said is a normal occurrence.
"Everybody knows him when I go places now," Michelle said. "People are like, 'Oh my God, is that Chupie? Can I feed him the crust of my pizza?'"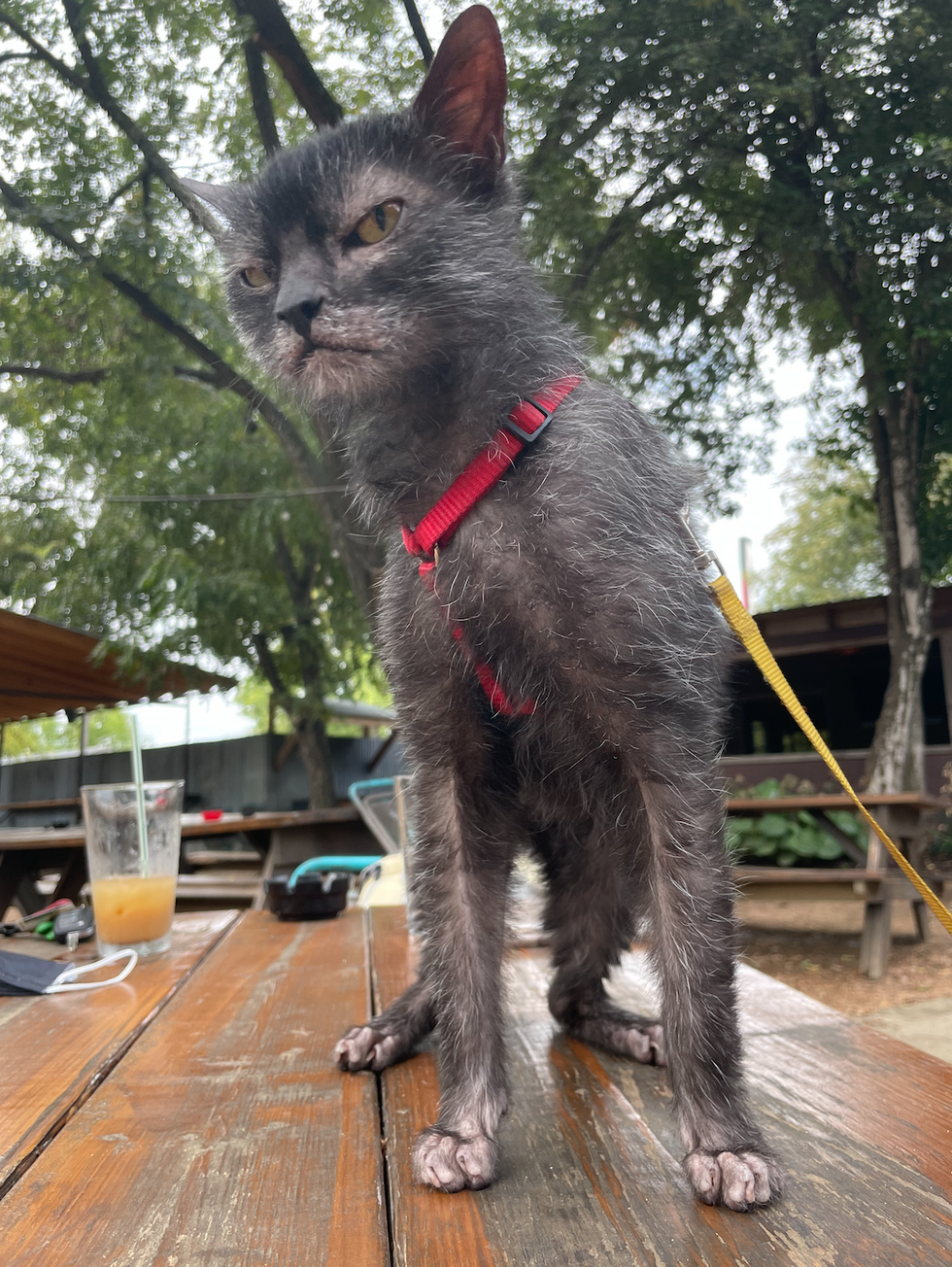 Chupie before getting a treat. (Claire Partain/Austonia)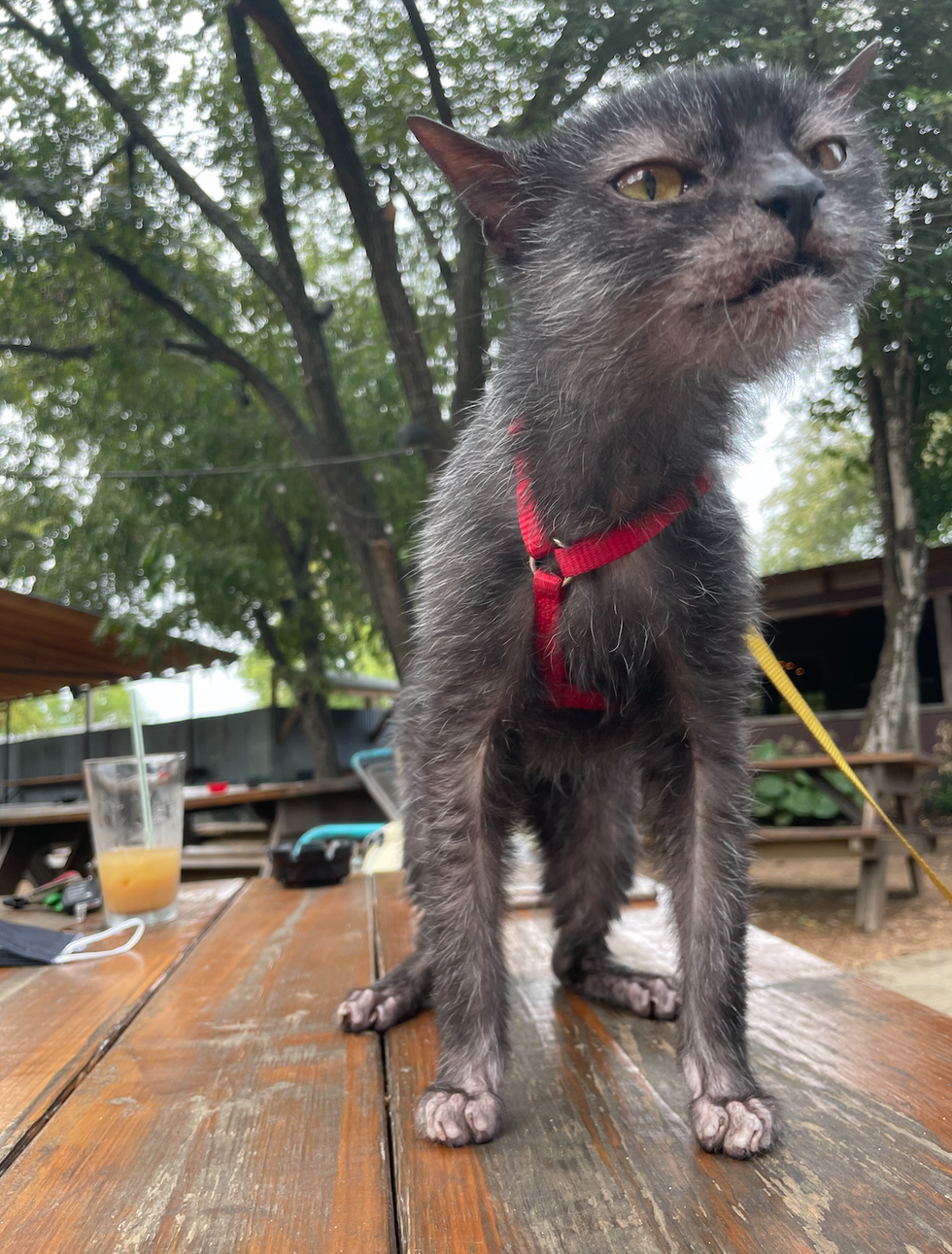 Chupie after he gets a treat. (Claire Partain/Austonia)
"He's living better than me probably," Michelle joked. "We live our lives well together. But I've never done so many things in one weekend until I started making these videos."
So what's next for Chupie? Michelle hopes one day she can take her kitty on global adventures where he can meet fans. For now, she's busy making Chupie merch, sending out care packages and is looking forward to taking her pet to animal events like the POP Cats festival on Saturday.
"This has gone way further than I ever imagined, and it's about Chupie, but it's also about the 'I don't give a meow' attitude," Michelle said. "I think people need to take life less seriously, so it's nice to be an outlet for that."
ACL goers and performers alike may have found their weekend trip extended on Sunday as they arrived at Austin-Bergstrom International Airport to find that dozens of Southwest Airline flights had been canceled due to "disruptive weather."

The national airline cancelled 72 flights in Austin on Sunday and Monday morning and delayed 65 more, leaving weekend travelers stranded and forced to find alternate ways home during one of the airport's busiest weekends.
Hundreds of travelers in Austin, including ACL performer Maggie Rose, found themselves working through the issues for hours with backlogged customer service employees.
Many—including Austinites Jillianne, Laura and Heather, who told KVUE they drove 20 hours to Washington, D.C. to attend a wedding amid the chaos—spent hundreds or even thousands working to fix their traveling woes.
Nationwide, Southwest canceled or delayed well over 2,000 flights on Sunday—over 60% of its planned flights—and attributed the widespread chaos with air traffic control and bad weather conditions in a Twitter apology.
But some frustrated customers, many of whom saw near-sunny skies, thought the airlines' vaccine mandate for pilots may have been the culprit. Austin saw clear skies through Sunday afternoon but was hit with storms late Sunday night.
Travelers claimed that airline employees talked of a "sick-out" among pilots who refused to comply with the mandate.
The "sick-out" theory, which has been unsubstantiated by the company, got the attention of conservative politicians including Senator Ted Cruz.
The airline denied the allegations in a press release on Saturday.
"We can say with confidence that our pilots are not participating in any official or unofficial job actions," the company said. "Our pilots will continue to overcome SWA management's poor planning, as well as any external operational challenges."
Regardless of the culprit, travelers going through the Austin airport are hoping to see some clearer communication and financial compensation as the nationwide travel turbulence begins to subside.
But many, including Orange County resident Lisa Szal, are resigned to reschedule flights with other carriers as they await a hopeful refund.
Szal, who couldn't get access to a live agent for a refund on her flight early Monday morning, told Austonia she's jumping ship to American Airlines for weeks to come, including a conference trip to Colorado on Sunday.
"It's funny because I just thought, 'I don't have any faith that I'm even going to get there,'" Szal said. "So I booked another flight on American."
Austin Public Health announced Tuesday that Travis County would shift down to Stage 4 COVID risk-based guidelines as cases and hospitalizations slow from the peak of the summer surge.
Stage 4 guidelines don't change much for low-risk vaccinated individuals, and APH recommends that Austinites mask up as they dine, shop and participate in indoor gatherings or large outdoor gatherings where social distancing is impossible.
High-risk vaccinated individuals who were advised to stay at home unless essential under Stage 5 can once again partake in gatherings and events as well. Stage 4 recommends that unvaccinated residents still avoid indoor and outdoor private gatherings but that travel can once again resume if essential.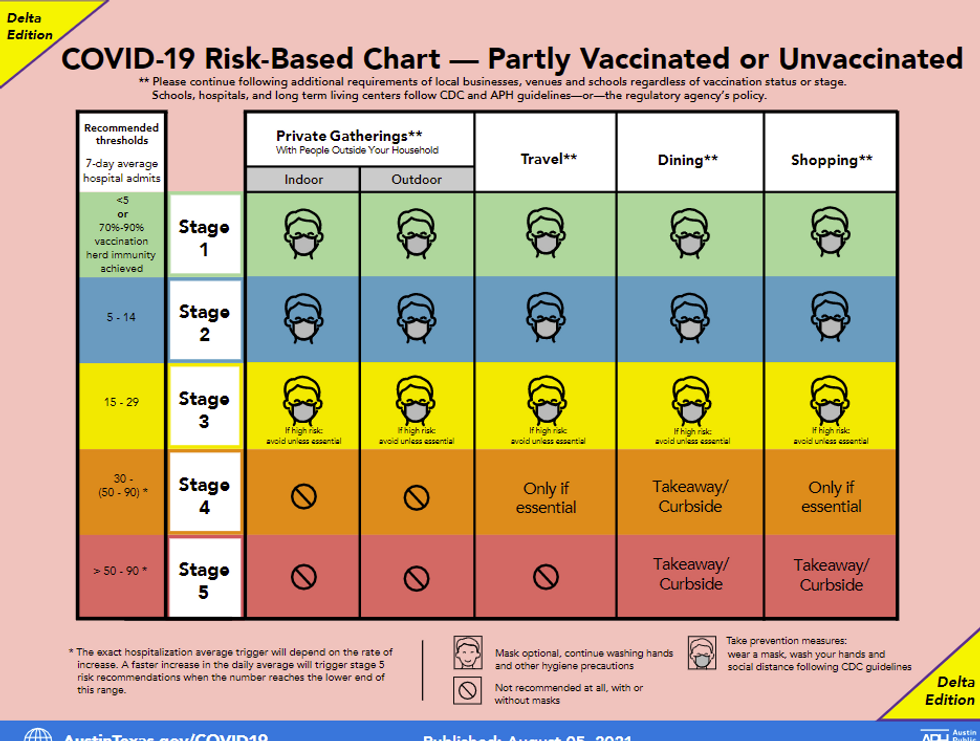 (Austin Public Health)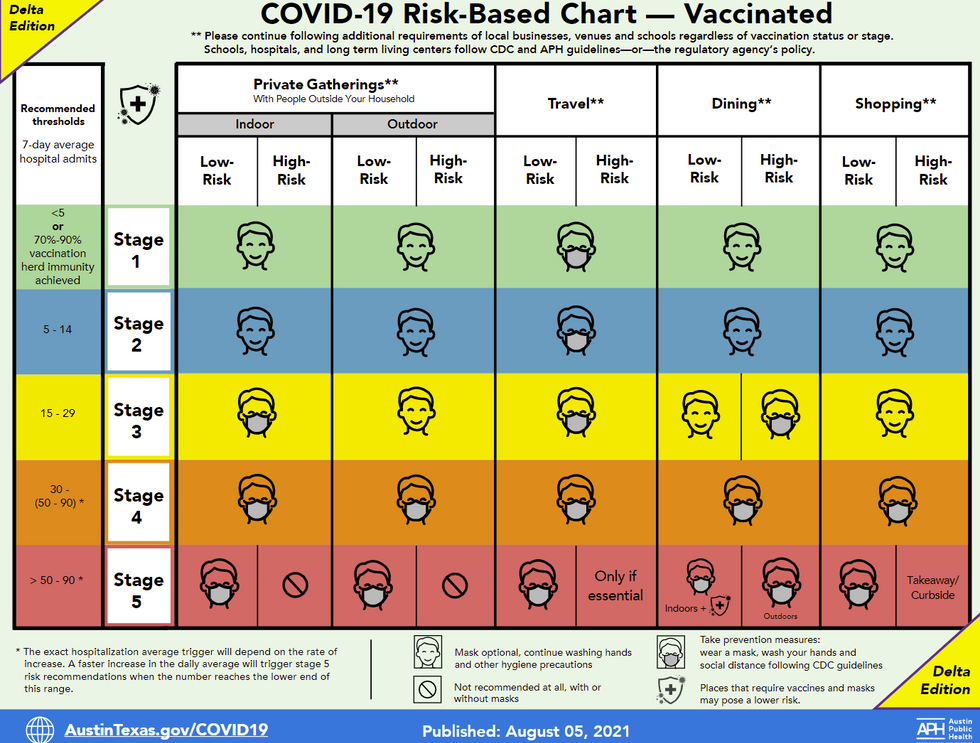 (Austin Public Health)
The news comes as the seven-day moving average for hospitalizations dipped to 440 on Monday, down 33% from a peak of 641.9 on Aug. 27. While ICU capacity remains at critical levels, the percentage of COVID patients in ICU beds has decreased from its August peak with 162 of the area's 200 available beds occupied by COVID patients.
In Tuesday's Travis County Commissioners and Austin City Council joint meeting, Dr. Desmar Walkes once again implored residents to get vaccinated and reminded residents that booster shots have been recommended for residents 65 and over and immunocompromised individuals.
Walkes recommended that parents vaccinate their children ages 12 and older and that children younger than 12 continue to mask up.
"The Delta variant showed us how unpredictable and deadly this virus can be, especially for the unvaccinated," Walkes said. "However, even as we continue to see the data trending in a positive direction, we cannot act as if the pandemic is over. Our hospital and ICUs still remain at critical levels, and we need the public to continue to work together to ensure we do not contribute to a new surge."