Get connected with our daily update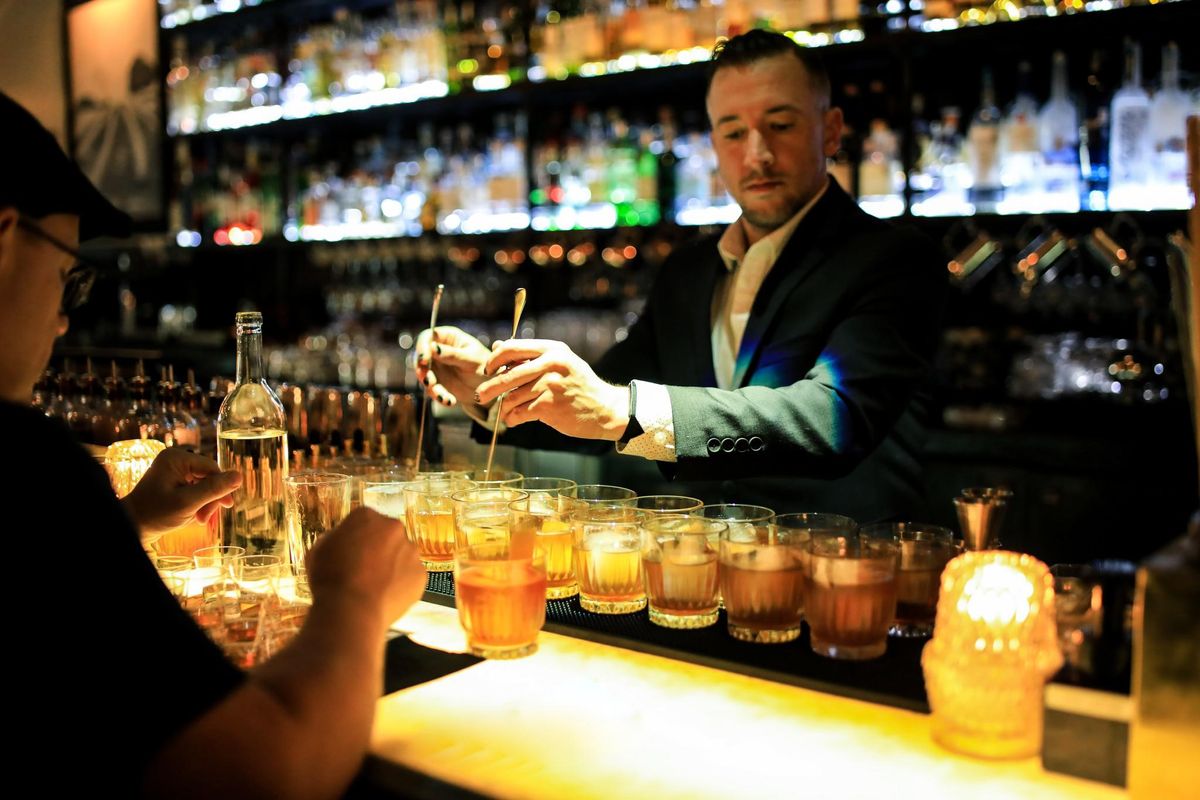 Nightlife is back and better than ever as Austin emerges as an "18-hour city."
Austin's tourist and hospitality sectors have seen a surge in revenue showing a complete picture of pandemic recovery, according to the Downtown Austin Alliance's State of Downtown Report, which was released earlier this month.
For 18 hours straight, Austinites are enjoying what the city has to offer, only dropping off between 3 a.m. and 8 a.m.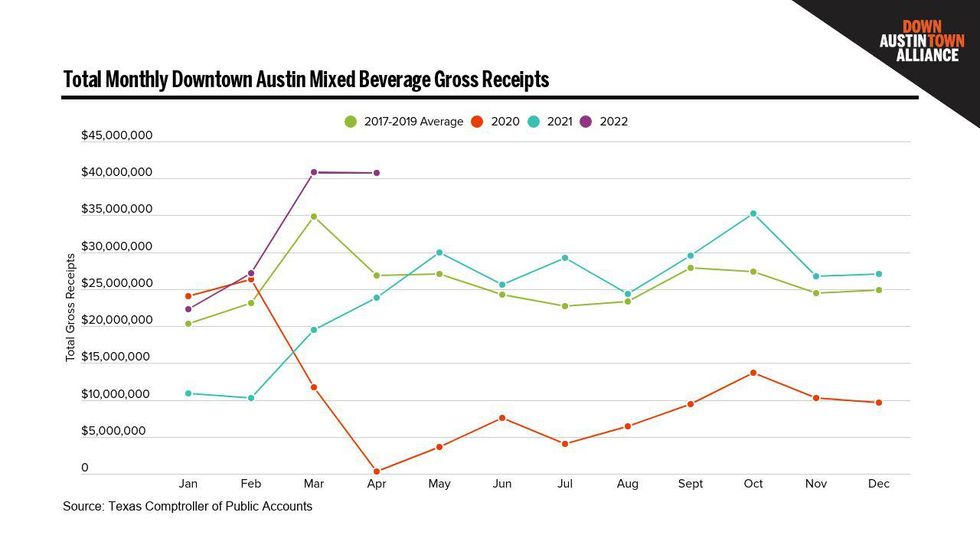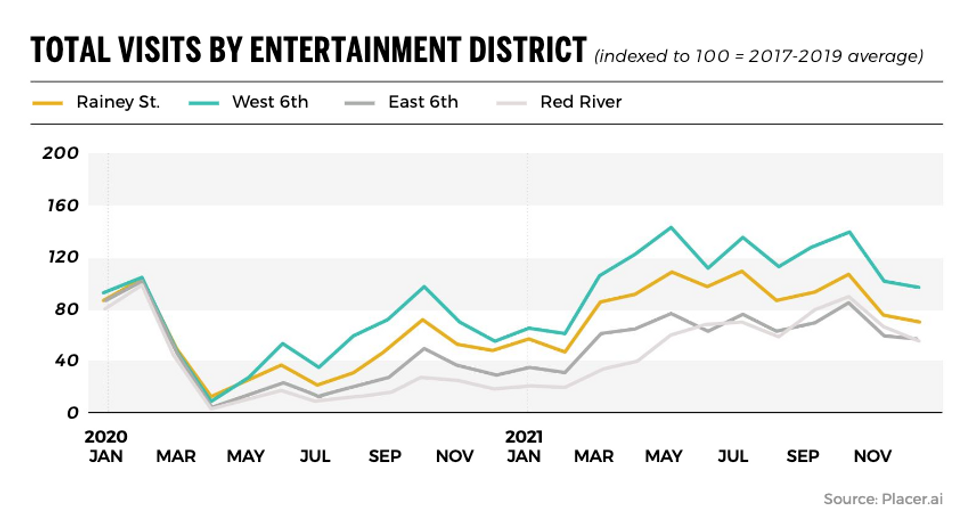 Mixed alcoholic beverage sales downtown reached a record $40.8 million in March this year, nearly matching in April with $40.7 million in sales. Rainey Street and West 6th are neck and neck in terms of sales but the latter wins out in terms of foot traffic; meanwhile, data shows East 6th has become the least popular party district.
The return of nightlife goes hand-in-hand with the recovery of hotel occupancy, which reached 98% of the average traffic from 2017-2019. High hotel prices are also back, reaching $216 of revenue per room in April and $198 in May, surpassing the average from the same time frame.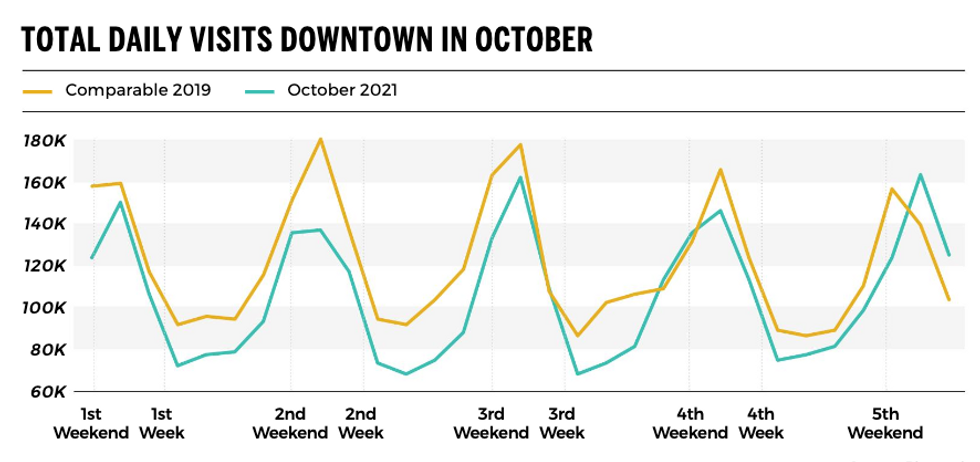 One of Austin's biggest tourism seasons occurs in October, when events like ACL Festival and Formula 1 attract visitors from around the world, a pattern that mirrored previous years in 2021. Tourism tracks through airport traffic as well, which is at an all-time high.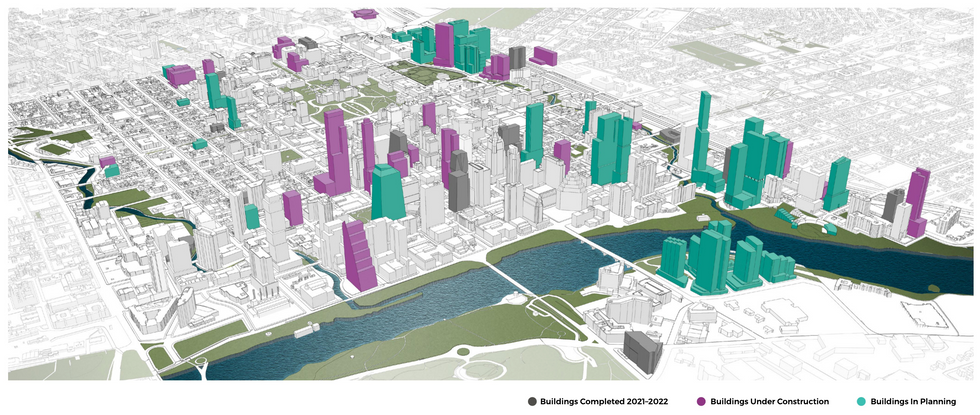 Downtown's COVID-induced need for rentals has also cooled to pre-pandemic levels, with the help of two million square feet of new residential space and another 2,161,727 square feet of office, residential and retail space currently under construction.
However, for-sale housing inventory is still at an all-time low, with fewer than two months of inventory–around 50 listings–in Q4 of 2021.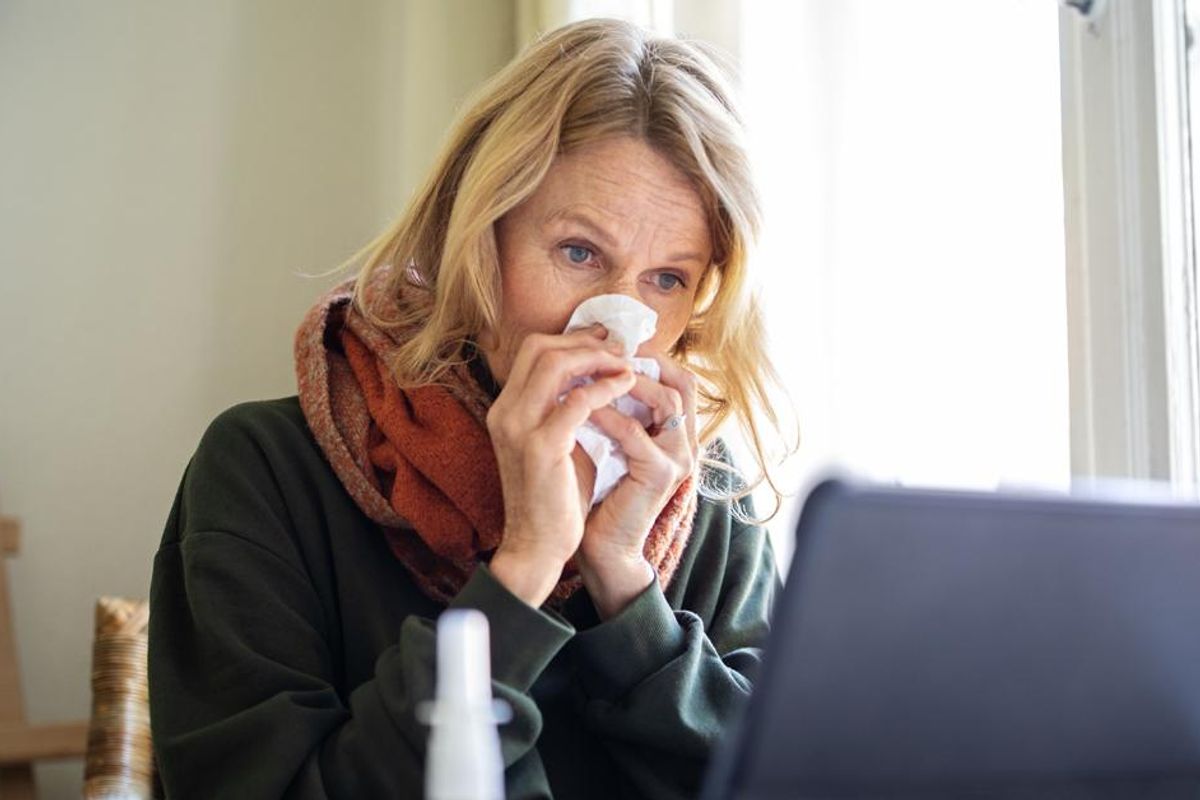 Two new omicron subvariants, BA.4 and BA.5, have been detected in Travis County as COVID cases continue to rise, Austin Public Health said Friday.
Travis County's Community Level remains low—at around 175 cases per 100,000 residents—but could raise to medium levels if that number surpasses 200. Just over 420 new cases were reported May 29, around triple the daily caseload reported in early April.

COVID cases are on the rise in Austin but remain well below surge levels. (Austin Public Health)
APH said omicron sub-variant, BA.2, currently accounts for most infections in Austin and Travis County. But BA.4 and BA.5, which now account for around 6% of cases nationwide, show evidence of being more transmissible abroad, where each have been detected in at least 30 countries.
According to a Columbia University study, BA.4 and BA.5 viruses were more than four times as likely to escape antibodies from vaccinated and boosted people when compared to BA.2. Still, rising deaths have not come with rising BA.4 and BA.5 cases in South Africa, where the subvariants were originally detected.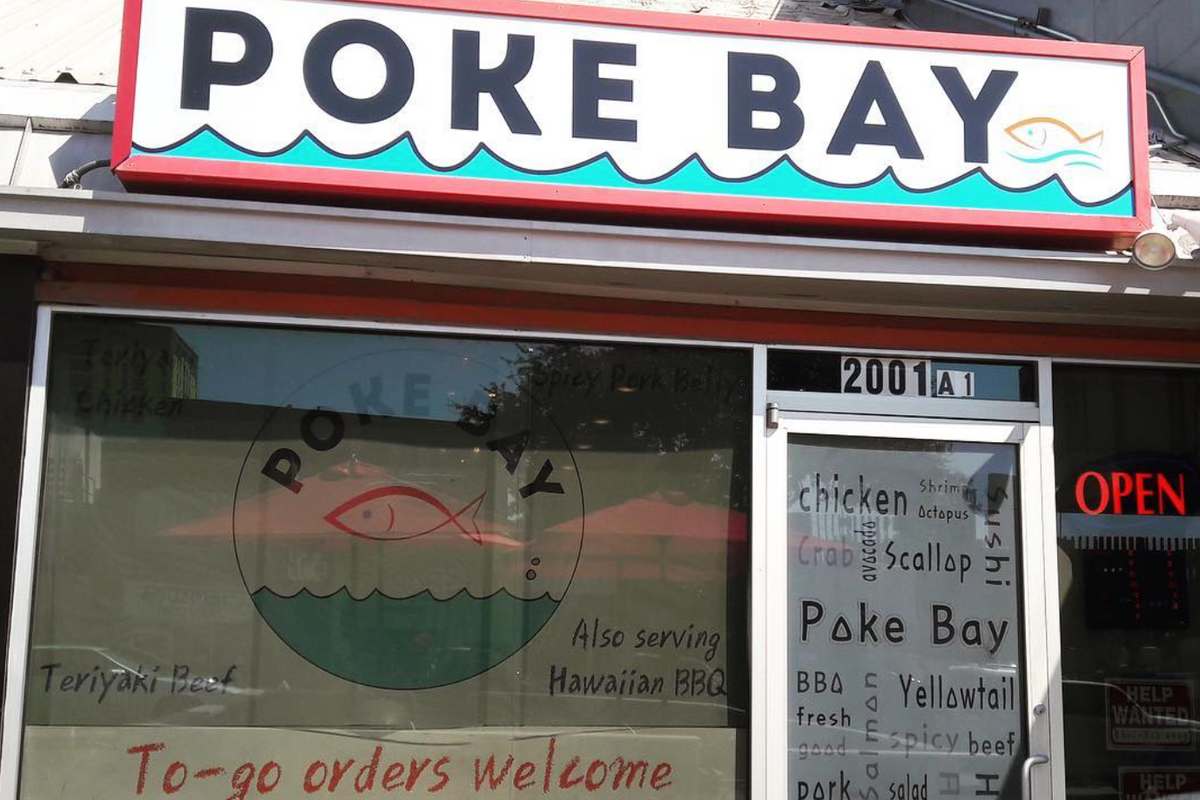 Weeks before longtime University of Texas favorite Poke Bay is set to close, business has been booming as a viral TikTok pushed the family-owned restaurant to its biggest sales day to date.

The shop, situated on the Drag, closed for two hours Tuesday afternoon after selling out in the lunchtime rush. That rush came thanks to owners Paul and Priscilla Song's daughter, Angelica, who asked TikTok users to help support her parent's business before the university takes over the building in the coming weeks.
UT Austin bought Poke Bay alongside four other businesses in December 2021. According to Angelica, her parents will be left with no help from the university as they look to relocate and continue to recover from the pandemic.
In an update, Angelica said the line wrapped around the door before the couple closed its doors to restock.
The original TikTok has received 1.6 million views and 318,000 likes.
When asked about giving compensation or relocation assistance to businesses affected by the purchase, UT spokesperson Eliska Padilla said: "As the university continues to find ways to serve our students, provide additional housing options, and advance our educational mission, we acknowledge the challenges created by our growth — especially combined with Austin's growth. We ppreciate the role local businesses have in our campus community, and we will engage them in conversations about other university options for relocation."