Get connected with our daily update
Even as positive COVID cases and new hospital admissions are on a downward trend, ICU capacity is at dire levels.
At a press conference Friday, Austin Health Authority Dr. Desmar Walkes said Austin ICUs are over capacity with 229 ICU patients for 200 beds. ICU patients are also being cared for longer. While hospitals are "stretching themselves thin" to provide for more patients, there are patients that should be getting ICU care that are unable to due to capacity.
Additionally, routine medical care is being impacted, Walkes said. At one point this week, 20 patients were looking to be transferred to get care—five were for COVID, the other 15 were for strokes and other illnesses, according to Walkes.
Austin Public Health Director Dr. Adrienne Stirrup told a story of a veteran with appendicitis who lost his life as hospitals were forced to turn him away.
"That is sad that in this day and age that someone could pass from something that could be resolved relatively quickly because our hospitals are full of folks that don't necessarily have to be there," Stirrup said, referring to people that could choose to get the vaccine to prevent hospitalization.
Austin health officials are asking the remaining 31% who aren't fully vaccinated to get the shot to help relieve hospitals and to prevent potential cancellations of major events like Austin City Limits. The department says that those unvaccinated are 10 times more likely to require hospitalization and 10 times more likely to die from it.
On the positive side, new hospital admissions are declining and the COVID test positivity rate is down to about 10%.
More than 100 people in Travis County have died of COVID-19 in the last four weeks. At the same time, for many in Austin, life feels back to pre-pandemic times.
As we approach the two-year anniversary of the discovery of the first case of the virus in China, Austin has assumed a split personality: for some, life is proceeding as normal. For others, we are still in the midst of a crisis as Travis County has been in Stage 5, the highest level of COVID risk, for over a month.
With ICUs filled with unvaccinated people, it's led the summer surge to be labeled a "pandemic of the unvaccinated" by health officials including White House Chief Medical Adviser Anthony Fauci less than a week ago. But for those vaccinated and even some choosing not to get the shot, it's back to old routines with restaurants, bars and music venues welcoming people with open arms—some requiring a mask.
At a Jester King Brewery Thursday night bluegrass event, Kate Richter, a local attorney, told Austonia that she and her husband are both vaccinated and feel comfortable taking their kids, who are all ineligible for the vaccine, to outdoor venues and wearing masks indoors.
"Even though they say the Delta variant is worst for kids, I think they need to have a normal life," Richter said, adding she was more than happy to have them back at school.
On the opposite side of the spectrum, some are less than worried about taking any sort of precautions. Austin visitor from Dallas, Sean Edrington, has chosen not to get the COVID vaccine, citing his good health and having COVID antibodies.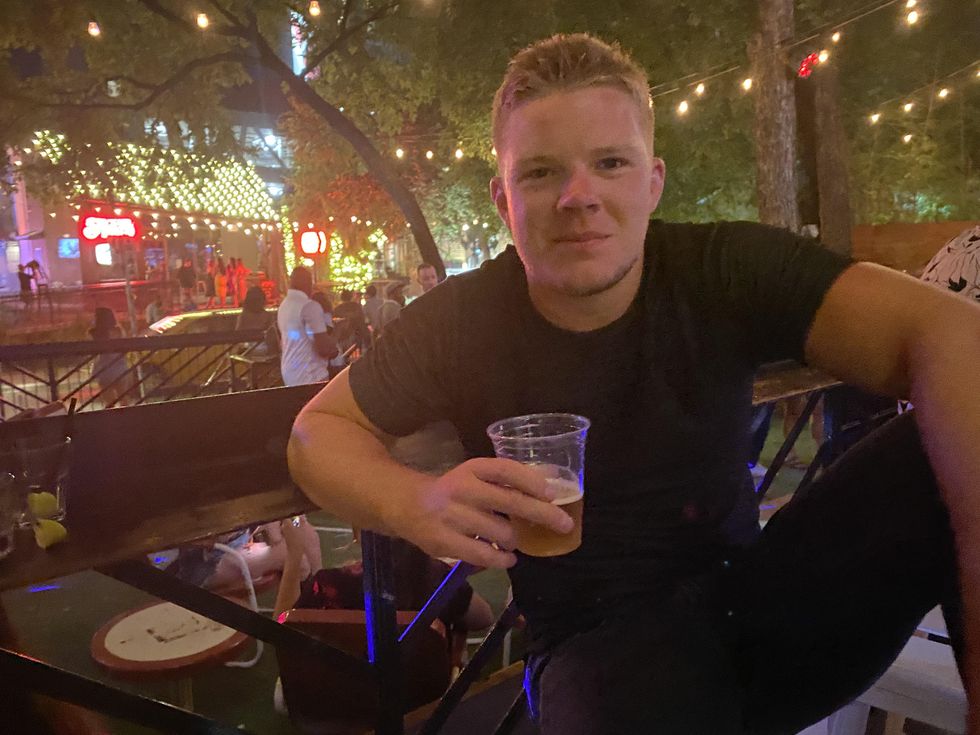 Sean Edrington traveled from Dallas to visit Austin's Rainey Street. (Austonia)
Out on Rainey Street on a Saturday night, Edrington said he doesn't feel he is putting anyone at risk by going out since his circle consists of all young people.

"I think you should let people make their own choices as long as you're not hurting other people," he said.
But not everyone is ready to jump back into the old times. James Walsh, who is training for his first marathon, recently readopted taking COVID safety precautions.

"I got kind of lackadaisical about (taking precautions) prior to the Delta variant bringing it roaring all back," Walsh said. "But I've rediscovered my discipline."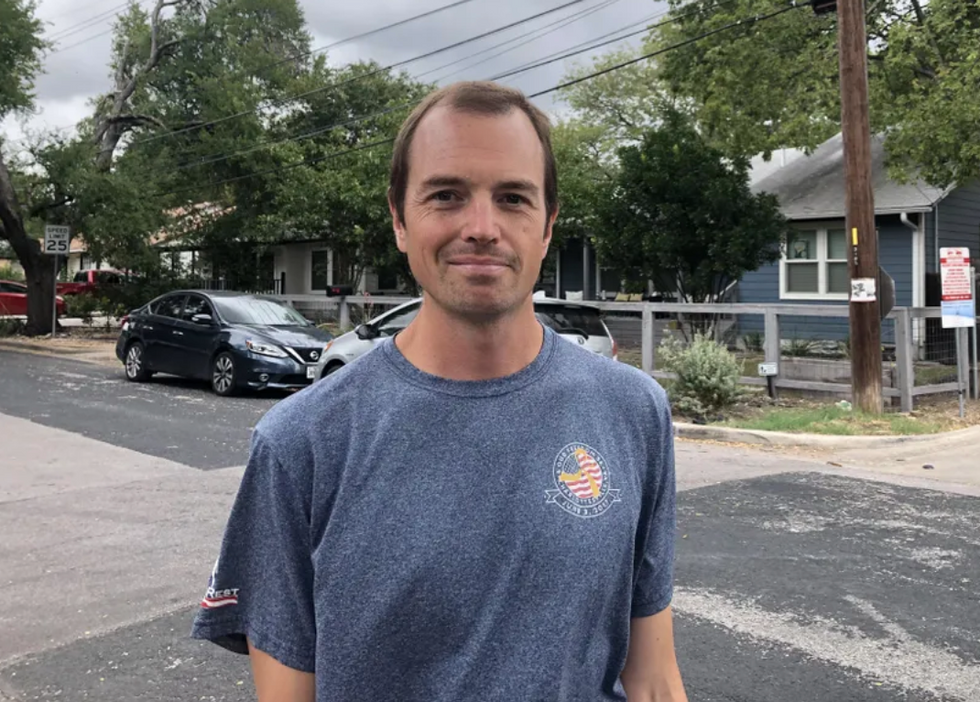 James Walsh is COVID-19 vaccinated but is still taking safety precautions. (Abe Asher)
As the weather cools down going into fall, cases and hospitalizations are declining in Austin. And with kids back on campus, it's looking to feel pretty normal in the city for most.
You've heard of Delta and P.1 but a new COVID-19 variant has landed in Texas: Mu, the newest variant that has made its way to four dozen countries and 49 states.
Mu was discovered in Colombia back in January, making its way to even the U.S.'s far-reaching states like Alaska and Hawaii. The only state that remains Mu-free so far is Nebraska.
According to health officials, Mu is believed to be more transmissible and vaccine-resistant than the Delta variant. So far, the highest number of Mu cases have been detected in California, 384, with 167 landing in Los Angeles County.
According to Austin Public Health officials, no cases of Mu have been detected yet in Austin, though as tests go through the Texas Department of Health and Human Services, the variant results could be on a delay. At least 50 cases of the Mu variant have been detected in Houston.
"APH will continue to monitor the development of new variants, however, Delta remains the dominant strain," an APH spokesperson told Austonia on Tuesday. "Regardless of the strain though, we know that vaccination and masking are the most effective tools in combating COVID-19."
Mu has yet to be labeled as a "variant of concern" for the U.S. by the Centers for Disease Control and Prevention, though any variation poses cause for concern that the strain will be resistant to vaccination. Mu was labeled a "variant of interest" by the CDC on Aug. 30.
"We have seen, though, even with Delta, the vaccine remains effective in preventing severe disease and illness that requires hospitalization," APH said. "Unvaccinated individuals, regardless of the variant, will always have a significant risk of contracting COVID-19 and having more severe symptoms than vaccinated individuals, especially as Delta remains the dominant strain."
Delta remains the biggest variant of concern across the U.S., Texas and Austin, contributing to this summer's deadly spike in cases.
APH is continuing to ask people to get vaccinated to protect yourself from any of the virus' variants, wear masks, avoid large gatherings and stay home if you feel sick.
After a month of teetering in the single digits for available ICU beds, the Austin metro that includes 2.4 million people, is reporting no staffed ICU beds available and four available pediatric ICU beds, according to state data updated Sunday afternoon.
The 11-county area made headlines at the beginning of August for dwindling down to two available ICU beds. Since then it has fluctuated in the single digits as the state faces a third COVID surge, driven by the Delta variant and spread among those unvaccinated.
Hospitals in Austin alone have been overwhelmed with COVID patients as ICU resources have been "stretched to the max" for more than a week to provide for more than the 200 available staffed beds, Austin Public Health reported.
Health officials have been particularly concerned for pediatric cases as those 12 and under are ineligible for a vaccine and schools reopened last month.
And as ICU capacity is exceeded, there are more COVID deaths. In a single day this past week, COVID fatalities reached a record number not seen since last year with 12 Thursday and the first child death.
But even as ICU capacity maxes out and deaths rise, cases are on a decline, making Austin health officials "cautiously optimistic" as Labor Day festivities could threaten another spike in cases.