Get connected with our daily update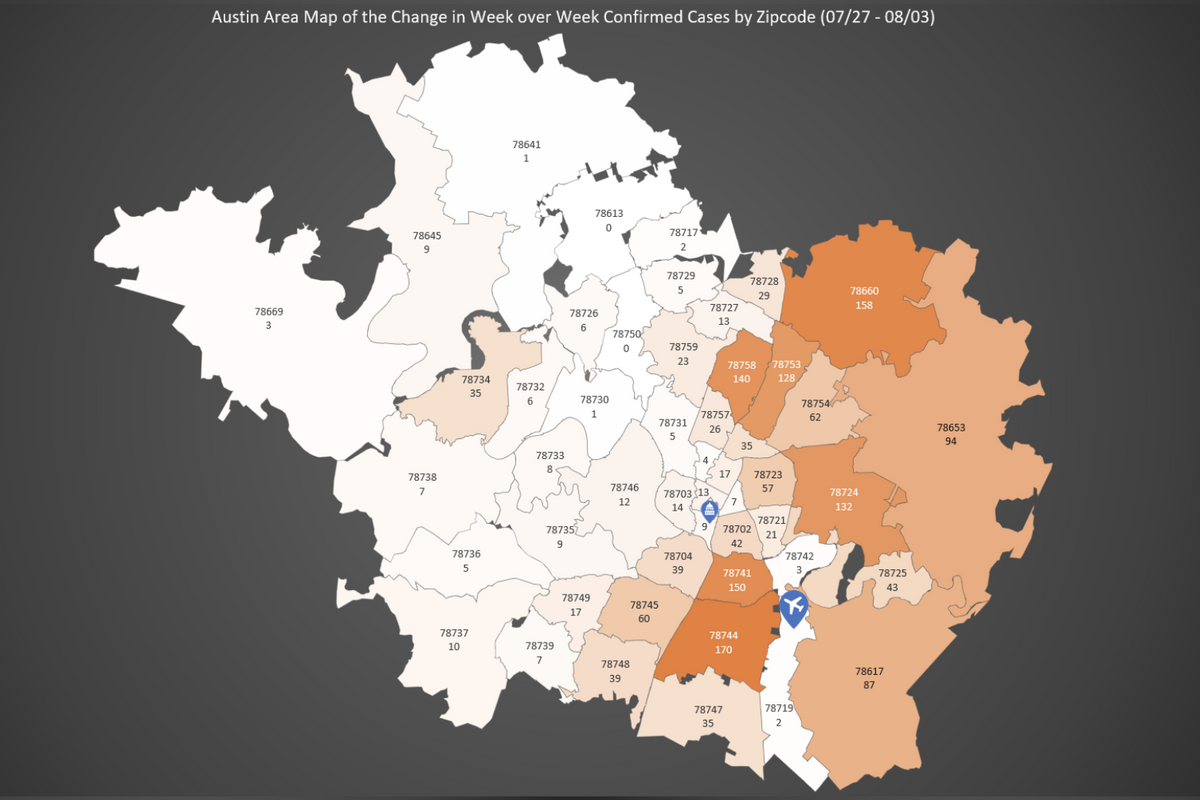 The mountain of COVID-19 data released every day in Austin is easier to understand with visual aids.
Once a week, Austonia is taking a look at the previous seven days of COVID-19 statistics, all with the very helpful graphics of Austin resident and Reddit user Rational Anarchy, who has been producing daily visuals and posting them in the forum.

(Updated Aug. 7. All graphics: Rational Anarchy/Reddit)

Travis County's daily confirmed new COVID-19 cases stop decline, hit plateau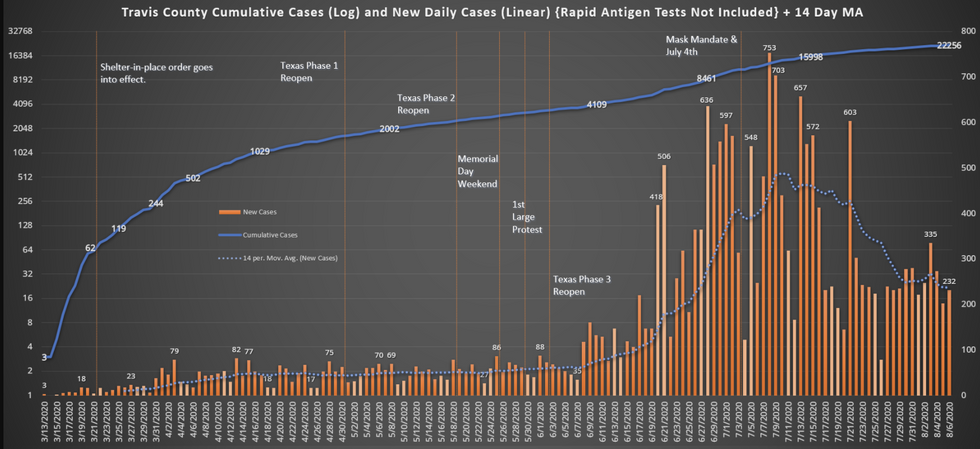 After two weeks of steady decline in the number of new COVID-19 cases and daily hospital admissions, both trend lines now appear to be in a plateau.
"That's better than a surge - but still dangerous," Austin Mayor Steve Adler said during his State of the City address on Wednesday.
The seven-day moving average of daily new confirmed cases has risen slightly, to 262 as of Thursday evening compared to 218 last week. The moving average of daily new hospital admissions is now 38, up slightly from 37.7 last week.
Austin-Travis County Interim Health Authority Dr. Mark Escott is concerned the plateau could reverse track, especially if schools reopen and sports stadiums welcome back fans.
"We've seen over and over again, across the country and across the globe, that when communities relax too soon, it results in a bounce of cases and a repeat surge," he told county commissioners on Tuesday.
Travis County's reported COVID-19 deaths hold steady

As of Thursday evening, Travis County reported 288 deaths, up from 266 deaths a week ago.
The local case fatality rate—defined as the number of reported deaths per confirmed cases—remains around 1.3%, compared to 1.1% on July 9. But the 14-day moving average number of daily reported deaths has declined slightly, to four from around six last week.
Dr. Escott has attributed the increase to the fact that most of the patients hospitalized with COVID-19 in late July were over 60—and at much higher risk of death.
COVID-19 hospitalizations in the Austin metro continue to decline

The total number of patients hospitalized with COVID-19 is also declining. As of Thursday evening, 297 people were hospitalized with the virus in the five-county metro area, compared to 388 a week ago.
And ICU occupancy improved incrementally—only to bounce back

After six weeks of the ICU occupancy at more than 80%, it finally dipped to 78% on Tuesday evening, according to a joint update from Austin's three major hospital systems.
But on Friday, the three systems—Ascension Seton, Baylor Scott & White and St. David's HealthCare—reported an updated ICU occupancy rate of 82%.
Ventilator use is declining, however, with 73 people using them as of Thursday evening, compared to 97 a week ago.
Austin's COVID-19 cases remain most concentrated on the East Side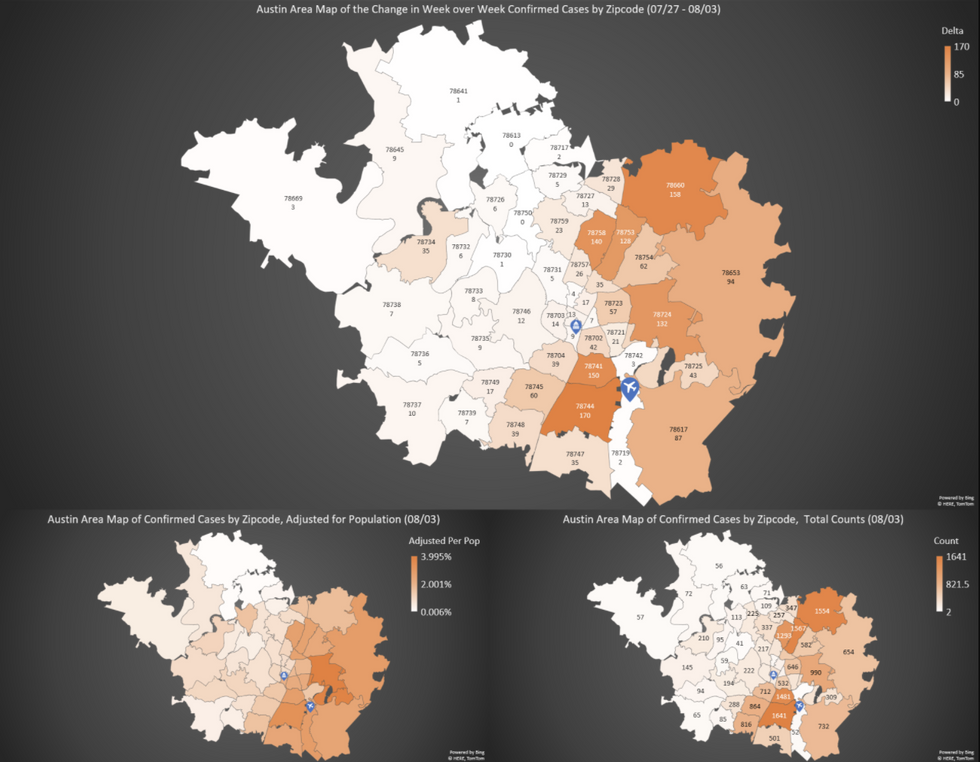 New COVID-19 cases in Austin remain most densely concentrated on the city's East Side—and specifically in the ZIP codes 78744, 78753 and 78660.
Austin Public Health has opened testing sites in these areas to serve those most in need and has also targeted outreach to the city's Latino and Black populations, who are at the highest risk of being hospitalized with and dying from COVID-19.
Austin's older residents remain most at risk of dying from COVID-19—amid other disparities

While young people age 20-39 make up nearly half of the total confirmed COVID-19 cases, they are much more likely to avoid hospitalization and recover.
In sharp contrast, people 60 years and older make up only 12% of confirmed COVID-19 cases but account for 80% of reported deaths, according to Austin Public Health.
Want to read more stories like this one? Start every day with a quick look at what's happening in Austin. Sign up for Austonia.com's free daily morning email.
"The Texas Department of State Health Services is now counting deaths marked on death certificates as caused by COVID-19. Previously, the state relied on local and regional public health departments to verify and report deaths."
Experts have long said that COVID deaths in Texas are undercounted, according to The Tribune.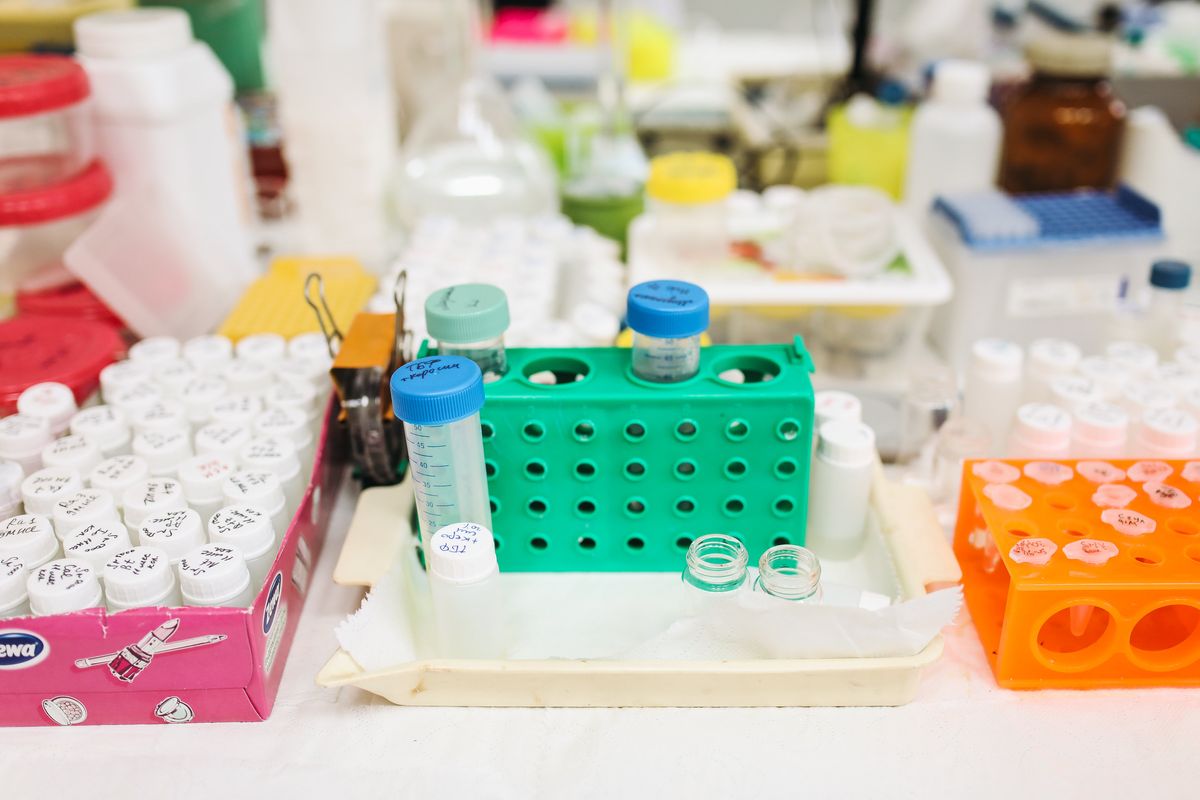 Gloria Vera-Bedolla's 24-year-old son started feeling sick on a Friday. He had a high fever, chest congestion, body aches and a bad cough. Four of his co-workers at a beer distributing company had tested positive for COVID-19.
On Saturday, Vera-Bedolla's daughter-in-law called her worried, and the two of them got to work looking for a test.
Five sites—including his doctor at Victory Medical and three CommUnity Care drive-thru locations—said they were either out of appointments or unable to provide results for up to 11 days.
"A person could've died by then," Vera-Bedolla told Austonia.
Finally, they found an open slot for a rapid test appointment at Austin Regional Clinic in Pflugerville—at 2 a.m. on a Monday. It cost $175, but the results were available in around 30 minutes.
Experiences like his are not uncommon in Austin as demand for COVID-19 testing soars and both local and national labs are overwhelmed. Vera-Bedolla's son (who was not available for an interview) is finally starting to feel better. But the run on tests continues.
​Delays everywhere
As the COVID-19 surge worsens in Texas and dozens of other states, increased demand for testing has overwhelmed clinical labs, driving up turnaround times and thwarting efforts to contain the spread of the virus.

Austin Public Health announced a few weeks ago that it would restrict free testing to residents with symptoms or known exposure and encouraged residents with insurance to get tested at their doctor's office.
But private practices are facing the same constraints.
"To me, it's a scandal," Dr. James Marroquin told Austonia.
Dr. Marroquin works at Capital Medical Clinic, an internal medicine practice on West 38th Street. Up until about mid-June, the clinic was testing around 100 patients for COVID-19 each week, Clinic Administrator Rae Smith said.
But around the time APH recommended patients seek out tests at private providers, the clinic's lab, Clinical Pathology Laboratories, said it would no longer accept COVID-19 tests because of a backlog. So the clinic stopped offering tests except to very high-risk patients. The clinic has since started accepting tests again, but doctors remain concerned about another backlog.
Other labs are facing similar issues, including two of the country's largest: Quest Diagnostics and LabCorp.
"I would say it's a systems issue," Texas Academy of Family Physicians CEO Tom Banning told Austonia. "We didn't design our lab system to do mass COVID testing."
Notes on getting a covid test in Austin rn: - The free city-run testing site's first available was July 17. - Usin… https://t.co/YbkNAw8T3v

— Summer Anne Burton (@Summer Anne Burton) 1594142989.0
Waiting game
Overwhelmed labs, which used to provide test results in three to five days, are now reporting wait times of a week or longer. This causes two main problems.

First, it stymies containment.
The main goal of testing is to help "box in" the spread of COVID-19 by alerting people who are infected of their status and prompting them to self-isolate and inform their contacts, Austin-Travis County Interim Health Authority Dr. Mark Escott explained last week.
"If we're getting results after the person is no longer infectious, that strategy no longer works," he said.
A patient may recover in the seven to 10 days it takes to receive a test result—and expose others in that period.
"At that stage, the test results are relatively useless for us," Dr. Escott said.
Second, it complicates health authorities' understanding of the virus.
Travis County reported 3,109 cases last week, 187 fewer than the week prior. But authorities say that could be because many tests are in limbo—conducted but not processed.
"We are missing thousands of results, so it's really difficult for us to tell if things are getting better or not," Dr. Escott said.
Want to read more stories like this one? Start every day with a quick look at what's happening in Austin. Sign up for Austonia.com's free daily morning email.