Get connected with our daily update
(Shutterstock)
As Congress continues to negotiate the terms of another coronavirus relief bill, local and state officials are focused on a different task: spending the money allocated in the last one.

The CARES Act, a bipartisan bill that was signed into law in late March, provided more than $2 trillion in assistance, including millions of dollars to local city and county governments. But it must be spent by Dec. 30—or be returned to the U.S. Treasury Department.
This has proven challenging for many government entities, which will still need to provide assistance to renters, grants to small businesses and free COVID testing to residents.
"For us, there's a lot of concern," Williamson County Treasurer Scott Heselmeyer told Austonia. "This pandemic (is) not going to be over on Dec. 30."
A temporary fix
When the CARES Act was passed more than nine months ago, it was intended to serve as a stopgap.
"The approach was, 'Look, let's make sure that we're providing funding to bridge this gap between shutdowns that are happening now … to the time when we can reopen,'" said Vance Ginn, who was serving the Office of Management and Budget at the White House when the act was passed. He is now chief economist at the Texas Public Policy Foundation, a conservative think tank in downtown Austin.
The Dec. 30 deadline was established for a number of reasons, Ginn said: to ensure the federal relief program would be temporary, to avoid incentivizing states to stay shut down longer than they would have otherwise and to allow room for incoming members of Congress to take up future relief bills, given the November election.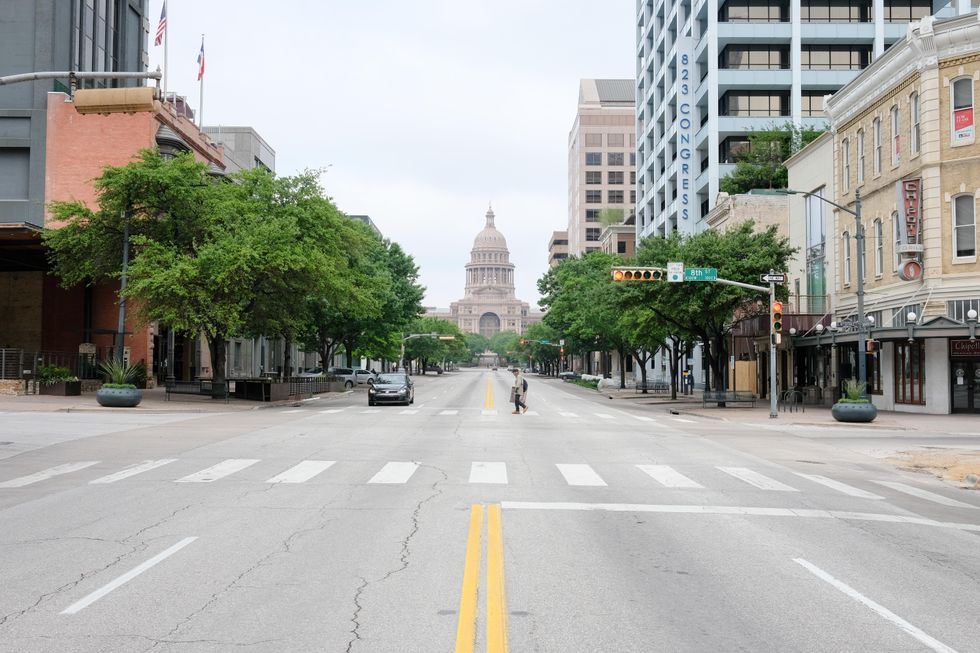 Congress Avenue during the shutdown earlier this year.(Charlie Harper III/Austonia)
"There was so much uncertainty at that time that there wasn't a good assurance of how much money should be provided or when it should end," Ginn said.

Now that the deadline is looming—and lawmakers continue to negotiate a follow-up relief bill—there is growing support for an extension, which would allow governments to spend their CARES Act dollars after Dec. 30.
This is generally uncontroversial and has bipartisan support, Ginn said.
It could also prove helpful on the ground in Austin, where Texas Gov. Greg Abbott has reportedly left around $2 billion of the state's CARES dollars unspent and local governments are scrambling to allocate their own.
Spending spree
The city of Austin received nearly $171 million in CARES Act funding, which was intended for necessary expenditures incurred by the pandemic, according to an April presentation by Intergovernmental Relations Officer Brie Franco.
As of Sept. 30, the city had spent around $101 million of its allocation, according to a spokesperson.
Some of this funding paid for new pandemic-era hires, such as epidemiologists, contact tracers and strike force teams, which have helped respond to clusters at long-term care facilities and schools. Austin City Council also approved a resolution in October that allocated $15 million in CARES Act funding to music venues and other businesses deemed vital to the local culture.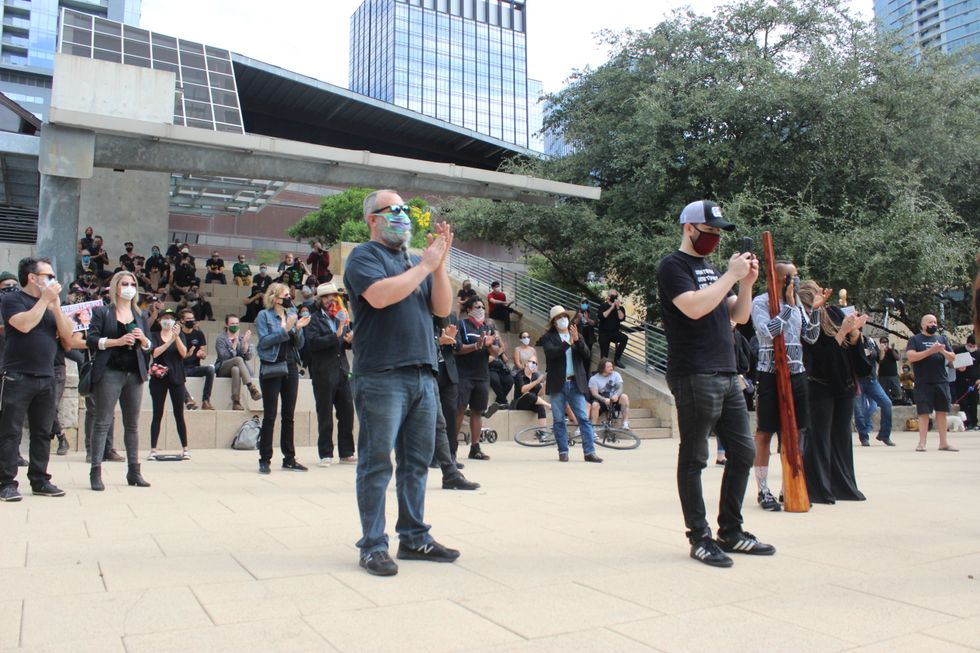 Austin music venues and artists rallied outside City Hall for relief money
A city spokesperson did not provide an update as to how much it has spent since then but said it would disburse any remaining dollars by Dec. 30.

Travis County received just over $61 million in CARES Act funding. As of Nov. 10, it has spent nearly 78% of its allotment, including more than $23 million in reimbursement payments to small cities. This is a significant increase compared to Oct. 9, when it had only spent around 43%.
A planning and budget analyst wrote that the county expects "to fully expend its allotment of the Coronavirus Relief Funds by Dec. 30" in a Nov. 10 memo to the Commissioners Court.
Neighboring Williamson County received more than $93 million in CARES Act funds, of which it projects it will spend around $61 million by Dec. 30.
Heselmeyer is hopeful that Congress will approve an extension before the deadline.
"We have plenty of money," he said. "They just didn't give us enough time."
If Congress fails to deliver, Williamson County will scramble to spend the dollars quickly—likely on reimbursements to area schools for pandemic-related expenses—to avoid forfeiting them.
But Heselmeyer said it would be better spent in 2021, when it could be used for continued renter and small business assistance as well as for vaccine distribution events.
"The problem we have right now is, I can't pay someone's January rent," he said. "There is a continuing need we can't meet."
(Dion Hinchcliffe/Flickr)
Sunday was the busiest day Austin-Bergstrom International Airport has seen since the pandemic began in March, with 12,127 outbound passengers.
The passengers this year still represent a drop in air traffic, however. Last year, the airport had 29,697 outbound passengers the Sunday after Thanksgiving, an airport spokeswoman told Austonia.
But even as a second COVID surge is expected to take flight, ticket sales shot up dramatically. The whole Thanksgiving week brought almost 63,000 total travelers through the airport.
The previous record for the Austin-Bergstrom's busiest day under the pandemic was set earlier in November, when 11,006 people traveled through the airport on Nov. 8. And on Nov. 25, 10,843 people traveled.
Earlier this month, Austin returned to Stage 4 of COVID precautions.
Austin Public Health is urging anyone who flew to get tested for COVID-19 following travel. Even those who test negative should stay home for a week. Those who don't get tested at all should isolate themselves for two weeks. Sign up for free testing here.
The department issued post-Thanksgiving guidelines late last week.
The Centers for Diseases Control and Prevention says COVID symptoms can start as early as two days after exposure, or as long as two weeks.
(Matthew/Adobe)
The University of Texas at Austin reported 42 new COVID-19 cases among students on Wednesday, bringing its total caseload to 72 since classes began last week.
This jump follows confirmation on Monday that two students living in on-campus residence halls had tested positive for the disease. Last weekend, residents of the off-campus Scottish Rite Dormitory received notification that one of their peer residents had tested positive for COVID.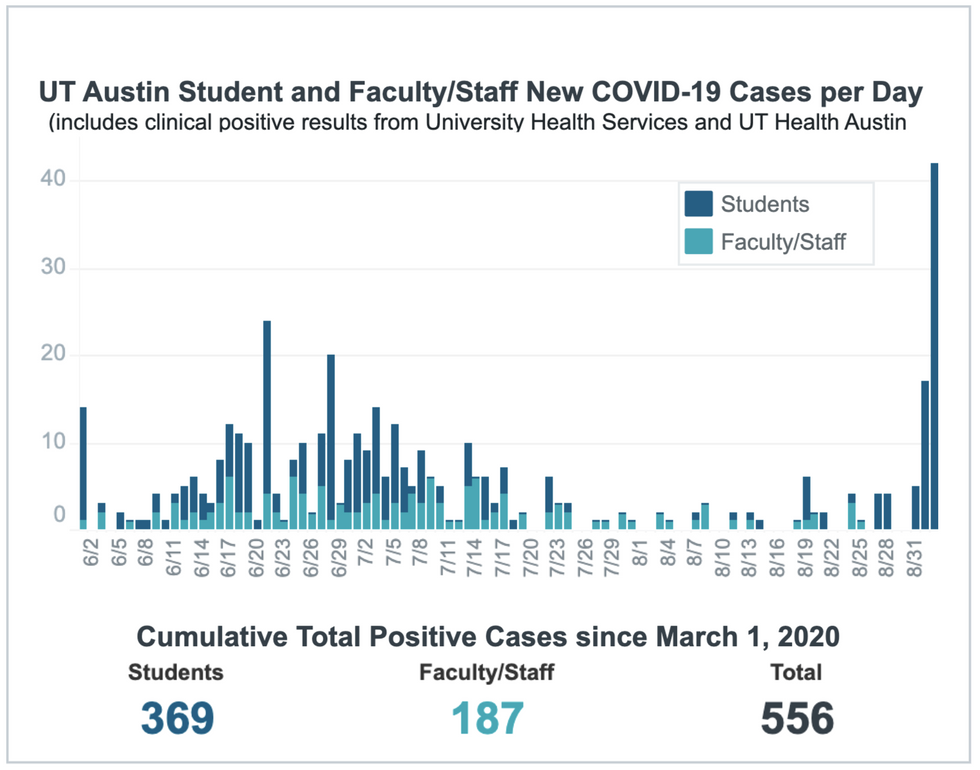 UT Austin's COVID-19 dashboard shows 42 new cases among students were reported Wednesday.(UT Austin COVID-19 Dashboard)
The university said in early August that it aimed to test up to 5,000 asymptomatic members of its campus community each week. Since Sunday, the university has tested 1,072 students, faculty and staff, with 18 returning positive results, according to its public dashboard.
This puts the university's positivity rate at around 1.6%. In comparison, Travis County reported a positivity rate of 6.2% last week.
Remember how I said @UTAustin had reported 24 student COVID-19 cases in September? That number has more than doubl… https://t.co/fhLF8uMJQM

— Megan Menchaca (@Megan Menchaca)1599109523.0
Researchers at UT Austin's own COVID-19 Modeling Consortium conservatively estimated between 82 and 183 students would return to campus with the disease during the first week of classes.
The research team, led by consortium director and professor of integrative biology Dr. Lauren Ancel Meyers, arrived at this estimate by assuming 22,000 students will return to campus—less than half of the university's total enrollment —and that 0.5% of them will be infected, based on the estimated prevalence of COVID-19 in the Austin metro and students' home counties in mid-August.
"Contacts between residents end returning students may exacerbate risks, fuel transmission and deplete public health resources," the researchers wrote in a report published on Aug. 20.
Before classes even started, there was backlash online as a photo circulated on social media showing an off-campus gathering of Greek life members.
Photo taken by my colleague on UT's west campus today. Sorority rush. No masks, but if you look closely they are we… https://t.co/pfqDihZ18V

— Catherine Weaver (@Catherine Weaver)1598317015.0
In an Aug. 21 email sent to the campus community, UT Austin Interim President Jay Hartzell said the university will consider a number of metrics in deciding whether to move more classes online or close buildings on campus in the coming weeks.
Other area colleges are also reporting COVID cases in the wake of their reopening.

St. Edward's University, a private Catholic school in South Austin, reported seven positive results out of 2,173 tests conducted during the week ending Thursday.
Between July 6 and Aug. 28, Austin Community College reported eight cases among students and four among employees.
Huston-Tillotson University, a private historically Black university in East Austin, is conducting its fall semester entirely online.
A number of colleges and universities across the country—including the University of North Carolina at Chapel Hill and the University of Notre Dame—recently shifted to online instruction after outbreaks occurred on their campuses.
(Texas MedClinic)
Austin Public Health is expanding its free testing service to residents without symptoms due to a drop in demand as cases plateau.

"As a result, we are going to lower the threshold for testing which will allow some asymptomatic testing to occur again," Austin-Travis County Interim Health Authority Dr. Mark Escott said Wednesday.
APH is also considering offering rapid antigen testing. Unlike the genetic tests APH already offers, which detect active infections but can take days to return results, antigen tests identify those infections in 15 minutes.
Some private sites, including Remedy and Total Men's Primary Care locations, already offer rapid antigen testing. Escott said the decline in demand for testing at APH's sites could be because more residents are seeking them out.
"If we can increase our availability of rapid testing, it allows us to differentiate those positive cases sooner and allows us to do those case investigations sooner," Escott said. "It really would be more effective at the 'boxing-it-in' strategy, particularly as we see case numbers decline."
APH is working with its testing contractors to see if they have the equipment and capacity necessary to provide rapid testing to city residents.
APH officials emphasized that while residents are staying vigilant when it comes to masking and socially distancing in public, they must use similar caution at home, such as by avoiding family gatherings, in order to push past the current plateau and avoid any future bounce.
"We are seeing more cases that are connected to individuals having parties with family and friends," APH Director Stephanie Hayden said. "Please make good decisions so you don't cause an increase in COVID-19 cases."
What does this mean for schools?
The decision on when to reopen schools for in-person class is affected by whether Austinites heed this advice, Escott said. Otherwise, schools could face a second round of closures shortly after they welcome students back.
Area school districts are going mostly or entirely virtual through early September, although the Austin ISD board of trustees is meeting on Thursday to vote on whether to delay the first official day of school to Sept. 8 and, potentially, delay most in-person instruction for up to eight weeks after that.
"We don't want to be in a situation where we're turning schools on and turning them off in a repetitive cycle for the next six months or a year," Escott said. "Certainly if we are in a Stage 2 by Sept. 8, it will put us in a much better situation to reopen schools and keep them open."
Escott said he is concerned about high school and college sports, specifically the University of Texas-Austin, which is expected to host football games with 25% of the stadium's 100,000 person capacity.
"If we have a football game on Sept. 5 with 25,000 people, then by Sept. 19, we're going to be closing schools again, and kids are going to be learning virtually," Escott said.