Get connected with our daily update
Decreasing from six available ICU beds for the 2.4 million Austin metro over the weekend, there are now only two available beds as of Monday evening, according to Austin Public Health Authority Dr. Desmar Walkes.
At a Travis County Commissioners Court meeting on Tuesday, Walkes gave an update on the dwindling 200-bed ICU capacity, which is seeing the least available beds compared to other major metros in the state.
Although other metros may seem to have more available beds such as the Dallas metro with 100 beds, transferring of patients is becoming increasingly difficult, she said. With a staffing shortage, talks of an alternative care center are limited and have not been acted on as of Tuesday.
Pediatric cases have been of particular concern, as this surge—being attributed to the Delta variant and spread among unvaccinated individuals—is affecting more children with the start of school around the corner.
The total COVID-19 caseload for kids has already surpassed the total for 2020. From March to December 2020, there were 7,019 confirmed cases in children; from January 2021 to date, there have been 7,438 confirmed cases.
Hospitalizations are also increasing in children. There were 12 kids in the ICU in July, compared to only one in June of this year.
The 12-17 age group is seeing the highest rate of admission into ICU and highest rate of transmission among those under 18 years of age. It is also the age group that is eligible for vaccines.
Health officials are asking that children wear a mask at school to mitigate the spread of the virus. On Monday, Austin ISD announced the district will require face masks for in-person learning starting this month in defiance of an executive order from Gov. Greg Abbott that bans mask mandates.
At Stage 5 level of COVID risk, Austin health officials are asking everyone, including those vaccinated to wear a mask. Walkes said masking is important due to the highly contagious nature of the Delta variant in the presymptomatic phase, meaning it can be spread before someone knows they have COVID.
"Everything that we can do to bend this curve downward is going to be important for our community, and particularly for our children," Walkes said. "Masking is important."
The Austin metro is not far off from hitting Intensive Care Unit capacity, according to a new report from the University of Texas' COVID-19 Modeling Consortium, which projects city hospitals could be in trouble by the end of the month.
Looking at COVID-19 hospitalizations from March 13, 2020 through July 28, 2021, researchers predict there is a 92% chance Austin's 200-bed ICU capacity will be hit by the end of August and a 94% chance it will be hit by Nov. 1 if transmission stays the same.
ICU capacity for the five-county Austin metro made headlines this weekend for dwindling down to just six available beds, serving 2.4 million people. The influx of hospitalizations is being attributed to the more contagious Delta variants and the spread of the virus among unvaccinated people.
Taking into account several factors, like Delta, the ongoing vaccination effort, the start of the 2021-2022 school year and city-wide compliance with safety measures, researchers said the results of the report "demonstrate the immediate need for heightened social distancing and transmission reducing-precautions" in the five-county area.
"If the Delta variant continues to spread and vaccine uptake continues at the current pace… then we project that COVID-19 hospitalizations will continue to increase exponentially, threatening healthcare capacity in the region, unless measures are taken to slow transmission," the report said.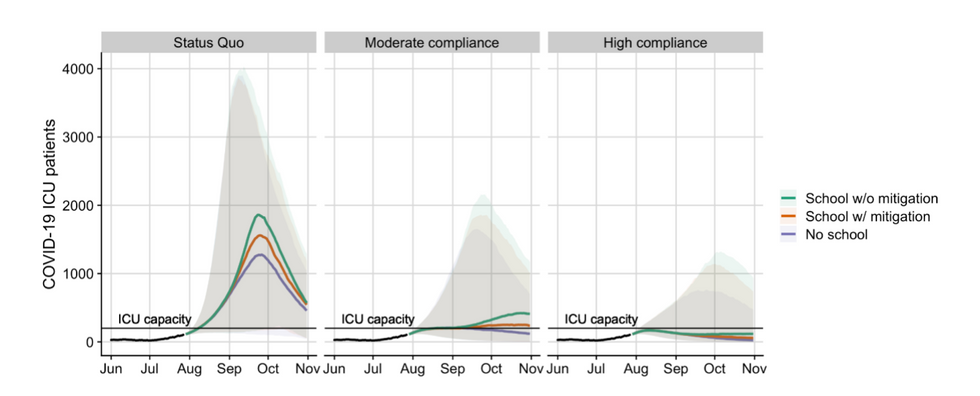 (UT COVID-19 Modeling Consortium)
Austin area schools are set to reopen shortly: Austin ISD begins classes on Aug. 17 and UT classes begin on Aug. 25. Some are opening their doors even earlier—Leander ISD, Pflugerville ISD and Lago Vista ISD start on Aug. 12. If transmission remains stable, UT researchers said there is a 94% chance at least one student would arrive infected on the first day of class.

If schools open for in-person learning, taking precautionary measures would reduce the risk anywhere from 37-54%, the report states. Fully vaccinated students have a 96% lower chance of infection, though children under the age of 12 are not eligible to get vaccinated.
"In-person schooling is projected to increase transmission among children and throughout the community," the report states.
The report, which said it was written to "support public health decision-making and healthcare planning," said high compliance with masking, ventilation and proactive testing, schools could reduce transmission by 37% and pediatric hospitalization by 50%. Unlike last year, vaccines are available to help slow the spread.
Austin ISD said it would require masks on buses and will implement online learning options for students from kindergarten to sixth grade. The district, like many others around the state, is vying for a mask mandate that has been prohibited under an order by Gov. Greg Abbott. Local districts are highly encouraging students wear masks.
Stricter COVID precautions could save the city from over 11,000 COVID-related hospitalizations over the course of about three months, according to a report by University of Texas researchers.
Researchers at UT released an analysis of three possible COVID scenarios on Monday in the wake of a quickly-growing hospitalization rate and the spread of the highly infectious Delta variant. The city is currently in Stage 3 (only unvaccinated recommended to mask) of its risk-based guidelines but announced this morning it wanted residents to take Stage 4 precautions, such as everyone—vaccinated or not—masking. Despite these recommendations, local officials lack the ability to enforce such guidance after Texas Gov. Greg Abbott issued an executive order prohibiting mask mandates in May.
In the report, it states that if masks are effectively brought back into practice, the city could keep ICU units under capacity and ensure fewer hospitalizations.
Using trending data and vaccination rates, researchers predicted what could happen in the next three months in three scenarios:
If Travis County remains in Stage 3
If Stage 4 is initiated
If around half of residents, including those vaccinated and unvaccinated, adhere to masking guidelines
Staying in Stage 3
According to the report, Austin could see 12,279 new hospitalizations by October if new guidelines are not put in place. That would give the city a dire 87% chance of exceeding the city's estimated ICU capacity of 200 beds and a 94% probability of continuing to have a 7-day moving average of 30 new hospitalizations per day.
Stage 4 initiated
If Stage 4 restrictions are enacted, the city could see a 92% drop in hospitalizations and just a 37% probability of exceeding ICU capacity. That is, of course, assuming that both vaccinated and unvaccinated residents comply.
Half of residents masking
Even if just 50% of residents follow stricter guidelines, hospitalizations could still plummet by 65%.

The report is timely: as the Delta variant, which is up to 80% more likely to cause hospitalization, takes the threshold as the top strain in the U.S., APH said moving into Stage 4 is now imminent for Austin-Travis County as of Tuesday afternoon.
Stage 4 guidelines come into play when the city reaches 30 to 50-90 new hospitalizations per a 7-day moving average, depending on the rate of increase. Austin passed the threshold on Monday night.

If Stage 4 is enacted, masking restrictions that many thought were gone for good could return. While they can't be legally enforced per Gov. Greg Abbott's reversal, they could be put back in practice by dozen of Austin businesses that choose to follow the city recommendation.