Austonia AM
100% Austin news, info, and entertainment, straight to your inbox at 6 a.m. every morning.
In five minutes, you're fully informed and ready to start another great day in our city.
Get connected with our daily update
Commemorating the 1969 Stonewall riots in New York City, June is Pride Month.
Since the first Gay and Lesbian Pride Fiesta in 1989, Austin has been celebrating alongside the LGBTQ+ community. Bringing color, diversity and new perspectives to town, now is a great time to support Austin's many LGBTQ-owned businesses.
(Alexander Volkov/Shutterstock)
As the psychedelic wave of the 1960s swept through the U.S., Austin and San Antonio were early adopters of the scene, welcoming the free-spirited users who created a new genre of music—psychedelic rock—with the help of LSD, the popular drug at the time.
The psychedelic drug scene, including those who took acid (LSD) and magic mushrooms (psilocybin mushrooms) for a trip, may have quietly dissipated after the 70s but—just as trends of yore come in and out of style—psychedelics have been resurging in Austin, with a new generation to back them up this time.
'The hippies are already here'
Growing up in the 90s, 29-year-old Austin Gould said he feels like millennials and Generation Z will be more likely to embrace more casual and multifaceted uses for psychedelics. Gould said he uses psilocybin mushrooms, a naturally-occurring psychoactive and hallucinogenic, and DMT, a recreational chemical psychedelic, about once a year on different occasions with close friends.
As a tech sales worker in Austin, Gould has numerous reasons why he uses psychedelics: his stressful job, a desire to explore his own consciousness and a way to quit drinking.
"I think culturally us '90s Babies are in the office now and we're a little unbridled, we're less modest. We were exposed to more worldly and internet-based social experiences and that more comfortable with being our true selves," Gould said.
Gould, who has been using psychedelics for more than 10 years, doesn't want people to view him as a junkie or a high-chaser but rather as a productive person taking part in a cultural shift. The way Gould sees it, psychedelics allow people to feel their emotions in a raw state.

"It's not a party thing for me—it's better than Disneyland... if you're at a point in your life where you're pretty comfortable, and you can just be silly in a way," Gould said. "There's this spark of insanity and an almost naive childlike wonder involved with experiencing the world through psychedelics."
Gould said he sees a similar trend starting here the more Austin grows into "Little Silicon Valley," and follows in the footsteps of the microdosing-loving region. Microdosing, the consumption of very low amounts of psychedelic substances, is sometimes practiced by tech workers and creatives during an average workday.
"You've already got that underlying 'Keep Austin Weird' thing,'" Gould said. "The hippies are already here, the culture is here."
Research points to key benefits
Several studies over the years have linked the use of psychedelic drugs like LSD and psilocybin mushrooms to mental health benefits, lessening the symptoms of anxiety, depression and PTSD.
Executive Director for Root Behavioral Health Andrea Turnipseed is readily prepared to delve into integration therapy as more psychedelics are authorized for medical use but for now she practices Ketamine-Assisted Psychotherapy, a guided session using a tenth of the anesthetic dose of Ketamine to produce a psychoactive result.

According to Turnipseed, KAP has shown 66% effectiveness with treatment-resistant depression, compared to about 30% with a prescription antidepressant. Turnipseed's clinic, located in Austin, was the first to start offering KAP in Texas, starting in 2018. She said she has seen people with treatment-resistant depression make real breakthroughs—like conquering alcoholism or long-term depression—through the treatment.
"A lot of research is out there to try to bring these things to the market so that we can do it in an ethical way," Turnipseed said. "Psychiatry hasn't had new medications or new drugs that are distinctly different like this in a long time and it's an innovative treatment that can really supercharge mental health treatment, which is awesome if it gets more people interested, but also gets more people safe and healthy."
In 1987, North and South Austinites put their differences to the test as they met on opposite banks of what was then called Town Lake for an epic tug-of-war competition, where more than a hundred "Bubbas" of South Austin, the so-called "auto parts capital of the world," met with the "Yuppies," who were known by the South as "wine-sipping, quiche-eater pantywaists."
More than 30 years later after the ripped T-shirt Bubbas dragged their suit and tie Northern foes into the water, Lady Bird Lake separates two very different cultures within the capital.
While South Austin is known for its "weird" Austin atmosphere and ties to the music and food culture, North Austin is often viewed as Austin's center for big tech, bigger corporations and swaths of young professionals.

With iconic South Congress and Zilker Park on their side, South Austinites claim to reside in the cultural hotbed of the city, where Austin's reputation as the "Live Music Capital of the World" earns its merit.
Cody O'Dell, a real estate agent and comedian who grew up in Austin, said that his current South Central neighborhood is a lingering remnant of a former Austin.
"I feel like South Central's where you really see the DNA of the city of Austin," O'Dell said. "It embodies that kind of 'Keep Austin Weird' vibe."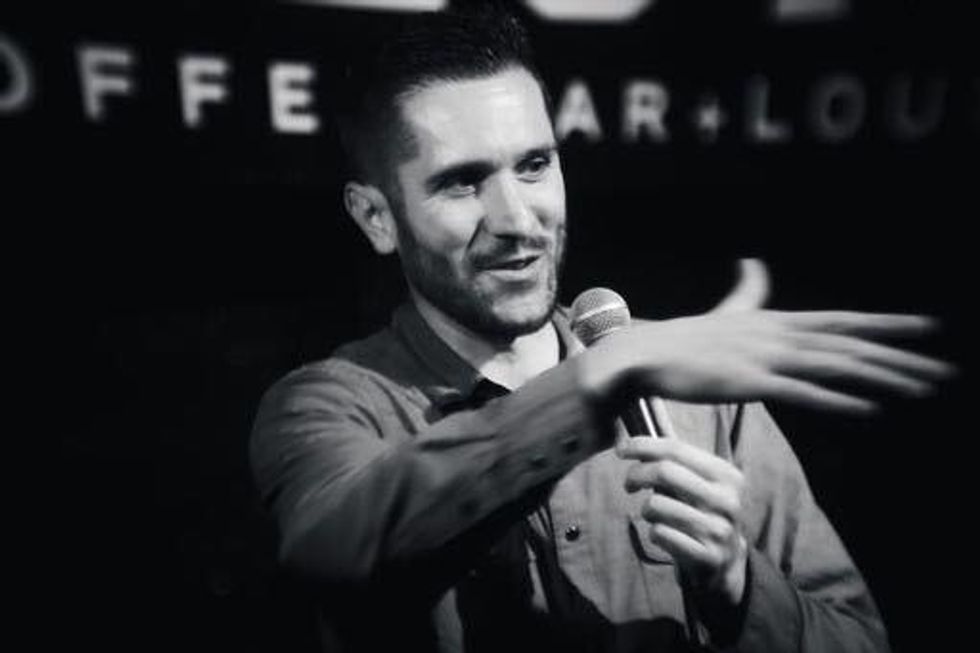 Cody O'Dell says South Austin, where he lives, still has a sense of old Austin.
Meanwhile, 24-year-old Matt DeMario, who grew up in Round Rock but has had his taste of many different Austins, is a North Austinite through and through.
DeMario boils the division down to two words: hippie vs. tech. He also said development hasn't transformed South Austin in the same way it has up North.
"One of the interesting distinctions is South Austin hasn't been gentrified, but the North has," DeMario said. "It's the old Austin hippie vibe versus new Austin tech."
Matt Myers is president of the North Austin Civic Association. He has seen his neck of the woods transform around him.

Myers set his roots in Austin more than 30 years ago and bought a North Austin home for $88,000 in 1992. Since then, he's seen large-scale developments including the Mueller planned development and The Domain, a commercial, retail and residential development, bring big business in. He's been around as the North Austin Tech District attracted Samsung, Apple and other corporations. Now, Myer's home is even within walking distance of Austin FC's new Q2 Stadium.

Myers planned to leave North Austin when his youngest daughter graduated from high school, but he stuck around because of good neighbors, lighter traffic and great entertainment.
"It's just a very attractive part of town to work in, to live in, to be entertained in," Myers said. "I've really earned a respect for the people who live here that are passionate about our neighborhoods and want to see them improve."
The Domain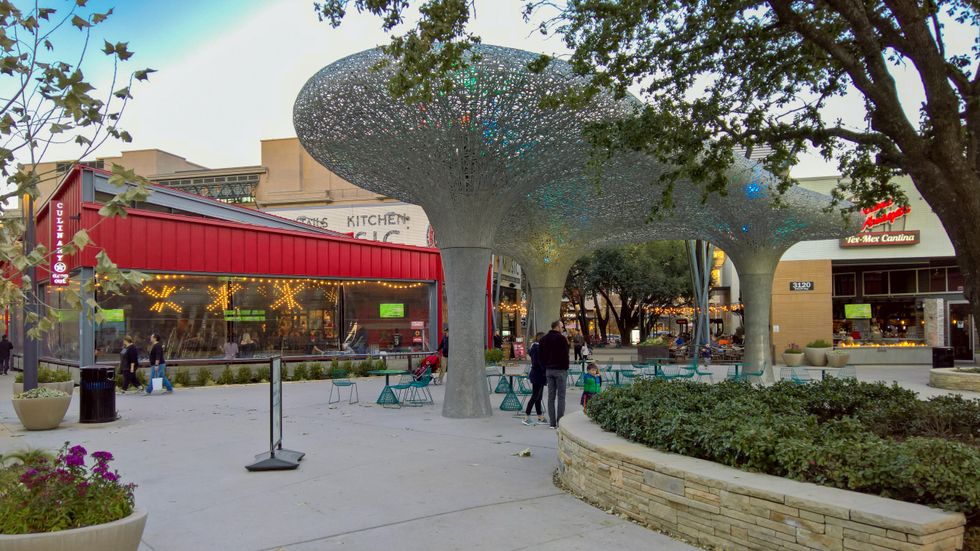 The Domain combines living, working and playing in a sprawling, high-end North Austin city center. (Shutterstock)
River Park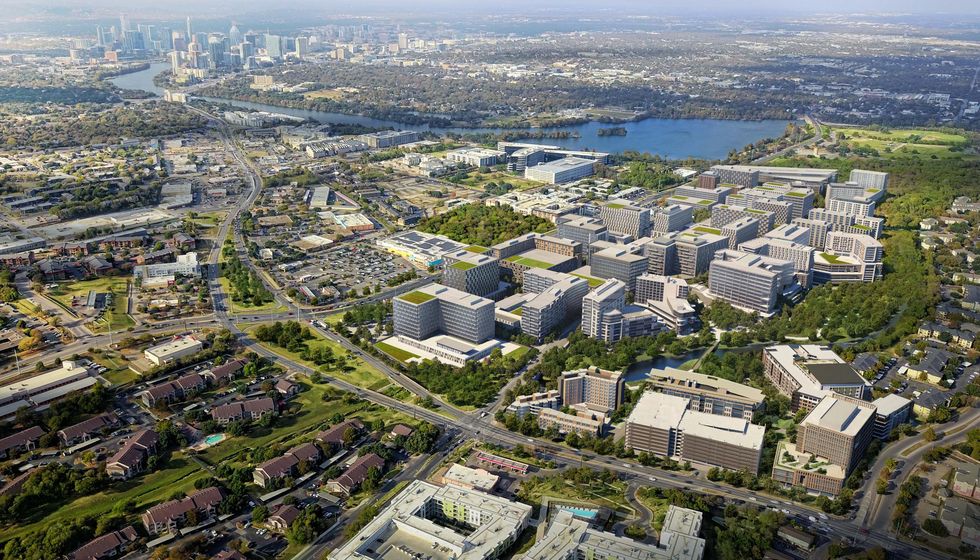 The controversial River Park development is due to open in phases over the next two decades. (Sasaki)
New developments are crowding South Austin, however, and Myers thinks the South could eventually mirror the North. A Domain-style development, River Park, is in the works on East Riverside as Tesla and Oracle move nearby, and South Congress's new Music Lane is drawing even more interest to the cultural hub. Still, DeMario thinks that development will be skewed North "for the foreseeable future."
O'Dell, who believes The Domain is the "antithesis of what Austin is supposed to be about," doesn't welcome the change.
"I feel like the South is fighting that existential battle with the North over the corporate behemoths' influence of big tech and all the shifts that come with that," O'Dell said. "It's the struggle of Austin to keep its cultural identity."
Both are united on one front, however. Skyrocketing housing prices on both sides of the river are driving people out, and eventually, the North/South division could be between Round Rock and Buda as newcomers leave Austin for less expensive housing.
"Those city vibes... (some people) aren't really interested or care about that," O'Dell said. "They're just looking for affordable living."
(OMG Squee/Instagram)
May is Asian-American and Pacific Islander heritage month, so if you love boba tea, ramen noodles, bento boxes and kawaii culture, it's time to show the businesses that offer these treats a little extra love.
With the spread of COVID-19, acts of racism and xenophobia have been on the rise all over the world sparking a movement, #StopAsianHate, to combat the violence. In honor of Asian-American and Pacific Islander heritage month, stop by one (or all) of these locally-owned businesses, which make the city more delicious, artistic and diverse.