Get connected with our daily update
The mountain of COVID-19 data released every day in Austin is easier to understand with visual aids.
Once a week, Austonia is taking a look at the previous seven days of COVID-19 statistics, all with the very helpful graphics of Austin resident and Reddit user Rational Anarchy, who has been producing daily visuals and posting them in the forum.

(Updated Aug. 7. All graphics: Rational Anarchy/Reddit)

Travis County's daily confirmed new COVID-19 cases stop decline, hit plateau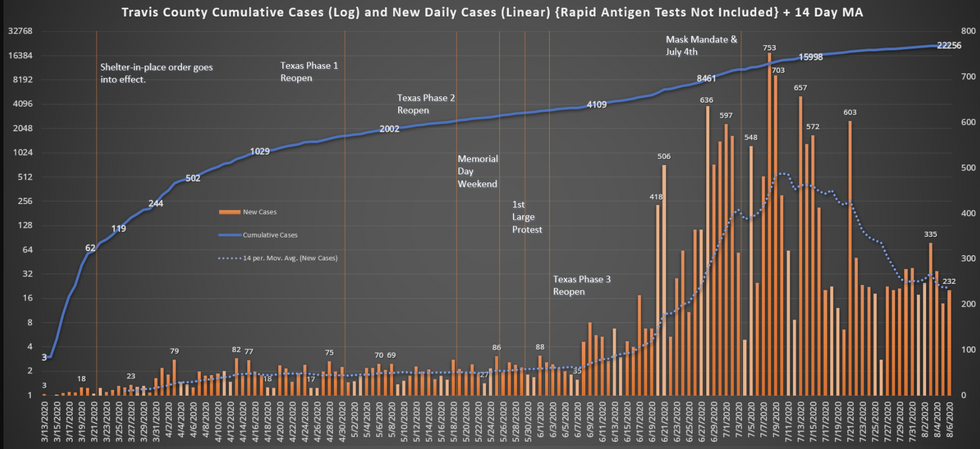 After two weeks of steady decline in the number of new COVID-19 cases and daily hospital admissions, both trend lines now appear to be in a plateau.
"That's better than a surge - but still dangerous," Austin Mayor Steve Adler said during his State of the City address on Wednesday.
The seven-day moving average of daily new confirmed cases has risen slightly, to 262 as of Thursday evening compared to 218 last week. The moving average of daily new hospital admissions is now 38, up slightly from 37.7 last week.
Austin-Travis County Interim Health Authority Dr. Mark Escott is concerned the plateau could reverse track, especially if schools reopen and sports stadiums welcome back fans.
"We've seen over and over again, across the country and across the globe, that when communities relax too soon, it results in a bounce of cases and a repeat surge," he told county commissioners on Tuesday.
Travis County's reported COVID-19 deaths hold steady

As of Thursday evening, Travis County reported 288 deaths, up from 266 deaths a week ago.
The local case fatality rate—defined as the number of reported deaths per confirmed cases—remains around 1.3%, compared to 1.1% on July 9. But the 14-day moving average number of daily reported deaths has declined slightly, to four from around six last week.
Dr. Escott has attributed the increase to the fact that most of the patients hospitalized with COVID-19 in late July were over 60—and at much higher risk of death.
COVID-19 hospitalizations in the Austin metro continue to decline

The total number of patients hospitalized with COVID-19 is also declining. As of Thursday evening, 297 people were hospitalized with the virus in the five-county metro area, compared to 388 a week ago.
And ICU occupancy improved incrementally—only to bounce back

After six weeks of the ICU occupancy at more than 80%, it finally dipped to 78% on Tuesday evening, according to a joint update from Austin's three major hospital systems.
But on Friday, the three systems—Ascension Seton, Baylor Scott & White and St. David's HealthCare—reported an updated ICU occupancy rate of 82%.
Ventilator use is declining, however, with 73 people using them as of Thursday evening, compared to 97 a week ago.
Austin's COVID-19 cases remain most concentrated on the East Side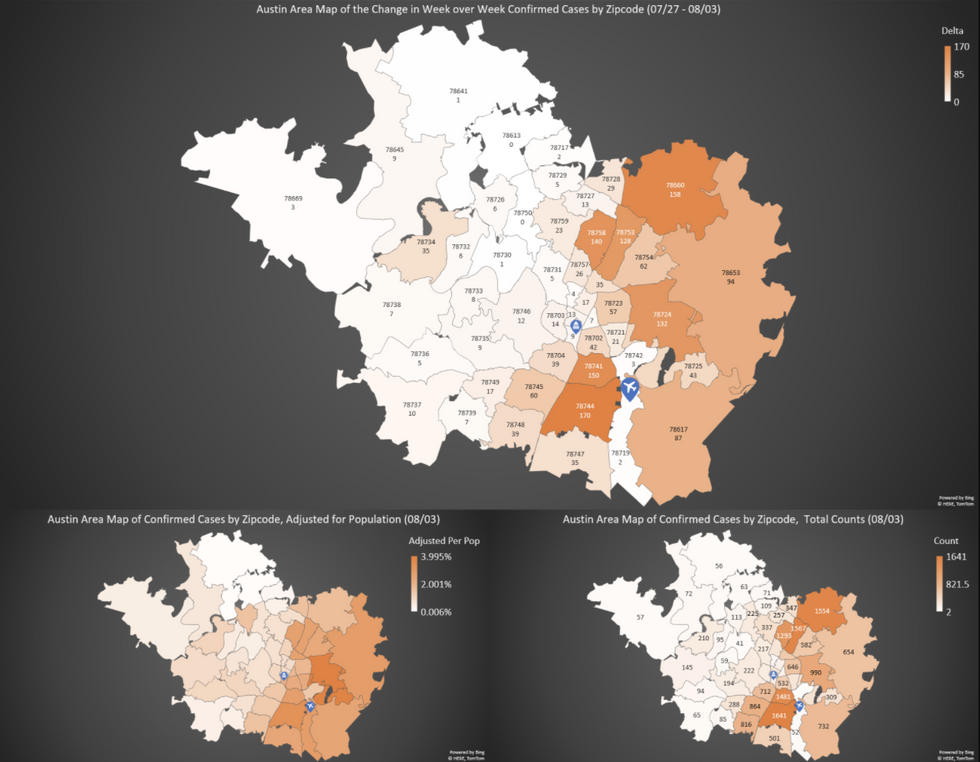 New COVID-19 cases in Austin remain most densely concentrated on the city's East Side—and specifically in the ZIP codes 78744, 78753 and 78660.
Austin Public Health has opened testing sites in these areas to serve those most in need and has also targeted outreach to the city's Latino and Black populations, who are at the highest risk of being hospitalized with and dying from COVID-19.
Austin's older residents remain most at risk of dying from COVID-19—amid other disparities

While young people age 20-39 make up nearly half of the total confirmed COVID-19 cases, they are much more likely to avoid hospitalization and recover.
In sharp contrast, people 60 years and older make up only 12% of confirmed COVID-19 cases but account for 80% of reported deaths, according to Austin Public Health.
Want to read more stories like this one? Start every day with a quick look at what's happening in Austin. Sign up for Austonia.com's free daily morning email.
photo by Charlie L. Harper III
Fifteen years ago when Peter Zandan would come out with an Austin poll, we would assign it to two of our very best journalists—Marie Henson and Bill Bishop—and display the resulting articles on the Austin American-Statesman's Sunday front page.
A big deal.
This year, the "Zandan Poll, Voices of the Austin Community," didn't get much press. Yet results of the 2020 poll are very striking—and tell us so much about how our great city is changing.
Here's what I found most startling:
Zandan asked: Which one of the following do you consider the top thing Austin has GAINED due to its growth over the past five years?
An overwhelming 38% of respondents said "larger homeless population." In 2017, when Zandan took the last Austin poll, homelessness was so far below the radar that he didn't even include the choice in his list of possible responses. The other leading choices he provided, in 2017 and in 2020, were: "strong economy," which declined from 20% in 2017 to 15% in 2020; creation of new jobs, down from 19% to 15%; big city feel, dropping from 14% to 9%; and racial and ethnic diversity, falling from 13% to 6%. Again, these were presented as "GAINS due to growth…'
"Homelessness just stands out as a defining issue when people think of Austin," Zandan told me in an interview. We will be interested in what the mayor and city council think of these numbers.
After talking with a person familiar with events, who declined to be identified because his work involves dealing with city leaders, I'll take a stab at what happened. In June 2019, the Austin City Council voted to allow the homeless to sit, lie and camp in public. Almost overnight, the homeless appeared. The suddenness was startling. The mayor and council had not prepared citizens for the change. And, in Zandan's data, we see the results.
After I left the Statesman, I worked at Public Strategies, Inc., Austin's premier strategic consulting company, from 2009-2012. PSI later merged with Hill & Knowlton as H+K Strategies Inc., led through those times by founder Jack Martin. Zandan was my colleague at the firm back then, and still works for H+K.
But Zandan pays for this poll on his own nickel, as a service to the Austin community.
A note on methodology: Cambia Information Group interviewed 801 people, drawn from the entire Austin Metropolitan Statistical Area (MSA). Interviewing was conducted between Feb. 17 and March 5.
Next: Is Austin on the right track or the wrong track? Austin-area residents speak, and clearly.