Get connected with our daily update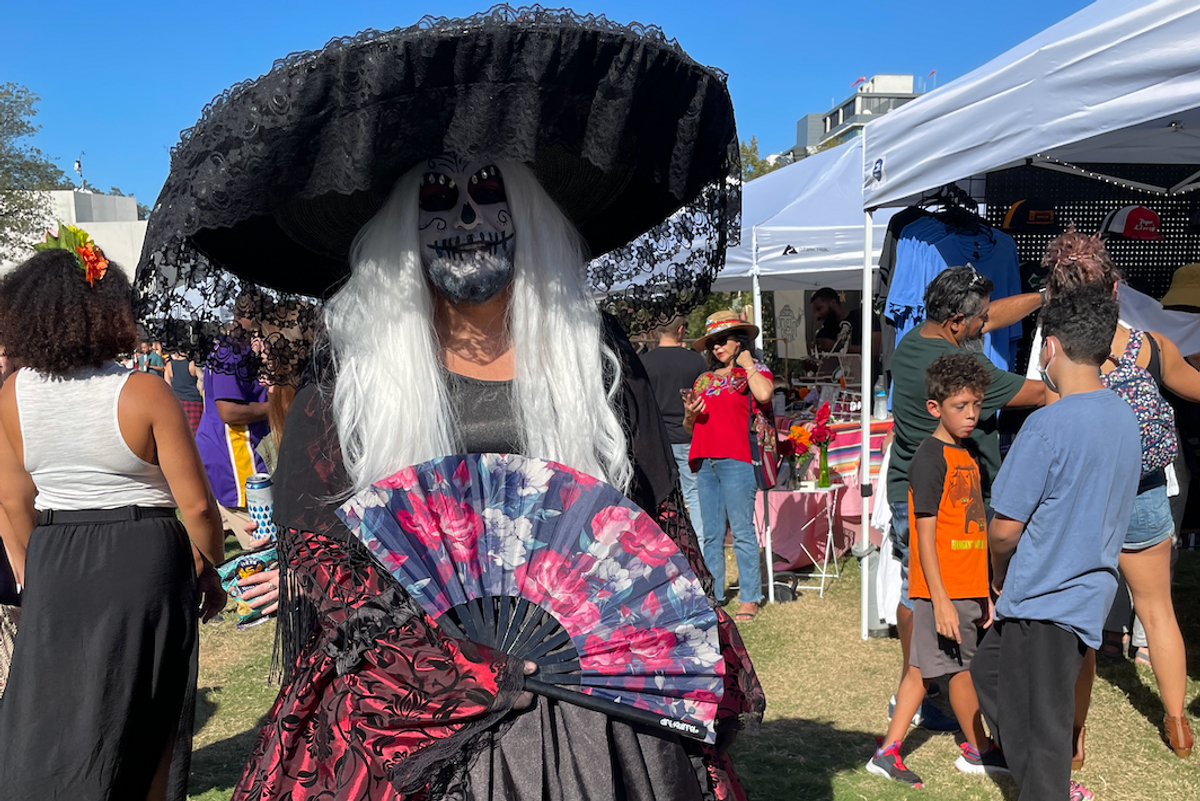 In flower crowns and Calavera face paint, Austinites gathered at the new Waterloo Park for what might be a new tradition for Dia de Los Muertos in Austin.
On the eve of the Mexican holiday that runs Nov. 1-2, thousands came together for festivities, including Mariachis playing, folkloric dancing and vendors selling handmade goods. The new Dia de los Muertos Festival was put on by Waterloo Greenway and Frida Fridays, an organization dedicated to uplifting Latin creatives with a monthly art market.
Dia de los Muertos is a long-time Mexican holiday of remembering and honoring the dead in celebration. Often it includes traditions—some seen at the festival—like decorating an ofrenda, otherwise known as an alter honoring departed loved ones; wearing face paint like a Calavera, or a sugar skull; and eating foods like pan de muerta.
Performances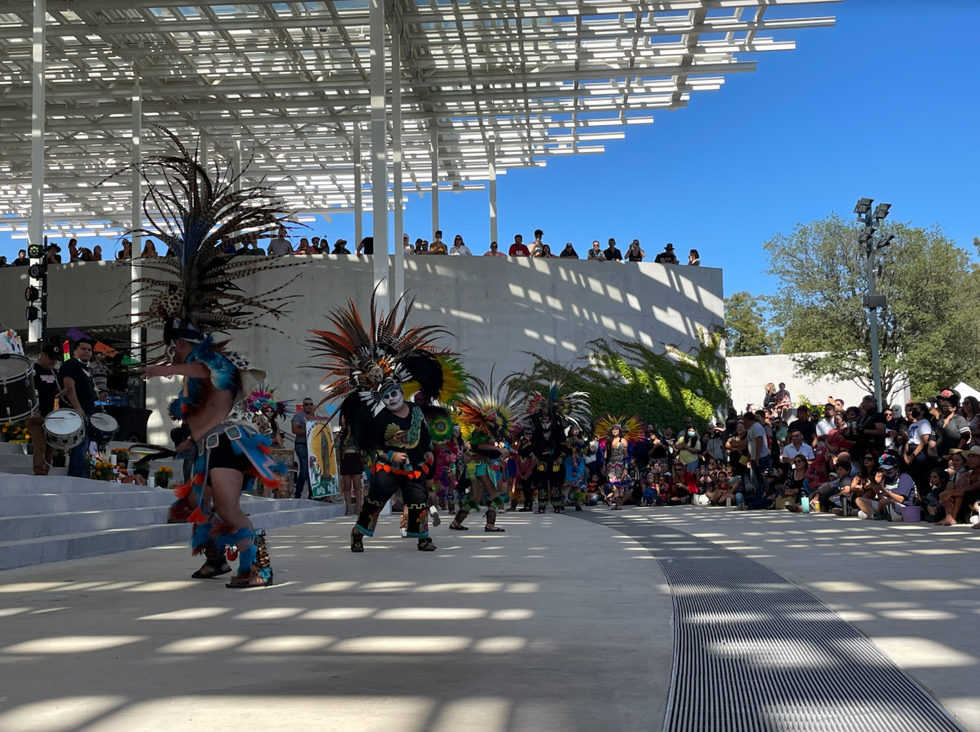 The festival opened with a traditional dance originating from San Luis de La Paz, Guanajuanto, led by Danza Azteca Guadalupana de Austin at 2 p.m.
A steady drumbeat announced the start of the festival from a block away and created a pulse for the Danza Azteca Guadalupana, who stomped rhythmically with shells on their ankles and long feathers radiating from their crowns. After welcoming the spirits of the dead with their hypnotic performance, the dancers took photos with the crowd.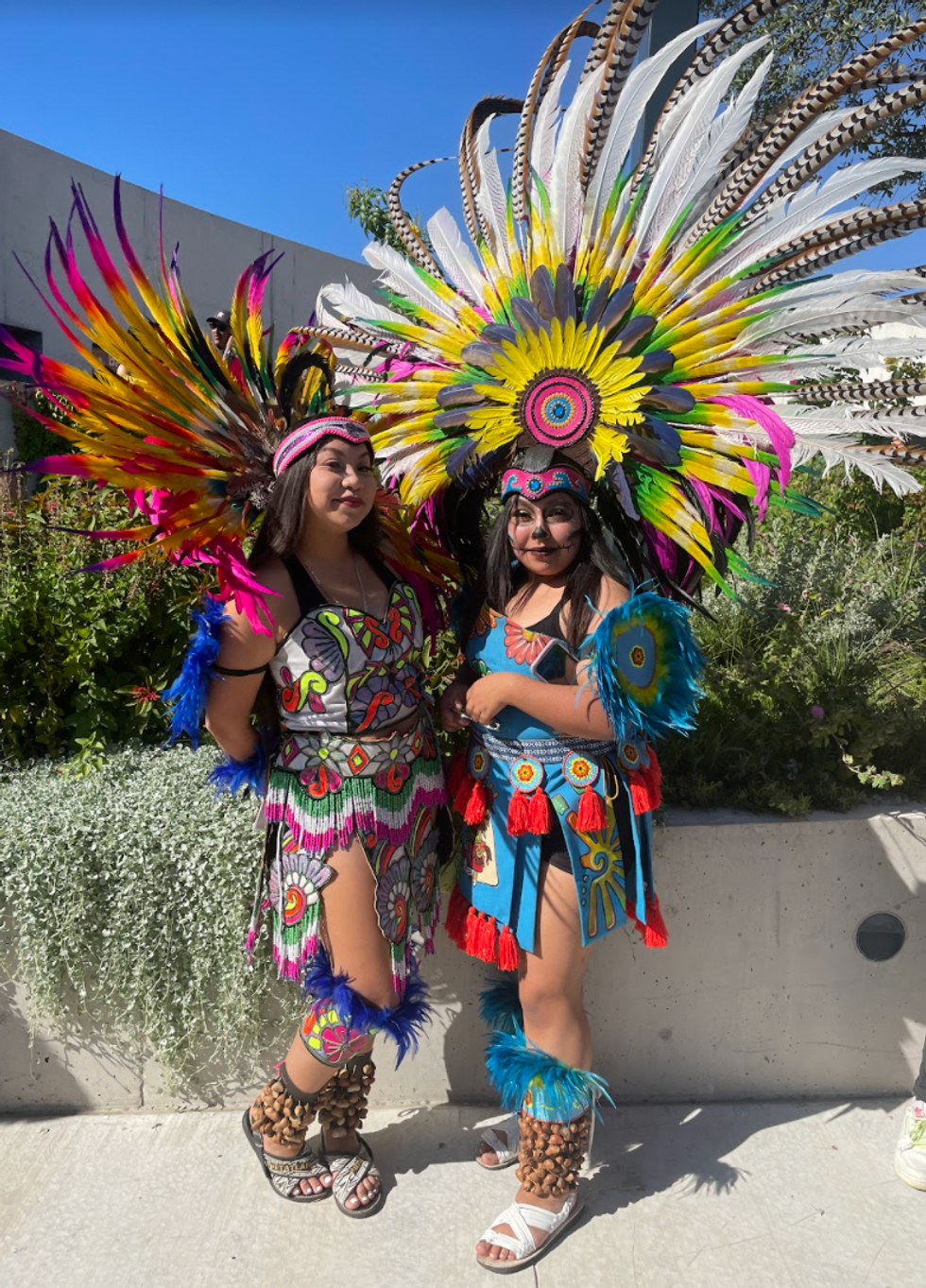 Gloria Salgado and Fatima Garcia have been dancing since they were seven years old and two months ago, respectively.
After the opening dance and a DJ performance, Vanessa del Fiero and her all-women mariachi group, Mariachi Las Coronelas willed their show to success despite sound issues.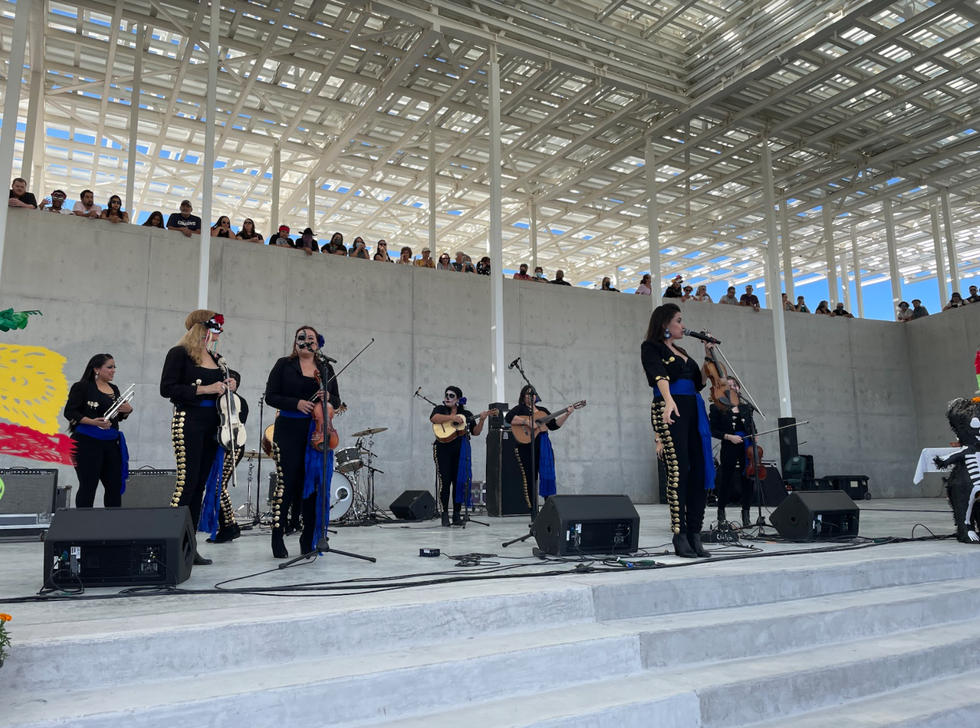 The Mariachi Las Coronelas took the Waterloo Stage just after 3 p.m.
Austin-based comedians Roxy Castillo and Vanessa Gonzalez attended together, watching the mariachis. "I was watching the mariachis and I started crying, seeing people who look like us and hearing beautiful female voices that are just so strong while we're with the community," Castillo said.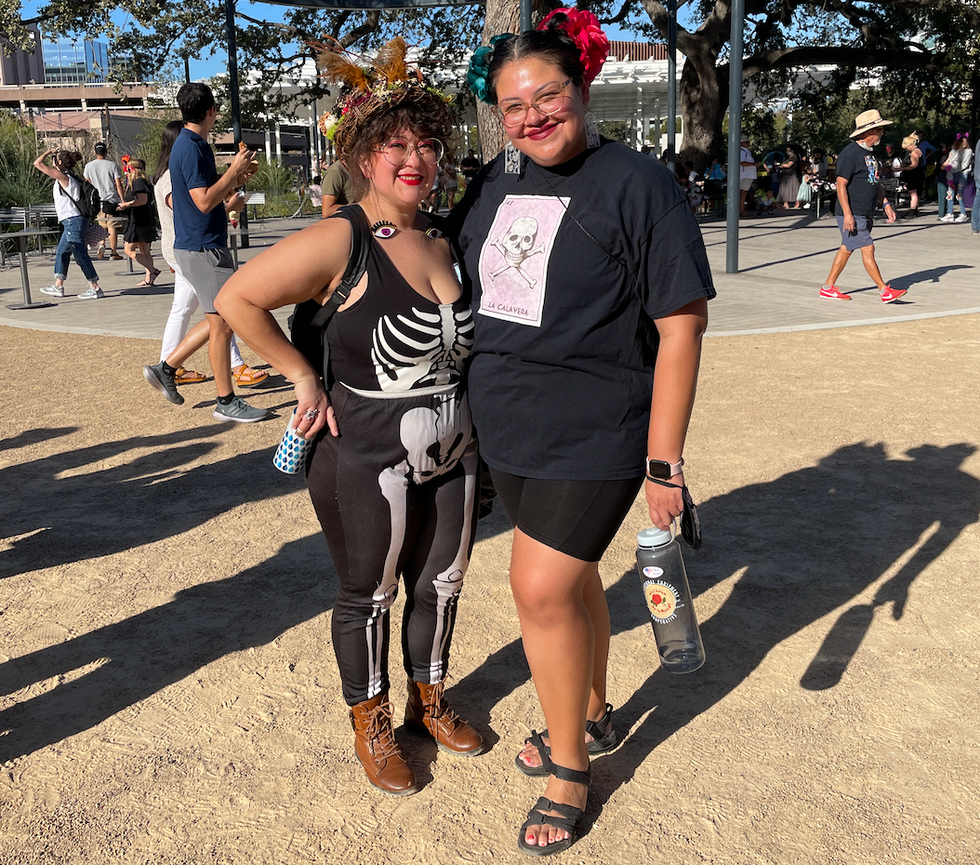 Austin-based comedians Roxy Castillo and Vanessa Gonzalez attended the festival. Gonzalez said her mother makes an ofrenda every year.
Chanting through a bullhorn and ripping through the sunny day with raucous drums and brass, the Austin FC supporting band, La Murga, made a Verde scene with the audience chanting along and waving huge FC flags in Verde and black.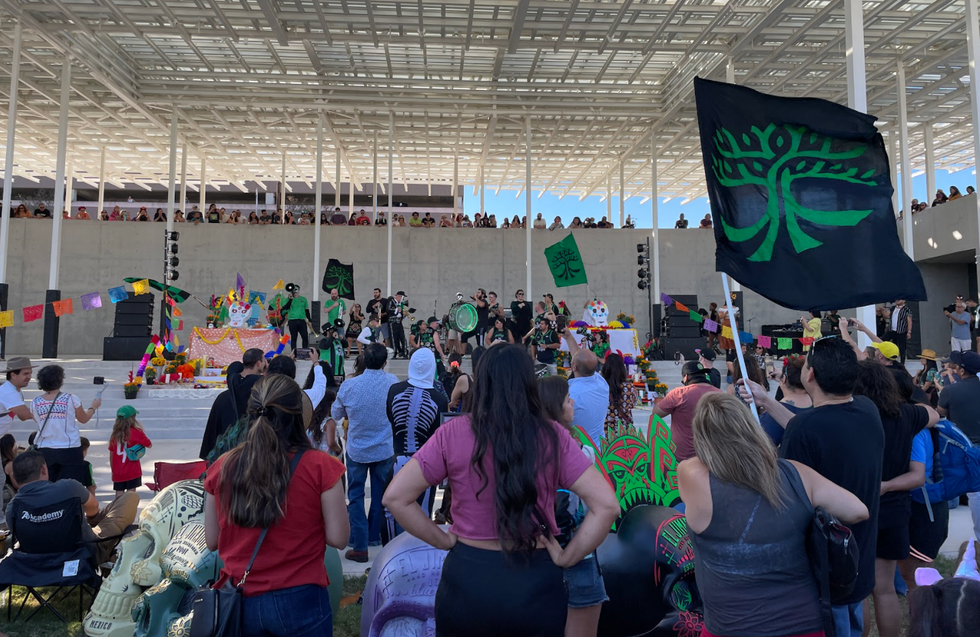 Like seen at all Austin FC home games, La Murga brought their high energy and flags to Waterloo.
The Ballet Folklorico de Austin swirled their skirts in colorful rainbows of ribbon, stamping patterns of traditional dance and song.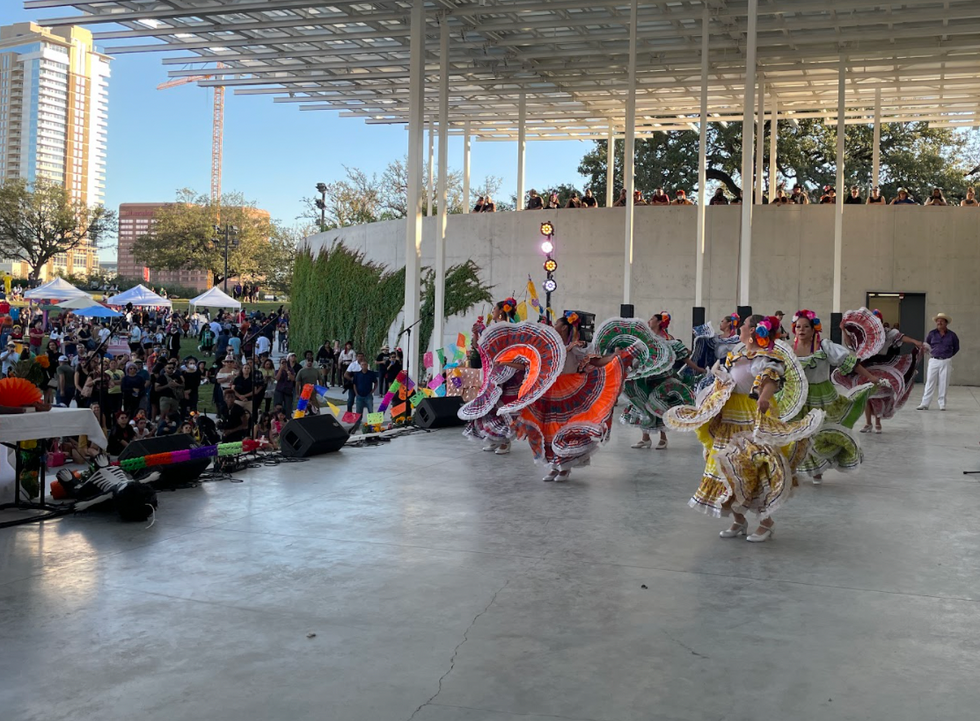 Audiences stood above and below Ballet Folklorico dancers as they swirled their visually-sumptuous skirts.
More at the festival
Heading south from the amphitheater, past the lines for food trucks, sugar skull decoration stations and a playground, a small plaza featured a strikingly beautiful altar to the dead against stacked limestone. As mourners arranged orange marigolds and framed photos, an hourly meditation guided a handful of people. Contigo Wellness owner Diana Anzaldua's yogic trataka practice gently instructs practitioners to focus on a lit candle's flame, unblinking, until tears form.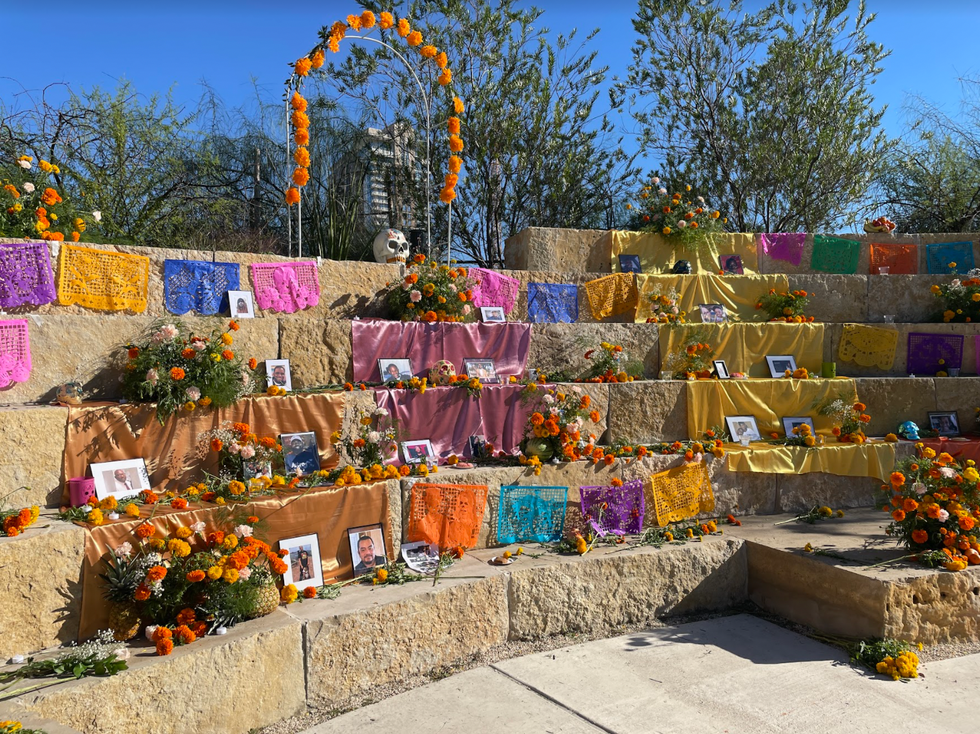 The altar gathered Mexican pan dulce, water, small candles, and photos of loved ones. The tradition welcomes spirits back to the living world.
At the Moody Amphitheater lawn, visitors shopped in a small marketplace offering wares and treats as diverse as tiny keychain bottles of Chamoy (a tasty condiment made of pickled fruit) and luchador masks (masks worn by Mexican wrestlers).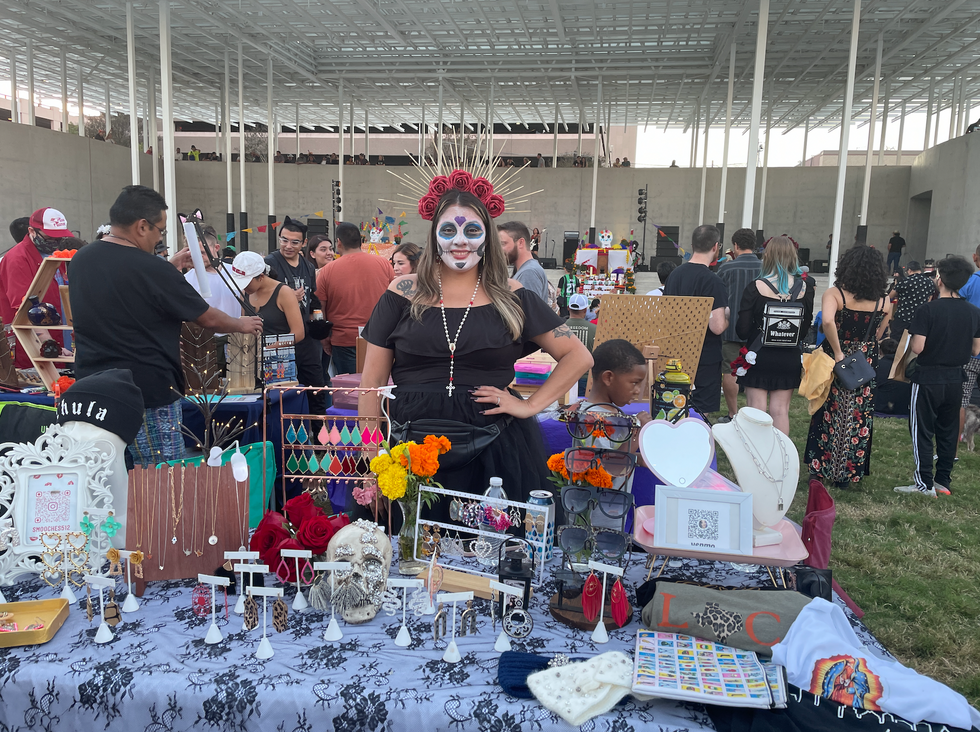 Stephanie Tijerina sold jewelry and her own homemade Besito Chamoy, a brand of mango, watermelon, and pickle chamoy.
Muralist Carmen Rangel painted throughout the event. A former Frida Friday committee member, Rangel explained how Frida Fridays began to promote businesses owned by women of color and expanded to focus on marginalized people including queer and trans community members. "I'm painting people who are part of Frida Fridays, who put on and support the events, especially in the last two years since the pandemic," Rangel said.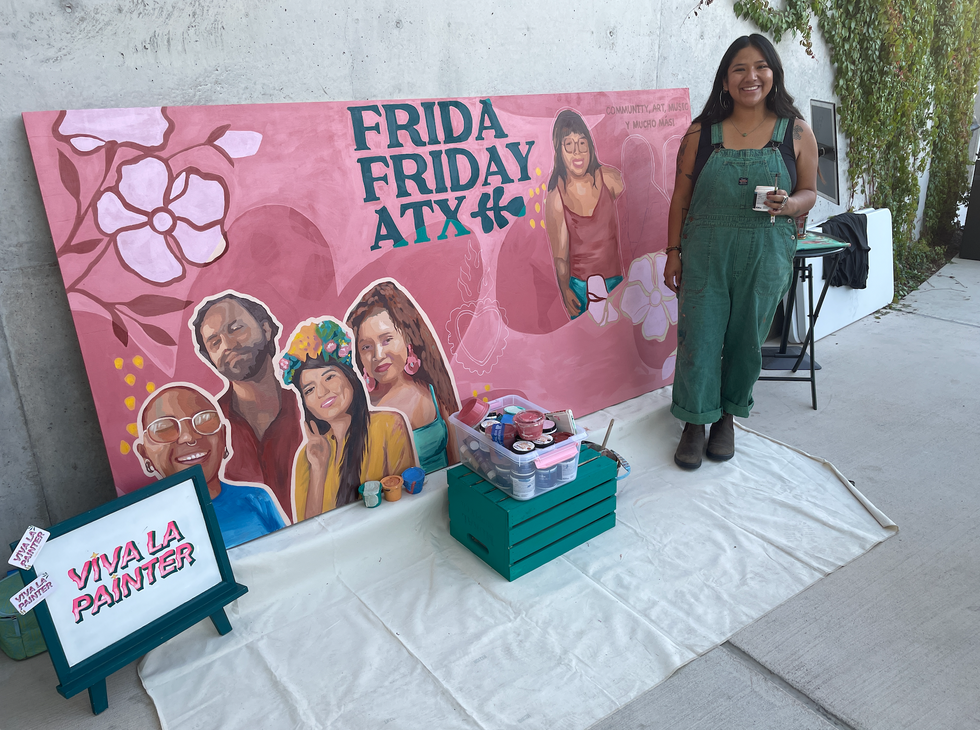 Rangel's muralist work can be seen at the Lamar bridge underpass.
While not everyone wore their Day of the Day fits, Austinite David Esparza was one that wore the traditional La Catrina outfit. The La Catrina has become an icon of the holiday.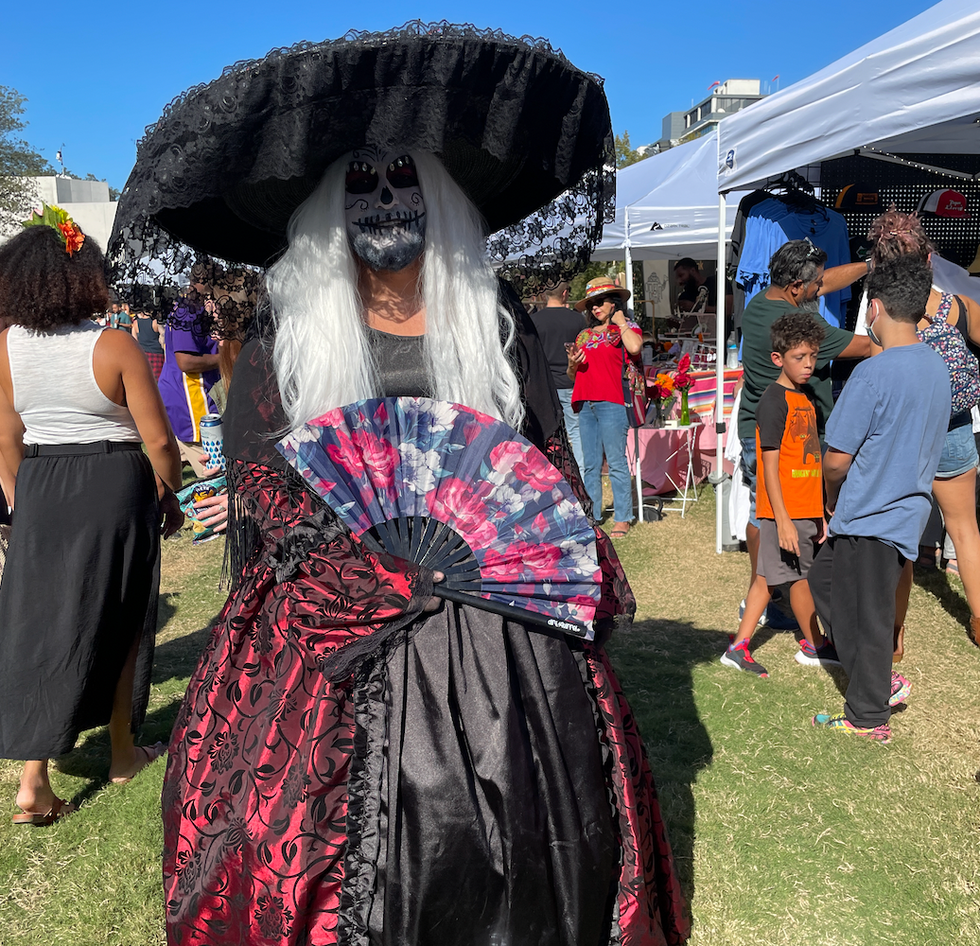 David Esparza said this was his first time decorating a traditional hat.
Enjoying Austonia? Signup for our newsletter to get daily Austin news, straight to your morning inbox!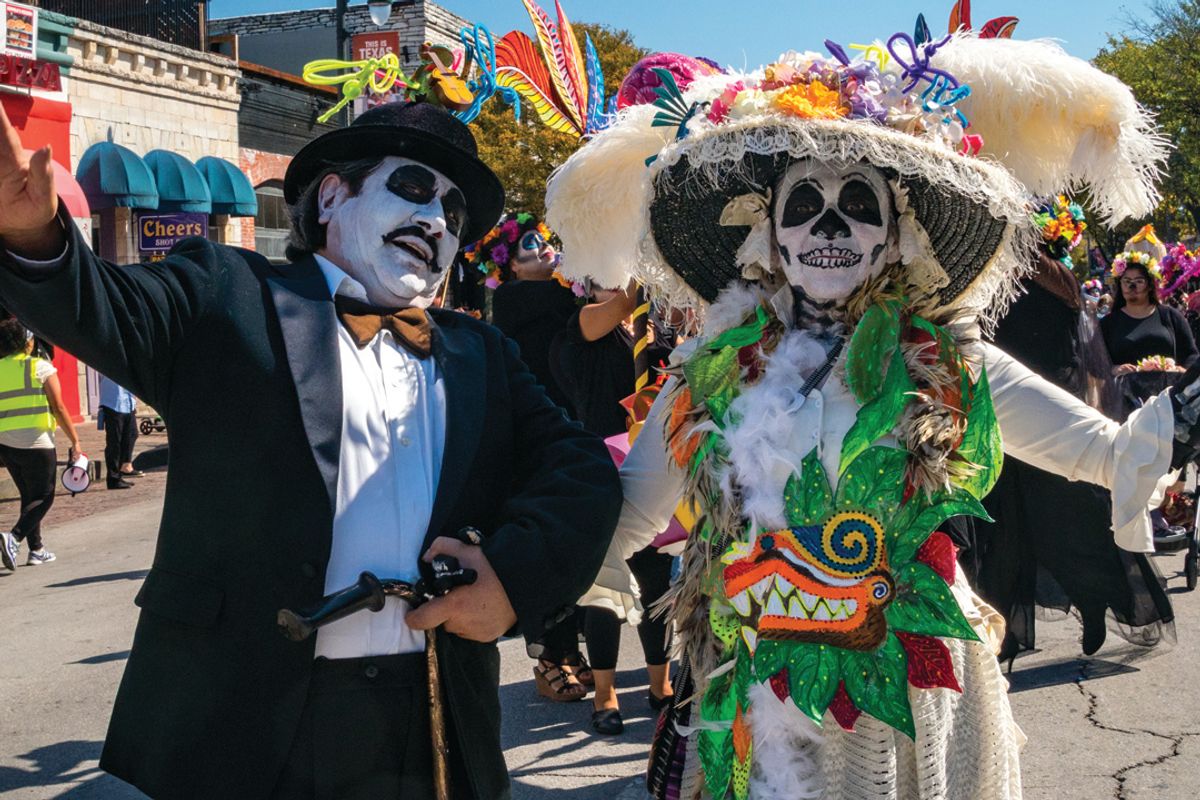 (Chris Caselli)
With films like Coco streaming on Disney+ and Day of the Dead Barbies lining Walmart shelves, it is clear that the commercial aspects of Dia de los Muertos are alive and well.
Despite its trending marketability, this ancient Mexican tradition of altars and offerings remains a rite of remembrance. The holiday begins Nov. 1 and ends Nov. 2, with traditional activities starting days in advance.
Jessica Tovar, an educator and artist who lives in north Austin, sees Dia de los Muertos as a time of "unity between families" which is expressed through an ancestral celebration.
"I am delighted to remember loved ones who are no longer with us," she says.
Tovar, who is originally from Tamaulipas, Mexico, recalls how Day of the Dead festivities were a major part of her primary education.
"At school, every year we made a mega altar in the school theater and we all participated by decorating it, bringing food, flowers, toys, photos, pan de muerto, fruit, etcetera," she says. "Families would gather around the altar to sing, socialize, dance, and would eat the food from the altar. Some came to celebrate dressed as catrinas (an elegantly attired female representation of death) or had their faces painted as calacas (skulls)."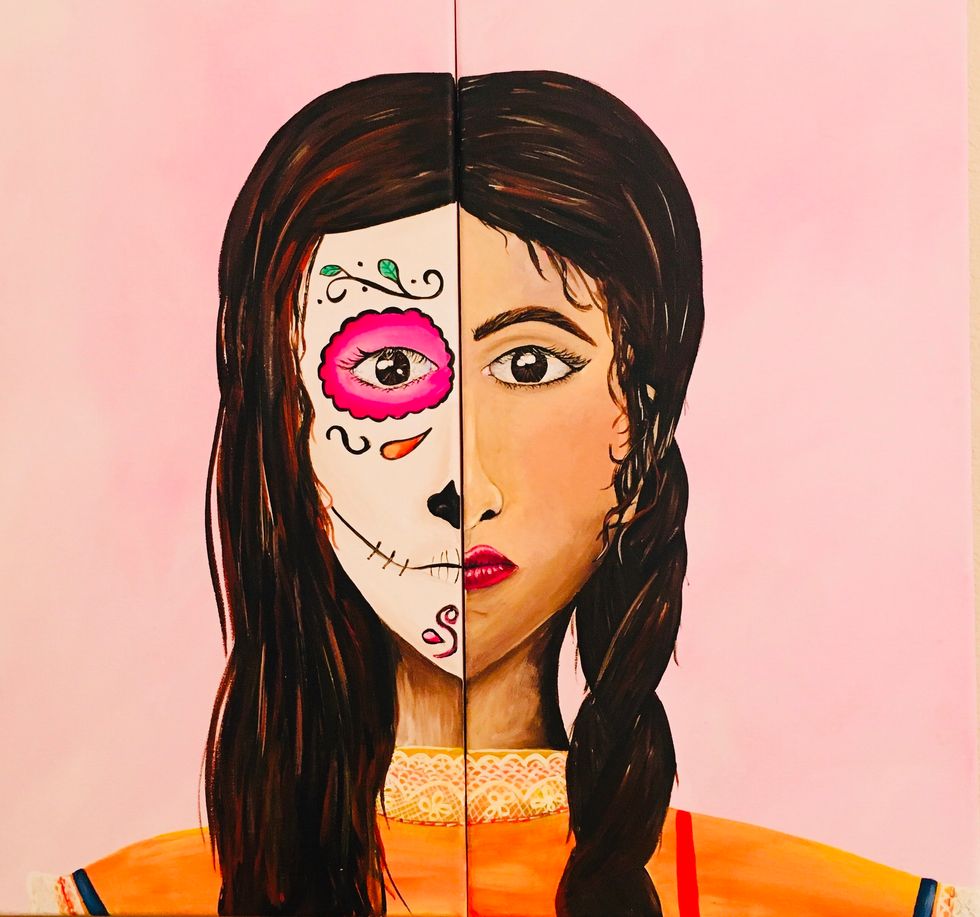 Painting by Jessica Tovar, inspired by Dia de los Muertos. (Jessica Tovar)
Tovar, who often employs Day of the Dead imagery in her art, notes that the holiday carries a commitment in Mexico that is, perhaps, lacking in the states.

She says in Mexico the tradition begins days before with people making altars in their homes and decorating the tomb of their deceased loved ones with their favorite things. And on Nov. 1, the cemeteries are open 24 hours for people to celebrate the tradition day and night.
"When you walk among the tombs you see people singing together or alone with a big speaker; some bring serenata with a mariachi while others are sharing el pan de muertos, drinking pulque or tequila together. You look at others crying, others smiling, and some telling stories/anecdotes," Tovar says. "The emotions are different among all. This tradition unites family, friends, neighbors, and strangers with all the events around the city."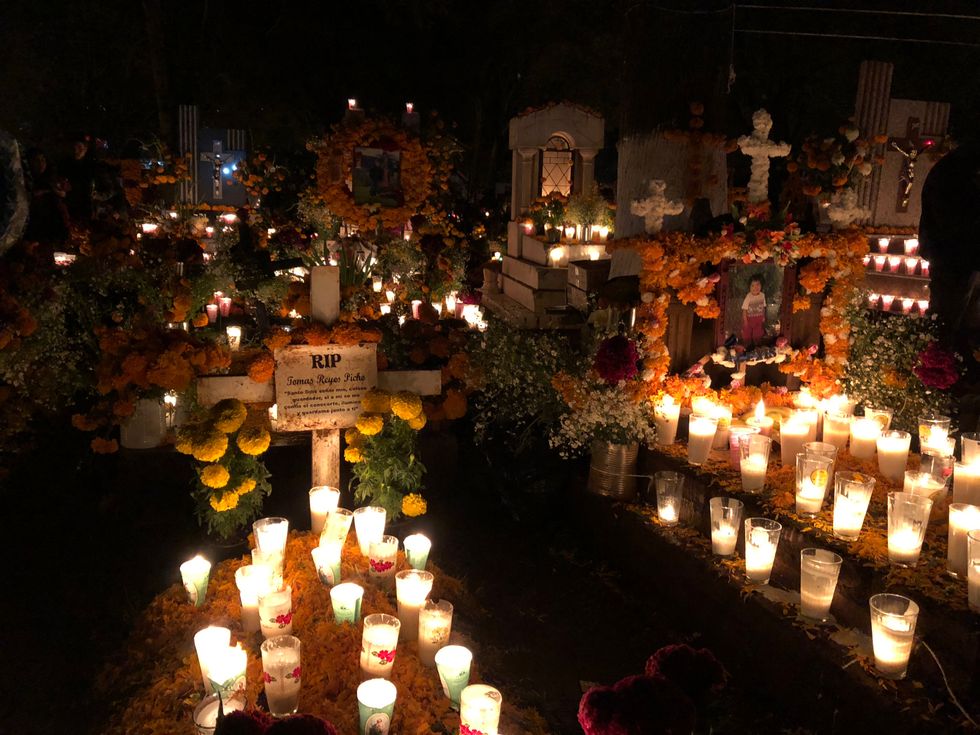 A cemetery in Michoacán, Mexico decorated on Nov. 1, 2018.(CC)
While she thinks the tradition in Austin would be beautiful, Tovar has alternatively enjoyed attending the annual downtown Day of the Dead parade—which was canceled this year. The Viva la Vida Festival coincides with the Mexic-Arte Museum's Day of the Dead Exhibition.

In Austin the Day of the Dead celebrations have—like everything else—been affected by COVID-19, so the corresponding events have had to go online.
The Mexic-Arte Museum will hold its 37th annual Day of the Dead Exhibition virtually. The online event, which will run from Oct. 31 to Nov. 2, will exhibit community altars that pay homage to Latino victims of the pandemic, as well as people who have died from AIDS and heroes of the U.S. civil rights movement.
Austin has depended on the Mexic-Arte Museum's guidance regarding Dia de los Muertos since the non-profit opened its doors in 1984, and every year interest in the festival has increased.

Mario Villanueva, marketing and events associate at the Mexic-Arte Museum, says close to 15,000 people participated in last year's parade.
Rather than view the virtual exhibition as a limitation, Villanueva says he sees the digital outreach as an opportunity for Mexic-Arte to engage with a wider audience.
Navigating through the pandemic has called for a new website featuring a virtual tour of the exhibits, as well as online instructions on altar construction and the creation of sugar skulls.
Sugar Skull Tutorial by the MACC youtu.be
"Having everything virtual, making more content online has opened up a new way that we can share the knowledge," says Villaneuva, who considers Day of the Dead a genuine way for communities to cope with and heal from tragedy.

Last year's Day of the Dead exhibition opened a few weeks after the El Paso shooting, so the Mexic-Arte Museum made an altar dedicated to the 22 people killed in the racially-motivated domestic terror. Villanueva said the result of the altar was "something that was really, really beautiful."
Olivia Tamzarian, the culture and arts program supervisor at the Emma S. Barrientos Mexican American Cultural Center, says this year people are making altars at home and sharing photos during its virtual program.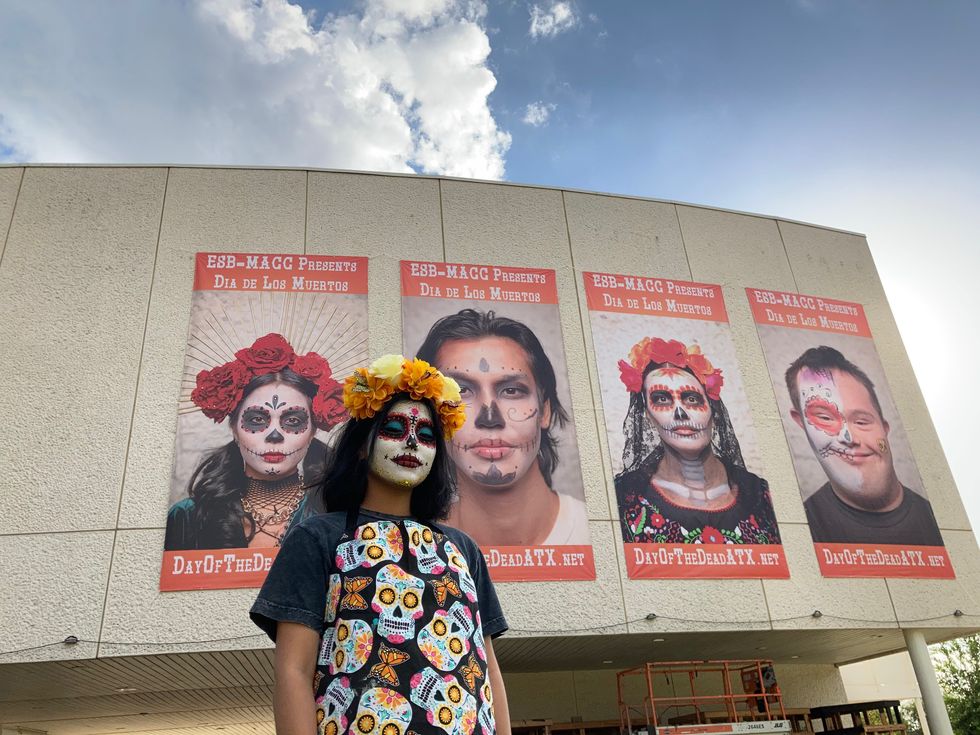 (Ulises García/Mexican American Cultural Center)
The very tone of this year's Day of the Dead celebration has been affected by the cautions around COVID.

"You know there is a lot of talk in the Latino community about how Latinos have been disproportionately affected by COVID and that's not something that's lost on us," says Tamzarian. "It's very real when you have a festival to celebrate the deceased and then you are worried about the actual deceased in your community. It becomes not just a celebration but almost like a political movement, to talk about these things in a way that becomes very desensitized when you just hear it on the news."
Tamzarian, who personally discovered Day of the Dead when she was about 20 years old and living in Mexico, sees the celebration as a form of psychological healing.
"I think it's healthy because it gives a chance, a place or an excuse for a time of the year to talk about people you were supposed to have forgotten," Tamzarian says.
Heirlooms on the altars is of great significance, Tamzarian says. One original idea of the Day of the Dead is the creation of an ofrenda, an altar that you put highly personal objects on. Personal items like a deceased family members glasses, gloves, or hat, are put on the altar because there is a belief that those personal items have a spiritual connection to that person."
"What's so interesting now is how it's being mixed with all sorts of commercial objects as well, so you might take your old grandfather's hat but then you might go to H-E-B and buy a little plastic skull or a candle and put that on the altar too," Tamzarian adds, elaborating on the malleable nature of the ancient Latino celebration.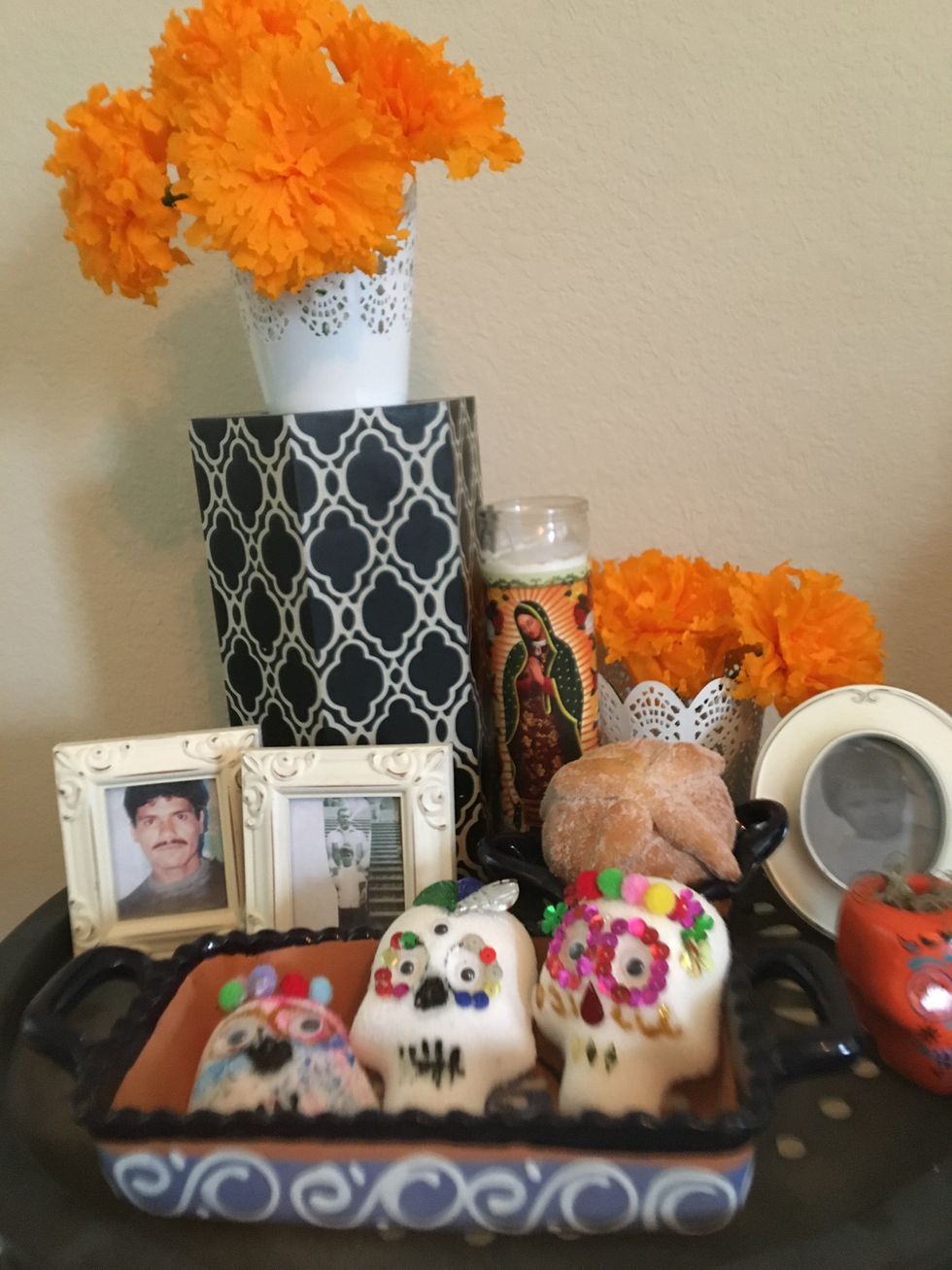 A Dia los Muertos alter by Olivia Tamzarian.(Olivia Tamzarian)
Tamzarian recalls witnessing a visiting student being moved to tears at the sight of a particularly powerful altar.

"We had a girl come in and when she saw the altar she burst out crying and I was worried like 'Oh God, maybe she saw someone she knows' and I was like 'What's going on?' and she was like probably around 11 and she said 'I've never seen … this looks just my grandmother's house' is what she says: 'I've never seen something like this in a museum before.'"
Tamzarian says, the girl described the altar as a kind of a validation of her culture.
"The fact that it is something that could be in a museum means that it's an art tradition that has so much value—cultural and historical value," says Tamzarian. "That her grandmother had this sort of alter in her home and had candles up and everything, that she was able to see this in a museum just put it into perspective, that it is something to be proud of and that it isn't something that should die."