Get connected with our daily update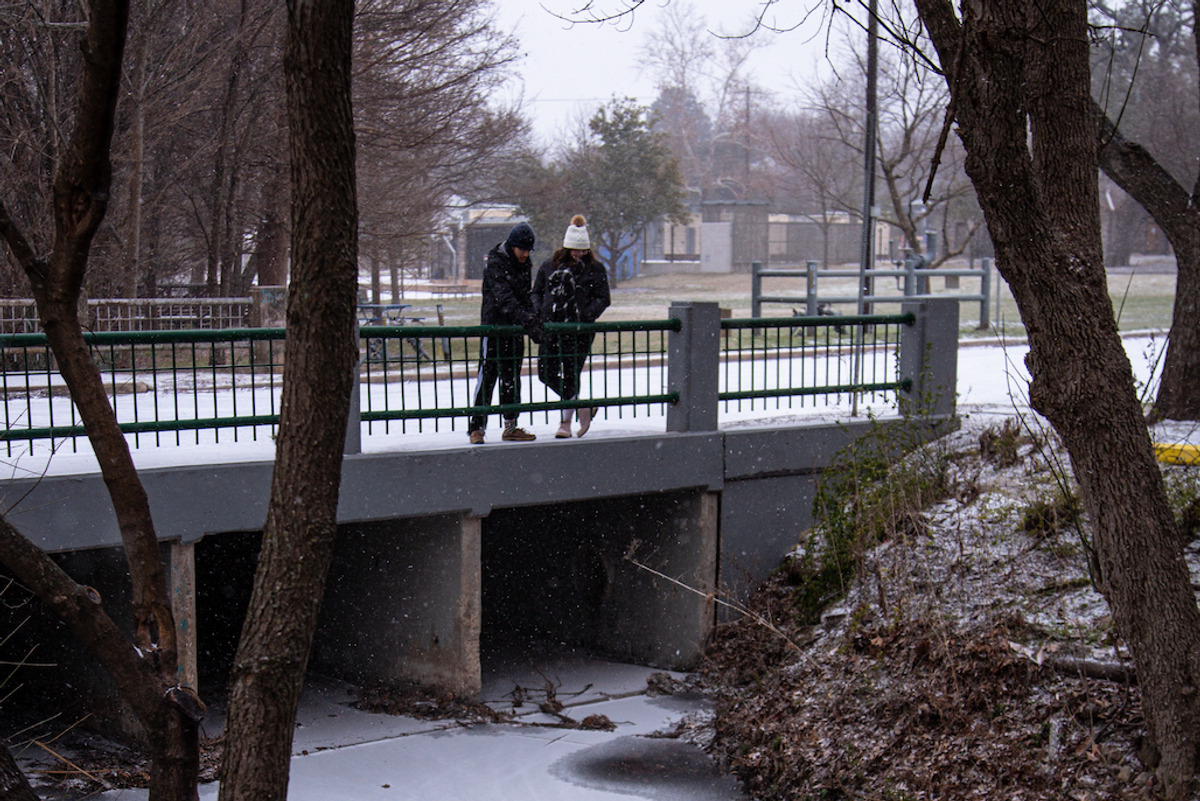 When the world's most famous groundhog declared six more weeks of winter Wednesday morning, Austin residents may have tuned in a little more closely as they gear up for an all-too-familiar February winter storm.
Just under a year after Winter Storm Uri shut down much of the state's power grid, left thousands of Austinites without water and forced many of the city's most vulnerable populations into unsafe situations, a new "very strong arctic cold front" is expected to hit Austin once more early Thursday morning. Temperatures are expected to plummet below freezing early Thursday morning and stay there through Friday afternoon with freezing rain translating to a quarter-inch of ice.
Though the outlook isn't as dire as it was last year, many Austin-area residents, including Lindsay Ballard, experienced an unwelcome déjà vu as they tuned in to the week's forecast.

Seniors made up a majority of Travis County's 28 winter storm deaths, a fact Ballard almost saw firsthand as she brought emergency relief to residents at Cambridge Villas Senior Living Center. The complex had been without running water or wellness checks for six days, leading to food, insulin and more necessities spoiling.
"The residents I was able to keep up with have moved out of that particular housing into better situations," Ballard told Austonia. "I'm still concerned for all of the seniors in the storm, though, and I hope it will be as mild and short-lived as the meteorologists are predicting. I'll be ready to jump in and help if needed."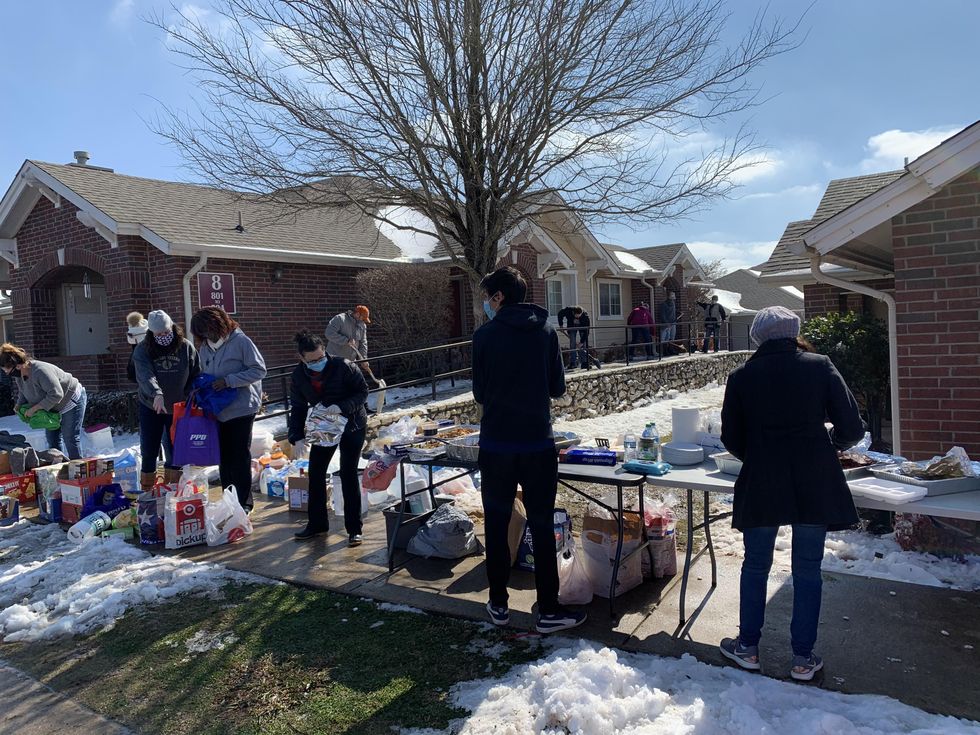 Neighbors rallied around the nursing home, providing food in the aftermath of the storm. (Jack Morgan)
Meanwhile, other Austinites are applying the lessons they learned last year to their approach this year.
Jessica Tremblay, a North Austin resident, was in the middle of covering her plants when she spoke with Austonia about the steps she took to get ahead of the cold snap this year. To ensure she would have everything she needed for herself and her two senior cats, she stocked up on nonperishables, firewood and water well before Austinites started panic-rushing grocery stores.
Tremblay said her anxiety didn't set in until she got a text alert warning of winter weather on Wednesday morning.

"The PTSD and anxiety honestly didn't really set in for me until I got that text this morning from the City of Austin," Tremblay said. "I really just don't want to have to go through that whole thing ever again."
Though she loves Texas, Tremblay said if the whole thing were to happen all over again, it would be the linchpin that causes her to move.
"We were almost at 100% total grid failure last year and it just won't take a superstorm to honestly get us to that point again," Tremblay said.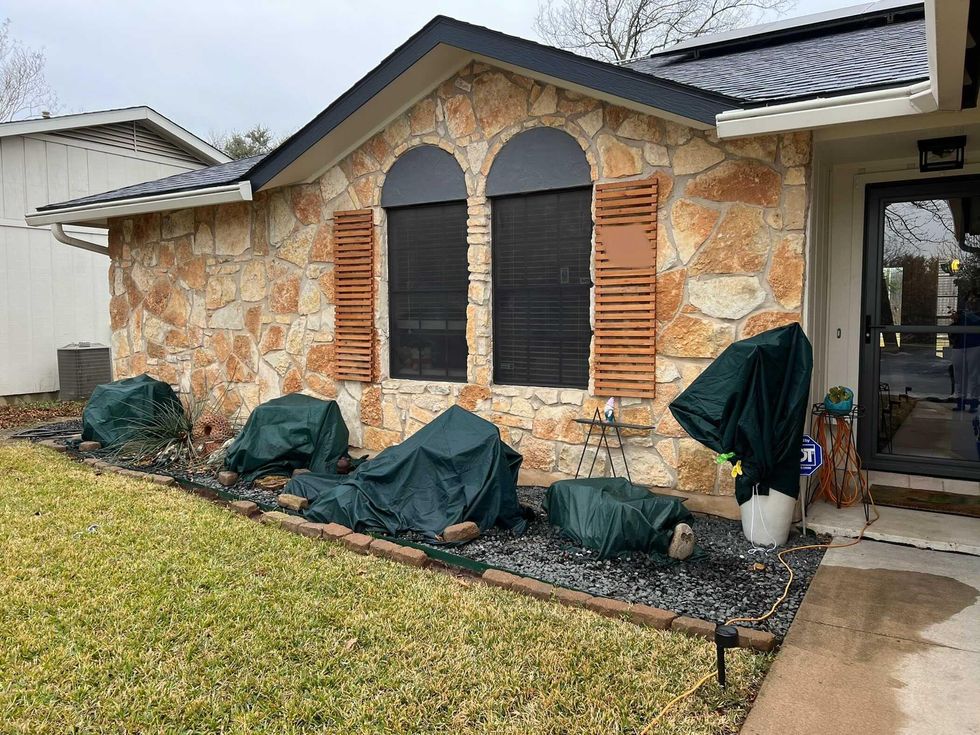 Jessica Trembay spent almost three hours covering her plants outside her home. (Jessica Trembay)
Lifelong Austinite Onesims Banda, who moved to Kentucky last year, said he's not sure he'll come back to Texas after the state failed to care for its most vulnerable residents—especially minorities and low-income families—during the winter storm. After living in East Austin, Banda said this wouldn't be the only time the region had been overlooked.

Due to his home's proximity to a fire station, Banda's family experienced minimal power outages. However, it was still far from a pleasant experience: Banda and his wife both caught the flu, still had to care for their two young children and the family's water supply was in and out.
"The kids, of course were happy about the snow, but what they didn't know and what they couldn't see was how it was affecting everybody across the state," Banda said. "The fact that our power didn't go out probably saved our lives."
While 52% of the 28 killed in Travis County due to the winter storm were white, some populations, including Black residents, seemed to be disproportionately affected. Minorities were more than four times more likely to experience blackouts in Texas when compared to predominantly white neighborhoods, a facet of life that Banda, a teacher, sees affecting his students.
"It sucks when you're a teacher and you're speaking to your kids... Who the hell do you call because the government dropped the ball?"
Gov. Greg Abbott, who caught flack for the power grid failure, said blackouts are very unlikely this week, although he said "no one can guarantee that there won't be a load shed event," or rolling blackout, in a Monday press conference. The biggest concern instead lies in power outages caused by ice or fallen trees disrupting power lines.
For local emergency alerts,
click here
, and click
here
for Austonia's guide to wintry weather.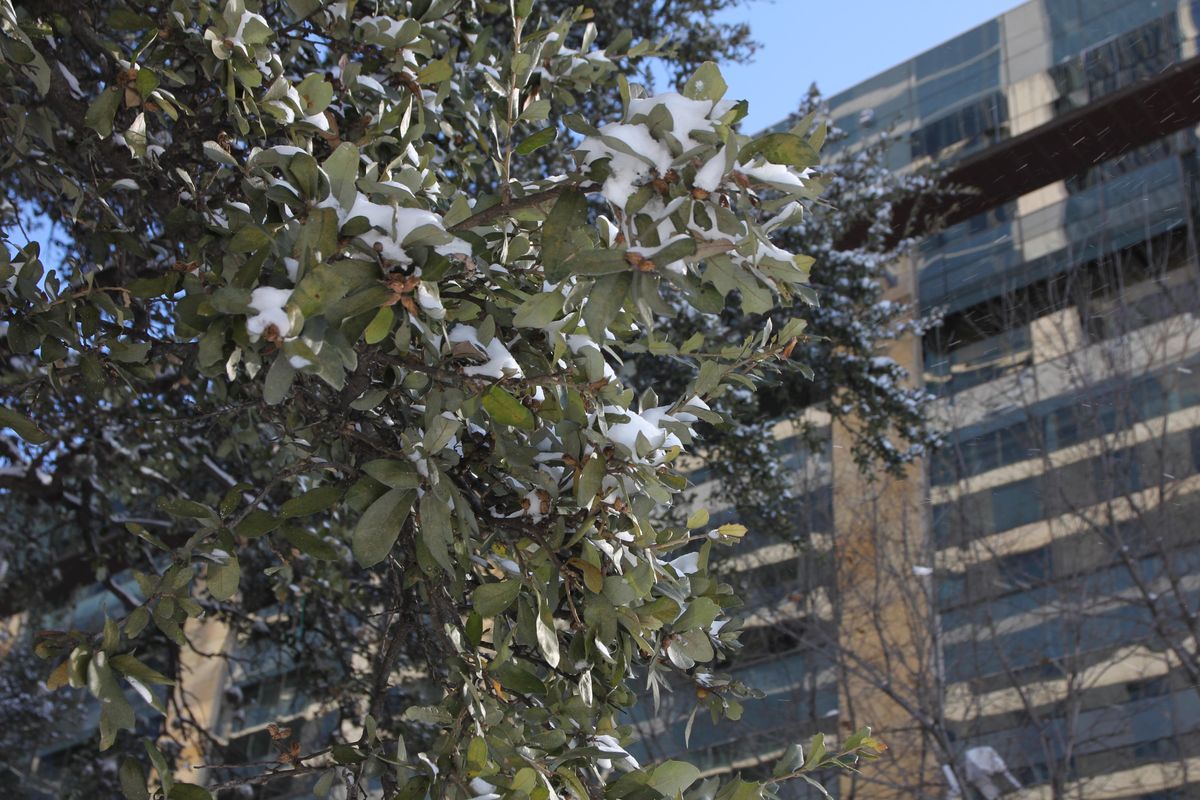 Austin's weather has kept residents on their toes since Winter Storm Uri swept through town—leaving millions of Texans without power—and nearly a year later, temperatures are poised to dip to under 20 degrees on Thursday.
The city has been put under a Winter Weather Watch as "a very strong arctic cold front" is expected to bring temperatures from a balmy 71 degrees on Wednesday to a harsh 19 degrees on Thursday morning.
No big changes to the ongoing forecast for Wednesday night and Thursday's Winter Weather event and VERY cold air coming to end the week. Winter Storm Watch remains in effect for the Edwards Plateau, Hill Country, and Austin Metro. pic.twitter.com/CgVLdy9rOo
— NWS Austin/San Antonio (@NWSSanAntonio) February 1, 2022
Currently, up to a quarter-inch of ice is in the forecast, meaning there are some things you'll need to ready for to stay safe. It's time to dust off all that winter safety knowledge you learned last year—here's what to do when the thermometer drops.

Know how to get real-time info
Sign up for Warn Central Texas to get emergency alerts from your neighborhood via text, email or phone.

Accessible alerts for those who are blind, deaf or hard of hearing are available through AHAS.

Bookmark the City's Active Emergency Information Hub, which will post real-time updates in the event of an emergency.
Text ATXWEATHER to 888-777 for updates in English or ATXCLIMA to 888-777 for updates in Spanish.
Follow city and public safety agencies on social media.
Before freezing temperatures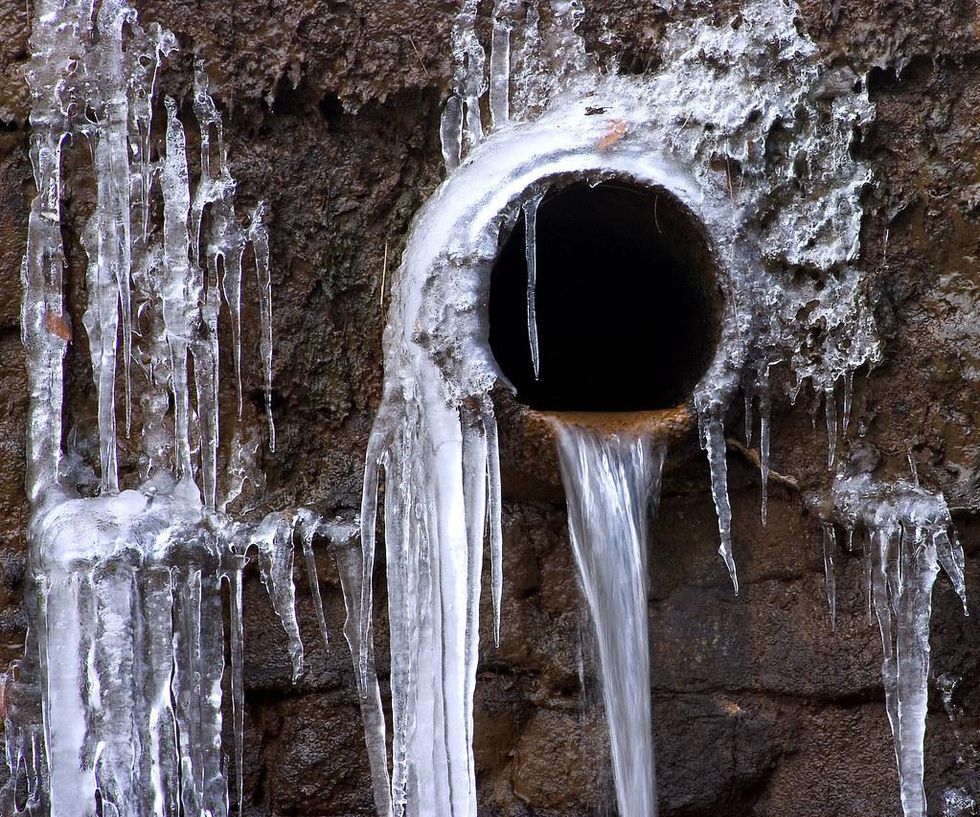 Austin's Ready Central Texas campaign recommends having a plan for your household in the event of a crisis, getting to know your neighbors, signing up for emergency alerts, and building a kit of emergency supplies like food, water, first aid, essentials and pet's needs that would last for up to seven days.
Pipes are prone to expansion and breakage during freezing weather so before it gets too cold, wrap all exposed pipes outdoors with heat tape, rags or towels. Make sure to bring in your garden hose or disconnect it from the faucet and if you have vents on the foundation of your home, cover those as well. If available, locate your property owner's cut-off valve and familiarize yourself with it.

During freezing or sub-freezing temperatures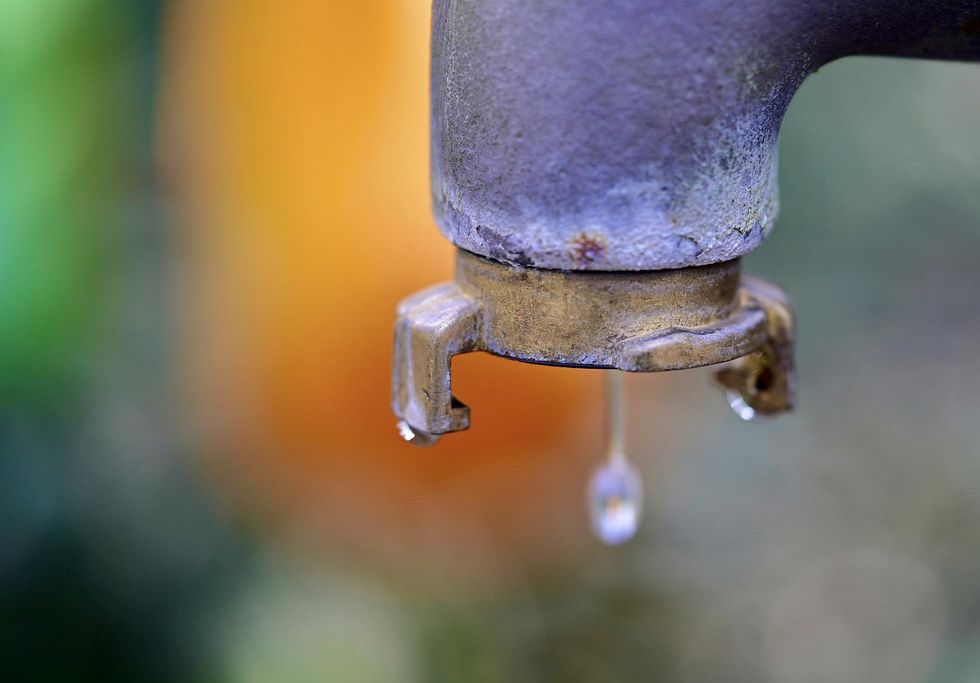 Follow the four Ps:
Check on vulnerable people
Bring pets inside
Cover plants
Insulate outdoor pipes and faucets
During times when temperatures are expected to be 28 degrees or lower for more than four hours, keep outside faucets dripping slowly. In prolonged freezing weather, it may be necessary to let inside faucets drip slowly as well. Be sure to turn off faucets when temperatures rise above 28 degrees.

If you have any sinks that are attached to outside walls, leave cabinet doors ajar and wrap the pipes. If your garage is not heated, consider cutting off water to washing machines.
Change the direction of your ceiling fan to clockwise—it will circulate warm air—but keep your thermostat relatively low. Keeping your thermostat between 65-70 degrees will keep your pipes warm enough not to freeze and save energy.
When you go outside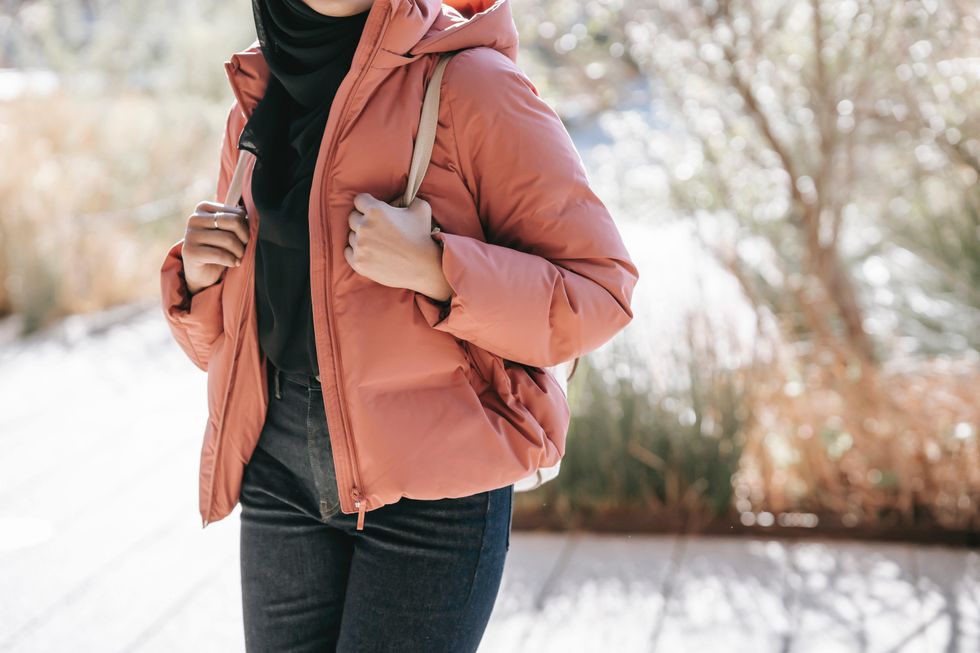 Layers are your best friend in cold weather. Make sure your base layer is a wicking fabric like cotton, merino wool or polyester. The middle layer will retain heat and keep you insulated, so opt for something like fleece—the rule of thumb is that it should be thicker than your base layer. Finally, your outer shell can range from a windbreaker to a ski coat, but it should keep you safe from wind.

Most importantly, make sure your head, hands and feet are covered, as they lose heat the fastest.
To protect your plants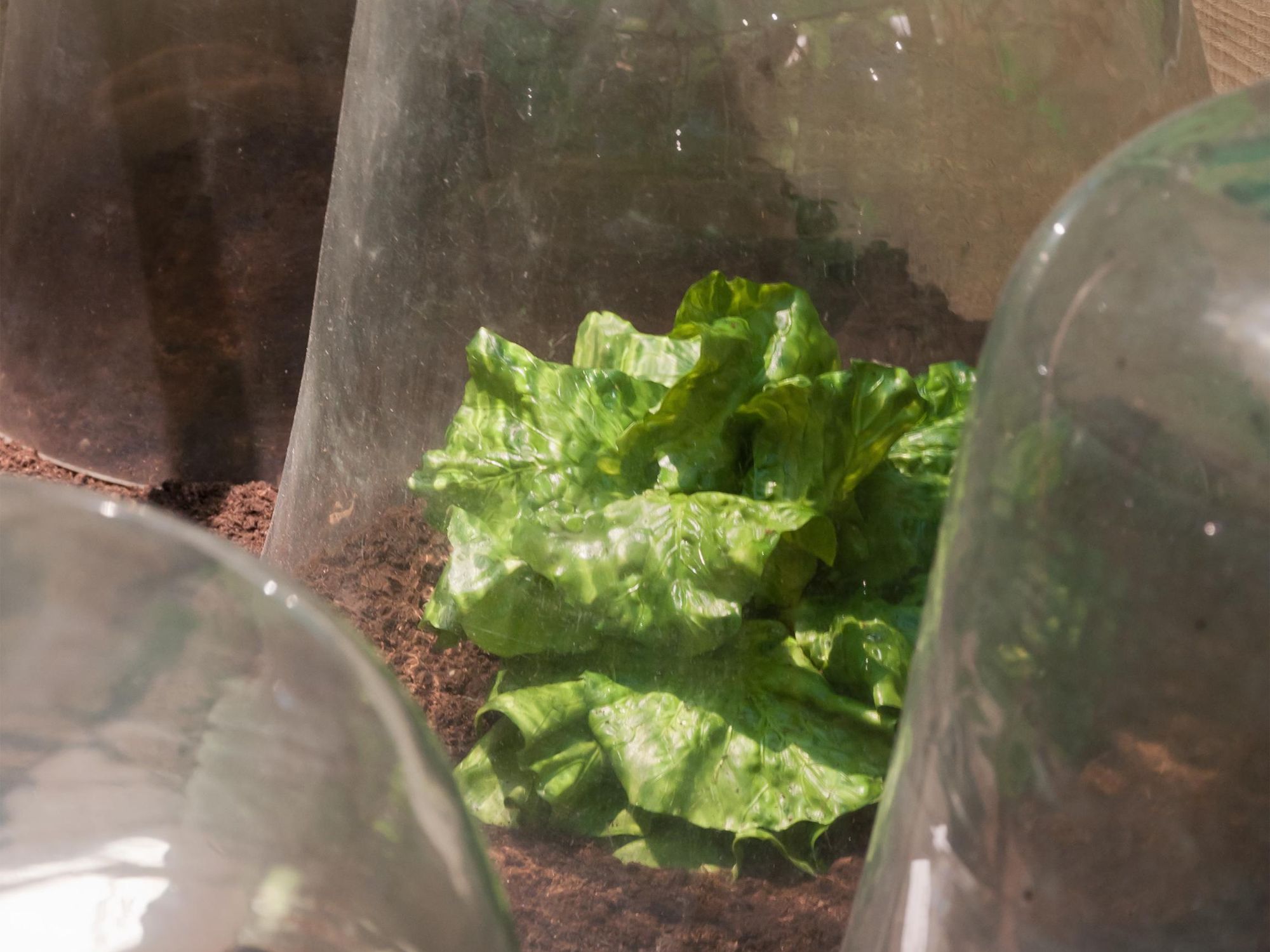 Bring all your potted plants inside, if possible. For outside plants, add a thick layer of mulch to the top to keep the roots insulated. Cover small plants with a cloche—or a dome-shaped object—to keep plants warm. For beds, use a tarp to cover the entire area.

To protect your pets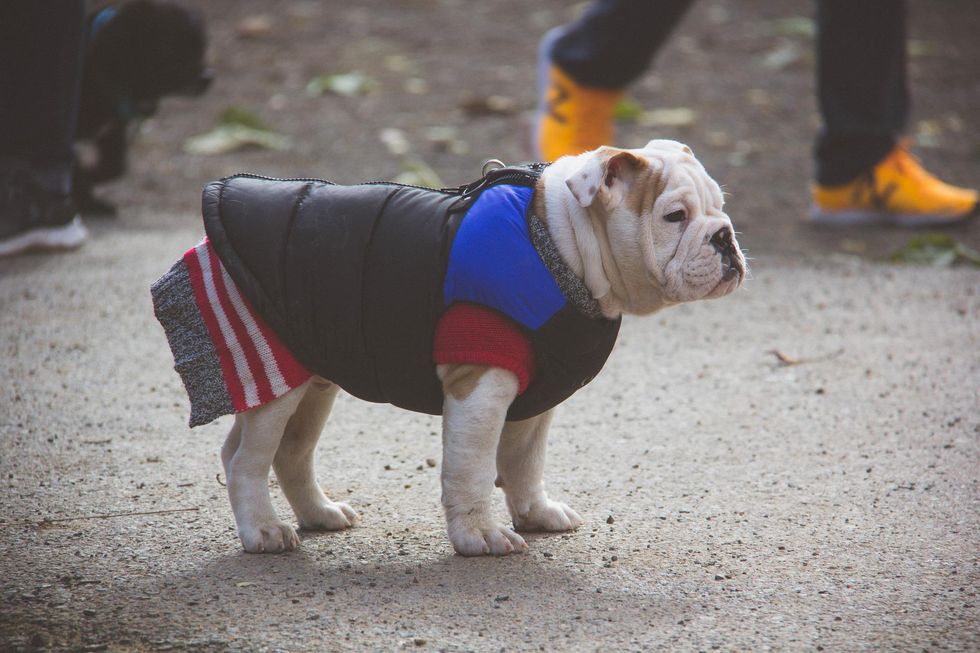 Once the weather gets below freezing temperatures, keep your pets inside for the majority of the time. If you have a short-haired dog, give it a cute sweater to wear while you walk them and be sure to clean their paws when you come inside, as they may have picked up salt or ice-melting chemicals that can irritate their skin.
Stay warm, Austin!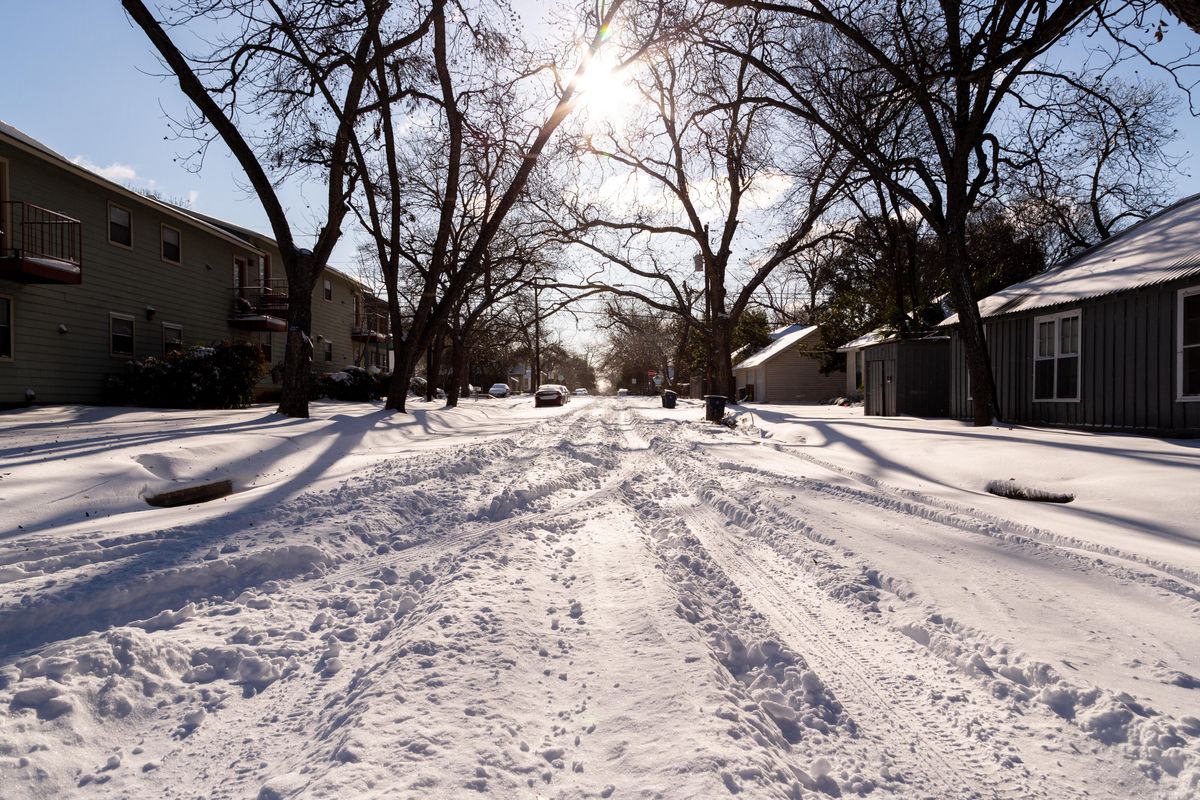 After days of subfreezing temperatures, impassable roads and catastrophic outages during last month's winter storms, the sun came out and things returned to a kind of pandemic normal.
Six weeks later, however, the storm's long-term effects are still revealing themselves—from a month-long gas outage at one East Austin apartment complex to dozens of frostbite victims. Here are some other impacts to look out for in the months to come.