Get connected with our daily update
Smoke shops are free to sell Delta-8 THC products again, for now, as a temporary injunction on the case has been granted—a victory for retailers.
An Austin judge temporarily removed Delta-8 and other language that restricted THC sales from the Texas list of controlled substances on Monday morning. The battle for Delta-8 legalization is far from over and will have a final trial in early 2022.
Behind the lawsuit to relegalize Delta-8 was Hometown Hero, an Austin-based hemp manufacturer and retailer. Founder Lukas Gilkey shared his excitement Monday morning in a YouTube video announcing the news, though he said he expects the decision to be appealed "immediately."
"We thought we were going to get it but now that we're here, this is crazy," Gilkey said in the video. "Couldn't sleep all last night—it's been a shit show."
The case comes after the Texas Department of Health and Human Services clarified on its website that Delta-8, which produces a similar but weaker high to traditional THC, was still considered illegal in Texas. The shift threw Delta-8 retailers, consumers and manufacturers into a frenzy—Green Herbal Care CBD told Austonia it makes as much as 90% of its revenue on Delta-8—since they've been selling it for over two years.

Austonia followed up with CBD retailer Grassroots Harvest CEO Kemal Whyte after speaking with him on the subject in October. Whyte said he is happy to see lawmakers going through the correct channels but warned other retailers to stay vigilant.
"We are an industry that is used to being constantly trodden on, stigmatized and beaten down, all while our customers are thanking us day and night about how much we've saved their lives," Whyte said. "I think they thought we were going to roll over and didn't realize that we had people like Lukas of Hometown Hero. We had a lot of good people fighting this fight."
Both Gilkey and Whyte took the time to thank the many businesses and agencies that pitched in to help make the suit a reality: Delta Xtracts, Go Ghost Hemp, Vape City, the Texas Hemp Federation and the Texas Veterans of Foreign Wars.
"Start off with kindness. Thank our congressional parties, the people who have influence over the future conversation, thank them for the support," Whyte said. "That will help them recognize that there's a large part of the constituency that wants this to be this way."
A final trial on the merits of Delta-8 will be held on Jan. 28, according to presiding judge Jan Soifer.
Austin's Delta 8 industry has been turned on its head after Texas health officials clarified that the cannabinoid is on the state list of illegal substances, though it was previously believed to be legal by most retailers, consumers and manufacturers.
After State District Judge Gary Harger denied a request for a temporary restraining order set forth by Hometown Hero CBD on Friday. Hometown Hero CBD is now asking for other retailers to join them in their lawsuit, which they said will cost around $500,000.
House Bill 1325, which was signed in June 2019 by Gov. Greg Abbott, and the Farm Bill, signed into law by former President Donald Trump in 2018, legalized any hemp product containing less than .3% THC. The same bills were thought to have made Delta 8 legal, though the Texas Department of State Health Services added a notice on its website saying it was still a controlled substance as of Friday, Oct. 15.
Both the federal and state governments keep separate lists on what is considered a controlled substance. Marijuana is considered Schedule I, a category reserved for substances with "no currently accepted medical use and a high potential for abuse," both statewide and federally.
Austin-based CBD retailer Grassroots Harvest CEO Kemal Whyte, like many CBD shop retailers, was blindsided by the announcement. Many small businesses rely on Delta 8 for their sales—Green Herbal Care CBD said about 90% of its sales come from Delta 8—and Whyte said he is frustrated by the inconsistencies in the drug scheduling system.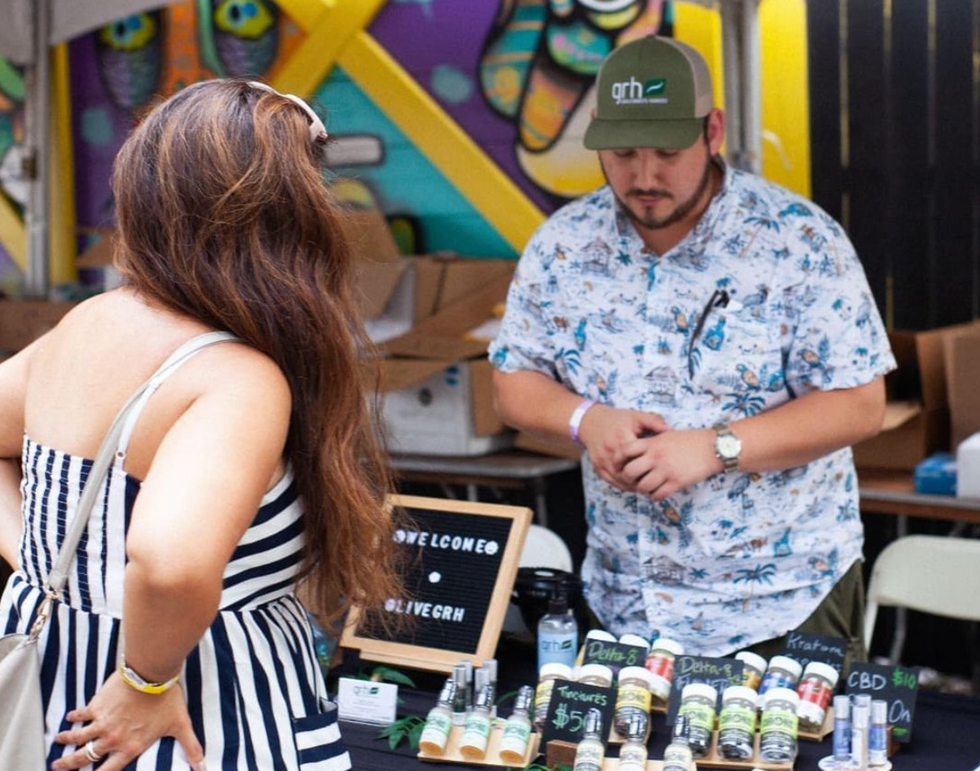 (Grassroots Harvest/Instagram)
Since 87% of Texans support the legalization of marijuana, at least for medical use, per a recent poll, Whyte said he wonders who this legislation is for.
"It's gonna have a massive impact on small businesses—there's just no way around it," Whyte said. "The reality is, we don't want to push out anything bad for our customers, we want this to benefit our customers and to help them. If we can make money while doing it, that's the American dream. What are we doing, whose benefit is this for?"
Delta 8 surged in popularity after the perceived legalization—consumers enjoyed its lower psychotropic potency, decreased anxiety while using it and the peace of mind as a legal way to get high. So in order to protect their products and livelihoods, both Grassroots Harvest and Austin-based manufacturer Hometown Hero CBD are taking legal action.
Whyte said Grassroots Harvest is participating in the suit against DSHS, saying their action is creating negative effects in the market. Meanwhile, a Hometown Hero CBD spokesperson said the company is in the process of filing a temporary restraining order that would pause the ban on Delta-8 in the state of Texas.
Threats against Delta 8 are not new—DSHS lost a lawsuit trying to make "smokable hemp products" illegal last year and Texas lawmakers had been considering a bill that would make Delta 8 illegal, though it was dropped after the clarification was made.
Hometown Hero CBD released a formal statement in response to the DSHS rule.
"I need to be clear—we love Texas, we're just choosing to fight for the will of the people in regards to cannabis in Texas," Hometown Hero CBD CEO Lukas Gilkey said in a statement. "(Texas DSHS) are using backhanded ways to create legislation and go against the will of the people."
Whyte laments the fact that it would be easier legally to "open up a strip club that also sells guns," and said he can't post customer testimonials that mention the benefits of Delta 8 without getting hit with a cease and desist from the Food and Drug Administration. Whyte said he isn't opposed to regulation—far from it—he just wants to see it go through the correct channels.
"The fact that they're stunting our ability to communicate with our clients that want to learn about this, you're preventing us from communicating with them and teaching them, or spreading information that we know," Whyte said. "I think that that in and of itself opens up a lot of questions."
Grassroots Harvest still has Delta 8 products on its shelves for the time being but for how long, Whyte doesn't know.
You've probably heard of tetrahydrocannabinol, the active compound in cannabis, and CBD, the non-intoxicating relative of THC, but there's a new psychoactive chemical compound in town: Delta 8.
Delta 8 is the legal "little brother" which exhibits lower psychotropic potency than the commonly known THC, Delta 9. Most smoke shops and gas stations in the Austin area have been carrying the revolutionary new product for anywhere from six months to a year, to immense success.
Green Herbal Care owner Oz Millman said his store originally started out selling just CBD but adding Delta 8 to the shelves earlier this year has changed the direction of the business.
"When we started selling Delta 8, immediately after like two or three months, the majority of the sales became Delta 8—like 90%," Millman said. "CBD is way less popular than before, I guess more people like to get high."
​How is it legal?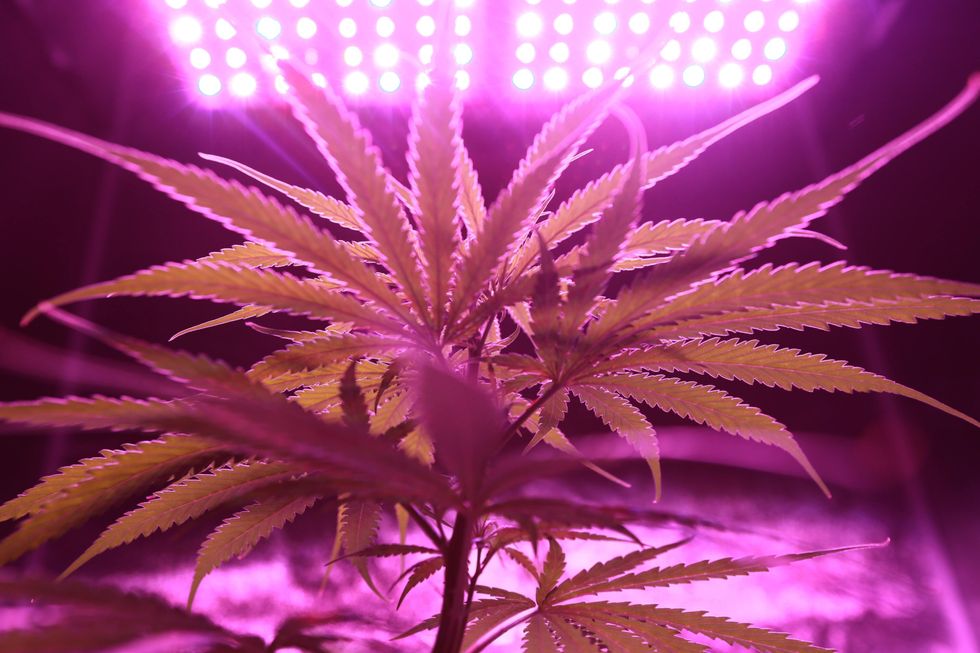 When the 2018 Farm Bill passed through Congress, it legalized all parts of the hemp plant and its hundreds of compounds for the creation of products under 0.3% THC. Products sold with more than 0.3% Delta 9 or the much less common Delta 10 are still prohibited.

Delta 8 occurs naturally in hemp in very small amounts, around 1%, and is extracted from the plant. Delta 8 is usually extracted and converted through a chemical process from CBD since it is so scarce. "It's the same in nature but in a bigger amount, so it's not something synthetic," Millman said. "You get a lot of the health benefits of CBD."
After two years of legality, you can find Delta 8 in most smoke shops, gas stations and sometimes even grocery stores. It is sold in a wide variety of forms: pre-rolls, flower (pieces of the plant itself), gummies, vapes, candy, capsules and tinctures.
What makes Delta 8 popular?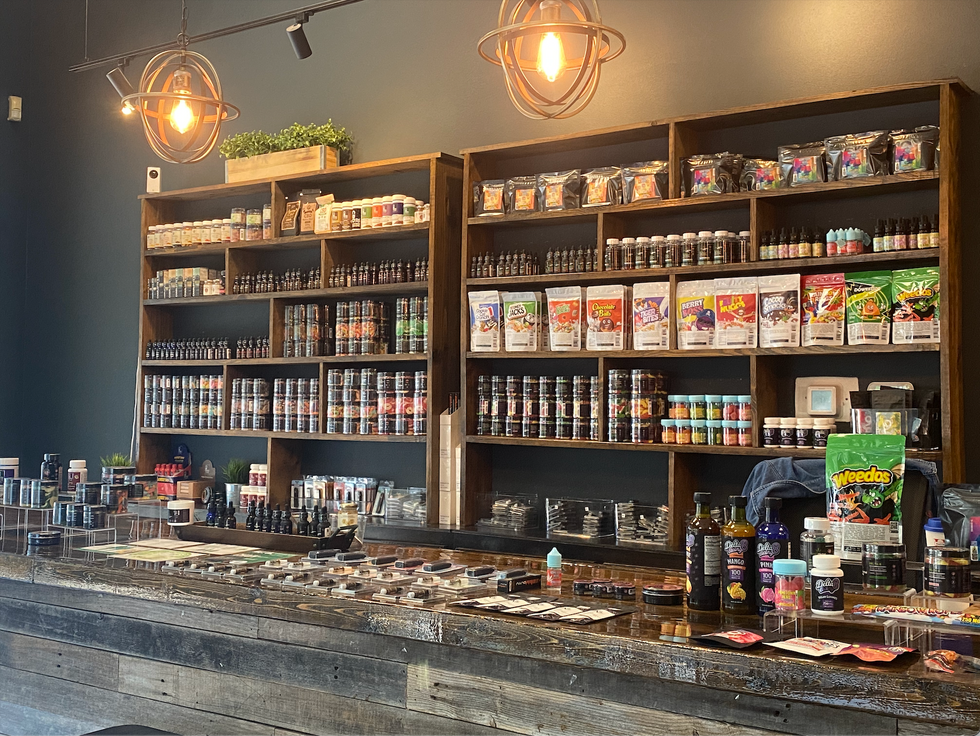 Green Herbal Care, 5601 Brodie Lane, sells an array of Delta 8 and CBD products. (Laura Figi/Austonia)
In part, because it's a legal way to get high, Millman said, but Delta 8 also has antiemetic, anxiolytic, appetite-stimulating, analgesic, anti-inflammatory and has neuroprotective properties according to the Mayo Clinic and dispensary Delta 8 Austin. The "high" users get from Delta 8 often results in less paranoia and you can get it in the same forms as Delta 9 THC.
"A lot of people prefer it because they don't get the bad side effects of Delta 9," Millman said. "The great thing about it is it's completely legal and people can order it online."
After hearing about Delta 8 from a friend, 23-year-old Logan Wolfgang said she prefers smoking it to THC because it gives her a baseline calm and doesn't set off her schizophrenia.
"Delta 8 is just so much easier to access and it's cheap and legal," Wolfgang said. "I'm less worried about getting caught with it."
Self-proclaimed "pothead" Rich M., a local bar manager who asked his last name not be used because of the stigma around marijuana, has been smoking weed for around 20 years and has tried Delta 8 a few times. Lately, he said he's been drinking sodas that contain Delta 8 mixed with pre-workout, which he says help him focus on menial tasks. Rich says he has a lot of friends who enjoy Delta 8 but he hasn't been fully converted.
"All my friends are potheads but I think I'm the only one that still reliably uses my THC vape," Rich said. "The problem with Delta 8 is the sodas have been anywhere from like 'I barely feel it,' to like 'I am high for like hours.'"
​What are the risks?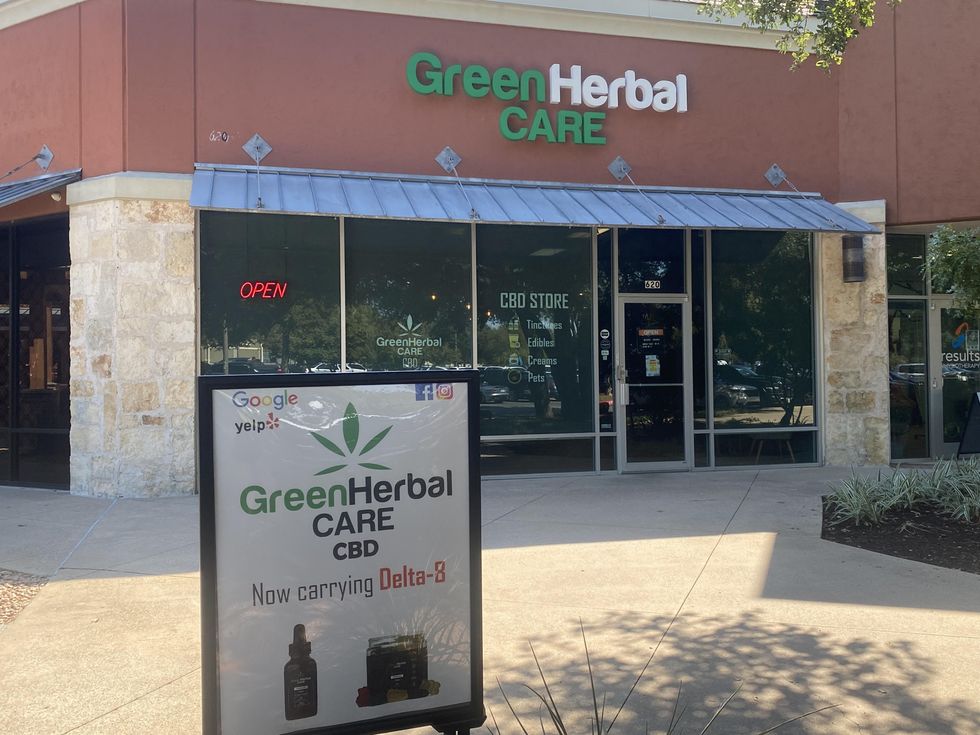 Rich and Millman see one main problem with Delta 8 that could potentially be solved by full legalization: lack of regulation.

Transparency is a problem, according to Millman, who said, unfortunately, it falls on the customer to be careful who to source Delta 8 from. Some products could be contaminated or contain heavy metals and on top of that, there is no age restriction to buy it, though Millman chooses to sell it only to people 21 and older.
Both parties are hoping for legalization, which they say would ideally make it safer to buy, consume and use reliably. Rich isn't too worried about it being bad for him, though he said he doesn't like the uncertainty. For now, he said he's going to stick to what he knows and take a break from Delta 8.
"I'm all for legal legalization, or decriminalization of everything—I think that it's crazy that it's not here," Rich said. "Having it legalized and regulated is like a good thing but they're not going to touch this with a 10-foot pole unless they just make it illegal, so it's just going to continue to exist in this limbo."
Wolfgang says she did her research and hopes for legalization, but as far as she's concerned, it's better than smoking cigarettes or regular flower.
"I would quicker smoke Delta 8 more than I would smoke spice," Wolfgang said. "The ease of access, how it seems better than synthetic weed and things like that. I think that it'll probably stick around for a bit, especially while it keeps being legal and typical weed (isn't)."
(Pixabay)
Heads up Austin, festival season isn't over yet and coming up on the calendar is the first annual Texas Hemp Harvest Festival, which was approved today for its mass gathering permit by the Travis County Commissioners Court.
The hemp-celebrating festival will be held at Carson Creek Ranch on Oct. 23. The festival is organized by CBD company Sweet Sensi CEO and founder Greg Autry with the mission of creating "a place for all Texans to come together," according to its website.
A family-friendly festival put on by hemp processors, manufacturers and retailers, Texas Hemp Harvest Fest said it will have live music, food trucks, alcoholic drinks, vendors, games and fun for everyone involved.
Autry, who has been growing hemp for 25 years, has been running Sweet Sensi for five years where all the products are made in the Austin warehouse "from seed to sale." Sweet Sensi also packages every product in compostable, reusable and recyclable packaging.
The festival will be held to the same COVID safety guidelines as Austin City Limits Festival: attendees must show proof of vaccination or a negative COVID test acquired within the last 72 hours. Attendees will also be subject to a temperature check.

According to the Travis County fire marshal, this is the first mass gathering permit that has been approved since the beginning of the pandemic. Austin's COVID situation is improving—Mayor Steve Adler said "I think we're going to be OK," in response to concerns for ACL—the seven-day moving average in Travis County has moved down to 27 COVID cases per day and went back down to stage 4 guidelines in late September.
Since the permit is conditional, Travis County officials will be on-site to make sure the festival heeds guidelines during setup. The permit was recommended for approval by the Travis County traffic management team, sheriff's office and Austin Public Health.