Get connected with our daily update
With new destinations to Cozumel, Mexico and Montego Bay, Jamaica beginning June 11, American Airlines will offer 40 total flights from the rapidly-growing airport, including eight international routes.
In just over a year, American has added 30 new destinations from Austin-Bergstrom International Airport, which saw a record number of new flights in the second pandemic year. The airport has announced a massive 2040 master plan in lieu of ballooning growth, with plans to add 10 new gates, an underground tunnel, an American Airlines Admirals Club and other nifty add-ons already in the works.

"We're proud to strengthen our commitment to Austin by providing local customers more options to fly nonstop to popular destinations," Brian Znotins, American's Vice President of Network Planning, said in a press release. "Whether it's to the beaches of Cozumel and Montego Bay, or the dozens of other destinations we offer from Austin, we look forward to further connecting Central Texans to our global network."
Eyed as one of the
fastest-growing airports
in the U.S., Austin-Bergstrom's Jacqueline Yaft said the airport is happy to announce the new routes as customers continue to take to the skies at record pace.
"As we see Central Texas travelers returning to the skies, the announcement of new service to two fantastic leisure destinations is perfectly timed for those starting to think about their summer travel plans," Yaft said. "Today's news shows the continued strength of the Austin market, and we welcome American's decision to bring even more air service options to AUS."
Starting June 11, American will offer a 2.5-hour outbound flight from Austin to Cozumel at 9:20 a.m. on Saturdays, with the return flight arriving back in Austin at 3:20 p.m. on the same day. The airline's Montego Bay flight will also depart on Saturdays, leaving at 8 a.m. before coming back at 3:53 p.m.
Tickets for the new routes will go up for sale on Monday, Jan. 24 at aa.com.
In earlier phases of the pandemic, people took it as the perfect moment to uproot their lives to the newest boomtown. Many, particularly Californians, found a fit with Austin, enjoying the Texas weather and lower cost of living. But for some, it may only be a pitstop.
Melaku Mihret, who works remotely in Austin for a Meta office in the Bay Area, thinks some of the Californians who have moved to Texas in the pandemic may just move here temporarily, save money and then head back. Others have also speculated a possible reverse migration, but it may be too early to tell.
According to the Kinder Institute at Rice University, Texan migration to California has remained steady for years. And when it comes to Californians leaving, the institute says it's less about a pull into Texas and more of a push out of California driven by home prices.
But they're not all staying in Austin. U-Haul data shows departures from Austin were up 18% even as one-way arrivals were up 22% in 2021.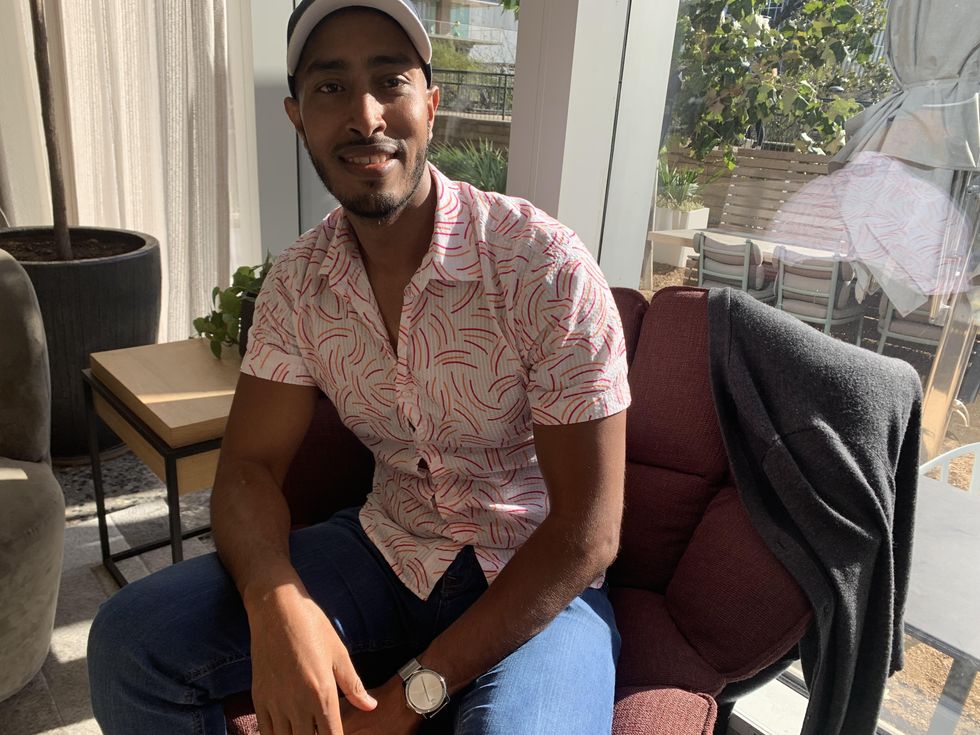 Melaku Mihret, a remote worker a Meta office in the Bay Area, is now living in Austin. (Andrea Guzman)
For Mihret, the biggest driver behind his move was the squeeze of costs in Northern California. If the cost of living wasn't an issue, Mihret said he'd live in the Bay Area. So if Austin continues to become less and less affordable, would Californians go back?
For Mihret, not many places come close to what California offers. He points to the nature, such as the mountains and lakes, in California and the massive tech hub it is. Austin is "not even nearly close to California," Mihret said, after acknowledging Austin's growth as an emerging tech hub.
Meanwhile others like Ian Davies, who grew up in Austin and left in 2011 when he was in high school, much prefer living in Austin.

His family had moved to Philadelphia, years passed and he eventually landed a job in financial operations at NBC Universal in Los Angeles, California. When the option of remote work during the pandemic came around, he longed to return home.

"I couldn't wait to move back to Austin," Davies said. "Not that I didn't enjoy my time in LA. But LA is just a whole other beast than Austin."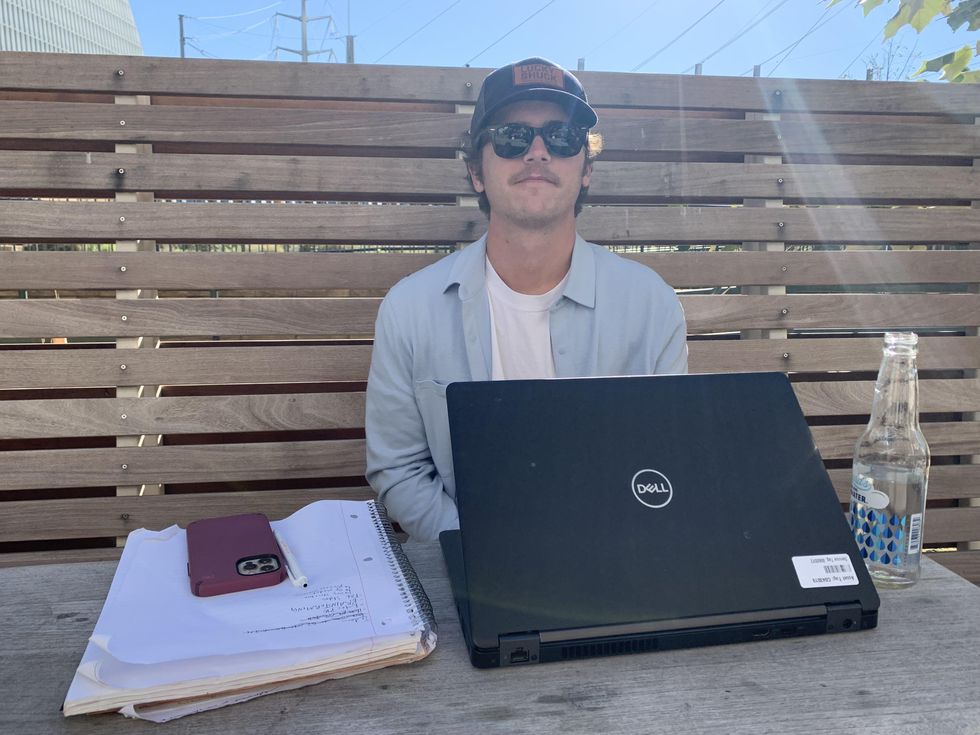 Ian Davies does remote work for NBC Universal in Downtown Austin in early January. (Andrea Guzman)
But a downside he says is it's become more expensive in the past year and half since he returned. The Austin-Round Rock-Georgetown metro area had the 12th highest change in a recent study on cost of living increases across the country. And among the nation's top 10 tech hubs, Austin saw the largest year-over-year increase in average rent this past September, with an average of $1,647.
It's a cost of a growing city. Davies sees a positive in all the growth, as he enjoys living in a city with a diverse population, like when he was in LA.
"There's a group of Austinites who are very against people moving here, and I'm definitely not part of that crowd. I want to share this city with other people. I think it's awesome."

He says he wouldn't want to be anywhere else.
"I hope that Austin can keep its soul and keep its weirdness. Like blues and rock and live music," Davies said. "I haven't seen much of that change. I hope people that move here can adapt the spirit of the past and carry that."
The skyline and other parts of Austin will see some changes this year with new developments set to open.
From tech giants set to welcome workers to housing for UT students, these are some projects to look out for in 2022.
Block 185 | 601 W. 2nd Street
After about three years in the works, Google workers are expected to take over Austin's tallest office tower. It is slated to be complete in May. Plus, we'll see Uchi's newest restaurant Uchibā take post in the building.
The sailboat-inspired downtown building is expected to stand at 594 feet. Also included is a creekside tenant amenity, retail space and a boardwalk. The tower will also feature outdoor roof areas for prime views of Lady Bird Lake.
Apple Campus | West Parmer Lane and Dallas Drive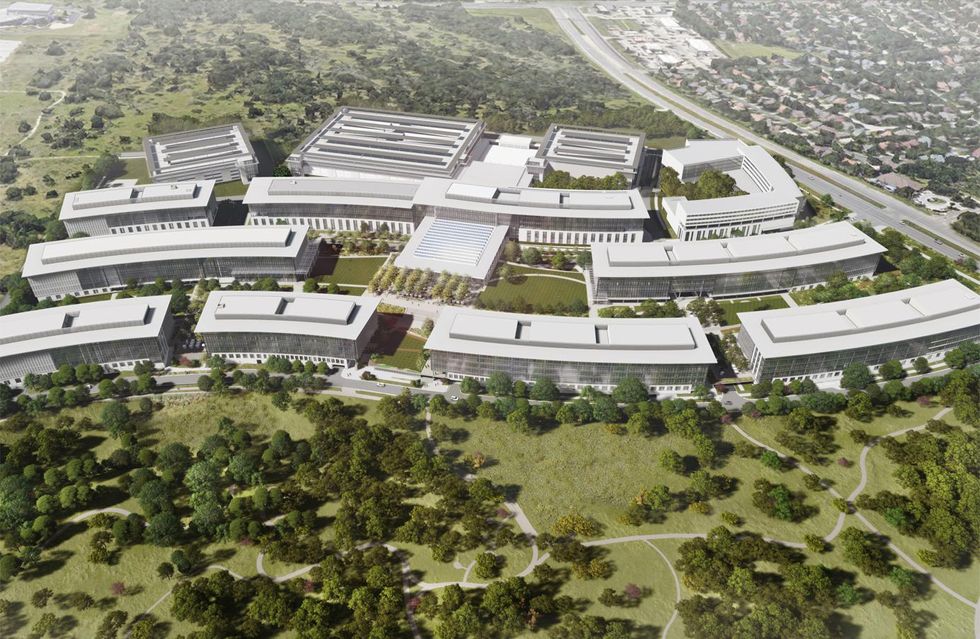 Thirty years since Apple first established a presence in Austin, the company is set to deepen its roots with a $1 billion campus in Northwest Austin. Apple has previously said employees will start reporting to the campus sometime this year, though COVID-19 has caused delays to in-person work.
The 133-acre campus, near its office on West Parmer Lane, includes 2 million square feet of office space, a 192 room hotel and space to bring in 5,000 employees.
Waterloo Central tower | 701 E. 5th Street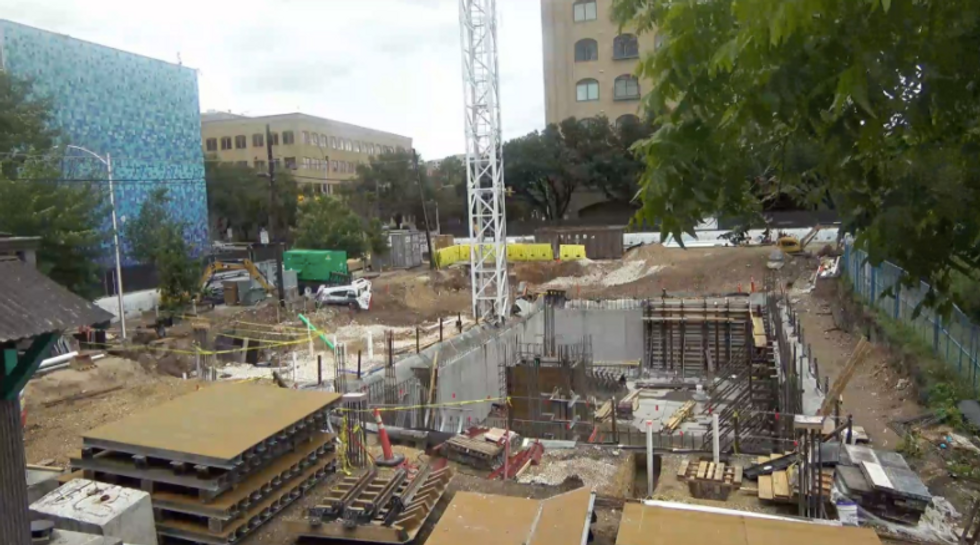 In July 2020, Hippo Analytics, a California-based property insurance company that uses AI and big data to analyze property information, signed a lease at the five-story office tower.
With a curtain wall glass design taking up 39,000 square feet, this project is expected to be completed sometime in Q2.
Moody Center | 2001 Robert Dedman Dr.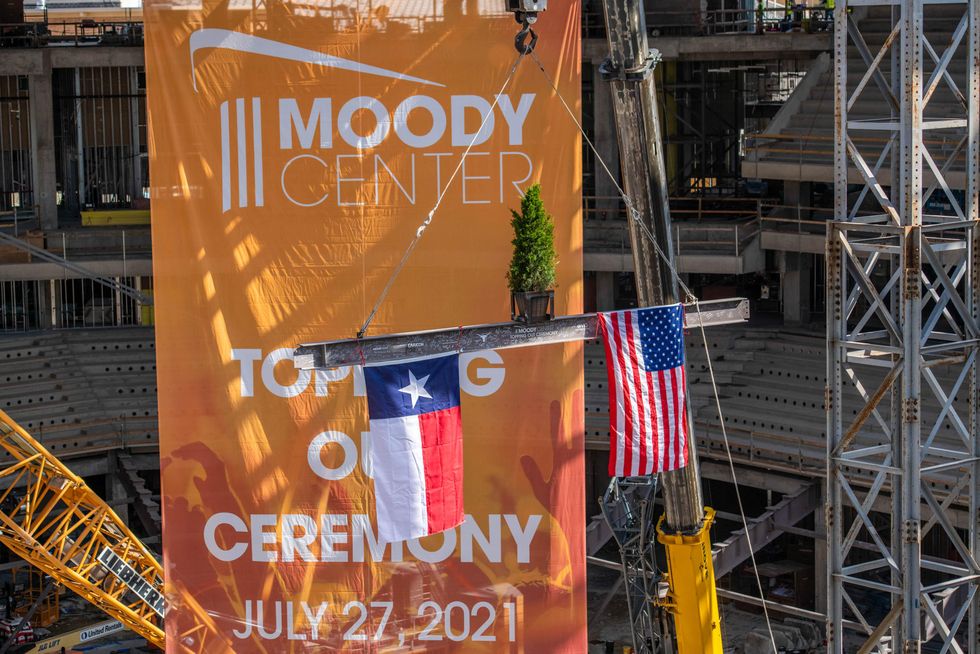 In replacement of the Frank Erwin Center, this $338 million arena will be able to seat 10,000 for Texas Longhorn basketball games and up to 5,000 more for other events. It will make its official debut in April.
The arena takes its name from the Moody Foundation, which gave $130 million toward construction.
Concerts have already been booked, including a first performance by John Mayer and a George Strait and Willie Nelson show. Click here for scheduled events so far.
Waterloo West Campus tower | 2400 Seton Ave.
With 241 units spanning 30 stories, the $77.6 million student housing complex in West Campus will be the tallest tower in the neighborhood at 300 feet. An exact completion date has not been announced.
Lincoln Ventures, the Austin-based developers behind the plan, have said 20% of units will be affordable housing with the remainder going at the market rate. The building will include amenities fit for college students, including conference rooms, a rooftop terrace with a fitness center and a complimentary coffee bar.
RiverSouth tower | 401 S. First St.
Stream signs powerhouse law firm as the first tenant for its signature Austin project, RiverSouth. International law firm Baker Botts has signed a 12-year lease to assume 50,000 square feet of the 350,611 square-foot office tower. http://bit.ly/rs-bakerbotts\u00a0pic.twitter.com/1RhiQqaa4D

— Stream Realty Partners (@Stream Realty Partners) 1559597880
Located at the intersections of South First Street, West Riverside Drive and Barton Springs Road, this 15-story office building will be finished next month and start move-ins in May. Taking up 17,000 square feet, it includes an underground parking and bike storage, a fitness center and a lounge with skyline views.
The developer, Stream, said the leasing demand "has been nothing short of remarkable." Already, 50% of the building is pre-leased to tenants such as AlertMedia and some Austin-based businesses.