Get connected with our daily update
Austin developer Cumby Group is set to transform nine acres—or more than a block of property—into three separate projects that will include over 800 units in East Austin.
Nestled between the Mueller community and Airport Boulevard, the back-to-back-to-back projects will soon be home sweet home for over 800 individuals and families. The project will also include 80 affordable units.
Cumby Group already broke ground on its first project, The Emma (3219 Manor Road), just after the winter storm.
The Art Deco style development is just under a year from its scheduled open date and will include 146 apartments, 15 of which are affordable housing, as well as a live-work space and courtyard pool.
Round two (3115 Manor Road) will include two buildings, also five stories each, with up to 500 apartments within the property. The center property will also include a neighborhood gathering area set for food trucks, farmers markets and more as well as room for commercial space. The Cumby Group hopes the second project will begin construction in the spring of 2022.

The third acquisition for the group is less defined but is likely to include 200 more apartments, some of which will also be affordable housing, and will include more space for food trucks.
The project is in a prime location just east of the heart of Austin, an area that is subject to ever-increasing demand. Just north of the location is the Mueller Development, a large mixed-use community, and dotted across the area are businesses new and old.
Elisabeth Johnson, Association President of the JJ Seabrook Neighborhood, said that Cumby made sure to reach out to the community in order to create a development that is cohesive with the already-existing neighborhood.
Cumby Group Development Vice President Melissa Brown said they hope to preserve and enhance that corner of East Austin rather than demolish it.
"The opportunity to transform more than a block in the urban core doesn't come along often, and we've worked hard to ensure that we do so in a way that aligns with the needs and goals of the surrounding neighborhood as well as East Austin's vibrant culture," Brown said. "Together these three projects will provide a significant amount of housing for people with a broad range of incomes near jobs and transit while also creating engaging spaces that bring people together."
In addition to food truck spaces and room for farmers' markets, the developer will also add public greenspace to the property to connect two parks, the Southwest Greenway and the JJ Seabrook Park.
Fourteen years after the city of Austin purchased the former Home Depot site at I-35 and St. John's Avenue in 2007, City Council voted unanimously on Thursday to begin negotiations to redevelop it, with construction slated to start as soon as next year.
Real estate developer Greystar and the Housing Authority of the City of Austin have proposed a plan for the 19-acre site that includes:
A 3-acre public park with a splash pad, playground and community garden
280 affordable rental units
15,000 square feet of community retail and support services space for tenants such as grocers, vocational training centers and child care
Greystar and HACA have also agreed to pay off more than $10 million in city debt. Because the city purchased the property using 2006 bonds with the intention of building a police station or courthouse, this debt needs to be paid off before the site can be used for a different purpose that better aligns with the community's goals.
District 4 Council Member Greg Casar has been involved in this effort since before taking office in 2016. "It took way too long, but it's clear that the community pushing and wanting to keep people in the neighborhood … has finally gotten us to this point," he told Austonia.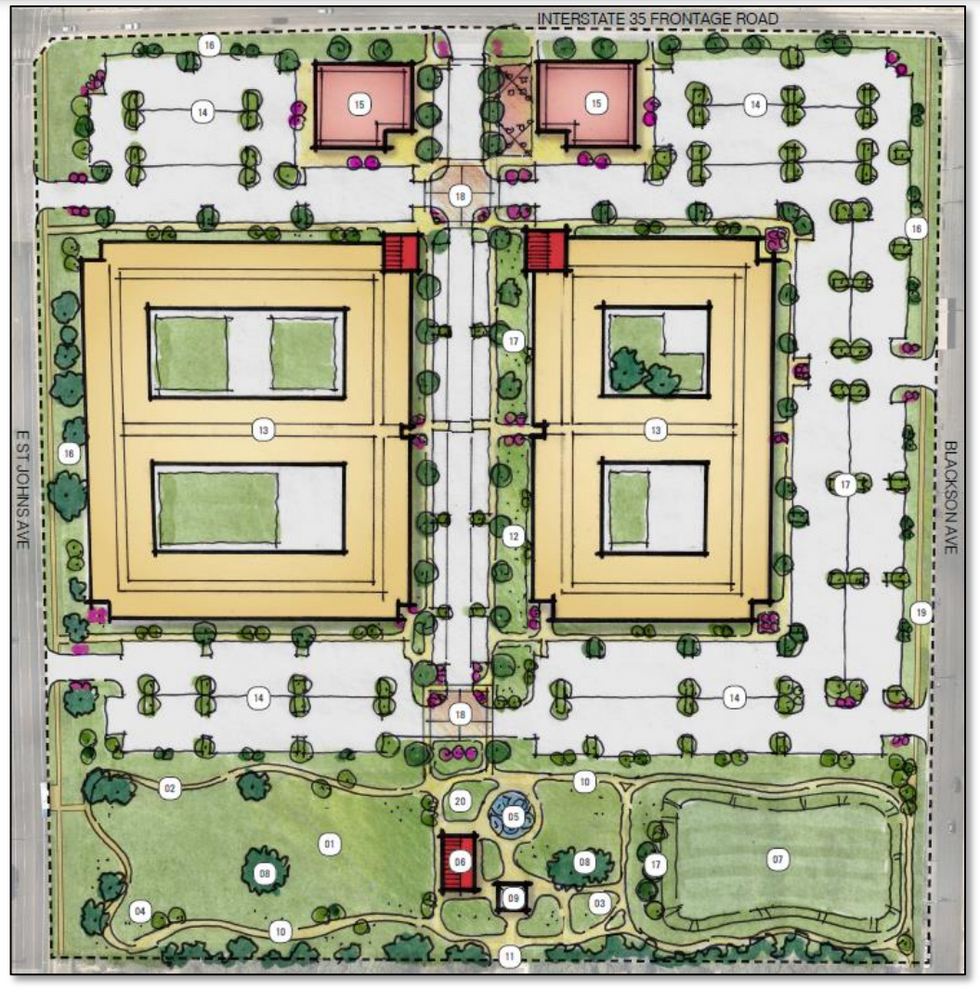 The proposed redevelopment includes affordable housing, expanded park space and commercial space. (TBG and Brent Design)
'A step in the right direction'

During the negotiations process, council has instructed staff to secure affordable homes for purchase in addition to rental units and right-to-stay and right-to-return programs that serve people who have been displaced by gentrification.
Cherelle VanBrakle grew up in the St. John's neighborhood and works at the People's Community Clinic, which is less than a mile away from the site. "I obviously love Austin," she told council on Thursday. "In the same breath, I cannot afford to live in Austin."
VanBrakle purchased a home in Manor four years ago after her mortgage broker told her she couldn't afford anything in the 78752 ZIP code—or anywhere else in the city of Austin. But she remained involved in the years-long community engagement process that led to the current proposal. "This is a step in the right direction," she said, urging council to support the proposal.
Thelma Williams, a St. John's resident known as Grandma Wisdom, is hopeful that the redevelopment will bring more job opportunities and social services to a community that sorely needs it. "The social issues are my great concern, and I think many of the things that we can do with this development will help with some of those issues," she told council.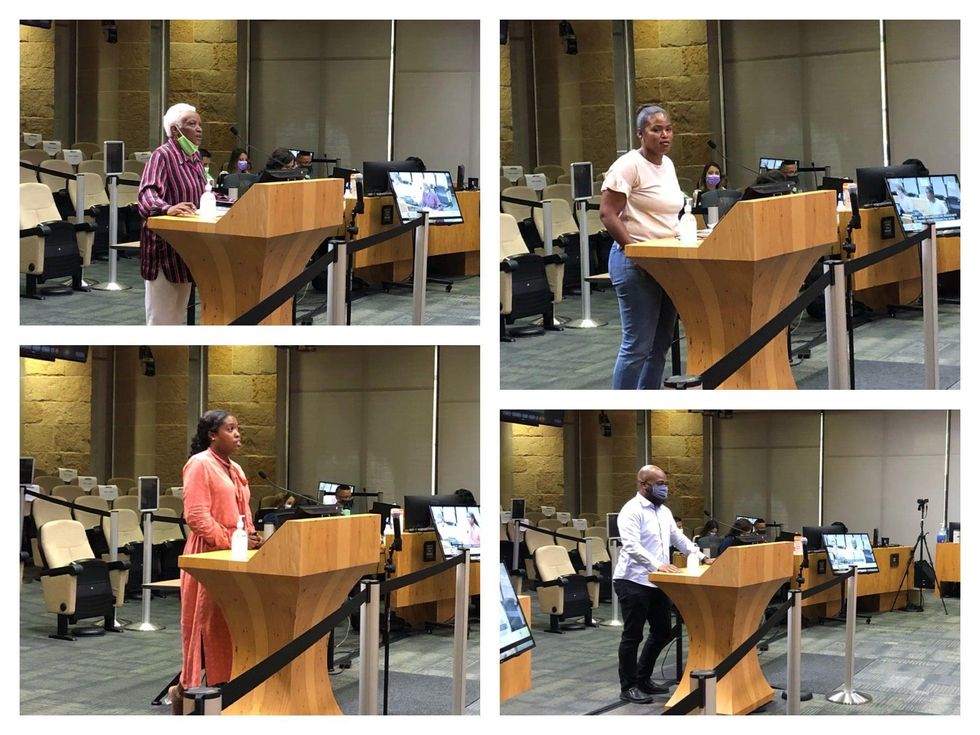 Thelma Williams, top left, and Cherelle VanBrakle, top right, were among the community members who spoke in support of the redevelopment proposal during the Thursday council meeting. (Council Member Gregorio Casar/Facebook)
Honoring the past

The former Home Depot (and current COVID testing) site is both a "symbol of blight and neglect," as resident Hakim McClellan said Thursday, and sacred ground with a rich history.
In the late 1890s, the St. John Regular Missionary Baptist District Association purchased 350 acres of land, spanning ACC Highland to Blessing Avenue, just West of Cameron Road. It served as a Freedman community, where formerly enslaved people could find work as sharecroppers, as well as home to an orphanage and school.
"In so many ways, while we had land, we were in an area where we didn't get a lot of participation from the larger community," Precinct 1 Commissioner Jeffrey Travillion said at a Friday press conference. "So what we see today is a sea change."
For many Black Austinites, the redevelopment serves as an important opportunity for the city to honor the history of the St. John's neighborhood, even as its demographics shift. Its population is now majority Latino, and its share of Black residents has shrunk from 13% in 2000 to 8.4% in 2017, according to U.S. census data.
"When the city of Austin ... moves forward with the redevelopment and rebuilding of this area, what the city is saying is that they are concerned about that segment of the community and that they're being intentional about lifting up … everybody who is in the St. John's area," Rev. Daryl Horton, a pastor at Mt. Zion Baptist Church in East Austin and member of the St. John Regular Baptist District Association, told Austonia. "And this becomes a shining light of what makes Austin a wonderful city to live in."
The Moody Center, a $338 million, 530,000-square-foot multipurpose arena at the University of Texas at Austin, celebrated its topping out on Tuesday.
With the final beam placed, the arena's steel-frame structural phase—which involved more than 5.3 million pounds of steel—is complete.

"This past year has been full of unprecedented events, not to mention weather challenges, and yet the women and men working on this project continue to deliver," Moody Center General Manager and Senior Vice President Jeff Nickler said in a press release.
To celebrate the topping out Oak View Group, the development and investment firm behind the Moody Center will affix a tree to the final beam in keeping with the time-honored tradition.

The practice dates back to ancient Scandinavian religious rites, which involved placing a tree atop new buildings to appease tree-dwelling spirits displaced during the construction process, according to the International Association of Bridge, Structural and Ornamental Ironworkers in Washington D.C.
After the steel-frame structure phase, the development will move on to enclosing and finishing the interior of the Moody Center.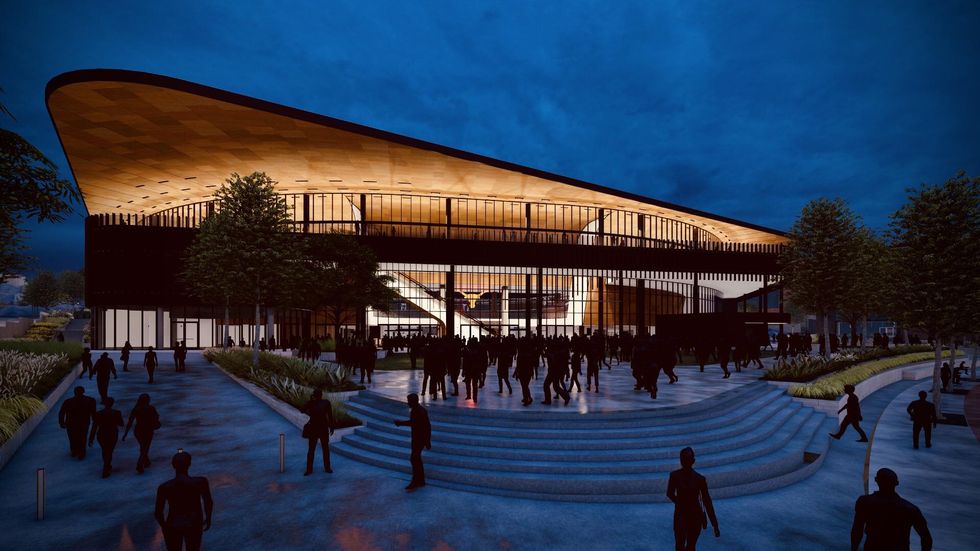 Rendering of the Moody Center. (Moody Center)
The arena is set to open next April and already has some major acts scheduled for its inaugural year, including The Weeknd, Justin Bieber, John Mayer and The Killers. It will replace the 43-year-old Frank C. Erwin Jr. Center and serve as the home of UT's men's and women's basketball games, among other sports and community events.
Tired of driving to North Austin to go to the Domain? The first phase of plans for River Park, the controversial up-and-coming mixed-use development nicknamed "The Domain on Riverside," has been released.
Partners Group and Presidium, the corporations behind the development, said in a press release the new plans include:
Two office buildings with a combined total of around 420,000 square feet that will include fitness areas, parking for electric vehicles and bikes and access to the outdoors
A 370 unit mid-rise apartment community with affordable housing implemented at 60% of the area median income; the complex will include a clubhouse and rooftop pool.
12,000 square feet of retail space to begin the shopping center
Nearly 1 acre of open space and parkland area open to the public
The team hopes to secure approvals and permits by early 2022.
River Park has garnered criticism from East Austin residents and those worried about gentrification, but the company says it is working to ensure that affordability and community are implemented into the project.
Green spaces, including walking and biking paths, will connect the spaces to sidewalks and surrounding neighborhoods and be lined with tree canopies. Thirty acres of parks and a new transit stations are also included in the project.
The space will eventually incorporate the entire "live, work, play" dynamic, but it'll be a long time before the project is finalized: River Park's 10 million square foot plans aren't set to be completed for the next decade or two.