Austonia AM
100% Austin news, info, and entertainment, straight to your inbox at 6 a.m. every morning.
In five minutes, you're fully informed and ready to start another great day in our city.
Get connected with our daily update
Lady Bird Lake is getting a new project that will bring a new cafe, lake dock and concert venue along the water.
The Seaholm Waterfront project aims to revive a 3-acre space just south of the Seaholm Power Plant, including the historic 1950s Art Deco intake building, into a first-rate public amenity and event venue.
Austin City Council approved the project's master plan—developed by the architecture firm Studio Gang in partnership with the Austin Parks Foundation, The Trail Foundation and the Austin Parks and Recreation Department—back in 2018. After a long wait, members authorized a contract up to $3.2 million with a local construction firm earlier this month, kicking off its first phase.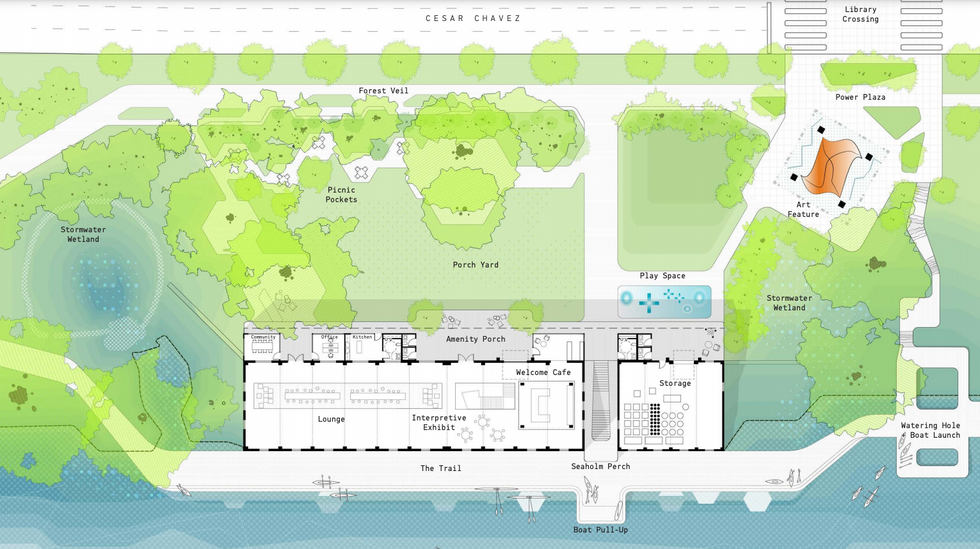 This rendering maps out the three-acre, waterfront site. (Studio Gang)
Funded by General Obligation Bond and Hotel Occupancy Tax dollars, this phase will focus on ensuring the intake building is "safe and habitable for small programs and events by restoring character defining features and updating the building for code-compliant occupancy," according to the council agenda backup.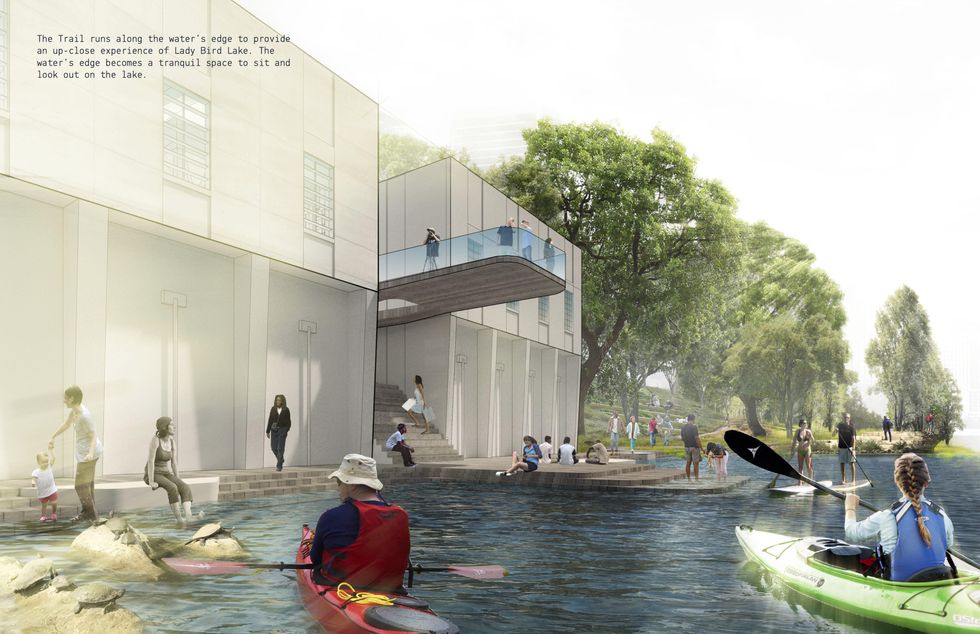 (Studio Gang)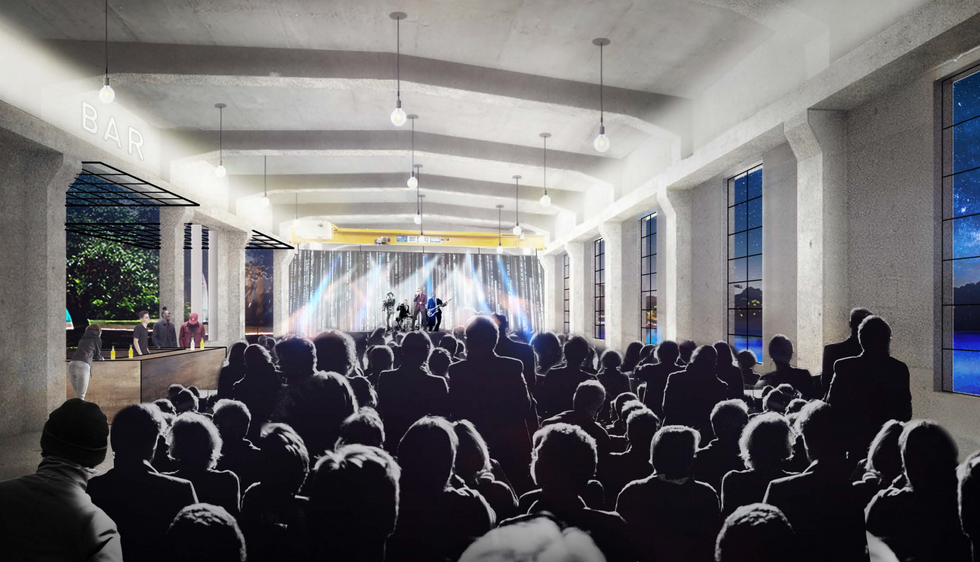 It could soon serve as a concert venue. (Studio Gang)
The scope of work includes underwater welding, needed to seal the building's water intake pipes from Lady Bird Lake; historic window restoration; and power washing the facade to remove decades of graffiti.
The contract is set to take nearly a year to complete. Once finished, the building will be able to host events and other activities, even as the second and third phases—which will add a cafe, lake dock and historic gantry crane—get underway.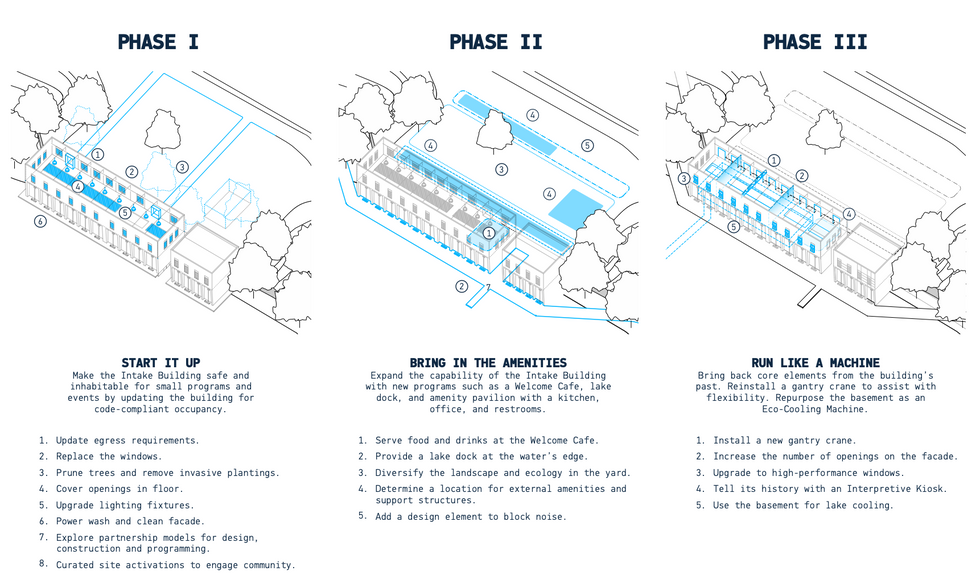 The 2018 master plan lays out the three phases of the project. (Studio Gang)
The Seaholm Waterfront project builds on the work of the Seaholm Development District, a mixed-use downtown neighborhood that includes the redeveloped Seaholm Power Plant, now used as commercial office space; the Central Library; and a series of new high rises, including the Austin Proper Hotel and the forthcoming Google office building.

The intake building redevelopment is taking a different approach, focusing on "adaptive reuse in the public interest" rather than privatization, according to the real estate news site Austin Towers.
The Seaholm Waterfront project is one of many that will change downtown Austin, including the South Central Waterfront, which includes 118 acres across the lake, and Waterloo Greenway, a forthcoming urban parks system modeled on New York City's High Line.
From Your Site Articles
Related Articles Around the Web
If you've lived in Austin long enough to get stuck in rush-hour traffic on MoPac, you're probably familiar with Camp Mabry.
Named after Adjutant General of Texas Woodford H. Mabry, the military installation was established in 1892—in what was then a rural area—as a training facility for the Texas Volunteer Guard. The original site, which comprised roughly 90 acres, expanded to 400 acres by 1911 as a result of government land purchases and various land gifts. It now functions as the headquarters of the Texas Military Department, Texas Military Forces and Texas Military Forces Museum.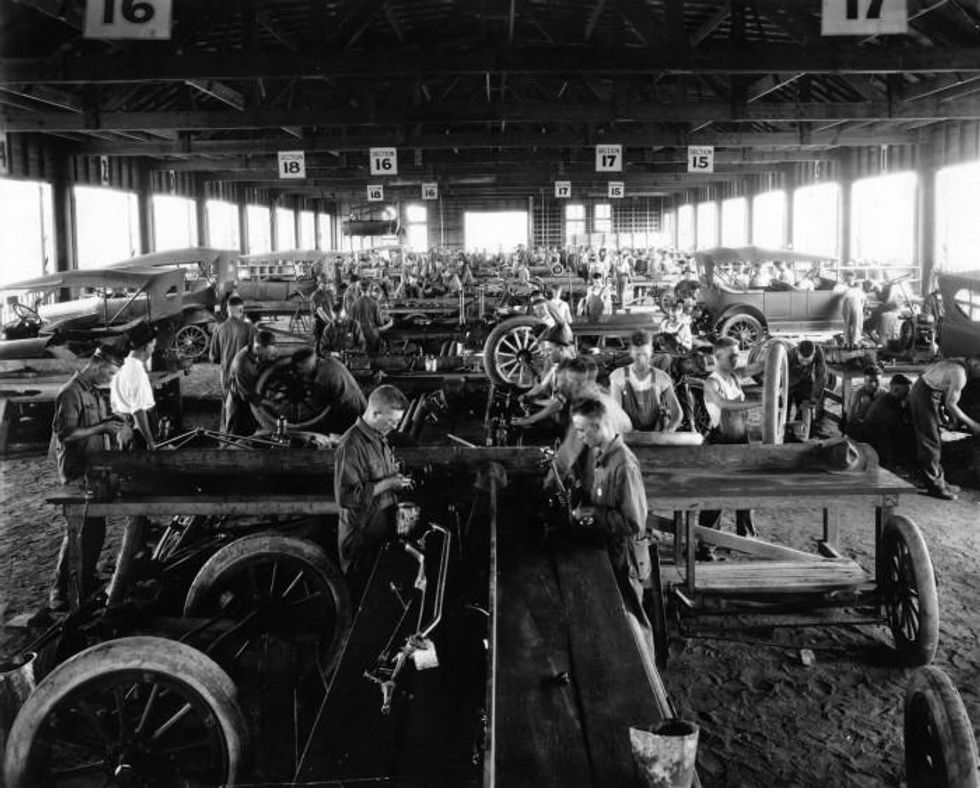 Soldiers build military vehicles at Camp Mabry during an unknown year, anywhere from 1877-1939. (Austin Public Library/Austin History Center)
These days, Camp Mabry also serves to confuse commuters who are stuck in bumper-to-bumper traffic, gazing forlornly out their car windows and wondering, "What is that place even used for?" Indeed, such a large plot of sparsely populated land situated directly off the highway feels like a relic from a bygone era when compared to the rest of Austin, which is becoming more tightly packed with office buildings and high-rise apartments every day.
It's a stark contrast that raises a worthwhile, yet hypothetical question: What would it take for the state to sell Camp Mabry, and could the development of that land help mitigate Austin's housing crisis?
Developing Mabry would take State and City cooperation that's in short supply. Because Camp Mabry is state-owned, it would need to be authorized for sale by the state legislature or deemed "under-utilized" by the Texas General Land Office and approved by the governor. Circumstances it does not meet today.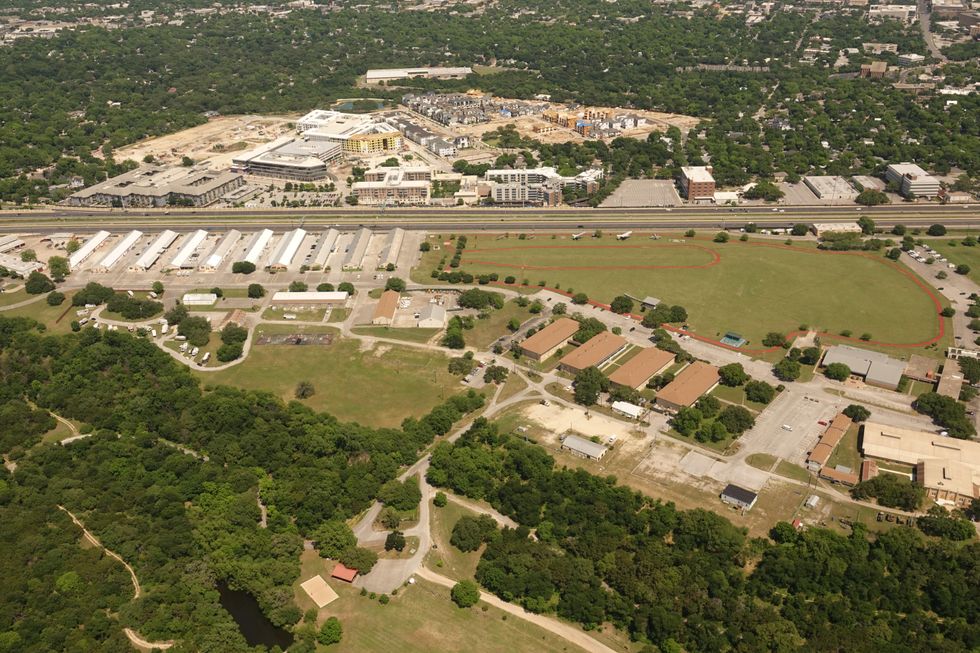 Aerial shot of Camp Mabry. (Austonia)
Nevertheless, if the state were to ever sell Camp Mabry, its development would raise two fundamental questions, according to Steve Drenner, founder of Texas land use law firm Drenner Group, P.C.
1. Would the state sell the land outright or ground lease it, allowing a tenant to develop it for a period of time before turning it over to the owner at the end of the lease?
Drenner thinks the state would likely opt to ground lease it so it would retain the right to redevelop that land to achieve maximum density as Austin continues to grow and evolve. He cites the Central Market at 40th and North Lamar as an example of an effective ground lease.
"You could argue that whatever the time period is left—30-40 years—that if Austin keeps growing, that it would have a different highest and best use. Maybe taller office buildings combined with multi-family, much higher, denser development. And in that case, the state would have the opportunity to profit from the new circumstances that the market would drive to make that a denser project."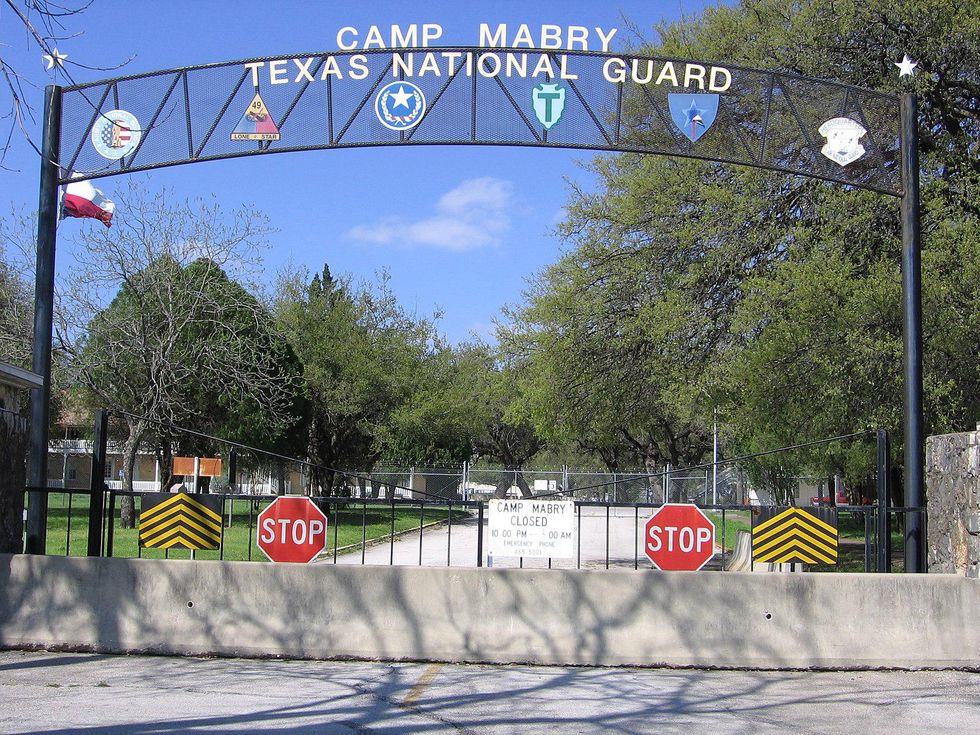 The Camp Mabry sign in 2005. (David E Hollingsworth/CC)
2. How would the city of Austin determine the land usage?
It could go one of two ways, explains Drenner.
"They might say, 'Well, we'll let it go through a zoning process.' They also might say, 'Well, it'll go through a special board of review that is (made) up of a combination of state and local officials, and that's the group that determines the land use.'"
If the former, the zoning process is ultimately "a discretionary decision by the City Council," which means that an applicant cannot receive zoning approval simply by following a set of instructions.
For an example of how the zoning process might go with Camp Mabry, one can look to the Grove at Shoal Creek, a master development off 45th Street and Bull Creek Road that was built on land that formerly belonged to the Texas Department of Transportation. The previously undesignated land was rezoned as a Planned Unit Development, which is not subject to conventional zoning requirements. Instead, PUDs work with the local government to create developments that preserve the environment, promote innovative design and provide ample public facilities, along with a mixture of single- and multi-family housing. The Grove also "carries a 10% affordability requirement" that "yielded 92 affordable rental units and 46 affordable homeowner units," according to nonprofit design organization CoAct.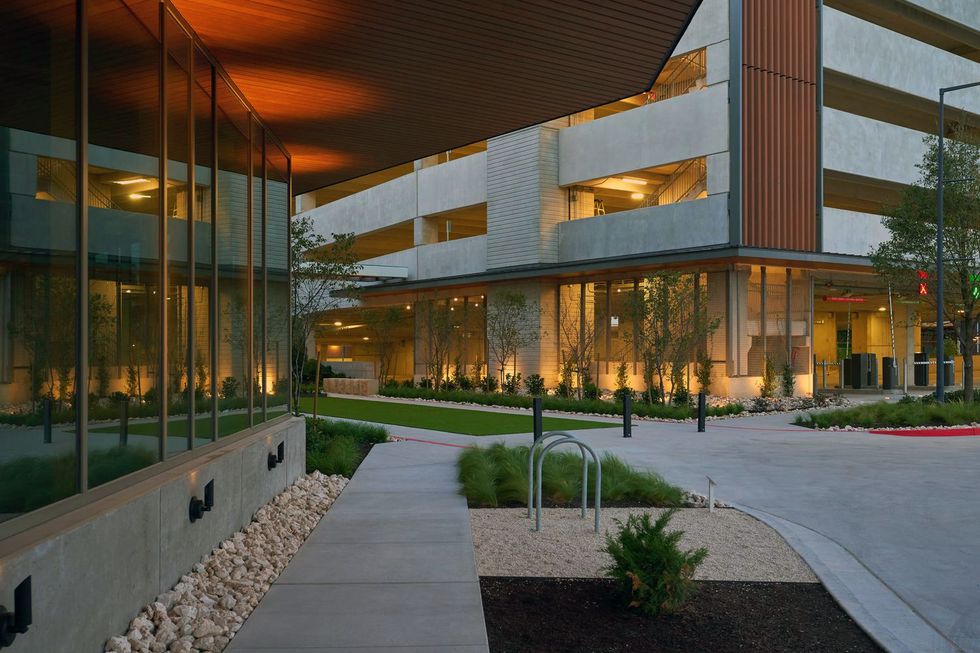 The Grove at Shoal Creek, a new development, was built on land formerly owned by TxDot. (Justin Wallace)
Surely, the prospect of developing a 400-acre plot of land adjoining 35th and MoPac is enough to make even the most successful commercial developers in Austin misty-eyed.
With Austin's median home sales price ballooning to an all-time high of $550,562 in April, a 31.7% year-over-year increase, and the average monthly rent in the Greater Austin area exceeding pre-pandemic levels at $1,335 that same month, to call that land desirable in today's market would be an understatement.
"Can you imagine: hundreds of acres, literally dead in the middle of probably some of the most valuable real estate in Texas?" said Tim Hendricks, senior vice president and managing director of real estate investment firm Cousins Properties. "It's enough land to create a true midtown Austin."
Hendricks says the expanse comprising Camp Mabry is comparable to the Domain in size, and the land would probably be allocated similarly if it were ever developed—2 million square feet of retail, 3 or 4 million square feet of high-rise residential, and 3 million square feet of office.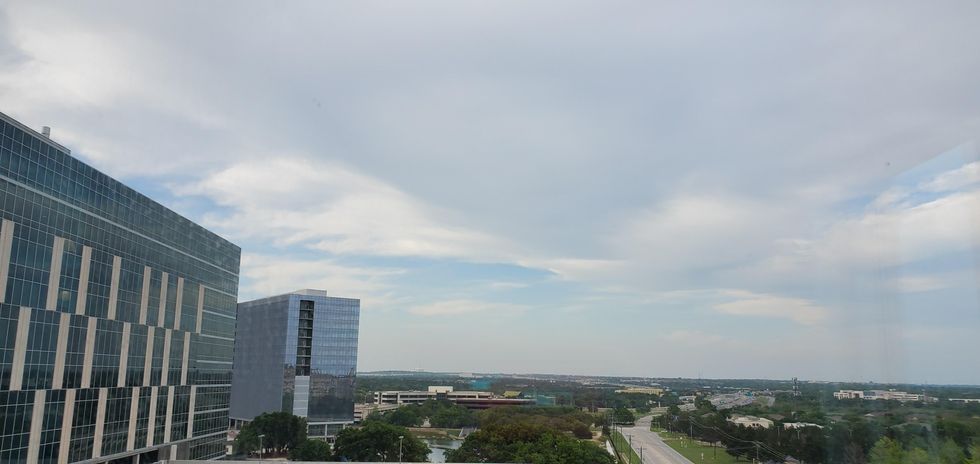 The Domain could be the type of development Camp Mabry's land mirrors if ground leased. (Shutterstock)
While the prospect of a mixed-use residential and retail mecca in central Austin might appeal to locals who are tired of trekking to the Domain, Hendricks predicts it would face pushback from people who live in the neighborhoods adjacent to Camp Mabry—particularly a mature, high-income neighbor like Tarrytown, whose quaint, locally-owned businesses and single-family homes lend to a much slower pace of life than the hustle and bustle that a sprawling, mixed-use development would invite.
"They're not going to want the density," Hendricks says. "With density comes congestion." He adds that even if the people of Austin wanted the Camp Mabry land to be developed into single-family homes, "the economic drivers would tell you that it should be much more dense than that."
If the state ever sold or leased the Camp Mabry land out for development, Austinites could expect some knock-down, drag-out City Council debates over how the land should be used.
For now, the prospect of developing Camp Mabry remains either a pipe dream for local developers or an affront to certain Austinites' way of life.
Notice cranes in the Austin skyline or fenced-off city blocks with deep holes in the ground? The constant construction is building the Austin of tomorrow, including five major mixed-use developments that span the South shore of Lady Bird Lake to the northeast tech corridor and are due to be completed over the next two decades.
(Austonia staff)
Despite the pandemic, and uncertainty about the future of office work, new towers and other developments continue to spring up across Austin.
This year, some significant downtown projects, as well as major new projects from Tesla and Austin FC that are farther afield, will officially open. Here are eight to look out for:
1. Office tower at 300 Colorado St.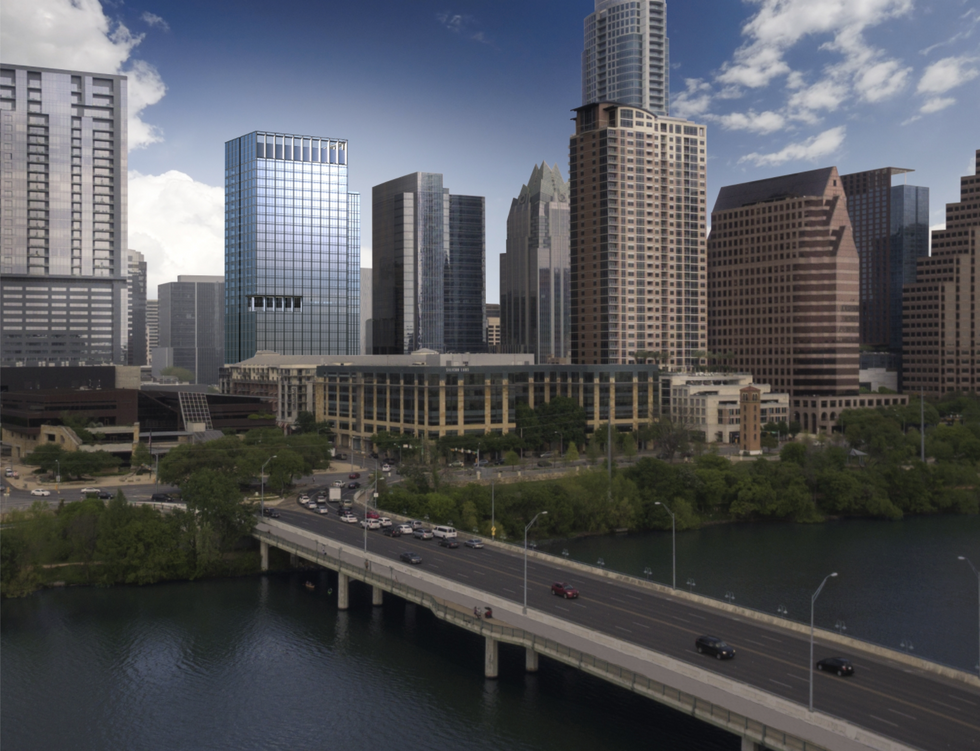 (Cousins Properties)
This 32-story office building at 300 Colorado St. is scheduled to be completed this quarter. Developed by Cousins Properties, the tower will be home to Austin-based oil and gas company Parsley Energy, which has leased all of its office space. It will also be home to retail tenant Del Frisco's Grille.
2. Office tower at 405 Colorado St.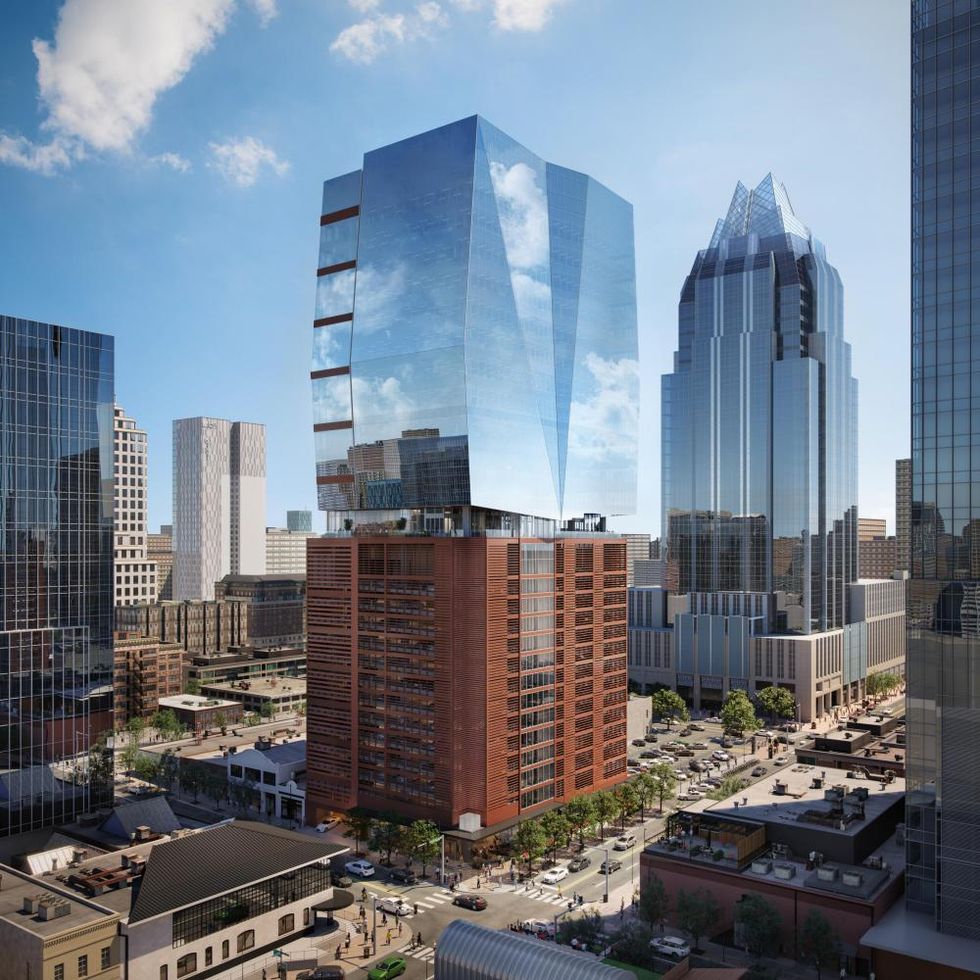 (Brandywine Realty Trust)
This 25-story office building at 405 Colorado St. is also scheduled to be completed this quarter. Developed by Brandywine Realty Trust, its tenants will include the investment management and research firm AllianceBernstein. According to the developer's website, the tower boasts an above-market parking ratio, "making it one of the easiest places to park" downtown.
3. Hotel tower at 5th & Brazos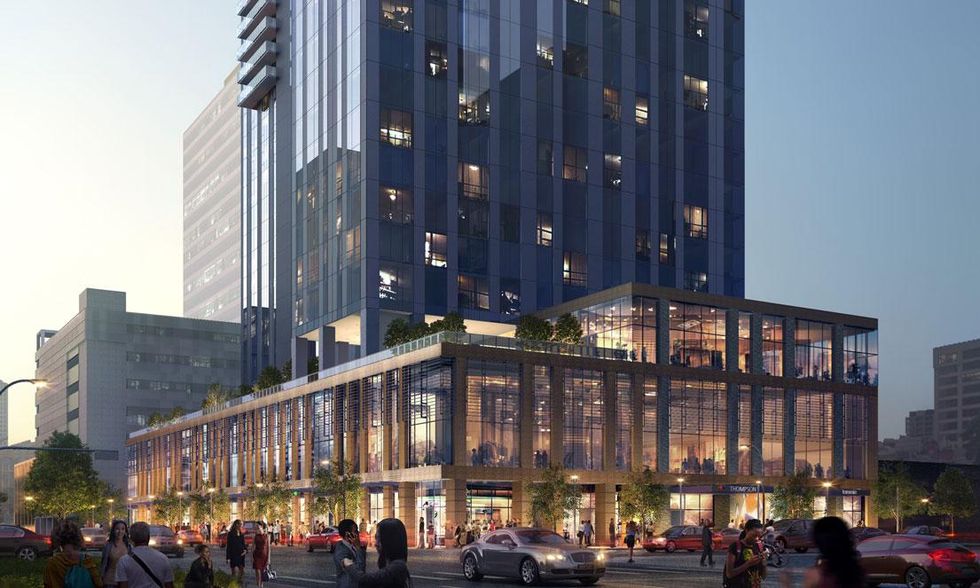 This 32-story mixed use tower at 501 Brazos St. will open this quarter. Developed by the Magellan Development Group, the building will include tenants Thompson Hotels, a luxury boutique hotel chain that is owned by Hyatt and has outposts in Nashville and Chicago, and tommie hotels, a micro-hotel company that caters to a younger market.
4. Indeed Tower on 6th Street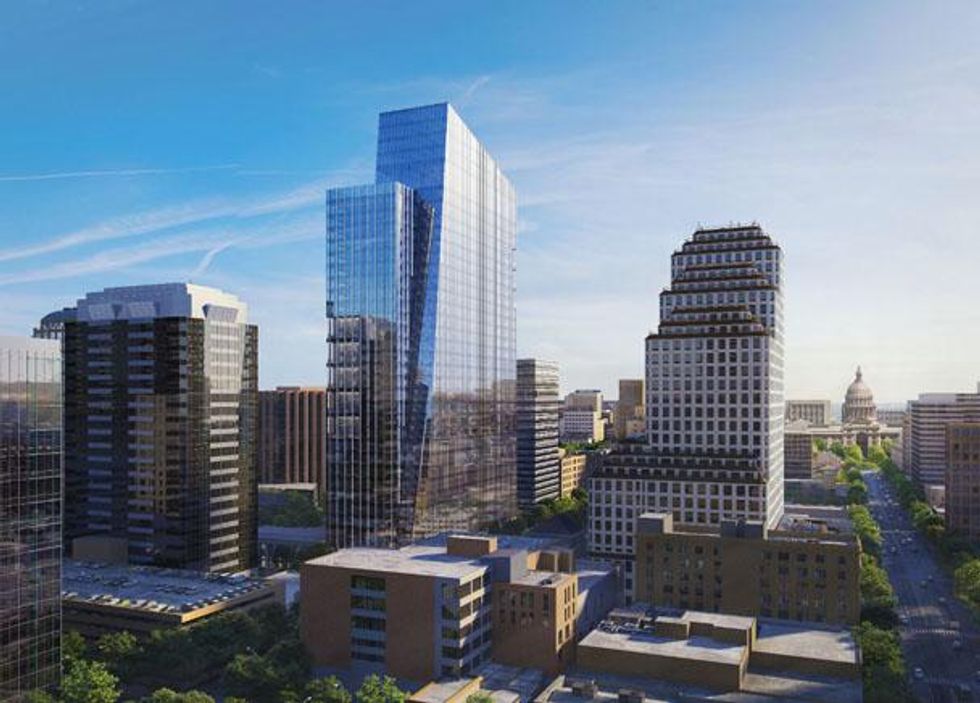 (Trammell Crow)
This 36-story office building at 200 W. Sixth St. will be completed this March, according to developer Trammell Crow. Tenants include the worldwide employment website Indeed, the Teacher Retirement System of Texas and the Austin-based title insurance company Heritage Title. The site of this forthcoming tower was formerly a post office built in 1914.
5. Austin FC Stadium at McKalla Place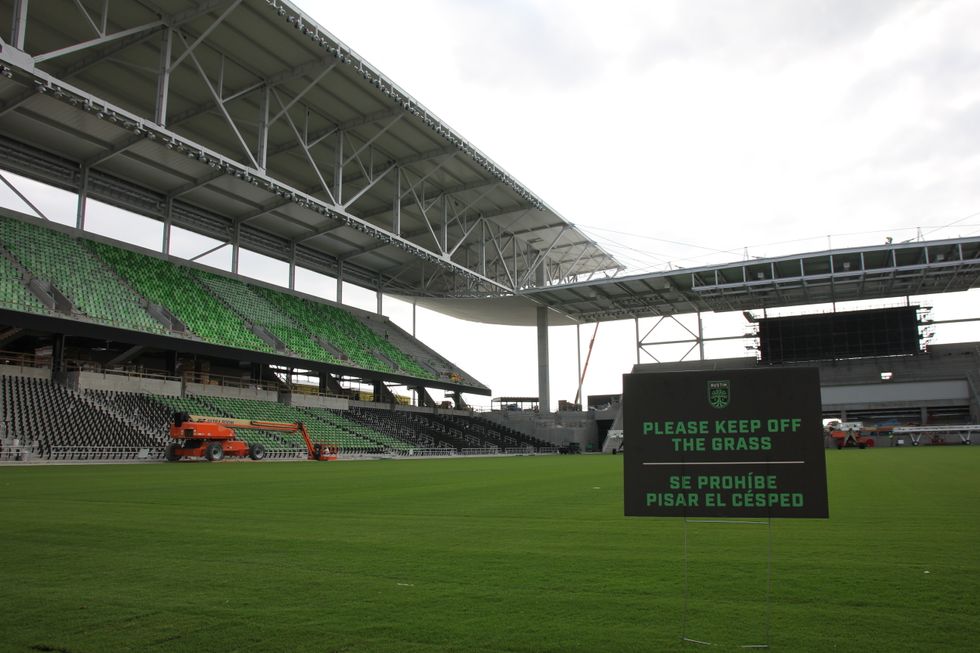 (Laura Figi/Austonia)
The $260 million Austin FC stadium is scheduled to open at 10414 McKalla Place in North Austin this spring, ahead of the Major League Soccer club's inaugural season. It will hold 20,500 spectators and include a 400-person capacity beer hall and multi-level team store. Austin FC's parent company and ownership group, Two Oak Ventures, privately financed the stadium.
6. Waterloo Park in Central Austin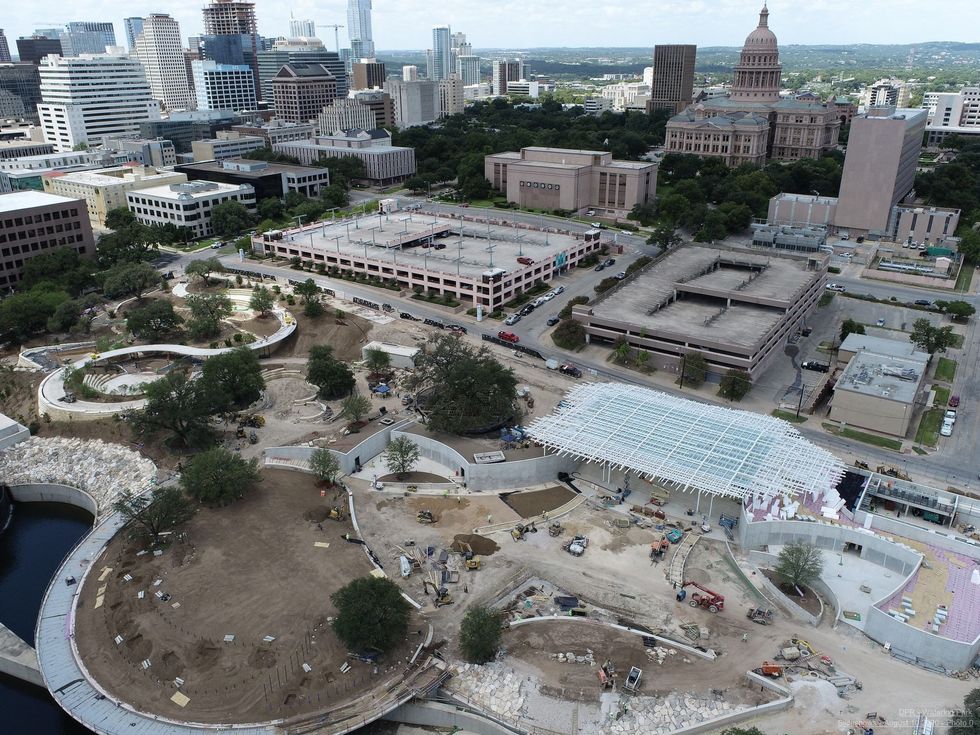 (Waterloo Greenway/Twitter)
Waterloo Greenway, an urban park system that runs 1.5 miles along Waller Creek from 15th Street to Lady Bird Lake, will soon debut its first phase project: Waterloo Park. The 11-acre park is bordered by East 15th, Red River, East 12th and Trinity streets and will open this spring.
7. Giga Texas in Southeast Travis County
🏗 Giga Texas https://t.co/0D6QV1Fcsa

— Omead Afshar (@Omead Afshar)1608435261.0
The forthcoming Tesla Gigafactory in Southeast Travis County is expected to be up and running by the end of this year, with the first substantial completion, or construction milestone, scheduled for May, according to the Austin Chamber of Commerce. The $1.1 billion, 2,100-acre, 7.9-million-square-foot factory will provide at least 5,000 jobs, not including the thousands of construction workers who are currently building it. Omead Afshar, project director within Tesla's office of the CEO, tweeted a photo of the factory's progress on Dec. 19.
8. The Quincy in the Rainey Street District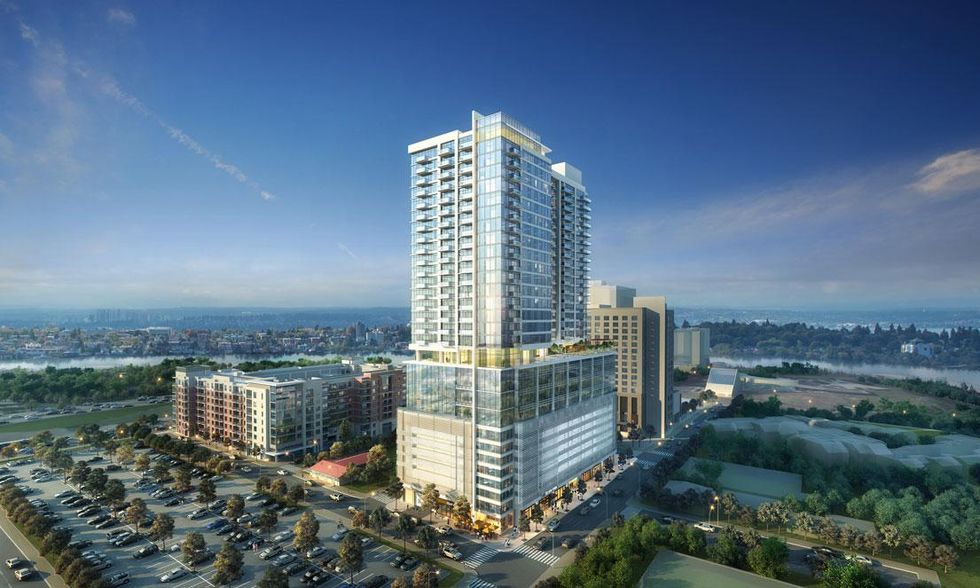 (Endeavor Real Estate Group)
This 29-story office and multi-family tower at 93 Red River St. will be completed in the third quarter of this year, according to developer Endeavor Real Estate Group. It will join recent high-rise additions in the Rainey Street Historical District, including the residential towers 70 Rainey and 44 East as well as a 51-story mixed-use building planned for 90-92 Rainey St.