Get connected with our daily update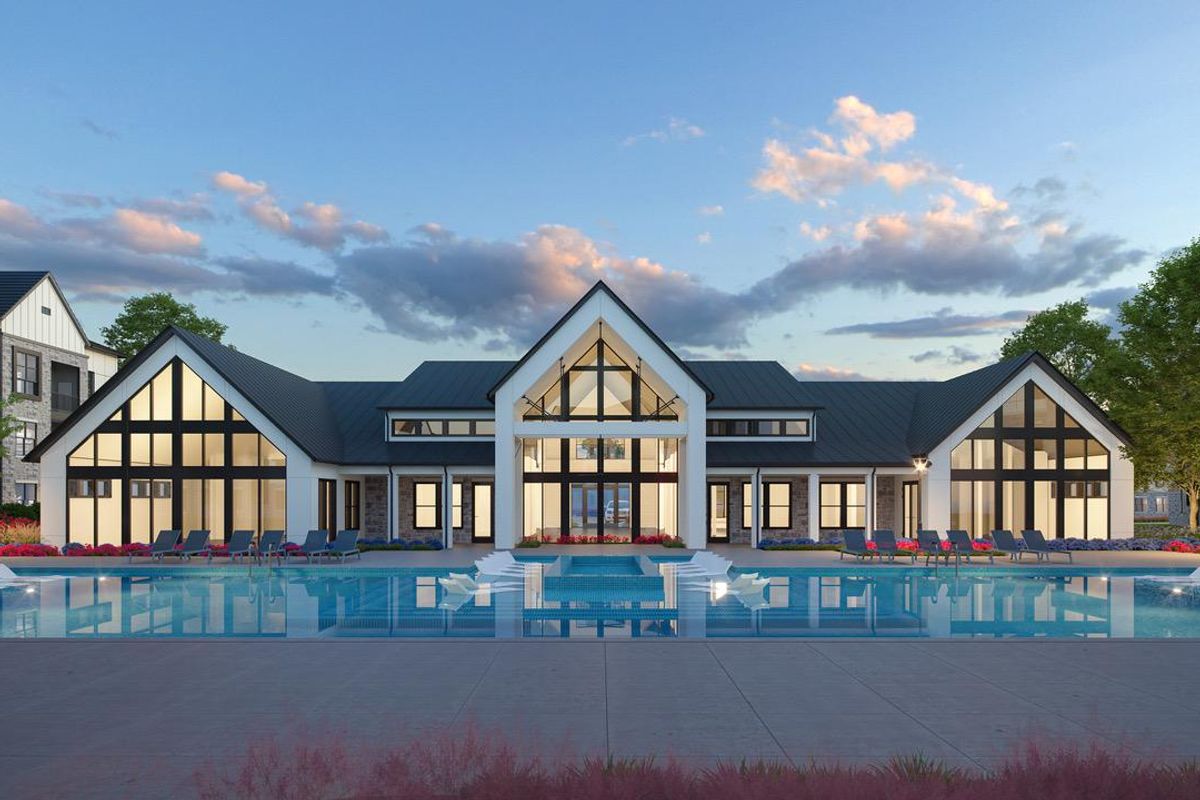 A luxury multifamily development is coming to South First Street, adding to the spiking growth of developments in and around downtown.
Austin-based developer OHT Partners has plans for two communities with the first to open in late 2023. The first community, Lenox Woods, will include 402 one-and-two-bedroom units. It flexes amenities including two resort-style pools, pickleball courts, a shared work studio, a fitness center, electric vehicle charging stations and a dog park.
South First has seen a boost in residential and office space lately. In April, another developer announced plans for micro-units, a collection of residential homes that broke ground this spring already sold out and a 15-story office tower is expected to have tenants move in next spring.
Ben Browder, OHT Partners Vice President of Development, talked about how interest in this part of Austin has been in the making for years.
"South Austin has experienced a tremendous amount of multifamily development in the last decade because it's one of the most affordable parts of the city and only 15 minutes from downtown," Browder said. "All of the residential growth has attracted a lot more restaurants, retailers and entertainment venues to this area in recent years, and these nearby amenities have made South Austin an even more desirable place to live."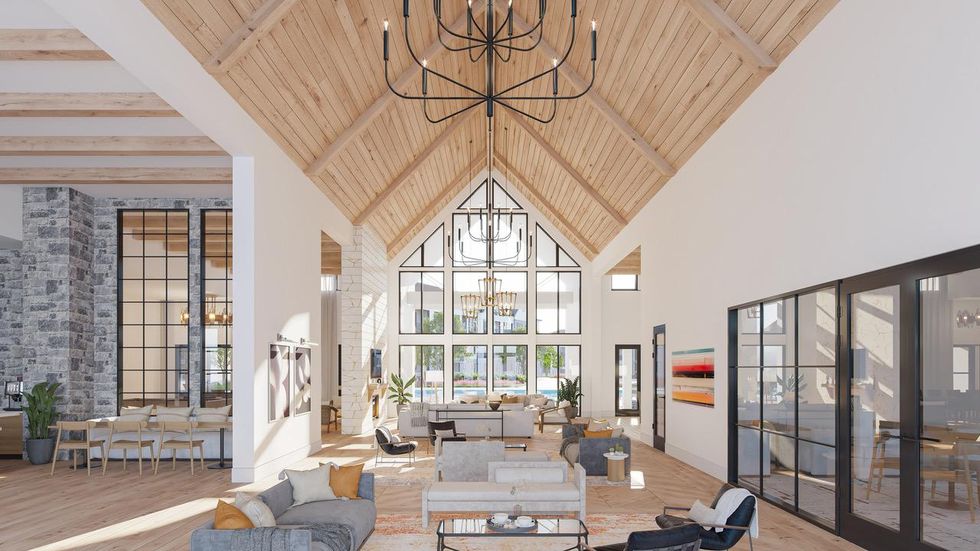 Lenox Woods boasts a portion of the 37-acre site that'll include heavily shaded parkland and a one-mile trail. Plus quick access to shops and restaurants at Southpark Meadows and The Yard.
OHT Partners will team up with local interior designers Wayfinder Real Estate, Houston-based architect Meeks + Partners and others.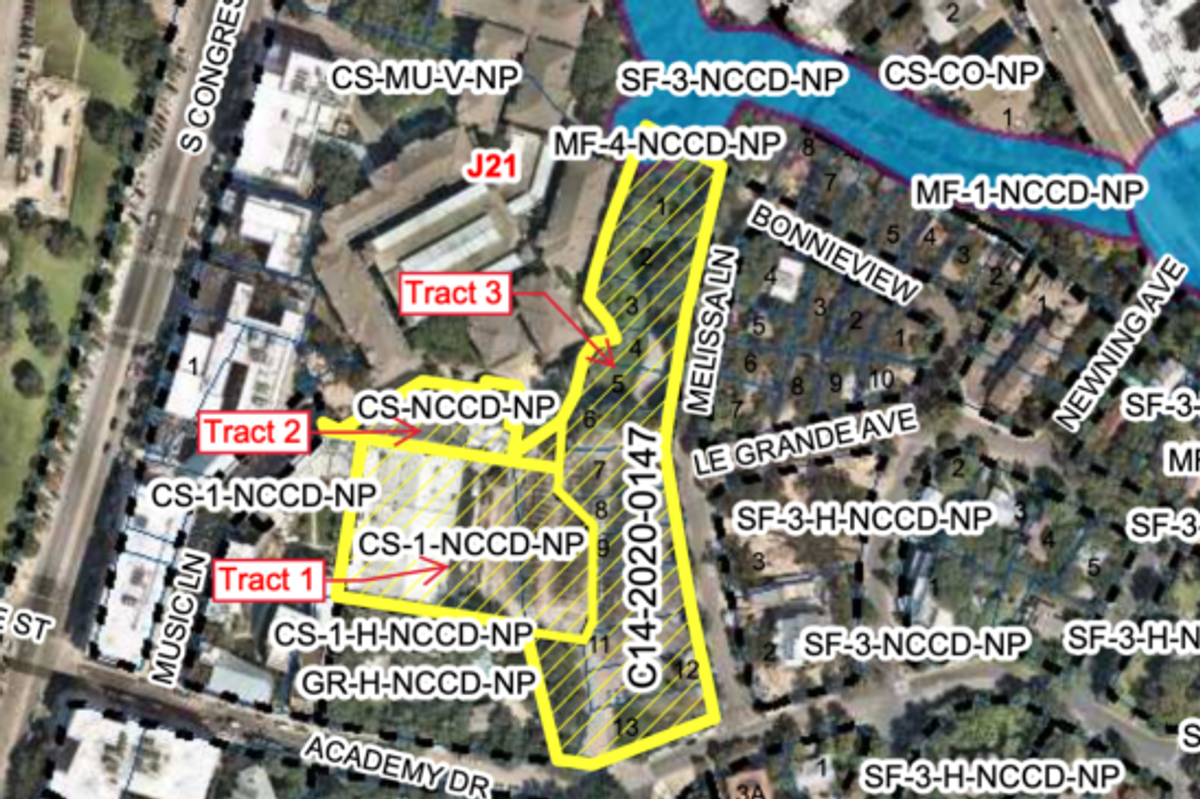 By Kali Bramble
Months of negotiations with neighbors finally paid off for the team seeking to reopen the Austin Opera House, with City Council voting unanimously last Thursday to approve the necessary zoning changes.
The vote clears the path for applicant Chris Wallin to proceed with redevelopment, so long as the total area of the music venue does not exceed 10,000 square feet. The development also includes plans for a housing complex with 10 percent of units priced as affordable to those making below 80 percent of the median family income.
"We have gone from asking for no music venue to something the size of nearby clubs, to now accepting 10,000 square feet. We do still have numerous concerns about this increased size, safety to pedestrians, emergency access, and compatibility," said Laura Toups on behalf of the Greater South River City Neighborhood Plan Contact Team. "It's difficult for us to say we support this, but we can say we accept it, and we believe it serves the local music community and the developer while not really serving the surrounding neighborhood."
The application to rezone 200 Academy Drive has been inching forward since last fall, when neighbors filed a valid petition against the proposed land use changes. Opponents argue that the 4.5 acres of parking lot and office space that was once home to the Opera House is far too close to the surrounding neighborhood to accommodate the pedestrian and car traffic generated by a venue of similar size.
Longtime Fairview Park resident Brian Beattie, who is a musician, said that "200 Academy has a proven history of being a dysfunctional location for a large club. It's never worked for the neighborhood, the concertgoers, or the club's financial success, and now it's less connected to South Congress than it ever was. Every neighbor and neighboring business objects specifically and only to the large nightclub and the projected nightly, hourlong, slow-motion drunken gridlock … this is highly disruptive and dangerous in the middle of a neighborhood."
The original Opera House opened in 1972 and hosted the likes of B.B. King, Tina Turner and Stevie Ray Vaughan before shutting its doors in 1992. With its 1,700-seat capacity, the venue endured similar friction with the surrounding neighborhood and was eventually forced to limit the frequency of concerts. Concern around such encroachments peaked with the establishment of a Neighborhood Conservation Combining District overlay in 1986, designed to protect Fairview Park from further redevelopment.
Now, these protections are beginning to unravel. Proponents of the new Opera House argue that Austin's music scene, reeling from the aftermath of the Covid pandemic and skyrocketing property taxes, is in desperate need of a medium-sized venue. Originally angling for a complete restoration, owner Chris Wallin, partner Will Bridges and architect Richard Weiss have agreed to scale back the project to 10,000 square feet.
"Having venues of every size that give opportunities to local musicians is key to a great music ecosystem and was important to (my) early success," said Zach Ernst of Black Joe Lewis and the Honeybears, who now works as talent buyer at the Paramount and Antone's. "In my current world, booking multiple venues that host both local and touring bands, I can say firsthand that our calendars are generally full from September through May and we pass on a lot of shows by local bands because we don't have the dates available."
With the NCCD zoning overlay removed, the Opera House team is free to pursue their project within the 10,000-square-foot limit, though it remains to be seen what this will allow in capacity. Once redesigned, the project will return to the Planning Commission, where details like traffic infrastructure and a buffer zone of residential units are sure to be hot topics.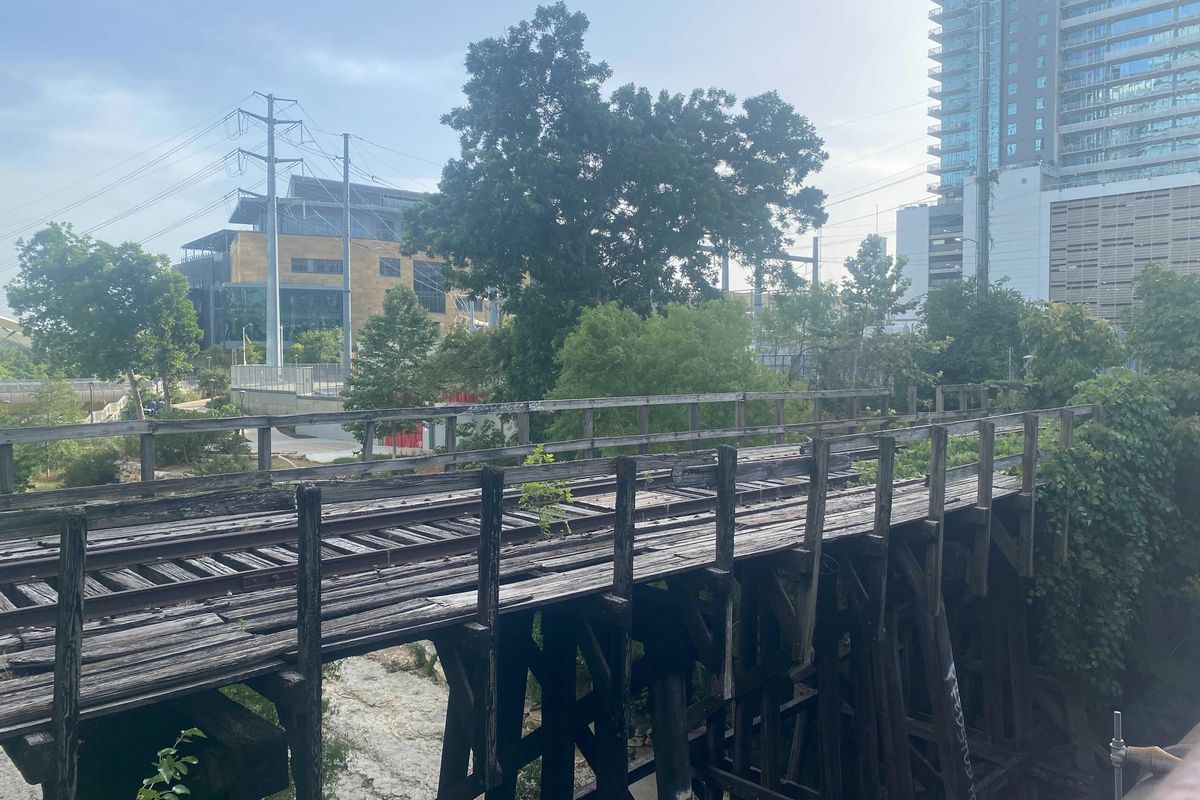 By Samuel Stark
Hidden among the glimmering towers in Austin's downtown district is a quaint trestle bridge that serves as a window into a bygone era. The bridge, located on Third Street, rests 35 feet above Shoal Creek and was constructed nearly a century ago by the International-Great Northern Railroad.
The trestle facilitated the transportation of goods in and out of Austin's downtown area for decades of the 20th century before eventually becoming obsolete and left to deteriorate, albeit quite gracefully.
But Austin entities have worked hard to ensure this remnant of the past is not forgotten. On Friday, Shoal Creek Conservancy and the Austin Downtown Alliance held an event in front of Shoal Creek Bridge to celebrate its recent listing on the National Registry of Historic Places. They also discussed plans to revitalize the bridge so it can be used for transportation once again.
"(The plan) calls for the restoration of the trestle as a public plaza and a scenic overlook offering a leisurely route for pedestrians to traverse Shoal Creek or be able to sit amongst the beautiful backdrop," said Ivey Kaiser, the executive director of Shoal Creek Conservancy.
If their plan is adopted, the bridge would become a public pedestrian space akin to the Pfluger Street Bridge over Lady Bird Lake. The plan also includes a proposal to construct another wider bridge, replacing one already there, next to the trestle for cyclists and faster traffic to use.
"The proposal shows the potential of historic preservation to create a bridge, no pun intended, between the past and the future," Kaiser said.
The next steps involve finding an appropriate city department to purchase the trestle bridge from Union Pacific, its current owner. Advocacy to transfer ownership to the city is happening now, Kaiser said.
Then the interested parties will start the fundraising process so they can begin construction.
The restoration of the historic bridge is one of the many concepts in the Cypress & Shoal Creek Public Space Strategy project. Among other plans, they hope to revitalize parts of the existing Shoal Creek Trail and create public plazas on Third Street near the creek. If adopted, the plazas will create more space for pedestrians, limit the number of cars and add more greenery.
"With the tremendous growth we're seeing, there is a need for good public space that's managed and maintained. It is so important to the health and welfare, not only for us individually but collectively for the community. I think we learned a number of lessons during the pandemic, that open spaces are critical," said Dewitt Peart, CEO of the Austin Downtown Alliance.
Some of the proposals in the Cypress & Shoal Creek project are intended to serve as an alternative to the Bowie underpass project, a $6.6 million plan that would have provided a link for cyclists and pedestrians to go under the railroad tracks between the Market District and the Pfluger Street Bridge. The Bowie plan was determined to be unfeasible last year.