Get connected with our daily update
After casually searching for a home for years, Austin influencer and blogger Jane Ko experienced the pandemic housing surge firsthand when she found an empty lot near the airport in the summer of 2020. Stretched thin by high demand and limited supply, Austin's median home prices had already reached a then-record of $435,000 in August of that year, while new inventory grew by just 0.1% in that month.
Due to seemingly ever-increasing demand, Austin's homebuilding market has been busy—if not strained. New listings were up 6% in November 2021, while median home prices had cooled ever-so-slightly to $470,000. The area was ranked the fifth-busiest metro in the country for single-family homebuilding permits in August 2021, according to a National Association of Homebuilders report.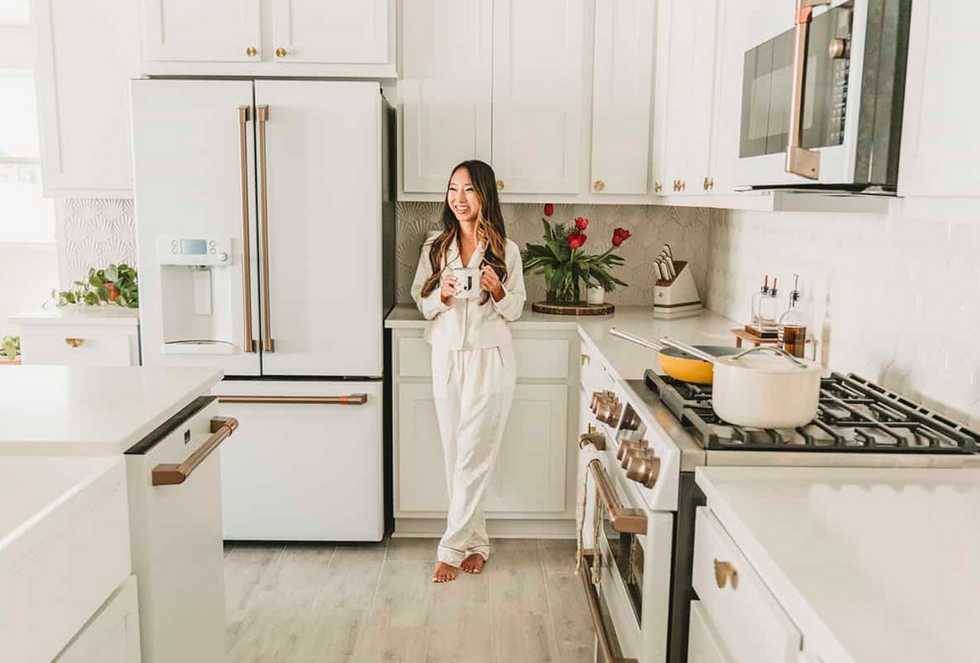 Austin influencer Jane Ko build a semi-custom home on an empty lot near Austin-Bergstrom International Airport. (Jane Ko/A Taste of Koko)
"I think for those of us that have been here, we've seen prices rise in the last five years and I kind of figured if I don't buy now, then I probably won't be able to," Ko said. "I kind of stumbled upon it and I think for a lot of people that's been really the only way to find real estate since the market is so hot."
Austin's inventory has remained somewhat low, especially in the center of town, leading some to believe that homebuyers are being "priced out" by the city's limited options. Area suburbs are reflecting that—the Kyle-Buda-San Marcos region saw 2,900 new home starts from September 2020-21, more than any other Austin submarket.
But with new developments working to keep pace with demand, 2021 Austin Board of Realtors President Susan Horton told Austonia the trend just reflects customer desires.
"I don't think that folks are being pushed by any means," Horton said. "Folks that want to buy out in the rural areas are buying for personal reasons and they're buying because they want the land and privacy. Folks really, truly want to be out. If you want a big lot, it's there."
Like many homebuyers during the pandemic, Ko was happy to scrap Austin's downtown for more space. Because she works from home, she said she and many of her friends are looking for bigger homes and bigger lots in hot areas like Dripping Springs.
Ko had the option of moving into already-built homes within the neighborhood but opted for a custom-built home instead—something that Horton said is another draw for prospective homebuyers.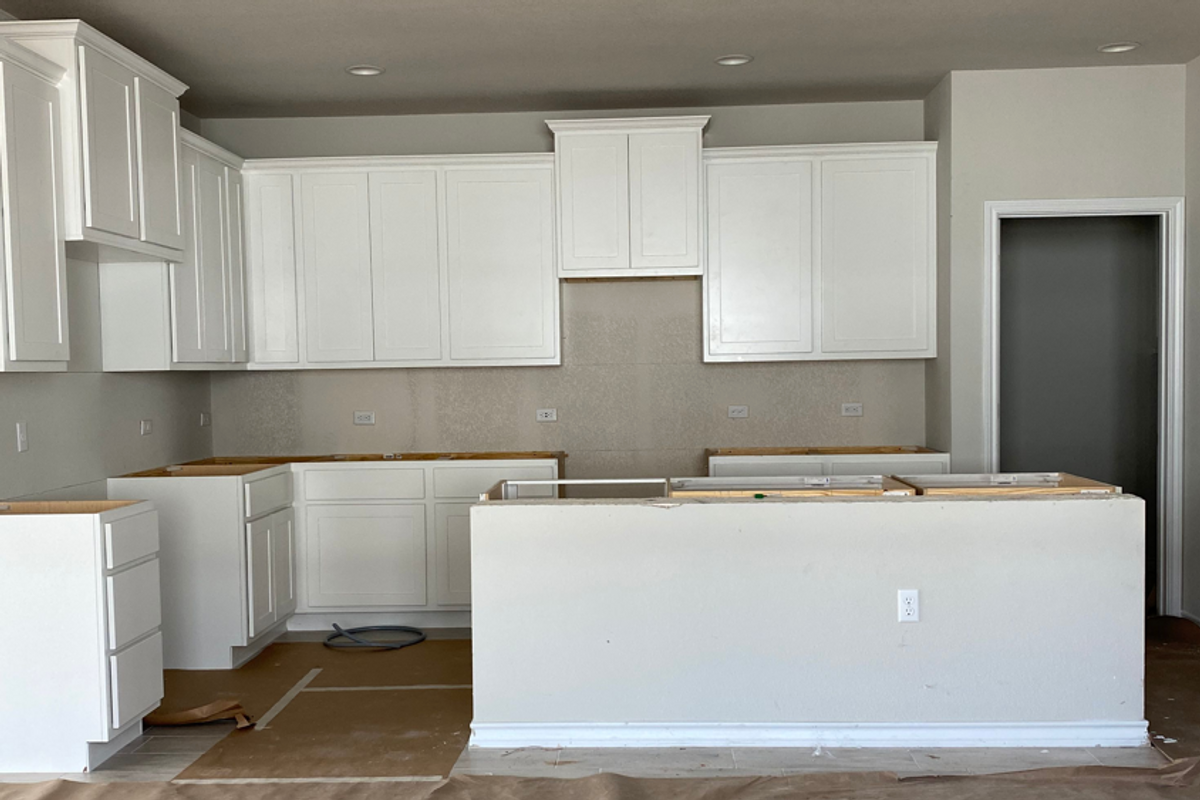 Austin influencer Jane Ko remodeled her kitchen after building her semi-custom home. (Jane Ko/A Taste of Koko)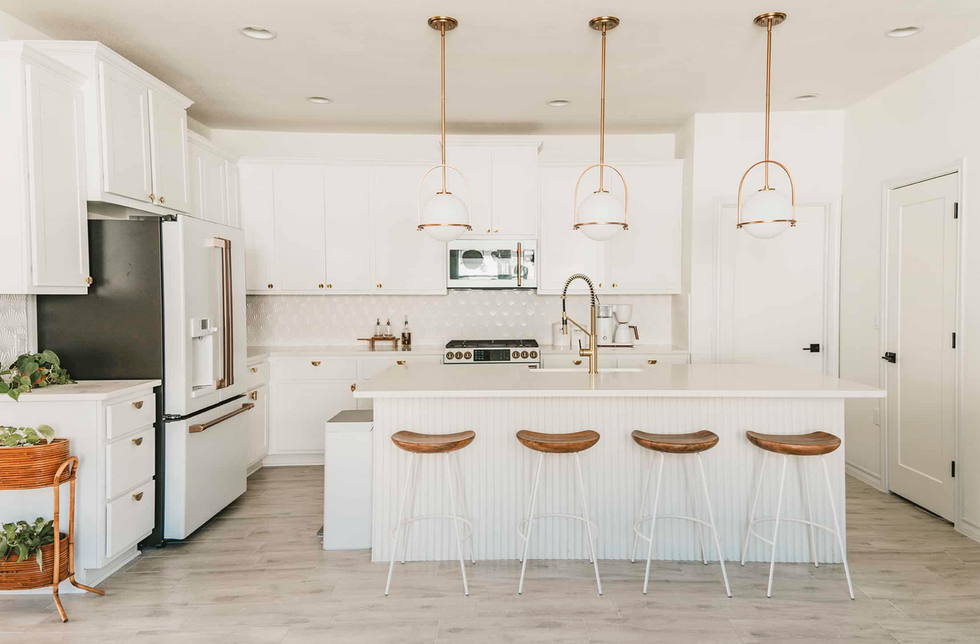 Ko's kitchen remodel took months due to supply chain delays/ (Jane Ko/A Taste of Koko)
"The desire to be away from the person next door is really most of the time the deciding factor," Horton said. "And then there are those that want to have a house simply because they want to design it themselves, and so those are the aspects that make buying that raw land and building a house really important."
But building a custom home has its drawbacks. Horton said construction loans, land surveying, zoning restrictions and road access are all hoops that can be jumped through with an experienced realtor.
But even through the tedious and stalled homebuilding process, Ko said it's been worth it to create a home made just for her.
"This is a place that I'm hopefully going to stay in for a very long time," Ko said. "And I think because I do a lot of entertaining at home and shoot photos at home, it's really important that my space looks the way I want it to."
Downtown may be recovering from the pandemic but the priorities residents want in their city center are changing, according to the City Pulse Survey done by design firm Gensler.
After studying 7,500 people in 15 global markets, including Austin, Gensler found that life in COVID has pushed city-dwellers to want more outdoor activities, social spaces and entertainment venues in bustling business districts.
Post-pandemic, the highest-rated downtown activities were shopping, visiting parks and just "hanging out." The need for more public spaces like parks jumped from sixth on the list to second this year.
Although globally people view downtown as a business district for task-based activities, across the U.S., downtown districts are viewed more as a vehicle for entertainment. This is especially true for Austinites, where people surveyed said they would rather see more entertainment and cultural venues than shopping or public transit downtown.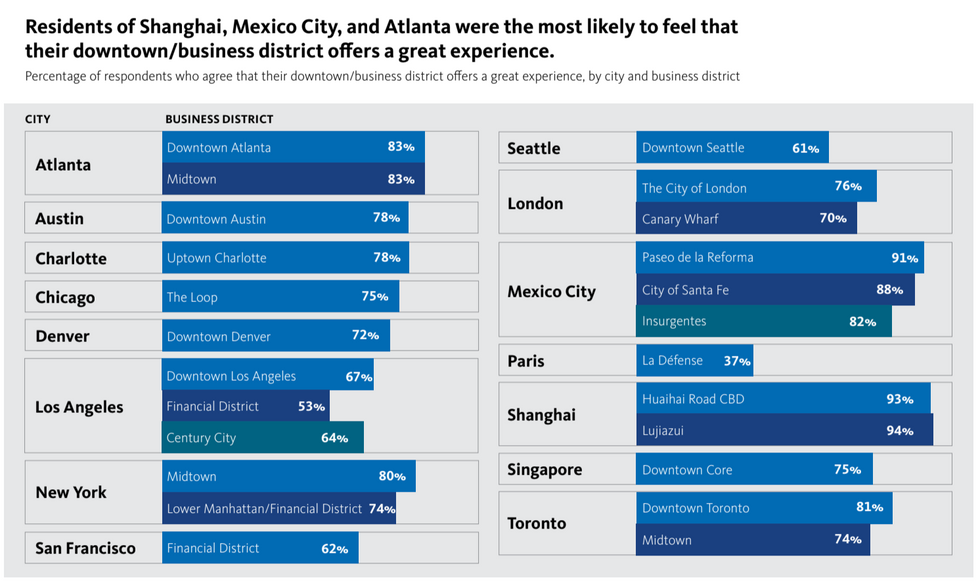 (Gensler)
For Melanie Gartman, a manager at construction software company Levelset who has been living in Austin for most of her life, the needs and wants of the average resident closely align with her own.
Austin clocked in second-most desirable downtown, tied with Charlotte, North Carolina. Like the 78% of Austinites in the survey, Gartman said she thinks Downtown Austin is hanging on to its lovable charm.
"Even now with fewer people out and about it's still very vibrant and lively. I feel like I saw life come back to downtown a lot sooner than I expected it to," Gartman said. "It's still holding on a bit that Austin vibe and with the high rises coming in, it's scary that we could lose that. I think it's holding on better than I would have expected, especially within the last two years of everything that happened."
As Austinites eased back into downtown, the first stop Gartman made was to go see music again. Since venues opened back up, Gartman and her loved ones have seen live music at their favorite venues: Moody Amphitheatre, Mohawk, The Parish and Empire Control Room.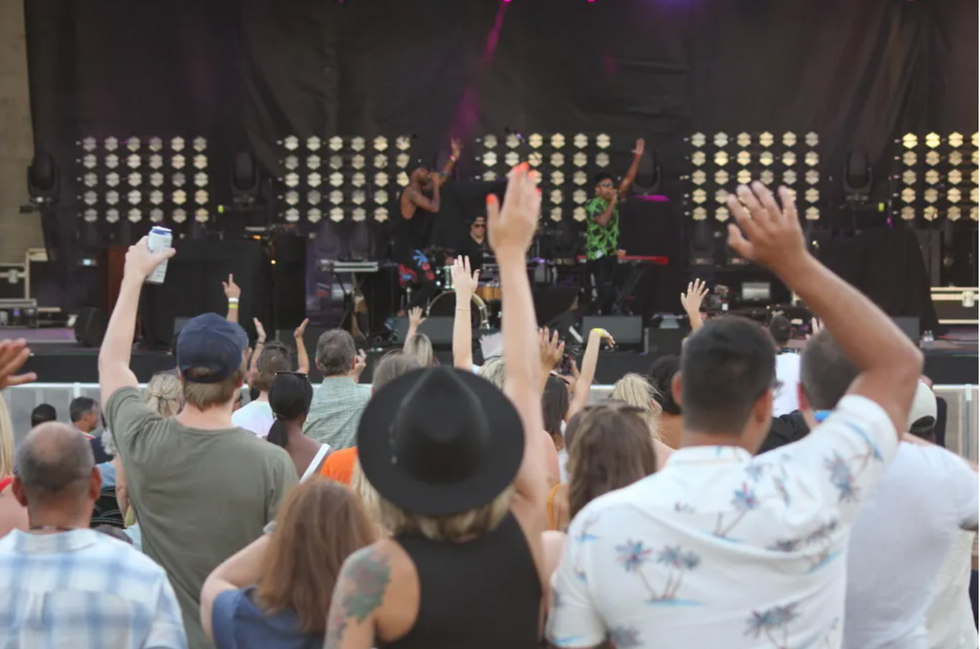 Blackillac opened for Gary Clark Jr. at the Moody Amphitheater's first show back in August. (Laura Figi/Austonia)
Entertainment is most important for Gartman's life in Austin—seeing Gary Clark Jr. in August brought normalcy back into her routine—and said our local downtown is the ideal out of other cities in Texas.
"I've always noticed that between Houston's downtown and Austin's, Houston's is so Monday to Friday, eight to five, maybe a post-work happy hour," Gartman said. "Growing up, downtown (Austin) was always the place to go. It has always been the hub and I think Austin is unique in that way."
Traffic in downtown areas is way down overall, even though concern over pandemic safety has taken a backseat. Shopping traffic has decreased by 28%, dining out and entertainment attendance dropped by 33% in the post-pandemic sphere.
Even though her office is located downtown, Gartman usually works from home. Her downtown visits tend to be for the purpose of entertainment and she said the lack of parking sometimes becomes problematic.
"I feel like all these high rises are taking over all the parking," Gartman said. "It used to be for go-to parking, I would just park under I-35. No big deal. But now, that's kind of scary, especially if you're by yourself. The party parking is a barrier to actually making it down there."
But with the rise of the hybrid work model, it's likely that the downtown sphere is going to change all across the U.S. For now, survey participants said they would like to see their downtown reduce traffic, add more green space, improve the cityscape and increase parking capacity as we shape the future of cities.
Imagine waking up to stunning skyline views before taking a nice stroll to brunch at one of South Congress' many lavish restaurants—that's the reality for tenants at the St. Cecilia Residences.
Just off the new social strip Music Lane, this two-bedroom, two-bathroom bespoke condominium at St. Cecilia Residences just hit the market for a listing price of $2,200,000 and will put you right in the middle of one of Austin's most famous neighborhoods. Built in 2021 as part of the Hotel Magdalena and St. Cecilia Hotel, the condo is a healthy 1,890 square feet.
On the second floor, the condo faces north for picturesque Downtown Austin views without the pesky glare of the sun in your eyes. You'll enter the dwelling through a private elevator, where you will exit at the main foyer to dark millwork paneling and black accents on crisp white walls.
The dark cabinetry continues into the open-plan kitchen and living area—with tile to match—and the rooms are full of natural light from the generous window space. When walking into the kitchen, you'll notice the Miele appliances, Taj Mahal quartzite countertops, view from the sink and a kitchen island perfect to be used either as a bar or prep space.
The living room leads right into a spacious 520-square-foot terrace that is fit either for your morning coffee or entertaining guests in the moonlight. Back inside, follow the stained European walnut flooring to the master bedroom and en-suite bathroom when you're ready to turn in for the night.
Floor-to-ceiling Cle penny tiles adorn the bathroom, which hold true to the theme of black accents. His and hers sinks sit across from the Lavaca soaking tub, which is finished with the same quartzite from the kitchen. The gem of this bathroom is the glass walk-in shower, which immediately draws the eye.
Tenants are also given private memberships to inclusive amenities at Hotel Magdalena and St. Cecilia Hotel, including the pool, concierge and valet services.
Located at 110 Academy Dr, Unit 21, the apartment is listed by Douglas Elliman licensed associates Katherine Stinson, Stuart Watkins, and Kris Vermelis.