Get connected with our daily update
Welcome to the Great Resignation.
Amid a flurry of job openings across the U.S., workers are quitting their jobs en masse.

A record 4 million people quit their jobs in April, according to the U.S. Bureau of Labor Statistics. And many others are considering joining them. In a recent poll of 649 employed workers, Monster found that 95% were considering quitting their jobs and 92% were willing to switch industries for a new role.
just quit my job, best feeling in the world, can i get an amen

— alli perez (@LilAFrxmThePack) July 1, 2021
Going back to the office makes we want to quit my job

— ✚✖ (0%) (@mariatellaa) July 2, 2021
Jacqueline Moreno, 22, quit her sales job in the Austin office of a publicly traded financial advisory firm on June 8, despite not having a new job lined up. She had accepted the position after graduating from Texas State University with a degree in public relations in the early months of the pandemic. But she found the role wasn't a good fit. Her starting position as a contractor routinely had her working 55 to 60 hours a week, and she struggled to make ends meet, applying for food stamps. "I want to be happy and not dread going to work," she said.
Moreno's not alone. Workers are looking for better pay, remote options and work-life balance. Some have built up a financial safety net with stimulus payments that allows them to spend time between jobs. Others are worried about workplace safety given the lingering pandemic, and many are burnt out or acting on pent-up frustrations.
"Combined, higher employee burnout and enhanced financial security is a recipe for increased resignations," Anthony Klotz, an associate professor of management at Texas A&M University, wrote in a May 30 opinion piece for NBC News.
The labor market is also hot, which means workers feel confident they will be able to find a new and better job. "Whenever openings are higher, quits are higher," according to the Peterson Institute for International Economics.

Before quitting, Moreno spent about a month clandestinely applying for jobs in the public relations and communications sector. She has received two offers but turned them down. "There's a lot of job openings," she said. "I just want to make sure I'm finding a really good fit, long term."
Employers in Austin and around the country are offering higher wages and improved benefits in an effort to recruit and retain workers.
Still companies are contending with a worsening labor shortage, which spans industries and predates the pandemic, leaving job seekers with the upper hand. The average lowest wage a worker without a college degree would be willing to accept for a new job is now $61,482, an all-time high, according to the New York Fed's latest labor market survey. For college graduates, the average lowest wage is $86,460.
If unemployed workers flood into the labor market in search of new jobs, it could turn the tide. Texas opted out of all federal unemployment assistance programs on June 26, months earlier than the expected cutoff in early September. Gov. Greg Abbott cited the current number of job openings and potentially fraudulent unemployment claims as reasons for the decision.
But other factors could prolong the Great Resignation, including COVID fears and care responsibilities. A recent study by the Austin-based jobs site Indeed found that only 10% of people between 18 and 64 were urgently searching for work. And job searches remain muted in around half of the states that opted out of federal unemployment benefits.
Moreno is optimistic about the Austin jobs market. "I have no regrets at all," she said of quitting. "I think I made the right decision completely."
Austin is facing a worsening worker shortage that spans industries and could prove more economically damaging than the pandemic.
In April there were 1.5 unemployed Texas residents for each advertised vacancy, according to the Texas Workforce Commission. This shortage is not unique to Austin or Texas. Instead, it's a "national economic crisis that is getting steadily worse," according to a report released by the U.S. Chamber of Commerce this week. The lobbying group found that there are approximately half as many available workers for every open job as there have been on average over the last 20 years and the ratio continues to fall.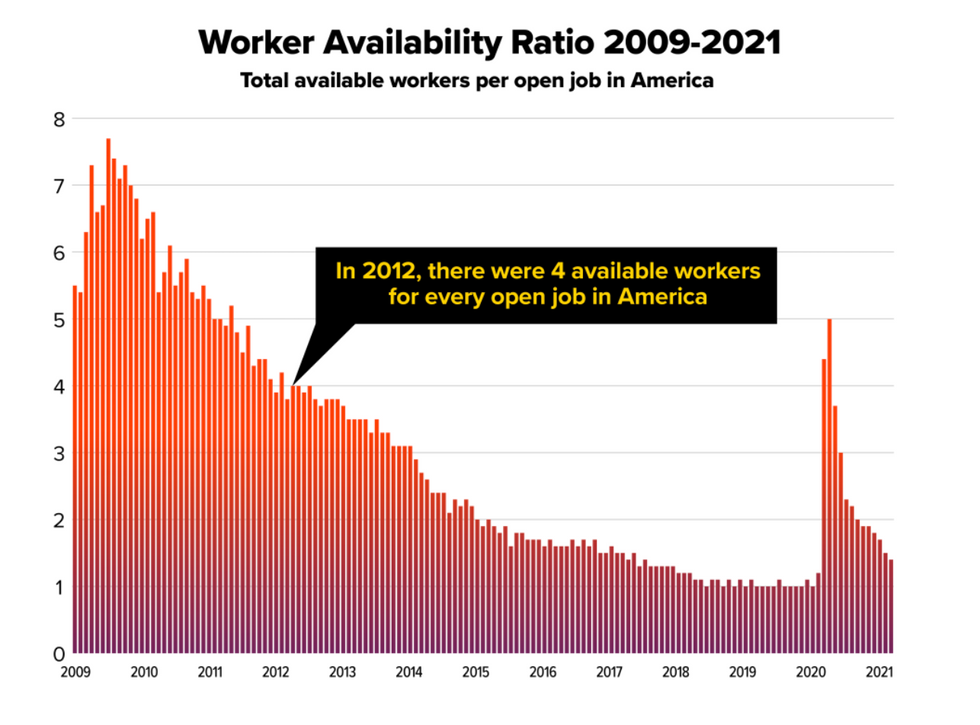 (U.S. Chamber of Commerce)
Although Texas is impacted, it is doing better than some states, notable South Dakota, Nebraska and Vermont, where there are fewer potential workers than available jobs, according to the same report.
A widespread problem

"Now hiring" signs are commonplace in local restaurant windows. The restaurant and hospitality jobs site Poached lists more than 1,000 jobs in the Austin area posted within the last month. The city of Austin is short 600 lifeguards and is unable to expand opening hours or open additional pools as a result. Local residents may have noticed higher rideshare costs as both Uber and Lyft are facing a driver shortage as well, according to KXAN.
Skilled trade and manufacturing industries are also facing a hiring crunch, leading to project delays. A 2020 projection shows Austin will be short 3,130 workers across its 10 most in-demand trade and manufacturing occupations over the next decade, according to a recent report by Workforce Solutions of the Capital Area.
Many business owners lay blame for this worker shortage on pandemic-era unemployment benefits. In a recent survey conducted by the Texas Association of Business, 80% of the 177 business respondents said the $300 federal weekly unemployment benefit should be eliminated, citing it as a barrier to hiring. "This (shortage) is strange because there are still a lot of people out of work," CEO Glenn Hamer said. "It doesn't seem to make sense."
Aware of these concerns, Texas Gov. Greg Abbott announced last month that Texas will opt out of this benefit effective June 26. But economists told Austonia that multiple factors are at play in conjunction with unemployment benefits, including low wages, school and child-care closures that keep parents at home and fear of COVID-19.

Juan Benitez, director of communications for Workers Defense Project, which represents low-wage, immigrant workers in the construction industry, said essential workers are looking for jobs that offer essential protections, such as a living wage, health insurance and safe working conditions.
"This has been a pretty disastrous year for workers," Benitez said, citing a 2020 study that found Austin construction workers were five times more likely to be hospitalized with COVID than workers in other occupations. "Instead of going back to quote-unquote normal, we should be thinking about, 'How do we actually address a lot of the issues that COVID has shed new light on?'"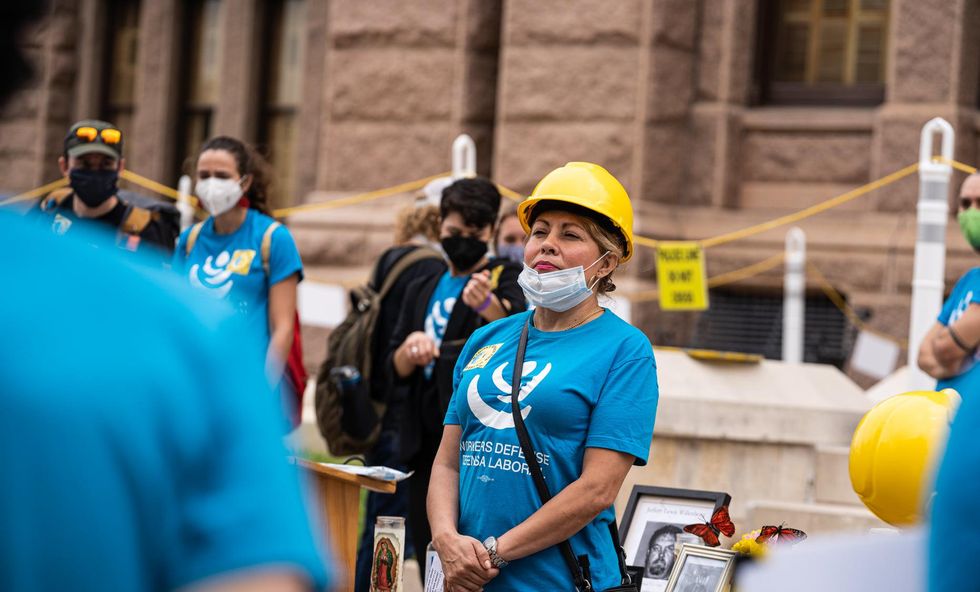 Workers Defense Project members participated in a third strike outside of the Texas Capitol last month. State lawmakers approved a bill that would prohibit local governments from mandating benefits such as water breaks and paid sick leave. (Workers Defense Project/Workers Defense Action Fund)
A workers' market

Local businesses are offering increased wages and new benefits in an effort to entice workers.
The median pay for Austin Uber drivers is $33 an hour, before tips, CEO Dara Khosrowskahi said during the company's first-quarter earnings call last month. Local companies P. Terry's and JuiceLand also recently raised their wages, the latter in response to an ongoing worker strike. "There's newfound worker power and people power and more reason to organize around labor," Benitez said.
Hamer is optimistic that the combination of "all-time high" wages, an end to the temporary federal unemployment benefits and the continued reopening of the economy will coincide with increased interest in open positions. "There has never been a better time to enter or reenter the labor force," he said.
(Video by Steven Joyner/Austonia)
Arrive at the site in Southeast Travis County where Tesla just announced it will be building a $1.1 billion Gigafactory, and you'll find 18-wheeler trucks running in and out of the property. See the area from above, and it's a flurry of activity.
Though the news is less than a week old, CEO Elon Musk said during the call where he confirmed that the company had chosen Austin that work was already underway.
The $1.1 billion factory is expected to be producing the Tesla Cybertruck and Model Y by late 2021.
There are still a few more steps for the company—Tesla will need city and county approvals as further development gets underway—but a city staffer said July 16 that the company is allowed under existing permits to begin reclamation work, which "would be the first step in preparing the site for future development."
Want to read more stories like this one? Start every day with a quick look at what's happening in Austin. Sign up for Austonia.com's free daily morning email.
The F1 United States Grand Prix, scheduled to take place in October at Austin's Circuit of the Americas, has been canceled, the chairman announced in a statement on Twitter.
"The cancellation is prudent, but painful," COTA chair Bobby Epstein wrote. "After a sold out 2019, advance ticket sales deposits were up nearly 250 percent over the prior year, and our staff was preparing our biggest event ever."
A statement regarding the 2020 F1 United States Grand Prix: https://t.co/QnSXk6wLll

— Circuit of The Americas (@Circuit of The Americas)1595599630.0
The organization recently canceled the 2020 Red Bull Grand Prix.
Epstein told the Austin American-Statesman that the Grand Prix is estimated to have had a direct impact of $392 million last year, with a total impact of more than $800 million.