Get connected with our daily update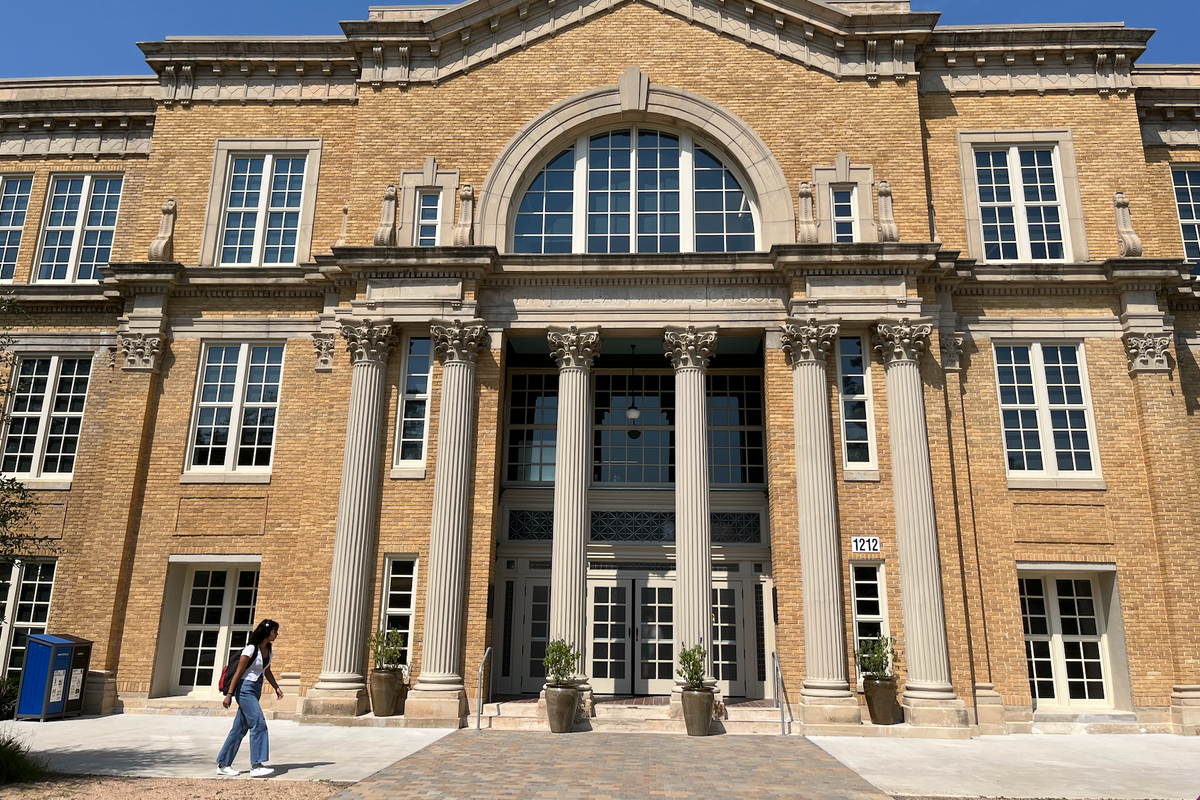 Austonia
Austin Community College's renovated Rio Grande campus is back open to students who are gushing over the study spaces and views of downtown.
Updates to the historic building at 12th and Rio Grande—which was built in 1916 and previously a junior high school before becoming Austin High School—have been years in the making. A 2014 bond election funded the renovation work that started three years later, ultimately creating what ACC describes as a state-of-the-art college campus. ACC will host a ribbon cutting in October to celebrate the grand reopening.
"You're downtown but you are in this incredibly cool, older building that has windows that somehow people have forgotten how to build now," campus manager Michelle Raymond told Austonia during a tour of the building. She adds that she can only think of a couple of spaces where there isn't natural sunlight.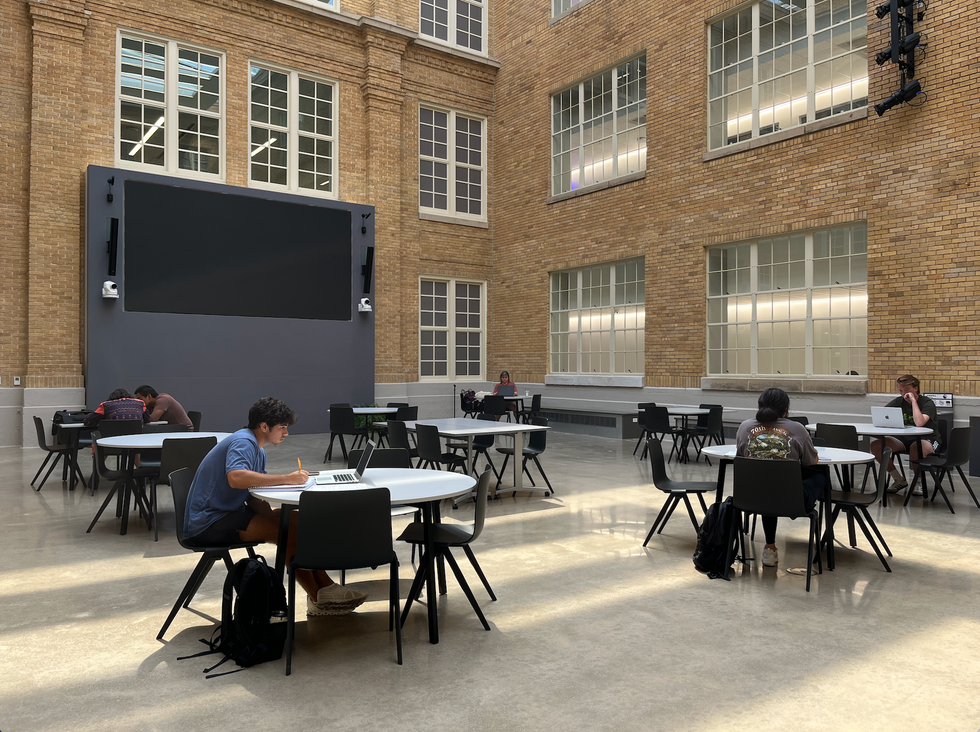 Austonia
The result is a warm and inviting feel inside with classrooms and resources like the student accessibility services office, an accelerator area with computers and conference rooms and more.
Outside, an amphitheater-like space that was mostly just dirt before the renovations has seating for students to work or have lunch.
"The project manager really envisioned trying to squeeze the most out of the inner city college vibe that we could get," Raymond said. "And this is a really lovely space that they carved out. It's got electricity, there's WiFi out here. Students can come and hang out."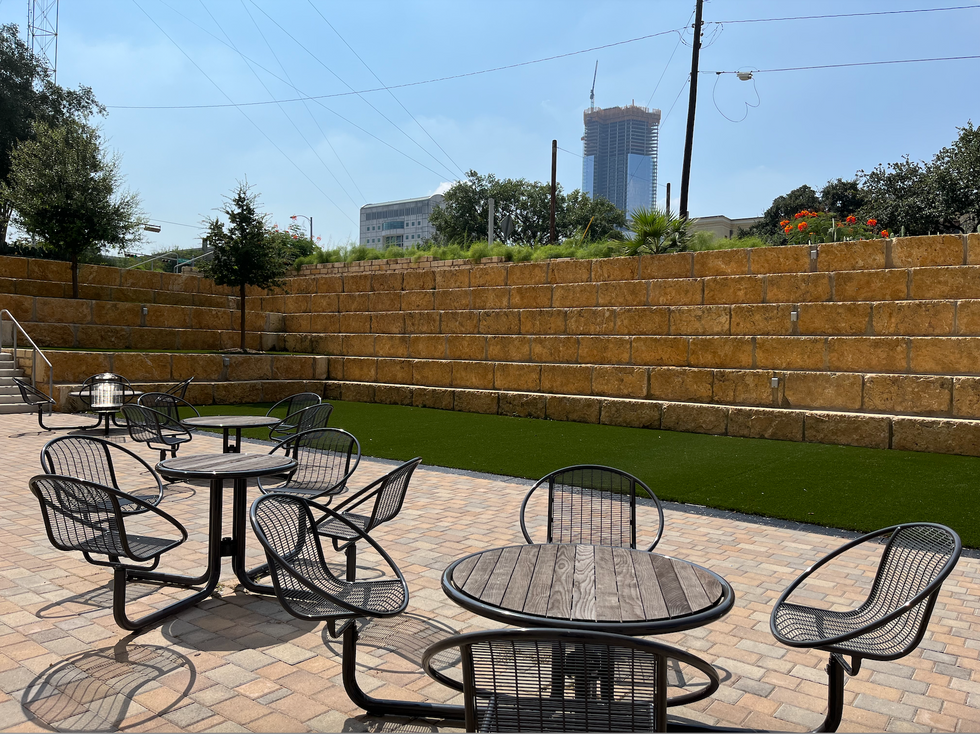 Austonia
When it comes time for activities or meetings, there's a multipurpose room. Raymond notes that the floor mostly hosts computer classes, but it's used for various occasions and even once Pentagon staff met in the room.
There's even more to come, including a shop called Cafe Rio that will serve sandwiches, pastries, and other snacks and drinks. And in the coming semesters, the Computer Information Systems department is moving onto the campus to join instructors from VMware in teaching.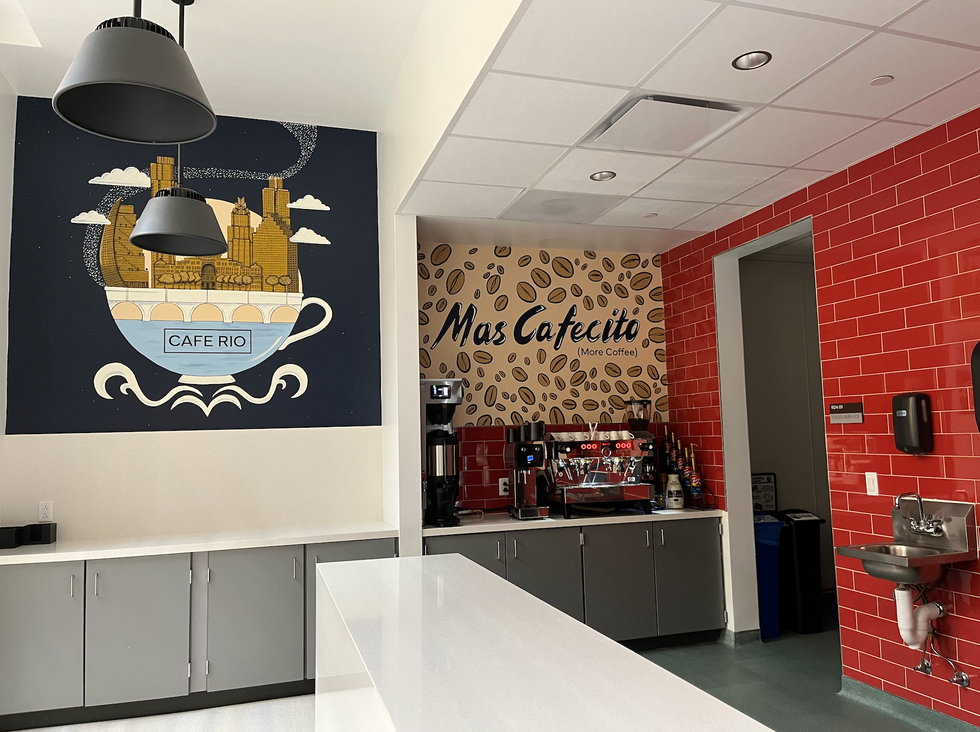 Austonia
The Rio Grande campus also has the Army Futures Command, a subsidiary of the army where soldiers build their software programming skills. Raymond says each six months, ACC will have a group made up of 25 soldiers and five civilians that will be there for three years.
"Some have degrees in software programming but others don't," Raymond said. "So they are kind of using this as a way to keep their talent in the army."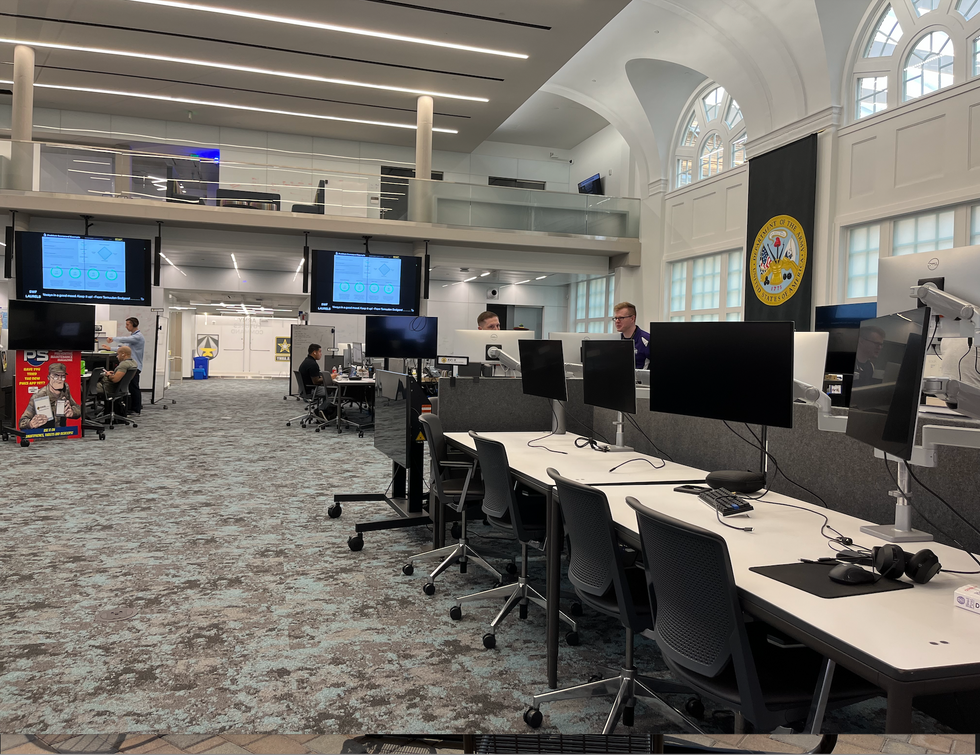 Austonia
Even with the many changes, a key to the renovation project involved preserving features as a way to marry old with the new, Raymond says.
That includes details like windows overlooking an atrium from the original site that were given a new life after being hand cleaned and painted. Or an engraving on the building labeling it John T. Allan High School.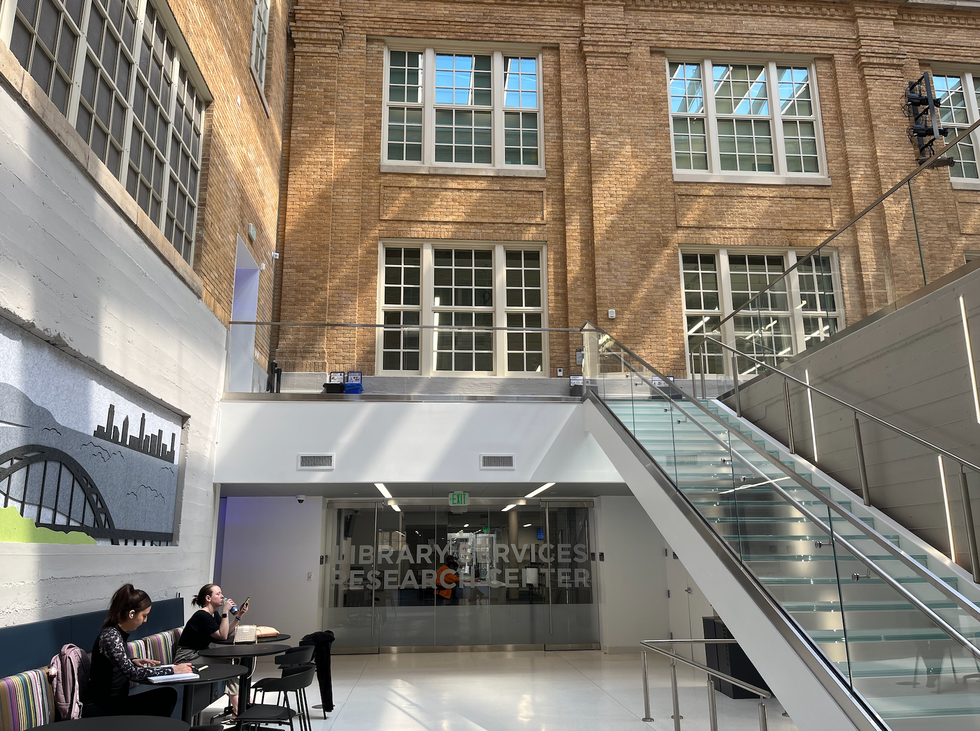 Austonia
"It really is a huge transformation from what it used to be," Raymond said. "The ceilings feel higher, the colors are brighter, it's more open, better use of space."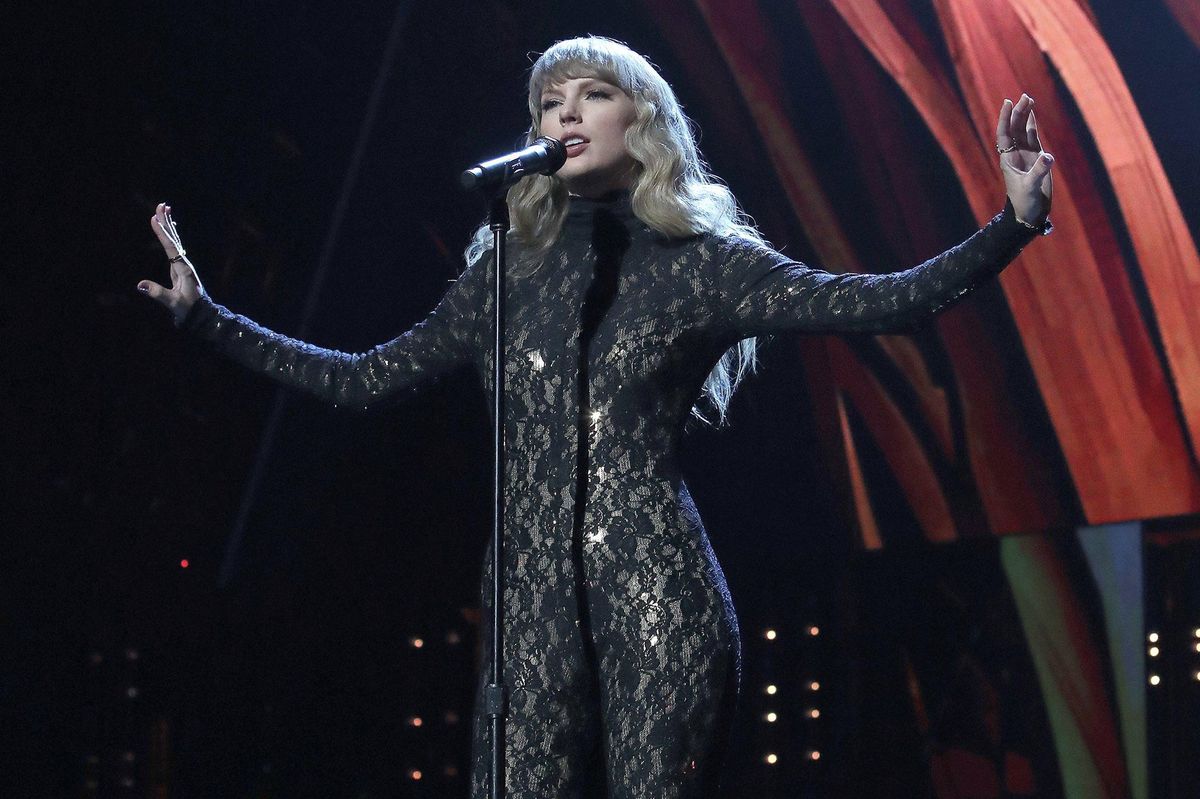 Can't shake off the symbolism in Taylor Swift's latest short film? Those who know the country-turned-pop artist "All Too Well" can test their expertise in a Taylor Swift-centric class at the University of Texas.
The Songbook of Taylor Swift will be available as an English credit for undergraduates in the Liberal Arts Honors program for the fall semester, which begins Monday. The course will provide "an introduction to literary studies and research methods that uses the songwriting of (Swift) as the basis for teaching a wide range of skills," according to the UT English Department's Facebook post.
Those familiar with Swift's fan culture will know that "Swifties" go to great lengths to uncover Easter eggs throughout the singer-songwriter's decades-long discography. English professor Elizabeth Scala hopes to put that skillset to greater use.
"I want to take what Swift fans can already do at a sophisticated level, tease it out for them a bit with a different vocabulary, and then show them how, in fact, Swift draws on richer literary traditions in her songwriting, both topically but also formally in terms of how she uses references, metaphors, and clever manipulations of words," Scala told KXAN.
Scala, who normally teaches medieval literature, will be scrapping her Chaucer for Swift lyrics in hopes of preparing students for "advanced work in the humanities." In the Facebook post, the department also said that the course could help first-year students apply to the school's English Honors Program.
Though this Swift course is the first of its kind, there won't be a "Blank Space" for other pop star's studies for long: neighboring school Texas State University is introducing a Harry Styles course beginning in spring 2023.
From Your Site Articles
Related Articles Around the Web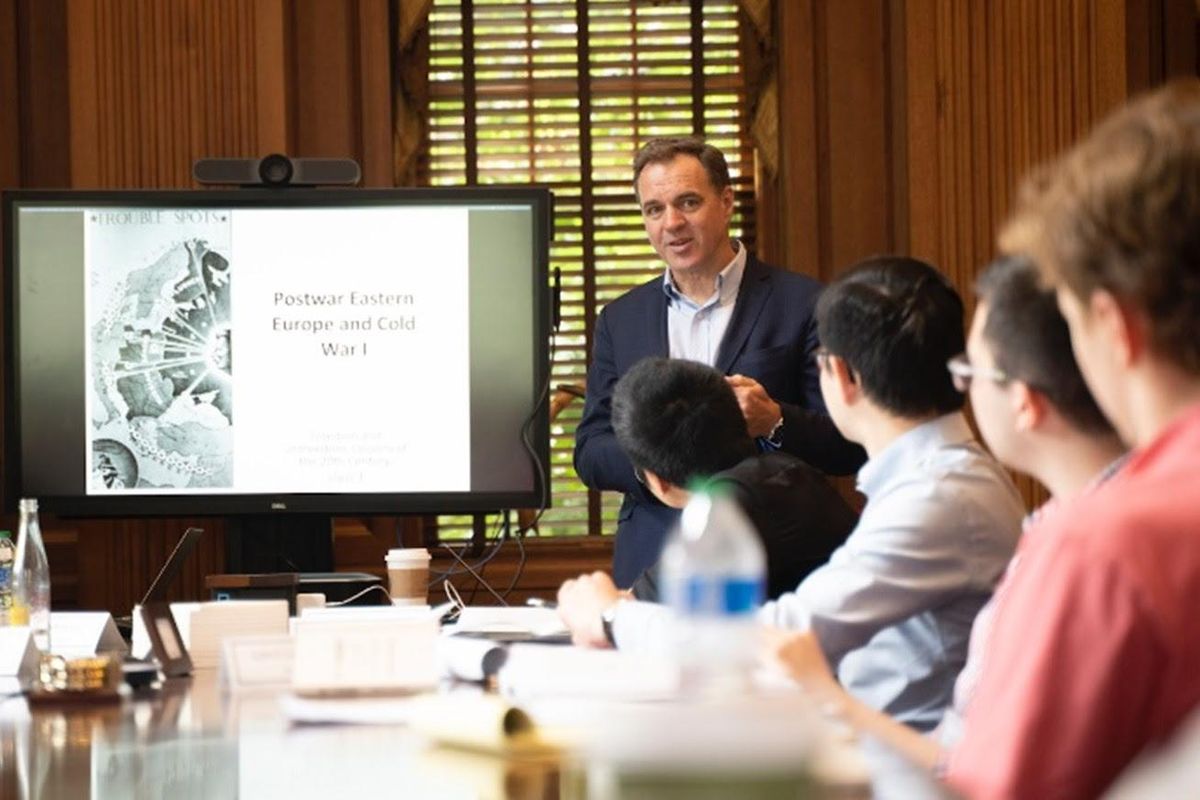 The controversial University of Austin is offering a new course this fall.
Applications for a Polaris Fellowship program—a part-time business course covering law, management and leadership—from this November to June of next year are open. Instructors in this program include UT statistics professor Carlos Carvalho, 8VC CEO Joe Lonsdale, founder of KIND Snacks Daniel Lubetzky and other business leaders and intellectuals.
The part-time, mostly virtual fellowship is open to college students and professionals aged 25-35. There will be three in-person meetups on Nov. 11-13, Feb. 24-26 and a third TBD date. Its site says there is no cost for this program due to a grant from donors.
UATX emerged as a liberal arts school first offering a "Forbidden Courses" program this summer. It was created to be a place for civil discourse as the founder says current university students are unwilling to participate in the "core activity of democratic governance."
While the school is currently unaccredited and lacks a physical campus in Austin, it plans to hold "Forbidden Courses" every year and begin undergraduate programs in 2024.
When UATX was first announced in 2021, it faced some pushback from the public comparing the new institution to predatory for-profit colleges.