Austonia AM
100% Austin news, info, and entertainment, straight to your inbox at 6 a.m. every morning.
In five minutes, you're fully informed and ready to start another great day in our city.
Get connected with our daily update
Tesla is getting ready to train its future employees: students at Austin Community College.
Brought to the state by Austin transplant Elon Musk, the Tesla START Manufacturing program will work with students to develop technical expertise, earn certifications through in-class theory and offer hands-on labs for a potential career at the electric car company. The program will kick off in August.
In just 14 weeks, students will learn to work with robotics and machine control systems. Though the program is integrated into schools across the nation, ACC will be the first school that focuses on manufacturing as opposed to automotive.
"Tesla believes strongly in collaboration," ACC chancellor Richard Rhodes said. "When business and education come together, we build connections that make college affordable and link students directly with employers so they can go straight into a promising career."
Students can already get an associate's degree or certificate in Advanced Manufacturing, but individuals who participate in the training have the chance to be hired and paid by Tesla to complete it.
"Manufacturing today isn't what it used to be," Rhodes said. "It's about getting creative to design and build machines of the future. Tesla is at the forefront of that innovation, and now ACC students will be on the front lines."
Applications will open by the end of June.
Tesla is also working with Del Valle High School, providing a path outside of college for graduates. The plan involves enabling students through their coursework to complete high school credits in conjunction with a potential Tesla career.
(Counse/CC)
University of Texas students can expect a "near normal" fall semester this year.
The plan, sent to the Daily Texan via email from communications manager for the Office of the Executive Vice President and Provost Kathleen Harrison, is to hold 91.7% of classes in person, 4.2% of classes in a hybrid format and the remaining 3.1% of classes will stay online.
The announcement is a stark increase from last fall, during which over 60% of classes were online, 24% were hybrid and only 16% were in-person. President Jay Hartzell said last month he expects the upcoming semester to look more similar to fall 2019 than fall 2020.
The new schedule is not set in stone—Harrison said UT will continue to monitor the COVID-19 situation on campus and that safety of the community is a top priority.
"The University's decisions are based on the latest data and information available," Harrison said. "If conditions change, we will continue to keep the safety of our community a top priority and adjust as needed."
With many Central Texas parents hitting an academic fork in the road this past year—choosing between in-person or remote learning—experts say the results of those decisions may not be revealed until the fall semester starts.
For west Travis County resident Mica Gutierrez, the year has been about juggling. Although both of her sons started out the year learning remotely, she said that style wasn't productive for her youngest teen, freshman Truman Householder.
"He would click on the Zoom call and then lay down and take a nap," Gutierrez said. "It was difficult to keep an eye on everything, especially with work."
At the recommendation of his school counselor, Householder went back to in-person learning in January, an option Gutierrez said holds him "more accountable" by being in class. Her less socially-minded son remained remote. Although Gutierrez doesn't see Truman's fall semester as a waste, she says "it was definitely not great instruction because he wasn't getting it, but that was his choice."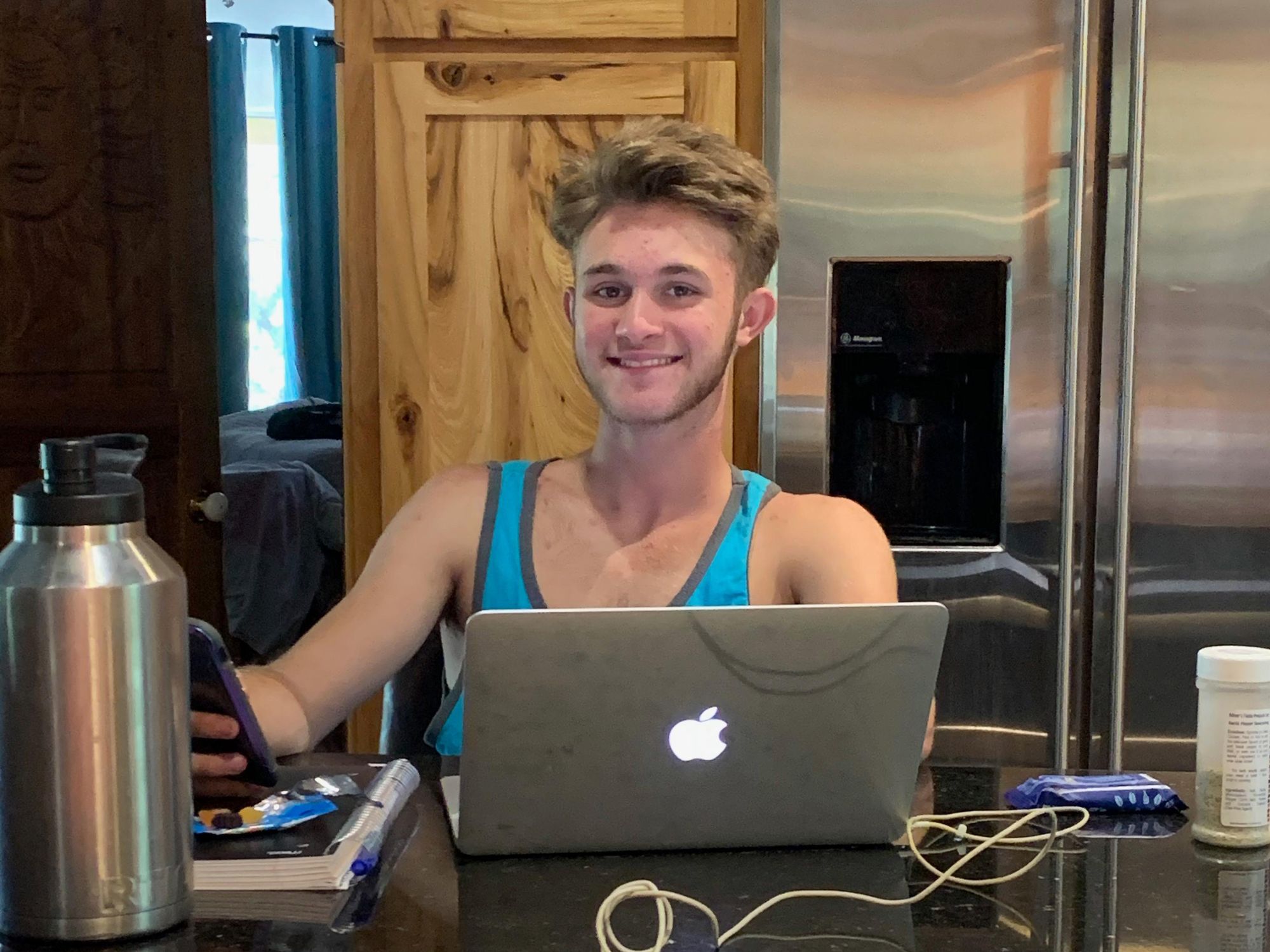 Jackson Householder, age 16, remained a remote student while his younger brother is finishing the 2020-21 school year in person. (Mica Gutierrez)
In a different light, Angela Shori praised the Eanes school district's remote education program used by her second and fourth-grade daughters. Since March 2020, the girls have been remote, with both Shori and her husband working full-time from their Westbank home. Shori said her daughters stayed on track for the year, but acknowledged she's had to be more hands-on, even setting their alarms to signal schedule changes.
"There's a lot of personal responsibility to this," she said. "You can't just set it and forget it, but that is an investment we were willing to make given the situation we were in."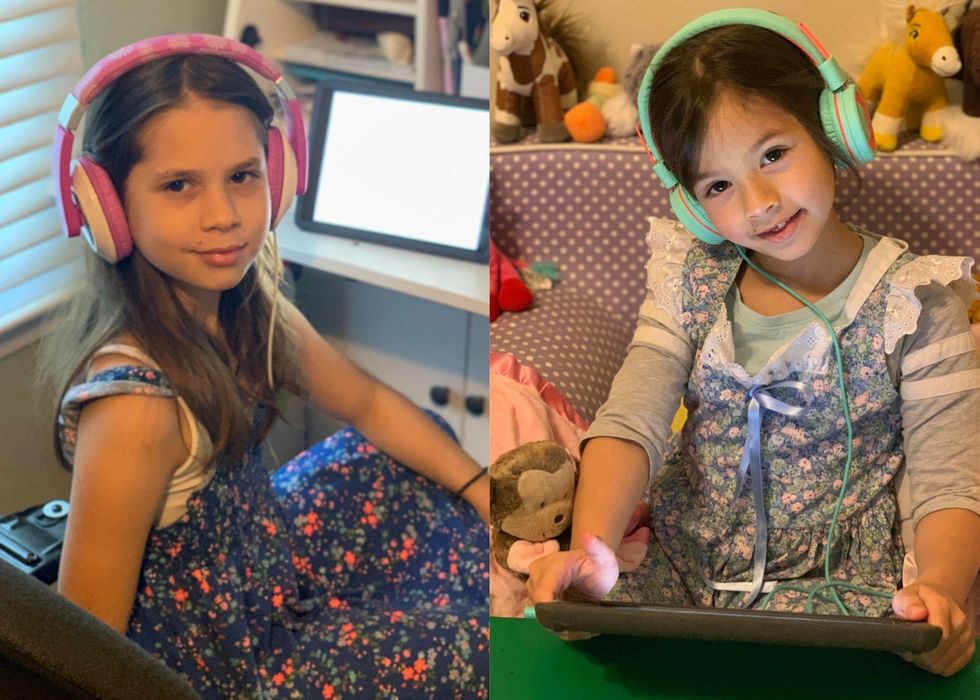 Ainsley and Avery Shori learn remotely in West Austin. (Angela Shori)
Licensed school psychologist Dr. Amy Brown said the year has been a mix of success and struggle for students, with next year looking uncertain in terms of academic progression.
"What we don't know is the outcome, with the families who are saying 'it went well,' (meaning) behaviorally, procedurally, getting things done, turning in assignments," Brown said. "But, as a measure of their learning, and whether they've progressed a year or not, that's what we don't know."
Earlier this year, the Texas Education Agency found students lost nearly six months of learning. Locally, Austin ISD officials report that for the fourth six weeks of the 2020-2021 school year, 40% of its high school students are failing one or more classes, a 6% increase from the year before. Those statistics have given rise to discussions about a state proposal to give parents the authority to have their children repeat a grade.
Brown said introverted and self-driven children may have been more successful over the past academic year, accepting the challenge to take care of things themselves. However, she said students who didn't have as productive a school year were often those who struggle with attention deficit hyperactivity disorder, or ADHD, trying to stay on track, maintain assignments and be in tune with virtual instruction.
The year's outcome may have fallen along socio-economic lines, with parents' accessibility and ability to help or be present to supervise instruction key, Brown said.
The varying measures of student success during the past year stemmed from mobility and access as many homes lacked the technology to keep up, said Director of Communication and Community Engagement at E3 Alliance Alex Chandler. E3 is a local data-driven education collaborative that works to make improvements to education.
"There are parents who are not digital natives," Chandler said. "We have lots of parents who have English as a second language. They're now trying to navigate technology that they don't understand, (and) they're being teachers while working their job."
Attendance at public schools is down, with E3 most concerned about a 33% decline in Central Texas pre-kindergarten enrollment, a program that is important for students to start their academic process, he said.
"We know that students who attend a full-day, low-ratio pre-K program are far more likely to graduate from high school, far more likely to score better on their STAAR tests in third grade and go on to get some sort of post-secondary credentialing," Chandler said.
Back in the Gutierrez/Householder family, Gutierrez said the year has had an upside, with her sons' relationship becoming closer despite the teens' divided learning styles.
"Everyone's adjusted and kids are pretty resilient," she said.
(Pexels)
Five families have filed a federal lawsuit against Austin Independent School District claiming the district has denied adequate special education services that comply with state laws.
The plaintiffs: a 4-year-old with autism and expressive language disorder, a 5-year-old with suspected anxiety and obsessive-compulsive disorder, a 6-year-old with a speech impairment and dyslexia and a 10-year old who has learning disabilities, autism and emotional disturbance. Disability Rights Texas was also named as a plaintiff.
The district has been accused of failing to evaluate the students' needs, and that the same is happening to "at least 800 other students with timely initial special education evaluations and an estimated 1,600 students with timely three-year reevaluations in the past year" by Disability Rights Texas.
AISD said it has yet to be served.