Austonia AM
100% Austin news, info, and entertainment, straight to your inbox at 6 a.m. every morning.
In five minutes, you're fully informed and ready to start another great day in our city.
Get connected with our daily update
(Helen Armstrong (@helenarmstrong5)/Twitter)
Filling the National Mall grounds, the "Field of Flags" display in Washington, D.C. brought something different to the 46th presidential inauguration. And behind the display was none other than an Austin-based promotion company.
C-3 Concerts, the same company that usually puts on ACL each year, worked with the Presidential Inaugural Committee to design the display of 200,000 U.S. flags as part of their "America United" theme, according to KVUE.
The PIC announced earlier this month that "The Field of Flags" represents the "American people who were unable to travel to Washington, DC, and reflect(s) PIC's commitment to an inclusive and safe event that everyone can enjoy from their home."
The display also features 56 pillars of light meant to represent each United States state and territory.
The theme also includes a post-inaugural stop by the Tomb of the Unknown Soldier in Arlington National Cemetery for a wreath-laying ceremony to honor the men and women in uniform who have died in combat.
C-3 concerts has previously worked on former President Barack Obama's inauguration in 2009 and 2013.
(Christa McWhirter)
In the wake of election results nearing certification and Georgia's runoff elections coming to an end, President Donald Trump supporters took to the State Capitol to rally in solidarity with Washington D.C. and other nationwide protests.
Hundreds of supporters gathered to protest election results, falsely asserting that the election has been "stolen" from Trump. The event on Facebook, titled "Occupy The Capitol for Trump—Austin," counted 221 people who said they would be there.
At the base of the Capitol, more than 200 people gathered clad with signs reading "stop the steal" or "hang traitors" and flags galore, and at the intersection of 11th Street and Congress Avenue.
People gathered in groups, mostly unmasked, listening to live country performers, chanting and praying.

Floridian Alicia Andrews, who is a native Texan, said she came to protest for democracy and freedom, and to bring power back to the people.
"I don't agree with the stealing of the election and the loss of freedom," Andrews said. "I think there has been a lot of things in play to take the power away from the people and turn it to the hands of the elites who see a better way. There is no voice of our people if the elections are stolen."
While protesters gathered near the Capitol building at first, Texas DPS troopers closed the grounds after people tried to storm inside, mimicking the chaos in D.C. What started as a protest outside the U.S. Capitol turned into a mob of pro-Trump supporters breaching through security barriers and through the building.
Pro-Trump protesters carrying flags march through the Capitol building, chanting "we want Trump," forcing a lockdow… https://t.co/6hQ0V6jYRV

— ABC News (@ABC News)1609963415.0
The more time went on, the more violence ensued everywhere.
In Austin, fights were frequent and occurred both between the growing presence of non-Trump supporters and between people who were originally on the same side. Some Trump supporters began to leave, saying they didn't support the violence and yelling going on by the party they originally came to support. Some people in the area said the loud chanting of "f--- ANTIFA" became too much too handle.
One protester, who left before giving his name, said he didn't agree with the yelling and said he came to the event to have open conversations, not pick fights with people who didn't agree with him.
"I'm sick of not having dialogue—speaking," he said. "I'm from Austin, so I'm conservative, yes, but I'm open to anything. I just want us to come to something besides screaming and hollering over each other."
Crowds at the Texas Capitol began diminishing at around 4 p.m.
(Bob Daemmrich)
Waving American flags and chanting "stop the steal," Trump supporters gathered in front of the governor's mansion on Saturday to once more protest the results of the presidential election.
Estimates from local media put the rally's attendance at several hundred people, with more honking from a vehicle procession decked out in Trump campaign flags.
The event, which happened alongside a similar demonstration at the U.S. Capitol, is in response to the unproven claims of voter fraud in the election.
Just last week, hundreds poured into Austin's downtown to celebrate after the Associated Press declared Democratic candidate Joe Biden the winner. But Trump supporters also showed up, contesting Biden's win.
The Trump campaign filed lawsuits in several key states won by Biden, but they have been repeatedly ruled against or dismissed entirely in the past week. Judges in Pennsylvania on Friday threw out several lawsuits that would have tossed out nearly 9,000 mail-in ballots.
Biden received 72% of the vote in blue Travis County. He also won most of the vote in nearby Williamson and Hays counties. Trump won Texas as a whole, however, with 5.6% more of the vote than Biden as of Monday, with 99% of votes counted.
More on election results: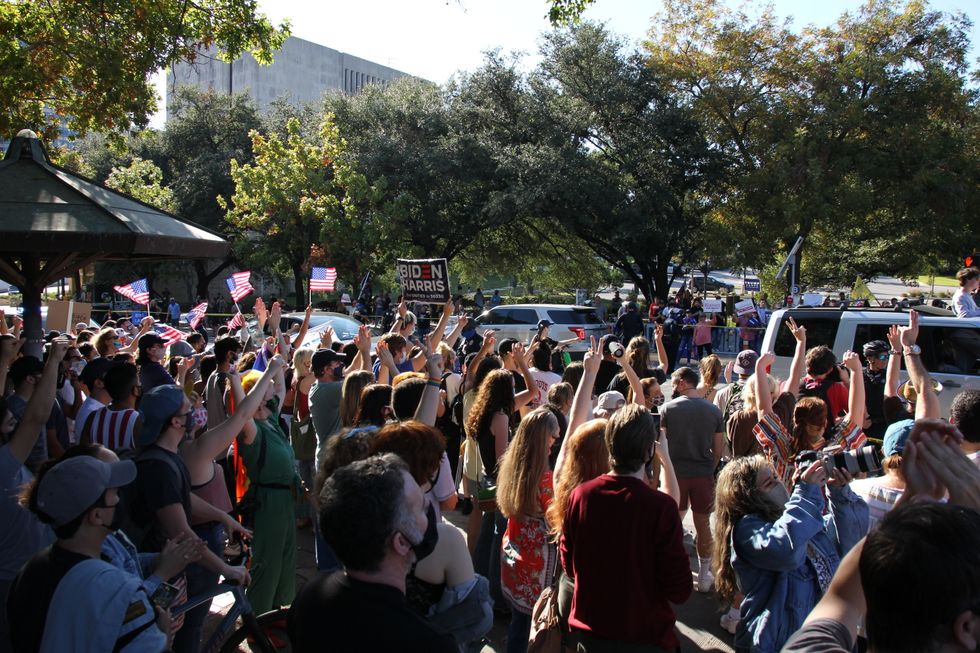 Update: Biden celebration faces off with Trump protests in downtown Austin over weekend
Waving a crucifix from her car window, a rabid Trump supporter drove between the Biden celebration crowd and the Trump protest crowd in downtown Austin on Saturday, as captured on video by Austonia.
The driver shouted at the crowd of celebrating supporters of President-elect Joe Biden and Vice President-elect Kamala Harris.
"The future of this country is at stake," she said, while her passenger waved a Trump flag from the window.
In a nationwide trend, the crucifix has become a symbol for some of Trump's most loyal supporters, who believe the president's assertions that the election was unfair. They believe he is being "persecuted," on a level that they compare to the persecution and crucifixion of Jesus Christ.

The crucifix is among Christianity's most sacred icons, representing suffering and self-sacrifice for the greater good.