Get connected with our daily update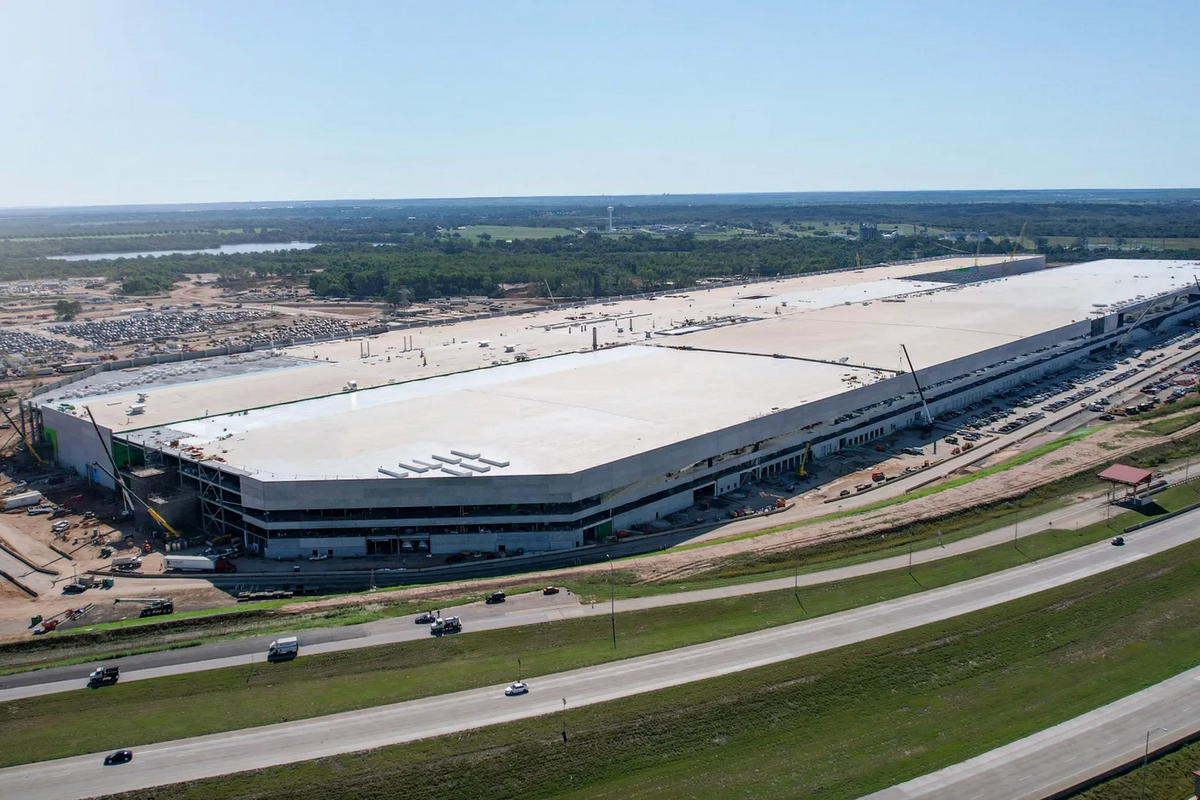 A group of environmentalists and other activist groups are calling on the city to withhold permits Tesla has requested, including for a battery cathode facility by the company's headquarters near the Colorado River.
In a letter to Mayor Steve Adler and the rest of council, the groups say the manufacturing process will require a substantial amount of water and chemicals, and that as a result, a hazardous waste stream will form.
"Where will the toxic waste end up? How will Austin ensure that it doesn't pollute the water?" the letter asks.
The groups, which include East Austin group PODER, the Texas Anti-Poverty Project, Hornsby Bend Alliance and others, demand that the city wait on permit approval until the company makes commitments to engage the community and protect the environment.
While building its own batteries could mean a significant reduction in production costs for the automaker, the groups say materials and processes involved in battery production have dangers. They pointed to Piedmont Lithium, a supplier for the facility, saying caution should be taken with battery production products to "avoid contamination of surface, ground and sewerage waters."
Last year, PODER launched an initiative known as the Colorado River Conservancy to protect the character of the river corridor. Paul DiFiore, manager of the initiative, talked about its aims to put protections in place for the riverfront neighborhoods. "That was the goal that Tesla maybe brought that to another level of urgency," DiFiore told Austonia.
The company has faced controversy with its environmental action before. Earlier this year, the company was fined $275,000 by the Environmental Protection Agency for high priority violations of pollution regulations at its Fremont, California plant.
The letter from environmental groups comes just as Tesla was booted from the E.S.G. index, which ranks companies for how they follow environmental, social and governance principles.
Yesterday, Tesla CEO Elon Musk pushed back against the index, calling it a "clear case of wacktivism."
Exxon is rated top ten best in world for environment, social & governance (ESG) by S&P 500, while Tesla didn\u2019t make the list!\n\nESG is a scam. It has been weaponized by phony social justice warriors.

— Elon Musk (@Elon Musk) 1652890157
Along with action on the cathode facility's permits, the groups are also calling for collaborative work to remedy inequities in water access.
The letter describes how Tesla receives service from Austin Water, though the gigafactory is outside the boundaries of the service area. That's because the Public Utility Commission granted Tesla a release from South West Water's service, allowing them to instead turn to Austin Water for service.
Meanwhile, others in the surrounding area, like those in the Garden Valley neighborhood, rely on Aqua Texas Inc.—which has rates more than double that of Austin Water—for retail service. The neighborhood can receive wholesale service from Austin Water, however.
The groups point to this, along with other developments at the gigafactory—clearing large swaths of trees, filling in ponds and pouring acres of concrete for the factory—as a reason to enforce standards requiring companies to operate with social and environmental responsibility.
"If we do not raise the bar for the increasing number of corporations who wish to relocate to Austin or expand their presence, we risk losing precisely that which attracts people to live here in the first place: the clean, beautiful environment that is the foundation of our collective quality of life," the letter states.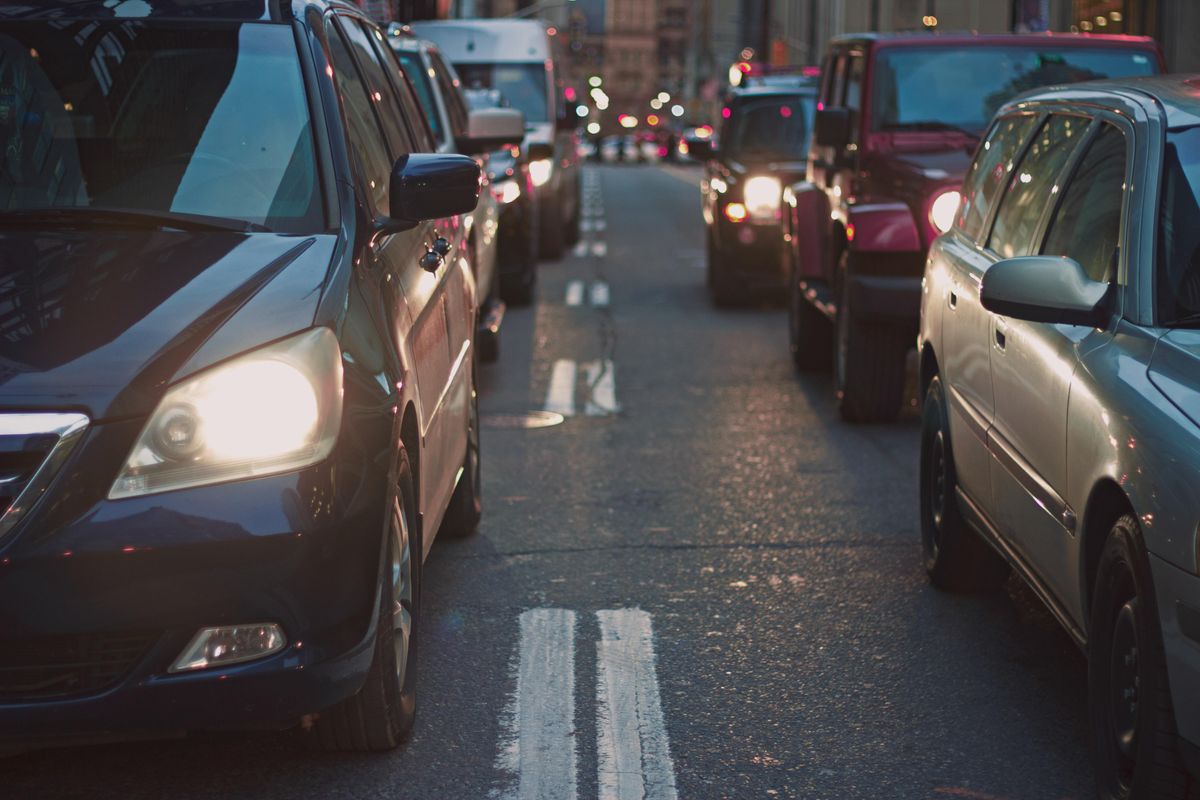 The average used car buyer in Austin is coughing up an additional $8,404 when compared to March 2021, according to a new iSeeCars.com report.
With a 32.1% year-over-year jump, Austin has seen the 11th-highest change in average used car prices in the country. The study, which analyzed 1.8 million car sales from March 2021-2022, found that used cars increased just over 30% nationwide due to microchip and semiconductor shortages disrupting the supply chain for new vehicles.
The study found that smaller, semi-affordable cars and alternative fuel vehicles—like Austin-based Teslas—have taken the biggest leap. Austin's used car prices also saw the largest percentage increase among other Texas cities.
Here's where other metros stacked up:
No. 1 San Francisco—36.8%
No. 2 Miami—35.9%
No. 3 New York—35.2%
No. 11 Austin—32.1%
No. 37 Houston—28.7%
No. 49, Dallas-Fort Worth—21.2%
No. 50 San Antonio, TX—10.9%
But it's not all doom and gloom: The 30.4% jump is less than February, which peaked at a 35% year-over-year increase.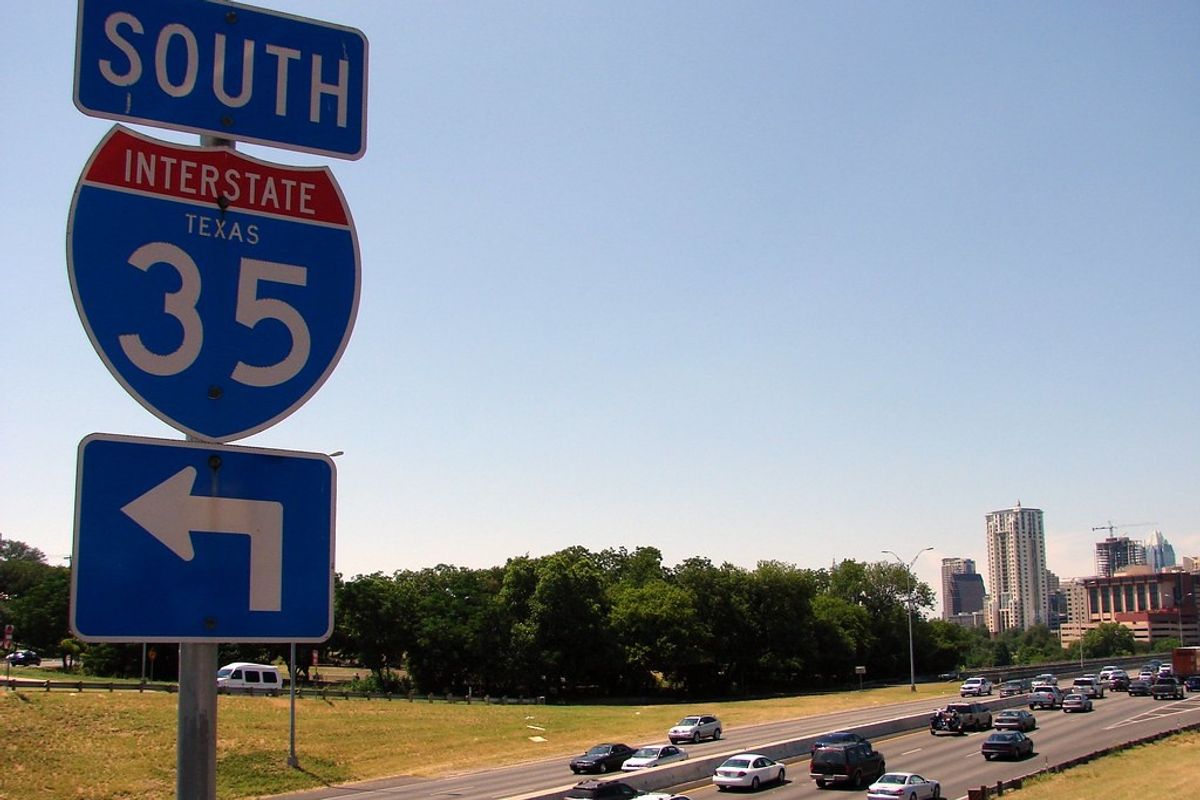 What would Austin's roads look like if they were built for all 1 million residents? For starters, there would be a lot fewer cars.
That's what the city planned for when it adopted the Austin Strategic Mobility Plan in 2019—when similar to today, heavy traffic, rapid growth, and safety on roads were at the forefront of concerns in the city. The plan includes implementing Project Connect, a transition toward greener transportation and an emphasis on connecting communities, with the help of Vision Zero.
It is also part of a bigger goal of getting 50% of Austinites to stop driving alone or get off the roads altogether, according to Austin Transportation Systems Development Division Director Cole Kitten.

With rail lines to come and more emphasis on micro-mobility, the city will be able to accommodate a growing population, put money back in their wallets and be eco-friendly.
Lowering traffic deaths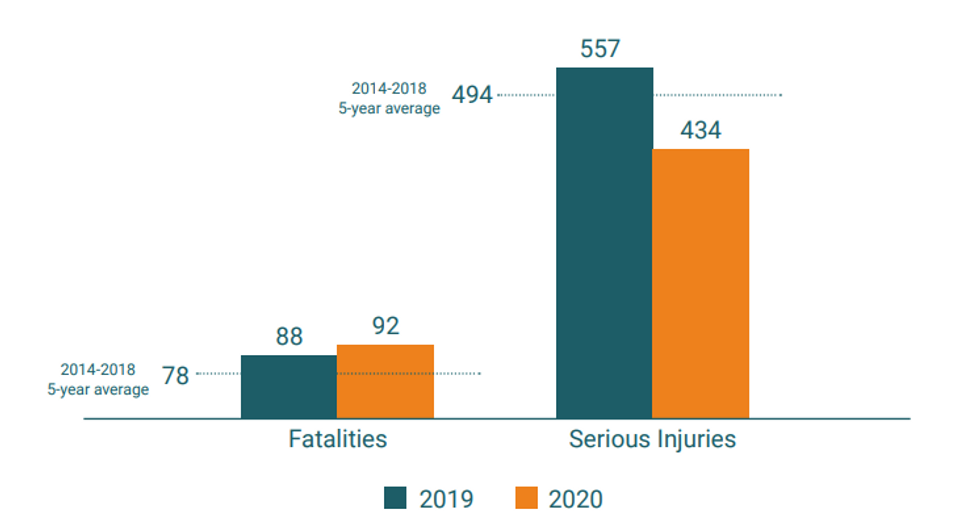 (Vision Zero)
In 2021, 4,480 people were killed on Texas roadways—marking the second-deadliest year in the state since 1981—part of a deadly national trend that led to the deaths of 38,000 Americans.
Austin adopted Vision Zero, a network of cities committed to reducing "people hurt or killed by crashes to zero with street improvements, policy changes and education," in 2015. So far this year, Austin is up on traffic fatalities with 27 as of Tuesday, compared to 24 this time last year.
While speaking at SXSW 2022, United States Secretary of Transportation Pete Buttigieg said achieving the Vision Zero goal of no roadway fatalities is going to rely on creating equity within local communities, making climate-conscious decisions and taking as many humans out of the driver's seat as possible, whether it's AI drivers or implementing widespread public transit.
"The policy frameworks have not fully caught up with the technology—the safety potential for autonomous driving is enormous," Buttigieg said. "Human drivers do not have a good track record, human drivers killed 38,000 people last year, so the potential is extremely appealing."
Lowering costs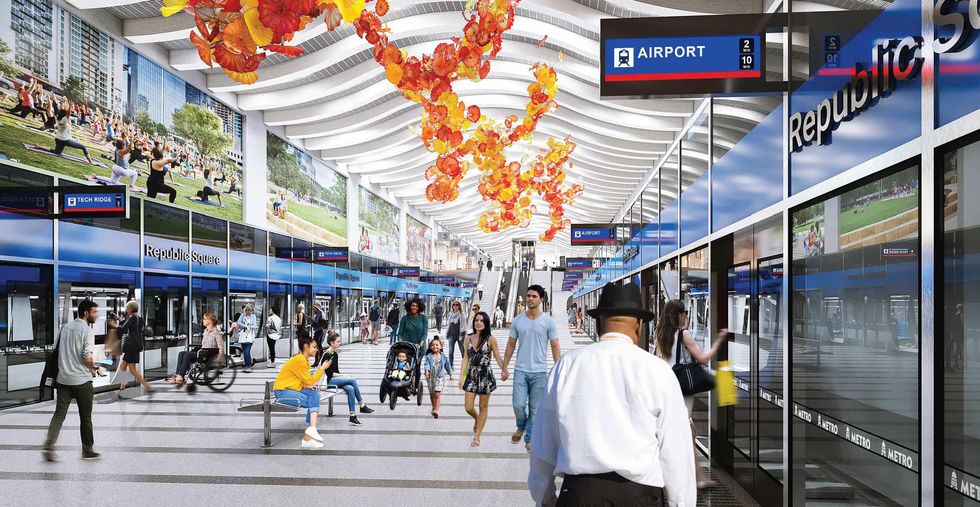 (Project Connect)
The ASMP is a key part of achieving Vision Zero, as it will create the framework for necessary changes to help hit the goal of getting 50% of Austinites to stop driving alone or get off the roads altogether. Kitten said currently, 74% of Austinites drive alone.
With the implementation of greener infrastructure, safety, affordability and connected communities come hand in hand:
Car ownership is extremely costly: The U.S. Department of Transportation Statistics reported transportation was the second-highest cost for American households at a $9,826 price tag in 2020. On the other hand, Austin Transportation Director Robert Spillar said more than half of surveyed Austinites were willing to bike if the route was safe.
When people choose not to drive: Kitten said successfully creating alternative transportation to personal vehicles is "all about options." Austin recently became #1 in the nation for bike lane investments and has seen success with micro-mobility options like scooters.
Climate concerns and electric vehicles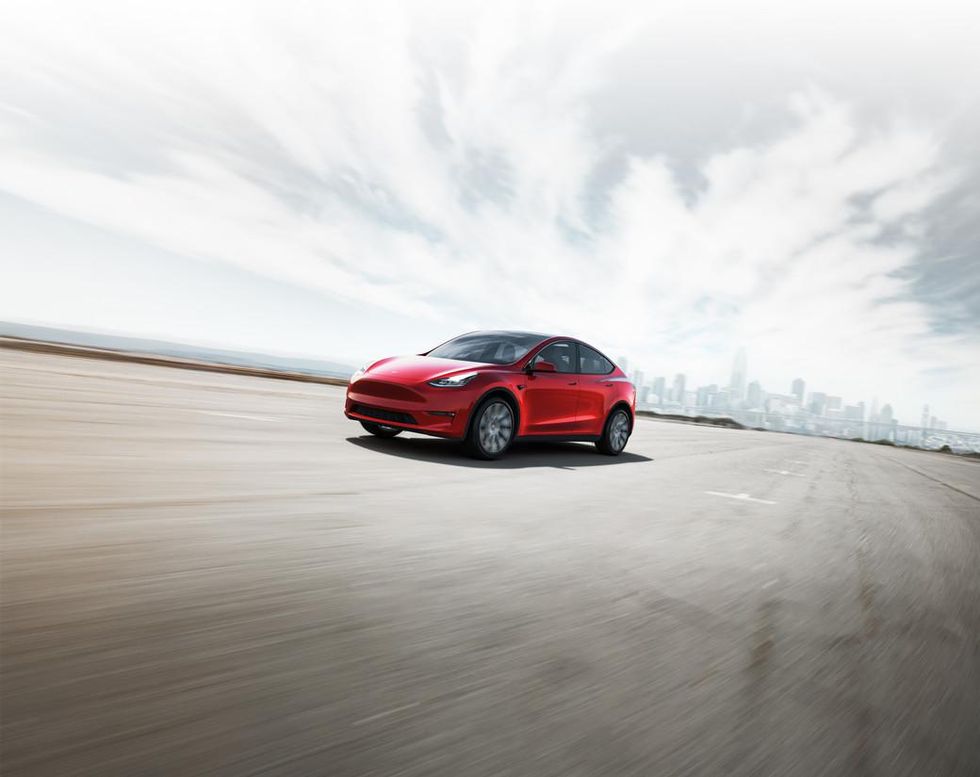 Elon Musk predicts Tesla's Model Y—soon to be made in Austin—will be best-selling car in the world
If the goal is to get people out of cars, where do EVs fit in? Amid lithium shortages and climate concerns surrounding electricity, the reality is that many people need to have a car while living in Texas in 2022.
Buttigieg said he believes the 2020s will be transformative for transportation and views EVs as a means to an end.
"At the utility scale, (EVs are) more efficient, so it is still more efficient, even with a fossil source to turn it into power at a utility generation site," Buttigieg said. "Track two is to take that trip but don't take it in a car. And that's a mode shift, right?"
Kitten said that gathering up-to-date information and having a long-range plan is essential to getting ahead of growth. Passing Project Connect was a big step toward filling gaps in Austin's transportation and Kitten said the city has made progress since and will continue toward its goals.
"If everything happens the way it's envisioned, then people could ultimately choose where to live based on how they can get to where they work without driving a car," Kitten said.