Get connected with our daily update
Fracking: energy miracle or environmental menace?
The controversial method of injecting liquid at high pressure into shale and other rock formations to release the oil or gas inside has boosted domestic oil production in the U.S. while also raising concerns of earthquakes and groundwater pollution.
But Mukul Sharma, who holds an endowed chair in petroleum engineering at the University of Texas at Austin, has another vision: geothermal fracking, a near-carbon-free energy source that carries fewer risks.
"Drilling horizontal wells and fracking them has been used in oil and gas, but it's never been done in the geothermal space," he told Austonia.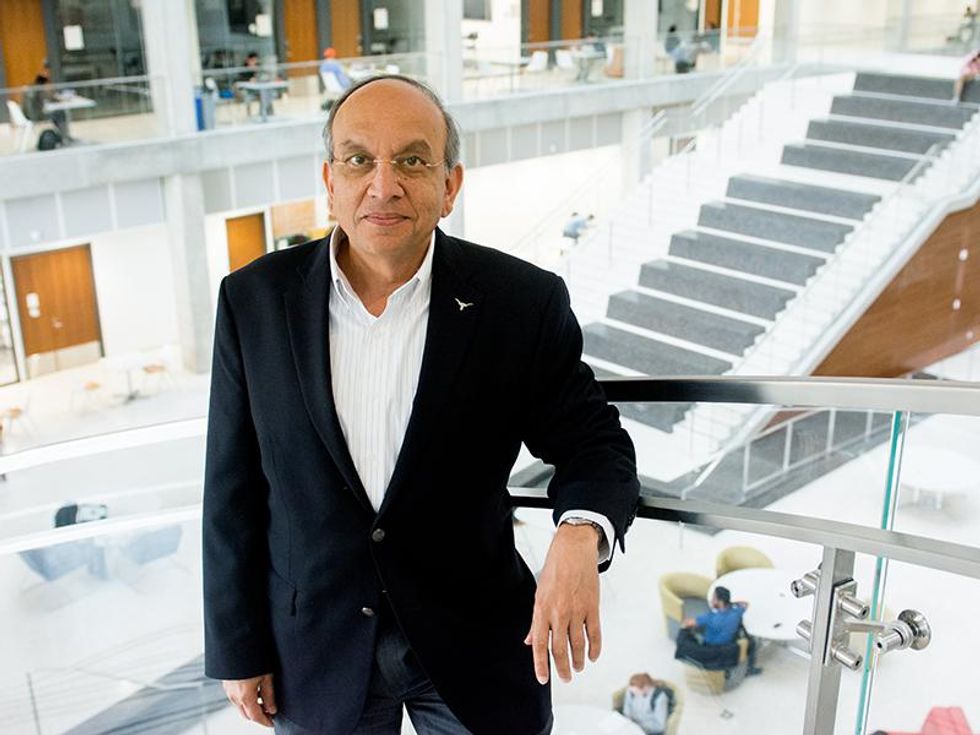 Mukul Sharma is known as the "Frack King" in some industry circles. (University of Texas at Austin)
New tricks

Known as the "Frack King'' in industry circles, Sharma co-founded a new startup, Geothermix, last year. The Austin-based company aims to develop enhanced geothermal systems that are commercially competitive, scalable and environmentally friendly.
Historically, oil and gas wells were drilled down vertically, deep in the ground where temperatures could exceed 500°F. With the advent of widespread horizontal fracking in the late 1990s, the area available for heat exchange increased by up to a thousandfold, Sharma said.
Instead of using horizontal drilling for oil and gas production, Geothermix plans to apply the technique in a new way: to generate geothermal energy. Instead of injecting water into the rock to push out oil or gas, it will inject water into the horizontal wells, where it will heat up. The resulting hot water or steam will then be pushed out of the well via a closed-loop system and converted into electricity.
This stands in sharp contrast to traditional heating systems, which depend on the combustion of fossil fuels in a furnace or boiler. Although fracking relies on fossil fuels, the resulting geothermal systems won't. "It's a near carbon-free energy source," Sharma said.
Geothermal fracking is also less risky from an environmental perspective. When used for oil and gas production, fracking can trigger earthquakes. "In geothermal we are actually circulating fluids," he said, adding that this circuit method reduces the pressure change in the group by providing an outlet. "There's no such thing as zero-risk, but you can keep the risk really small."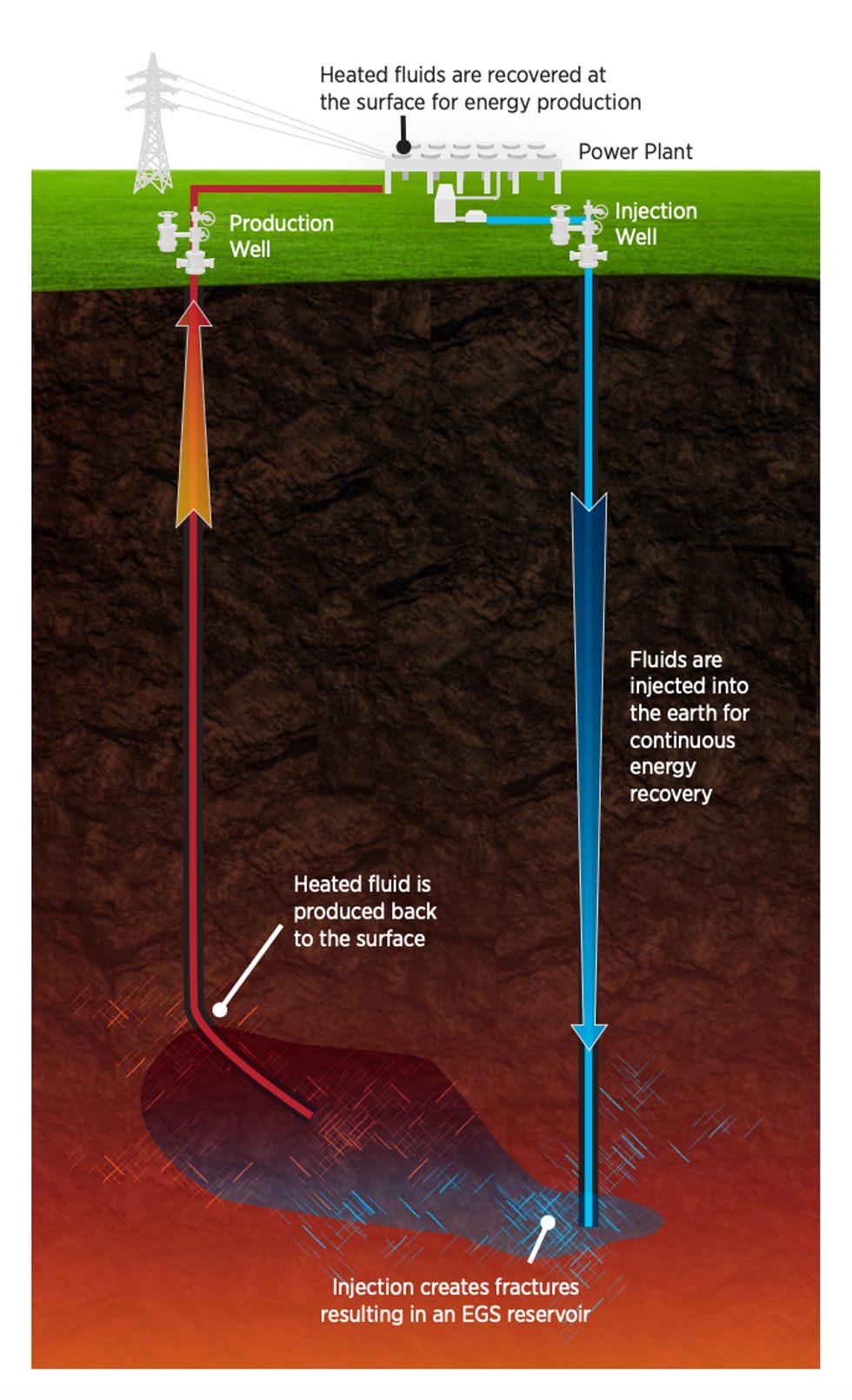 This graphic shows how an enhanced geothermal system could work. (Department of Energy)
The long game

Geothermal fracking is not without its challenges, however.
Such systems will require horizontal fracking on-site because it's difficult to transport hot water and gas over long distances. This means they won't benefit from the economies of scale of a large power station.
There is also the question of money. Is geothermal fracking commercially viable? "That's the real unknown right now," Sharma said. He believes it will be competitive where the cost of power is very expensive, such as in rural areas far from the electrical grid. (Some Texans may also opt for a more expensive geothermal energy source if it gets them off the grid, given the catastrophic winter storm in February.)
Geothermix is working to demonstrate a successful enhanced geothermal system in the next six months. The timing could be just right. "Geothermal energy is poised for a big breakout," read a Vox headline from October. "(G)eothermal is no longer a niche play," Vik Rao, former chief technology officer of the oil field service company Halliburton, told the Heat Beat blog last year. "It's scalable, potentially in a highly material way."
The U.S. Department of Energy also weighed in, publishing a 218-page report on enhanced geothermal systems in 2019. Although the report acknowledged the technical and economic challenges, predicting that full commercialization is likely more than a decade away, it was clear about the upside: "Compared to a total U.S. annual energy consumption of 1,754 (terawatt-hours-thermal) for residential and commercial space heating, this EGS-based resource is theoretically sufficient to heat every U.S. home and commercial building for at least 8,500 years."
(Pexels)
With high temperatures looming over Austin for the next week, The Electric Reliability Council of Texas, which controls about 90% of the state's electricity flow, is asking residents to conserve energy usage through Friday, June 18.
ERCOT issued the conservation alert via Tweet on Monday afternoon, saying that a high number of "forced generation outages combined with potential record electric use" during June have created tight grid conditions. Austin Energy echoed the request.
🔊CONSERVATION URGED! @ERCOT_ISO is asking Texans to reduce electric use as much as possible today, 6/14 through Friday, 6/18, due to statewide grid conditions.
ERCOT says a significant number of power generators have forced outages for repairs. (1/2)
— Austin Energy (@austinenergy) June 14, 2021
ERCOT is attributing the "tight grid conditions" to more electric generators than usual being shut down for repairs.
June is going to be hot—temperatures are expected to peak around 96 degrees every day through Friday. It's just the start of the Texas summer season with high temperatures likely not dipping below 90 degrees for the rest of the month.
ERCOT data indicated that energy demand may exceed capacity during peak heat hours. According to ERCOT, approximately 11,000 MW of generation is on forced outages for repairs and today's peak load forecast may exceed 73,000 MW. The previous record for June was 69,100 megawatts in 2018.
One MW typically powers 200 homes on a summer day.
ERCOT shared voluntary guidelines to reduce energy usage:
Set your thermostat to 78 degrees or higher–every degree of cooling increases your energy use by 6-8%.
Turn off lights and pool pumps and avoid using large appliances like ovens, washing machines and dryers.
If you don't need something–turn it off and unplug it if possible.
ERCOT has been under scrutiny since the grid collapsed in February during Winter Storm Uri, leaving millions of Texans in the cold and dark for days. The mass outage prompted a series of changes, including resignations, termination of President and CEO Bill Magness and a state investigation.
ERCOT previously said in May that it expected a relatively mild summer for emergency conditions and said it expects a peak energy demand of 77,144 MW through September.
(Bob Daemmrich)
Tesla subsidiary Gambit Energy Storage is building a massive battery near Houston that will connect to the Texas power grid, according to Bloomberg. The grid, which is mostly maintained by the Energy Reliability Council of Texas, came within five minutes of a total collapse after a series of winter storms last month.
Gambit is in the process of building a more than 100 megawatt energy storage project—which could power around 20,000 homes during the summer season—in Angleton, 40 miles south of Houston, per the report.
Tesla CEO and recent Texas transplant Elon Musk tweeted about ERCOT's service failures on Feb. 17, two days into days-long, statewide power outages.
A commenter linked to a recent news story about a similar Tesla battery project in Australia, where the company is building a 300 megawatt battery storage project, and asked: "is this possible in Texas??" Musk responded: "Yes."

This is not Tesla's first foray into energy. Musk unveiled a home battery product, called the Powerwall, in 2015 and the electric carmaker later acquired SolarCity, another one of Musk's businesses, according to Bloomberg.
"I think long-term Tesla Energy will be roughly the same size as Tesla Automotive," Musk said during a July 22 earnings call. "The energy business is collectively bigger than the automotive business."
Some Tesla Powerwall owners avoided the long blackouts experienced by their fellow Texans last month, according to Teslerati. One Tesla car owner reported sleeping in the electric vehicle to avoid the cold.
The battery project is one of many Musk projects underway in Texas.

SpaceX, his aerospace manufacturing company, will break ground on a new "state-of-the-art manufacturing facility" in Austin related to its broadband Starlink project, according to its latest jobs postings. The company has already established a presence in Texas, where it has a launch facility in Boca Chica, near Brownsville, and a rocket development facility in McGregor.
Tesla is currently building a Gigafactory in Southeast Travis County. The Boring Company and Neuralink, two other Musk ventures, have also recently expanded to Austin.
(Austin Community College)
Austin Community College is now the first community college district in Texas to use 100% clean, renewable energy at two of its campuses, in Round Rock and Elgin.
"By moving two of its campuses completely off of fossil fuels, ACC is significantly reducing its carbon footprint and helping ensure a safe, more livable climate for our community," Environment Texas Executive Director Luke Metzger said in a press release issued Tuesday.
ACC began its efforts to convert to wind and solar power earlier this summer and plans to implement 100% renewable energy at its nine other Central Texas campuses.
The district is also working toward a goal of becoming zero waste by 2040 and achieving climate neutrality by 2050.
"ACC is committed to becoming a leader in sustainability," Chancellor Dr. Richard Rhodes said in the same release. "That means using less energy and fewer resources while minimizing waste.
Its board of trustees created a blueprint for district-wide sustainability in 2009 and began charging $1 per semester per credit hour sustainability fee in 2010, which generates around $750,000 a year to fund green initiatives.
Other green initiatives at the district include reclaiming rainwater and AC condensation; green transportation programs, such as preferring parking for fuel-efficient and low-emission vehicles; and the introduction of a sustainability dashboard, which displays electricity usage, solar energy production and other consumption data.