Get connected with our daily update
Austin's first major league team is ready to extend its reach with a new collaborative sports complex The Pitch, an Austin FC destination packed with local food, beverages and Verde fervor is set to open in Northeast Austin in February.
The Pitch, a collaboration between Austin FC and Karlin Real Estate, among other entities, will be located in the 50-acre Parmer Pond District, which already hosts the club's practice facility St. David's Performance Center.
Dubbed a "true destination" for both soccer fans and the community, The Pitch will consist of multilevel shipping containers designed by Mark Odom Studio that will carve out into a 1,200-seat stadium complete with a soccer pitch made of turf, food and beverage options and a five-acre "Parmer Pond" featuring jogging trails.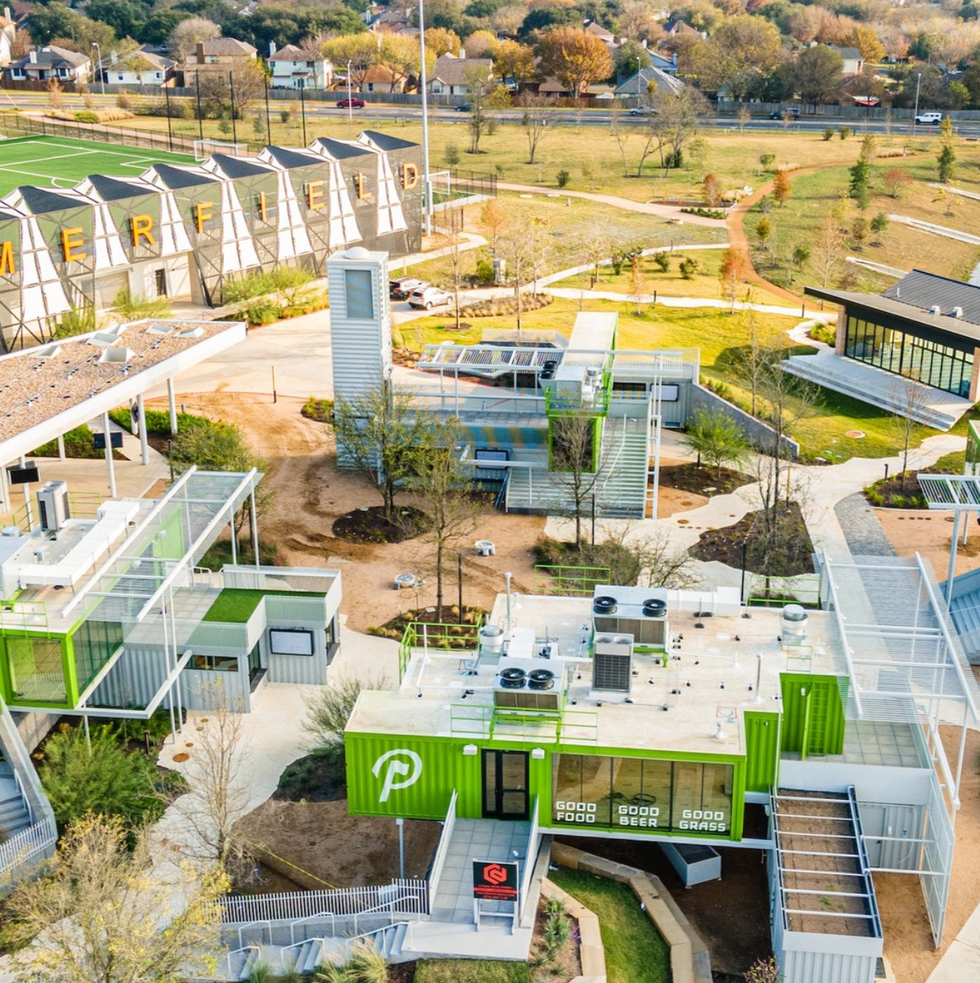 Made from multilevel shipping containers, The Pitch will include food and a 1,200-seat soccer pitch made from artificial turf. (The Pitch)
"The launch of Karlin's new food and entertainment experience will greatly enhance the Parmer development while perfectly complimenting St. David's Performance Center," Austin FC founder Anthony Precourt said. "The Pitch... will offer a strong variety of food options and gathering spaces for guests who will utilize St. David's Performance Center and Parmer Field for a variety of events."
The Pitch project lead Dave Greeley, who helped come up with the concept, is a former president of Austin FC parent company, Two Oak Ventures.
"The vision behind The Pitch at the Parmer Pond District is to be a first-of-its-kind sports, dining and entertainment destination," said Dave Greeley, The Pitch project lead and Team Orbis president. "This will be an unmatched experience for Parmer Austin tenants, Austin FC and club supporters, and the community."
With its proximity to the practice center, the venture hopes to contribute to the growing "soccer city" of Austin during Austin FC matches and youth games with the Austin FC Academy hosted at the St. David's Performance Center.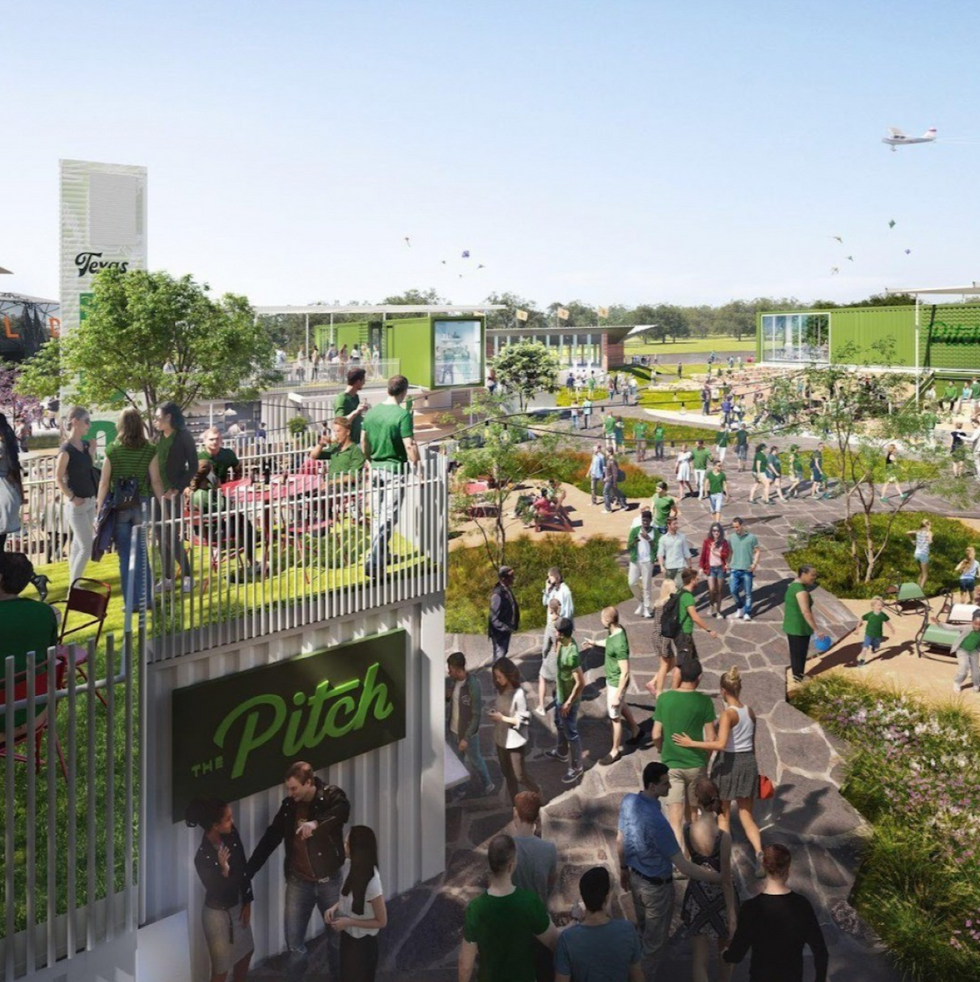 The Pitch hopes to converge both community and club interests with Austin FC. (The Pitch)
In addition to the soccer pitch, stadium and pond, The Pitch will provide a foody experience made by the creative team behind Austin staples like Fareground and Easy Tiger. The complex will offer local bites including:
Ranger Burger, which offers beers and burgers made from highly-coveted Wagyu beef direct from Ranger Cattle in East Austin
Ga Roti, which merges flavors from Northern Vietnam with the culinary techniques of France to create a unique rotisserie chicken joint
Taco Flats, a local taco chain serving Mexico City-style tacos, micheladas and more
Sand Bar, which fulfills its namesake with beauty cocktails, local beers and a sand volleyball court
Coffee Club, a coffee shop and bakery
Corner Kick Bar, the soccer-focused main bar of The Pitch complete with "tunes, TVs and (a) beer garden"
The Pitch will squeeze between St. David's Performance Center and Parmer Pond alongside the southern edge of Parmer Austin, a Karlin Real Estate venture that will eventually include multifamily housing, corporate office space and an aerospace and defense center.
After DJing for the after-party at COTA's 2021 U.S. Grand Prix Race in October, NBA legend Shaquille O'Neal is once again setting his sights on Austin with plans for his chicken restaurant chain Big Chicken to open a location in Austin.
The fast-casual chicken restaurant—featuring fried chicken sandwiches, chicken tenders, ice cream sandwiches and more—is planning to open at the Moody Center arena this spring. The restaurant is co-owned by O'Neal, who opened the first location in Las Vegas in 2018 and broadcasted the process on a Facebook Watch series aptly titled Big Chicken Shaq.
Shaq and live music fans will get to "eat life to the fullest" at the upcoming Moody Center, the new venue that has already sold out shows before its grand opening in April.
Located on the University of Texas campus, the $338 million venue will hold 15,000 seats and host events including concerts, shows and Longhorn basketball games (replacing the Frank Erwin Center). The venue already surpassed $15 million in ticket sales for upcoming performers including George Strait, Willie Nelson and the Randy Rogers Band, who will christen the Moody Center on April 29 and 30.
Cutting back on drinking as a New Year's resolution is no easy task, especially in a city with an active nightlife. But one bar is taking the booze out of the bar.
Sans Bar, located at 1818 E. 12th St., looks and feels like a bar, holds live music like a bar and makes cocktails—with non-alcoholic spirits of course—like a bar. The bar has built a strong community of regulars, who say it's exactly the kind of place those wanting a sober kind of fun want to be. In fact, the bar says it sees an uptick in visitors from January-March.
Founded in 2017 by Chris Marshall, Sans Bar is a place for the sober curious, the sober sometimes, the sober serious and anyone in-between. It carries a whole menu of alcohol-free beers, wines and cocktails made with local spirits like Tenneyson and Spiritless. Marshall said the bar is the only one of its kind in Texas, and one of only a handful across the U.S.
"I just saw that there was a real need for a space that didn't include alcohol," Marshall said. "I really like to see anti-alcohol, pro-authentic connections and I just believe that the best version of ourselves is alcohol-free."
Alyssa Hart, an event coordinator living in Tarrytown, discovered the bar in 2019 during a "Sober by Southwest" event. She had been sober for a few years, was going through a hard breakup and was looking for a supportive community while she felt like she was starting over.
"It was like the crashing together of these two things—spending a lot of time, money and energy on drinking and also realizing that it had really never been a positive thing in my life," Hart said. "I feel like because it's so ingrained in our society, it becomes something that we are kind of asleep at the wheel about."
The bar was spurred in part by Marshall's own journey into sobriety; Marshall quit drinking in his early 20s and will hit 15 years of sobriety in February. If the idea of a sober bar is confusing, Marshall equates it to the rise of plant-based foods as it's a convenient and familiar way to abstain.
After working almost a decade as a licensed counselor Marshall just wants to see people examine their relationship with alcohol but said everyone on the spectrum from straight edge to drinkers on a night out stops in. He says about 75% of customers who come in identify themselves as just sober sometimes.
"We will never, ever, ever turn someone away who says that they're struggling because we want to be a space for people who are struggling," Marshall said. "We're not prohibitionists. We're not trying to tell people not to drink alcohol. We totally accept and respect whatever your relationship is with alcohol."
Likewise, Jon Flores has been sober for nearly four years, aside from the beer he allows himself every year on his birthday. Flores discovered Sans Bar through a targeted social media ad and now says he frequents the bar so much, he is often called the "Sansbassador."

"Sans Bar came into my life when I really needed it and I'm very grateful that it exists," Flores said. "Chris has really helped me—he just wants the best for everyone, even strangers on the street. He just wants the best for everybody and it's so refreshing to come across people like that."
Both Hart and Flores said they try to come in every Friday for a non-alcoholic "Gold Fashioned" or a Budweiser Zero. Both said they have become close friends with Marshall, and Hart said she has since become very active in the sober community, co-founding amplification platform Sober Voices.
The bar is only open on Friday nights from 7 p.m.-midnight for now, with possibly more hours in 2022, but patrons say it works for the bar and makes the time more "precious." Marshall encourages people to think of it as more of a community-oriented weekly social hour.
"A lot of people are excited about the prospect of drinking less and really taking a month off to examine their relationship with alcohol, so there's a lot of excitement around it, but there's also a lot of fear," Marshall said. "Austin is becoming the epicenter of the non-alcoholic movement. I think there's something really special that's happening here."