Get connected with our daily update
Watch some Cricket
When: 5:30-10 p.m. Saturday and Sunday
Where: The Crossover, 1717 Scottsdale Drive
What: Looking for a new sport to obsess over? Attend one of Sports Movement's indoor cricket matches.
Le Garage Sale
When: 11 a.m. Saturday and Sunday
Where: Palmer Events Center, 900 Barton Springs Rd.
What: Find over 100+ boutiques, brands and designers at Le Garage sale. Shop leisurewear, accessories, menswear, children's apparel, home decor and more. Tickets start at $10.
See a movie at the drive-in
When: 6:25-8:45 p.m., 9:15-10:50 p.m. Saturday
Where: The Globe Drive-In Theater, 8017 Cele Rd.
What: This weekend you can see Harry Potter and the Prisoner of Azkaban at 6:25 p.m. or you can see The Cabin in the Woods at 9:15 p.m. at the drive-in. Tickets cost $16 per car.
Museum of Ice Cream
When: 11:30 a.m Saturday and Sunday
Where: Museum of Ice Cream, 11410 Century Oaks Ter.
What: The Museum of Ice Cream is featuring 12 never-before-seen instillations celebrating the enjoyment of ice cream. View tickets here.
The Austin Flea
When: 12 p.m. Sunday
Where: Meanwhile Brewing, 3901 Promontory Point Dr.
What: Find handmade items, vintage wares, food and drink and more at The Austin Flea at Meanwhile Brewing. Vendors are handpicked for each show to guarantee a great selection of items to shop for.
"Dazed and Confused" on the big screen
When: 7-8:45 p.m. Saturday
Where: Doc's Drive In Theatre, 1540 Satterwhite Road, Buda
What: Catch the famed film, directed by Richard Linklater and starring Matthew McConaughey, at the drive-in theater. Tickets start at $10.
Relive prom
When: 7 p.m.—Midnight Saturday
Where: The Belmont, 305 West 6th Street
What: Attend the "sexiest winter gala of the year," put on by Capyac at the Belmont's bug-themed bash. Dress up in your finest "insect winter formal" and dance the night away. This event is 18+.
Austin on Paper
When: 2-6 p.m. Saturday
Where: West Chelsea Contemporary, 1009 W 6th Street
What: Celebrating over two dozen artists who use paper as their medium, the Austin on Paper exhibit is free and illuminates screenprint, collage, papercut artists and more.
Laughable dating woes
When: 10 p.m. Saturday
Where: Fallout Theater, 616 Lavaca Street
What: Catch some "cringe comedy in its purest form" at Fallout's monthly Slide in the DMs show, featuring jokes inspired by creepy DMs.
Solve a (pretend) crime
When: 6-9 p.m. Saturday
Where: Courtyard Austin Pflugerville, 16100 Impact Way, Pflugerville
What: Solve an interactive murder mystery, put on by The Dinner Detective Austin. Watch out, the culprit could be in the room and you don't want to be the prime suspect!
Crashing business meetings, weddings and all kinds of gatherings dressed in their holiday best, drag queens with Austin entertainment delivery service Extragrams are bringing the holiday spirit right to your door.
As the first holiday season during the COVID pandemic loomed with no end in sight in late 2020, Austinite Kerry Lynn had more than visions of sugarplums dancing in her head.

Lynn, an event planner who has worked in entertainment, was looking for a way to show her mom love for her birthday that summer while quarantining was at its peak. Instead of a material gift, Lynn wanted to give her mom a boost of human connection during isolating times and decided to send over a musician to give a surprise performance at her door.

From there, a new business idea was born. By fusing her love for old-timey holiday telegrams with the needs of quarantined people and performers who had lost a chance to work during COVID, Lynn created Extragrams—a service that brings the over-the-top joy of drag queen performances straight to a loved one's door.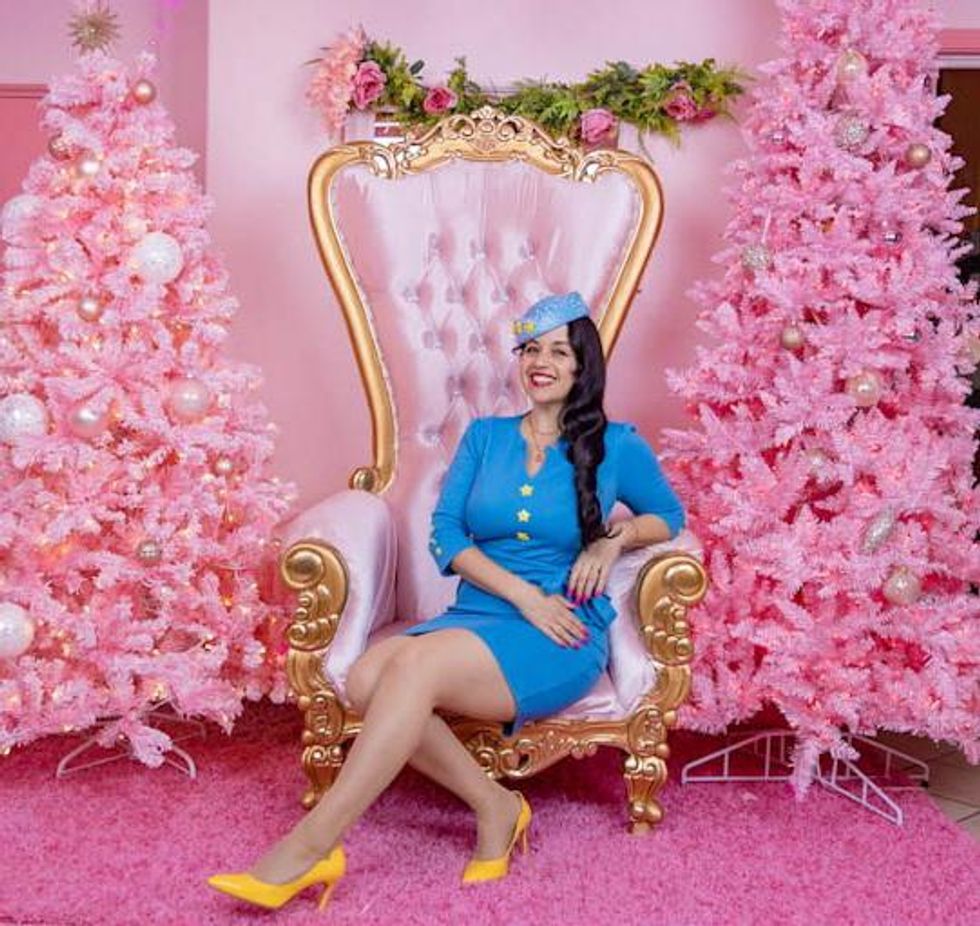 Extragrams founder Kerry Lynn started the drag queen entertainment delivery service after looking for a gift for her mom during the pandemic. (Extragrams)
"I've always just loved the idea of creating these kinds of random acts of fabulousness into people's lives... and the idea of being able to gift something that wasn't material but was kind of like a memory," Lynn said. "Being able to send this epic entertainment to someone with music and this whole spectacle, it allowed them to feel like they were connected in a way because they were sending this experience that they all got to be a part of... it felt really special."

At first, Lynn was unsure if professional drag queens accustomed to large, adoring crowds would settle for performances in front of just a few people. But she soon received the opposite reaction.
"Performers, they want to perform, they want to share," Lynn said. "Almost all the queens that I reached out to were super interested and really supportive and gung-ho about it."
Since July 2020, what Lynn once thought was a temporary pandemic pursuit has transformed into a multi-faceted business.
"It really was like, 'Okay, the world is burning. Let's just do this,'" Lynn said. "I tried to be smart about it from a business standpoint, but I really was just thinking of it in the moment."
Lynn's passion project soon "spread like wildfire," Lynn said, as people began booking performances for graduations, birthdays and other occasions while miles apart. News of the service began circulating through local media, viral TikTok videos and word of mouth.
In a time where people were forced into solitude and bombarded with bad news, queens have spread joy to anyone from nurses overburdened in COVID units to CEOs in need of holiday cheer. As pandemic restrictions shifted, Extragrams did too—Lynn said the company has become a sort of "drag queen agency" and gone on to perform for larger events.
But whether queens are surprising a backyard party with a twerking contest or joining quarantined grads in caps and gowns, Lynn says the shock and joy are universal.
"I really do feel like I have the best job in the world because we just get to surprise people with drag, right?" Lynn said. "We get a lot of people who cry because it's powerful. It just feels so celebratory when someone shows up in like that huge spectacle just for you."
And even as the threat of omicron looms over yet another pandemic holiday season, Lynn said the on-demand drag queen service will continue to adapt and bring joy to those who need it most—all while staying "extra."