Austonia AM
100% Austin news, info, and entertainment, straight to your inbox at 6 a.m. every morning.
In five minutes, you're fully informed and ready to start another great day in our city.
Get connected with our daily update
The nonprofit foundation was made to ensure that her children Shaw, Tucker and Loretta have the resources they need for their future education.
Since its creation, the organization has received more than $100,000 from the community. Doug Wolfe, a friend of the family, said that the foundation can be used to give Dodson's family the same care she gave to so many families through her practice at Children's Medical Group.
"The Foundation is an opportunity for our community to serve Lindley's family and children and the family's charitable goals around education in the same way she loved and cared for ours," Wolfe wrote in a statement.
Thousands have taken to social media to mourn Dodson's death, and community members have held prayer circles and dropped off flowers at the site of the well-respected pediatrician's practice. The circumstances behind her death, in which the terminally-ill Dr. Bharat Narumanchi held multiple employees hostage before killing Dodson and himself, is still under investigation.
(Kathy Hutchins / Shutterstock)
Hollywood star James Van Der Beek is the latest in a long line of Californians trading the bright lights for the blue skies of the Lone Star State.
The "Dawson's Creek" star announced on Instagram that he is "onto the next big adventure," moving his family from Beverly Hills to Austin.
Kimberly Van Der Beek, the actor's wife, said in an August episode of "The Make Down" podcast that the family was moving to the Austin area to "get out of the concrete jungle for a little bit." The couple, along with their five young children and four dogs, embarked on a 10-day road trip to their new home state.

The Van Der Beeks join the ranks of other celebrities that call Austin home like Matthew McConaughey and Elijah Wood.

It's not just Hollywood stars that are fleeing California's high cost of living and taxes. According to a 2020 Texas Relocation Report published by Texas Realtors, more than 86,000 California residents moved to Texas in 2019—the most of any other state. The relocation rate has increased by 36.4% since 2017.
More celebrity news: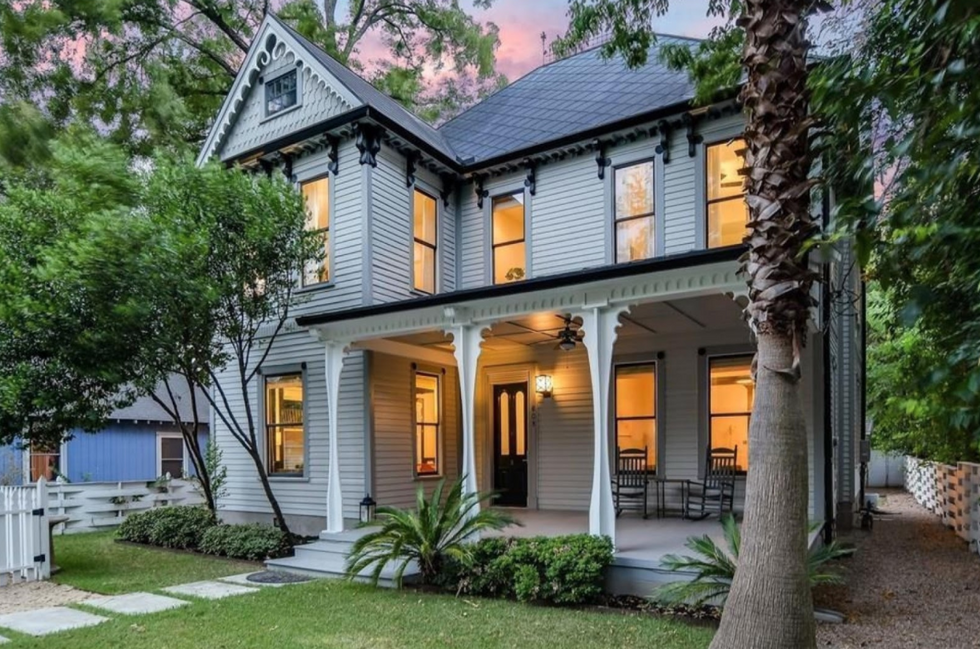 Elijah Wood's Victorian Austin home goes on the market
(Pexels)
Schools should delay starting or offer virtual-only instruction until Sept. 8, Austin-Travis County Interim Health Authority Dr. Mark Escott said Tuesday, to avoid loss of life due to the coronavirus.
Sept. 8 is three weeks later than the currently planned start date for Austin ISD.
The recommendation comes as Austin has seen soaring numbers of positive COVID-19 cases and hospitalizations in recent weeks.
"The schools need time, they need time to plan, they need time to orient their faculty and staff to the new realities," Escott said at a Travis County commissioners meeting.
Travis County had about 192,000 school-age children and thousands of teachers and administrative and support staff in 2019, according to Census data. Of those students, 80,000 are in Austin ISD.
"The risk of students having severe illness or death is relatively small compared to others," Escott said, adding that the risk of death is 0.18%, with Travis County's numbers looking closer to 0.3%-1.02%. "This is a little bit of a challenge of the numbers because you hear 0.18% and the translation is well, my child has a 99.8% chance of not dying from COVID-19."
However, Escott said the issue is that when those small numbers are taken and multiplied by the current student population, with an expectation that up to 70% of students could be infected, those small percentages turn into anywhere from 40-1,370 deaths.
"These are sobering numbers, and we have to be very, very careful when we hear people talking about the percentage of people," he said.
But with faculty and staff, the potential number of deaths is somewhere between two and 10 times higher, Escott said.
Looking beyond the potential loss of life, though, Escott said the spread of the disease will endanger continuity of education if a school has to shut down because too many students or staff members get sick.
"The practicality of social distancing in almost all of our schools is a challenge," Escott said, citing information from the Centers for Disease Control and Prevention and the Texas Education Agency as well as anecdotally, his own wife who is a schoolteacher. "Our schools are not designed to have desks six feet apart, most of our districts would have to triple the size of schools, triple the size of spaces in order to achieve that."
Right now, Escott said schools are simply not ready to handle the return of students and protect the safety of them and their staff.
(Syda Productions/Adobe)
Fighting over child custody and visitation is painful under even the best of circumstances, but attorneys and parents say the coronavirus pandemic has brought more stress, more fear, and more "live ammunition" to the battlefield.
That has certainly been true for divorced Austin dad, "M," who asked that his real name not be used to protect his son's privacy.
M dropped his preteen off at the boy's mother's house after a regularly scheduled visit in March. Then M didn't get to see his son again until Independence Day.
Instead of returning the son to his dad two weeks later, as agreed in a hard-fought custody order, M's ex-wife refused to release the child, who has a medical condition that puts him at risk if he catches COVID.
"She said, 'You can't see your kid because of COVID. I'm not going to let you have him at all," said M. "The pandemic helped her use his health against me."
A high level of fear 
Austin family attorney Robert Luther said situations like M's have become a regular occurrence.

"There's a lot of acrimony out there, caused by the philosophical and political positions relative to the pandemic," said Luther. "Everybody's fear level is super high, or their defensiveness is super high. It's one or the other."
And if it was bad in the beginning, when canceled schools in March threw custody agreements into chaos, then it's even worse now with the latest surge in numbers, Luther said.
Arrangements between parents who disagree on how to handle the pandemic—or who just don't trust each other—were uncomfortable, but the parents had resigned themselves to it for a few months, he said.
Now trust is eroding, he said.
"This new level of long-term fear has affected a whole different round of people, I think, who thought they were being optimistic," he said. "And now being optimistic is really hard to do."
Help from the courts
In April, the Texas Supreme Court ruled that— without hearings—custody agreements must be honored, regardless of pandemic orders or school calendars.

It helped M, whose relationship with his son had been relegated to texting and Zoom. In June, a judge threatened to hold his ex-wife in contempt if she tried it again, and said M could make up the lost time, according to court records.
The judge also directed him to have a COVID-19 test before another overnight visit with his son.
An uneasy arrangement
Austin mom Jodi has been uncomfortable for months about sending her two young kids to spend time with her estranged husband, who she believes is too cavalier about the virus.

As the numbers have spiked, so have her fears. But there is no written visitation agreement, and the uneasy cooperation that allows them fairly equal time with the kids is precarious. A custody agreement is likely in the future, when a divorce gets filed, and it's vital to her that they stay on good terms.
"I don't agree with how he's handling it, but I don't want to fight," said Jodi, who also asked that her full name not be used to protect her children.
New lines of communication
Some divorced parents have found a way through years of anger and hurt, finding that the pandemic has opened up new lines of communication that benefit the kids.

Anthony and My-Cherie Haley have worked hard to make things easy during this uncertain time, they said. A birthday party and a Pre-K graduation spent together with the kids during lockdown would have been unheard of in the five years since the divorce.
"It's not been bad for us, interestingly," Anthony Haley said. "All that's just been put aside, and we're just working together on all of it. It's the only way to make it through this."
Said My-Cherie Haley with a laugh: "Was it always hunky-dory? No. But we've been really flexible with each other because of this pandemic."
Want to read more stories like this one? Start every day with a quick look at what's happening in Austin. Sign up for Austonia.com's free daily morning email.