Get connected with our daily update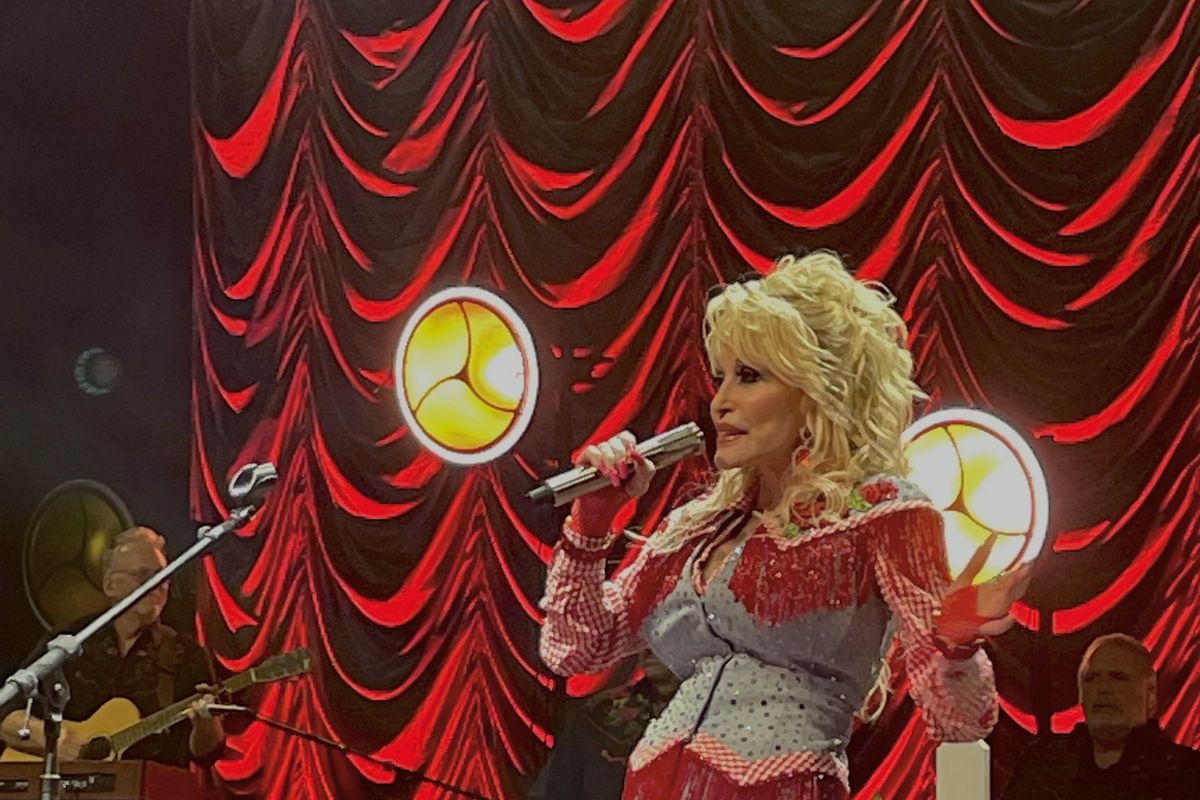 Dolly Parton may not have a 9-5, but she still knows how to make a livin'.
In true Austin fashion, the 76-year-old country music star live streamed her first SXSW appearance through the blockchain, launched a Web3 platform dubbed the "Dollyverse," spoke with famous author James Patterson about their new book-slash-album "Run, Rose, Run," and performed new and old hits at Austin City Limits Live Friday night.

Parton drew both laughs and tears as she promoted the new Dollyverse, which is powered through Blockchain Creative Labs, and told her life story with wisdom, wit and plenty of song breaks.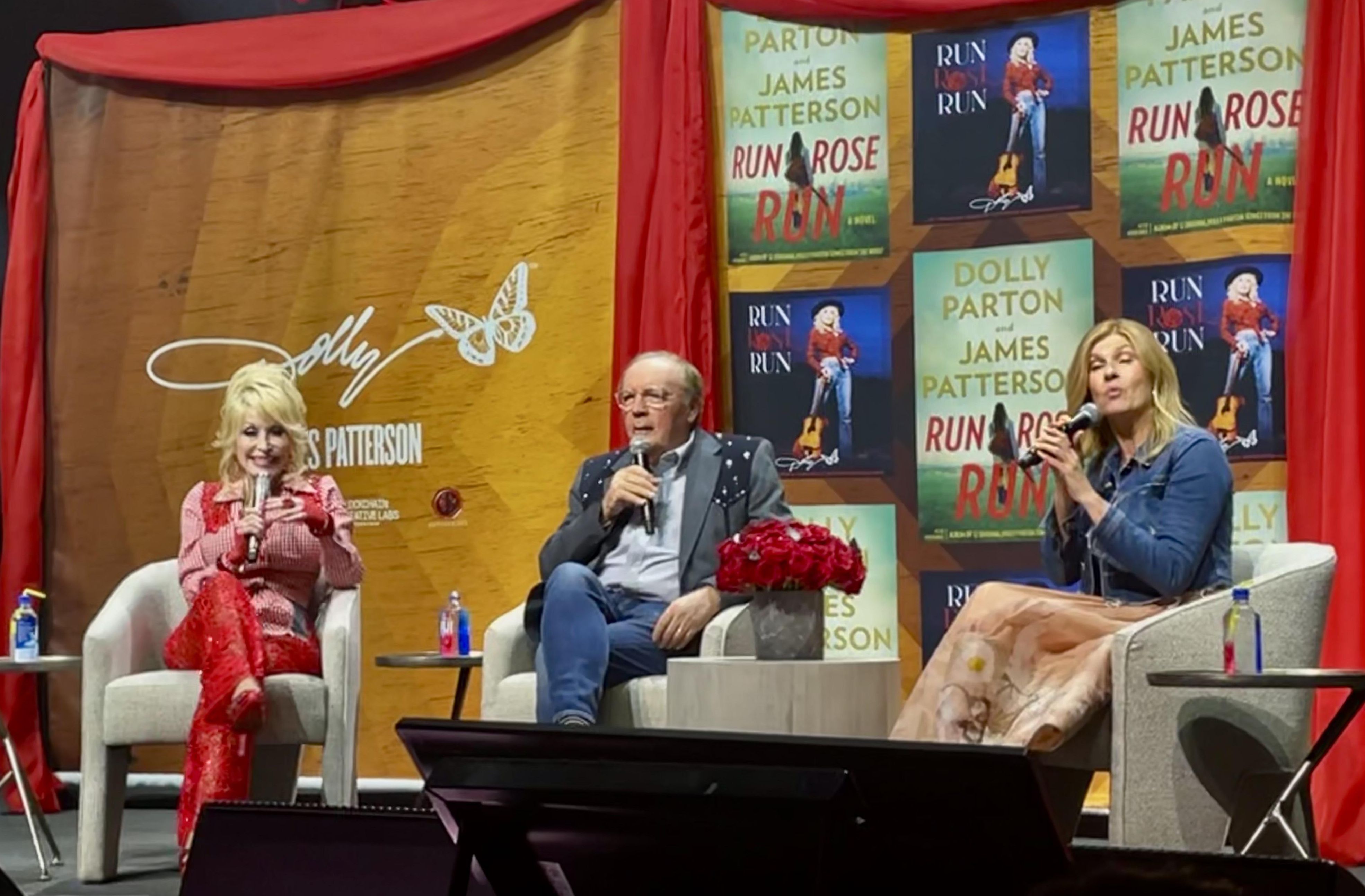 Parton, Patterson and Britton discussed the duo's new album-and-book combo, which is soon to be a Reese Witherspoon movie. (Claire Partain/Austonia)
The singer took to her first SXSW stage with Connie Britton of the Austin-filmed Friday Night Lights fame and a rhinestone-clad Patterson, who has sold over 400 million book copies in his career.
Parton said Patterson does more than complement her outfits—the two became fast friends as they completed the yearlong project.
"I heard (Patterson) wanted to write a book with me, and I just thought, 'Why?'" Parton joked. "He just seemed like a new old friend..pretty much we're both crazy, we've got a warped sense of humor and we're both creative, so we got the job done in short order."
Though they don't collaborate well musically—Patterson's talents don't translate to good singing, Parton said—the two are proud of the book, which was released alongside her 12-song album of the same name earlier this month. The story mirrors Parton's own life as a young singer-songwriter traveling to Nashville at first but quickly delves into a darker, Patterson-twinged thriller.
"(Dolly) said to make it scarier," Patterson said. "I've never heard of anything like it before, a book with a soundtrack."
Both Patterson and Parton marveled at trying something new at their not-so-young ages as they revealed that a movie adaptation for "Run, Rose Run" is in the works with Reese Witherspoon.
"We both grew up in small towns, smaller than small," Patterson said. "And I consider it a blessing that I still look at the world as though I was the kid in that town. So now I'm here with Dolly Parton, holy shit!"
After singing an "Happy Birthday" rendition to Patterson and taking a few crowd questions, Parton switched into another country-glam outfit and took to the stage once more to sing three songs off the new album: ""Big Dreams and Faded Jeans," "Snakes in the Grass" and the very well-received "Woman Up (And Take It Like a Man)."
As if fusing the elements of "Run, Rose Run," Parton then took the crowd through her biggest hits with storytelling and song, weaving razor-sharp punchlines with chill-inducing life lessons and choir hymns. Parton, who grew up "Holy Rollers" Pentecostal in a poor Tennessee family with a dozen siblings, talked about discovering her love for music with her grandfather in the church and learning from her father, who couldn't read or write but was the smartest man she knew.

Parton honored her mother, too, with a story about the now-famous patchwork coat her mother made for her behind the classic hit "Coat of Many Colors" before quickly pivoting to the tale of the infamous auburn-haired bank teller her husband flirted with, inspiring the hit song "Jolene."
Parton's big blonde hair never wavered as she finished the show with the worker's anthem "9-5" and classic "I Will Always Love You."
"If somebody walks by without a smile, just give them one of yours," Parton told the crowd, and concertgoers left with that smile and a free limited-edition rose NFT to boot as they walked (or logged out) of the Dollyverse to finish the show.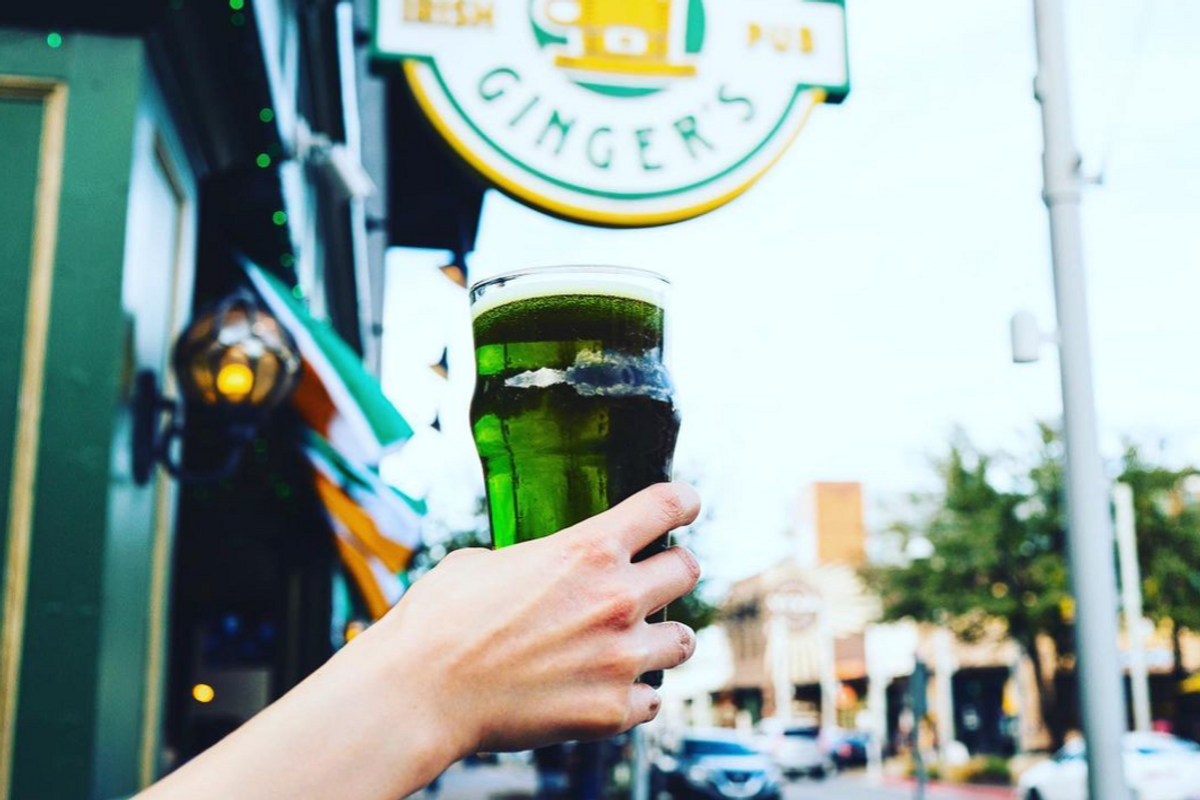 Just like the springtime leaves on the trees, St. Patrick's Day is here to bring green to all kinds of bars, restaurants and events in Austin Thursday.
Put on something green to escape wayward pinches and kiss your Irish loved ones (we recommend asking first) before heading to these St. Paddy's Day events running all day long in Austin.
St. Paddy's Day map
Jack & Ginger's Rock Rose—11500B Rock Rose Ave.
Jack & Ginger's Irish Pub at the Domain NORTHSIDE will block off the street to host a full celebration complete with green beer, bagpipes and outdoor stages.
Doors will open at 10 a.m. and be open to those 21 and older for $20. The pub will host 82 beers on tap, Irish comfort foods and menu items including a giant local pretzel and fish & chips.
Seven live music acts will run from 12 p.m. to 1 a.m. across two stages, including Hollie Holloway Band, Chandler and The Bings, Castaneda Project, More Cowbell and Jericho Machine.
B.D. Riley's—1905 Aldrich St. #130
Recently dubbed the "Best Irish Pub in Texas," B.D. Riley's will host a daylong fest complete with Irish music, food, drinks and entertainment.
The pub will open at 10 a.m., stocked with plenty of Guinness and will host performances from Daithy Arwine at 12 p.m., "The Chancers" at 2 p.m. and a Rock 'n Roll Harp set at 5:30 p.m. Everything but beer and grub will be free, including a free four-hour parking pass at the McBee parking garage.
St. Patrick's Day in the Park—200 W. 6th St.
Austin's premiere Celtic band The Here and Now is in for a busy day this St. Paddy's Day, including an afternoon bash under the emerald glow of The Kilroy Star, the Indeed tower's 20-foot tall light art installation. Picnics are welcome at the free public event, which will be held at The Park at Indeed Tower.
Baker Street Pub & Grill—3003 S Lamar Blvd.
For some Sort Austin festivities, head to Baker St. Grill to enjoy free live music, including bagpipes, Widgeon Holland and Uptown Drive, alongside traditional Irish fare from 11 a.m. to 2 a.m.
The Pub—214 W 4th St.
Looking for more green beer? Aptly named bar The Pub will host a St. Paddy's Day fest of its own complete with three music sets from 5 p.m.-11p.m., a special food menu and drink specials all day hosted by Limavady Irish Whiskey.
Bouldin Acres—2027 S Lamar Blvd.
Those craving a classic shepherd's pie can head to Bouldin Acres for a free indoor-outdoor event complete with food and drinks, DJ's and live music from Kin Faux. The venue opens at 11 a.m. and will give out free swag for the first 150 guests.
Speakeasy—412 Congress Ave.
Do some good while enjoying live music in The Austin Warehouse District at Speakeasy, which will welcome four music acts, DJ Mr. E and special guests all day.
Starting at 5:30 p.m., 90s cover band ZOODUST will perform with benefits going toward refugees in Ukraine.
St. Paddy's Day Bar Crawls—Thursday and Saturday
Enjoy no cover charge and drink specials all night with Austin's St. Patrick's Day Bar Crawl.
For $20, pubgoers can keep the party going all night long at seven participating West Sixth bars and pubs. Crawlers can collect special wristbands at Happy Chicks before heading to the six other nearby pubs for endless Guiness and Irish-themed specials.
Looking for some weekend fun? An even bigger bar crawl is set for Saturday with 13 participating bars, an afterparty at the Concrete Cowboy and two free shots or drinks for just $13.50.
St. Patrick's Day Festival Austin—online
Due to COVID and related staffing shortages, Austin's St. Patrick's Day Festival will once again be online this year. But if you're looking for luck-filled festivities from the comfort of your couch, look no further than this fest, officiated by How To Train Your Dragon voice actor Kieron Elliott.
The festival will celebrate all things Irish with performances from Austin's top Irish Dancing school Inishfree, bodhrán player and storyteller Máirtín de Cógáin, The Clickety Cloggers and music groups including The Here and Now, Sean Keane, Stars of Irish Trad music and Jeff Moore.
Corned Beef Cooking Class—Central Market, 4001 N. Lamar Blvd.
Can't get enough of Irish cuisine? For $50, Central Market's North Lamar location is offering an hour and a half class on dishes including:
Corned beef, cabbage and barley soup
Black and tan glazed pork tenderloin
Irish potato cakes
Irish butter shortbread
Plus, enjoy St. Paddy's Day music with a performance from Sean Orr and Celtic Texas at the location starting at 5:30 p.m.
More pubs and grub
For more mellow festivities, head to these Irish pubs and restaurants offering traditional fare and more:
Foxy's Proper Pub is a great downtown bet for Irish comfort bites.
Since 1866, Scholz Biergarten has become a favorite spot for beer lovers, UT fans and St. Paddy's Day celebrators.
Brit-Tex pub Nosh & Bevvy will hold live music, craft beers and plenty of Jameson for the holiday.