Get connected with our daily update
Though soon-to-be-wed couple Kelly Frye and Nick Campbell are the definition of jet-setters—traveling all around the globe, from filming in New Orleans, living it up in Hollywood or hopping across the pond to Campbell's English hometown—the pair has put down roots in Austin.
The "Secrets of Sulphur Springs" actress and international fine art consultant Campbell will tie the knot this week in Houston, Frye's hometown, officially starting their new life together in the Lone Star State. Though the couple is looking to buy their own land in Austin, they are currently renting a home in the Travis Heights neighborhood while they navigate the red-hot real estate sphere.
Between Frye's mystery character in "Hypnotic," which was filmed in Austin with Ben Affleck, and Campbell's Austin-based art advisory company making a case for buying local art, the new residents have already made a splash in the city.
So what made this international power couple want to make Austin a home base?
 Frye: It's the Hill Country drives and artistic freedom
Frye has been living in Austin on and off since 2018, the same year she met Campbell, but ever since the pandemic began and auditions went virtual, she's been able to spend more time in her home state.
While she's here, Frye's inner Texan comes out as she explores the many food options on South Congress and greater Hill Country towns like Lockhart for some Black's Barbecue or Fredericksburg for antiquing and wineries. Having spent lots of time in Austin, Los Angeles and New Orleans, Frye likes to pride herself on her tour guide abilities.
"I like getting in there and finding my favorite spots, discovering a city, discovering the neat things that it has to offer, no lenses," Frye said.
Frye said she is fortunate to have been able to keep up her travels despite the pandemic but since relocating to Austin, the local opportunities have come to her: Frye will star alongside Affleck and Alicia Braga in Robert Rodriguez's upcoming feature, "Hypnotic."
Frye said landing a Rodriguez film was one of her top five career goals—so important, in fact, that she left a vacation in Greece less than 24 hours in for the chance to be booked and dyed her signature red hair blonde.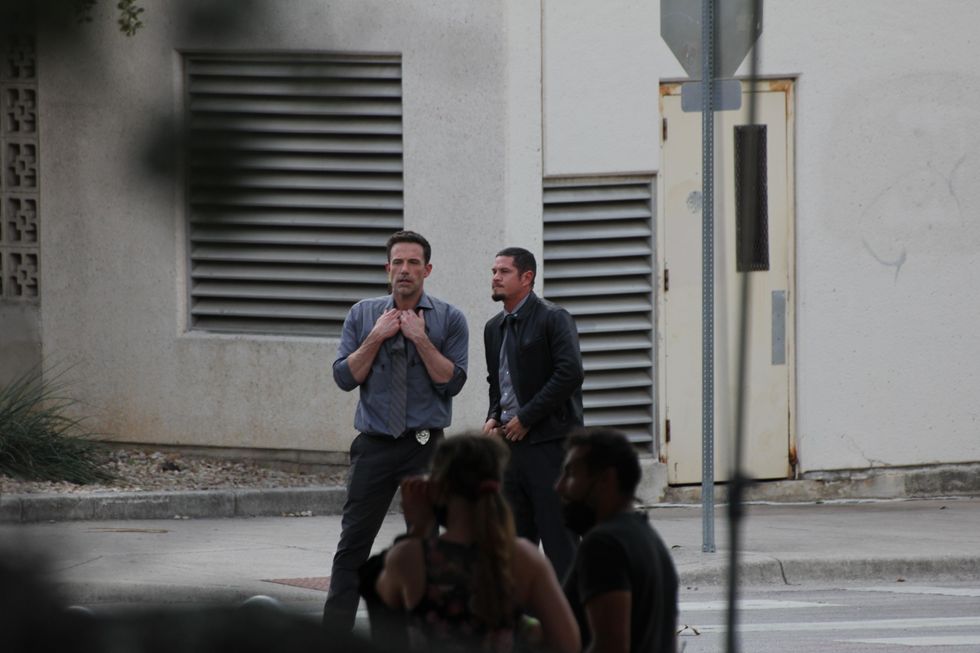 Frye starred alongside Affleck in the new movie, which famously filmed in downtown Austin September-November. (Laura Figi/Austonia)
"('Hypnotic' was) a total dream come true—I was pinching myself," Frye said. "So traveling 37 hours and dyeing my hair blonde was a big moment, but so worth it. (Rodriguez) is a true creative. The people he works with are like extensions of himself as a creative, which is an amazing thing to watch."
Frye wouldn't release many details about her character other than she's "a reveal" and a "boss 'b,'" but the film could be in theaters as early as this summer.

Campbell: Austin is "on the brink of something exciting."
Much newer to town than his fiancée, English-born Campbell said he is still learning the local ropes having only been in Austin for a few weeks but is excited to be part of the city's growth spurt.
"This established, but small, very vibrant, very exciting city is going through this sort of unprecedented state of flux in a very positive way," Campbell said. "It just seems like it's a city that's on the brink of something very exciting, so we wanted to be a part of that."
Campbell comes bearing a new perspective in the art collection industry—he launched Narcissus Arts, an art consulting firm specializing in art under $14,000, or £10,000, in 2010 with the intent of bringing fine art to the masses. Campbell then launched Campbell Art Advisory, based in Austin and Los Angeles, catering to all price brackets in 2018.
"It seemed to me that there was this growing number of friends that had, as it were, smaller resources to put into art," Campbell said. "There was obviously an incredible amount of supply out there but one just needed to know where to look."
Campbell is leveraging his new home base by connecting Texan artists Adrian Armstrong, Shaun O'Dell and Kyle Steed to buyers who can support their endeavors.
"I think that the talent is here, that's very obvious, and they need to be supported," Campbell said. "There are people here who are telling interesting stories that are very talented at telling those stories, and they need to have a light shone on them and should be celebrated."
Reflecting both Frye's love of Houston and Campbell's art profession, the pair plan to get married in the Rothko Chapel this week. They plan on continuing to split their time between here and L.A., so don't be surprised if you spot the pair on South Congress.

Bastrop is set for Hollywood treatment with a 546-acre film studio and entertainment district planned to open in the coming years.
A target date of August 2023 was announced earlier this week for the Bastrop 552 project. Also released was a first look at the expansive studio space that's located in a bend of the Colorado River south of Bastrop near Highway 304.
A California company working under the name Bastrop Colorado Bend LLC got approval for the site that will include 486,000 square feet of studio space, 300,000 square feet of warehouse and mill space and another 200,000 square feet of office space. It's expected to take at least six years to complete. Bastrop has been an entertainment destination before with more than 200 film and television productions shot there, including works like "Boyhood," "Friday Night Lights" and "Spy Kids."
Earlier this month, the Bastrop City Council approved the project's site at 1240 Lovers Lane as a media production development zone, a status that grants the company behind the project tax exemptions. Those include a two year sales and use exemption on items used during construction, maintenance, expansion, improvement or renovation of the facility.
As Austonia reported in June, the project is the work of Line 204 studios and is expected to create more than 1,400 jobs as well as 700 construction jobs over several years and generate about $2 billion in economic impact. The studio will join Troublemaker studios, which is owned by filmmaker and Austinite Robert Rodriguez.
This past summer, residents of the River Meadow neighborhood near the site voiced concerns about the project, saying it would bring noise, artificial lights and traffic.
"Let us be clear, we are not anti-progress nor anti-development," a petition with more than 900 signatures opposing the project says. "It is our position that a development of this nature is completely inappropriate for our neighborhoods, our families and surrounding environment."
The owner of Line 204 studios, Alton Butler, has commented to city officials about why he's drawn to Bastrop. According to the Bastrop Advertiser, the proximity to Austin is one factor as well as scenic views in the area.
The horrors of the 1974 classic "The Texas Chainsaw Massacre" are being resurrected in a sequel via Netflix, with Austin-based director David Blue Garcia pitting Leatherface against young hipsters, his newest prey.
The Bulgarian-shot film stars Sarah Yarkin, Elsie Fisher, Nell Hudson and Jacob Latimore, playing a modern-day group of friends who venture too far away from the city and into the jaws of Leatherface, played by Mark Burnham, and his cannibal family. The movie, "Texas Chainsaw Massacre," is set to be released on Feb. 18, 2022.
Netflix's official synopsis: "Melody (Yarkin), her teenage sister Lila (Fisher), and their friends Dante (Latimore) and Ruth (Hudson), head to the remote town of Harlow, Texas to start an idealistic new business venture. But their dream soon turns into a waking nightmare when they accidentally disrupt the home of Leatherface, the deranged serial killer whose blood-soaked legacy continues to haunt the area's residents—including Sally Hardesty (Olwen Fouéré), the sole survivor of his infamous 1973 massacre who's hell-bent on seeking revenge."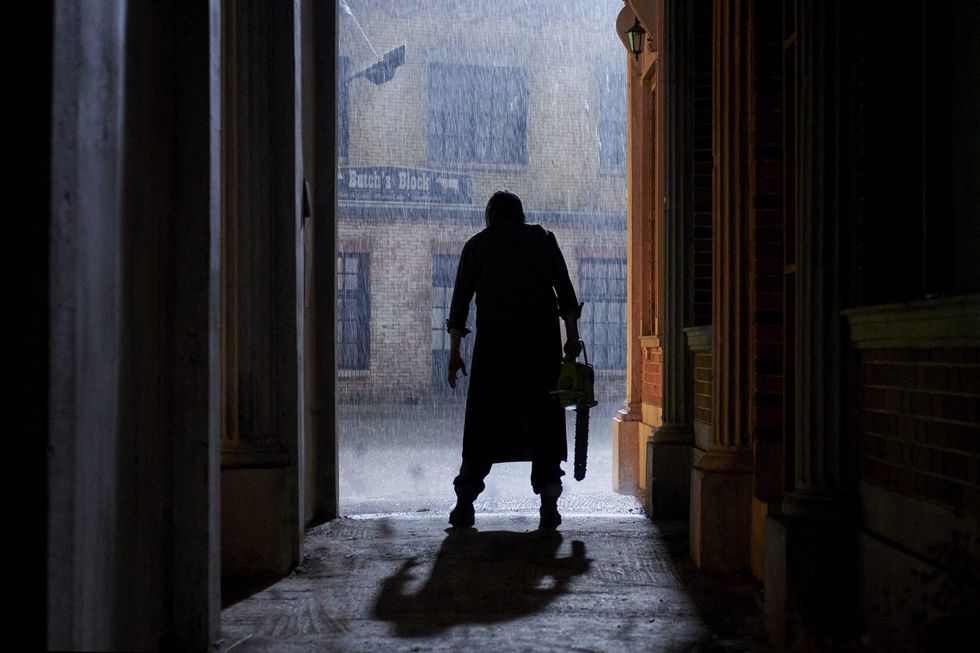 Confirmed: Leatherface is canonically the same character in the new movie. (Netflix/Legendary)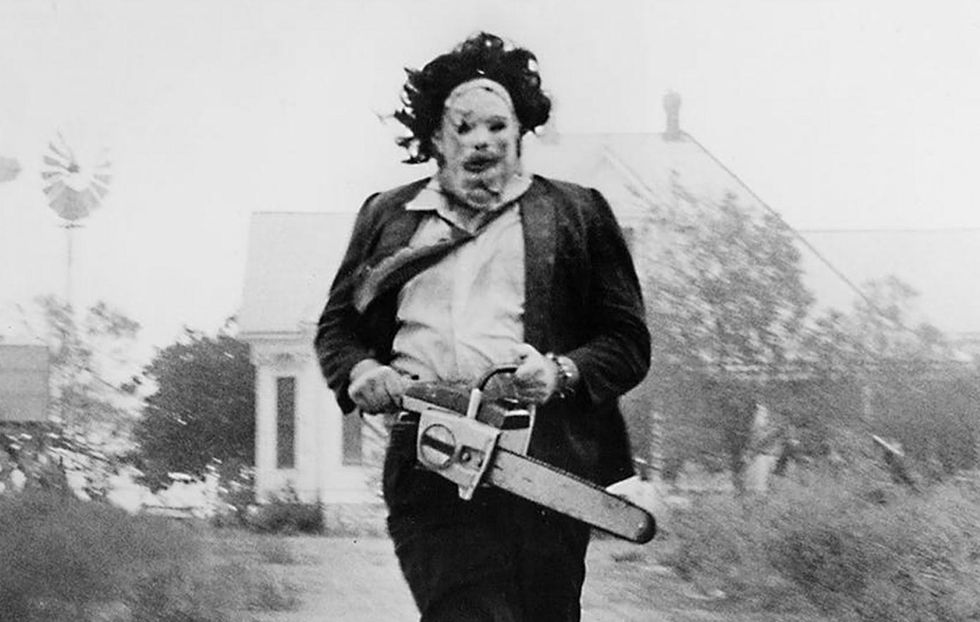 Be prepared for horrifying sights that build on the original. (Bryanston Distributing Company)
"Me and my business partner Dante (Latimore) are these young hip people that come to this ghost town in Texas and try to get other people to come there and make it the next hip place to be," Yarkin told Entertainment Weekly. "Our fatal flaw is that we ignore the history that came before us."
The thriller has some horror veterans returning to the set: written and produced by director of 2013's "Evil Dead" Fede Álvarez and screenwriter Rodo Sayagues, and produced by Kim Henkel, who was a co-writer on the original film.
The new version picks up years after the original, with Leatherface in hiding and "trying to be a good person," according to Álvarez.
"These people arriving in this town are going to awaken the giant," Álvarez said.
The movie may not follow all of the host of other sequels made to connect with "The Texas Chainsaw Massacre," and producers said that the franchise is a bit messy in terms of continuity, but it does tie directly to the original. Some of the movie may be up to your own interpretation!