Get connected with our daily update
An 18-year-old Texas State University student is now facing a federal arson charge following his arrest for setting fire to Congregation Beth Israel. Court documents revealed Monday show the teenager's inner thoughts before and after the fire.
According to the federal criminal complaint affidavit, Franklin Barrett Sechriest used an accelerant to intentionally start the fire. Sechriest, a criminal justice major and member of the 6th Brigade of the Texas National Guard, was already facing an arson charge in state court for the same case, according to the affidavit.
The Austin Fire Department responded to calls of a "small exterior fire" outside the synagogue around 9 p.m. on Halloween night. Surveillance footage from the evening picked up a man, who is presumed to be Sechriest, carrying a "jerry can" and driving a 2017 Jeep Compass. The fire caused an estimated $25,000 worth of damage.
A motion for detention has also been filed for Sechriest to be held without bond.
AFD on scene of a small exterior fire at Congregation Beth Israel 3901 Shoal Creek Blvd. fire is out. No injuries. Arson investigators responding to assist with cause determination. pic.twitter.com/hgMvJNAk5o
— Austin Fire Info (@AustinFireInfo) November 1, 2021
According to U.S. District Court records, Sechriest kept a handwritten journal that contained anti-Semitic and racist entries. Among his laundry list of things to do, including "meditate," "get matched on Tinder," and "work on novel," were alarming entries– including "scare off kids with alien mark," racial slurs and "tell mom about [REDACTED]."

On Oct. 28, Sechriest wrote "scout out a target" and police say surveillance footage picked up his vehicle that night. On Oct. 31, the journal read, "I set a synagogue on fire," and "get worried when it mentions they are 'hopeful' a suspect will be caught."
While executing a search warrant, the affidavit said investigators found an American Express card linked to Sechriest with a statement showing the purchase of a green five-gallon fuel jug on Sept. 6. Authorities also found three 33-ounce glass bottles, three 32-ounce bottles of lighter fluid, a lighter and stormproof matches in his car.
Agent Thomas P. Joy said those things are commonly used to make Molotov cocktails.
Investigators also found three stickers in Sechriest's vehicle, including one with a swastika motif, one that said "They hate your ancestors. They hate your culture. They hate your nation. They hate your religion. It is okay to hate them back," and one that said, "no invader is innocent."
Sechriest was released on bond on Nov. 11 and was taken back into custody the following day, according to Travis County Jail records.
Congregation Beth Israel Senior Rabbi Steve Folberg said in a statement: "We denounce all acts of bigotry and violence, especially those motivated by blind hatred of any of the proud and distinctive communities that enrich our civic life. We will remain strong and vigilant in the ongoing work of justice, safety and peace for ourselves and all our neighbors."
Enjoying Austonia? Signup for our newsletter to get daily Austin news, straight to your morning inbox!
The Austin Fire Department is asking for the public's help in locating the suspect in connection to a potential arson case that started on Halloween night at a synagogue.
AFD said investigators and fire crews responded to a passerby's call about a "small exterior fire" at Congregation Beth Israel, 3901 Shoal Creek Blvd., around 9 p.m. on Oct. 31. The fire was extinguished and no injuries were reported.
According to surveillance footage obtained by AFD, a dark SUV, possibly a 2017 Jeep Compass, drove into the synagogue's parking lot. The man inside was described as a slender, white male with brown hair and a face covering. The man wore green pants, shoes, a black T-shirt and a face covering.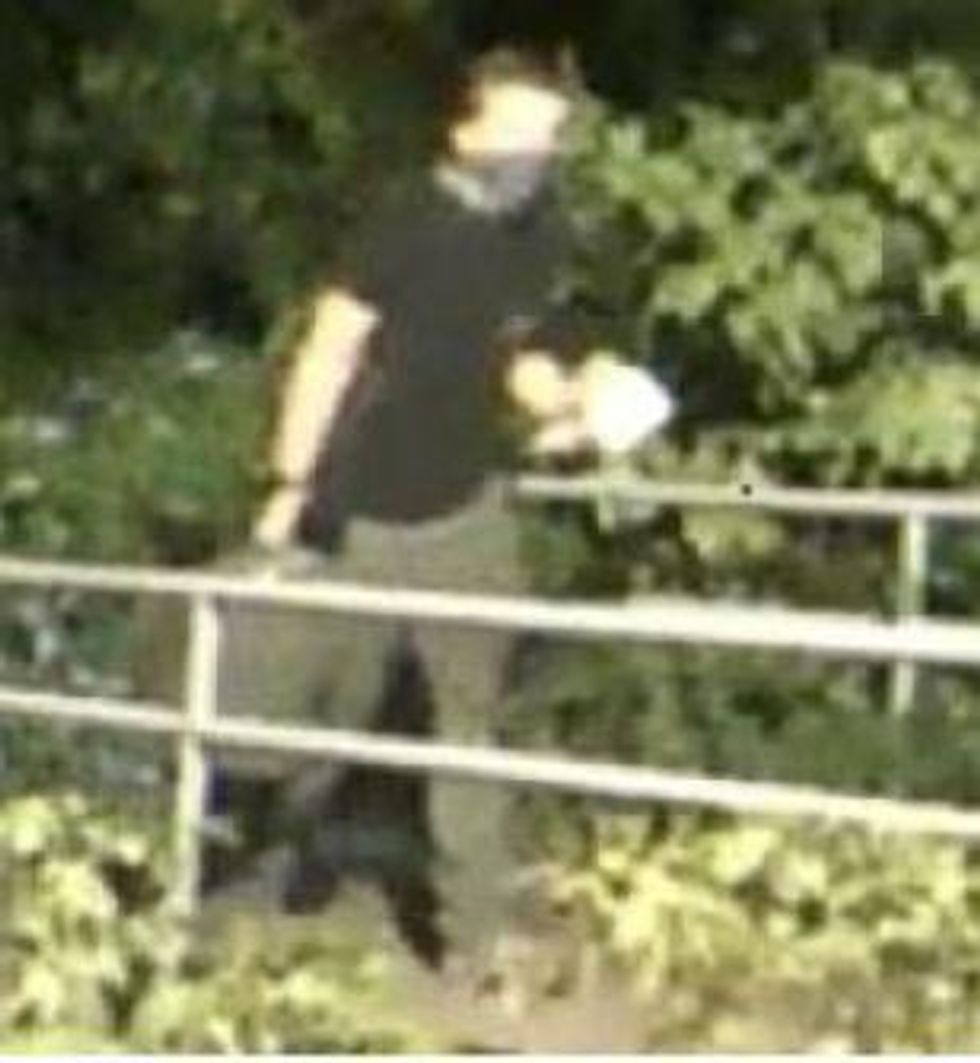 (AFD/Twitter)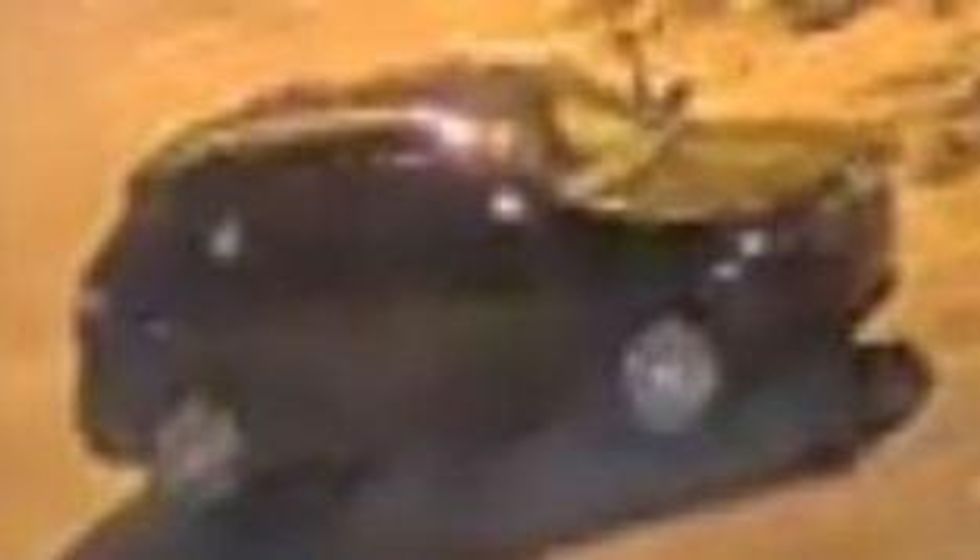 (AFD/Twitter)
The man approached the front doors of the synagogue while carrying an olive green "jerry can" that was used to carry a flammable liquid. There was also broken glass nearby the scene, which AFD said may mean something was thrown at the building.

Congregation leaders sent out an email to detail the damage, which was estimated to be around $25,000, including the synagogue's wooden doors, smoke damage in the sanctuary space and ceiling tile replacement. They said it will take longer than initially expected to reopen.
AFD on scene of a small exterior fire at Congregation Beth Israel 3901 Shoal Creek Blvd. fire is out. No injuries. Arson investigators responding to assist with cause determination. pic.twitter.com/hgMvJNAk5o
— Austin Fire Info (@AustinFireInfo) November 1, 2021
The synagogue's congregation was formed in the late 1870s and moved into that building in 1956. It has since been added onto and remodeled but the bones remain the same.

On Tuesday, the Travis County Commissioners Court and Austin City Council approved separate resolutions condemning antisemitic acts and statements.
Council Member Alison Alter said she and her family attend Congregation Beth Israel and have been alarmed by the increasing hate speech in Austin. For that reason, Alter said she is sponsoring resolution #64 to improve response to acts of racism, hate and antisemitism.
"Fortunately, no one was hurt, and the fire department responded in a matter of minutes, mitigating the structural damage," Alter said. "It is critical that as a city we join in a united front against hate and make clear that these acts do not represent our community values."
The fire comes on the heels of multiple antisemitic events in Austin—antisemitic banners were hung over local overpasses and high school students parking spots were vandalized with antisemitic graffiti.
It is unknown whether or not any of the recent incidents are connected.
If you have any information about the arson case, contact the AFD investigations office at its 24/7 phone number: (512) 974-0240.
After Austin Code Enforcement tried to cut a Southwest Austin man's lawn, it resulted in the man firing gunshots and an hours-long SWAT standoff before the man was shot by police and his home was engulfed in flames.
On Wednesday morning, Austin Code Enforcement and district representatives were on the scene at 10610 Pinkney Lane, near the Circle C neighborhood, for a warrant on lawn maintenance. As they attempted to cut his lawn, the man, who was alone in his home, fired shots. One code inspector suffered a minor injury to the shoulder.
By 10:43 a.m., SWAT crews, mental health officers and crisis negotiators responded trying to deescalate the situation. The man barricaded himself in his home through the afternoon until he started firing shots again around 3:19 p.m, this time in the back of the house.
Through a robot, police were able to see that a fire had been started in the house. Austin police officers tried to coax the man out of the house as the fire grew. As the Austin Fire Department started extinguishing the fire, the man ran out of the home from the garage with "weapons in hand." He was then shot by SWAT officer Eric Strnad.
Medical attention was given to the resident and he was taken to the hospital, where he was pronounced dead at 4:01 p.m.
The man was identified to the public by police as 56-year-old Robert Bruce Richart on Nov. 2. Neighbors to the man told KXAN they didn't have issues with him and reports show he didn't have a violent history.
Per department policy for an officer-involved shooting, the SWAT officer will be placed on administrative duty.
Enjoying Austonia? Signup for our newsletter to get daily Austin news, straight to your morning inbox!
Around 75 dogs died in a fire Saturday night at Ponderosa Pet Resort in Georgetown, according to the Georgetown Fire Department, leaving dozens of owners to mourn the losses of their furry companions.
The fire department arrived on the scene less than five minutes after 911 calls started flooding in at 10:56 p.m. At their arrival, they found flames and clouds of smoke, according to GFD Chief John Sullivan.
Twenty-five firefighters were on the scene, hoping to save as many lives as possible, initially trying to open some ventilation and control the smoke, though they were unable to save any dogs. Sullivan said his heart goes out to the families of the victims of the fire.
"I've been doing this for 29 years and this is the first incident that I've had where we've lost so many pets," Sullivan said. "I hate to use that term because, to me, a pet is a lot more than a pet—it is the closest friend. I wish I could convey my internal emotions adequately. I just wish I could go back in time to make it better."
Families of the fallen pets, who are believed to have died from smoke inhalation, have created a memorial outside the pet resort's fence complete with flowers, photos, notes and beloved toys of their friends.
No people were discovered at the scene—Ponderosa's boarding policies state that the staff feels that pets sleep better at night when no employees are there, so the pets are left unattended at night.
The fire department is still working to discover what caused the fire. Despite fire and smoke damage to the inside, the outer metal exterior survived the blaze. Based on the type of construction and occupancy type, the building was not required to have a sprinkler system.
"Quite frankly, I view my personal pet as probably my closest confidant, friend and the one that doesn't judge, so my heart just breaks," Sullivan said.
The fire claimed the lives of dog duo Bunny and Clyde, leaving owners and newlywed couple Don and Pam Richard devastated and angry KXAN reports, saying they wouldn't have left the dogs had they known they would be left unattended at night.
The Richard family is planning to petition the city of Georgetown, making it so that animals in professional care are never left unattended again.